How to go viral on social media is something marketers are still trying to comprehend. 
Since people are used to being exposed to a large amount of content every day on all social media channels, brands are constantly searching for ways to become more visible and increase their brand awareness. And a great way to catch the eye of your target audience is through viral content. 
If becoming viral used to be like winning the internet lottery, nowadays it is more of a planned effort. So, in today's article, we will analyze seven famous viral marketing campaigns.
The goal is to find out more about how businesses can go viral on social media based on the example of these success stories.
Social Media Strategy Template
Streamline your marketing with an efficient social media strategy template.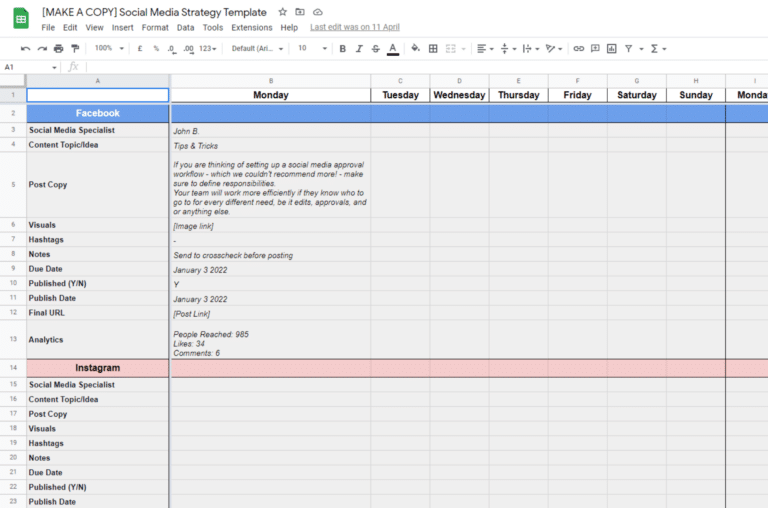 What Is Viral Marketing?
Viral marketing is a promotion tactic that seeks to create content that can be shared quickly and widely across the web.
Businesses that go viral create more brand awareness and reach a massive audience. The purpose of this strategy is to determine as many people as possible to share a specific marketing message up to the point where almost everybody has seen it on their social media feed.
Even if going viral is mostly an organic and unplanned phenomenon, there are several ways brands can achieve social media fame. 
We have studied seven of the greatest social media marketing campaigns that went viral, and we have discovered some tips and tricks that will help you promote your business faster and easier than ever. 
Keep on reading to learn more about how to go viral on social media.
How to Increase Your Chances of Going Viral
As much as we would like to claim that we have the winning recipe that will earn you the viral status you are yearning for, we have to stay realistic and focus on the practices that will help you build toward higher online visibility.
Here are the three main practices that you must include in your viral marketing strategy:
Maintain a consistent posting schedule

Customize your content for each social network

Follow trends and post interactive content
1. Maintain a Consistent Posting Schedule
The more you post content on social media, the more you will increase your chances to reach a wider audience.
Besides, consistent posting builds a positive history that informs social media networks that your account is a source of continuous information.
Now, if you manage to also increase your post engagement, the results will get infinitely more beneficial for you. Why? Because in the eyes of the social media algorithms that rule each social platform, your content gets deemed valuable.
As a result, the algorithm will promote your posts, even more, to make sure users get to see content they like each time they check their social media platforms.
The main challenge that comes with the task of maintaining a consistent posting pattern is often the lack of time to create content and manage multiple social media accounts.
However, there is a solution: social media management tools. Platforms like SocialBee are designed to eliminate all the time-consuming tasks that are part of the social media workflow and allow you to create, schedule, and post all your content from one dashboard effortlessly.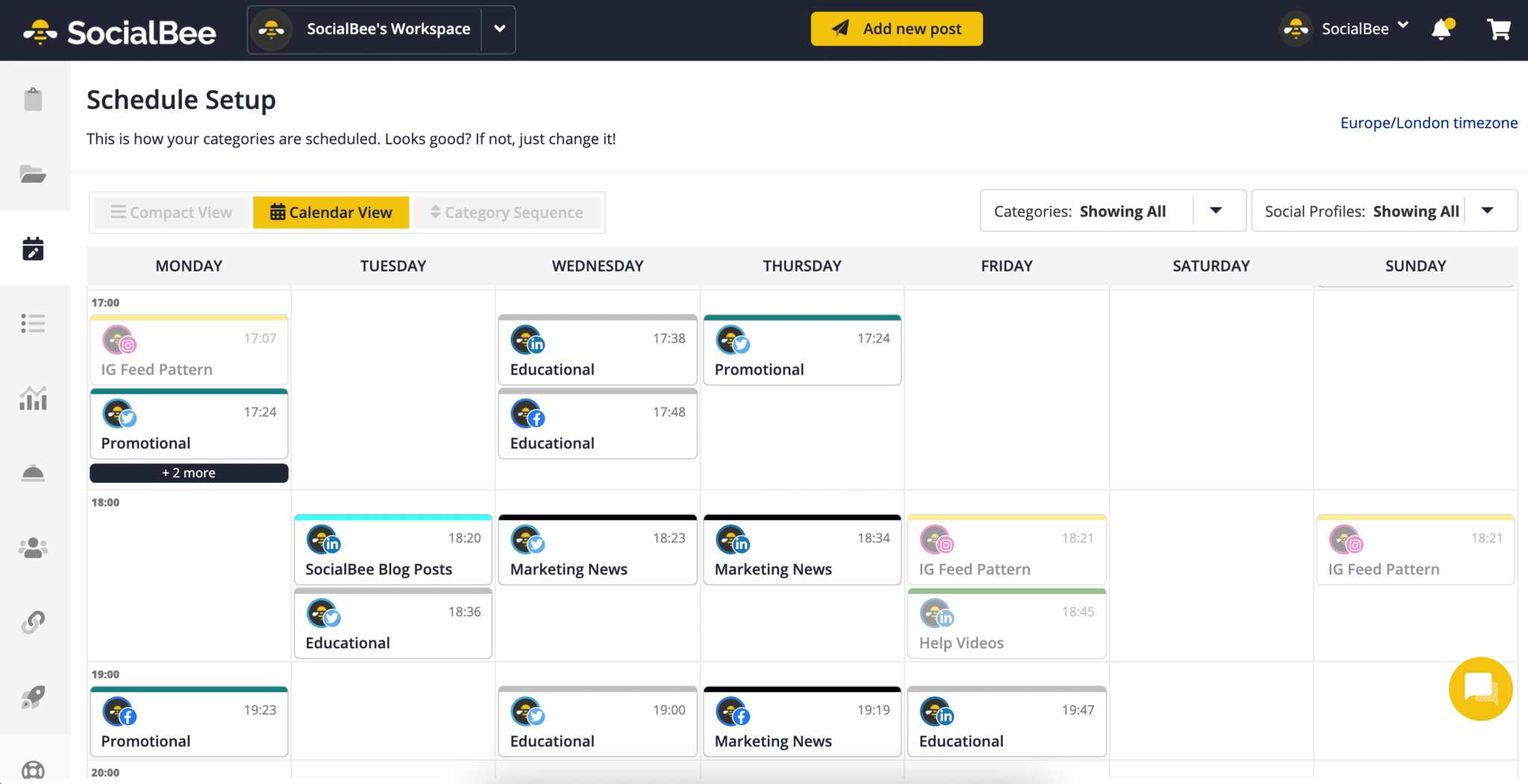 Connect all your profiles to SocialBee and manage your entire social media presence with ease.
Start your 14-day free trial today!
With SocialBee, you can plan your social media content ahead of time, create a set schedule and leave the rest of the work to the platform.
In addition, you will have the option to create evergreen content categories where a selection of your social media posts will get reshared periodically on your connected profiles.
Plus, you can import your RSS feed to SocialBee to generate social media content automatically whenever you publish a new blog post.
Work smarter, not harder. Choose SocialBee as your scheduler and you will save hours every week you can dedicate to other important tasks.
2. Customize Your Content for Each Social Network
Every social media platform is different, so if you want your content to perform well, you have to adjust both your posts and your content schedule according to each specific channel.
Here are the aspects you have to customize in order to personalize your social media approach for specific platforms:
Text length
Image and video size
Hashtag use
If you plan to do this manually, chances are you will have to invest quite some additional time in your content creation process. Luckily, with social media tools like SocialBee, you can customize your posts for each platform from one content editor.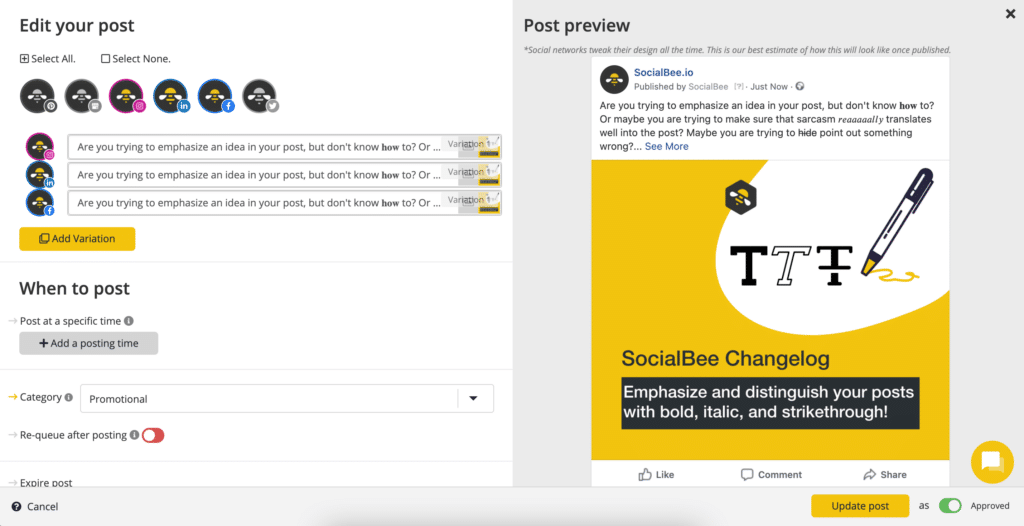 Adjust your copy, resize your images, and change your hashtag selections so that your social media posts are optimized for all your social media profiles.
SocialBee: Your AI-powered social media management tool
Create posts, publish, analyze, engage and collaborate, all from SocialBee.
3. Follow Trends and Post Interactive Content
Why should you follow trends? It's simple. Trending content, although short-lived, has the power to gain you more reach and engagement and bring new followers to your page.
Participating in trends on a regular basis will impact your performance significantly while also increasing your chances of going viral. 
Twitter, TikTok, and Youtube are three of the main platforms where content goes viral. So keep your eye on the challenges and trends that surface so that you can join in the fun in a timely manner. 
Following trends is not the only strategy you can go to when you want to enhance your visibility, you can also rely on your existing audience to boost the reach of your posts.
The key is to keep users engaged by posting interactive posts regularly. The more people like, comment, and share your post, the more the algorithm will promote the content to other social media users.
Here are some ideas for interactive posts:
Ask questions
Create quizzes and polls
Share a fill-in-the-blanks post
Ask for recommendations
Start a challange
7 Tips to Go Viral on Social Media from Successful Accounts
Going viral is never a certain outcome of your marketing efforts, but it is a possible and probable result of a well-put-together strategy. And we will help you create one that works for your brand by examining seven brands that went viral.
Here are seven effective tips for going viral on social media:
Add a little humor

Promote meaningful causes

Partner up with influencers 

Start a challenge 

Make TikTok videos

Be unique 

Include user-generated content 
Let's dive into the aforementioned tips and get more insight into how you can achieve social media fame.
1. Add a Little Humor –  IKEA
What is the first thing that comes to mind when you think about viral social media content? Memes. And what makes memes universally likable? Humor.
The funny and relatable quality of memes makes them both entertaining and shareable; two characteristics that stand at the base of a viral post.
Humor is a great way for brands to humanize their approach and show a little more personality through their social media platforms. Moreover, a 2020 study showed that 58% of consumers want to see ads that make them laugh. And IKEA really knows how to do that.
While IKEA is mainly known for its affordable furniture, the brand is also recognized for its playful and witty social media content. Let's take for example IKEA's viral take on the 2021 Bernie Sanders meme.
What made it go viral:
It's funny

It's relevant

It's simple and easy to understand

It's tied to a well-known event
Three Tips for Humorous Social Media Posts
We have to mention that humor may not be appropriate for all businesses. Aspects such as business industry, general brand image, and target audience need to be considered before crafting a humorous post.
To show off your funny side safely and tastefully you need to:
Avoid controversial topics

– Funny content needs to be fun for everyone. Try to avoid topics that can offend your audience.

Test your material on as many people as you can

– This will help you find out if your post is funny and easy to understand.

Stay away from old memes

– Memes have a short life span. So make sure you only include relevant meme formats to avoid looking out of touch with internet pop culture.
2. Promote Meaningful Causes – Mentos
A simple but effective example of meaningful viral content is the following post shared by Mentos in support of LGBTQ+ rights. Back in 2015, the US Supreme Court legalized gay marriage across the US, and Mentos was one of the first brands to show their public support of this decision.
This type of viral social media content is impactful because:
It spreads a positive message

It's creative

It shares the values of the brand

It speaks about a highly known and debated topic
Brands that use their social channels to bring awareness about different causes they care about show people that they are more than a company looking for profit. It gives more meaning to a business while also connecting with the audience and their values.
3. Partner Up With Influencers – GT's Living Food
Influencers are a new kind of celebrity. With platforms such as Youtube, Tiktok, and Instagram, you have a wide range of influencers for every target audience, including yours. 
Going viral is not just about creating the best content, it's also about paying attention to opportunities that can boost your social media visibility. And what better way to go viral, than partnering up with famous content creators.
Does the term "kombucha girl" sound familiar to you? That's right, we're talking about this girl.
Well, in 2019, this Tiktok video where the creator Brittany Broski was testing a kombucha drink went viral. It became one of the most popular memes, and Brittany made a name for herself.
GT Dave, the founder, and CEO of GT's Living Food (owning 40% of the U.S. kombucha market) didn't waste time and partnered with Brittany to make a series of successful Youtube videos that would bring him and his company a newfound social media recognition.
GT Dave also received attention from Youtube influencers Cody Ko and Noel Miller. Their video about GT Dave surpassed 12 million views, and their collaboration video has almost 10 million views. 
Not only did GT Dave manage to raise awareness about his business, but he also found an online fanbase thanks to his influencer partnerships.
Why it went viral:
It was based around a viral video

It included popular social media influencers

It showed the fun and pleasant side of the business
4. Start a Challenge – ALS Ice Bucket Challenge
We can't talk about social media viral trends without talking about the ALS ice bucket challenge.
Founded by Pat Quinn and Pete Frates, this social media phenomenon raised $115 million for The ALS Association and over $220 million worldwide for ALS research. Furthermore, it significantly increased ALS awareness and improved health services for patients around the world.
During the summer of 2014, all social media feeds were full of video content of people doing the ice bucket challenge. More specifically, pouring cold water on themselves to bring awareness about the side effects of amyotrophic lateral sclerosis.
 Every person that participated got to challenge their friends and family to do the challenge and donate to an ALS foundation.
People from around the world did the challenge and donated, including almost every celebrity on the planet, from Bill Gates to all our favorite Avengers.
Why it became viral:
It fought for a great cause

It was fun to do and watch

It had an interactive nature

It involved the most influential celebrities
5. Make TikTok Videos – Ryanair
TikTok is a social media platform that has a lot of power and influence. Unlike other social media platforms, on TikTok, it seems like every other day there is a new product receiving a significant amount of hype.
From makeup and skincare to clothes and even cleaning products, anything can become TikTok famous. "TikTok made me buy it" is already a phrase used by many of us. 
Going viral is not an uncommon phenomenon on TikTok. Due to its algorithm, it makes it easy for brands to not only find their target audience but also to expand their customer base. Musicians, doctors, streaming services, and fashion brands are all benefiting from TikTok exposure. 
This social media network doesn't lack trends. Every other week there is a new and fun one that brands can use to become viral. And Ryanair knows how to make the most out of each one.
Ryanair has a very active TikTok presence. They constantly post content, understand trends, and use their popularity to raise more awareness about their brand. Their TikTok business account has one million social media followers, 26 million likes, and most of their viral videos get millions of views.
Ryanair became TikTok famous by:
Following trends

Understanding TikTok culture

Maintaining a consistent posting schedule

Sharing engaging content
6. Be Unique – World Record Egg
Do you remember that time an egg went viral? 
A unique and simple idea took the internet by storm and broke the record for the most-liked Instagram post (55 million likes), surpassing Kylie Jenner's post that had 18 million likes.
The random choice of an egg picture and the goal of breaking a world record brought the internet together and made social media history.
It's so simple that it's genius. #EggGang
Why it went viral:
It's unique

It's engaging

It's funny

It has an ambitious goal (breaking a record)
7. Include User-Generated Content – Apple
Organic is better, and we are not talking about food. Viral marketing campaigns don't have to be expensive, as Apple perfectly proved through the #ShotOniPhone campaign.
The viral campaign encouraged Instagram users to post photos taken with their iPhones for the chance of having their image featured on one of the 10,000 billboards across the world. The hashtag #ShotOniPhone had more than 21 million entries on Instagram. 
Besides being financially smart, the campaign brought a massive amount of exposure and engagement while promoting the quality of the iPhone camera.
Why it went viral:
It engages the audience

It involves a prize

It uses branded hashtags for visibility
Design the Perfect Viral Social Media Marketing Strategy
While you can't control if a post will go viral, you can always try your best. At the end of the day, all seven tips will at least improve the performance of your social media content and your overall digital marketing strategy. 
What truly matters is to create quality content, be consistent and engage with your audience. It's your hard work and dedication that will pay off in the long run.
So, get ready to channel your creative side and play with some witty ideas. Don't forget, if an egg went viral, you can do it too.
Post Your Viral Social Media Posts with SocialBee!
Create posts, publish, analyze, engage and collaborate, all from SocialBee.