When talking about digital marketing, we all know that having a social media strategy can be an extremely powerful tool for businesses.
So, if you want to achieve success in this online field you have to keep in mind social media algorithms at all times as they can impact your content performance significantly. In fact, social media algorithms are responsible for how much your posts are displayed and to whom. 
If you want to know more about social media algorithms and how you can use them in order to boost your business' success on social media, keep on reading to get the answers you are looking for.
Beat Social Media Algorithms with SocialBee!
Create, schedule, and post all your social media content from one place for a consistent and coherent online presence.
What Are Social Media Algorithms?
Social media algorithms are a method of ranking posts in a user's social media news feed based on relevance rather than the time they were published.  
Each social media channel has some formulas in place that determine what posts appear on a user's social media feed. The algorithm takes into consideration factors such as content type, posting date, user activity and interaction between accounts to create customized news feeds for every social media user.
Since social media algorithms have become so sophisticated, the times when posts were shown in reverse chronological order are long gone—the user activity is what sets the tone nowadays.
Why Do Social Media Algorithms Exist?
The goal of a social media algorithm is to provide users with relevant posts. The purpose of using algorithms on social media networks is to sift more organically through the vast volume of content available on each platform. 
Algorithms are in charge of delivering content that is potentially more "interesting" for a user while ignoring those that are deemed irrelevant or low-quality—either in general or for a specific person.
Skimming through all posts on an account-by-account basis would be difficult without social media algorithms, especially for social media users who follow hundreds or thousands of users on a network.
Algorithms handle the heavy lifting of delivering what you want while filtering out irrelevant content (based on a user's news feed preferences).
How Do Social Media Algorithms Work?
Social media algorithms work by using a set of rules and data to determine what posts to show to each individual social media user. The goal is to curate highly engaging feeds that will keep people active on the platform as much as possible.
The social media algorithm is a simple and straightforward concept, however, the rules that are used to determine the relevance of a post can be very complicated. And on top of this, they are constantly evolving.
Social media networks use a combination of data science and machine learning to write specific algorithms.
Social media algorithms take into consideration the following aspects before promoting posts on user feeds:
Publishing date
Engagement rate
User preferences
Hashtags
Type of content (photo, video, etc.)
Yet, the ranking signals that work on a specific social media platform might not be suitable for other social media channels. This is why we recommend you test how specific posts rank on different social media platforms at specific times for a deeper understanding of social media algorithms.
And remember, the algorithms are constantly changing and so should your digital marketing strategy.
Keep reading to find out how algorithms work nowadays on each of the most popular social media platforms: Facebook, Instagram, Twitter, LinkedIn, Pinterest, TikTok, and YouTube.
Top Social Media Platforms and Their Algorithms
If you are using social media to market your business or if you are a content creator, you must have an idea about how each social media platform uses its specific algorithms to rank posts for its users. This way, you can ensure that you are putting the best content out there, making it most effective for gaining more engagement.
For your content to be able to appear in each news feed, let's take a look at how social media channels are ranking posts based on their algorithms!
1. Facebook's Social Media Algorithm in 2023
On Facebook, each post is analyzed by its algorithms, then scored and ranked in the news feed in order of interest to each user. Facebook's algorithm is based on machine learning and data science and is continually evolving in order to deliver relevant content.
In 2022, Meta claimed that Facebook's news feed "shows you stories that are meaningful and informative". 
The Facebook algorithm prioritizes content according to three main factors:
Content Source – Facebook users see posts from those whom they interact with. This includes friends, family members, businesses, news sources, and public figures they follow on the platform.
Type of Content – Facebook posts are prioritized according to the type of content users interact with the most, such as videos, pictures, and links.
Interactions – Facebook's algorithm sees engagement (likes, comments, shares) as proof of quality. To capture the attention of its users and keep them on the Facebook app, the platform promotes content that already is successful among their online connections. 
2. Instagram's Social Media Algorithm in 2023
In the case of Instagram, the algorithms vary depending on content type. 
Instagram's algorithms influence the following aspects:
The order in which posts appear on a user's feed
The content that gets featured on the explore page
The order in which Instagram Reels get featured
The order in which Instagram Stories get displayed on top of the user's feed
Across all content types and rich media, three factors affect how content ranks:
Follower Relationships – The more you interact with a user, the more you will see their posts show up on your feed.
Relevance – Instagram keeps track of user preferences and promotes posts specifically curated for each person.
Chronological Order – Instagram promotes new content to make sure its users have new and interesting content to explore every time they open the app. New content equals more user retention.
Instagram's Algorithm for News Feed Posts
Instagram has found that people prefer to see their friends' posts in their feed, so the algorithm gathers data and makes predictions in order to provide you with the best experience possible. 
The Instagram feed algorithm is based on the following data:
Post Information–Engagement rate (likes, comments, shares), publishing date, hashtags, location tags, and user mentions
Previous Interactions–The amount of interaction between you and other users impacts how often and where you see their content on your feed
Your Activity–The type of posts you've liked or commented on recently also affects the content you will see on your feed in the near future
Taps on Profile–Checking some Instagram accounts more than others can cause their content to pop up more often on your feed
Instagram's Algorithm for Reels
Instagram prioritizes Reels, similarly to how it does feed posts–based on what it thinks a user will interact with the most.
Here are the factors that affect the way Reels are promoted on Instagram:
Watch time and replays
Likes
Comments
Shares
Saves
Profile taps
Instagram's Algorithm for Stories
The Instagram Stories that come first in your feed is designed to be the most engaging for you. They're from the profiles with whom you interact the most, whether you like, reshare, comment, or save their content.
Instagram's Algorithm for Explore Page
For the Explore page ranking, Instagram's algorithm analyzes the posts that users have previously interacted with and then displays content from related accounts that the user does not follow. 
The algorithm here is centered around how likely users are to share, like, and save a post and how they interact with specific hashtags. These can include both personal and business-related content.
With tools like SocialBee you can post a wide variety of content posts, such as single images and videos, carousels, reels, and stories.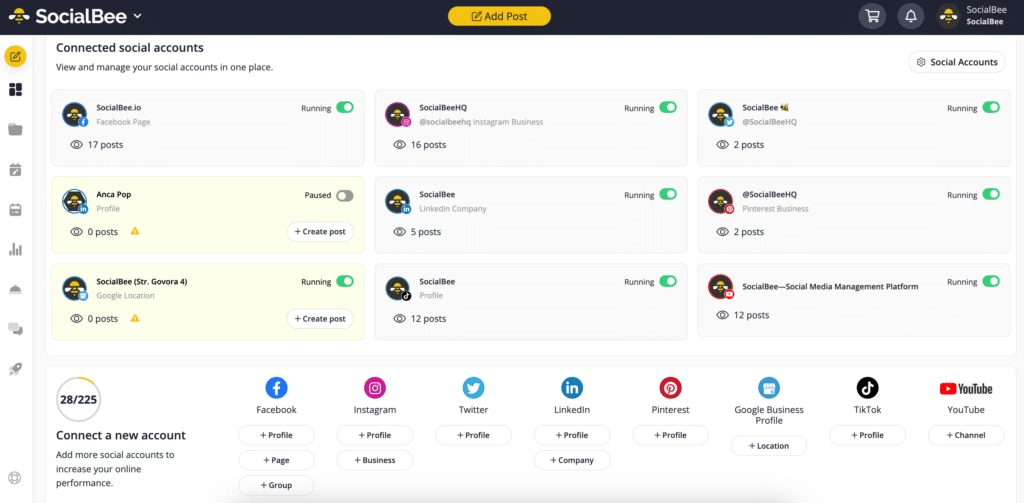 Create, post, and track your Instagram content with SocialBee.
Post on Instagram with SocialBee!
3. Twitter's Social Media Algorithm in 2023
Twitter uses algorithms to personalize its users' experiences. In the home timeline, Twitter displays top tweets from those that have been followed as well as other tweets that Twitter deems to be of interest according to user activity.
Twitter's algorithm uses machine learning, which means that it can be difficult to accurately pinpoint the exact factors the platform uses to curate feeds for its users. 
However, according to Twitter, content is ranked highly when it is recent, relevant, engaging, and rich in media (such as images, videos, GIFs, and polls).
Twitter also recommends accounts based on the following information:
User's contacts
User's location
User's activity on Twitter
User's activity on other websites linked to Twitter
Promoted accounts
4. LinkedIn's Social Media Algorithm in 2023
If you are designing your LinkedIn social media strategy, know that be very open about the way they rank their posts. 
To start with, content is split into three categories:
Spam content
Irrelevant or low-quality content
High-quality content
The spam content is instantly dismissed. The other two types of content are shared normally on user feeds. Then, in the following hour, the posts go through an evaluation process—LinkedIn's algorithm measures their engagement rates to decide which of them will get promoted on more user feeds. The more people engage with your content, the more LinkedIn will promote it.
The LinkedIn algorithm determines the content that appears on a user's feed based on:
User's personal connections
Relevance is based on the groups, hashtags, and pages a user follows
The probability of engagement
For you to be able to gather organic reach on LinkedIn, you need a strong community. At SocialBee, we will conduct LinkedIn research on your target audience. Every week, we will send 100 connection messages to fresh, high-value, targeted leads.
Get leads off LinkedIn with SocialBee!
5. Pinterest's Social Media Algorithm in 2023
Pinterest is a social media platform where users can share images and videos, create and organize content using boards, and "pin" posts they find inspiring or useful.
Their Pinterest algorithm is based on four factors:
Domain Quality 

– Pinterest looks at how popular pins from your website are. The algorithm better ranks pins that are saved, clicked and interacted with as much as possible.

Pin Quality 

– This focuses on the quality and authenticity of the content. Pinterest doesn't prioritize spam interactions or duplicate content, for example.

Pinner Quality 

– It refers to the overall activity and engagement a pinner receives on the platform.

Relevance of topic to the keyword 

– The algorithm prioritizes the content that is relevant to the keywords used.
6. TikTok's Social Media Algorithm in 2023
Videos are a powerful marketing tool.
In fact, nowadays, 85% of marketers consider that video is a good method to attract people's attention online, while 94% shared that watching a video has helped them make a purchase decision at least once. And TikTok is one of the strongest video-based social media networks.
When discussing TikTok's algorithm, there is only one important aspect you should consider in order to be successful: the For You page. Anyone who wants to go viral on TikTok should focus on appearing on as many For You pages as possible (since there is no universal For You page, but millions of customized ones for each user).
And don't worry, on TikTok, it doesn't matter how many followers you have, the engaging quality of your videos is what dictates your content performance.
TikTok's For You page is a content feed that provides users with customized videos they normally enjoy watching on the platform. It is based on a "recommendation system" from algorithms that determine and pick content that is likely to be of interest to the user. 
The main criteria for appearing on a user's TikTok For You page consist of:
User Interactions

 

— User behavior says a lot about preferences in terms of video content. So, in its search to improve user experience, TikTok looks at the content and creators you liked and blocked to inform its next recommendations.

Video Information

 

— The content that comes with a video (captions, hashtags, sounds, filters), also indicates certain formats and topics a user is interested in. For instance, if a user watches content with hashtags that revolve around food and recipes, they will see more cooking videos than the average user.

Account Settings

 

— Your location and language settings affect the sources of your content. To provide relatable content for you, TikTok pushes creators from your area.
7. YouTube's Social Media Algorithm in 2023
The YouTube algorithm is intended to assist viewers in finding video content that they wish to watch, while also maximizing viewer retention.
To personalize videos recommendations, YouTube considers three major factors:
User Activity 

— The user's viewing history and video content preferences

Engagement

 

— Watch time, video reactions (likes, comments, shares)

External Influences

 

— Current events, the latest news, or trending content
Master Social Media Algorithms on Each Platform!
To be able to master those social media algorithms, marketers must look at each platform individually to ensure that their output is as successful as possible. 
By tailoring your social media strategy for every platform, you can significantly increase your reach levels and encourage interactions from your followers. And what better way to do so than with SocialBee? 
Start your 14-day free trial now to discover how easy it is to create, schedule, and post all your social media content from just one dashboard
Customize Your Social Media Content for Every Algorithm with SocialBee!
About the author: Lily Meyers is a freelance writer who specializes in lifestyle writing and social media reporting. Lily has recently graduated from university in the United Kingdom and is currently pursuing a career in journalism.