Nowadays, promoting your business on social media is way easier with the help of Instagram influencers.
When building your brand on social media, your primary focus is to increase your brand awareness. The goal is to start a conversation with people interested in your business and encourage them to make a purchase.
However, trying to find Instagram influencers can be a challenge, especially if you're not sure where to start. Once you read these five tips, you'll learn how to find influencers that will help you grow your brand's presence on Instagram.
Are you ready to introduce Instagram influencers in your social media strategy?
Free Editable Social Media Strategy Template
Get the social media strategy template you need to audit and plan your marketing efforts for maximum results.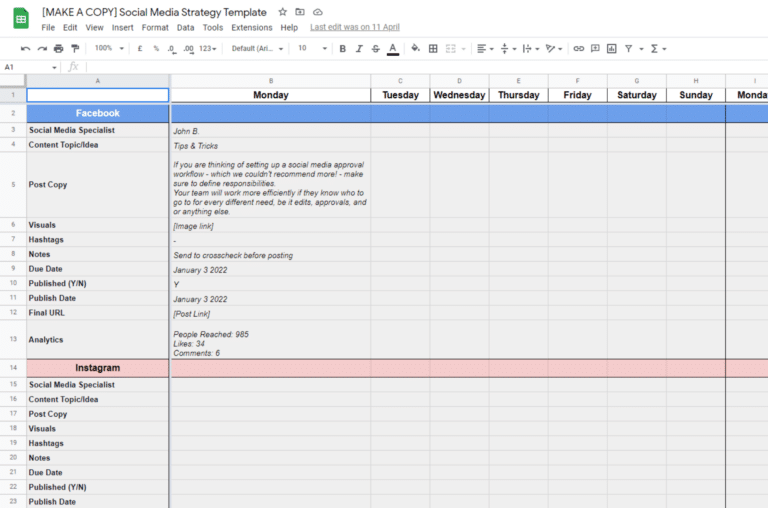 5 Top Ways to Find Instagram Influencers
One size never fits all, so simply having a popular Instagram account is not a good requirement for choosing influencers for your marketing campaigns.
Instead, you should be considering content quality, brand fit, checking audience demographics, and engagement rates to maximize the chances of a successful collaboration.
Today we're going to share five different ways to find Instagram influencers. This will help you find the one that will work best for your brand.  However, don't be afraid to mix things up, as you never know what will bring the best results.
These are our top five recommendations on how to find Instagram influencers:
Find influencers within your niche
Conduct relevant hashtag research
Use Instagram influencer marketing platforms
Consider micro-influencers
Discover who your target audience is following
1. Find Influencers within Your Niche
The best thing you can do is to find influencers within your industry and niche.
This will help ensure you're reaching the right target audience. The beauty of working with influencers is that they have an audience that trusts them and their recommendations. So they will be open to investing in your products and services.
However, influencers are often protective of their audience, and they'll only promote brands and products that they believe will be a good fit. After all, if their audience doesn't like something, they'll lose credibility. 
If you try to work with an influencer outside of your niche, you run a higher risk of having them turn down your request. Or, if they do decide to work with you, you might not get a great return on your investment since their audience might not be interested in your products and services.
"How do you find Instagram influencers in your niche?" you might ask.
Here are our tips on how to find niche influences:
Performing competitor research
Performing industry research
Collaborating with an influencer marketing agency
A. Performing Competitor Research
The first thing you need to do is some competitor research. Check in with your competition and see what influencers they're partnering with for promotions. This will give you a good idea of who's popular in your industry.
For example, if you are looking for beauty influencers, you can take a look at the top influencers that are collaborating with large brands such as Sephora or Benefit.
B. Performing Industry Research
Influencers can also be professionals in your own industry, therefore it is important to do some research on the level of the industry.
Moving back to the previous example. If you have a cosmetics company, not only beauty and lifestyle influencers can be targeted as top influencers. You can also look for a makeup artist with a large following to be fit for your niche.
For example, James Charles is a make-up artist well-known for beauty tutorials who also has his own cosmetics range, but he still collaborates with other beauty brands.
C. Collaborating with an Influencer Marketing Agency
Similarly, you can collaborate with a nice influencer marketing agency. While some of them have a broad range of influencers, from fitness influencers to photography influencers, there are specific marketing agencies that have a niche of content creators they are collaborating with (i.e. a parenting influencer marketing agency or a fashion influencer agency focused on style influencers from the fashion world).
2. Conduct Relevant Hashtag Research
Another great tip that can help you in finding influencers' Instagram accounts is researching popular hashtags. Begin by searching for hashtags you know your ideal audience is using.
Then, identify influencers who are popular among them. As a result, you will find influencers who are getting in front of your ideal audience and have the power to generate more leads for your business.
However, what if there are more hashtags that you don't know about yet? It's time to bring in an Instagram hashtag generator. This is a tool that will help you discover new hashtags that are popular with your audience. 
When you use a generator, all you have to do is add keywords relevant to your industry. You'll soon see a list with recommendations that you can start using to find your next suitable influencer. With SocialBee's Hashtag generator you can genetare the best hashtags for your content, organize them in multiple categories and add them to your posts with a few clicks.
With SocialBee, you can schedule your posts into categories and quickly add your hashtags in the captions.
 Start your 14-day free trial now!
3. Use Instagram Influencer Marketing Platforms
Working with third-party influencer marketing platforms can also help you find Instagram influencers. More importantly, they'll help you create a strong Instagram presence, so influencers will see the benefit of collaborating with you. 
Instagram influencer marketing platforms can make your life easier by saving you the time and energy you could invest in searching for valuable Instagram influencers.
Influencer marketing tools act as both databases and communication tools. Moreover, you can search for influencers from your niche while creating campaigns to pitch to them, all within the platform. Whenever you use a tool like this, you can be more efficient in reaching your business goals. 
These are the influencer platforms we suggest using:
Tagger Media
AspireIQ
Upfluence
A. Tagger Media
Influencer platforms like Tagger Media are databases that you can use to track conversations and find influencers on Instagram who are addressing your ideal audience. The best part is that you can also use the platform to focus on psychographics and find new interesting content topics for your future Instagram posts. 
B. AspireIQ
Another great tool is AspireIQ, whose program searches the web to find influencers who are worthy to be included in their database.  Again, you can create campaigns within this tool.
AspireIQ has a feature called "Quickmatch" which recommends influencers on Instagram for you based on your criteria and preferences.
C. Upfluence
Finally, another influencer marketing platform to consider is Upfluence. Their database contains nearly one million influencers. Also, they offer detailed search methods so you can find a quality list of influencers that bring value to your brand. 
Once you've found your list, you can export it to a CSV file, or even manage all of your influencer relations through Upfluence. Additionally, you can use their lifecycle management function to track the process.
Upfluence does have a couple of limitations. One is that their database only includes 'vetted' influencers, which means some untapped creators who aren't proactively looking for partnerships are missing from their search tool. It's also pretty pricey. If those are concerns, take a look at some Upfluence alternatives like Modash which are a little more accessible.
4. Consider Micro-Influencers
If you ignore every other tip here, listen to this one. Don't discount micro-influencers just because they have a smaller following than macro-influencers. 
In many cases, partnering up with a micro-influencer can be more beneficial than working with bigger influencers on Instagram. While macro-influencers have larger audiences, they can have a following that expanded way over your niche, which can negatively impact your customer conversions. 
The point of working with an influencer is not only to build brand awareness but also to drive sales.
Micro-influencers have smaller followings, but they tend to attract more specific groups of people and connect with most of their followers on a much deeper level.
This is achieved through consistent engagement, such as responding to their DMs or liking their comments. In this way, they develop a connection based on trust. Meaning that their audience will be more receptive to their recommendations.
Bigger influencers, on the other hand, are often too big to establish a real relationship with their followers. 
They sometimes do more brand partnerships, so their followers might be less likely to actually make a purchase since there will be another new promotion in just a few days. Or, maybe they'll question why this influencer is promoting a certain product.
There are certainly times when working with a macro influencer is a good idea. If your primary goal is brand awareness, for instance, macro-influencers can be a great choice to get your brand in front of many people at once. 
However, if you're looking to convert this influencer partnership into sales, consider working with a micro-influencer or two.
5. Discover Who Your Target Audience Is Following
If you're trying to find influencers who are talking to your audience, see who your audience is following. Start by identifying members of your ideal audience. 
These could be:
People who already follow you 
People who follow your competition
Complementary brands from your industry
People who follow relevant influencers from your niche
From there, identify who they're following and find out which influencers overlap within their lists. This will help you pinpoint popular influencers within your niche who have a valuable audience for your products and services. 
How Instagram Influencers Can Impact Your Brand
So now that you know how to find Instagram influencers, let's talk for a brief minute about why they're important for your brand. 
These are some of the ways social media influencers can impact your brand:
Create user-generated content
Lead to increased reach and high engagement rates
Offer access to new audiences
1. Create User-Generated Content 
Collaborating with top Instagram influencers can help you get
user-generated content (UGC)
. UGC resonates well with people because it's a source of external proof that builds trust and credibility around your brand. 
People are used to businesses promoting their products and services. However, when someone else comes in and shares their opinion, it has a much greater impact.
When you work with an Instagram brand ambassador, you can specify in your contract that you want the right to repost their content on your account as UGC. You can also ask influencers to encourage their audience to post pictures of their purchased products once they receive them. Then, you can use that as UGC on your Instagram content calendar.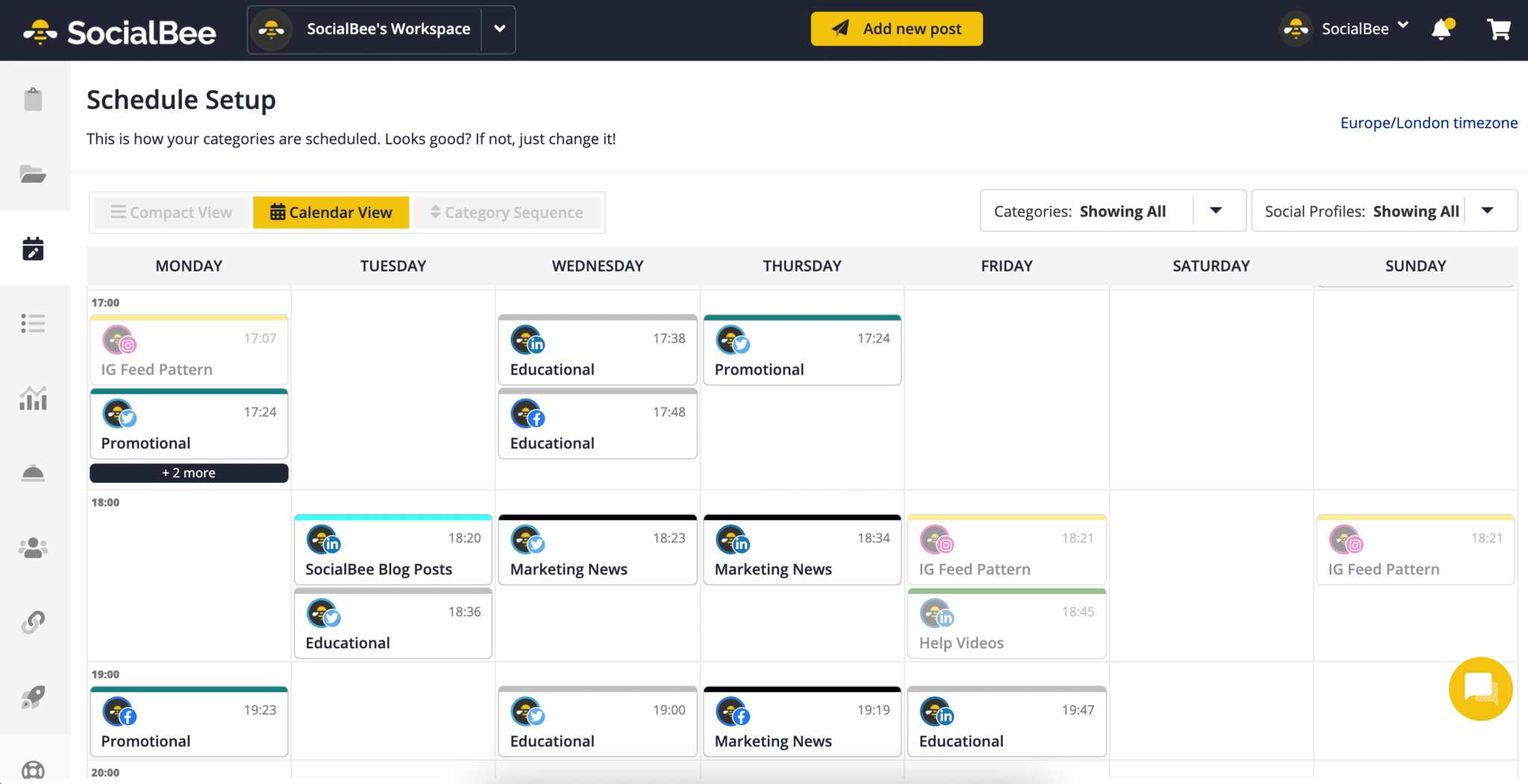 With SocialBee, you can schedule and post your UGC on every social media platform.
 Start your 14-day free trial now!
In some cases, you might not even have to ask. Some people will want to get your attention, so they'll make posts and Instagram stories about your products and share them on social media, while generating word-of-mouth marketing. This is a great way to make the most out of your influencer partnerships.
2. Lead to Increased Reach and Higher Engagement Rates
It might be obvious, but working with Instagram influencers will boost your reach and engagement levels.
They'll promote your business to a significant audience, and encourage them to interact with your brand (follow you on social media, visit your website, etc.).
For example, as part of your influencer collaboration, you could run a contest or giveaway. To win, people will have to follow your account and like, comment, and tag people on a particular post. Not only will you grow your follower count, but you will also boost your Instagram engagement and generate more brand awareness in the process.

3. Offer Access to New Audiences
Working with top Instagram influencers helps you introduce your brand to new different audiences. Even when you find influencers from your niche, they'll most likely post diverse content that attracts different types of Instagram users. 
For example, food bloggers might also occasionally post about their fashion. Exercise influencers might share their favorite music artists. People follow influencers for many different reasons, not just due to one aspect of their online presence.
When you partner with a social media influencer, you're getting access to all of their followers, not just those who are an obvious match for your brand. The best thing about Instagram influencer marketing is the opportunity to introduce your brand to a new audience that you didn't consider before, but that proved to be a profitable customer segment worth exploring.
Are You Ready for Your Influencer Marketing Campaign?
Now that you know how to find Instagram influencers, it's time to get to work.
Influencer marketing can have a major impact on your Instagram presence. No matter your business industry now is the time to explore influencer partnerships. Take these five strategies and use them to find the best influencers for your niche. 
By working with top Instagram influencers, will you find someone who has a platform powerful enough to:
Expand your brand reach
Boost your social media engagement
Sell more products
And don't forget that you can repurpose their content and share it on your own Instagram account! You can integrate influencer content in your social media calendar and publish it with the help of SocialBee.
Start your 14-day trial now!
Post Your Content on Social Media with SocialBee!
InfluenceGrid is a TikTok search engine that helps you find influencers to work with. Advanced filters, username search, and detailed influencer profiles will make your influencer search easier than ever.