To tweet or not to tweet? Now that's a question worth asking if you want to learn how to gain Twitter followers by posting on Twitter frequently. 
Generally, the answer will always be yes—tweet and retweet your way to a solid follower base. However, just as with other social platforms, your Twitter audience wants to see relevant content on your account and not just some random posts that you tweet inconsistently. 
Essentially, that's a big no-no. But let's explore the ins and outs of a great Twitter marketing strategy and discover all the right ways to grow your following. 
Optimize Your Twitter Posting Schedule!
Download the Best Times to Post on Social Media sheet and start adjusting your content calendar for maximum engagement. 
Why Do Twitter Followers Matter?
Twitter is one of the most important social media apps in the world. As of 2022, the Twitter platform has more than 396 million users, most of which are from the USA. 
Having a large audience to connect to and share your insights with is no longer just an entertaining hobby. Nowadays, a large Twitter followers base is an asset that you can monetize, and use to gain insights from the market and to build a credible social status. 
For businesses, having a large follower base on Twitter has the following benefits:
It provides a channel for live communication with your customers, prospects, affiliates, and generally the majority of your stakeholders

It provides a place to gather insights from the industry and notice your audience's behavior and preferences

It helps you build a space to promote your offerings and increase brand awareness

It allows you to connect with a larger community and network within your field
If you want to have a solid Twitter profile and share opinions that matter to a large audience, you'll need to get followers on Twitter ASAP. Fortunately, we've got the formula that'll set you up for success, and we're ready to reveal it in this article. 
10 Ways to Gain More Twitter Followers
Growing Twitter followers can be a challenge, especially in today's world where so many active users have already made a name for themselves.
With an abundance of creators, influencers, and tweets posted on the app, it can seem discouraging to even begin posting content on your Twitter feed or elaborating a social marketing strategy that grows your Twitter following.
Unsurprisingly, this is what the majority of users believe as well, which makes the actual level of competition diminish significantly. If you want to grow your Twitter followers, all you have to do is follow these 10 proven strategies: 
Customize your posting system for the twitter algorithm

Participate in Twitter chats

Promote your Twitter profile on other social media

Complete your Twitter profile

Use hashtags to reach new potential followers

Create Twitter threads

Engage with other Twitter users

Join Twitter communities to find more followers

Create Twitter polls

Tag other influencers and brands to attract new followers
Now, let's explore each one in detail and see how you can implement them into your Twitter routine!   
1. Customize Your Posting System for the Twitter Algorithm
Each social media app has its own algorithm that dictates where your posts go, who sees them, and most importantly, how they perform overall. Naturally, your content quality plays the biggest role in making your posts searchable and drawing followers to your Twitter feed. 
Here are six ways to customize your posting system to get more Twitter followers: 
Find your niche 

Brainstorm content ideas

Create relevant content for your target audience consistently

Tweet regularly and include relevant hashtags so that your posts get noticed

Customize your posts according to each social media channel you use

Monitor your Twitter analytics to find out what works best for your Twitter followers

Adjust your content strategy according to your social media analytics
As part of your followers campaign, you should always tweet consistently. To do so, you'll need to plan your tweets ahead of time. Fortunately, SocialBee is an all-in-one integrated app that can help you create, schedule, and share customized content for each platform. 
Even better, you can diversify your captions and relevant hashtags for each platform through our variation feature.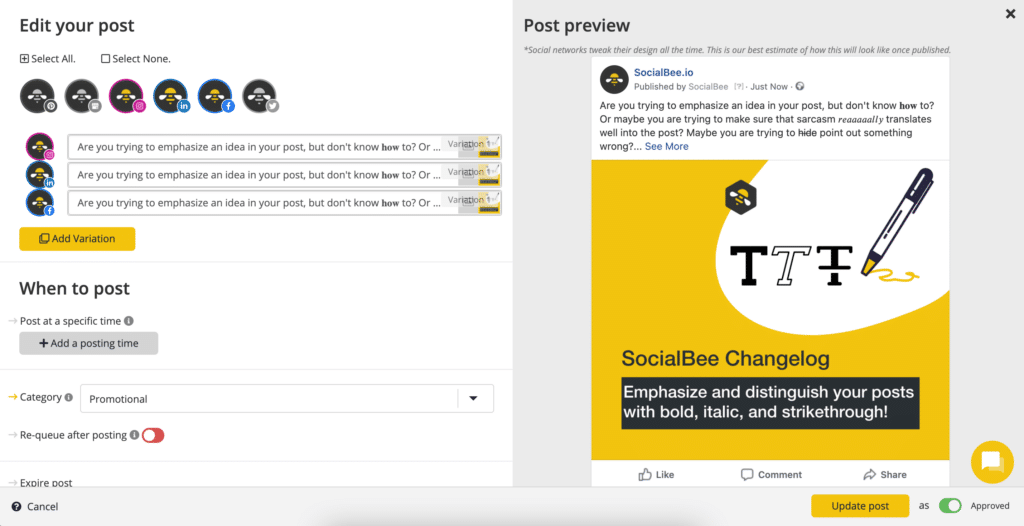 Customize your Tweets and posting schedule directly from SocialBee.
Schedule Your Tweets at the Best Times with SocialBee!
2. Participate in Twitter Chats
Twitter chats are a wonderful way to get more Twitter followers while also entertaining other users on the app. Essentially, Twitter chats are communication sessions hosted by a Twitter account with the whole purpose of chatting on a given topic.
A Twitter chat brings users together for a common purpose and spark more engagement within your follower count. The key aspect regarding Twitter chats is that they occur at the same time, whether that's once a week, a month, or any other preferred time frame. 
Participating in a Twitter chat related to your industry niche can help you connect with like-minded people, brands, and Twitter accounts of all types. While networking, you can share your opinions on the topic.
If users find your input valuable or if it sparks curiosity, intrigues your target audience, or even creates controversy, chances are users will check out your Twitter feed. Who knows, maybe that's your chance to get more followers. Nevertheless, creating your own Twitter chat can draw users to your profile. 
3. Promote Your Twitter Account on Other Social Media Platforms
If you're new to Twitter, or simply want to increase Twitter followers, you'll want to cross-promote your content across multiple social media profiles. The majority of social media users have multiple accounts that they activate to keep in touch. 
If you're on Twitter, that doesn't mean you can't bring Facebook, Instagram, TikTok, or any other social media app into the mix. Inviting your Facebook followers to become a part of your Twitter audience is likely going to be a key move in your social media strategy. 
Social media marketers often use multiple platforms to advertise their brands for various reasons. Some users may engage with your account on one platform, without considering following you on other social media platforms.
The key to this strategy's success is to keep your content relevant on all channels and avoid repeating and recycling it too much. Just as you want to keep your target audience engaged on the Twitter platform by making sure you tweet regularly, you'll want to make sure you do the same with all the other social media profiles.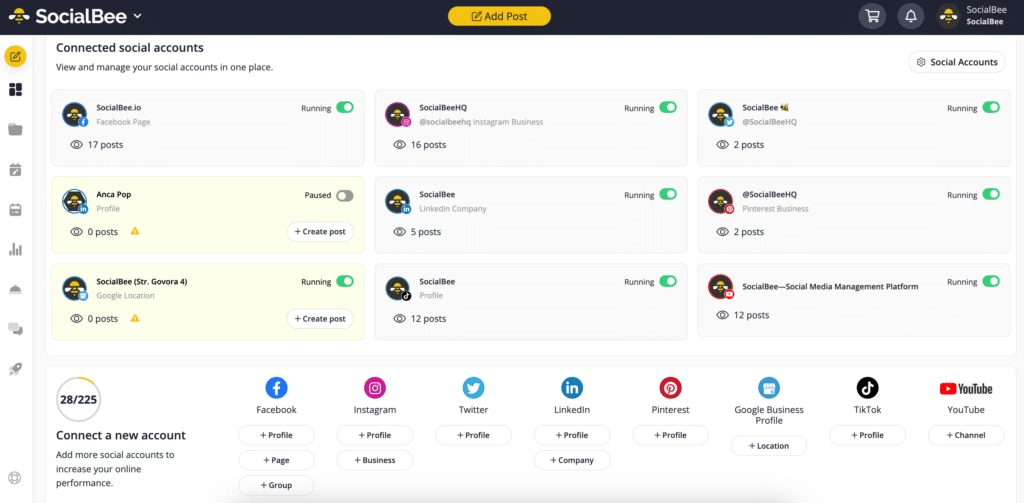 Schedule your posts across all your social media channels in one place.
Start your 14-day free trial at SocialBee today!
4. Complete Your Twitter Profile
If you know how to draw users towards your profile, you've successfully unlocked half of the social media strategy you need to get more followers on Twitter. 
However, once users get to you, what do they see? 
Is your bio up to date, your profile displaying relevant retweets while your own look neat and engaging? If not, here's what you need to do to make your profile attract more followers on Twitter: 
Add a clear profile photo
Write a compelling Twitter bio that includes all the details the world needs to know about you 

If you repost someone else's tweets, make sure they're related to your niche 

Tweet consistently, but purposefully, so that your profile looks active and engaging 

Post visual content that catches the eye's attention 
5. Use Hashtags to Reach New Potential Followers
Social media apps like Twitter or Instagram and hashtags go hand-in-hand by nature. Industry hashtags are an essential part of your social media strategy because they make your posts easy to find. 
When someone's search query includes the hashtag you've used in the caption, they'll automatically see all the results available for that hashtag. 
Also, since our favorite social media apps are always improving and learning from us, hashtags now play an even bigger role in your social media presence. Users can now receive posts based on similar, but hashtags they've followed or looked for. 
Here's how to find relevant hashtags in your industry:
Click on the explore tab and see what's relevant in your area

Look up hashtags by keywords in your industry to see what's used the most

Check out other accounts from your industry to see what they are using

Use

specialized apps

that can help you research relevant hashtags
Create hashtag collections and add them to your posts in just a couple of clicks.
Create, Customize and Share Your Tweets with SocialBee!
6. Create Twitter Threads
Twitter threads help users build more context, update their users on a given topic, and keep the engagement going. With a Twitter thread, you essentially give course to a first tweet that introduces the matter, then provide more content in the thread below. 
Moreover, you can wait for your users to continue debating on your topic and then get back into the thread to provide updates. The result? Even more engagement. 
To create a thread, you'll want to choose a topic related to your industry or brand's niche.
The main idea of your thread is to create engagement and make people curious about what you have to say. If your thread gets popular on the internet, your follower count is highly likely to skyrocket. Just look at Elon Musks's viral Twitter account—it speaks for itself. 
7. Engage with Other Twitter Users
Just like with any social media channel, engaging with various users is crucial for your Twitter's success and implicitly, to increase Twitter followers. When you interact with new users, it's not only them who see your replies and input on the topic. 
Due to the public nature of social media, users can witness any social media interaction that occurs on a non-private account. They can also like or reply to your message, or check out your profile to learn more about you.
If they like what they see, there's a strong chance they'll follow you for more. However, don't expect that to happen after just a few interactions here and there on the platform. To see improvements in this strategy, you'll have to be consistent and follow large threads on Twitter that gather audiences. 
You can also look for popular threads in your industry niche so that you provide meaningful information on a topic you're well versed in. Lastly, feel free to leave comments on the accounts of small brands too, as they need your support and are highly likely to engage right back with you. 
8. Join Twitter Communities to Find More Followers
Twitter communities are a fantastic way to network your way up in your followers campaign. 
Having these dedicated spaces to connect to users that share the same interests as you do and being able to offer your input on certain topics can prove to be not only a fun activity to do but a remarkable way to grow your Twitter following. 
When you share your valuable ideas in a place that's created for this sole reason, your chances of being recognized grow. The idea is to stay active in these communities and share original content, but also engage with someone else's tweets, a Twitter poll, a pinned Tweet that got a lot of recognition, or anything you see fit. 
9. Create Twitter Polls
A Twitter poll is just like any other poll. The main idea behind such digital concepts is that you pose a question that sparks curiosity or controversy and provide users with at least two possible answers.
Naturally, everyone has a different opinion on things, so your poll's results are going to be quite diversified. These social media trends have the power to grow your profile and Twitter following for multiple reasons. 
Firstly, a poll can easily become viral, so a lot of people get to hear about it and participate in it, boosting your profile's exposure. 
Second of all, a poll can give course to a series of new topics that speak to the people in your industry, turning your profile into a fun place to be for those who want to explore a particular side of Twitter. 
10. Tag Other Influencers and Brands to Attract New Followers
It is a known fact that industry influencers are a strong component of any social media platform, and Twitter is no different. Influencers managed to turn around masses of people to live a certain lifestyle, buy certain products, go to specific places, and whatnot.
Therefore, if you tag these people in your posts, chances are their followers might migrate to you. Of course, you can't just spam-tag all these famous people and hope for the best.
The best strategy is to let them know in advance and establish a cooperation agreement, or buy something they advertise and let them know how it went. They'll surely be happy to see that their campaign works, and you'll get a chance to be featured on their page somehow. 
Twitter Account Growth FAQ
1. Should You Buy Twitter Followers?
Never. Buying fake followers on Twitter will not only look shady when real users stumble upon your page and fact-check the reason behind the inflated number, but it will also get you a whole bunch of fake accounts with no use. 
Buying Twitter followers will give you bot accounts that don't engage with your content. Also, with Twitter's updates, chances are they'll also get deleted right away, so your money will be wasted. 
2. How Can You Engage with Your Twitter Followers?
You can engage with other accounts easily on Twitter. All you have to do is comment on their Twitter threads, retweet their posts, tag them, write them a private message, or provide some meaningful public replies that can help them or other users too. 
You can engage with industry leaders, popular tweets, comment on industry news posts, or do whatever you see fit and think will help you increase Twitter followers.
3. How Often Should You Tweet to Increase Twitter Followers?
To increase your Twitter followers you should tweet regularly to keep your followers engaged. You can tweet as often as three times a day, or seven tweets a week, depending on your time availability. Naturally, the more you tweet, the higher the exposure, which can translate into new Twitter followers. 
The point is to set up a content calendar that you can stick to. Create a routine that your followers can adhere to and accustom them to your profile by letting them know when they can expect a new tweet from you. Consistency is key when it comes to social media marketing. 
Gain Followers & Improve Your Twitter Marketing Strategy
Twitter is a great place to get instant feedback on your efforts, and it can be very powerful in building your network and fan base. But as social media experts like ourselves note, don't just toss up a few tweets every day and expect people to rush flocking to your follower account. 
Instead, you'll need to work hard, follow the right practices and stay genuine: only then will Twitter serve as a real resource for you. On top of that, you need to stay consistent, build a long-lasting social media marketing strategy, and always add value to your Twitter audience's lives. 
Start your 14-day free trial today with SocialBee to create a content calendar, schedule, and share content on all Twitter from one intuitive dashboard!
Gain More Leads with Less Effort—Schedule Content with SocialBee!