Each social network is different. So, if you want to improve your marketing plan, you must start researching social media best practices for each individual platform. 
But don't worry, you don't have to spend hours reading dozens of articles to get a better understanding of the topic — you only need to read one. This one.
Today we will discuss the top 10 tips that work on all social channels, as well as the practices and social media tools that work best for each platform.
Let's get started!
Free Editable Social Media Strategy Template
Get the social media strategy template you need to audit and plan your marketing efforts for maximum results.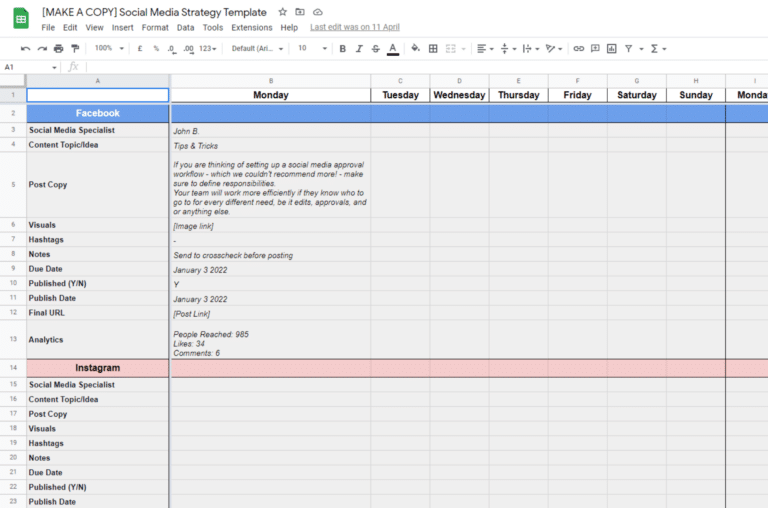 10 Best Practices That Work for All Your Social Media Channels 
Here are the 10 social media marketing tips for all your social media platforms:
Understand Your Target Audience

Audit Your Social Media Presence

Use Social Media Management Software Like SocialBee

Choose the Best Social Media Platforms

Set Social Media Marketing Objectives

Create a Social Media Content Calendar

Customize Your Content For Each Social Media Network

Diversify Your Content Strategy

Schedule Your Content at the Best Time

Monitor and Adjust Your Social Media Marketing Strategy
Let's discover all the ways you can improve your social media marketing plan!
1. Understand Your Target Audience
Who are your potential customers? What type of people want/need your products and why?
If you plan on doing lead generation through social media, start by researching your audience; try to find out more than the basic information that defines them. Stop thinking about your customers in terms of audience demographics, and start understanding them as real people with interests, challenges, and needs.
To get a better idea of who your customers are, you can create a buyer persona and structure your information about your customers the same way you would build a character.
To build a buyer persona, you need to know the following information about your customers:
Interests/hobbies

Values

Buying behavior

Challenges/pain points

Objectives

Desires/needs

Preferred social media sites

Types of content they enjoy

The devices they use most to shop/consume content
2. Audit Your Social Media Presence
If you want to improve, you have to start with the man in the mirror. It sounds cheesy, but it's true.
In order to create an effective social media strategy, you have to evaluate your performance and find out your strengths and weaknesses. Start thinking like a true social media marketer!
As a result, you will know what you need to change and what you should continue doing.
Here are the steps for running a social media audit:
Check your social media accounts and see if the information you provide is updated and complete.

Check for impostor accounts that might use your brand name and report them.

Monitor your reach, likes, comments, and shares, and find out what your best-performing posts look like.

Find out who your social media audience is by looking at your analytics.

Look at your activity statistics and see what you can improve.

Compare the performance of each social media channel and decide what platforms you should keep and which ones you should give up on. 

Evaluate the performance and ROI of your social media advertising.
[Free Download] Social Media Audit Template
Download the template below to get the step-by-step process of running a social media audit for your profiles.
3. Use Social Media Management Tools Like SocialBee
Managing multiple social media platforms at once can be time-consuming because it requires you to manually go to each channel to create and post content.
So, whether you are a small business owner that doesn't have enough time to manage their social media presence, or a social media agency with dozens of clients, automating content creation and distribution tasks with the help of scheduling tools can save you hours of work each week.
SocialBee is an all-in-one social media management tool that allows users to create, schedule, and post content to all their social media accounts from the same place.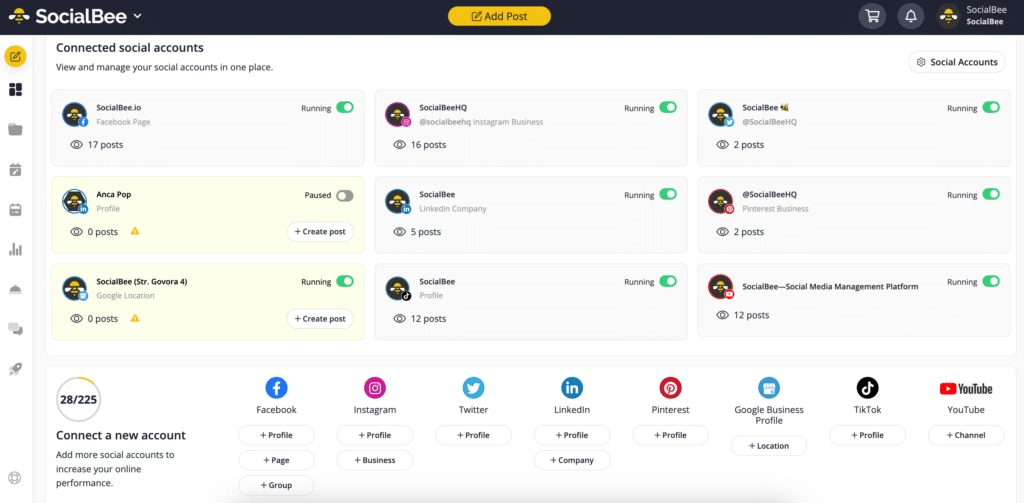 Here's SocialBee's main dashboard where you can connect all your social media accounts to the platform and start creating and posting content with ease.
Start your free SocialBee 14-day trial to save hours by automating your time-consuming tasks!
From one content editor, you can customize your social media posts to fit the requirements of each platform by adjusting the word count, adding hashtags, emojis and editing the image sizes of your visuals.
In addition, by using SocialBee, you can also monitor your social media performance by accessing your analytics from the platform. You can also create separate workspaces for each one of your businesses and invite your team members to SocialBee so you can create engaging content and communicate on the same platform. 
Here are other SocialBee features that can help you create better content in less time:
Organize your social media post based on topics. 

Build a customized social media posting schedule for each one of your social accounts.

Set evergreen posting sequences to maintain a consistent flow of social media posts.

Receive curated content suggestions in your SocialBee post categories.

Create visual content from SocialBee's content editor by using the Canva Integration.

Overview of your social media content strategy in a visual calendar format.
However, this is not all. You can discover all the features this scheduling tool has to offer by starting your free 14-day trial today!
Share Your Social Media Content with SocialBee!
4. Choose the Best Social Media Platforms
Depending on your business type and your target audience, you will have to choose the best social media channels for your brand.
The key is to work smart, not hard. After all, why should you invest time into creating multiple weekly posts for platforms that won't bring you real value to your digital marketing efforts?
So, to determine which are the best social marketing channels for you, all you have to do is:
Check the analytics of each platform to see where your audience spends the most time.

Look at what networks your competitors are using.

Check your analytics to see which platforms bring you the most results.
5. Set Social Media Marketing Objectives
All the effective social media marketing strategies have one thing in common — a well-written set of S.M.A.R.T. objectives (specific, measurable, achievable, relevant, time-bound).
When you set social media objectives, you get to establish:
What you want to accomplish

How do you plan to do it

The way you will measure your success

An approximate date by which you will be able to achieve your ambitions
If you are not sure about which goals you should prioritize, start by evaluating your business needs and translating them into clear social media objectives.
For instance, if you recently launched your business, and not many people know about your brand, a good social media objective would be to gain more social media followers to increase brand awareness.
6. Create a Social Media Content Calendar
If you want to generate results through your social media accounts and grow your platforms organically, you have to maintain a consistent posting schedule customized for each platform.
You don't know the ideal posting frequency you should maintain on your social channels?
Check out the image below to find out how many times you should post weekly on the seven most popular social networks.
To make sure you have enough social media post ideas planned for the next weeks/months, you should create a social media calendar in which you could add details about where, when, and what you will post on each platform.
To run successful social media marketing campaigns you also need to create relevant content and publish it on your platforms in a strategic manner. This requires planning ahead, setting deadlines, and distributing content creation tasks to members of your marketing team.
Having a content calendar will help you plan your content marketing strategy while also allowing you to:
Save time

Maintain a consistent posting schedule

Keep your social media team accountable for their responsibilities

Brainstorm creative content that will boost your performance

Schedule your content at the best time
Don't have enough time to build your content calendar from scratch?
Get access to our social calendar template below and start planning your social media posts effectively and with minimum effort.
Free Social Media Calendar Template
Get access to our template and create your own social media content calendar the right way in half the time.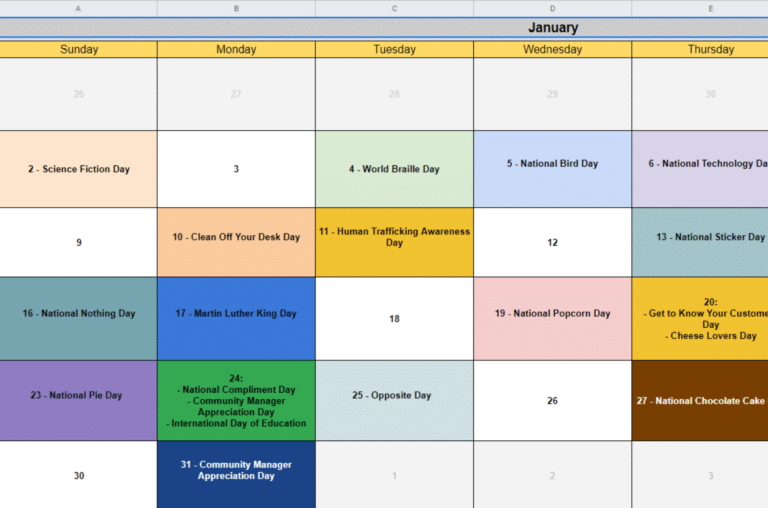 7. Customize Your Content For Each Social Media Network
While creating your social strategy, you have to keep in mind that each social media platform is unique. So, if you want to have visible results, you must customize your content to fit their special requirements.
Great social media management tools like SocialBee can help you optimize your content with ease for all your platforms.
All you have to do is open your content editor, create your post and click customize for each platform to make your edits.
Adjust the posts you share on all your social media networks from the same content editor to increase your reach and engagement levels.
Start your free 14-day trial to improve your social media strategy easier than ever before!
There are different types of audiences on every social network. Also, people use different platforms for various purposes. For instance, LinkedIn is a professional network mainly used to search for business opportunities, while Instagram is used for online socializing.
This is quite a big and obvious difference, but there are multiple other small distinctions that add up and contribute to the uniqueness of each platform, such as:
Post type:

What post formats (images, text, videos, carousels, stories, etc.) get shared on each network?  

Content topic:

What type of content works best for each social platform?

Character count:

How many characters can you add to your posts on each channel?

Hashtag use:

Does the platform organize content using hashtags? If yes, how many?

Video and image sizes:

What image specifications do you have to set for the images and videos you post on each network?
So, make sure you research the requirements for every platform you use and tailor your content accordingly. This way, you will reach more people from your target audience and boost your engagement rate.
8. Diversify Your Content Strategy 
Imagine subscribing to a Youtube channel you find interesting, but after a while, you realize that they only create content about one topic. What will you do then? Most probably, you would unsubscribe to avoid receiving the same content recommendations over and over again.
In the same way, if a potential customer likes your page and sees that you only post about your business, they will eventually get bored seeing the same posts each week and ultimately unfollow you — the exact opposite of what you want to achieve.
So, to avoid this, you have to create a diverse content strategy and offer your audience content that will inform, educate, entertain and get them to interact.
You can easily do this with SocialBee by:
Creating content categories

Setting different posting schedules for every category
Keep your audience engaged by mixing up your social media content. Create content categories with different topics and schedule them to post alternatively on your accounts.
Start your free SocialBee 14-day trial today!
Although promotional content is an important part of your content strategy, it's not the only aspect that matters.
You have to remember that in order to be successful on social media, you have to create a community around your brand and give your audience a reason to follow you constantly.
To encourage your customers to interact with your brand, you have to surprise them with new and interesting posts constantly. You can even involve them as well and share user-generated content from your customers.
9. Schedule Your Content at the Best Time
Creating customized posting schedules for your company social media pages doesn't have to be difficult. With SocialBee, you can do it in 5 minutes from one dashboard.
Create personalized schedules for all your social networks with ease. In this way, you make sure you never forget about sharing your content at the best time possible.
Start your free 14-day trial today to generate better results with less effort!
But why is it so important to create a strategic social media posting schedule? Well, because good timing can help you improve your reach and engagement levels.
It's simple, posting when your audience is online will ensure that a bigger part of your audience will see and interact with your content. Most social media networks boost the most recent posts in order to provide users with the most up-to-date content.
So, to create an optimized posting schedule all you have to do is check your social media analytics and see when your audience is online most of the time.
In addition, you can also take into consideration the best posting times for each network and combine both data to improve your schedule.
10. Monitor and Adjust Your Social Media Strategy
Social media is constantly changing — so don't make the mistake of getting too comfortable.
The only way to gain significant results and stay on a growing trend is to constantly monitor and adjust your strategy. Make sure to check your analytics periodically and discover data about your post performance, audience growth, and activity status.
This will help you gauge your social media ROI and discover what platforms bring you the most results.
To make the process easier, you can start using an all-in-one social media management platform like SocialBee that not only allows you to create and share content but also provides you with the data you need to evaluate and alter your approach.
With the help of SocialBee's social media analytics, users can discover information about their reach and engagement, as well as their activity status, follower growth, and best-performing posts.
Start your free 14-day trial to manage and evaluate your social media strategy from the same place!
Furthermore, you should also analyze your best-performing posts and identify what you did right. Do the same with your worst-performing content and find patterns that make sense. 
The goal is to avoid practices that lower your results and repeat the ones that bring value.
Share Your Social Media Content with SocialBee!
Social Media Best Practices for Each Social Network
Now that you are familiar with the best universal practices for all your social media platforms, it's time to go from a general approach to a more specific one. 
It's time to find out the most important practices that will help you dominate every social network you will add to your arsenal. 
Let's start by discussing how you can elevate your Facebook page performance!
Social Media Best Practices for Facebook
What better way to start this section of the article, than with the biggest social media platform in the world ⁠— Facebook.
1. Post Video Content
On Facebook, video content is king.
In fact, videos register the highest organic engagement out of all the other Facebook post formats. Moreover, 71% of the posts popular Facebook accounts (with more than 100 000 followers) share are made up of video content.
According to Facebook, to make the most out of your videos, you have to:
Post clips directly to the platform (this will help you get your videos to appear on more feeds)

Make authentic content

Respect intellectual property by not sharing copyrighted content

Share actual videos, not slideshows or short looped clips

Optimize your videos for mobile devices

Don't use engagement bait to boost your results artificially

Use an engaging thumbnail
Old Spice is the master of video marketing. Almost all of their Facebook content is made up out of short videos.
2. Use Facebook Shop
Fun fact, 54% of social media users research products on social networks.
So, why not go the extra step and bring your products closer to your customers by opening your Facebook Shop. As a result, you will eliminate some of the friction that intervenes between your customers and your products and make it easier for them to purchase from you.
To open a shop, you only need a Facebook Business page and go through the simple steps of opening a shop.
Once you open your shop, you can:
Add an unlimited amount of products 

Organize your products in different categories

Have access to analytics about your sales and visits

Promote your products on Facebook Marketplace
Additionally, you can also tag your products in your Facebook posts and give your customers easy access to your products.
By clicking on the tag, your audience gets to find out more details about your products, and they can even make a purchase.
3. Post Lead Magnets
Do you want to generate more leads from your Facebook business account? 
Then, we have the right suggestion for you — lead magnets.
Offer value to the Facebook users that follow you through your content and bring them closer to your business. Lead magnets can be anything from free ebooks, guides, vouchers, or a free consultation that your audience can benefit from by entering their contact information.
By gathering this type of data, you get to expand your customer base and send marketing messages directly to your audience. In this way, you make sure your messages don't get lost on social media by contacting your potential customers directly.
Facebook groups are a great channel for lead magnets, especially when they are created with your industry in mind. You can even create a Facebook group of your own to build a loyal and engaged community around your brand.
Social Media Best Practices for Instagram
Don't be fooled by Instagram's youthful and visually appealing qualities. This is one of the social media apps that knows best how to do business.
Here are three social media tips to set you on the right track to success. 
1. Use Hashtags 
There is no secret that hashtags are a big part of the way Instagram organizes its content. Moreover, it's also a tool that people use to search for the content they want.
Instagram uses hashtags to categorize its content in order to figure out what users enjoy. 
For instance, if an Instagram user often looks through posts with food-related hashtags, the platform will start recommending posts with similar hashtags to provide useful content and keep them on the app for as long as possible.
With SocialBee you can create hashtag collections and organize them in different categories based on social media platforms, popularity, and more. As a result, you will diversify your hashtags and customize them for each social network.
Start your 14-day free trial today to improve your hashtag strategy!
When used the right way, hashtags can help you reach more of your target audience and increase your brand awareness.
To use Instagram effectively, you have to:
Use between three to five relevant hashtags

Mix popular and niche hashtags 

Change your hashtags for each post to avoid repetitive content
2. Work with Influencers
If you are looking to reach a larger audience and boost your sales in a short time frame, we have some good news.
Instagram is the perfect place to get in touch with niche influencers that match your brand image.
Starting a collaboration with a social media influencer has many benefits:
Exposes brands to thousands of potential customers

Builds credibility and trust

Drives customer purchase decisions
To find the right influencers for your brand, you can start looking through industry hashtags to find their posts.
Once you find a couple of relevant accounts, you can click the arrow next to the follow button, and Instagram will suggest dozens of other similar influencers.
Another great way to get in touch with online personalities is to subscribe to an influencer marketing platform. 
3. Add Product Tags to Your Posts
One of the best ways to monetize your Instagram posts is to add product tags to your posts.
By doing so, you manage to remove time-consuming steps that may inconvenience some of your potential customers. 
When the buying process is fast and easy to complete, you encourage your customers to buy on the spot because they get to act on their impulses. Before they get to second question their buying behavior, the order is already placed.
Social Media Best Practices for Twitter
Is it a bird? Is it a plane? No, it's the next social media on our list ⁠— Twitter.
Let's get right into our social media tips, shall we?
1. Avoid Using too Many Hashtags
Even though Twitter is the platform that changed the way we use hashtags, the recommended amount you should use in a tweet is no more than two hashtags.
Why? Because a Twitter post can have only 280 characters. Imagine adding 10 hashtags in such a short format. You will end up creating a post full of blue words that overpower your message and make your post feel spammy.
2. Add Images for More Engagement
Adding visuals to a tweet is the perfect recipe for engagement. 
Tweets with images proved to generate 150% more retweets than those without. And images are not the only stars of the show, Twitter revealed that videos generate ten times more engagement than simple tweets.
So, don't shy away from posting branded visuals that emphasize your message.
To make the most out of your images, you can even use them as a way of adding more information to a short tweet.
Moreover, GIFs are great visuals that can spice up your posts and sprinkle some humor into your content strategy.
3. Tag Other Twitter Accounts
Twitter is a very conversational platform and Twitter users love to speak their minds, debate, and share their opinions freely.
You can take advantage of this quality and use it to your advantage by tagging other relevant accounts from your industry and starting conversations. 
Most likely, you will get tagged back when you receive a reply, and this will help you gain more exposure on the platform from their followers.
Besides, you don't always have to start a debate to tag another account. You can simply use tags to give credit or make recommendations.
Share Your Social Media Content with SocialBee!
Social Media Best Practices for LinkedIn
If you are looking to build authority within your niche and network with valuable professionals, Linkedin is the best option for you.
Let's see how you can optimize your LinkedIn performance with three simple practices.
1. Share Industry-Specific Social Media Posts
LinkedIn is the perfect place for you to share your industry knowledge.
This social media platform is full of people who want to learn new information that will help them develop professionally. So, this is your chance to build authority within your niche and gain a loyal following that values your advice.
Go ahead and post your blog articles, detailed tips and tricks, and downloadable resources that will generate lots of leads. You can even turn a lengthy blog post into an insightful LinkedIn post and repurpose your existing content.
To make things even better, you can directly ask your audience what they would like to learn from you. Then use that information to make Q&A videos and create better content that will drastically boost your reach and engagement. 
You don't always have to create long-format content to make industry-specific posts. You can also share articles, news, and studies from reputable sources, highlight important findings, and share them with your LinkedIn audience.
2. Update Your LinkedIn Profile
When it comes to building a professional profile on LinkedIn, simple things matter, such as:
Filling in all the fields with relevant information

Making your brand name your username, so people will find you easier

Setting branded visuals as your profile and background images

Adding a clear description of your business

Making sure your profile is public
3. Send Weekly Connection Requests
The best thing about LinkedIn is that you don't have to wait around for people to follow you. 
Many entrepreneurs and businesses take matters into their own hands and invest time into sending weekly connection requests to maintain a consistent audience growth.
Furthermore, LinkedIn has an amazing feature that allows social media users to sync their email address book with their profile and receive valuable connection suggestions. In this way, you connect with the right people that are part of your target audience
Did you know that you can grow your LinkedIn platform on a weekly basis without having to spend hours searching for connections? You heard that right!
SocialBee offers a Lead Generation service designed to make you a LinkedIn powerhouse.
Connect with skilled social media specialists who will send 100 targeted connection requests each week and follow-up messages in order to generate more and better leads for your brand.
Get started with SocialBee's LinkedIn Lead Generation service today!
Social Media Best Practices for Pinterest
Are you using Pinterest in your social media strategy? Then you should be aware of the following best practices.
1. Focus on Inspiring Your Audience
If you could merge Instagram with a motivational speaker, you would get Pinterest—an inspirational visual search engine that helps you envision your dreams and objectives.
The great thing about Pinterest is that you can market your products and services without being too salesy. In fact, this type of content wouldn't even work on the platform.
Rather than speaking about your products or services, try to focus more on the goals that motivate your audience.
For example, a gym owner could promote their services by making content about a healthy lifestyle and sharing motivational quotes and results from current customers that would motivate others to start their fitness journey.
2. Use Keywords in Your Titles and Descriptions
Give your customers a helping hand and make it easier for them to find your content.
Don't forget that at the end of the day, Pinterest is a search engine. So, to optimize your content, you have to add keywords in your titles, descriptions, and boards.
Start by entering industry terms in the search bar and use the autocomplete feature to identify the most popular keyphrases.
But, don't rely only on popular terms ⁠— mix them with more descriptive long-tail keywords that will bring you closer to your niche target audience.
3. Create Themed Boards
Besides being a visual platform, Pinterest is designed to help people get inspired, save ideas, and organize them using boards.
For example, people use Pinterest to discover decorating tips, new recipes, hairstyles, outfits, quotes, and they save them by creating their own collections (boards).
So in order to create valuable content, you have to:
Think about the main things your customers would search for related to your products.

Create specific boards that answer their needs.

Name them using popular keywords they would use to make a search.
Let's say you own a nail salon. A great way to promote your services would be to make visually appealing photos of your work and post them on Pinterest. To organize your visuals, you can create boards named "nail inspiration", "nail design ideas", etc.
Now, the next time potential customers search for nail ideas, they will see your work.
Chances are, if they like your designs, they will go straight to you to get the desired result instead of getting someone else to do it and risk not getting exactly what they wanted.
Social Media Best Practices for Google Business Profile
There is business in the title — that's how you know our next platform is as important as it gets.
Let's see how you can dominate local search rankings with Google Business Profile.
1. Manage All Your Reviews
Did you know that nine out of ten customers check reviews before making a purchase?
So, no matter what type of business you run, your customers will take into consideration your reviews. Not just your rating, but also the way you handled each situation.
The truth is that you will always have some unhappy clients in your reviews section. So take these opportunities to provide a great experience and social media customer service every time.
The best advice we can give you is to respond to each review and escalate any negative experience with kindness and a willingness to help.
Also, remember to encourage your clients to review your business every chance you get because positive reviews significantly improve your ranking on local Google searches.
2. Keep it Short & Business-Oriented
If you want to see results through your Google Business Profile content, you have to be all about the business side of things.
Save your motivational quotes for Pinterest because on Google Business Profile — now it's time to use your best promotional material.
When people search your business on Google, they already have serious intentions. They don't want to see entertaining content. They would rather learn about your products and services or find a voucher code in one of your posts.
So, to encourage your audience to act, feel free to post about your promotions, your newest launches, events, and other surprises you might have in store.
3. Share Key Information
Your Google Business Profile profile needs to contain complete and accurate information.
All the fields you find on your Google Business Profile account are there for a reason. Providing your potential customers with all the data they need to make a purchase is very important. 
When you allow your audience to be unsure of what you offer, you leave room for them to continue their research process and move on to another business.
Let's say you own a cafe. Maybe a customer is looking for a pet-friendly place where they can enjoy their coffee. However, you didn't add attributes to your profile, and there is no mention anywhere that you allow pets in your cafe.
Most likely, your potential customers won't bother to call and check with you. They will skip your profile and choose a cafe that clearly states that they are pet-friendly.
So, to avoid redirecting your customers to your competitors, fill in your entire profile with useful information and update it whenever needed.
Social Media Best Practices for TikTok
What sound does the clock make? Well, it rhymes with the last platform on our list, TikTok. 
If you want to go viral on social media, this great social network is your best chance. So, stay tuned to discover the practices that will bring you internet fame.
1. Post Short Interactive Videos
TikTok's algorithm values engagement more than anything else. 
On TikTok, engagement means more than likes, comments, and shares. The time users spent watching your videos and the number of times they rewatched them are important factors that let the algorithm know your content is valuable.
Short and straight-to-the-point videos gain much more traction than longer ones because they don't require much time and attention from the viewer. 
Oftentimes, short videos get watched multiple times, or at least entirely. As a result, TikTok will show your videos to even more users and help you reach your target audience.
And to improve your TikTok engagement, make your video more interactive. Urge your audience to leave their opinions in the comments or ask them a question. This will give them a reason to comment and boost your video even more.
2. Use Popular Sounds and Hashtags
Hashtags are a big part of the TikTok experience. They are used to categorize posts and help users navigate the platform easier. 
Hashtags improve reach and boost the visibility of your posts. When a user watches multiple videos with similar hashtags, TikTok will then recommend more videos that use them.
Keep your hashtags more niche to make sure you find your way to the right audience. Two or three hashtags are enough to help improve your content performance. 
But hashtags are not the only tools you have to reach more people  ⁠— sounds also have the same effect.
More often than not, trending challenges are accompanied by specific sounds and hashtags. Put them all together, and you have the recipe for TikTok success.
And don't worry, you don't have to spend hours searching for the most popular sounds. You can easily find them by going to the "Discover" page or by clicking the "Add sound" button when making a video.
3. Participate in the Latest Trends and Challenges
Every week there is a new challenge on TikTok that everyone obsesses about.
This is great news because it means that you have endless opportunities to take advantage of their popularity and enhance your social media efforts.
Keep in mind that to do it the right way, you have to understand TikTok culture.
Take time to download the app and spend some time studying trends and content types. Once you have a good understanding, video ideas will come naturally.
If you want to see a brand that fully understands TikTok culture, check out Ryanair's videos.
The best part about Tiktok is that you don't have to brainstorm content ideas. With so many trends and challenges, you have all the ideas you need.
Social Media Marketing FAQ
Want to find out more about social media best practices? Discovers the answers to the most asked questions on the topic.
A. What Are the Top Three Best Practices for Social Media Marketing?
Here are the top three best tips for using social media marketing:
Start with a strategy: Outline the goals, resources, and initiatives you need to achieve success. It will help you stay focused on your objectives and maximize your performance.
Understand your audience: Listen to what your target audience has to say and how they engage with your content. Then use this data to inform future decisions about content creation, marketing campaigns, and promotions.
Measure performance constantly: Analyze the performance of your social media efforts, and track key metrics to know when your strategy needs improvement.
B. What Is the 5:3:2 Social Media Rule?
The 5:3:2 establish the following guidelines for social media content creation:
Five posts should be curated from other sources
Three posts should be created by you and designed to bring value to your audience
Two posts should be fun, entertaining, and meant to humanize your brand
This rule helps users to diversify their content and avoid oversharing promotional content.
C. What Are the Dos of Using Social Media for Marketing?
Here are the dos of using social media for marketing purposes:
Respond promptly to messages and comments.
Incorporate engaging visuals (e.g., videos, images, infographics) into your posts to capture people's attention quickly.
Post regularly and let your customers know you are a great source of content.
D. What Are the Dont's of Using Social Media?
Here are the dont's of using social media for marketing purposes:
Don't spam your followers with content
Don't use overly promotional language
Don't ignore user feedback
Get Ready to Achieve Social Media Success
No matter the social platforms you included in your marketing strategy, there is one tool that can handle them all.
So, if you are ready to put all the best practices to the test, don't forget to try the most important one for free: using a social media management tool like SocialBee.
Start your 14-day trial today to improve your social media marketing efforts without the hassle!
Share Your Social Media Content with SocialBee!