In the past couple of years, brands decided to create interactive posts as part of their social media strategy. In fact, 88% of marketers say interactive content differentiates their brands from competitors.
But this is not the only reason for this trend. Interactive posts are also known to boost social media engagement, which leads to more reach and better brand visibility online.
Let's not forget that managing any social media platform is a two-way street: to succeed you have to create interactive posts that allow your followers to become an active component of your social media strategy.   
So, without further ado, let's learn more about interactive content and explore some simple ideas you can add to your social media calendar right away!
500+ Social Media Content Ideas Document!
Diversify your social content strategy with over 500 engaging post ideas.
What Are Interactive Social Media Posts?
Interactive social posts are pieces of content specifically designed to encourage engagement between two social media parties (the creators and the viewers). 
Social media engagement is defined as the act of liking, commenting, or sharing a post. To facilitate this type of behavior, the creator can make posts that include a question, poll, or survey, and posts that encourage an action—asking your audience for opinions or recommendations.
Of course, the interactive content category is not limited to the examples we provided above. There are plenty of possibilities you can explore in your search for engagement (which we will discuss later on).
Why Should You Share Interactive Posts on Social Media?
For brands, there are two reasons to be on social media: exposure and audience engagement. 
Nothing is better for engagement than interactions (in fact, this is the definition of engagement). Comments are the ideal type of engagement, the tricky part is actually generating them. But it is all worth it in the end.
Not convinced yet? Well, let's explore why interactive posts play such a vital role in your content strategy.
Increase Engagement
Engagement is something that every company seeks to generate on their social media platforms. Therefore, creating relevant content that focuses on interaction is a natural next step.
A study even proved that content that requires interaction receives up to twice as much engagement as static content.
When a user likes, comments, or shares your posts, this informs social media channels that your content is of value. From this point forward, there is an entire system that starts to take place. The more social media users interact with your posts, the more social media channels will promote them to a larger audience.
This also creates a precedent. Once your posts generate engagement regularly, you start being perceived as a quality source of information (both by your audience and by the algorithm). 
As a result, visibility and interaction will be much easier to generate because now you have a following that is constantly reacting to what you post. And as we all know, the content that gets promoted on your social media feed is largely from creators you interact with the most. 
Gather More Data
You probably know about five or more different ways to capture leads. Most of them work as a trade: your brand delivers something to receive data from the audience.
The problem is that many web users have already figured out this strategy. As a result, some of them get tired of this. But if you manage to merge interactive content with lead generation, you will discover a winning recipe for social media success.
Imagine that your company sells products for pregnant women and newborns. You know your audience well, and you know what they want. So you develop a due date calculator and decide to post it on your company's Facebook page.
This tool will be extremely useful to your audience. Therefore, these people will not worry about giving you some data in exchange for the free service you offer.
Improve Customer Retention
One of the most important roles of including social media in your strategy is to create an environment where you can build a community around your brand.
You can keep social media pages active with basically any content. However, if they are not good, they will not get results.
Low-quality content can harm your social media presence. Gaining followers doesn't ensure that they will be a constant source of engagement. 
As soon as you crowd their social media page with content that doesn't include them or reflect their values, they will take matters into their own hand and filter out your posts.
That's why brands need to invest time and effort in creating engaging posts that:
Reinforces you as a quality source of information

Allows you to stay top-of-mind

Keeps your audience up to date with your latest news, promotions, and events
The way to achieve all these things is to diversify your social media strategy and avoid posting promotional content only. Explore more fun and interactive content ideas that will allow your community to see a different side of your brand.
With SocialBee, you can diversify your content strategy for different social media platforms by organizing your posts in multiple content categories and scheduling them to post alternatively throughout the week.
Create a content category for your interactive content from SocialBee and make sure you share engaging posts every week.
Diversify Your Content Strategy with SocialBee!
Create posts, publish, analyze, engage and collaborate, all from SocialBee.
The 10 Best Interactive Ideas for Social Media
Social media is the best medium for interactive content, as it is designed to connect people with friends, family, creators, and brands.
Brands have developed creative new ways to get their audiences more engaged, and we will discuss some of them today and see what we can learn from their initiatives.
Here are 10 top-performing interactive post ideas for your social media marketing strategy:
Interactive Calculators

Instagram Polls

Quizzes

Live Q&A Sessions

Games

Giveaways & Contests

Challenges

Fill-in-the-Blanks Posts

Feedback Requests

Trending Conversations
1. Interactive Calculators
Interactive calculators are creative and useful forms of engaging social media content.
They help brands gain reach and engagement while also generating new leads and kick-starting the conversion process.
When using this format on your socials, you have to know how to do it correctly. Ideally, your post should start by addressing a customer problem. Then you can show that your calculator is the perfect tool for their specific issue.
For example, if you make this happen, you will have to design a calculator, make a landing page for it, and then share it on social media.
A good example of a creative and very useful calculator is Third Love's Fit Finder. It helps women find the perfect bra according to size, comfort level, fit, and style.
For this, the consumers need to answer a series of questions to receive the results in their e-mail. 
This is a perfect example of a win-win situation. The customer overcomes an obstacle that occurs during the buying process, and it solves an issue that impacts their daily comfort.
On the other hand, the brand exposes its products to a larger audience, generates new leads, and ultimately gains more customers.
2. Instagram and Facebook Polls
Polls make great interactive Facebook posts and also, and they are great Instagram content ideas.
Both social media sites support this content format, which makes it easy for you to create spontaneous polls that help you get an insight into your audience's mind while effortlessly generating some sweet engagement.
The first and most important part is to choose an interesting poll topic to boost engagement levels. 
Here are some poll ideas:
Perform satisfaction polls

Find out what products your consumers like most

Discover your audience's opinion on pressing issues

Involve your audience in the decision-making process (e.g. allow them to choose your next post idea)
A good example of using this feature comes from the NBA Instagram account. They have a regular series: In each round of games, the page posts the matchups and asks users for their opinion on which team will win.
People love to interact, whether to predict the winner or to show support for their favorite team. This action is a way to boost engagement and get new viewers to tune in during the game.
3. Quizzes
Quizzes are fun, challenging, and perfect for entertaining your audience.
People have a curious and competitive nature, and quizzes are the perfect way to use both these characteristics to your advantage. For instance, you can create quizzes that reveal something about your audience (e.g., What F.R.I.E.N.D.S. character are you?) or quizzes that test your audience's knowledge (here you can add industry-related questions).
Take Disney as an example. In this next post, the brand uses the history of its characters to create fun and engaging quizzes.
After all, who wouldn't want to take a quiz about Mickey Mouse?
4. Live Q&A Sessions
Going live allows you to break down the barriers between you and your audience and interact with them in real-time.
Because a live Q&A session provides your customers with the chance of getting an answer to their most pressing questions, they will most likely tune in to hear what you have to say. 
A couple of days prior to your live session, make sure to promote it on all your social media platforms and take this opportunity to gather questions from your audience. By doing so, you will generate comments under your promotional posts and spread the word about your live Q&A at the same time.
These types of initiatives are great for gathering future content ideas. For example, you can easily turn your live Q&A session into a business blog post or even several articles based on the questions you received from your social media followers. 
5. Games
Turn your social media posts into fun games your audience can't resist!
A simple strategy is to transform simple images and video content into interaction and engagement tools. After all, everyone likes to have fun, so why not do this while using social media?
Yet again, we have a brilliant example from Disney: Guess The Show From Emojis. 
It's a simple idea that every business can recreate on their social accounts, and it doesn't require any other resources apart from a little creativity.
6. Facebook Giveaways & Contests
Looking for interactive Facebook post ideas? Well, we have a suggestion that will help you give your Facebook business page a push in the right direction: social media giveaways and contests.
Facebook's algorithm always boosts content your online friends have interacted with recently. People often encounter posts on their social feeds from Facebook users they don't follow just because one of their close friends liked or commented on a post.
For this reason, Facebook is the perfect platform for hosting giveaways and contests. You will get to reach new audiences just by getting people to interact with your social media engagement posts.
When it comes to challenges and contests, there is a prize involved. To make the most out of this prize, you have to find a way to make it profitable.
How? Simple. Ask people to like, share, comment, and tag friends under your Facebook post to make sure you boost brand awareness and grow your following as a result.
You can even request photos of customers using your products as a way of entering your contest. As a result, you will gather user-generated content you can letter use as social proof while also increasing your Facebook engagement.
7. Challenges
Spice up your content strategy and surprise your followers with a challenge from time to time.
You don't have to dare your target audience to jump out of a plane, it's enough to encourage them to try a new recipe or style of one of your products.
You can even launch challenges that will help your followers be more effective and productive, like our next post example.
Most brands use challenges as a recurring social media series. This way, they foster anticipation and create a community of people that share a tradition together.
Here are some challenges you can share on your socials:
Share a photo

Try a new type of candy

Come up with a motivational quote

Buy a gift for a friend

Cook a meal for your family
You can also use this occasion to collect user-generated content, a form of proof from your audience that they conquered your challenge.
8. Fill-in-the-Blanks Posts
Do you want to see some funny and creative comments under your posts? Say no more, we have the perfect idea for you. And it's soooo simple!
With fill-in-the-blanks posts, you can quickly kindle interactions and put your comment section to good use.
Here are some fill-in-the-blanks post ideas your audience will enjoy:
One item I can't live without is ____.

I could listen to ____ every day and never get tired of it.

My dream vacation spot is ____.
Once you share your post, make some popcorn and watch the comments pour in.
9. Feedback Requests
Show your followers that you value their input by using your social media platforms to gather feedback and brainstorm new initiatives your brand should embrace in the future.
Social media interaction can be both fun and productive at the same time. So, involve your followers by sharing specific questions that will get them talking and debating away under your posts.
Here are some examples of social media feedback requests:
What feature would you add to X product?

How would you rate X product/service and why?

What product/service would you like to see us develop in the next 2 years?
Once you see some comment popping in, now it's time to reply back and start a productive conversation.
10. Trending Conversations
Speaking of conversations, what is trending right now on your feed? Is there anything relevant taking place? 
Then it's time to leverage the popularity of those topics and start a debate in your comment section. When a piece of industry news or any other event is trending, this indicates that the majority of social media users are passionate, or at least curious about it.
People want to talk about what's trending as well as hear other creators share their opinion. Even if they agree or disagree with you, that still counts as engagement. And remember, just because some followers might disagree with you, it doesn't mean that it's a negative reaction. It actually is a detrimental part of a healthy debate (as long as it doesn't go over certain limits).
How to Create an Effective Interactive Post
Making your social media posts interactive is like adding a special seasoning to your dish—it can take something ordinary and turn it into something extraordinary.
Just like adding the right spices can help you cook a more delicious meal, encouraging interaction between you and your audience can significantly boost your reach and engagement levels.
By asking questions, encouraging comments, and making the most out of interactive features like polls or quizzes, you can get more people invested in what you have to share.
Here are a few ideas that can help you create engaging content for every social network:
Keep up with trends
Make use of hashtags
Leverage social media comments
Analyze and adjust your content
A. Keep Up with Trends
Social media evolves rapidly, making it essential for you to remain in the know if you're hoping to acquire more brand awareness, and take your content marketing strategy to the next level.
Here are some tips to help keep up with social media trends:
Monitor trends from your industry: Look for topics, hashtags, and conversations that are popular in your industry.
Research your competitors: Stay up-to-date with your competition's latest strategies. What content types are they using? Is it working for them? How can you use their ideas for your own business?
Follow influencers and thought leaders: Keep an eye on the influencers your audience follows and pay attention to how they interact with their followers. This will help you stay informed of the latest trends and hone in on what is working for them.
B. Make Use of Hashtags
Hashtags are a great way to increase social media engagement. When used correctly, they can help increase the visibility of your content.
To maximize the effectiveness of hashtags, use relevant or trending terms that are related to both your niche and content. And don't forget about the popular hashtags, as they are used more frequently and provide a better content reach.
It's also essential to consider the right social media platform for the job. After all, half of the best social media platforms don't require the use of hashtags, but some do, and it's very important to know which are which if you don't want to be perceived as a total social media novice.
For instance, Twitter, Instagram, TikTok, and LinkedIn are well known for their use of hashtags, while Facebook, Pinterest, and Google Business Profile do not require you to use them.
PRO TIP: Try not to overuse hashtags; using too many can make your posts seem spammy and turn off potential customers. Aim for a maximum of 3-4 relevant hashtags per post.
C. Leverage Social Media Comments
Comments allow people to interact with each other, start conversations, and create more meaningful connections.
By encouraging comments on your posts, you can create a sense of community among your followers and spark interesting conversations that could lead to even more engagement from them.
To encourage more comments, you can ask questions in your posts or simply invite people to share their thoughts and opinions.
But remember that comments are conversations, not just one-sided statements. Make sure to respond thoughtfully and be respectful when engaging in conversations with your followers. This will create an environment where people feel comfortable commenting and sharing their thoughts besides increasing the engagement of your content.
D. Analyze and Adjust Your Content
Social media analytics can provide valuable insights into how your target audience is interacting with your posts and content.
With the right data, you can see what kind of topics and content types work best for your followers, when they are the most active on different platforms, and access basic demographic information about themselves.
Utilizing this information to create customized posts that cater to their interests can help make your content more relevant and engaging.
But how can you gather this type of insight? Easy, with the help of social media analytics tools.
SocialBee provides invaluable data about your audience, such as age, gender, language, and country of origin. Its graphs and charts make it easy for you to keep track of your performance in a visual manner.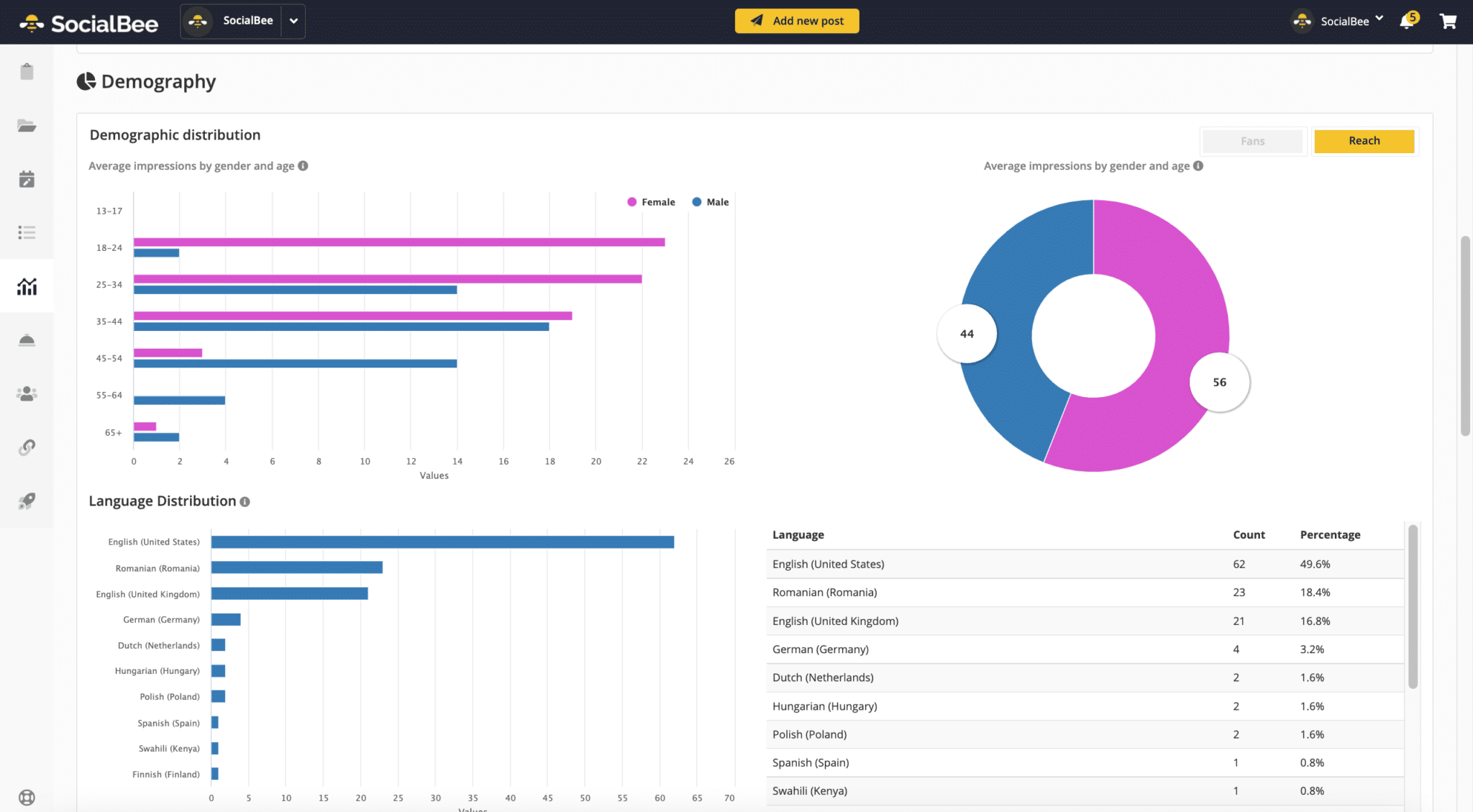 Monitor all your social media channels from SocialBee and learn how to improve your performance in real time.
Start your 14-day free SocialBee trial today!
Moreover, you will have access to in-depth page and post analytics including impressions, reach, engagement, best-performing posts, and more.
Using SocialBee's data helps you understand who makes up your following and what type of content they engage with most. This in turn allows you to create a tailored content strategy that optimizes reach and engagement. With this valuable insight at hand, you can refine your approach to social media marketing for maximum results.
Frequently Asked Questions
1. How Can You Create Engaging Posts for Social Media?
Here's how to increase your social media post engagement:
Understand your target audience and their needs and content preferences.
Research industry trends and curate relevant content that's in tune with the times.
Use videos and visuals to draw more attention to your posts.
Create captivating hooks that keep your audience engaged.
Incorporate a way to generate interaction (ask questions, make requests, provide incentives and free stuff in exchange for engagement, etc.).
2. What Is an Interactive Facebook Post?
Facebook interactive posts are an engaging form of content that encourages users to interact and engage with the post through comments, likes, shares, and other forms of engagement.
Such posts often include polls, quizzes, game-like activities, or user-generated content such as images, videos or animated flipbooks.
3. Can Instagram Posts Be Interactive?
Yes, Instagram posts can be interactive. Through the use of features like polls and quizzes, users can add a fun and engaging element to their posts.
Additionally, businesses can use Instagram live videos or Stories to directly engage with their followers by answering questions or hosting interactive Q&A sessions.
With these features, Instagram is a powerful tool for creating engaging and interactive posts that can help build relationships between users.
Improve Your Digital Marketing Strategy with Creative Ideas
On social media, brands can pick their customers' brains in new ways that are fun and engaging for the end-users while gathering feedback and getting a better understanding of their audience.
By sparking a conversation, you get to increase the visibility of your posts and build a loyal community around your brand. The more engagement you generate, the more social networks will boost your content and bring you closer to your customers.
So try our 10 examples of social media interactive posts and see what happens. 
Don't forget that SocialBee can help you organize your topics and ideas in content categories. Diversify your content with ease and schedule posts ahead with SocialBee. 
Start your 14-day free trial and find out how easy it ease to maintain a consistent posting schedule with the right social media tool!
Share Your Interactive Social Posts with SocialBee!
Create posts, publish, analyze, engage and collaborate, all from SocialBee.
Rock Content is a global company that enables the growth of companies through its suite of products. With over 2 thousand clients and more than 60 thousand freelancers, they are present in Brazil, México, United States, and Canada.