Did you know that posting memes can help you grow your business on social media? In fact, 60% of people use social media to find funny content.
So, if you want to create content that brings you closer to your potential customers, posting funny Instagram memes (either existing memes or brand new—created by you) can help you gain new followers. And we have a few suggestions that can get you closer to achieving these results. 
In today's article, we will talk about the dos and don'ts of Instagram memes to help you diversify your social media content and make the process of posting on Instagram a fun and enjoyable experience.
However, before we do that, it's crucial to understand what a meme is.
Free Editable Social Media Strategy Template
Get the social media strategy template you need to audit and plan your marketing efforts for maximum results.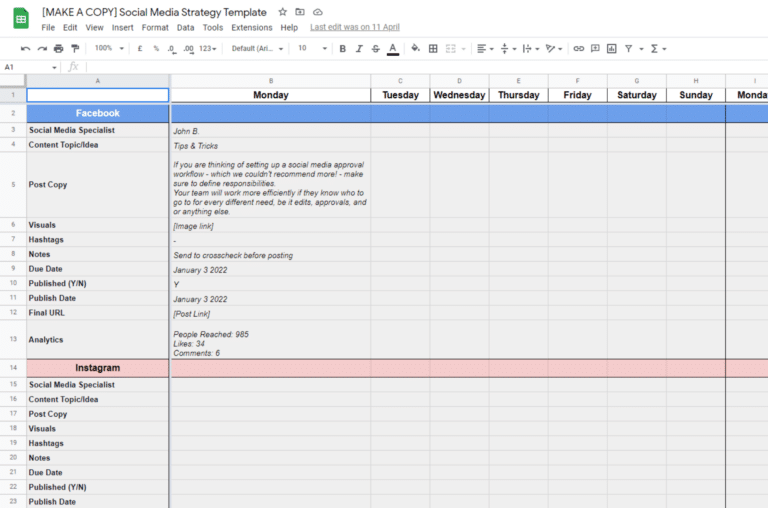 What Exactly Is a Meme?
A social media meme is a popular and entertaining form of online content characterized by humor and relatability. Some memes are similar to inside jokes as they are popular within a certain online community. As long as there are people talking about a specific topic, there is a high chance that the topic has also entered the meme game.
They are highly flexible content formats that can be changed by any internet user with a funny idea.  
This content format is very successful on Instagram. When you think about Instagram memes, the first thing that comes to mind are humorous images with a white frame and a funny caption that provides an amusing context for the visuals, similar to this next McDonald's example.
Of course, this is not the only meme format on Instagram, but it's definitely a staple for this popular platform. There are hundreds of Instagram meme accounts dedicated to posting memes that are highly popular, some with millions of followers.
So, if you want to include internet memes in your digital marketing content strategy, Instagram is the perfect place to start. And SocialBee is the best tool you can use to share your content on Instagram, as well as your other social media platforms.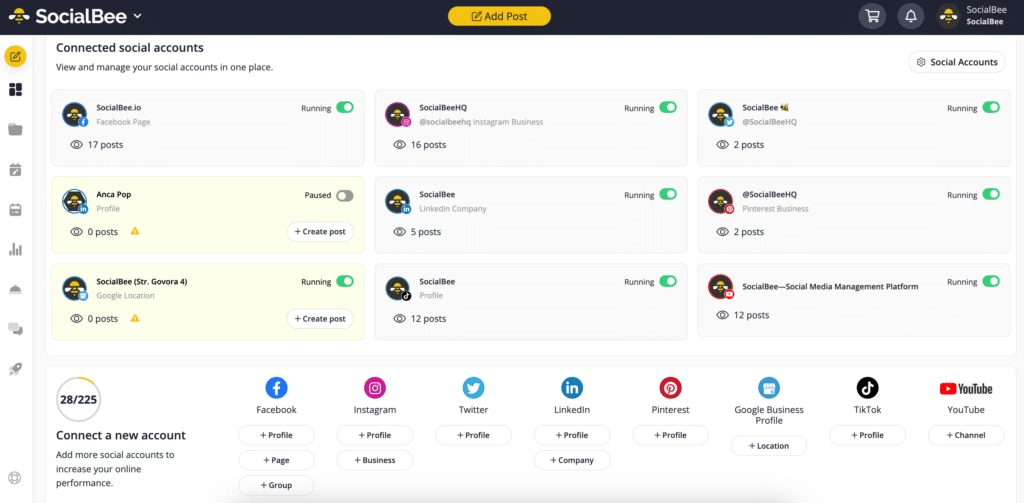 Connect your accounts to SocialBee and share your hilarious memes on all your social media platforms from just one place.
Start your free 14-day trial today to create and share content faster and easier than ever!
With SocialBee you can share photos, carousels, videos, and stories to Instagram. Moreover, you also have the ability to:
Tag and mention other users
Schedule and automatically post the first comment
Add location tags
Create hashtag collections
Post Your Social Media Memes with SocialBee!
The Importance of Funny Memes for Businesses
Gen Z and Millennials are the biggest demographics on social media platforms such as Instagram. So, considering their content preferences can significantly affect your reach and engagement.
Here are some statistics that demonstrate the importance of Instagram memes:
71 percent of social media users watch content to have a laugh

56 percent of social media users

between the ages of 18-20 years old (Gen Z) follow meme accounts.

75 percent of users

between the ages of 13-36 years old (Gen Z and Millenials) share memes with their online friends.
So, it is safe to say that if you want to improve your content strategy, you should start thinking about what hilarious memes to post.
Besides, attracting a large audience is only one of the benefits that this type of posts will bring.  
Let's have a look at the reasons why you should develop a meme marketing strategy:
They can make your brand go viral

– Social media memes are viral phenomenons that can bring an unexpected amount of visibility to your brand.

They boost reach and engagement levels

–

Funny and relatable content encourages users to: like/comment, tag friends under your posts, and even share them on their stories or through direct messages.

They increase brand awareness

–

As you reach and engage with more and more people, you build a larger following of people that are aware of your business.

They create a community around your business

– Producing entertaining content, will give your followers more reasons to connect with you. It also shows that you care about your community, not just about promoting your products and services.
Social Media Memes: Best Practices You Need to Know
Now that you know more about memes and the effects they can have on your online presence, let's get into the best five Instagram meme practices.
When posting social media memes, these are the things you need to consider:
Consider Your Target Audience First
Make Sure to Keep Up with the Meme Culture/ Internet Culture
Customize Memes to Fit Your Brand Better
Show More of Your Brand's Personality on Social Media
Use Relevant Hashtags in All Your Captions
1. Consider Your Target Audience First
Before you share a meme, you have to consider your target audience. After all, the goal is to make them laugh. By researching your audience, you get to know them better and learn more about their interests and preferences.
All the information you gather will help you develop a buyer persona (or more) that you can have in mind while creating your posts.
So, go through your follower list, and see what Instagram meme accounts they follow — for sure you will find a couple of them. Make a list and identify the most popular ones. Then, search for appropriate memes that you can share or use as inspiration to create your own version.
Keep in mind that you always have to state the source of what you share.
Furthermore, relatable content is always a safe and effective choice. More exactly, memes that contain funny observations and also have a universal truth to them. Here is an example of a relatable meme:
2. Make Sure to Keep Up with the Meme Culture
What do internet memes have in common with fashion trends? They go in and out of style fast. 
Therefore, you have to keep up with the latest trending memes, either by checking Instagram meme accounts regularly or by having the youngest member of your team as an advisor.
In this way, you ensure that your content is fun while showing that you understand internet culture. Besides, popular memes are a great way to boost your posts' reach and engagement.
For example, Netflix used the popularity of their latest show Squid Game (which quickly generated several new meme formats) for their own advantage to:
3. Customize Memes to Fit Your Brand Better
Although the purpose of sharing priceless memes is not exactly to promote your products and services, you can still incorporate them for humorous purposes.
Just look at this Ruffles meme example.
It's not only funny and relatable, but it also incorporates their product. Even if you are not a Ruffles fan, you can still relate to craving some chips. 
This meme exemplifies how you can make your brand more memorable. In addition, it provides character to your brand, and it improves customer engagement.
4. Show More of Your Brand's Personality on Social Media
Good memes are a source of fun and humor and can add personality to a brand. Similar to the way people with a vibrant personality usually become more popular, brands that add character to their online presence attract a larger audience. 
And Denny's is the perfect example of a business with a fun personality.
So, if you want to stand out from the crowd while mixing up your content, you can set guidelines that will help your team come up with the best memes. 
Through these rules, you should:
Define your brand personality through adjectives
State the meme formats you want to avoid
Include appropriate meme examples
Mention how often they should post memes
It goes without saying that you shouldn't focus only on memes and jokes, but rather sprinkle them on your Instagram feed once in a while to diversify your content and make it more fun.  
5. Use Relevant Hashtags in All Your Captions
We can't discuss social media best practices without mentioning hashtags.
Findind funnt memes to post is great great for gaining more visibility, so why not optimize your reach by adding relevant hashtags. 
Moreover, hashtags also categorize your content and make it easier for users to find posts based on topics.
Before incorporating hashtags into your strategy, you need to research both popular and niche hashtags that you can add to your posts. As well as that, you can use your meme to come up with other ideas. Try to include a hashtag relevant to the topic of the post or mention the name of the meme format. 
You can also take keywords you usually use for SEO purposes and include them as hashtags under your posts.
To research your hashtags you can simply use the Instagram search bar to:
Add a relevant keyword.

Look for suitable hashtag suggestions.
Keep in mind is that you need to add between five and 10 hashtags to your captions in order to boost your post visibility without looking too spammy.
To make things easier, you can create and save hashtag collections in SocialBee's content editor and add them to your post with the click of a button.
Open SocialBee's content editor, click on hashtags and create multiple collections of hasthags for every occasion. 
Start your 14-day free trial today to test this feature and many other functionalities SocialBee has to offer!
Post on Social Media with SocialBee!
Ideas of Business Memes
Memes have become a crucial component of our online communication in the current digital age. They  have also made their way into the realm of business, where business owners and marketers use them to sell their products and interact with their target markets.
Let's look at some of the most well-liked business meme suggestions that may help you engage your audience and grow your company:
Motivational memes
Business advice memes
Startup memes
Customer service memes
Marketing memes
1. Motivational Memes
Inspirational and motivational memes are a wonderful method to inspire and encourage your audience. These memes may contain quotations from renowned business figures, successful businesspeople, or even your own triumphs.
Here is an example of motivational entrepreneur memes you could use in your marketing campaigns:
One of the key benefits of using motivational memes in your digital marketing strategy is that they can help to shift your audience's mindset. You might motivate people to reconsider their present circumstances and take action to build a brighter future by conveying a message that is uplifting and empowering to them.
2. Business Advice Memes
Generating a business advice meme is a creative and entertaining method to share your business advice. These memes may provide advice on how to start a small business, boost sales, increase productivity, or better manage your time. 
Examples of business advice memes include:
One of the benefits of using business advice memes is that they can be easily shared on social media platforms such as Facebook, Twitter, and Instagram. By creating visually appealing and humorous memes, you can grab the attention of your audience and encourage them to engage with your content.
3. Startup Memes
Though the process of starting a business might be challenging, startup memes can help. These memes may offer hilarious perspectives on the difficulties of starting a new company, as well as advice for surviving the startup environment.
Here is a small business meme idea:
Startup memes can also provide a welcome break from the stress and pressure of starting a new business.  It has been demonstrated that humor improves mental health and helps lessen stress and anxiety. By creating or sharing funny memes about the startup experience, entrepreneurs can take a step back and find some levity in the situation.
4. Customer Service Memes
Customer service is a crucial component of any flourishing business, and using customer service memes may help you build relationships with your clients and demonstrate your concern for them. These memes may provide amusing and relatable customer care tales as well as advice on how to deliver first-rate customer service.
Here is an example of a customer service meme you could try to adapt for your own business:
Memes about customer service may also offer helpful pointers and counsel on how to deliver first-rate customer care. M Memes that emphasize the value of paying attention to customers' requirements, acting quickly to satisfy those needs. Going above and beyond to exceed their expectations can be shared to assist teach your staff and enhance the general customer service experience for your clients.
5. Marketing Memes
Any successful business must have a strong marketing strategy, and using marketing memes may help you communicate your message in a humorous and interesting way. These memes may offer advice on how to develop successful marketing campaigns as well as hilarious comments on the advertising industry.
This is an example of marketing meme:
Marketing memes can also provide valuable tips and advice for creating effective marketing campaigns. Sharing memes that stress the need of knowing your target audience, developing captivating content, and utilizing social media effectively may assist to increase the overall efficiency of your marketing initiatives.
Instagram Memes: Practices You Must Avoid
Understanding how to successfully incorporate memes into your Instagram content strategy is not enough, as you also need to know what to avoid in the process.
So, let's get into the second half of the article and learn about the don'ts of Instagram meme marketing:
Using Social Media Memes That You Don't Understand

Posting Old and Outdated Memes

Sharing Potentially Offensive Memes

Posting Too Many Memes 

Stealing Content from Other Meme Creators
1. Using Social Media Memes That You Don't Understand
Memes are like jokes, meaning that half of their charm relies on timing and delivery. To create and share a meme, you have to understand its context and appeal. Otherwise, it won't have the right outcome.
Trying to create a social media meme without understanding it first is like trying to cook something new without instructions. You may know what to add, but you don't know how to make it.
This can make your brand look bogus; like it tries to fit in only to sell, not to connect with its audience — exactly the opposite of what you want to achieve.
2. Posting Old and Outdated Memes
It may not seem like a big deal, but if you decide to adopt a fun and humorous tone of voice, you have to be committed to keeping up-to-date with popular culture and the latest viral phenomenons. Sharing old and irrelevant memes has the same result as dads trying to seem cool to their children by using slang words that were popular years ago. 
Speaking of old memes, here are some meme examples that you should stay away from:
Overly attached girlfriend
There are many more memes like this we could mention, but these prove our point. They have been used so much that they lost their charm, so it's better to avoid them rather than looking outdated.
3. Sharing Potentially Offensive Memes
Sharing memes from a business Instagram account is different from sharing them on your personal feed. You have to be more careful because you are posting for a more diverse group of people who might not understand the joke.
"Karen" or "Ok boomer" memes are examples of potentially offensive content that can communicate that you don't value all your customers, even if your intention was only to make people laugh.
The main purpose of sharing fun content is to create a community and engage with your customers, not to make them the subject of a meme. Besides, you also have to be careful about sending the wrong message. So, it's better to avoid controversial topics.
4. Posting Too Many Memes 
The key is to find a balance that works for your brand. You want to diversify your Instagram content without going off-brand. After all, you run a business Instagram profile, not a meme page. Your main goals should be to promote your products/services and gain more website traffic to increase your sales.
To make sure you have a diverse combination of Instagram posts, you can create content categories and organize them by topics. In this way, you will avoid posting repetitive content.
5. Stealing Content from Other Meme Creators
This may seem like a no-brainer, however, our don'ts list wouldn't be complete without mentioning it.
You have a lot of freedom when it comes to creating and sharing most memes. Most of them become "templates" that you can change by adding your original ideas.
The following Barkbox post is a great example of adding a touch of authenticity to an existing meme.
In case you find some memes to post on Instagram that work well with your existing content, you can share them. The only rule is to tag the original meme creator.
However, be careful with the meme pages you promote on your Instagram account. First, you must look at the content posted to ensure that you are not promoting meme pages or meme creators with offensive or controversial posts.
Frequently Asked Questions
Show Your Funny Side with Instagram Memes
Did our examples inspire you to incorporate some of the best social media memes and humorous posts in your posting strategy? We certainly hope so.
Before you start crafting your own memes, make sure you consider our dos and don'ts list to make the most out of your Instagram presence.
And don't forget, with our social media management tool you can create, edit, schedule, and share content directly on Instagram.
Start your 14-day trial now to share your Instagram posts faster and easier than ever!
Schedule Your Instagram Posts with SocialBee!