Magic's in the air and it's time for some sparkling Christmas posts for social media! As we all know, the holiday season is the perfect time for increasing your engagement and conversion rates. With an accurate social media holiday calendar under your belt, you can expect some pretty festive results.
Research showed that online and non-store sales for the holidays accounted for $209 billion back in 2020. If sales were that high during a worldwide pandemic, imagine the opportunity to either double or triple that figure, in 2022 and beyond.  
In this week's article, SocialBee will show you how you can make your Christmas social media posts light up several feeds. Let the festive content pour in!
[Free Template] Social Media Holiday Calendar
Download the calendar template below and use it to plan your social media holiday posts with ease.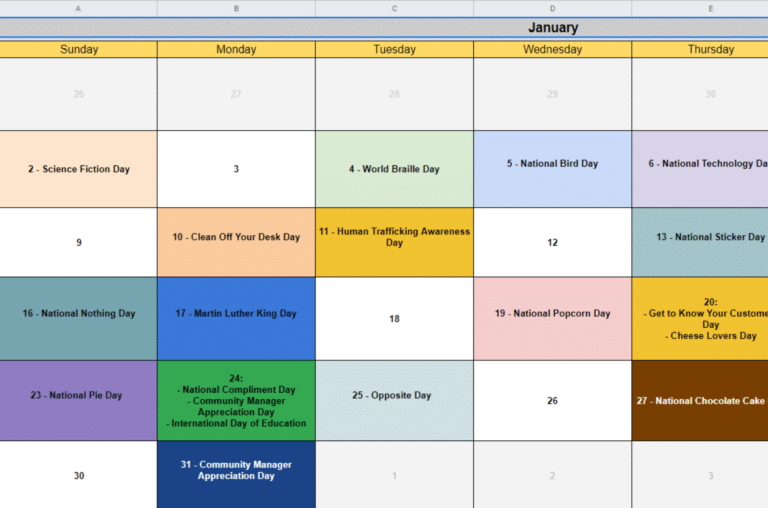 How to Create a Christmas Content Plan
You can't possibly say Merry Christmas and actually mean it without a solid Christmas content plan. Social media never takes a holiday and your target audience is certain to scroll through their feeds straight from their dinner tables.
Here are five ways to create a Christmas content plan:
Set measurable goals for your Christmas marketing campaign

Decide on the topics of your social media Christmas posts

Create content to endorse your Christmas promotions

Recycle posts from previous years

Schedule your Christmas posts ahead of time
1. Set Measurable Goals for Your Christmas Marketing Campaign
Do you plan on launching a marketing campaign for the festive season? Good for you! To do this successfully, you'll need to figure out some measurable and attainable goals.
Is it the engagement rate you wish to improve? Perhaps your conversions have been rather low lately. Less than satisfactory sales? You can easily figure out your next KPIs by taking a look at your current metrics.
Furthermore, always consulting with your analytics can reveal important insights about your target audience that could ultimately help you create an awesome marketing campaign.
Try not to stress out. Your Christmas campaign will go smoothly once you decide to use SocialBee as your secret social media management and analytics tool.
Here are the top three metrics SocialBee tracks for you:
Audience demographics

Top-performing content 

Engagement levels
Let's dive into this set of measurable goals!
A. Audience Demographics
Qualified leads are what any marketer dreams of, especially during the festive season. Don't wait for Santa Claus to push your customers down the sales pipeline. Instead, allow SocialBee to lend you a hand.
What is your demographic distribution? Predominantly female or male? Do you know which language your followers speak? These little details can help you refine your content strategy.
Here's what the SocialBee demography stats look like:
Track your audience demographics with the SocialBee app!
Start your 14-day free trial today!
B. Top-Performing Content
Analyze the performance of your existing content and get a taste of what your followers would love to see from you. 

Yes, the Christmas spirit might be in the air, but your next campaign needs to surpass your followers' wildest expectations.

A fully optimized marketing campaign has plenty of chances to perform splendidly. All you need to do is get a glimpse of what your fans enjoy. 
Thankfully, SocialBee is here to reveal that to you. With the SocialBee app, you can easily become aware of your top 3 best performing posts, top 3 content categories, and top 3 content types.
As the cherry on top, SocialBee keeps a close eye on your reach, likes, comments, and shares. Get inspired by your top-performing content and create an awesome Christmas campaign!
C. Engagement Levels
It's not enough to simply plan and launch a social media campaign around the holiday season. 

You need to keep a close eye on how your followers are choosing to interact with your posts throughout the days and weeks.

SocialBee buzzes around all your social media platforms and keeps a close eye on the impact of your holiday season marketing campaign. 
Our engagement metrics will show you exactly how your followers interact with your content (via likes, comments, and shares). 
Become aware of when your target audience choose to interact with your content, meaning the exact dates and times for optimal engagement.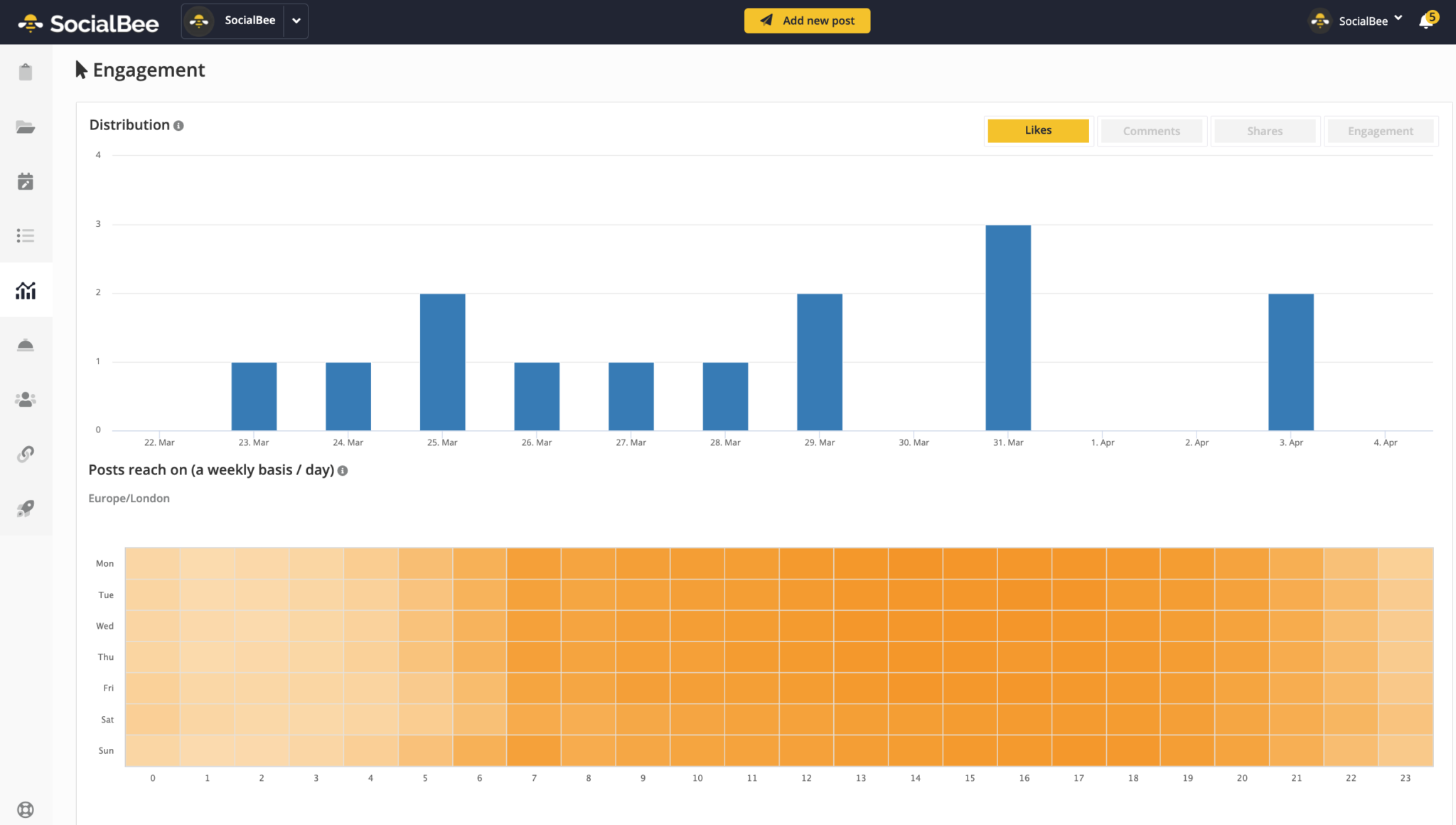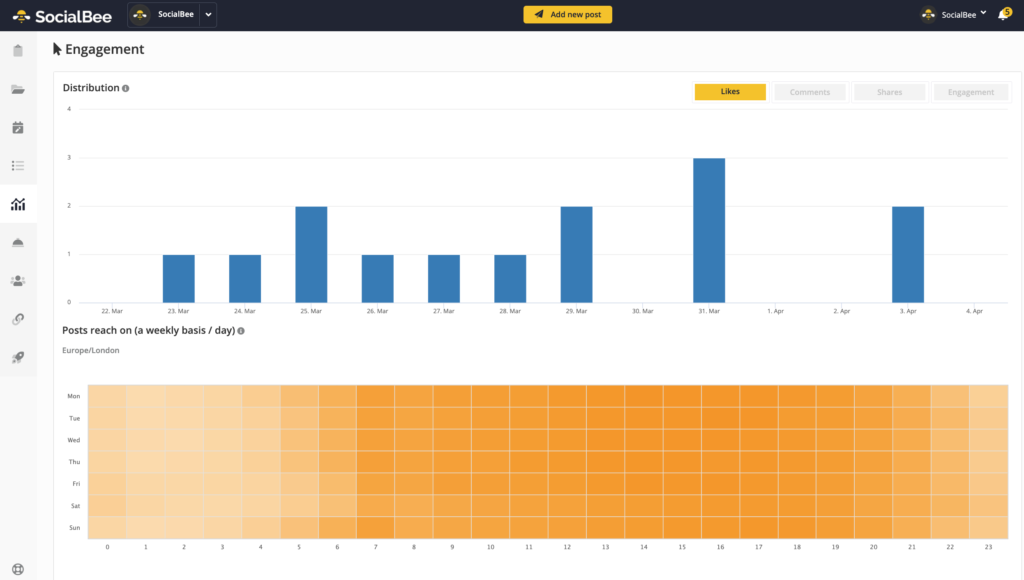 Use SocialBee's engagement analytics and start tracking your audience's interactions with your content.
Start your 14-day free trial today!
2. Decide on the Topics of Your Social Media Christmas Posts
When creating Christmas social media posts, it's easy to get carried away and not be strategic about the whole thing. 

Here's how you can decide on the topics for your festive posts:
Learn how to find post topic ideas
Create content that helps with your KPIs
Discover the type of content your audience prefers
A. Learn How to Find Post Topic Ideas
It's all about insights, as we've previously learned. When you have a clearer understanding of what works and what doesn't, it's easy to find or come up with topic ideas.
First, take a look at how last year's Christmas posts performed and decide whether it would be beneficial to offer your target audience a new take on the same exciting topic. 
Then, take a look at what your competitors did last year. Did they receive many likes and comments? If so, make sure to note down their winner topic ideas and give them a twist that goes hand in hand with your brand identity.
B. Create Content That Helps with Your KPIs
Every business has its set of KPIs to tackle. Perhaps your main KPI around this time of the year is to drive traffic to either your website or landing page. If so, make sure that your content descriptions lead your followers to these pages.
Others might find it imperative to generate a fair number of qualified leads for a big Christmas sale. If this is you, make sure that you use the correct hashtags and post types to catch the eye of your customers. Whatever your KPIs are, they should reflect in your current content strategy. 
C. Discover the Type of Content Your Audience Prefers
This is an easy one to tackle. Once you put the SocialBee app to the test, you'll very easily start to identify the top-performing content your audiences love.
They could be reels with captions, how-to carousels, or memes to start the day with a smile. Either way, take a look at your most liked, shared, and commented posts and take notes for your next round of content.
Pinpoint the topics you'd like to address through your Christmas social media posts. From recipes and gift inspiration, to an exciting giveaway, there are numerous content ideas for a very Merry Christmas online. 
We'll also give you 10 ideas of Christmas social media posts, so keep on reading!
Discover 500+ Social Media Post Ideas
Get access to the full list of engaging social media post ideas and start diversifying your entire content strategy.
3. Create Content to Endorse Your Christmas Promotions
Ah, who in the world doesn't love a good ol' sale during the Christmas season? 
Go ahead and create some irresistible social media posts for each platform you use. That way, you can rest assured that no holiday shoppers shall miss your epic Christmas sale.
What about shoppable posts? With Instagram Shopping, you can now sell products and services and have them show up on your followers' feeds and Discover pages. 
Your target audience will be able to shop by tapping the white dots that will appear on your posts. For this, you'll need an Instagram Business account.
The promotional posts should be eye-catching above all and impossible to miss. Promote your latest festive sale, products, or services with visually captivating reels or carousels. Also, leverage shoppable content and watch effortless conversions roll in.
Instagram Reels and TikTok videos are super popular these days, so make sure to give them a try, in case your target audience frequents these two social media channels. If not, a well-thought-out Christmas Facebook promotion should also keep audiences on their toes. 
🐝 Pro tip: Use Instagram's countdown sticker to stir some much-needed FOMO! 
4. Recycle Posts From Previous Years
Let's be honest, Christmas time is really busy. That doesn't mean you can't post engaging content regardless of your holiday season availability. 
For that, you'll need to think a bit outside of the box and prioritize evergreen content. Do you have a heartwarming, jolly post from last year that you'd just love to repost? Perfect!
With SocialBee, your older posts are guaranteed to shine just as brightly as a… Christmas tree! Recycle photos and videos from previous years with zero effort on your part. 
Here's how you can requeue a Christmas social media post via SocialBee:
Create evergreen posts and re-queue them to be shared to your social media accounts with SocialBee.
Start your 14-day free SocialBee trial today!
5. Schedule Your Christmas Posts Ahead of Time
There is something very stressful about manually publishing Christmas social media posts, don't you think so? In order for you to avoid chaos and enjoy a peaceful holiday season, you'll need to schedule your posts ahead of time.
In order for you to successfully 'beat' the algorithm, you'll need to become fully aware of the best dates and times for you to post. Note that they differ depending on the social media channel we're talking about.
Once you identify these magical dates and times, you'll be much more likely to drive brand discovery and engagement. Your followers have their feed checking habits, so make sure to use this insight as much as possible.
A social media schedule is, simply put, a game-changer. SocialBee helps you get organized and discover the best times to post on social media. All you need to do is organize your content into categories and schedule away! Seeing a Christmas social media post get published by itself is quite the gift, isn't it?
Here's what the SocialBee schedule setup looks like:
Schedule your Christmas social media posts weeks ahead from SocialBee's visual content calendar.
Optimize Your Social Media Posting Schedule!
Download the Best Times to Post on Social Media sheet and start adjusting your content calendar for maximum engagement.
10 Ideas for Christmas Social Media Posts
Having a jolly Christmas without a great holiday social media presence is similar to a Christmas tree with no lights. Depressing, right? Every brand needs to step it up during the holiday season.
Without further ado, here are 10 ideas for Christmas social media posts:
Promote a Christmas charitable campaign

Create a List of Christmas gift ideas

Run a Christmas contest or giveaway

Share your Christmas season must-haves

Showcase your office Christmas decorations

Post your favorite Christmas recipes

Talk about your best/worst Christmas present

Make a list of the best Christmas movies/songs/books

Wish your followers a Merry Christmas

Offer your followers a discount on Christmas day
1. Promote a Christmas Charitable Campaign
Both small businesses and popular brands know that the holiday cheer is not guaranteed for everybody. In fact, poverty prevents millions of people from having a pleasant Christmas. A charitable campaign should even out the scales.
Take this example. They used an adorable graphic of a child holding a book gift. The copy is short and persuasive. As for the description, it starts with a statement that is impossible to ignore and that touches people's feelings. 
You too can team up with a local charity and share the holiday spirit with your less-than-fortunate followers.
2. Create a List of Christmas Gift Ideas
It's not all about Christmas trees and hot chocolate, gifts are equally important. What about a list of Christmas gift ideas? If you don't feel like writing it out in a post or description, film it! 
A Christmas Facebook Reel can help your audience decide on the best gift options available. Make sure to promote your products/services and to add them to the top 3 of your list. It's okay to toot your own horn once a year. 
3. Run a Christmas Contest or Giveaway
Build up excitement with a Christmas event. Contests and giveaways are helpful tools for instant engagement growth. Remember, you have to be persuasive, post regular reminders about the deadline, and use a countdown for optimal impact.
The example above is straight to the point. Notice that the graphic uses an aggressively big font that builds up the excitement. Perhaps the best thing about this Instagram post? The word 'FREE' is clearly emphasized. This is almost guaranteed to generate plenty of giveaway entries.
4. Share Your Christmas Season Must-Haves
It's a great idea to act as a trendsetter the entire year, not just during the holiday season. What is the ideal Christmas outfit? How about the ideal Christmas dinner setting? Idealize and conceptualize freely.
This post does this splendidly. The golden aesthetic is the brand's trademark and it goes hand in hand with the Christmas colors we all love. The Christmas dinner needs a luxurious touch and the chocolate brand exemplifies this with a stunning photo that makes their product a definitive must-have.
5. Showcase Your Office Christmas Decorations
Who said that office Christmas celebrations aren't fun? Wish your employees Happy Holidays with some adorable decorations. This will make your brand relatable in the eyes of your followers.
The TikTok video above is an amusing office tour accompanied by a great track. You too can create a similar video and give customers a glimpse into the behind-the-scenes world of your hardworking team.
6. Post Your Favourite Christmas Recipies
Every social media platform out there has a community of foodies. Guess what? They're waiting for that yummy social media post you might have in store for them. 
This brand was not afraid to give a lengthy step-by-step description of their favorite sweet and salty holiday snack mix. Although the reel itself details each step, it's good to offer your followers a text alternative. 
If you're not specialized in foods and recipes, make sure to team up with someone who is and tag them for a holiday season collaboration.
7. Talk About Your Best/Worst Christmas Present
Everyone has that one Christmas present they fondly remember. Similarly, some of us burst out in laughter at the thought of that one embarrassingly awful present we received years ago. 
Take a lighthearted approach and speak about your best/worst gift at length. Don't feel like relaying all the details through text? What about a podcast? 
This would have solid chances of going viral and spreading brand awareness. Not to mention that the more honest you make it, the more people will start relating to your brand.
8. Make a List of the Best Christmas Movies/Songs/Books
Are your followers' Christmas watchlists ready or do they need some polishing? What about their fun playlists? Forget about promoting your products/services for a while and give your customers some creative ideas on Christmas movies, songs, or books.
Share your brand's favorite Christmas movies with a green screen TikTok. That way, you can offer a short take on the synopsis and explain why you've chosen each movie. Do the same thing with a Spotify playlist or with a to-read list of books worth reading by the fire.
9. Wish Your Followers a Merry Christmas
Not every brand wants to experiment during the holidays and that's alright. Only take what applies to your brand's core identity. Still, it's unfair to let the Christmas holidays pass by without wishing your followers a Merry Christmas.
A simple, thematic photo accompanied by a short and sincere copy should save you the trouble. 
Notice that in the example above, the fashion brand also chose to create a thematic hashtag. This is a great addition, especially if you expect some user-generated content (UGC) around the holidays.
10. Offer Your Followers a Discount on Christmas Day
Holiday sales are expected to pick up around Christmas day. Those late shoppers will rely on you to offer them an unforgettable deal. Therefore, go ahead and create a last-minute sale.
This fashion designer from Dallas decided to create a Christmas Facebook sale that was available through the 25th of December. You can also launch a similar holiday sale. 
All you have to do is plan ahead, schedule the posts, and watch the campaign come to life.
Discover 500+ Social Media Post Ideas
Get access to the full list of engaging social media post ideas and start diversifying your entire content strategy.
Get Ready for the Holiday Season
The holiday social media cheer is going to be in full swing around Christmas time. Make sure that you prepare some awesome posts or requeue the ones from last year. Our ten ideas and examples should do the trick. 
Whatever you do, it would be a wise idea to start posting via a third-party app that will do all the hard work for you. You know, sort of like Santa and his elves.  
SocialBee is the social media scheduling tool you've been looking for. With our app, you can create, schedule, and automatically post all your holiday social media ideas. Luckily for you, we have a 14-day free trial. Give it a try!  
Manage Your Social Media Accounts with SocialBee!