A social media strategy template can work wonders for your business.  
In order to build an effective social media marketing plan, you have to first come up with a detailed strategy that is based on research and concrete data. In this way, you will have the insight you need to develop an action plan that will help you achieve your greatest business goals. Sounds amazing, right?
Well, let's not waste any more time and find out what is social media marketing, how do we define a social media strategy, and what is the best way to build one.
Let's get started!
Social Media Strategy Template
Streamline your marketing with an efficient social media strategy template.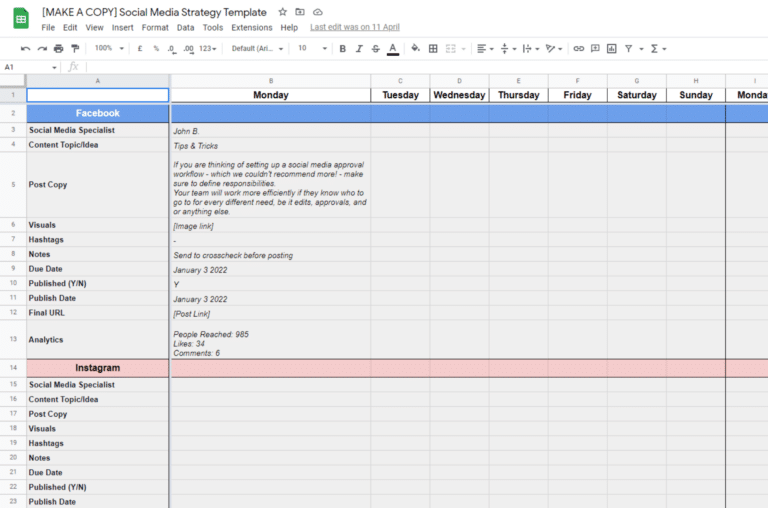 What Is Social Media Marketing?
Social media marketing refers to using social media networks as a way to promote your business through paid (social media ads, boosted posts, influencer deals) and organic practices (content marketing). 
With the right social media strategy, brands can:
Build a loyal customer base

Increase their brand awareness

Boost their sales

Create targeted ads to reach their potential customers

Monitor their progress through social media analytics
What Is a Social Media Strategy?
A social media strategy is a document that contains all the marketing activities you plan for your social media channels in order to promote your brand and connect with your potential customers. 
Social media strategies act as frameworks that guide your every move on social media to help you stay on the right track and accomplish your goals in a reasonable timeframe.
Usually, a social strategy also contains the objectives and results you want to achieve at some point in time and the metrics that will allow you to monitor your progress.
To successfully evaluate your progress you can start using a social media management tool like SocialBee that allows you to monitor your post reach and engagement, as well as your audience growth and activity status.
SocialBee allows you to access the analytics for each social media platform from one dashboard. 
Begin your free 14-day trial today and start evaluating your social media strategy!
How to Create a Social Media Marketing Strategy
Now that we know what a social media strategy is, it's time to roll up our sleeves and get to work.
Here's how you can create a social media marketing strategy:
Audit Your social media presence

Research Your target audience 

Run a competitive analysis

Set social media marketing goals 

Choose the right social media channels

Optimize your existing social media profiles

Assign roles and responsibilities to your marketing team

Create a social media content strategy

Use social media tools

Monitor & adjust your social media marketing efforts
We will now go through all of these steps and give you the information you need to understand every part of the process. 
1. Audit Your Social Media Presence
Before you plan your future strategy, it's best to reflect on your past approaches and results, as well as the current state of your social media presence. 
And the best way to do it is by running a social media audit and compiling all the relevant data in one document.
We already created a social media audit and added it to our template. So, make sure you access it and start creating your strategy the right way!
Download the Social Media Audit Template!
Access the template below for a streamlined social media audit process.
Why should you do this? Well, because you have to know your current situation (with both flaws and strengths) to effectively plan for the future. Otherwise, you will create a social strategy that will neither help nor improve your situation.
Here are some aspects you can evaluate through your audit:
Account information 

Content performance

Audience details

Paid social media practices
Perform a SWOT Analysis
Going for a SWOT analysis is great because it's a fast and simple way of discovering your strengths, weaknesses, opportunities, and threats and using the insights to develop a new and improved social media marketing strategy.
Answer the questions below to complete your SWOT analysis:
Strengths
What do you do well?

What are your key resources?

What gives you an advantage over your competitors?

What do others praise your business for?
Weaknesses
What do you need to improve to make progress?

What resources do you lack compared to your competitors?

What are the main criticisms you receive from others and your team?
Opportunities
What are your main business growth opportunities?

Are there any market trends you can take advantage of?

How can you turn your strengths into opportunities?
Threats
What external factors prevent your business from growing?

How does your competition threaten your success?

How can your weaknesses turn into threats?
Use Social Media Listening Tools
To run a complete audit of your social media presence you should also consider using social listening tools.
By using these tools you will be able to discover how your brand is perceived on social media by looking through relevant mentions and conversations about your business.
As a result, you will have a solid base of information you can use to develop a better social media marketing strategy, maybe rebrand your business or adjust your products and services to provide a better experience for your customers.
Not to mention that you can gather the same information about your competitors and see how you can overcome them.
And if you are not sure about what social media listening tools you should start using, we have some suggestions:
Mentionlytics 

–

Mentionlytics allows you to discover your social media mentions through online conversations and it also crawls the internet to find relevant insights about your industry.

Iconosquare

– This Instagram social media monitoring tool allows you to keep track of brand conversations, analyze your competitors, track the performance of your hashtags, and discover new content ideas. It also lets you moderate and respond to conversations, and export the ones you find useful.

BuzzSumo

– BuzzSumo keeps track of brand mentions, industry news, and business competitors, providing you with all the social media marketing data you need to improve your strategy.
2. Research Your Target Audience
You should begin studying your target audience as soon as you have a viable business idea. After all, your potential consumers are the most crucial aspect of your strategy  — they are your source of income. 
You have to know far more than basic demographics (age, sex, location, education, employment, income, marriage status) to understand how to reach your customers and keep them engaged with quality content.
Here are the personal characteristics you should find out about your customers:
Interests/hobbies

Values

Buying behavior

Challenges/pain points

Objectives

Desires/needs

Preferred social media platforms

Types of content they enjoy
This information will help you develop messages that resonate with your customers and much more. You may utilize this data to improve your products and services and provide your customers with a better experience.
Create Buyer Personas
Now that you have all of the relevant information about your target demographic, it's time to develop a buyer persona. This will improve your social media marketing efforts in the long-run. 
Consider a buyer persona to be a fictional character. You don't have to write a story around it, just write a description that will help you and your social media team understand your ideal customer.
You are basically giving a shape to all the information you gathered about your audience and making it memorable. 
3. Run a Competitive Analysis
There are a few reasons you should analyze your competitors — and the goal is not to copy them, but actually learn from their achievements and mistakes.  
Media monitoring is a great way to get started with competitor analysis. You can use tools like Brand24 to analyze your competitor's social media presence, assess their weaknesses and strengths, or identify threats and opportunities to your business.
Here is what your competitive analysis should help with:
Keeping up with industry social media practices

Finding relevant content ideas for your niche

Identifying social media channels that add value to your business

Looking for new target audiences
Start by making a list of your most important competitors, including industry giants that have a well-put-together social media marketing strategy.
Here's the social media marketing information you should gather:
Used social channels + links

Follower count

Posting schedule

Post-performance (likes, comments, shares)

Best-performing content

Social media strategies

Social campaigns

Notable post ideas

Social sentiment

Strengths

Weaknesses
Finally, try some of their best social media strategies, add your own unique twist, and see what adds value to your social media marketing efforts.
Social Media Competitive Analysis Template
Audit your competitors' social media with this free template.
4. Set Social Media Marketing Goals
What do you want to achieve through your marketing goals? How? And in how much time?
Consider these three questions as the starting point for your social media strategy. Try to be as specific as possible in your answers. This will help you identify the practices you can use to achieve your social media marketing goals and grow your business.
Here is what you can do to achieve your social media marketing goals:
Align your social media goals with your business goals
Set S.M.A.R.T. goals
Track meaningful KPIs
A. Align Your Social Media Goals with Your Business Goals
In a social media strategy, everything needs to be, well, strategic. Meaning that even your smallest social media marketing goal has to be tied to a higher purpose. For instance, if a company wants to gain more Instagram followers, what it actually means is that it is looking to expand its customer base by exposing more and more people to its brand.
Every social media goal is tied to a bigger business goal that plays a role in a company's profitability.
So, start by looking at what your business needs in order to be successful and translate those needs into social media goals.
B. Set S.M.A.R.T. Goals
If you need a clear structure to follow while developing your goals, the S.M.A.R.T. formula always works wonders. 
This is what it stands for:
Specific – Mention how you plan to achieve your goals
Measurable – Identify ways to monitor your progress
Achievable – Make sure you stay realistic
Relevant – Align your social media goals with your business goals
Time-bound – Set a deadline for each goal
C. Track Meaningful KPIs
We mentioned before that S.M.A.R.T objectives need to be measurable.
What this actually means is that you have to add key performance indicators (KPIs) to each goal to be able to monitor performance and measure your social media marketing success.
For example, if your goal is to generate 100 more leads in the following two months by posting lead magnets weekly on your social media pages, then your KPI will be the number of people that downloaded your resource.
There are multiple social media KPIs you can use to track performance, and they depend on the type of goal you are setting.
Here are some examples you can consider for your future goals:
Reach

– p

ost reach, i

mpressions, s

hare of voice, a

udience growth;

Engagement –

c

licks, l

ikes, c

omments, s

hares, m

entions;

Conversions

– c

lick-through rate, c

ost-per-click, b

ounce rate, s

ocial media conversion rate.
Social media KPIs
5. Choose the Right Social Media Channels
What many social media marketing teams learn the hard way is that not every social network is valuable for your business. You should only focus on a few marketing channels that benefit your business.
Not only this but, you also need to make sure you are able to manage and generate content constantly for every social platform you have. That way, your social media marketing strategy will be certain to succeed.
Try to go for three social media platforms and make the most out of them — this of course depends on the size of your team.
And to make your job easier, you can start using SocialBee to manage all your social media platforms from one place.
SocialBee allows you to create your social media posts from scratch and also post them to all your social media platforms without opening a second tab.
Start your 14-day free trial today!
Here are some aspects you should consider while picking your main social platforms:
Follow your target audience

– Find out the platforms your taregt audience uses the most by looking at the demographics of each channel

Discover the features of each platform

– Make sure the social networks you choose have features that can help you boost your results (e.g., targeted ads, incorporated store, analytics)

Don't forget about your goals

– Assess how your social channels can support you in achieving your objectives

Look at your competitors

– Find out the platforms your competitors use and how successful they are on each one
6. Optimize Your Existing Social Media Profiles
Now that you know what platforms are right for your business, it's time to reevaluate and optimize your existing accounts.
Here's how you can optimize your social media networks:
Improve the relevant ones

Get rid of the ones that don't add value to your social media marketing strategy

Look for fake accounts that use your business name and report them
Next, evaluate your social accounts and make sure you:
Have your business name as your social media handle.

Use branded high-quality profile images.

Add information in all the necessary fields (e.g., contact info, address).

Provide useful links/business details/updates in your bio.
7. Assign Roles and Responsibilities to Your Marketing Team
Take this opportunity to also include the details that will make a difference in your social media workflow. 
Assign roles and responsibilities to your team from the get-go to save time and avoid any confusion. Additionally, make sure to add deadlines and any other details your team may find useful.
By taking the time to do so, you will know who you have to reach in case you need updates regarding progress and performance. Plus, you won't have to constantly answer questions regarding new tasks and project details because you already provided those in the document.
And to make things even better, you can move your entire content creation process, along with your team to SocialBee — a social media management tool that allows you to create your content from scratch, make edits, schedule, and share posts from just one dashboard.
You can invite new users, assign roles, leave notes under posts, and tag your team members to make sure they see your comments — all this without opening a second tab.
Invite your team members to SocialBee and create better content together.
Start your 14-day free trial today and optimize the way you work with your social media team!
SocialBee: Your AI-powered social media management tool
Create posts, publish, analyze, engage and collaborate, all from SocialBee.
8. Create a Social Media Content Strategy
Now that you have researched, evaluated, analyzed, and all that good stuff, you are ready to get into the content part of the process. Remember, quality content is what everyone's interested in.
The key is to combine strategy with creativity, increase brand awareness, and have fun while keeping your target audience on their toes.
Here's how you can build an effective social media strategy:
Brainstorm engaging content ideas for your social media posts

Customize your content for each social network

Create an optimized schedule for your social media platforms

Plan your social media campaigns
SocialBee can help you achieve all of those things with its content curation and creation features, scheduling, and publishing options. It has everything you need to boost all your social media metrics.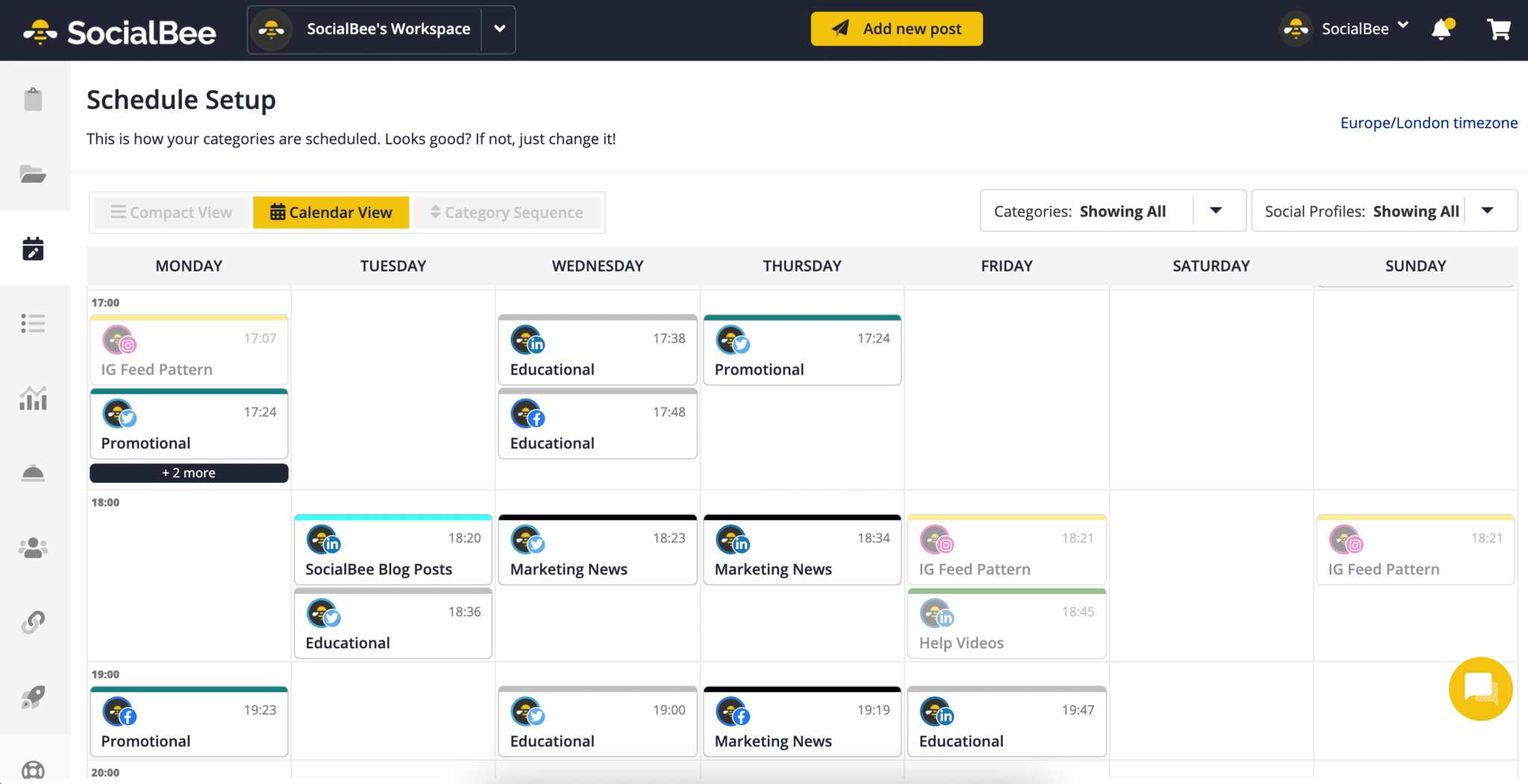 SocialBee allows you to overview your content strategy in a calendar format, which makes it easier for you to discover ways to improve your posting schedule and make the most out of your marketing campaigns.
Start your free 14-day trial today!
A. Brainstorm Engaging Content Ideas for Your Social Media Posts
Gather your team and take a few hours to brainstorm content ideas that will be enough for a few months ahead. Feel free to also add some links with examples, images, articles, and any resources your target audience might find valuable.
As we mentioned before, you can take inspiration from your competitors and use social listening tools to identify relevant content topics for your social media content.
Also, start a poll/ask questions on your social media and let your target audience decide what they would like to read from you. Finally, don't forget about user-generated content. 
Check out our lists of hundreds
of killer social media post ideas
and use them to create a complete social media content calendar for your business pages.
500+ Social Media Content Ideas Document!
Diversify your social content strategy with over 500 engaging post ideas.
B. Customize Your Content for Each Social Network
Now that you have a good list of ideas, it's time to get more strategic and look at the requirements of each social media channel you plan to use.
Here are the requirements imposed by most social media platforms:
Character limitations

Recommended posting schedule

Notable features you can use to share content (e.g., stories, carousels, live features, online store)
All these aspects combined contribute to an awesome content performance and an effective social media strategy. It won't only make your content look better, but it will help you reach more potential customers and increase engagement.
Creating different posts and manually going to each platform to share them can be a very time-consuming task. However, there is a solution: SocialBee.
This all-in-one social media management tool allows users to create, schedule, and post content across all their social media account in one place.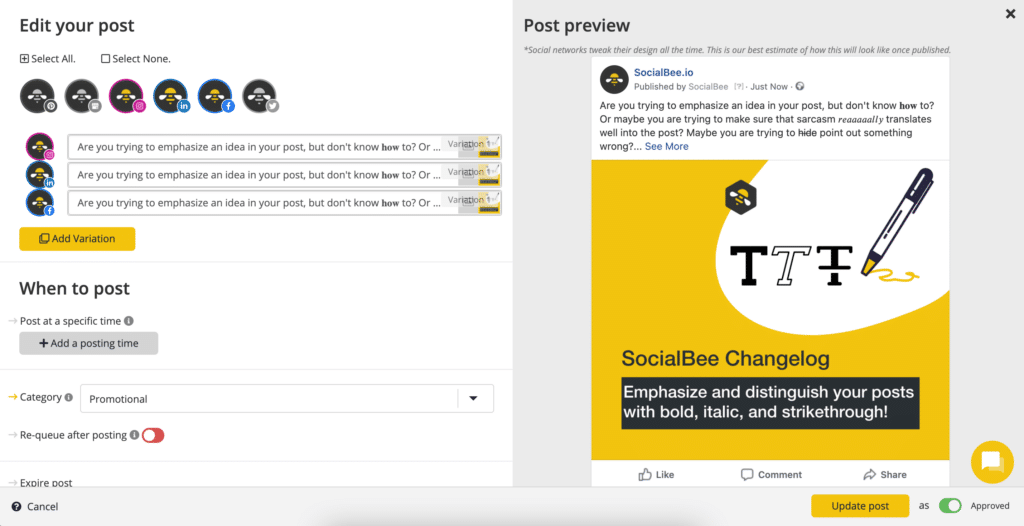 From SocialBee you can create and customize your posts for every social media account you own. Change the word count, adjust the size of your visuals, and add different hashtags to fit the requirements of each social network.
Start your 14-day free trial today!
Make sure you gain the best social media marketing strategy results by adjusting your content and making it a perfect fit for all your social platforms without wasting time switching tabs.
C. Create an Optimized Schedule for Your Social Media Platforms
Timing is everything, especially on social media.
That is because content gets posted on social media constantly. With every refresh, your feed changes completely with the newest posts, news, and ads.
Your best chance of reaching a good part of your target audience is to post while they are online and scrolling. For this, you need a great understanding of your target audience and social media analytics that will provide you with the timeframe in which your customers are online.
If you are just starting to build your social media marketing strategy and don't have this type of insight yet, you can always post according to the generally recommended best posting times:
With all this information at hand, you can start scheduling your posts. And what better way to do it than by using SocialBee?
Create personalized schedules for each social media network with ease. In this way, you make sure you never forget about sharing a post ever again. 
Do you want to reach a larger audience on social media? Create customized content schedules for all your social media networks with SocialBee, and share your posts at the best time possible on each channel.
Begin your 14-day free trial now to enhance your publishing schedule!
D. Plan Your Social Media Campaigns 
Without the right campaigns, you can't have a social media plan. 
The easiest way to go about it is to consider your upcoming events (e.g., product launches, webinars, sales).
Furthermore, you should create a series of posts/ads/partnerships that will boost the visibility and performance of your ongoing social media campaign.
Furthermore, look at reports from previous years and identify the best-performing times of the year. Take this opportunity to launch social media campaigns that will bring you even more profits than ever before.
List all of this information in a social content media calendar to ensure you don't forget to put them into practice. Don't have one yet? Download our social media calendar template below and start planning content today!
9. Use SocialBee for Social Media Management
Social media work comes with many time-consuming tasks that take away from other more important responsibilities, such as going to each platform to create and post content, creating visuals in a separate app, and checking your social media analytics in a separate dashboard — it all can become chaotic fast, especially if you have more businesses to manage.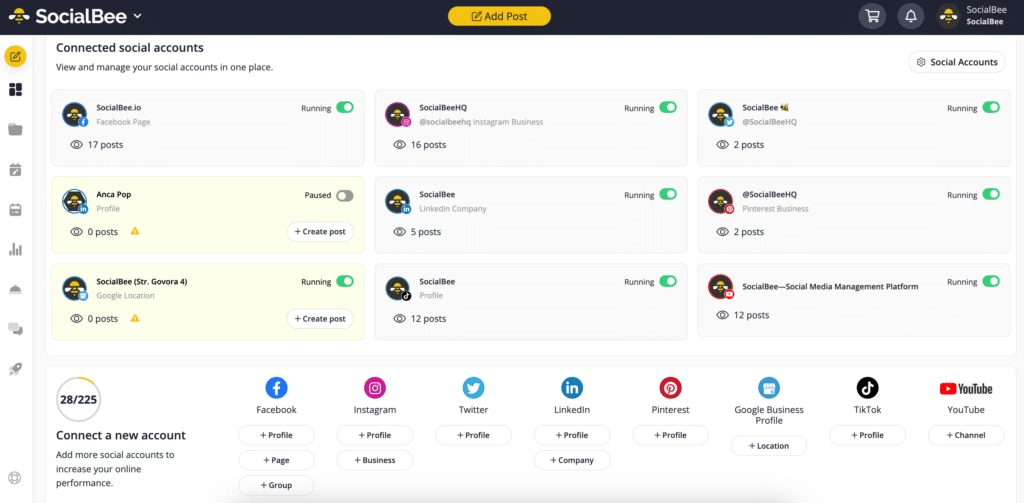 Connect all your social media accounts to SocialBee and manage all your content creation and distribution from one place.
Start your 14-day free trial today and manage your social media presence faster and easier than ever!
But with SocialBee, you don't have to worry about those things. Your social media marketing strategy will be in good hands.
Here's what SocialBee can help you with:
Create, edit and schedule content from one place

Design your visuals through SocialBee's Canva integration directly from the content editor

Make numerous variations of your evergreen content and customize posts for each platform

Reschedule your posts to be shared multiple times

Personalize your posting schedule for each platform

Make different workspaces for each one of your businesses

Invite and collaborate with your social media team on the platform

Evaluate your performance by looking at your analytics dashboard
But these are not all the features you can use. Start your 14-day free trial today to discover all the helpful functionalities SocialBee has to offer!
10. Monitor & Adjust Your Social Media Marketing Plan
To be successful on social media, you need to evaluate and adapt your business objectives. Therefore, you have to keep an eye on your social media analytics. Don't use multiple social media apps, use SocialBee.
SocialBee can provide an overview of the performance of your social media marketing strategy. Access data about your content, audience growth, and activity status for all your accounts. 
The information is organized by social media channels, and it has all the information you need for adjusting your content and social media marketing strategy.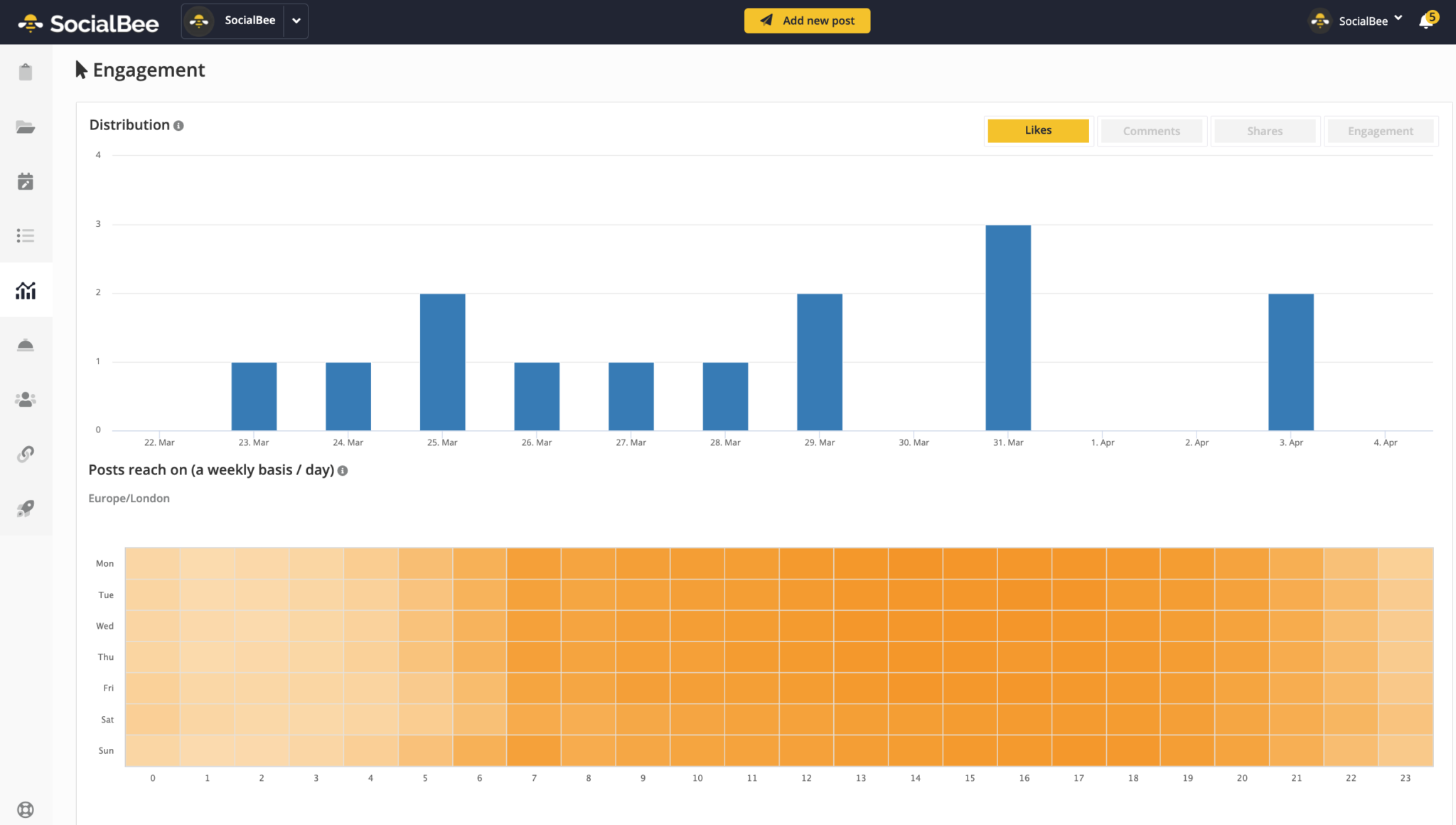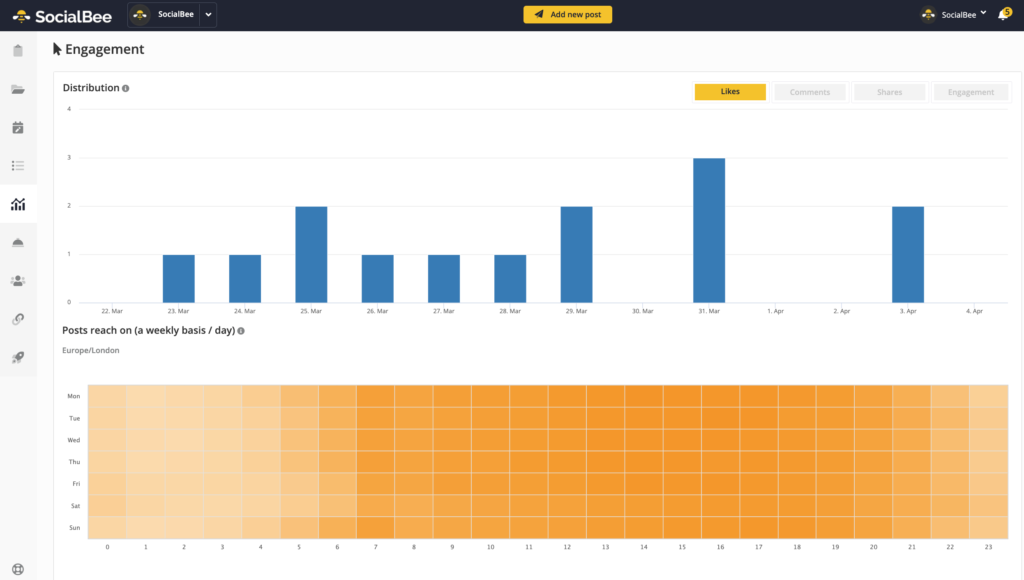 SocialBee allows users to check all their social media analytics from one place. The platform provides social media insights about post impressions, reach and engagement, it shows your best performing posts and it also allows you to monitor your activity and audience growth.
Start your 14-day free trial today!
Start by looking at your impressions, reach, and social media engagement to see if the content had a good performance. Next, add UTM parameters to your links to monitor the traffic that comes from social media to your website.
Also, you need to track your conversions and identify the content that convinced your audience to act.
Three Social Media Strategy Template Examples
Now that we got the theory out of the way, let's take a look at real-life examples of social media strategy templates from SocialBee, Milanote, and Smartsheet. Each one of these templates has its own approach. Try to find the most valuable elements and build your own strategy from there.
Here's what SocialBee's social media template contains:
Audience research

SWOT analysis

Buyer persona template

Competitive Analysis

Goals section

Implementation strategy
The best part is that you can get access to our template, make a copy of the document, and start filling in all the information needed to create an effective strategy for your business.
So, what are you waiting for? Get your free social media strategy template below!
Social Media Strategy Template
Streamline your marketing with an efficient social media strategy template.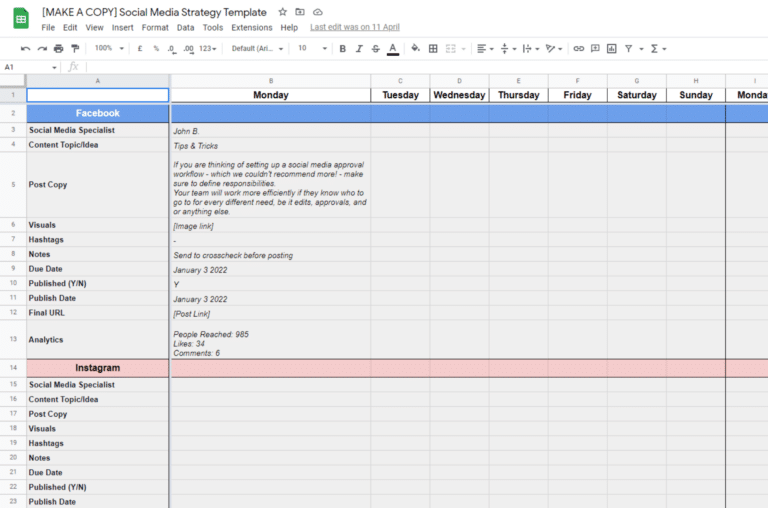 Next on our list of social media templates, we have a social media strategy from Milanote. It's a simple and organized example that focuses on goals and activities. Also, it contains a section dedicated to team responsibilities.
Our last example comes from Smartsheet, and right from the start, we can see that it has a more detailed approach. It contains the following sections:
Research

Competitive analysis

Business and social media objectives

Implementation 
Use these examples to get some inspiration, and most importantly build a customized social media strategy that contains all the information you need to succeed.
Create Your Own Successful Social Media Strategy
If you are reading this, it means that you have all the knowledge you need to create an effective social media marketing strategy.
Let's recap what we learned today:
What is social media marketing

What is a social media strategy

How to create a social media strategy
We also looked at practical examples to help you get an idea about how you should go about creating one for your business objectives.
So, start by getting access to our free editable social media strategy template below and fill out all the gaps by using our step-by-step instructions. 
As a result, you will keep social media users engaged, increase conversions, and ultimately boost your sales. Social media success is guaranteed!
Social Media Strategy Template
Streamline your marketing with an efficient social media strategy template.