We are ready to improve your social marketing strategy and inspire your creativity with a list of 10 fantastic social media campaign examples.
Our picks are both innovative and effective and will help you craft your own social media campaign in no time.
So, stay tuned to find out 10 ad campaign picks and also discover the step-by-step process of creating a social media campaign from scratch.
Free Editable Social Media Strategy Template
Get the social media strategy template you need to audit and plan your marketing efforts for maximum results.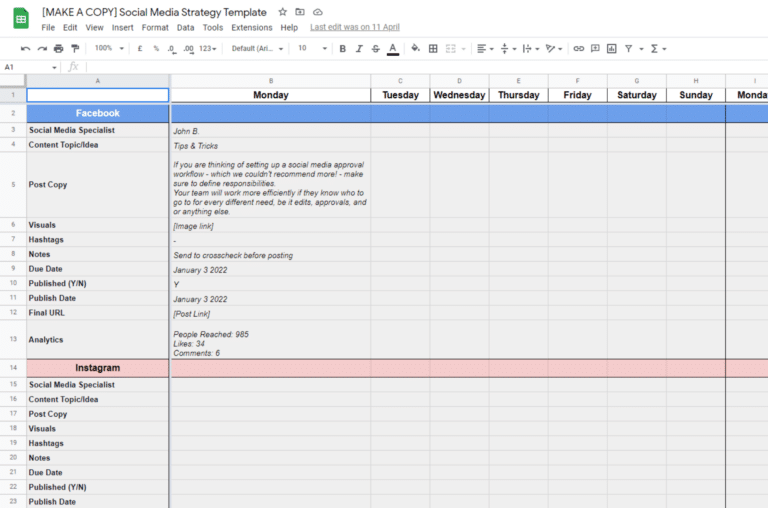 What Is a Social Media Campaign?
Definition
: In the social media world, a social media campaign is a strategic marketing effort that organizes a series of coordinated actions during a limited time frame to achieve a specific marketing goal.
Here is what defines social media campaigns:
Such campaigns can take place on multiple platforms at once, or they can be limited to a specific social network.

Social media marketing campaigns are highly targeted⁠—they contain one main message that is customized for a distinct audience.
Social media campaigns are created with only one goal in mind. This allows marketing specialists to focus on the desired outcome and succeed in accomplishing it.
Social media campaigns have measurable outcomes. As a result, marketers are able to monitor and adjust their social media content strategy in real-time to improve their performance. 
Benefits of Social Media Campaigns
Dividing your social media marketing plan into multiple targeted campaigns allows you to achieve your goals one by one. Moreover, it provides a sense of purpose and direction for all your social marketing efforts.
When you start looking at your social media content and projects from the lens of a campaign, you realize that they are just pieces of a puzzle that need a little more planning in order to be truly effective. After all, the key to running a successful online business is to be strategic about everything you plan for your social media presence.
Social media marketing campaigns can help you:
Motivate your team and give them a sense of direction

Improve reach, engagement and lead generation

Maintain a consistent posting schedule organized in strategic campaigns

Boost brand awareness

Go viral
Top 10 Successful Social Marketing Campaign Examples
Now that you know what a social campaign is and how it can help you improve your business results, it's time to talk about 10 successful social media campaigns that managed to generate amazing results while gaining the appreciation of audiences worldwide.
Sounds exciting, right?
Well, get ready to be impressed and inspired by our next list of effective social marketing campaign examples⁠—we made sure to extract the most valuable lessons from every campaign on this list.
Let's learn some amazing social media tips and tricks!
1. Cadbury's Worldwide Hide
The first one of our social media marketing examples list is Cadbury, a British multinational confectionery company that had a brilliant idea of bringing people together during Covid restrictions back in 2021.
Their successful social media campaign turned the traditional easter egg hunt into a virtual experience that allowed users to:
Hide a Cadbury chocolate egg on Google Maps for their family and friends

Provide a clue 

Deliver the egg to their home once they found it
This social media campaign is great for multiple reasons.
Cadbury managed to create an initiative that took into consideration the context in which their customers lived their life and the challenges that came with it, thus fostering a personal connection with the audiences.
The pandemic was in full swing in the spring of 2021, which meant that people had very little contact with their friends and family and loneliness was a prevalent part of their life.
Moreover, they took a popular Easter tradition and turned it into a virtual game that allowed people to make a sweet gesture (literally) and show appreciation in a time when physical interaction was limited. 
While the campaign had a sweet and generous act at its core, it also allowed the company to promote its product because it implied the purchase of a chocolate egg that had to ultimately be delivered to their friends or family.
So this great social media campaign didn't only generate brand awareness and international appreciation but it was also very profitable for the company.  
Key Takeaways:
Include your products as the main part of your campaign

Take into consideration the context in which you run your campaign

Offer a solution to your customer's problems

Find a way to make it interactive

Promote a positive message
2. Zoom's Virtual Background Competition
The next social media campaign from our list comes from Zoom⁠—a platform we are all familiar with by now.
In a time when video meetings have become a standard, Zoom found social media success. However, with success came many competitors that were ready to take their piece of the pie.
In an attempt to increase their brand awareness and motivate people to choose Zoom for their virtual meetings needs, the company came up with a creative idea that turned their social media campaign into a fun competition.
They launched a virtual background contest that required users to send images and videos of them using one of Zoom's background options. A new winner got picked every month, and the prize consisted of several branded items.
This simple and budget-friendly social media campaign allowed Zoom to voost brand awareness through user-generated content, increase the number of monthly trials and convert more leads.
Key takeaways:
Make use of your product's features

Add some fun to your social media marketing campaigns

Use free trials as a way to convert leads

Raise brand awareness by encouraging your audience to post user-generated content on social media

Give branded gifts to get more exposure
3. Dove #ShowUs Campaign
We can't talk about great social media campaigns without mentioning Dove.
The brand partnered with Girlgaze (a diverse community of non-binary and female-identifying creatives) and Getty Images (one of the largest online providers of royalty-free images) to create the #ShowUs campaign ⁠— an initiative designed to promote body positivity and an inclusive vision of beauty.
Through the #ShowUs campaign, Dove has managed to create a gallery of 10,000+ photos of women and non-binary individuals from across the globe.
The images were collected by encouraging their target audience to share pictures of themselves on Instagram using the #ShowUs hashtag. By doing so, they had the opportunity to have their photos featured in a stock collection that brands could use in their marketing materials, and better represent them and their community.
Although Dove hasn't promoted any of its products during this campaign, it still benefited from the exposure it received. 
By promoting diversity, natural beauty, inclusivity, and women empowerment, Dove has managed to:
Create an overwhelmingly positive brand image

Strengthen their relationships with their customers

Improve their Instagram reach and engagement

Reinforce their brand voice

Stay relevant in the cosmetics industry
The #ShowUs campaign is a prime example of social media marketing done right because it targets Dove's key audience and it tackles social issues women are affected by nowadays.
Key takeaways:
Partner with brands that have the same values for a higher impact

Advocate for social causes that affect your target audience

Create social media marketing campaigns that improve your branding

Utilize user-generated content to improve your social media reach and engagement

Use branded hashtags as a way to build brand identity and encourage user-generated content.  
4. Getty Museum: #GettyMuseumChallenge
Do you want to create effective social marketing campaigns with no budget?
Well, let us show you how the next brand on our list managed to do the impossible.
The Getty Museum had a brilliant idea that brought them instant social media fame. They asked their wider audience to share their favorite artwork from their museum and recreate it by using items they had in their home.
As you can imagine, the responses were both hilarious and creative.
The social marketing campaign ran across three of the most popular social media channels: Twitter, Instagram, and Facebook. By targeting these platforms, the Getty Museum succeeded in engaging with its audience while boosting its online reach and engagement.
Besides this, the brand managed to showcase its impressive art collection and encourage more museum visits.
But how come so many people participated when there was no prize to be received?
Well, because it had the structure of a fun game, it was easy to do, and it had simple and specific instructions. 
Key takeaways:
Create a game and include your products

Use multiple social media platforms for your campaigns

Encourage funny user-generated content that can make your brand go viral
5. NatGeo's #ThinkBeforeYouLike Campaign
Social media is a place where cute animal videos thrive. Who can resist a funny video of a cat pushing a glass off the table? Not us.
It's easy to get caught up in the cuteness of it all and lose sight of some important aspects.
NatGeo used its platform to raise awareness of an issue that hid behind innocent-seeming content—the cruel reality behind the adorable posts of cheetah cubs.
Their message was simple: #ThinkBeforeYouLike. Such a straightforward statement made people ask themselves for the first time about the context behind those posts of cheetah cubs and what they were actually promoting: cheetah exploitation and smuggling.
This type of social responsibility campaign is powerful because it educates people, and it sends a meaningful message—not only through words but through imagery.
The picture used for the campaign has a huge emotional impact. People were used to seeing cute cheetah videos, however, they were never exposed to images that truly depicted the sad reality those cubs lived⁠.
The #ThinkBeforeYouLike campaign had a positive impact on the online community and proved once again that NatGeo is a genuine brand that deserves respect and recognition. 
Key takeaways:
Advocate for meaningful causes

Use imagery to evoke an emotional response

Share simple messages to increase memorability
6. Weetabix and Heinz
Not all social media campaigns need to have an inspirational message to be successful. 
The collaboration between Weetabix and Heinz has proved to us that showing off your weird and quirky side has plenty of benefits too.
Both brands took Twitter users by surprise with their odd breakfast suggestion: beans on bran cakes. Yum?
The imagery itself demands attention. It's like witnessing a car crash⁠—you don't want to see it, but you can't look away. It's shot like any other food ad, but it's so very wrong and against any human instinct. And that's exactly why it generated so many reactions. 
The best part about the post is that Weetabix shows no signs of joking. The caption asks a simple question "Why should bread have all the fun when there's Weetabix?", and it doesn't indicate that this might be a prank.
This was a strategic move because the brand was looking to confuse their audience and make them ask questions and engage with their post.
People saw the post and spent time trying to figure it out. Some got the right idea and were in on the joke, while others didn't catch on and just felt the need to express their disapproval.
Both reactions benefited the brand. It was amazing how much engagement that tweet got. 
The post found fame on TikTok too. Some brave social media users tried the breakfast idea and documented their experience for everyone to see. This resulted in some interesting content that further promoted the two brands and their unusual breakfast idea.
Key takeaways:
Spark online debates 

Make your audience curious

Share out of the ordinary takes that will evoke a reaction (without being explicit or offensive)

Place your products in unusual contexts
7. #LinkedInNextWave Campaign
Social media campaigns can also be a way to celebrate people from your industry and even your employees or customers.
LinkedIn has proved itself, once again, as an undeniable authority in the business world by creating the #LinkedInNextWave campaign. 
They honored 120 successful professionals under the age of 35 that had a significant impact on their industry by sharing a series of social media posts dedicated to each nominee. 
LinkedIn promoted the campaign on multiple other social media platforms in order to bring more people to the platform, especially young people.
They included entrepreneurs from across the globe, showing the future of innovations while being inclusive and showing that success has many faces.
By sharing the stories of so many entrepreneurs, LinkedIn inspired their audience and used storytelling to keep them engaged and curious about the professionals that made their list.
Key takeaways:
Celebrate professionals from your industry

Use storytelling to engage your target audience

Inspire your audience by giving real-life examples of success

Use listicles as a way to generate curiosity
8. IKEA's Pinterest Quiz
The next brand from our successful campaigns list is Ikea.
Instead of using multiple channels, Ikea focused on only one social media platform to deliver customized and engaging content to its audience. How?
Well, they designed a simple quiz with three questions. 
Depending on what each person answered, they received a personalized Pinterest board with home renovation ideas that featured products from their collection.
Ikea chose the perfect social media platform for this initiative. Pinterest is THE go-to platform when it comes to discovering new creative ideas for home decor and all things related to design, fashion, makeup, and many other inspiring aspects of life.
This social media campaign is the perfect mix of promotional and fun content. Ikea didn't only create an amazing experience for its customers, but they also promoted their products and increased their sales just by showing their customers what they are missing in their homes. 
Not to mention that they customized their suggestion to fit the aesthetic of their customers. G.E.N.I.U.S.!
Key takeaways:
Offer customized product suggestions for your potential customers

Create an interactive experience for your audience

Don't focus only on promotional content

Concentrate on social media platforms that align with your content needs
9. Zalando's #StyleDayFriday Campaign
During the quarantine, people couldn't leave their houses and didn't have a reason to get dressed or buy new clothes.
Fashion brands everywhere were impacted by the new lifestyle of their customers and had to find a new way to stay afloat. And that resulted in some successful social marketing campaigns.
Zalando had a winning idea that turned in a recurring series of their own campaign on their Instagram and TikTok pages: #StyleDayFriday⁠—a day dedicated to celebrating style and creativity and giving their customers a reason to get dolled up and take care of themselves.
Casual Fridays became a thing of the past, and #StyleDayFridays took the stage.
Zalando offered weekly themes and rewarded their audience with a voucher code. By doing so, they created a tradition for their community. They even came up with a name for the participants: the zquad.
That is how Zalado got through a rough period for their brand and came out winning, with more social media followers, a stronger community, and an online presence that created buzz around their brand.
Key takeaways:
Use your social media campaigns as a way to build a community around your brand

Make a recurring series that encourages your audience to participate

Offer small incentives that will convince your audience to provide user-generated content
10. Fisher-Price: See Toys Everywhere
In the past years, we have seen movies, music, and fashion come back from past decades. But what makes them so popular nowadays? Shouldn't they be considered old-fashioned instead? 
The answer is simple: NOSTALGIA.
While the Fisher-Price team doesn't bring back old toys or reference any pop culture classics from back in the day, they do something more impactful—they reference the joys of childhood in their own campaign.
They created a 30-second simple video showcasing the items we all had in our household that we considered toys at some point.
We can see a broom with a guitar label, a hairbrush with a microphone label, and a banana with a phone label. The examples go on, and they are very accurate.
The campaign also took place on other social media platforms like Facebook, Twitter, and Instagram and revealed images with the above-mentioned objects packaged as normal toys.
Through this social media campaign, they managed to ignite a feeling in their viewers that can only be described as happiness combined with the sadness of realizing that you won't relive those moments ever again. Or can you?
There might be a way to experience it once again, however not directly, but through your children. And that's what makes this campaign amazing. 
See, the brand targeted parents for a reason. And while they don't advertise their own toys, the campaign is strong enough to solidify the customer-brand relationship and make the parents want to share the Fisher-Price experience with their children.
Key takeaways:
Use nostalgia to make your campaigns stand out

Include video content in your social media campaigns

Reference instances that make your content relatable
How to Create a Social Media Marketing Campaign
Now that you read about 10 of the most important social marketing campaign examples, let's also go through the steps you should follow while building a campaign for your own brand.
Here is how you build a social media marketing campaign:
Identify Your Campaign Goal

Craft Your Social Media Strategy

Decide on Your Main Campaign Message

Brainstorm Content Ideas

Use a Social Media Scheduling Tool

Engage with Your Target Audience

Create a Branded Hashtag for Your Campaign

Collaborate with Influencers

Share User-Generated Content

Monitor & Adjust Your Social Strategy
Let's get started with the first item from our list…
1. Identify Your Campaign Goal
As we mentioned at the beginning of the article, what sets social media campaigns aside from other social projects is their targeted approach.
So, in order to craft a truly effective campaign, you have to start by writing down one specific goal you want to accomplish. Maybe you want to generate more leads, increase your sales, or attract more people to your website.
Stick to one goal to make sure you put all your efforts into achieving the desired result.
This is the structure your goal should have:
Wanted result + activities that will lead to that results + the social channels included in the strategy + deadline.
Example: 
Increase brand awareness by 20% by running a giveaway on Facebook and Instagram in the following month.
2. Craft Your Social Media Marketing Strategy
To make sure you create a strong social media marketing strategy for your campaign, you have to ask yourself the following questions:
Who is your target audience for this campaign?

What are the main channels you will use?

What are the activities that will help you achieve your goal?

How much content should you post on social media?

How will you measure your performance?
Once you have the information, you can start shaping your strategy and run social marketing campaigns that will exceed your expectations.
Free Editable Social Media Strategy Template
Get the social media strategy template you need to audit and plan your marketing efforts for maximum results.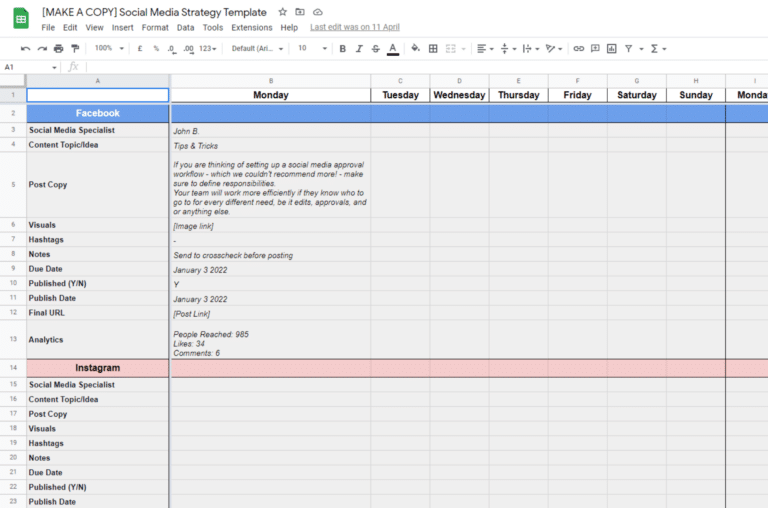 3. Decide on Your Main Campaign Message
The same principle we applied to campaign goals works for messages too.
Focus on one message and put all the spotlight on it. As a result, you will ensure your message comes across loud and clear. Don't distract your audience from the one message they should focus on by including multiple other statements in your campaign.
Look at our social media campaign examples, especially the NatGeo #ThinkBeforeYouLike campaign, and follow their lead.
The best way to go about creating your campaign message is to follow the KISS formula:
Keep it Simple, Stupid. Take the message you have created and bring it to its simplest form.
Besides being simple, your message should help you achieve your social media goals while emphasizing the wants and needs of your target audience. However, this depends on the purpose of your campaign.
The best way to evaluate your message is to test it by asking the opinions of your employees, colleagues, friends, and family. Make sure you only show it to them once and see if the message is simple and easy to understand.
4. Brainstorm Content Ideas
Now that you have a clear strategy laid out, it's time to get creative and come up with some content ideas that will engage your audience.
What type of social media post will help you get your point across?
In our examples, you have seen that some brands prepared several posts with the same aesthetic and message (e.g. Fisher-Price, LinkedIn) and posted them one after the other to make the most out of their campaign. 
Other brands created regular series or launched challenges and contests that were designed to encourage interaction and user-generated content.
Don't forget that your content is a way of achieving your goal, so keep it in mind while brainstorming post ideas. For instance, if your goal is to increase your sales, try to use a similar approach to Ikea or Cadbury.
5. Use a Social Media Scheduling Tool
When it comes to social media, timing is everything. So pay close attention to the way you schedule your content.
It's best to use a social media management tool that will help you keep a consistent posting system at all times and save time by creating and posting your content from the same place.
SocialBee is a prime example of an all-in-one social media management tool that takes half of the responsibility off your hands.
Connect all your social media channels to SocialBee and start managing the posts for your social media campaigns from one place. 
Start your free 14-day SocialBee trial today to create and schedule your content with ease!
Moreover, besides using a killer social media tool, you also need to strategize your posting approach to make the most out of your content.
There are three main aspects you must take into consideration when it comes to planning your content marketing strategy:
How much will you post on each channel?

When will your audience be online?

What are the best times to post on your social media platforms?
With this information in mind, you can start creating a customized schedule that will help you reach more people and boost your online exposure.
6. Engage with Your Target Audience
Engagement plays a huge role in the success of your social media campaigns. When people keep interacting with your content, they turn the algorithm in your favor.
What engagement basically signals to social media platforms is that your content is great, and it needs to be shown to other social media users. So, the platforms boost your posts and make sure your content gets exposed to a larger audience.
But, how can you encourage your audience to like, comment, and share your posts?
There are a few ways you can go about it, such as:
Create challenges, giveaways, and contests where your audience has to engage with your content to participate

Create polls

Ask questions

Request feedback and recommendations
You can also be the first one to initiate connections⁠—start following relevant accounts, reply to comments and messages, and handle all your reviews in a timely fashion. By doing this, you show that you care about your community and value the customer-brand interaction.
7. Create a Branded Hashtag for Your Campaign
As you might have noticed from our social media campaign examples, branded hashtags are often used to let audiences know that the social media content they are seeing is part of a bigger initiative.
However, that's not all.
Branded hashtags have quite an important role in social media campaigns:
They build brand identity

They generate brand awareness

They encourage user-generated content

They organize all the content posted as part of the campaign in one place
Each social media campaign should have a specific designated branded hashtag. In this way, brands can use those hashtags on social media to see how much impact they had through a certain campaign (how many people posted about it, the content that was generated as a result, and the overall sentiment).
But don't limit yourself to only one. You can also include more of the hashtags that contain your tagline and your business name.
Here are examples of branded hashtags we use for our business: #SocialBee, #LifeAtTheHive, #SocialBeeOffice, SocialBeeTeam, #KeepBuzzing.
To keep your hashtags organized and ready to go whenever you post new social media content, SocialBee has included in its large set of features the Hashtag Collection functionality.
Organize your branded hashtags in separate collections and add them to your social media posts with a simple click whenever you need to use them.
Start your free 14-day SocialBee trial to optimize the way you use hashtags on social media!
8. Collaborate with Influencers
Did you know that 49% of consumers rely on influencer recommendations for their buying decisions? This is huge!
Influencer collaborations can help brands:
Expose their business to a larger audience

Gain the trust of their customers

Create buzz around their brand

Generate leads

Boost sales
And don't worry, these types of collaborations won't drain your budget. You don't have to go after the biggest social media influencers to see results. In fact, you will see better results by collaborating with niche online personalities with lower price points that target the same audience as your brand.
But why should you collaborate with influencers specifically for your social media campaigns?
Well, by having popular online personalities promote your campaigns, you will get immediate exposure and achieve your marketing goals faster and easier than ever before.
9. Share User-Generated Content
In the first part of the article, we talked about the social media marketing campaigns created by Zoom, Dove, Getty Museum, and Zalando.
They all had one thing in common⁠: user-generated content.
Their campaigns relied almost entirely on the contributions of their audience.
All they had to do was add an incentive or just make it fun and challenging enough that their audience was willing to participate.
By getting their audience to send them content and share it on social media using branded hashtags, they managed to:
Expose the brand to a larger audience

Improve their reach and engagement levels

Generate more leads for their business
All of this is for free.
So, if you are looking for a way to get your brand in front of a larger audience, create a contest, challenge or giveaway, and encourage your following to be part of your campaign.
10. Monitor & Adjust
Once you launch your campaign, you have to keep your eyes on the numbers and see the progress you are making toward your goals.
Monitor the social media marketing KPIs that are relevant to your goals and be ready to change your strategy if things are not going as planned.
For example, if your goal was to increase your website traffic, your KPI should be the number of visitors that came from your social media content.
Also, remember to constantly evaluate your content performance and discover if people like and interact with your social media posts, which you can easily do from SocialBee.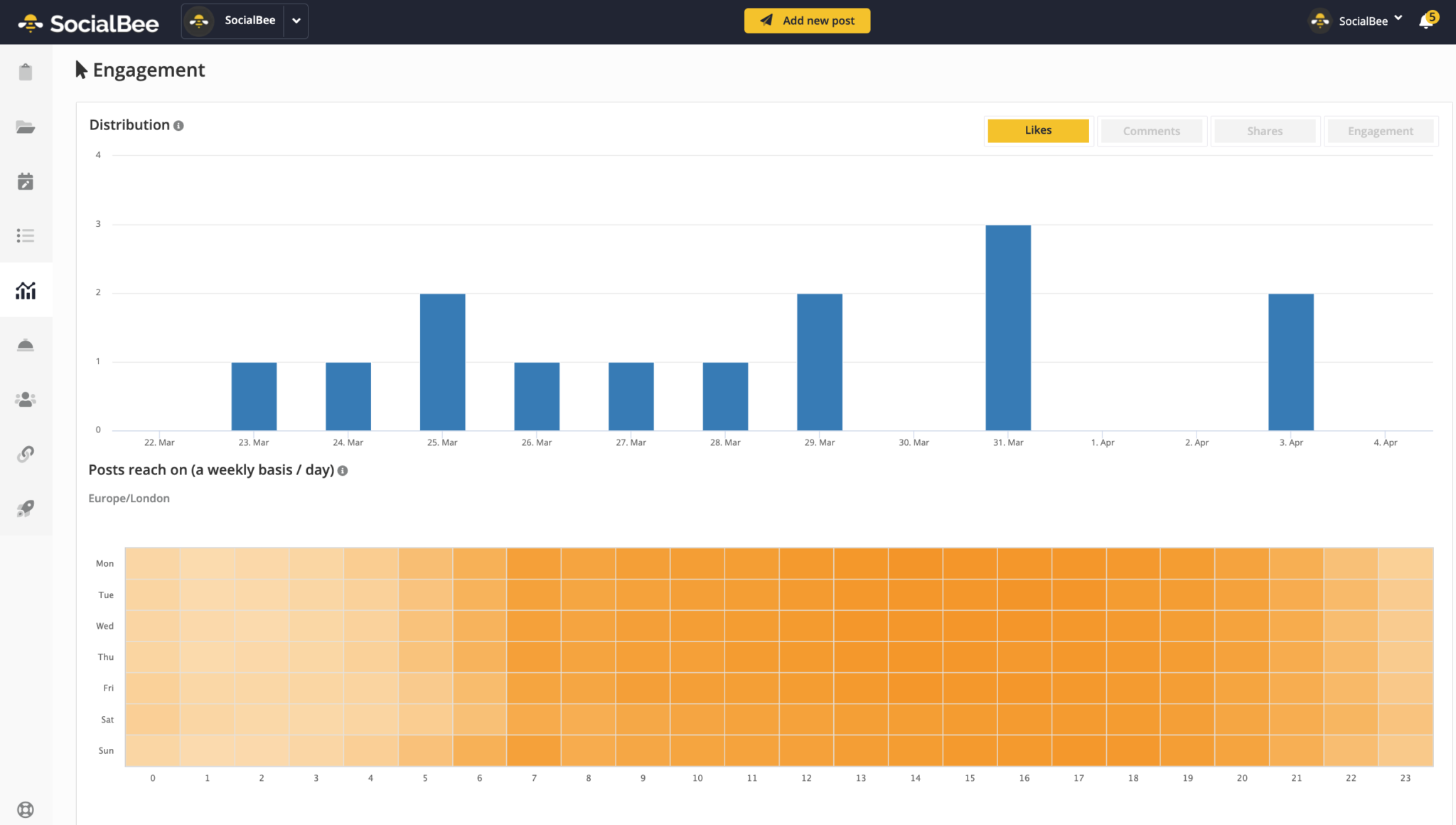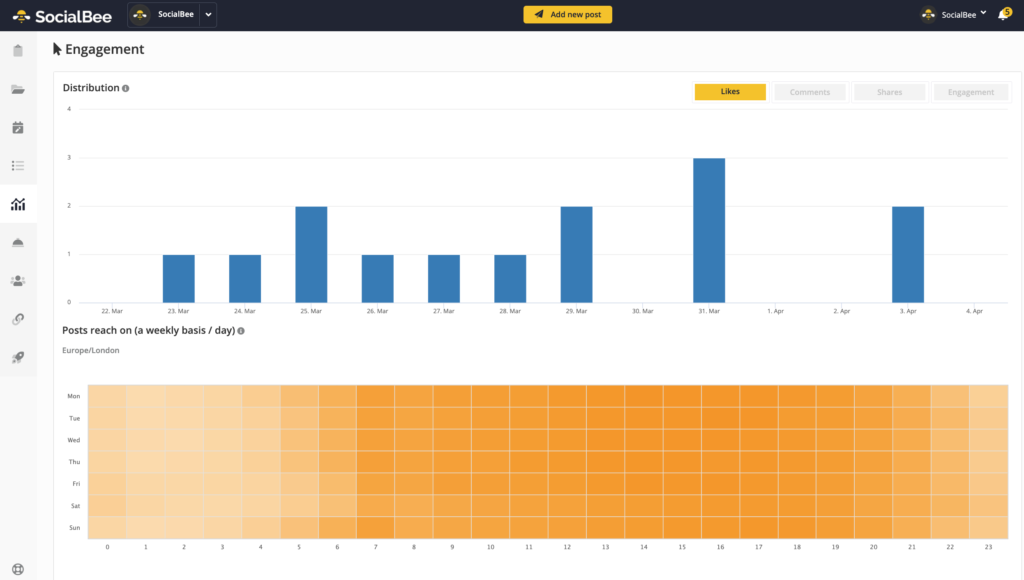 SocialBee allows you to keep an eye on your social media platforms and evaluate the performance of your content with ease from just one dashboard—an especially useful feature while running social media campaigns for your brand.
Start your free 14-day SocialBee trial to manage your social media campaigns from the same place!
Maintain a Successful Social Media Presence with SocialBee
No matter what type of campaign you are planning to create, one thing is sure: your content is the most important part of your strategy.
So, your best chance of seeing results from your campaigns is to focus on posting valuable content on the right social media account at the right time.
And what better way to do this than by using SocialBee—the all-in-one social media tool that will help you create and share posts on all your platforms from one place?
Begin your SocialBee 14-day free SocialBee trial to plan and evaluate your campaign performance from the same platform!
Plan Your Social Marketing Campaigns with SocialBee!