Running out of ideas for Halloween social media posts is an excellent plot for a scary movie. Although it won't scare everybody, I bet it will make some social media content creators tremor with fright.
However, there is no reason to worry. We are here to bring light into the darkest periods of inspiration and provide you with a list of 200+ post ideas that will take your Halloween social media strategy to an unprecedented level of spoooooky.
But enough with the chit-chat, let's uncover the content-writing tricks and treats we have up our sleeves this Halloween!
Discover 200+ Halloween Social Media Content Ideas!
Access 200+ Halloween social media post ideas and start diversifying your October content strategy.
10 Halloween Social Media Posts Examples from Brands
If you want to run inspiring social media campaigns this Halloween season, you are in the right place. Stay tuned as we discuss engaging content ideas you can share the entire month of October and gain a scary amount of likes, comments, and shares.
Here are 10 Halloween social media content ideas inspired by real-life posts:
Create a list of Halloween movie recommendations

Run a Halloween costume contest

Create a countdown with spooky visuals for exciting news

Talk about your Halloween must-haves

Show off your Halloween office decor

Tell a scary legend of your community

Share images with your team's pets in Halloween costumes

Showcase your team's Halloween costumes

Share a scary-good discount code

Create a list of costume ideas
Let's see exactly how you can put these ideas into practice and craft social media campaigns for special occasions such as Halloween.
1. Create a List of Halloween Movie Recommendations
October is that magical time of year when people want to submerge themselves in the spooky and cozy atmosphere of Halloween. The best way to achieve this is by watching seasonal movies that best encapsulate the spirit of this holiday. 
So, as your followers scavenge the internet to curate the best list possible, you can be the one to deliver top-notch movie recommendations. We're talking Tim Burton movies, Hocus Pocus, The Adams Family, Beetlejuice, and more—the more nostalgic, the better. 
Take, for example, Disney's social media post, where they recommend Halloween movies from their collection. Thus, they managed to use the Halloween spirit to also promote productions from their catalog. In this case, it's a match made in heaven…or hell. Mwahahaha!
But don't restrict yourself to movie recommendations. Broaden your horizons and cover all types of entertainment. You can also offer book suggestions and even curate playlists that are perfect for the Halloween season. 
If you are looking for more reasons to celebrate, get access to the entire list of social media holidays you can post about, and find a good reason to spread positivity every day of the year.
2. Run a Halloween Costume Contest
To make the most out of your Halloween social media campaigns, you should focus on practices that will increase your reach and get people talking about your products. Not to mention encouraging user-generated content and getting on more social media feeds than ever before.

Get the best of both worlds by organizing Halloween costume contests and giveaways. As a result, you will boost your marketing efforts, and encourage people to post on social media about your business, thus exposing your brand to a larger audience, their online friends and followers.
Celebrating Halloween wouldn't be the same without the treats, so make sure you offer an appealing prize for your contest winners to encourage as many social media users to get involved.
You can also create an in-person community halloween event to strengthen your bond with local customers and bring more visitors to your brick-and-mortar business.
3. Create a Countdown with Spooky Visuals for Exciting News
Do you want to build anticipation among your customers and kindle their curiosity? Say no more. We have the perfect idea for the job: mysterious countdowns.
These types of posts make great Instagram story content. Since you don't want to spam your audience every day with multiple posts, you can stick to Instagram stories that disappear after 24 hours and don't invade your followers' feeds.
Start by designing some eerie social media graphics for each day of the countdown. You can also leave some Easter eggs to hint at the big reveal. Then share your posts every day till the countdown is over and end it with a bang by revealing the big news.
Maybe you are hosting an event soon or releasing a line of Halloween-themed products. Whatever the subject of your countdown is, ensure you take the right steps to get your followers excited.
Here are some Canva template examples you can use for your countdown social media posts.
Did you know that SocialBee has a Canva integration? What does this mean? Users can now design and import their visuals with Canva directly From SocialBee's post editor.
Create your Halloween posts from scratch with Canva and SocialBee.
Start your 14-day free trial today!
Long gone are the days when you had to switch between several platforms to write your copy, design your visuals, and publish your posts. SocialBee centralizes all your social media content creation and publishing under the same roof.
Create and Schedule Your Halloween Posts with SocialBee!
4. Talk About Your Halloween Must-Haves
Once October hits, we all have our own rituals that put us in a Halloweeny mood. And I bet you do too. 
So take this opportunity to bond with your audience through your love for Halloween and create social media posts expressing how you usually celebrate this spooky season. Share your must-have items and also the habits you indulge in during Halloween.
Maybe you start drinking your coffee from Halloween mugs, light candles around your apartment, or have the Corpse Bride soundtrack on repeat in the background. And let's not forget about pumpkin-spiced everything.
Additionally, you can ask your followers to do the same thing and share their Halloween must-haves in the comments. This way, you will boost your post engagement and create more interaction between you and your audience.
5. Show Off Your Halloween Decor
Are you busy celebrating Halloween this month? Take your audience behind the scenes and put a spotlight on your office decorations.
Showcase the process of turning your office from normal to frightening and create a before and after transformation that will gain you the respect of other Halloween enthusiasts.
Such content will allow your customers to sneak a peek into your company, get a sense of your culture, and thus clearly differentiate your brand from the competition.
6. Tell a Scary Legend of Your Community
There is no better and more fun way to celebrate this time of the year than with a scary Halloween social media post. So, if you are looking for spooky scary ideas to add to your content calendar, our next suggestion is the perfect fit for you. The best part? It involves "real-life" stories.
Every community seems to be haunted by a prevalent scary legend no one can confirm or deny. Most probably, you have one too you can share with your online audience. 
Don't let it go to waste. Put your storytelling skills to the test and try to capture the essence of your scary legend in an engaging social media post. No need to place a bright flashlight under your chin and turn off the lights, the rules are different on social media.
In order to do this right, you have to keep your story relatively short and make it more visually appealing. The best way to go about this scary Halloween post is to make it into a video or disclose the narrative through a series of images, like in our next example from Freezer Bag Cooking.
The post relies mostly on visuals to recreate the atmosphere of the story. The text is minimal and the comic book format makes the content even more enjoyable.
7. Share a Scary-Good Discount Code
Getting surprised and scared spark similarly intense feelings in people. Why not combine the two and spook your followers with a scary-good discount? Or even better, Halloween campaigns with limited promotions.
Including Halloween puns at the start of your posts like in the example below will allow you to put a fun spin on your salesy content.
Make sure to share your Halloween discounts across all your social media accounts
and spread the word about your promotions. Schedule your posts ahead of time and generate buzz around your marketing initiatives.
To plan and schedule your social media posts with ease, you can use a tool like SocialBee.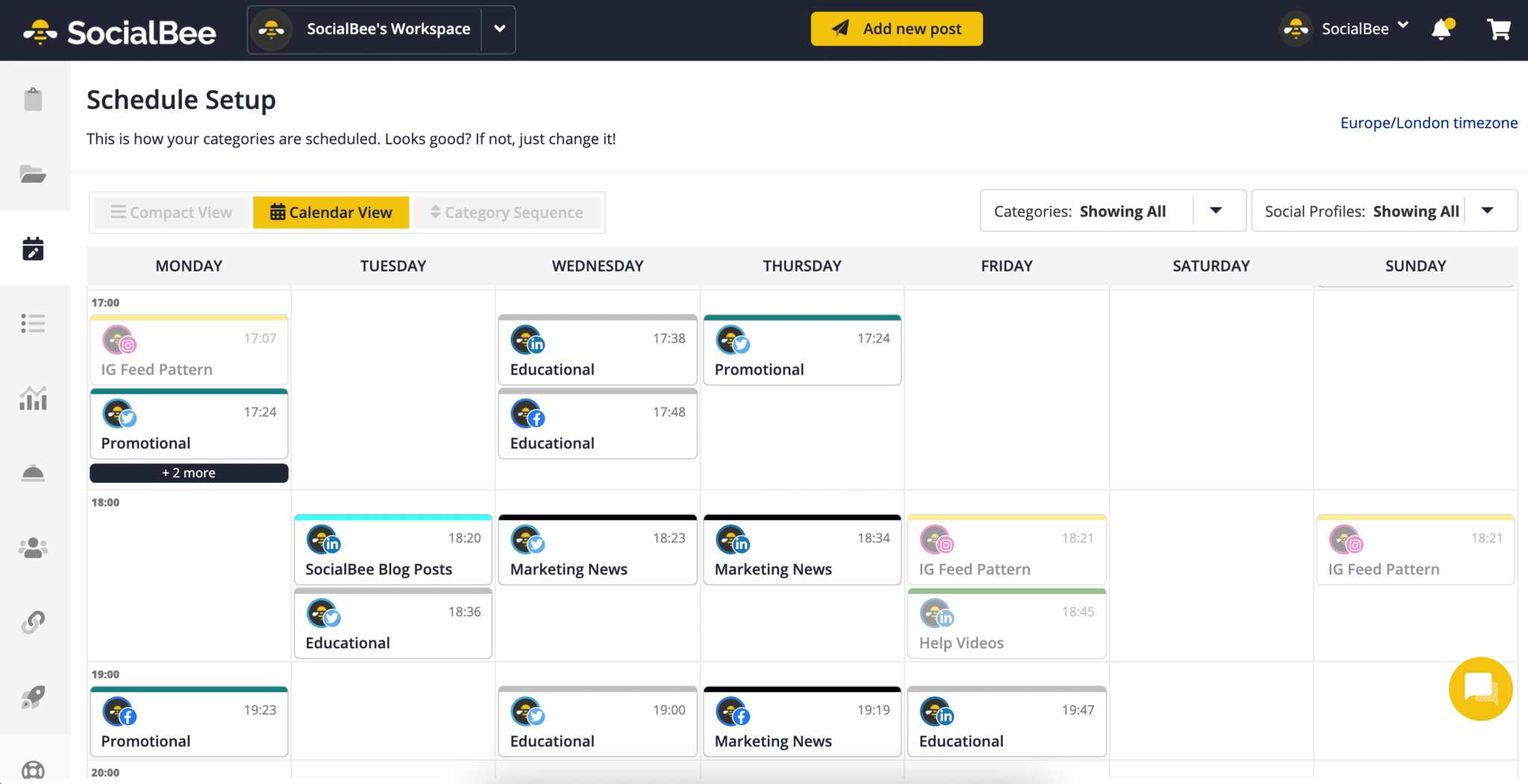 Create, schedule, and post your content across all your social media channels from SocialBee.
Start your 14-day free trial today!
Create a content category designated to your Halloween content and create a fun mix of posts that will both entertain your followers and direct them toward your website.
9. Showcase Your Team's Halloween Costumes 
Take over TikTok with Halloween-themed videos. 
Host a Halloween party and film your team in full attire to provide your audience with some costume ideas.
Don't forget to add a popular Halloween song, keep your video rather short and add a CTA that encourages your viewers to leave a comment. The more TikTok users interact with your video the more views you will get as a result.
8. Share Images with Your Team's Pets in Halloween Costumes
Halloween is an especially exciting time for pet owners as they get to dress up their little friends in adorable, oh, excuse us, SPOOKY costumes.
We are speaking for everybody on the planet when we say that we want to see those glorious pictures. So, don't gatekeep. Ask your team members to send over photos and share them on social media. You can even create a public competition and urge your followers to do the same.
10. Create a List of Costume Ideas 
In a world with so many Jockers and Harley Quinns, be the one odd out. 
Help your audience get creative this year by making a list of less popular but equally interesting costume ideas that will get them running to the nearest costume stores.
To make it even more fun, you can create a game around your curated list and enable your audience to put together a more unique costume based on their birthday. Check out the example below to get inspired.
To make things even better, create a challenge around your list of ideas. For example, the best costume implementation could win a special prize. 
But don't restrict your recommendations for costumes, you can also share autumn recipes or pumpkin carving ideas.
200+ Ideas for Your Next Halloween Social Media Posts
Halloween is more than just trick-or-treating and pumpkin carving — it's a fantastic opportunity to engage and enchant your target audience on all your social media platforms.
Whether you're looking to cast a spell with bewitching visuals, share spine-tingling tales, or promote ghoulishly great deals, we've curated over 200 spooktacular ideas to breathe life into your Halloween marketing campaign.
Dive in, if you dare, and discover captivating content inspirations perfect for the haunting season!
Social Media Halloween Post Ideas About Ghost Stories and Legends
Share spooky local ghost stories and legends.

Post about famous haunted locations in your area.

Share eerie urban legends specific to your region.
Social Media Post Ideas Related to Halloween Entertainment
Create Halloween-themed playlists for different moods and occasions.

Share a list of iconic Halloween movies.

Describe a Halloween classic and let your followers guess the movie

Post about classic Halloween cartoons and animated specials.

Recommend Halloween-themed video games for various platforms.

Host a virtual Halloween-themed movie night or film discussion.

Share your favorite Halloween-themed books and literature.

Recommend your favorite horror podcast

Share scary quotes.

Highlight famous Halloween-inspired works of art and artists.

Share your own Halloween-themed artwork or creations.

Host a virtual Halloween-themed book club or reading group.

Discuss the influence of Halloween on literature and artistic expression.
Social Media Post Ideas About Halloween Crafts, Costumes & Makeup Ideas
Share step-by-step tutorials for creating homemade Halloween decorations.

Host a virtual Halloween crafting workshop.

Share creative DIY costume ideas and instructions.

Post about crafting homemade Halloween masks.

Share tutorials on making Halloween-themed candles or centerpieces.

Showcase DIY Halloween-themed jewelry and accessories.

Share step-by-step tutorials for creating homemade Halloween costumes.

Feature unique and creative makeup ideas.

Share step-by-step tutorials for creating spooky wreaths and door hangings.

Post about crafting DIY Halloween lanterns and luminaries.

Tutorial on creating homemade Halloween window silhouettes.

Share ideas for upcycling old items into Halloween decorations.

Post tutorials for costumes with everyday items.

Showcase DIY pet Halloween costumes.

Share ideas for group or family-themed costumes.

Instructions on creating spooky Halloween centerpieces for tables.

Show how to craft Halloween-themed coasters and table mats.

Tutorial on DIY Halloween-themed throw pillow covers.

Showcase DIY Halloween-themed earrings and necklaces.

Share step-by-step instructions for making spooky brooches and pins.

Post about creating Halloween-themed hair accessories, like hairpins and headbands.

Demonstrate how to make Halloween-themed bag and backpack charms.

Show how to transform old clothes into spooky outfits.

Share halloween tips for accessorizing store-bought costumes to make them unique.

Share ideas for last-minute costume DIYs.

Feature unique and creative makeup ideas for various characters.

Share tutorials for creating realistic fake wounds or scars.

Post about using household items for Halloween makeup in a pinch.

Showcase glow-in-the-dark makeup looks for Halloween.
Social Media Halloween Post Ideas About Food and Drinks
Share Halloween-themed recipes for snacks, appetizers, and main courses.

Recommend Halloween-inspired cocktails and mocktails.

Share creative ideas for Halloween-themed party snacks.

Post about the history and traditions of Halloween treats and candies.

Share tutorials on creating Halloween-themed cake and dessert decorations.

Share your favorite autumn recipes 

Ideas for crafting Halloween-themed candy jars or treat boxes.

Compare modern Halloween treats to what was popular 50 years ago.

Showcase the steps to craft a Halloween-themed fondant for cakes and cupcakes.

Reveal how to make edible blood using simple ingredients for creepy desserts.

Share easy DIY steps to turn regular dishes into Halloween versions – like turning a lasagna into a "zombie brain" lasagna.

Offer drink recipes featuring fall favorites like apple, pumpkin, and cinnamon.

Create a poll asking followers for their favorite spooky treat or drink.

Offer tips on designing Halloween-themed tablescapes or snack stations.

Introduce healthier Halloween snack alternatives for those watching their diet.

Share the origins of traditional treats like candy corn or bobbing for apples.

Challenge followers to share their own spooky recipes, with the best ones being featured on your page.

Share fun facts about Halloween and how it's influenced food trends over the years.

Spotlight a "Potion of the Day" drink special leading up to Halloween.

Organize a virtual Halloween cooking or mixology class.

Post reviews or recommendations of spooky food and drink products available in stores.

Curate a list of horror movies and the perfect spooky snacks or drinks to accompany each film.
Social Media Post Ideas Related to Halloween in Pop Culture
Recommend Halloween-themed episodes from popular TV series.

Post about iconic Halloween movie quotes and moments.

Host a virtual Halloween-themed trivia or quiz night about pop culture.

Share the history of iconic Halloween characters and monsters.

Post about the cultural significance of Halloween in music.

Share a list of the top 10 Halloween episodes from classics like "The Simpsons", "Friends", "The Office", and more.

Poll your audience on their favorite spooky TV show episode.

Post behind-the-scenes trivia about famous Halloween specials.

Create graphics of memorable quotes from classic Halloween movies.

Share clips or GIFs of iconic scenes.

Ask followers to comment with their favorite Halloween movie lines.

Design an interactive quiz with prizes for the highest scorers.

Share trivia questions daily leading up to Halloween.

Dive deep into the origins of vampires, werewolves, ghosts, and witches.

Create playlists featuring popular Halloween-themed songs.

Share stories behind iconic Halloween songs like "Thriller" by Michael Jackson.

Spotlight emerging artists with Halloween-inspired tracks.
Social Media Halloween Post Ideas for Families
Share family-friendly Halloween movie recommendations.

Share creative ideas for DIY kids' costumes and crafts.

Recommend safe and fun Halloween activities for children.

Share tips for parents on ensuring a safe and enjoyable Halloween.

Share fun and simple crafts suitable for children, like ghost popsicle sticks or paper plate masks.

Post about creating Halloween-themed slime or playdough.

Ideas for creating DIY Halloween storybooks or coloring pages.

Show how to craft a DIY trick-or-treat bag.
Social Media Halloween Post Ideas About History and Traditions
Post about the historical origins of Halloween.

Share the traditions of Halloween from different cultures and regions.

Discuss the symbolism of Halloween colors and symbols.

Share an infographic detailing the evolution of Halloween from its Celtic roots.

Discuss how ancient traditions have influenced modern celebrations.

Share personal anecdotes or interviews from individuals about their unique traditions.

Post how-to guides on international Halloween-themed crafts or recipes.
Virtual Halloween Social Media Event Ideas
Host virtual Halloween-themed events, such as scavenger hunts, talent shows, or costume parades.

Create interactive polls and surveys related to Halloween.

Host live Q&A sessions with Halloween experts or enthusiasts.

Share virtual tours of famous haunted locations around the world.

Organize online Halloween-themed challenges and contests.

Provide ideas and inspiration for hosting virtual Halloween parties.

Share virtual Halloween party planning tips and checklists.

Recommend virtual party games and activities for celebrating online.

Host a virtual Halloween costume contest or talent show for your audience.
Social Media Post Ideas Featuring Halloween Safety and Tips
Share important safety tips for trick-or-treating and Halloween parties.

Discuss the responsible use of candles and fire safety during Halloween.

Offer advice on keeping pets safe and comfortable during Halloween.

Provide tips for ensuring a safe and well-lit Halloween environment.

Share information on responsible alcohol consumption during Halloween festivities.
Social Media Halloween Post Ideas Related to Retail and Shopping
Recommend Halloween-themed products and decorations available in stores.

Share tips on budget-friendly Halloween shopping and DIY alternatives.

Highlight unique and unusual Halloween merchandise and collectibles.

Showcase Halloween-themed fashion and clothing options.

Share insights into Halloween marketing and retail trends.

Offer reviews on the year's best Halloween merchandise.

Partner with local businesses for sponsored posts or giveaways.

Share DIY decoration tutorials using products from preferred retailers.

Offer money-saving tips for costumes, decor, and candy.

Share stories behind unique items or their creators.

Collaborate with artisans who produce one-of-a-kind Halloween goods.

Share a lookbook of the season's spookiest outfits.

Offer tips for incorporating Halloween elements into everyday wear.

Feature interviews or collaborations with fashion influencers showcasing their Halloween style.

Analyze the year's most successful Halloween marketing campaigns.

Predict upcoming trends for the next Halloween season.

Share statistics and data on Halloween spending and consumer behavior.
Environmental and Sustainable Halloween Social Media Post Ideas
Share eco-friendly and sustainable Halloween decoration ideas.

Recommend eco-conscious choices for costumes and makeup.

Discuss the impact of Halloween on the environment and ways to reduce waste.

Share tips on upcycling and repurposing items for Halloween crafts.

Promote responsible disposal of Halloween decorations and materials.
Social Media Post Ideas About Halloween Destinations
Recommend spooky and haunted destinations for Halloween travel.

Share travel tips for visiting famous Halloween-themed locations.

Discuss the history and stories behind haunted hotels and landmarks.

Share personal travel experiences related to Halloween destinations.

Highlight the unique Halloween celebrations and festivals in different regions.
Social Media Post Ideas About Halloween Spirituality and Folklore
Explore the spiritual and mystical aspects of Halloween.

Share the significance of Halloween in various religious and cultural traditions.

Discuss the symbolism of symbols like the carved pumpkin, black cat, and witch.

Share folklore and superstitions associated with Halloween.
Fun Social Media Halloween Post Ideas
Post funny anecdotes and stories related to Halloween experiences.

Share Halloween-themed jokes, puns, and memes.

Share a series of Halloween-themed riddles for your followers to solve

Create a countdown with spooky visuals for exciting news 

Talk about your Halloween must-haves 

Share images with your team's pets in Halloween costumes 

Showcase your team's Halloween costumes 

Re-enact a short scene from a horror movie with your team

Post a picture of gloomy weather

Share unknown facts about Halloween

Talk about your best childhood Halloween memory

Go around the office and ask your team members about their worst fears

 Compare your team members with popular Halloween characters

 Share what used to scare you as a child

Tell the story of how you scared somebody

Talk about your funniest irrational fear

Edit your logo for Halloween and share it on social media
Promotional Social Media Halloween Post Ideas
Share a scary-good discount code

Create a Halloween-themed product

Redesign product packaging with festive themes for a limited time.

Offer discounts for a limited time on Halloween day or week.

Offer either 'trick' surprises or 'treat' discounts to loyal customers.

Start a countdown a week or more before Halloween, offering a new deal each day.

Offer Halloween-themed giveaways on your social platforms.

Create special product combos and name them after popular Halloween characters.

Share photos of customers using your products during Halloween.

Show a craft project related to Halloween that incorporates your products.

Offer a Halloween-themed tutorial using your products.

Partner with another brand or influencer for a unique Halloween promotion.

Offer gift cards with special Halloween graphics or bonuses.
Social Media Post Ideas Filled with Halloween Nostalgia and Throwbacks
Share throwback photos and memories of past Halloweens.

Discuss the evolution of Halloween traditions over the years.

Post about vintage Halloween costumes, decorations, and memorabilia.

Recommend old Halloween movies/series.

Share photos of you and your team's childhood Halloween costumes.
Social Media Post Ideas About Halloween Decor
Show off your Halloween office decor.

Provide your audience with creative Halloween decor ideas.

Share a photo collage of your Halloween decorations with a brief caption describing your favorite spooky touches.

Post a quick DIY tip or trick for easy Halloween home decor and invite your followers to share their own ideas.

Show a side-by-side comparison of your home's regular decor and its eerie Halloween transformation.

Feature one standout decoration and explain why it's your favorite for this holiday season.

Use a poll to engage your followers with questions like, "Pumpkins or skulls for Halloween decor?"

Post a short time-lapse video of your home's Halloween makeover.

Start a challenge where followers share their own spooky decor using a unique hashtag you create.

Post a Halloween decor photo and invite followers to suggest fun or spooky captions.
Interactive Social Media Halloween Post Ideas
Ask your followers to share their plot ideas for a Halloween book or movie

Create a Halloween-themed poll or quiz

Ask your audience about what they would miss the most about Halloween if the holiday were banned

Ask your audience to rate popular villains from 1 to 10

Host a Halloween giveaway

Ask your followers what would be their villain origin story

Make predictions about what characters will be the most common costume idea

Organize a scavenger hunt on your website where your audience has to look through your website to find a discount code

Run a Halloween costume contest 

 Ask your followers about their worst trick-or-treat experience

Host a pumpkin carving contest

Share a "This or That: Halloween Edition" image with two spooky options and ask your audience to choose their preference.

Create a "Haunted House Rating" contest where followers can rate haunted house attractions they've visited.

Ask your audience to share their favorite urban legends or ghost stories, creating a spooky storytelling thread.

Host a virtual Halloween trivia night and award prizes to participants with the most correct answers.

Ask followers to carve brand-themed designs into pumpkins and share pictures.
Experiment with Creative Halloween Marketing Ideas 
Are you ready to adopt the Halloween theme this October across your social media networks? If so, give our list of Halloween social media posts a try.
Get your decorations ready, dress up as your favorite characters, eat some candy and get ready to transport yourself from the normal world to the town of Halloween, where social media success is frighteningly easy to achieve.
Speaking of effortless social media management, don't forget to give SocialBee a try. Start your 14-day free trial today and create, schedule, and post all your Halloween content from one place: SocialBee! 
Discover 200+ Halloween Social Media Content Ideas!
Access 200+ Halloween social media post ideas and start diversifying your October content strategy.