Social commerce is a powerful strategy for brands to generate more sales from social media. 
Designed to provide brands with an understanding of how to leverage social media to increase sales, this article will cover key aspects of social commerce, including its benefits, ideal platforms, and proven strategies for success. 
By the end, you'll have the tools and knowledge needed to launch your own effective social commerce strategy. 
Let's dive in. 
Short Summary:
Social commerce is a powerful strategy for brands to increase sales through social media platforms, providing a native social shopping experience for users.

Benefits of social commerce for brands include a platform-native online shopping experience, access to Millennial and Gen Z social media users, and high conversion rates on social media platforms.

The three main social commerce platforms to focus on are Instagram, TikTok, and Pinterest, each offering unique opportunities for brands to engage with their target audience and drive sales.

To maximize ROI from social commerce, brands should use tools like SocialBee to coordinate their

social media strategy

, create platform-native content, leverage user-generated content, and prioritize engagement with their audience.

Integrating social commerce into an ecommerce brand's strategy can revolutionize customer interactions, build brand loyalty, and create a more personalized shopping experience.
Free Editable Social Media Strategy Template
Get the social media strategy template you need to audit and plan your marketing efforts for maximum results.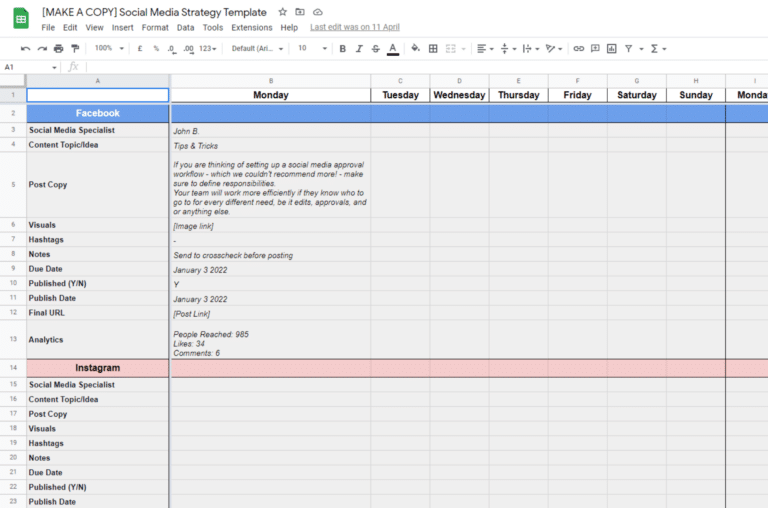 What is Social Commerce?
Social commerce is a strategy that brands can use to sell their products via social media platforms, including Instagram, TikTok, and Pinterest, rather than making potential customers navigate to their website to make a purchase.
Social commerce is becoming an increasingly important marketing channel for ecommerce brands, and it's estimated to make up 5% of total ecommerce sales by 2024.
As you can see, there are valid reasons for brands to start leveraging social media platforms. But what are the actual benefits of social commerce?
The Benefits of Using Social Commerce as a Brand
Let's start with the beginning, shall we? Before we understand how to use social commerce in your marketing strategy, let's first take a look at the top three perks that social commerce brings to the table.
Here is why brands should use social commerce to boost profitability:
Native shopping experience on social media platforms

Access to Millennial and Gen Z social media users

High conversion rates for each social media platform
1. Native Shopping Experience on Social Media Platforms
The average user spends over two hours on social media every day. If you can leverage the time they spend there to get more sales, then you can significantly boost your revenue and brand recognition.
A major benefit of using social commerce in your social media marketing is that you provide a platform-native shopping experience.
Your customers will see your content on the social platforms where they spend their time and be able to instantly purchase from your brand without leaving the app.
This streamlines the buying process by eliminating previous hurdles, where users had to leave the app, open their browser, navigate to your website, and find the right product.
Now, they can go from product discovery to checkout in just a few taps.
2. Access to Millenial and Gen Z Social Media Users
The next benefit of using social commerce is that it gives you unparalleled access to a massive audience who is happy to shop online.
McKinsey data reveals that online content and social media significantly influence different generations:
75% of the views and behaviors of Gen-Z adults are shaped by these digital platforms

For Millennials, online sources form 63% of their perspectives

Despite being more digitally native, Gen-Z individuals under 18 derive 53% of their influencer from digital platforms
To keep track of your audience demographics and content preferences, you can use a social media management tool like SocialBee. This way, you can maximize the results of your social commerce strategy and customize it for specific customer segments.
Here are the key insights you can monitor from SocialBee:
Audience demographics

: This includes detailed information about the age, gender, and location of your followers. Understanding your audience demographics can help you tailor your content to suit their preferences and behaviors.

Page analytics:

This provides an overview of your social media page performance, including the number of likes, shares, comments, reach, and overall engagement. These metrics help gauge the effectiveness of your social media strategy.

Post analytics

: This gives you insights into the performance of individual posts, including likes, shares, comments, and reach. Post analytics allow you to understand what type of content resonates best with your audience.

Top-performing content:

This helps you identify the posts that have received the most engagement. Understanding your top-performing content allows you to optimize future posts to drive more engagement and reach.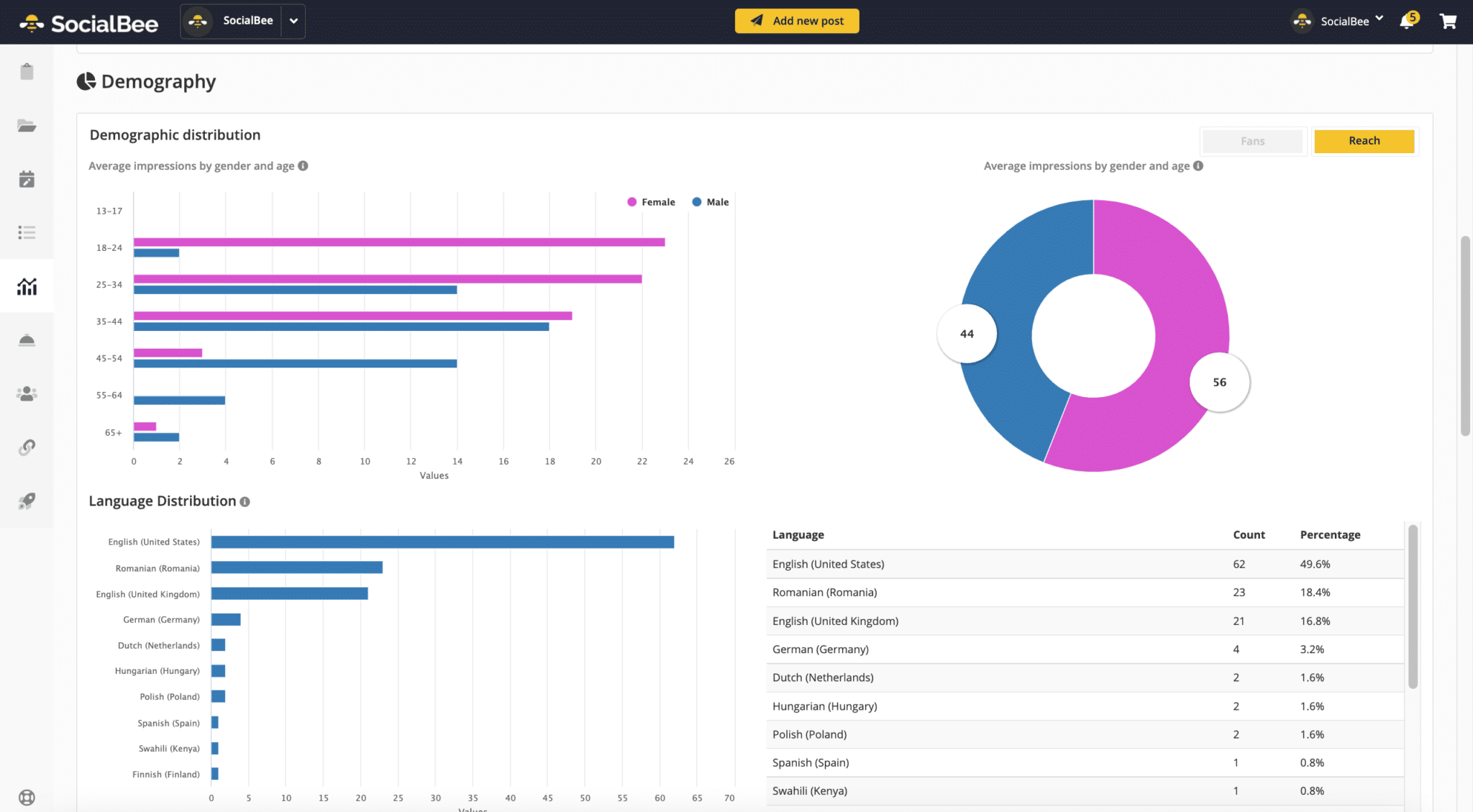 Find out your social media audience demographics with SocialBee.
Start your 14-day free trial today!
By leveraging SocialBee's analytics, you can harness the full potential of social commerce and establish a loyal and engaged customer base. 
In short, if your brand is active on social media, you have a huge opportunity to build a following and then create content that drives purchases. However, it's essential to tailor your content to the specific preferences and habits of different generations. 
Here are some tips on creating content for Millennials and Gen Z separately:
Social Media Content Tips for Millennials (1981-1996)
Here are some key strategies for creating content that resonates with the Millenial audience:
Values-oriented content:

Millennials are often driven by causes and values. Highlight your brand's commitment to sustainability, diversity, or other social issues that resonate with this group.

Authenticity:

Millennials appreciate authenticity. User-generated content, behind-the-scenes looks, and real-life stories can help create a genuine connection with this demographic.

How-to and educational content:

Millennials, being the first digital natives, turn to online sources for information and learning. Providing how-to guides, tips, and informative content in your niche can be effective.
Social Media Content Tips for Gen Z (1997-2012)
Below are three strategies for crafting content that appeal to the Gen Z audience:
Visual content:

Gen Z has a preference for visual platforms like Instagram, TikTok, and Snapchat. Use eye-catching images, short videos, and other visual content to grab their attention.

Engagement: This generation values interaction with brands. Try to incorporate polls, quizzes, and calls to action that encourage engagement in your posts.
Influencer collaborations:

Gen Z is more likely to trust influencers than traditional advertising. Consider partnering with influencers that align with your brand.
3. High Conversion Rates for Each Social Media Platform
The third benefit we'll look at is the conversion rates of social commerce.
While Adobe's research shows that the average ecommerce conversion rate is between 1-4%, it's worth noting that there are innovative methods that significantly exceed these averages. For example, brands leveraging live videos and social commerce tools have seen conversion rates of 30%, as they can leverage tactics like scarcity and discounting in real time. 
It's a hugely powerful channel if you want to test new tactics and see instant results.
PRO TIP: If you're running an Instagram campaign, make sure to track your main ecommerce KPIs in a central dashboard, such as Google Data Studio, allowing you to compare and contrast performance to your main ecommerce store metrics to your social commerce results.
Top 3 Social Commerce Platforms to Focus On
As more people integrate their shopping habits with their social media usage, it's vital for businesses to understand which platforms provide the greatest potential for commerce in an online social setting. 
Let's take a look at three of the best social media platforms for social commerce:
Instagram

TikTok

Pinterest
1. Instagram
Instagram, falling under the umbrella of Meta, commands a staggering user base of more than 1 billion monthly users. 
A substantial segment of these users frequently interact with the platform to not just connect with friends, but also to discover and delve into the products.
As of 2023, Instagram offers a variety of features that enable social commerce on its platform:
Instagram Shops:

This feature allows businesses to create an online store on Instagram where they can showcase their products and services. Users can explore the shop, save items they're interested in, and make purchases right from the app.

Shopping Tags:

Businesses can tag products in their posts, stories, and IGTV videos. When users tap on these tags, they're taken to a page where they can learn more about the product and make a purchase.

Checkout on Instagram:

This feature lets users complete their purchase without leaving the Instagram app, making the shopping experience more seamless.

Shopping from Creators: This feature allows approved creators to tag products from brands they are partnering with directly in their posts. This can make influencer marketing more effective and drive direct sales from creator posts.
Shopping in Instagram Reels:

This feature allows businesses and creators to tag products in their Reels, giving users a way to shop directly from the short videos.
The essence of Instagram as a platform is inherently visual, with each post presenting a blank canvas for brands to paint a compelling picture of their products. The blend of high-quality visual posts with an immediate shopping experience makes Instagram an exceptional platform for social commerce. 
From product discovery to checkout, Instagram presents a refined and simplified process that elegantly marries content browsing and shopping, thereby redefining the landscape of social commerce and the way consumers interact with brands.
2. TikTok
TikTok is continuing to grow, with almost 200 million downloads every quarter since 2018.
Brands have started to leverage the channel as a marketing tool, but also as a place to generate conversions. So it comes as no surprise that it quickly ended up being a beloved social commerce platform.
In response to this shift, TikTok has enhanced its capabilities to accommodate native shopping features, significantly contributing to its ascent as a social commerce platform. These features allow brands to take advantage of the immersive nature of TikTok's content and directly connect with their target audience.
One of the standout features is video shopping ads. Brands can overlay their TikTok creatives with featured products, thus transforming their videos into virtual storefronts. Moreover, these ads enable users to seamlessly checkout on your website within a few clicks, creating a streamlined, frictionless shopping experience right within the TikTok ecosystem.
The end result? A powerful convergence of content and e-commerce that is reshaping the way brands market and sell products online. As TikTok continues to evolve, its potential as one of the top social commerce platforms seems only set to grow.
Brands can also create a Shop tab on their TikTok profile, which allows your audience to browse through products related to their interests and that links straight to your online checkout.
Due to its continued growth, TikTok is an ideal platform for fast-growing brands to leverage to make more sales.
3. Pinterest
Unlike other social media platforms where the primary interaction is between known parties, Pinterest is a platform of discovery. It allows users to discover new interests, ideas, and products. 
This characteristic makes it a fertile ground for businesses, especially new or niche ones, as they have the opportunity to be discovered by users who might not have found them otherwise.
Data shows that 45% of people in the US with a household income over $100k are on the platform, and 46% of users say they've discovered a new brand or product on Pinterest.
On top of that, Pinterest has a native integration with Shopify, which allows brands to connect their store to the platform and easily create pins that include the product photos, descriptions, and track conversions made via the platform.
If your products are a good fit for Pinterest's demographics, it's an excellent social media platform to test.
4 Tactics to Get More ROI from Social Commerce
Here's what you need to do to make the most out of your social commerce strategies:
Use SocialBee to coordinate your social media strategy

Use platform-native content

Leverage user-generated content

Focus on engagement 
1. Use SocialBee to Coordinate Your Social Media Strategy
The first step to any social commerce strategy is having well-managed social media accounts that you regularly publish on.
The best way to do that is with SocialBee. The platform allows you to create, schedule, publish, and analyze posts on Facebook, Instagram, TikTok, Pinterest, LinkedIn, Twitter, Google Business Profile, and YouTube.
You'll be able to automate the process, saving your team time that would have been spent on manual tasks. Once your posts are scheduled, you'll have a calendar overview of every post going out across every platform.
With SocialBee's content calendar, you can optimize your posting strategy. 
These are SocialBee's main features:
Post on Facebook, Twitter, LinkedIn, Instagram, Pinterest, Google Business Profile, TikTok, and YouTube.

Create your posts in SocialBee itself with the aid of our Canva, Unsplash, and GIPHY integrations.

Harness the AI Post Generator to craft captions and images for your posts.

Arrange your content into diverse categories for a robust and balanced mix.

Enable automatic content import from any blog via the RSS Feed connection.

Customize each post according to the specific social media network.

Facilitate automatic hashtag generation derived from your images or captions.

Easy recycling of evergreen posts or straightforward expiry for time-sensitive content.

Establish a calendar-like posting schedule across all your profiles.

Gain a rapid snapshot of your upcoming 100 social media posts.

Accommodate multiple workspaces and enhance team collaboration.

Monitor your links' performance with integrations of 5+ URL Shorteners.

Assess the growth trajectory of your accounts and individual post performance.

Engage directly with follower comments or mentions from within SocialBee.
It's a powerful way to plan your strategy and ensure your brand is always posting timely and relevant content that your audience will love.
Once you're regularly generating engagement, you can start to ramp up your social commerce strategy and turn your social media engagement into revenue for your brand.
Ready to automate your social media strategy? Try SocialBee with a 14-day free trial here.
2. Use Platform-Native Content
If you're aiming to enhance sales through social media, one of the key components to master is the creation of platform native content. But what does this entail and how can you bring this into practice effectively?
To put it simply, platform native content refers to content that feels at home on the social network where it's being shared. It conforms to the unwritten rules and expectations of the platform, making it resonate better with the audience and increasing the likelihood of user engagement and eventual conversion.
Here's your action plan to achieve this:
Embrace Content Variety

: Resist the temptation to lean heavily on studio photos or professional videos. Instead, vary your content to incorporate a mix of professional and more casual, user-oriented material, making your brand more relatable.

Leverage User-Generated Content (UGC)

: UGC can significantly boost your authenticity and credibility. Encourage your followers to share their experiences with your products, and feature their content on your platforms as

social proof

.

Adapt to the Platform

: Content should be specifically crafted for the platform it's shared on. This could mean short, dynamic

videos for TikTok

or stunning visuals for Instagram. A fantastic feature to leverage on Instagram is to create shoppable posts, which allows users to explore and purchase your products directly from the app, bridging the gap between browsing and buying.
By staying true to these principles, your content will strike the perfect balance between high quality and a natural, relatable appeal, setting the stage for robust social media sales. When your audience sees your content it won't look like they're being sold to. It will fit into their feed and be as organic as possible, creating a seamless buyer experience.
3. Leverage User-Generated Content
90% of consumers say that UGC influences their purchase decisions more than brand promotions.
One of the best parts of social media is that your customers can post their own content featuring your content. Whether it's posting a photo in your apparel on Instagram or creating their own how-to TikTok video of an appliance you sell, the best brands will have a never-ending supply of UGC.
When you see a notable influencer or individual post about your brand, you can republish their content (with credit back to them) and make it part of your marketing strategy.
Your future customers will see people like themselves using your product, and be more likely to buy from you in the future.
4. Focus on Engagement
You can't just publish a post and then move onto the next one.
You need to be tracking engagement on every social media post you create and using them to generate ongoing engagement.
One strategy to do that is to monitor DMs, comments and brand mentions in a social inbox, like you can do with SocialBee.
Whenever someone comments on your posts, you'll see their comment with context in your inbox. Your team can then like, comment, or reply directly to the user who made it, straight from SocialBee.
Keep your social media strategy strong by promptly responding to comments, mentions, and DMs impressing followers with authentic and relevant replies.
Start your 14-day free trial now!
Your buyers want a two-way relationship with your brand, and social media feels just as personal as channels like one-to-one email with buyers.
Even if someone isn't yet a customer, they'll see how you're showing up and feel that your brand is more personal than other brands who aren't doing that.
Another benefit of this is that you can even resolve customer complaints directly on social media. As well as helping out the customer with the problem, other members of your audience will see that your brand is there to help, building confidence in purchasing from you.
Frequently Asked Questions (FAQ)
Ready To Jump on Social Commerce Trends?
Social commerce is a powerful channel for your ecommerce brand in 2023. The first step in any social commerce strategy is to have an established social media presence – if you don't have this, make sure to set up your SocialBee account and get it started.
Once you have an audience, you can leverage the integrated social commerce features on social media platforms like Instagram, TikTok, and Instagram to naturally integrate your products into your audience's feed and generate higher conversion rates than would be possible on your website.
As always, make sure to track your social commerce analytics and see what type of content is performing. Once you know, you can double down and ensure every post you create is going to generate the best engagement from your audience and drive the best results for your brand.
There's nothing standing between you and your commerce social media marketing strategy. Start your 14-day SocialBee free trial now!
Manage Your Social Commerce Activities with SocialBee!
About the author: Jeremy is the founder of QuickMail.io, a SaaS company that enables personal one-to-one conversations at scale through automation – for outbound outreach, inbound leads, trial/onboarding, customer communication, and more.
Before founding QuickMail, he worked for more than 15 years as a developer in the video game industry and in finance.