Are you currently searching the internet for up-to-date information on how to go live on TikTok? It's a brilliant way to engage with your existing followers and build relationships with new viewers. After all, live videos are very popular these days, especially from a marketing point of view.
Did you know that people spend approximately 1.5 hours per day on TikTok? With the right strategy, you can make the most out of your time online and reach a larger audience than ever before. 
Start learning how to go live on TikTok with our step-by-step guide—it's going to be easier than you think!
Social Media Strategy Template
Streamline your marketing with an efficient social media strategy template.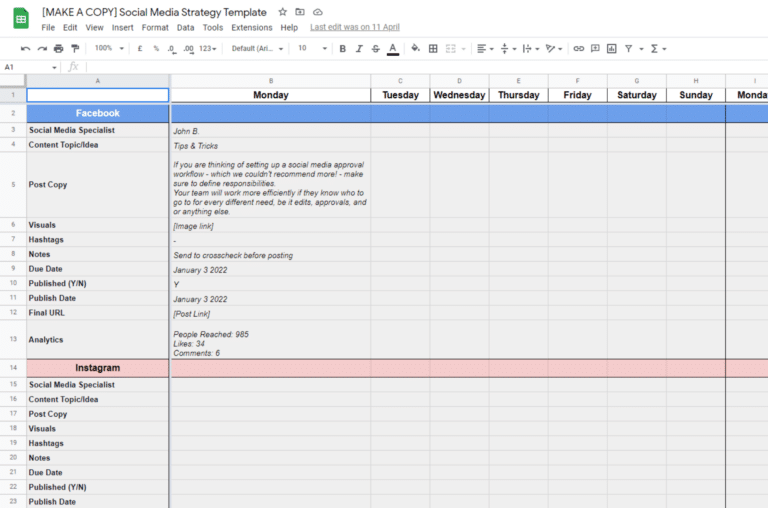 What Is a TikTok Live?
TikTok Live is an interactive feature that enables users to broadcast live. Once you learn how to go live on TikTok,  you'll be able to connect with your followers by sharing live video streams and engaging with them through comments, reactions, and virtual gifts in real time.
Learning how to go live on TikTok is helpful for a variety of reasons, such as hosting Q&A sessions, giving glimpses of daily life, showcasing talents, playing games, and fostering more interactive engagement with fans.
Who Can Go Live on TikTok?
To go live on TikTok, users must typically access the "Live" button on the main TikTok interface. However, their eligibility may be based on criteria such as the user's number of followers or age.
Users must typically be at least 16 years old to start a live, although the age requirement may vary by region or country. Also, you must have more than 1,000 followers on TikTok before you decide to go live.
Additionally, users are required to adhere to TikTok's community guidelines, which encompass regulations pertaining to content, behavior, and safety. 
Benefits of Doing TikTok Live Streams
Wondering why so many content creators are going live on a daily? Well, it's quite simple. They are enjoying several perks as we speak.
Here are the main three benefits of doing TikTok live streams:
Receive gifts and earn money

Build a strong community

Get discovered by new TikTok users
1. Receive Gifts and Earn Money
Did you know that you can earn money from your TikTok live content? When fans send virtual gifts during your live sessions, you can collect Diamonds, which can be converted into real money and transferred to an external account of your choice.
Diamonds are awarded to creators based on their videos' popularity, and one way to earn Diamonds is by receiving gifts from viewers during live sessions.
🐝
Pro tip:
Please note that TikTok Live Gifts are only available for users who are 18 years or older, and it's important to follow TikTok's Community Guidelines and not solicit gifts or offer incentives for gifting.
Here's how you can enable Live Gifting:
Tap "Settings" on your TikTok profile.

Click the "Live Gifts" toggle to enable the feature.

Go to your profile and click "Settings" again.

Navigate to "Balance."

From there, you can withdraw your rewards to your bank or PayPal account. Note that you must accrue at least 2,000 Diamonds (equivalent to $10) before requesting TikTok to pay out your rewards.
2. Build a Strong Community
Cultivating a strong community might sound more difficult than it actually is. For this reason, we've decided to make things significantly easier for you and take a look at what are the must-haves for a happy, thriving TikTok community.
Here are the top three tips for building a strong TikTok follower base:
Real-time interaction:

Live streaming allows you to engage with your audience in real time, responding to comments, answering questions, and connecting with your viewers in a direct and personal manner. This real-time interaction can foster a sense of community and connection with your followers.

Authenticity:

Live streaming on TikTok enables you to showcase your brand, sharing your latest products or services, thoughts, and experiences in an unfiltered and authentic manner. 

Reach and exposure:

Live streams on TikTok often receive priority in the platform's algorithm, leading to increased visibility and discovery of your content. This can help you reach a wider audience and expand your community.
Going live on TikTok can serve as a powerful tool to build a strong community by fostering real-time interaction, authenticity, engagement, and loyalty among your followers, while also enhancing your reach and exposure on the platform.
3. Get Discovered by New TikTok Users
TikTok's algorithm often prioritizes live streams, which can result in them appearing in the "For You" or "Discover" sections. This increased visibility can expose your content to a wider audience, potentially attracting new TikTok users who may not have otherwise come across your content.
By using relevant hashtags and creating catchy titles for your live stream, you can enhance its discoverability to users who are searching for content related to your topic or niche. 
This can help you attract new viewers who may be interested in your content, increasing your chances of getting discovered by a wider audience on TikTok Lives.
How to Do a Live Stream on the TikTok App
Doing TikTok Lives can be just a little confusing, especially when you're just starting out as a content creator. 
Here are the steps to doing a live stream on the TikTok app:
Tap the Create icon

Swipe for the TikTok LIVE feature
Do a live broadcast on TikTok
Experiment with TikTok Live features
End your TikTok live
Step 1: Tap the Create Icon
To start, open the TikTok app. Next, take a look at the very bottom of the screen. There, you should see a '+' sign, which is the button you should always use to create new content or to go live.
Step 2: Swipe for the TikTok Live Feature
Once you tap the plus symbol, make sure to swipe left through the options that are available to you (e.g., Camera, Templates) you can find in the lower part of your screen until you find the live option.
Step 3: Do a Live Broadcast on TikTok
Now that you've managed to find the live option, you'll be able to select whether you'd like to use your device camera or cast from a PC or a Mac. You can also use filters with the Enhance setting which you can find on the right side of the screen, flip your camera, and more.
Next, tap the big red button that says "Go LIVE" and connect with your followers in the blink of an eye.
Step 4: Experiment with TikTok Live Stream Features
There are plenty of features you can experiment with once you go live on TikTok. They can enhance the overall experience, help you get creative, and keep the audience fully engaged throughout the entirety of the live stream.
Here are some of the best TikTok Live stream features:
Go live together:

It allows you to pair up with other users and access each other's audience.

Designate live moderators:

Hosts can now assign a trusted person to help manage their live stream, including the ability to mute and block users.

Set keyword filters:

Hosts have the option to disable comments or utilize a keyword filter by adding up to 200 terms, allowing them to control and limit the comments in the chat during their live stream.

Live donations:

The TikTok Live Donations button empowers your audience to donate to your preferred charity, which can be set up either before or during your live stream.
Step 5: End Your TikTok Live 
Is it time to wrap things up? If so, you might not know how to put an end to all the fun. During your TikTok Lives, you will see a power on/off button located in the bottom right corner of the screen. Tap on it to end your live stream. Congrats, you've just streamed your first TikTok live!
How to Go Live on TikTok from Your Tablet
You can kickstart a live stream on TikTok using a tablet by following the identical steps as you would on a mobile device. Rest assured, you won't encounter any difficulties if you simply follow the aforementioned steps.
How to Join Other People's TikTok Lives
Do you want to join someone else's live on TikTok? It's so simple! 
Follow these steps to participate in someone's TikTok live session:
Find the live stream you want to join and tap on it.

Head to the comments section of the live stream.

Look for a button with two smiling faces and tap on it to send a request to join the broadcast.

Once your request is approved, your screen will split into two, and you'll be part of the live broadcast.
7 Tips on How to Host a Successful TikTok Live Video
Let's face it, it's both exciting and a bit frightening to go live on TikTok, especially when you're just starting out and you have no idea about what's expected of you.
Here are the top seven tips on how to host a successful TikTok live video:
Brainstorm new TikTok live ideas

Go live at the best times

Collaborate with other TikTok users

Have a steady internet connection

Purchase good lighting

Engage with the audience

Promote the TikTok Live in advance
1. Brainstorm New TikTok Live Ideas
Leveraging AI-powered tools like SocialBee's AI post generator for brainstorming new TikTok live ideas can greatly benefit content creators. 
These tools provide a wide range of prompts and ideas that can ignite creativity and inspire fresh and engaging concepts for TikTok live streams.
Running out of TikTok Live ideas? Use SocialBee's AI post generator to get inspired and start live streaming!
Start your 14-day free trial now!
Collaborating with AI can bring a fresh perspective to the content creation process, offering unique and innovative ideas that may not have been considered otherwise. 
SocialBee's AI post generator is an example of an AI-powered tool that offers content creation features and can assist you in generating high-quality social media captions and ideas. With over 1,000 prompts in its library, you can create awesome captions and generate ideas and TikTok live tips.
You can also test SocialBee's AI generator for free before creating an account. However, by creating a SocialBee account, you gain access to features such as content creation, planning, scheduling, and publishing with ease. To explore SocialBee's many functionalities, take advantage of the 14-day free trial, with no credit card required.
2. Go Live at the Best Times
It's no secret that timing is crucial in social media. SocialBee's data-driven insights and analytics can help you identify the best times to do TikTok lives based on your specific audience demographics, location, and engagement patterns.
Leverage your TikTok post analytics and select the best time to go live.
Start your 14-day free trial now!
This allows you to strategically plan and schedule your TikTok Live streams for optimal performance. By leveraging your previous TikTok post type metrics, you can see easily identify the best time to go live and maximize your reach and engagement levels.
Monitor Your TikTok Content Performance with SocialBee!
Create posts, publish, analyze, engage and collaborate, all from SocialBee.
3. Collaborate with Other TikTok Users
Collaborating with fellow TikTok users on live streams can offer a multitude of advantages for content creators. It can broaden your reach by introducing your content to a larger audience and add diversity to your content by incorporating new perspectives and ideas.
Also, collaborating fosters a supportive network of fellow content creators for future collaborations and cross-promotion.
4. Have a Steady Internet Connection
A reliable internet connection is paramount during TikTok Lives for various reasons. Primarily, it ensures smooth and uninterrupted streaming without lags, freezing, or buffering, resulting in a seamless viewing experience for your audience.
This helps to keep them engaged and prevents them from leaving due to technical issues, ensuring a smooth and enjoyable live stream.
5. Purchase Good Lighting
Investing in high-quality lighting for your TikTok live is essential for several compelling reasons. To begin with, adequate lighting significantly enhances the overall visual quality of your live streams, giving your content a more appealing and professional appearance.
A ring light ensures proper illumination of your face or subject. Additionally, good lighting can create a visually pleasing and captivating atmosphere during your live streams, elevating the overall production value of your content.
6. Engage with the Audience
Engaging with your audience during a TikTok Live is essential to foster a sense of community, building a loyal following, and creating a memorable and interactive experience that keeps viewers engaged and coming back for more.
Here are some easy tips to engage with your audience during a live:
Respond to comments:

Monitor the comments section during your TikTok Live and actively engage with your audience by acknowledging their interventions, addressing their questions, and expressing appreciation for their support. This fosters a sense of community, encourages interaction, and makes your audience feel valued and engaged.

Incorporate calls-to-action:

Motivate your audience to take action during your TikTok Live, whether it's through liking, sharing, or following your content. Utilize call-to-action prompts in your speech or visual cues to encourage your audience to actively engage with your content, increasing their participation and interaction during the live stream.

Utilize shoutouts and mentions:

Offer shoutouts to your viewers during your TikTok Live by mentioning their usernames and expressing gratitude for their support. This personalized approach creates a sense of recognition and value for your audience, enhancing their engagement and connection with your content.
7. Promote the TikTok Live in Advance
It's super important to promote your TikTok live in advance. Basically, it helps to build anticipation and excitement among your audience, increasing the likelihood of them tuning in to your live stream.
Planning a new TikTok live? Promote it across your social media channels with SocialBee.
Start your 14-day free trial now!
You can leverage your presence on other social media platforms, such as Instagram, Twitter, or Facebook to promote your TikTok live stream and attract your existing followers from those platforms to join you live on TikTok.
To do this, use SocialBee—a top-rated social media management platform that allows you to create, schedule, and publish content across several platforms with minimal effort.
Frequently Asked Questions
Launch Viral TikTok Lives and Gain New Followers!
With this step-by-step guide, you'll be able to start broadcasting live on TikTok in no time.
From setting up your account to customizing your settings and more, the process of going live on TikTok has never been easier. Whether you're looking to share a new product or service or just want to show off your everyday life, everyone can join in the fun.
With SocialBee, you can leverage the creativity of AI, discover the best time to go live, and schedule promotional content to make your audience aware of when you'll be going live next. A 14-day free trial will give you a taste of what it feels like to be in full control of your social media presence.
In the meantime, grab your phone and get ready – it's time to go live. Happy streaming!
Share Your TikTok Content with SocialBee!
Create posts, publish, analyze, engage and collaborate, all from SocialBee.