Social media quizzes are all the rage these days in social media marketing, with everyone from celebrities to brands jumping on the bandwagon. They're a great method to communicate with your audience and develop your brand because they're interactive, entertaining, and engaging. 
Nevertheless, have you ever pondered how to design a social media quiz that would genuinely capture the interest of your followers and increase traffic to your website? 
In this article, we'll explore the best methods, tips, and examples to help you create killer social media quizzes that will keep your audience coming back for more. So, put on your thinking cap and get ready to quiz it up!
Free Editable Social Media Strategy Template
Get the social media strategy template you need to audit and plan your marketing efforts for maximum results.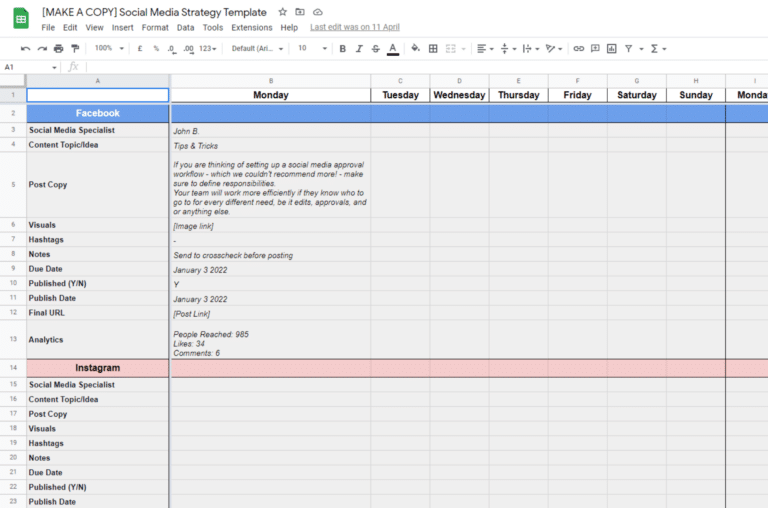 What Are Social Media Quizzes?
Social media quizzes are interactive, engaging questionnaires that are shared on social networks such as Facebook, Instagram, Twitter, and LinkedIn. These quizzes often consist of a sequence of questions and offer the user a variety of response alternatives, such as multiple-choice answers. 
This type of social media content can be developed on a variety of subjects, such as personal preferences and pastimes, as well as current events and popular culture. 
Social media quizzes are designed to promote connection and engagement between brands and their followers, as well as to increase website or product traffic by giving visitors interesting and interactive content.
How to Design a Quiz Suitable for Your Social Media Marketing Strategy
Designing a quiz for your social media marketing strategy can be an excellent way to increase engagement and build a stronger relationship with your audience. 
But before you dive in, it's important to consider your marketing strategies and goals, target market, and the type of quiz that will best align with your brand identity. In this chapter, we'll guide you through the process of designing a quiz suitable for your social media marketing strategy. 
Here are the steps you need to take to create a successful social media quiz:
Think about what you want to achieve with the quiz

Choose how you want to build your quiz

Start designing your quiz

Share and promote your quiz

Analyze and post the results 
1. Think About What You Want to Achieve with the Quiz
Creating content for social media may be highly challenging most of the time, so everyone should make a plan, and the first step of that plan is to set a goal. 
For example, it is important to determine who your target audience is, to decide what kind of questions the quiz will have, and to know what purpose you will use the quiz for. With SocialBee, you can find out details about your already existing social media audience, such as demographic details. You can also track your best performing content and see what your audience likes the most in terms of content.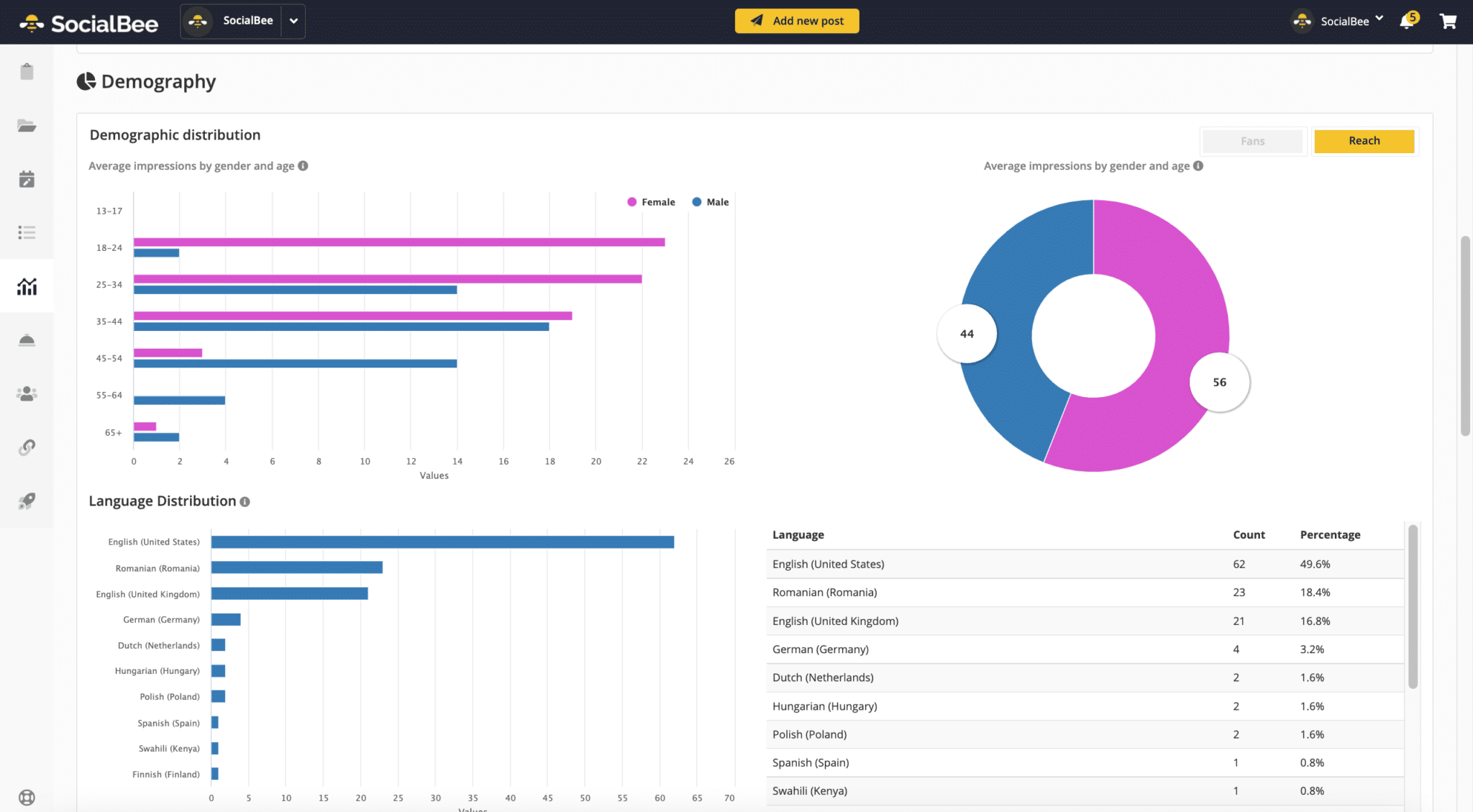 Use SocialBee to inform your social media content—track your audience demographics and post performance for each network.
Start your 14-day SocialBee free trial now!
You may be trying to gain more followers by sharing quizzes or collecting customer data for the brand you are collaborating with. You can also implement the actions you can take, one by one, after you decide on your motivation to create this quiz.
2. Choose How You Want to Build Your Quiz
After getting to know your target audience and preparing appropriate questions for them, you may be thinking about where to publish this quiz. There are two options for creating a quiz: through online quiz makers and social media tools. 
Here is more detailed information about these two ways to create quiz content: 
1. Online Quiz Makers
Social media quiz makers are a good option for those who want to create more professional-looking quizzes and polls. 
With these tools, you can assign different values to the correct answers to the questions and show the total score to the quiz participants at the end of the quiz. Moreover, many tools have free plans, so you can also benefit from advanced features such as calculator conditional logic for free.
If you find it difficult to start from scratch, you can create your own quiz within minutes by using the social media quiz templates offered by these tools. 
Here is an example of a quiz maker:
Since many quiz maker tools offer advanced customization features, you can make your social media trivia more attractive. Online quiz makers generally have user-friendly interfaces, so both quiz takers and you use them easily. 
2. Social Media Apps
Nowadays, almost everyone has a social media addiction. So it comes as no surprise that many social media apps have polling features, for example, Instagram, YouTube, Twitter, or WhatsApp. 
It takes only seconds to create a quiz in these apps. All you have to do to use this feature is to click on the "create quiz/poll" icon inside the application.
You can add your questions and answers to your post and determine the correct answer. Respondents will see after choosing whether the choice they have chosen is true or false. In addition, how many people chose which answer will then be displayed as a percentage.
Here is an example of how you can create a quiz on Twitter:
All you need to do is to post it and promote the link. Whether you choose to share the quizzes with your friends or with possible customers, you will have quick insights into the results.
3. Start Designing Your Quiz
One of the most fun parts of creating a quiz is choosing the questions and deciding on the themes and designs of the quizzes. 
Social media users are likely to see quizzes multiple times a day, but they probably don't answer most of them. This is because people do not find these quizzes interesting enough. You can make it engaging by writing a good hook in order to draw attention to the quiz questions.
4. Share & Promote Your Quiz
If you have followed all the necessary steps to create an engaging quiz and successfully created one, it means you have reached the most critical step. Promoting and sharing your quiz on social media have a crucial role in gaining brand awareness and success. 
If you are looking for a way to quickly share your quiz content to all of your social networks, you can try using a social media scheduling platform, such as SocialBee.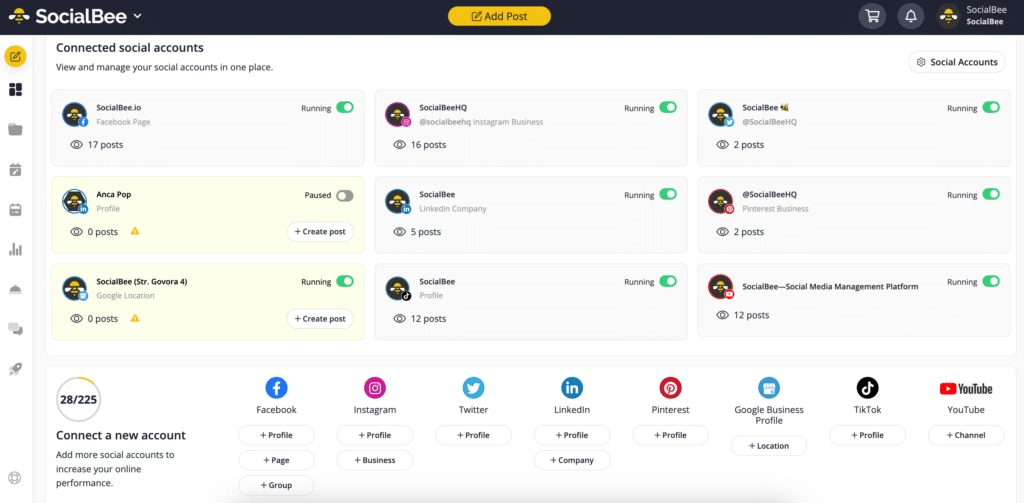 With SocialBee, you can share content on all your social media platforms from the same dashboard.
Share Your Quiz on Social Media with SocialBee!
To reach more people, you can use the embed codes which are used by online quiz maker tools to add your websites.
Here's one thing you need to consider: the more social networks you share your quiz social media content to, the more you can increase your follower count. Moreover, you can promote the quiz as a lead generation technique, which will help you grow your business more. 
5. Analyze & Post the Results
After creating your quiz for social media on different platforms, analyzing the results will give you more ideas for your next posts. 
Ratios such as how many people saw the quiz and how many answered all the questions give you an insight into how successful the quiz content was. If the majority of those who took the quiz answered all the questions, it's a sign that you have created an engaging quiz.
SocialBee's social media tracking analytics provide detailed metrics on key performance indicators such as engagement rate, follower growth, and post reach. By tracking these metrics over time, businesses and marketers can gain a better understanding of how their quiz content is performing and make data-driven decisions to improve their results.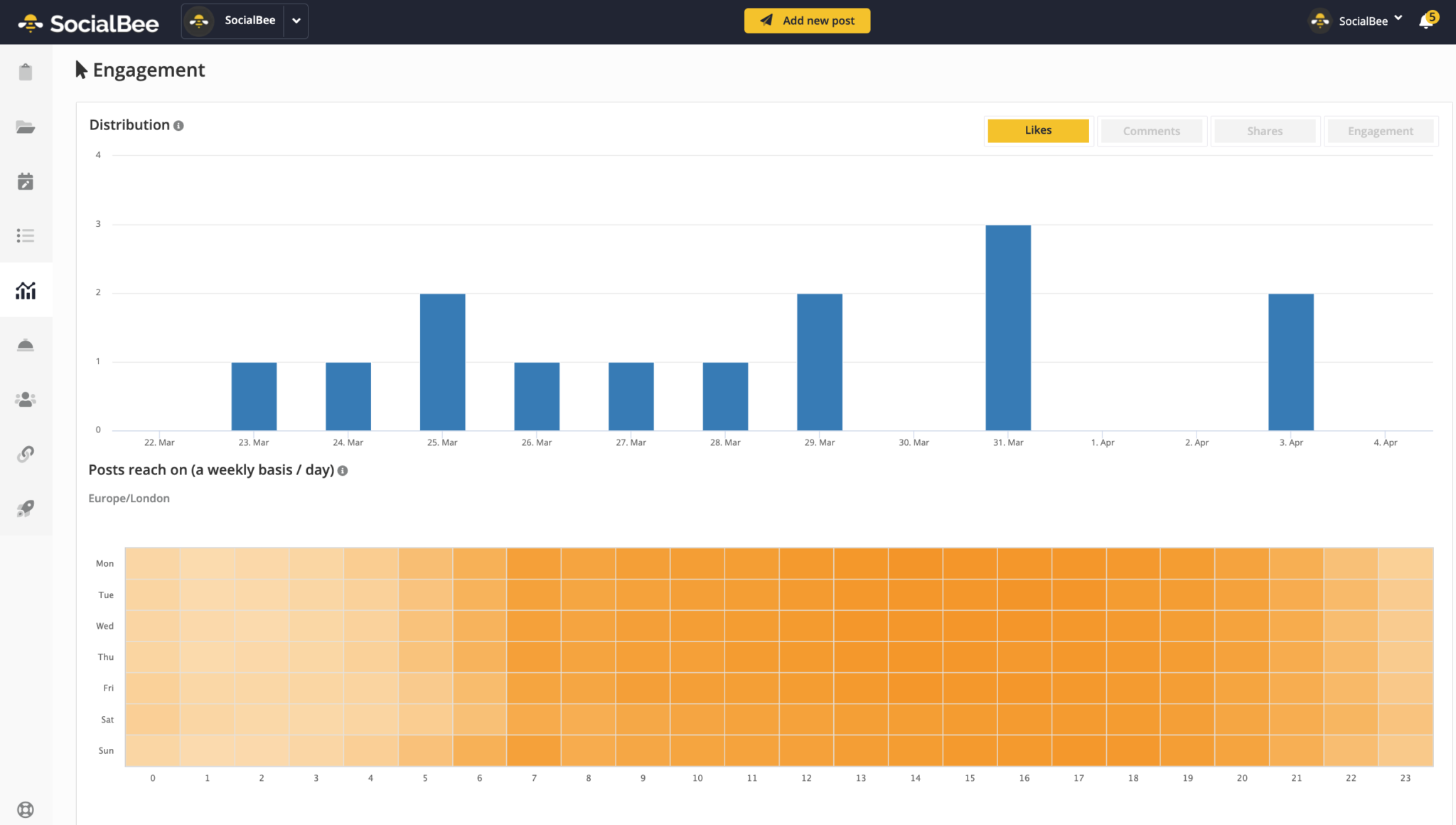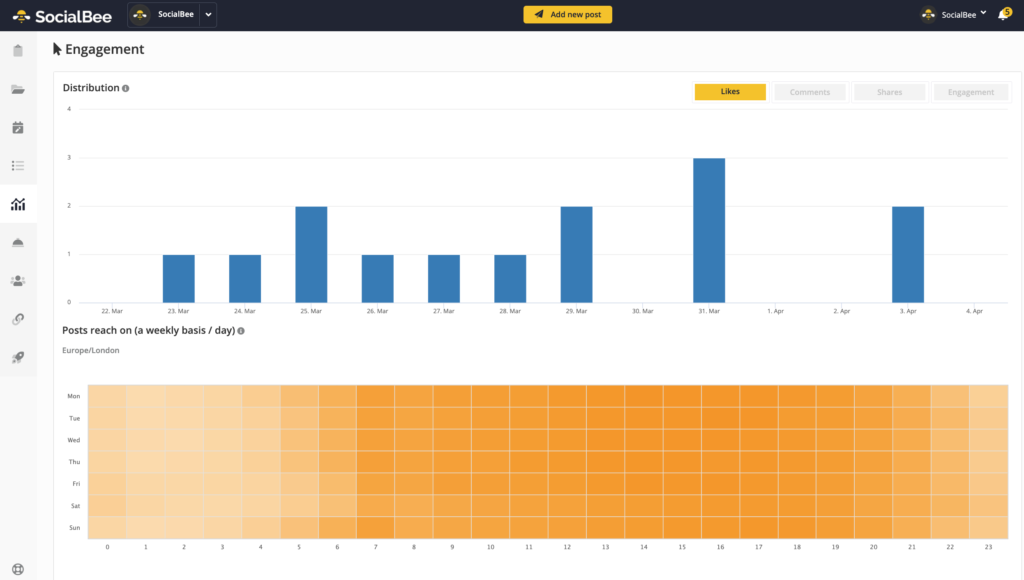 With SocialBee, you can track detailed analytics of your social media posts in order to optimize them for best results.
Start your 14-day SocialBee free trial now!
Based on your specific needs, you can sometimes have even more detailed analysis and statistics with online quiz makers. For example, you can directly obtain information such as how many minutes a quiz taker completed the questions on average, the ratio of women to men, and which questions were answered correctly the most.
Tips on How to Create Quizzes for Each Social Media Platform
Social media channels  are a powerful tool for engaging with your audience, and quizzes are an effective way to increase that engagement. By creating quizzes that are tailored to each social media platform, you can attract more followers, increase your reach, and build your brand.
However, there are a couple of tips to keep in mind when designing your quizzes:
Make survey questions relatable for your audience

Make sure you use the right question types

Use pictures and emojis to make it engaging

Offer incentives

Take notes and share your own thoughts
1. Make Survey Questions Relatable for Your Audience
One of the most appropriate and important tips that can be given about the first step is to prepare appropriate questions for your target audience ahead of time. 
Your first priority should be to create an average profile of the person taking the quiz by examining data such as their demographics, hobbies, interests, and the types of content they prefer.
For example, a page that usually posts about scientific topics cannot be expected to post a quiz about healthy living or cosmetic products suddenly. 
Such content is unlikely to be of interest to the audience, and they may perceive it as intrusive or irrelevant. Therefore, it is important to understand the audience's preferences and interests before creating quiz questions tailored to them.
2.  Make Sure to Use the Right Question Types
Wherever you prepare your quiz, make sure your question types are varied. Multiple choice, single selection, yes/no, true/false, and open-ended are just a few of the question types you should use. 
Benefiting from different question types is a necessary method in order to attract the attention of quiz takers better.
Let's take a look at the different types of quizzes and what possible questions you could address:
A. Personality Quizzes
A personality quiz aims to assess and reveal an individual's character traits, values, and overall personality through a series of questions.
Here are some possible questions you could ask to grab people's attention:
How often do you start a conversation?

What color represents your personality best?

What fictional character are you most like?
B. Trivia Quizzes
This type of quiz tests the knowledge of the participants in a particular subject or field, usually including historical events, popular culture, science, or general knowledge.
Some trivia quizzes can include:
What is the capital city of Italy?

Which planet is known as the Red Planet?

Can you identify these famous landmarks?
C. Buzzfeed-Style Quizzes
This is a type of quiz format popularized by the Buzzfeed website, featuring light-hearted and humorous questions that assign playful and entertaining results to participants. They can be about anything, from the latest trends to very basic topics.
Some potential questions include:
Which type of pizza are you?

What's your spirit animal?

Which "Friends" character are you?
D. Open-Ended Quizzes
This is a type of quiz that presents open-ended questions that require the participant to provide their own answer or explanation, which is typically evaluated based on originality, creativity, and relevance.
Some potential questions you can address include:
What is your favorite book and why?

Describe your ideal vacation spot and why you would like to visit there.

What is your biggest accomplishment and why are you proud of it?
E. Picture Quizzes
This resembles a type of quiz that tests the participant's ability to recognize images of people, places, objects, or symbols and provide accurate identification or description.
Some potential questions you can address include:
Identify these celebrities from their childhood photos.

What type of flower is this?

Can you recognize these people?
F. Aptitude Quizzes
Aptitude quizzes are a category of quizzes designed to evaluate an individual's skills, abilities, interests, and personality traits, in order to determine the most appropriate career path or educational program for them.
Some examples of questions can be:
What type of job is best for your skills?

Are you good at problem-solving?

What is your communication style?
G. Interactive Story Quizzes
Interactive story quizzes are a form of quiz that features a narrative storyline, and enables the participant to engage with the story by making decisions that influence the story's outcome.
Here are some potential questions:
A stranger approaches you and asks for help. Do you offer assistance or ignore them and move on?

You receive an unexpected invitation to a party. Do you accept or decline?

You find yourself lost in the wilderness. Do you try to find your way back or set up camp for the night?
3. Use Pictures & Emojis to Make it Engaging 
Using emojis and pictures is a nice way to create a quiz for social media.
Adding humorous answer options to questions and emojis can put a smile on quiz takers' faces. In addition, preparing questions with pictures will also help you prepare a more engaging quiz.
4. Offer Incentives 
After you design your quiz in the best way, add engaging questions, and share it in different channels, you may still not get enough feedback. This is also quite normal, and there is a tip to collect more answers. You can obtain more answers by offering various incentives to respondents.
For example, you can promise a discount code to everyone who finishes the quiz or gifts to the first 100 people who answer the questions.
5. Take Notes and Share Your Own Thoughts 
Reviewing these results will allow you to edit your next posts. For example, you can see which questions were liked the most or after which question people left your quiz. 
Thus, you will learn in advance the questions and topics that your followers are most interested in. Taking notes and sharing your ideas with your followers helps you establish stronger communication with them and allows you to exchange ideas.
Social Media Quiz Examples from Known Brands
Do you wonder whether world-known brands create these social media quizzes? Many brands often use quizzes to keep in touch with their customers. 
You can see examples of how famous brands used social media quizzes and what kind of quizzes they shared on their accounts.
1. Disney
Disney is a world-famous mass media and entertainment platform and the producer and founder of almost all the animated movies you know.
For this reason, their quizzes are usually about the characters in these movies. The language of the quizzes is often entertaining and covers topics that appeal to both children and adults. 
2. Netflix
Netflix is a streaming service that produces series and movies in many different languages. They are also great at establishing strong communication with their audience across all their social networks.
They usually share posts and quizzes about the series and movies they newly produced.
3. Discord 
Discord is a chat application that is used and loved worldwide, just like the other brands. In this application, you can communicate via audio, text, or video. It usually appeals to a younger audience and is preferred by gamers.
Discord also shares quizzes on its social media accounts to establish a close bond with its users.
Frequently Asked Questions (FAQ)
Engage Your Audience with Fun and Interactive Social Media Quizzes!
Creating social media quizzes is an entertaining and successful method to interact with your audience, improve brand awareness, and strengthen your social media presence. 
By using the techniques we've covered in this article, you can make quizzes that engage your audience in meaningful ways while still being enjoyable and educational.
And when it comes to scheduling your social media quiz, SocialBee is a great tool to consider. With its easy-to-use platform and scheduling options, you can plan your social media posts and quizzes in advance, and ensure that they are delivered to your audience at the optimal time. 
Share Your Quiz on Social Media with SocialBee!
About the author: Ebru is an Outreach Operations Specialist and content writer at forms.app, a form builder application that helps create elegant forms in no time. She loves to write, especially about topics like eCommerce, social media, and customer engagement. She likes to watch movies in her spare time.