Are you looking to put together a Pinterest social media strategy? 
Perfect! Now it's the time to expand your reach and start posting on Pinterest like it's your job. Whether you are a marketer, freelancer, or business owner, this social media platform can help you reach new prospects and turn them into paying customers like no other. 
In fact, 83% of weekly Pinterest users make purchases inspired by the content they have seen on the platform. 
To help you boost your social media performance, we put together a simple guide on how to build a Pinterest strategy in 10 steps. But before we get into it, let's see what makes Pinterest so special.
The Best Social Media Posting Times Cheat Sheet
Find out what is the best time to post across all your favourite social platforms.
What Is a Pinterest Marketing Strategy?
A Pinterest marketing strategy is a set of practices that allow you to leverage Pinterest to reach new audiences on social media and redirect them to your services and products.
Since Pinterest is a visual platform that helps users find inspiration and build mood boards for all their plans, brands get to promote their products and services in an inspirational and aesthetic context.
What You Need to Know About Pinterest's Content Infrastructure
Pinterest is not only a social media platform, it's a visual search engine. And you can't really compare Pinterest to any other social network, just because people use the platform less for socializing and more for searching, saving, and organizing visuals that help them visualize their goals and plans.
Pinterest has three main content structures:
The pin

The board

The feed
So, before we get into how to create a Pinterest strategy, let's make sure we understand the way this social media channel works by learning more about its infrastructure.
A. The Pin
A pin is essentially a visual social media post. It can be an image, video, GIF, or an infographic to which you can add a description and title and link back to your website.
Pins are savable—if a Pinterest user comes across a pin they like they can save it on one of their curated boards. 
B. The Pinterest Board
A Pinterest board is a collection of pins users create to organize their ideas in a visual manner. It shows all the images you saved in a default chronological order, which you can change later by rearranging your pins based on an aesthetic criterion.
Let's say you are planning to redecorate your living room, but you don't have a clear vision for it just yet. Now would be the perfect time to head to Pinterest to get inspired. Using Pinterest's search engine, you can start looking for "living room decor inspo" and other relevant terms to find the right ideas.
To better organize your pins, you can create boards dedicated to your design plans and come back to them when it's time to make a definitive decision.
C. The Feed
Similar to other social media feeds, a Pinterest feed displays content from the accounts you follow along with other ads and content suggestions curated based on your past activity.
How to Develop a Pinterest Marketing Strategy in 10 Steps
Now that we have a better understanding of how Pinterest works, it's time to get into the social media marketing aspect of things.
Here is how to develop a Pinterest marketing strategy in 10 steps:
Optimize your Pinterest business account

Try different pin formats and post ideas

Perform search engine optimization

Build an effective posting schedule

Plan multiple Pinterest boards ahead of time

Customize your visuals

Join group boards to target specific Pinterest users

Monitor your progress

Try Pinterest ads

Promote your Pinterest account on other social media platforms
1. Optimize Your Pinterest Business Account
First on our list of Pinterest marketing strategies deals with the appearance and performance of your Pinterest page. 
The goal is to make use of branded elements to ensure recognizability and offer your audience all the essential information they need to understand and interact with your business.
So, let's see how you can optimize your Pinterest business account for better results in three steps.
A. Choose a Branded Profile Picture
When a Pinterest user comes across your pins or searches for your account, you want to be instantly recognizable. One way to do this is to use a branded image. 
For a business, this might be your logo, while for a public figure a good profile picture might be a professional headshot often used on marketing materials and other social media accounts.
To ensure your profile photo looks the part, your image must be at least 800 pixels wide x 450 pixels tall. 
B. Create a Branded Board Covers
Pinterest allows users to add a cover image for their boards. The cover can be chosen from the collection of pins saved on the board or uploaded from a different source.
For businesses, this is the perfect opportunity to make sure their Pinterest page has an on-brand and cohesive look to it. 
To customize your profile, all you have to do is design different visuals for each one of your boards by keeping the same imagery, fonts, colors, and logo placement across all your covers.
C. Write Your Bio
The most important aspect you have to keep in mind while writing your bio is the character limit. 
On Pinterest, you have up to 160 characters to use in your bio, so make sure you make them count by briefly summarizing your niche and adding essential information such as contact data and a link to your website.
Just like Instagram, Pinterest only allows its users to place one link in their bio. But this issue can be quickly fixed. By using a social media tool like Linktree, you can add multiple clickable links to your bio and redirect your audience to your most valuable pages.
D. Verify Your Website
Verifying your website comes with a set of benefits. You will get access to Pinterest analytics and have your profile picture shown next to any Pins that come from your website, along with a Follow button for your Pinterest account. 
Here are the steps to verify your website on Pinterest by adding an HTML tag to your website:
Log into your Pinterest business account and go to "Settings"

Click on "Claimed accounts" and select "Claim" 

Copy the text from the box below

"

Add HTML tag"

Click "Continue"

Add your website URL and click "Verify"

Go to the index.html file of your website and add the tag to the section before the section

Remove the HTML tag from your website's source code after your website has been claimed
2. Try Different Pin Formats & Post Ideas
The effectiveness of your Pinterest marketing strategy relies on the quality of your content. So, in order to promote your brand successfully on Pinterest, you have to share pins that align with your business goals.
The key to a successful Pinterest content strategy is to adjust your content based on your target audience and maintain a consistent posting schedule week after week. 
However, what will happen when you keep posting the same posts every time? Most probably, your followers will get tired of seeing the same posts which will lead to less interaction and ultimately, more unfollows. 
Not to mention that by not experimenting with your content, you significantly limit your content strategy. By trying out new content formats from time to time, you get to test what works best for your business and discover new growth opportunities.
Luckily, Pinterest is a creative platform that allows you to diversify your content and work toward multiple marketing goals at the same time.
Here are some of the most effective Pinterest post formats for brands:
Product rich pins

– Showcase your offerings with appealing product imagery and highlight the features your audience finds most helpful. Include pricing, availability, and product information directly to your pin.

Video pins

– Keep your audience engaged by creating short tutorials, unboxing videos, reviews, and more. You can even extract highlights from your existing long-form content (interviews, webinars, podcasts, etc.) and turn them into high-performing Pinterest videos. 

Story pins

– Do you want to tell a story or provide step-by-step instructions in an interactive way? Use story pins to get your message across and keep your followers tapping away for more content.

Article rich pins

– Generate more website traffic by promoting your articles on Pinterest. Add the title of your blog post along with a brief description and the author's name to redirect your followers to your blog.

Shoppable pins

– Eliminate the multiple steps that slow down the buying process. Make it easy for your customers to purchase from you directly from your pins.  
3. Perform Search Engine Optimization
As we mentioned before, Pinterest is a search engine, as much as it is a social media platform. With this in mind, one of our Pinterest marketing tips is to take any opportunity you have to help users find your content.
In this case, we are strictly referring to Pinterest SEO. And like with any other marketing process, SEO starts with a little bit of research.
Here is how to perform keyword research for your Pinterest content:
Create a list with high-value keywords that best describe your products and services.

Use those keywords to find similar terms your audience uses to search for your products/services on Google (check out the "People also ask" and "Related searches" sections).

Use a social media listening tool to track keywords online.

Analyze your competitors and identify the terms they use in their content.

Use the autocomplete feature from Pinterest's search engine to discover different variations of your keywords.
Once you have a list of keywords, it's time to work on placing them naturally within your content. But where exactly? Honestly, wherever you can add text, there is room for keywords.
Just look at our next example to see how you can use keywords to strategically describe a product and boost their Pinterest presence.
On Pinterest, users can add keywords to:
Bios

Pin titles

Pin descriptions

Board titles

Board descriptions

Image alt text
The key is to create your content around your keywords to ensure they are used naturally within your content and that they match your audience's search intent in the best way possible.
4. Build an Effective Posting Schedule
We talked earlier about the importance of experimenting with content ideas and post formats. While the first step is to come up with the ideas and then create the posts, there is one more step that will help you establish a consistent and heterogeneous posting pattern: scheduling posts alternatively throughout the week.
And if you are wondering how you can achieve this without keeping track every day of what was and will be posted next on your social media accounts, we have the answer for you.
With SocialBee you can plan your content ahead of time and mix up your posts in three steps:
Organize your posts into content categories based on topics

Schedule your categories at different times each week

Adjust your schedule based on Pinterest's best posting times
Customize your posting schedule specifically for Pinterest in no time with SocialBee.
Start your 14-day free SocialBee trial today!
To help you schedule your pins during optimal time intervals, we put together a document with recommendations for both the ideal posting frequency and the best times to post on Pinterest. Get access to the cheat sheet below!
The Best Social Media Posting Times Cheat Sheet
Find out what is the best time to post across all your favourite social platforms.
5. Plan Multiple Pinterest Boards Ahead of Time
When you are just setting up your Pinterest account, it's recommended you prepare at least five boards that go with your niche and industry. Why? Because this gives you the ideal context in which you can place and promote your products and services.
So, let's say you own a furniture store. What type of boards will work for your business?
First, you will have to consider your offerings and what your customers would be interested in creating with your products. With this in mind, you can start creating boards that match their goals. 
Ikea has a customer-oriented approach where they create boards that match their design goals. 
Here are some Pinterest board ideas for furniture stores:
Kitchen decoration ideas

Tips to make your apartment look more spacious

How to decorate your bedroom according to feng shui best practices

Furniture pieces that 

Book reading corner ideas
These boards don't have to be entirely made up of your offerings—you can also include posts from other creators. As a result, you will avoid using aggressive sales techniques and focus more on being a source of inspiration for your followers.
6. Customize Your Visuals
When creating content for Pinterest, most of your focus should go into creating your visuals. 
From a practical standpoint, the first thing you should consider is size. Images get cut off on feeds if the ratio is greater than 1:3.5. So, you have to find the ideal image size that will ensure your visuals will look the part no matter where your followers spot them.
To avoid any inconveniences and boost the performance of your pins, Pinterest recommends going for a vertical format. As it turns out, a 2:3 aspect ratio (ex: 1000 × 1500 pixels) provides the best results for Pinterest content creators.
But how can you create visuals with specific measurements? Easy, with Canva. This online design tool allows users to customize the size of their visuals at any point in the design process and also offers a comprehensive collection of templates designed specifically for Pinterest.
To make things even easier for you, Canva integrates with SocialBee. Now you can create your social media posts from scratch and design your graphics directly from SocialBee. You will be able to access all of Canva's features without even opening a second tab.
Create pins from scratch by using Canva directly from SocialBee's content editor.
Start your 14-day free SocialBee trial today!
Visuals can make a strong impact on your followers, so if you want to facilitate conversions while establishing a branded look for your business, you have to be strategic in the way you plan your graphics.
Here are five visual best practices that improve your post-performance on Pinterest:
Post product images and videos that showcase your products in action

Highlight product features through visuals

Keep the same aesthetic across all your original content 

Organize your visuals in specific boards dedicated to a certain consumer goal (e.g., decorating, cooking, styling, etc.)

Try to include as many short videos as you can in your content plan
Create Pinterest Visuals Directly from SocialBee!
Create posts, publish, analyze, engage and collaborate, all from SocialBee.
7. Join Group Boards to Target Specific Pinterest Users
A community board is a space where the owner invites multiple creators to contribute to a collection of visuals dedicated to a certain topic.
This works as a promotional strategy because it exposes your content to a larger audience. Not to mention that you will gain access to new ideas and visuals that will inspire your future content.
There are plenty of boards dedicated to niche markets, so you don't have to worry about finding one that works for your brand. 
And you don't even have to search for a board. You can take matters into your own hands and create community boards dedicated to your own Pinterest audience.
Pro Tip:
Avoid pinning too many promotional posts, as it will come across as an aggressive marketing technique.
8. Monitor Your Progress
Like any other social media site, Pinterest requires a data-driven social strategy in order to provide long-term results.
By continuously monitoring your content performance you discover what works for your brand based on how others interact with your pins. There will be topics and formats that generate reach and engagement, and others that won't add this kind of value to your strategy. 
So, why waste your time creating content that doesn't perform, when you could be improving your strategy with every new pin?
Keep in mind that keeping track of your analytics is an ongoing process that you need to repeat regularly. Take a few hours out of your time each week to take a look at your analytics and identify patterns responsible for your performance and lack thereof.  
Pinterest Metrics You Need to Track
With a business account, you can access your Pinterest analytics from the platform. However, if you manage multiple social media accounts, and you would like to access all your analytics from the same place, you can try social media analytics tools like SocialBee.
Get access to data about page and post performance and export insightful reports to showcase to your team members, clients, and stakeholders.
Monitor your Pinterest strategy from SocialBee and find out how to improve your content in real-time.
Start your 14-day free SocialBee trial today!
If you are not sure what data you should be tracking on Pinterest, we got you covered.
Here are five metrics that indicate the performance of your Pinterest posts:
Link clicks—The

 number of times people click a link in your post to access additional content

Impressions—The

 number of times your content has been shown (does count multiple views from the same user)

Closeups—How

 many times a user has zoomed in on your pin

Saves—The

 number of times people saved your posts on Pinterest

Comments—How

 many users have commented under your pin

Shares—How

 many users have shared your pin

Follower count—How

 many people have followed your account during a certain time frame
9. Try Pinterest Ads
Going the paid route from time to time will help you boost your performance by designing ads around your target audience and keywords with high purchase potential.
Pinterest allows users to target users that:
Have engaged with your content

Regularly interact with similar posts

Already visited your website
With this targeted approach, your success is guaranteed. Not only will you showcase your brand to a larger audience, but you will reach people that are interested in making a purchase.
10. Promote Your Pinterest Profile on Other Social Media Platforms
Once you have set up your Pinterest Business account and have posted a few boards you are proud of, it's time to share the news with your existing following. 
Chances are, your following is different across all your social media platforms. So take this opportunity to bring a part of your existing audience to your Pinterest.
Here are a few ways you can promote your Pinterest account on other social media channels:
Share your pins 

Link to your Pinterest from your social media bios

Promote your Pinterest content on your stories

Create a giveaway where your new Pinterest followers can win a prize
But don't limit yourself on social media. Add a link to your Pinterest account on your website and include it regularly in your newsletter. 
Pinterest Marketing Tools
There are many manual and time-consuming tasks that go into a social media strategy. So, if you are looking to enhance your Pinterest marketing efforts while saving resources, you might want to consider using social tools as part of your daily workflow.
Here are three Pinterest marketing tools you can use to carry out your content strategy:
SocialBee is an all-in-one social media management tool that can help you create, schedule, and evaluate your Pinterest content performance from the same place.
It has a fantastic integration with Canva, which makes it easier than ever for you to design and import graphics without even opening a new tab. 
SocialBee's scheduling features allow you to maintain a consistent schedule without the hassle. You can do anything from scheduling posts in bulk, recycling content, and customizing your posting schedule specifically for Pinterest.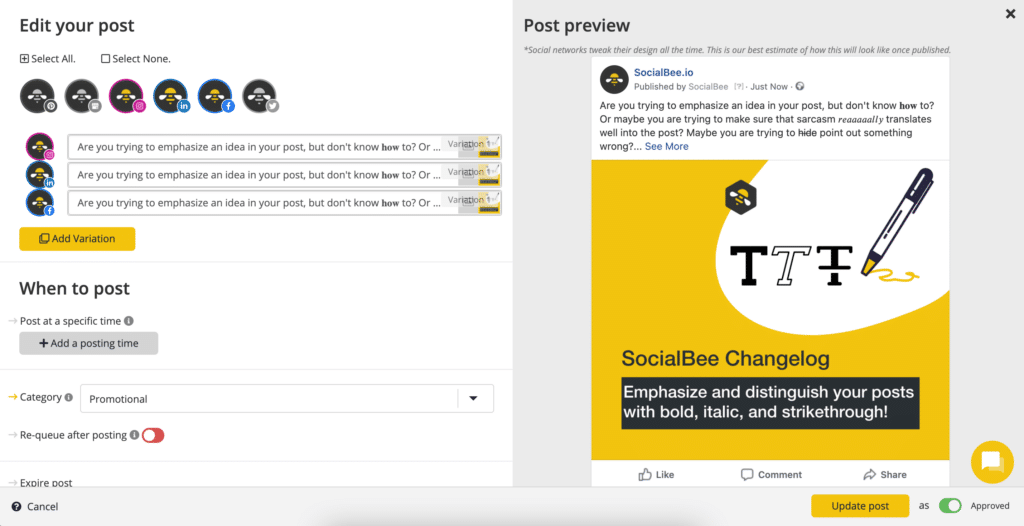 Refresh your evergreen content and customize your posts for every social network from SocialBee.
Start your 14-day free trial today!
SocialBee also has a post variation feature that enables you to create different versions of the same post and adjust it for different social media platforms.
So, for Pinterest, for example, you might want to change the image size, include some keywords, and even add some font styling options, such as bold, italic, and strike-through.
When it comes to creating visual content at professional standards and with no design experience, Canva is your best ally.
Besides having an extensive collection of Pinterest templates designed to make your posts stand out from the crowd, Canva also covers your other visual marketing needs. It provides ready-to-use graphics, images, videos, fonts, animations, and many other design tools you will need while creating your Pinterest posts.
The best part? You can create your posts from scratch by dragging and dropping elements into your worksheet and bringing your vision to life in a matter of minutes.
Stay true to your brand by adding your logo, including colors that fit your aesthetic, and opting for images that best describe your company.
Pingroupie makes searching for Pinterest boards, influencers, pins, and keywords a piece of cake. 
Not only this, but it has an amazing filtering system that allows users to order their searches based on different criteria:
Pinterest boards

– Make searches based on keywords followers, collaborators, follower growth, collaborator growth, date added, and last crawl. From Pingroupie, you can also request to join and exclude stale boards from the list.

Pinterest influencers

– Make searches based on keywords, followers, monthly viewers, follower growth, viewer growth, date added, and last crawl.

Pins

– Make searches based on keywords, saves, saves growth, date added, and the last crawl.

Keywords

– Make searches based on keywords, average pin saves and growth, date added, and the last crawl.
Build a Successful Pinterest Marketing Strategy
Now that you have a step-by-step framework on how to build a strategy, all you have to do is act on it.
Put Pinterest to the test and see how you can turn this platform into a powerful social media marketing tool for your business. To make things easier, use SocialBee to create, schedule, and monitor your performance in real-time.
Start your 14-day free trial at SocialBee and start implementing your Pinterest strategy the right way!
SocialBee: Your AI-powered Pinterest management tool
Create posts, publish, analyze, engage and collaborate, all from SocialBee.