Selling on Instagram has become an undeniable marketing practice. This is why more and more brands are investing in their Instagram sales funnel.
It has become the standard for brands to have at least an Instagram account and a Facebook Business Page in order to properly use social media content marketing as a way to create an engaged community around their brand. 
If your audience is already on Instagram and looking into their options, then your online store also needs to be ready to make the Instagram shopping experience seamless—giving your audience the fewest number of steps to the checkout button. 
So, keep reading if you want to learn the key practices that will enable you to build brand awareness, reach more prospects, and convert them into paying customers seamlessly!
Free Editable Social Media Strategy Template
Get the social media strategy template you need to audit and plan your marketing efforts for maximum results.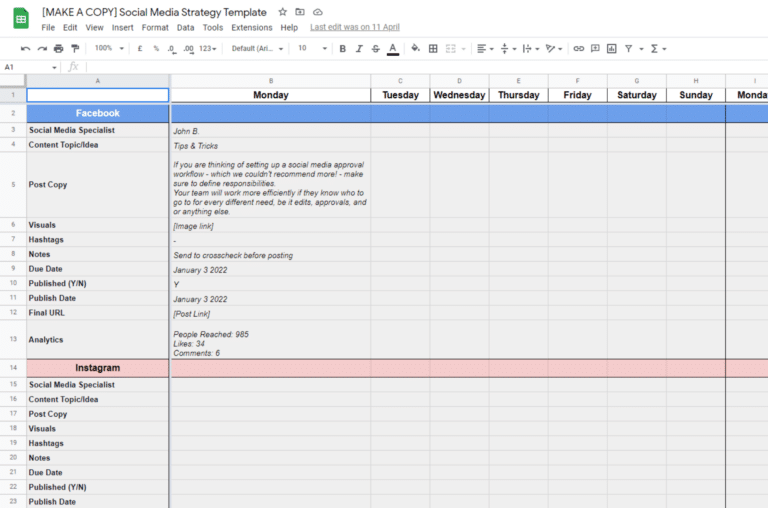 How to Drive Instagram Sales in 6 Easy Steps
Did you know that you can generate sales without using Instagram ads? 
We have put together some tips that will help you improve your Instagram sales strategy, and boost your profits without suffering the costs of an Instagram ad campaign.
How to drive sales on Instagram:
Make Use of Shoppable Instagram Posts

Create an Aesthetic Instagram Feed Featuring Your Products

Leverage Your Instagram Community

Go Live on Your Instagram Account

Maximize the Benefits of Instagram Stories

Sell on Instagram with the Help of Influencers
1. Make Use of Shoppable Instagram Posts
First, you have to set up your own Instagram business profile, with an Instagram bio and an Instagram shop. The last one is currently only applicable if you sell products physically.
How to Set Up an Instagram Shop
To open an Instagram shop, you have to fulfill the following requirements:
You manage an Instagram business account

Your sell physical goods that respect Instagram's guidelines

Your Instagram business account is tied to a Facebook page and a Facebook catalog in Business Manager
Here is how to create an Instagram shop:
Open the Instagram app 

Open the menu from the upper right corner 

Go to Settings

Select "Business" and choose the "Set Up Instagram Shopping link"
When your Instagram shop is up and running, a button for the shop will appear near the top of your account profile. That's good since it places it front and center of the profile—but do you really want your customers to have to go to your account to access your shop?
We think a better option is to bring the shop to their feeds with Instagram shoppable posts.
The buying process is easier if you tag multiple products in one of your posts, which will automatically create a shopping bag icon to highlight each product in the post, as well as place a banner advertisement design at the bottom of the post directing users to your shop, whether on Instagram or on an external website. Following a few easy tips for banner creation will allow you to learn how to make your own banner ads and make more sales on your Instagram profile.
Your goal is to help the customers reach the Instagram checkout as fast as possible, thus seamlessly completing their Instagram shopping. And remember, the shopping process gets significantly effortless if you tag products in your post. 
If you use shoppable posts, that means customers don't even need a clickable link to navigate to the shop. 
Our tip to bring this to the next level in creative ways: combine the shoppable post with great captioning and product photos.You might even think about a carousel post with multiple images!
In our next example from the Okayama Denim business account, you can see that they inject some of the history of the product into the caption—both educating the customer and adding to the prestige and luxury of the item they're plugging. 
2. Create an Aesthetic Instagram Feed Featuring Your Products
Major brands like H&M know which of their pieces complement each other and they don't cease to show that on their Instagram Page.
Do you ever walk through a shopping mall and admire the beautifully arranged sets of items placed in shopping windows?
It's actually surprisingly easy to recreate that kind of experience on Instagram. Aesthetic Instagram posts will allow you to promote entire collections in a visually pleasing manner. 
While aesthetic posts can work on their own, this practice goes great with other engagement-boosting tricks that you can do. For instance, you can run a contest and encourage your customers to send pictures depicting how they use your product. As a result, you will gather user-generated content, and create hype around your products. 
The issue with plain promotional content is that it's very in-your-face. Most people don't want their feed to only be made up of product posts—most probably they consider them way too similar to Instagram Ads. 
Product posts and promotional posts in general tend to leave little room for story or educational captions. Use these types of posts sparingly—we reckon it's best to only have one product post for every four feed posts.
Remember to diversify your Instagram posts in order to keep your followers engaged in the long run. You can easily create a diverse content mix by using SocialBee's content category feature. 
This functionality works by allowing you to create different categories for specific topics and organize your content depending on the nature of your posts. Moreover, you can schedule entire content categories at once and alternate them throughout the week with ease.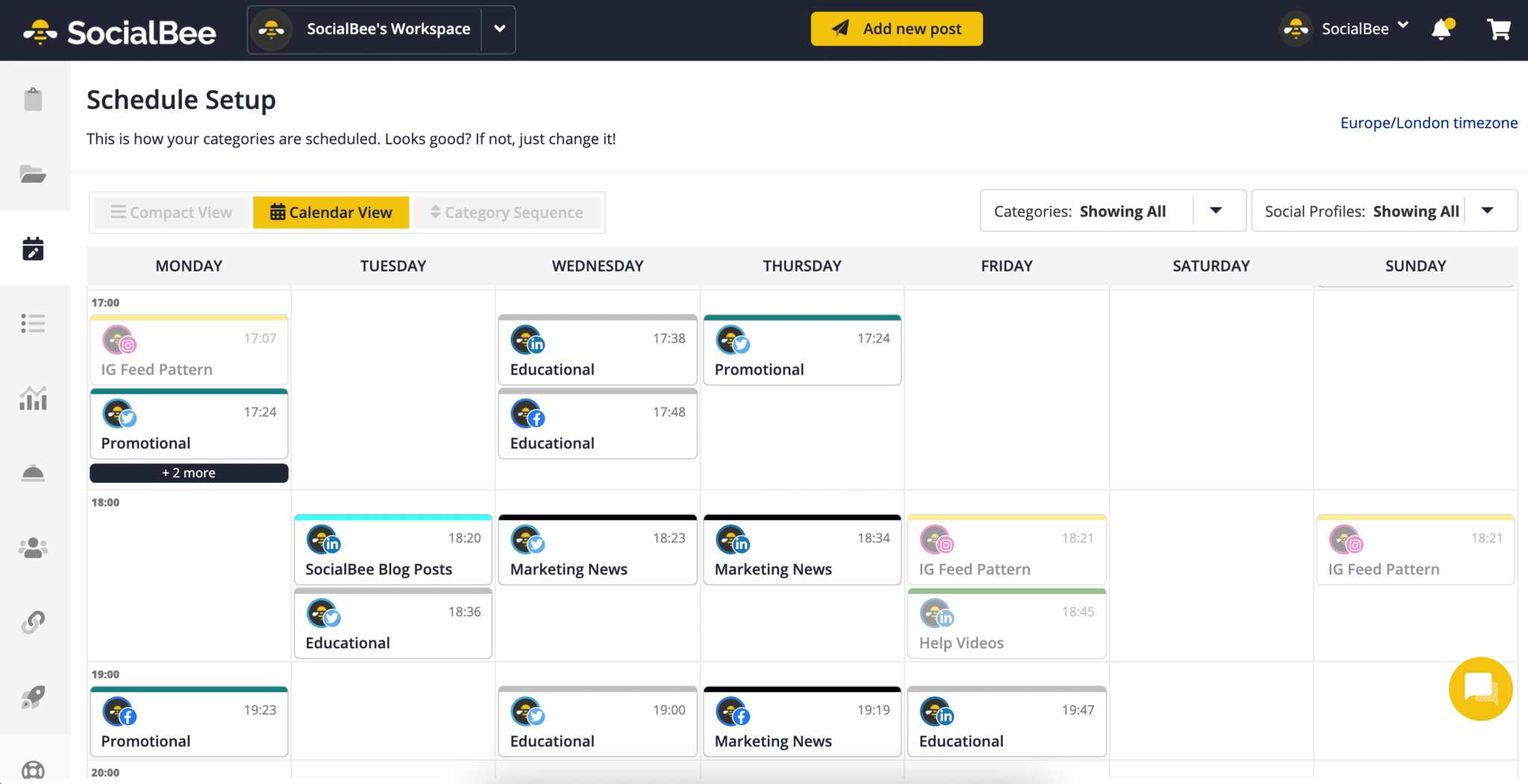 Create, edit, and schedule Instagram posts with ease from one dashboard: SocialBee. 
Start your 14-day free trial now and start diversifying your feed with the help of content categories!
Post Images, Videos, Carousels, Stories and Reels with SocialBee!
3. Leverage Your Instagram Community
There's more out there than Instagram shopping posts.
With varied content, you aren't going for a hard sell with every post, and that's a good thing since you are building an engaged community of followers.
A call to action (CTA) is one of the most powerful things you can include in every post to puch your audience in the right direction. But you don't need to stop there—make sure your online presence is a constant reminder of your brand and the quality of your services. 
If you lack the time to answer comments, reply to customer DM's or initiate interactions yourself, it's time to invest in an Instagram community service. Have a designated social media specialist at your disposal that can represent your brand online and constantly interact with your audience.
Get the help you need from skilled social media specialists that will create an engaged Instagram community around your brand.
Let SocialBee take care of your IG Community management!
Also, there are tons of other ways to encourage your followers to interact with your content: giveaways and contests are effective methods to promote your products without using explicit marketing posts. 
There's a reason the "tag your friends" call to action is so widely used: it works really really well. It gets new eyes on your brand's Instagram profile and expands your audience in a natural, organic way. 
While this type of content may not help you with selling services or goods immediately, it sets your online store up for the long run—and over time, a bigger audience also helps to bring in more sales. This approach also has other benefits: more customer-generated content to reshare and greater social proof for your business profile.
4. Go Live on Your Instagram Account
Given how much content the average Instagram user sees on a daily basis, it can be difficult to even get noticed and be differentiated from competitors. 
One way around this is by using Instagram Live—this feature puts your brand at the front and center of your followers' Instagram experience.  When your brand goes live, Instagram alerts your followers and your account is highlighted in the Stories section of the homepage. 
A Live video not only gets you noticed right away, it also allows you to leverage your community.
Answering questions and reacting to comments in real-time drives user engagement like nothing else—and it allows you to get a bead on what your audience thinks. 
As a bonus, if you're in a country that supports Instagram Shopping checkout, you can also make use of Instagram Live Shopping. 
On your Live videos—you can showcase products or collections while your account is live, and users can simply click on a featured product to purchase it immediately.
This is an incredibly powerful feature that not enough brands are using. 
You can educate your audience on product features as they consider their options, addressing pain points and concerns before they even come up. You only need two tools to go live on Instagram, a smartphone and a ring light for streaming.
5. Maximize the Benefits of Instagram Stories
Over 80% of brand marketers used Instagram stories for video marketing. Clearly, you cannot afford to ignore Stories when selling or monetizing on Instagram in any way.
You can use stories to drive views to your posts, as instructional or educational content, showcase your own company culture and employees and even share user-generated content.    
One tip for your company is to use all the tools available for Instagram stories: product tags, product stickers, Q&As, or the tap business function.
All the interactions you generate matter in your Instagram sales journey. And they can also help you gather some Instagram insights about your target audience. So make the most out of interactive content if you plan to sell on Instagram!
But there are a lot of accounts posting Instagram stories—how do you get eyes on the content you really want your target audience to see?
Instead of posting stories and hoping that they'll reach your audience, you can use the Instagram highlights feature to ensure that the most important content sticks.  
While regular Instagram stories disappear after 24 hours, a highlight stays on your profile until deleted. This is great for product catalogs, FAQs, and other key information that a prospective customer may want to know.
Don't forget: your Instagram profile tells a lot about your business. 
Follow SocialBee on Instagram for more Social Media tips & tricks!
You don't need to stop there either: recent event coverage, customer testimonials, partnerships, and other timely content can all be saved to your Instagram highlights. This strategy works like a charm if you're planning on selling a business. 
6. Sell on Instagram with the Help of Influencers
Influencer marketing has become part and parcel of social media marketing strategy—its impact is simply too powerful to ignore. And yes, it will help you sell on Instagram.
That doesn't necessarily mean going after big-name Instagram influencers with hundreds of thousands or millions of followers. Micro-influencers can be just as (or even more) effective as brand ambassadors.
In fact, micro-influencers actually have better engagement rates than the big names and higher conversion rates. With potential outcomes in mind, you can run a cost analysis for hiring an influencer as well as Instagram ads cost per click to see which strategy works best for you. 
If you think about it, it really makes sense—trying to engage with large Instagram influencers is going to be a tough task when the audience is that large, and micro-influencers are simply more relatable to a vast majority of people.
@celiacouture_makeup in our example above has less than a thousand followers, but her makeup looks great and is much more achievable for the intended audience compared to something done by a pro. 
Easen the Instagram Shopping Experience with SocialBee!
While it can be intimidating to start selling on Instagram, there's no doubt that it's a great sales channel. Our tips should help jumpstart the process, but they're hardly the end-all-be-all of Instagram selling. 
There are lots of ways to use Instagram to boost your sales, and SocialBee is here to help you make the most out of your social media posting. You can create, schedule, and edit posts whenever and wherever.
Make sure you benefit from the 14-day free trial and discover how SocialBee can help you reach more customers through a consistent posting strategy!
Post Images, Videos, Carousels, Stories and Reels with SocialBee!
Denise Langenegger is part of the team at Instasize, a content creation toolkit for anyone editing photos and online content on mobile.