Within the dynamic world of content marketing, where the challenge of producing captivating and original social media posts can be overwhelming, content repurposing emerges as an effective solution for brands and creators.
This strategy allows you to save time and effort while still maintaining a strong online presence. By republishing, repurposing, and reinventing your social media content, you can work smarter and unlock your true potential in innovative ways.
In today's article, we will explore the key takeaways from the SocialBee webinar "How to Republish, Repurpose, and Reinvent Your Social Media Content" to provide you with actionable insights on leveraging your existing content in innovative ways.
See what we're doing here? Repurposing content!
Discover 500+ Social Media Post Ideas
Elevate your content creation game with our all-in-one package, featuring hundreds of content ideas, editable social media post templates, and inspiring examples.
Meet the Social Media Experts: Anca Pop & Fab Giovanetti
Before we get into the topic, let's get to know the specialists behind the content we'll present today: Anca Pop and Fab Giovanetti.
Anca Pop is SocialBee's Customer Success Specialist, content creator, and marketing aficionado. While at SocialBee, Anca has been guiding people on how to make the most out of their social media marketing journey with less effort.
Fab Giovanetti is an award-winning author, entrepreneur, and marketing consultant helping busy professionals reclaim their time. 
She is the CEO and head teacher of Alt Marketing School, supporting people making a positive impact through their marketing. She is also the CMO of Edge Brands, an agency and consulting firm for remarkably fierce small businesses.
She is here to change the way marketers share their knowledge with the brands and clients they touch and make marketing impactful, fun, inclusive, and human once again.
Watch the Recorded Webinar
Do you want to watch the recorded webinar? Press play and enjoy!
If not, scroll down to see how we repurposed the content into an actionable blog post.
Republish, Repurpose, and Reinvent: Defining the Terminology
To begin, let's clarify the differences between republishing, repurposing, and reinventing social media content:
Republishing:

Publishing something again, typically high-quality content that has been previously shared on social media or other platforms.

Repurposing:

Transforming existing content into a different format.

Reinventing:

Discovering new ways to present and share ideas with your audience.
The Benefits of Republishing, Repurposing, and Reinventing Content
There's a prevailing misconception that simplifying the process is akin to cheating. However, experienced marketers like Fab Giovanetti have been republishing, repurposing, and reinventing their social media content to extend the lifespan of their posts, reach new audiences, and maximize their content's potential.
Here are the three ways repurposing can benefit your content creation process:
Simplify social media content creation

Reach new audiences through content recycling

Improve organic reach and extend your content's lifespan
1. Simplify Social Media Content Creation
"You don't have to start all the content from scratch. Look at what works and do it again."
– Fab
When it comes to content creation, starting from scratch every time can be an overwhelming and time-consuming endeavor. Instead, take a moment to reflect on what has already proven successful in your content arsenal. 
Repurposing your existing content allows you to capitalize on what resonates with your audience while saving precious time and resources.
2. Reach New Audiences Through Content Recycling
An essential aspect highlighted by our speakers is the ability to reach new audiences with the same content. This may sound counterintuitive, but the key lies in adapting your content to different formats and platforms. 
By repackaging your content in diverse ways, you increase the likelihood of attracting fresh eyes and engaging with a broader audience.
It's crucial to recognize that your audience does not consume every piece of content you produce. In fact, most of them will only encounter a fraction of what you create. 
Therefore, it's imperative to give your content multiple opportunities to be seen and engaged with. As our speakers emphasize, "Give it another chance for more people to see and engage with it."
3. Improve Organic Reach and Extend Your Content's Lifespan
As Anca mentioned, the reach of social media content has seen a significant decline in recent times. To combat this challenge, it's essential to employ strategies that extend the lifespan of your content. 
Utilize features such as Stories, cross-platform sharing, and other creative methods that enable your content to have a longer shelf life.
Even when sharing your content within the same platform, there are small yet effective strategies that can significantly extend its shelf life. For instance, utilize Stories to highlight your latest post, or explore creative ways to keep your content visible to a broader audience. 
I. How to Republish Your Social Media Content
When it comes to republishing, it can initially be daunting to determine whether revisiting old posts is worthwhile. However, the answer is a resounding yes! According to Fab, republishing can be incredibly powerful, especially when coupled with the addition of extra value and updated elements. 
The transparency offered by many platforms and publications, highlighting when the content was last updated, further aids in building trust among your audience.
What Type of Content Works Best for Republishing?
Not all content is created equal in terms of longevity. While timely or pop culture-related content can certainly be republished, there's another type that holds tremendous value—evergreen content. 
Evergreen content possesses lasting lessons, tips, ideas, concepts, tools, frameworks, and solutions to the problems faced by your target audience. This type of content can be recycled repeatedly, enabling you to extract its enduring worth.
To illustrate the potency of fresh content, the speakers employed an intriguing analogy—the water bottle. Imagine writing content about the benefits of drinking more water in a listicle format. This piece can be repurposed or recycled, much like a water bottle that can be refilled and reused time and again. 
Key Takeaway: By breathing new life into your content through updates, additions, and creative repurposing, you can harness the inherent power of freshness and amplify its impact.
How Much Should You Wait Before Republishng Your Content?
Determining the ideal timing for recycling content requires careful consideration. Tracking post performance is essential, and leveraging tools like SocialBee can greatly assist in this endeavor. 
For instance, SocialBee has evergreen scheduling abilities that allow users to reschedule a post several times before it gets expired. You can also organize your content into different categories, like folders, specifically for evergreen posts. By doing this, you can set it up so that all the posts in a category will be reposted in a continuous loop.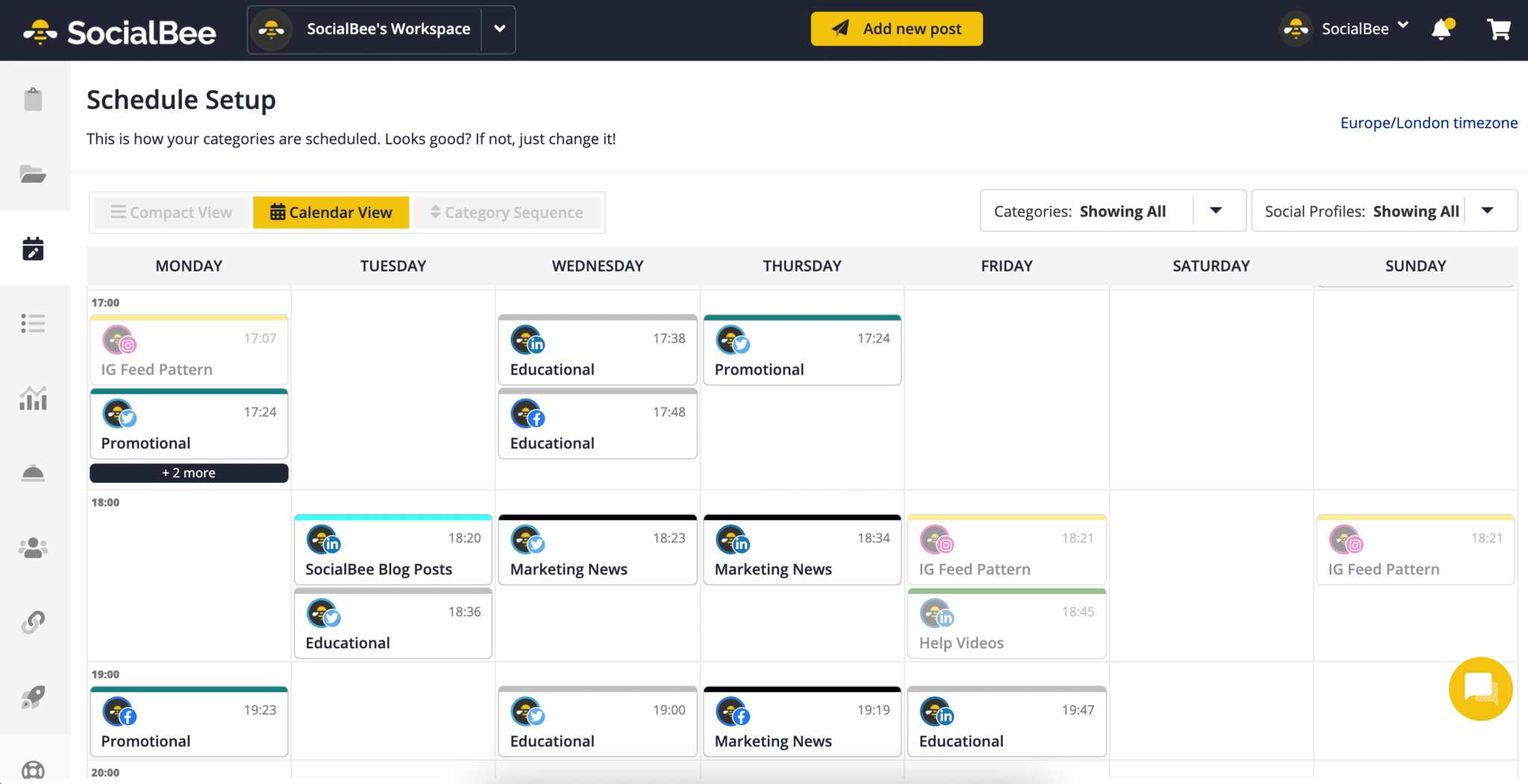 Reschedule your social media content multiple times across your social media platforms with ease from SocialBee.
Start your 14-day free trial now!
Moreover, SocialBee allows you to track your content performance, plus identify your best-performing posts, content categories, and post formats. By having access to this data, you will be able to clearly understand which posts have republishing potential and what your audience prefers in terms of social media content.
The recommended timeframe for deeper analysis is approximately every 90 days, allowing you to gain meaningful insights into what works and what needs improvement.
Republish Your Best Evergreen Social Media Posts with SocialBee!
Best Practices for Content Republishing
"You can switch it up, shift the caption, change the visual, and even change the format of your post. It's like a little cocktail mix, where you switch up a couple of ingredients. Take your time and make sure to vary it. Use different social media platforms and cross-pollinate your content."
– Fab
In a world where attention spans are fleeting and content saturation is ever-increasing, the value of republishing and repurposing cannot be overstated.
Here are the best practices that will help you republish social media content correctly:
Make changes to the content itself to maintain freshness and intrigue.

Switch platforms, change captions, visuals, or formats.

Integrate republished posts sparingly among your regular content.

Utilize different social media platforms to cross-pollinate your content.

Choose content that can be repurposed effectively on each platform.
II. How to Repurpose Your Social Media Content
Repurposing content has become an essential strategy for maximizing the reach and impact of your social media content. By breaking down larger pieces of content into smaller, more digestible formats, you can engage with your audience across various platforms and save valuable time. 
Repurposing is not simply reposting the same content repeatedly. Instead, it involves reusing elements from existing content in creative ways. 
Are you ready to explore the strategies necessary to enhance your content repurposing efforts?
Here is how to repurpose your content in eight simple ways:
Create a system

Leverage visual appeal

Create summaries and infographics

Repurpose long-form written content

Turn audio content into visuals

Transform transcripts into blog posts

Adjust content for different platforms

Test and analyze
1. Create a System
To effectively repurpose content, it's crucial to establish a system that facilitates the process. By thinking ahead and incorporating repurposing elements into your initial content creation, you can save time and streamline the process. 
For example, consider including takeaways, summaries, or clear running orders within your actionable blog posts, podcasts, or videos.
2. Leverage Visual Appeal
Visual elements play a vital role in repurposing content. Incorporating quotes, statistics, and takeaways into visually appealing formats enhances engagement and captivates your audience. 
Example:
Pro Tip: Utilizing design tools and templates can significantly simplify the repurposing process. With pre-designed templates, you can easily populate your content and maintain consistency. This approach not only saves time but also ensures a visually cohesive presence across different platforms.
That's why SocialBee integrates with Canva. With this integration, you can effortlessly create and bring your Canva graphics into SocialBee. 
Access Canva directly from SocialBee and speed up your content creation process.
Start your 14-day free trial now!
Once your designs are ready, you can add the post caption and schedule it across various platforms, all from one place.
3. Create Summaries and Infographics
Summaries and infographics are powerful repurposing techniques that work exceptionally well on platforms like Instagram, Facebook, and even TikTok. 
By highlighting key takeaways from your popular blog posts or podcasts, you can create visually compelling infographics or slide decks. Converting blog posts into podcasts and transforming podcasts into short-form videos are also effective repurposing strategies.
4. Repurpose Long-Form Written Content
Take ideas from long-form blog posts, podcasts, or other sources and adapt them into captions for your social media accounts. Highlight key points, rephrase them for the social media context, and engage your audience with compelling captions.
5. Turn Audio Content into Visuals
Transform audio snippets from video content into engaging visuals. Create quote visuals, add audio overlays, and convert them into Reels or other visually appealing formats. This approach allows you to promote your podcast and expand its reach on social media.
6. Transform Transcripts into Blog Posts
Podcast transcripts can be transformed into informative blog content. Moreover, quotes from a podcast or YouTube video can be repurposed as captivating visuals to promote the episode and maintain audience interest. The key is to present ideas in fresh and engaging ways, ensuring they resonate with your audience without feeling repetitive.
7. Adapt Content for Different Platforms
"Different audiences need different forms of content. You can repurpose and play with your content ideas to resonate with each one of these audiences."
– Anca
To make your content more accessible and engaging, it's essential to consider the preferences and behaviors of various social media platforms and audiences. 
Instagram users, for example, naturally gravitate towards visual posts, since the platform is designed to rely on images and videos as the primary form of content. Facebook and LinkedIn, on the other hand, lean towards text-based content. However, it's important to note that the tone and style of content on each platform may differ. 
Bottom line: By repurposing and tailoring your content ideas to suit these unique platforms, you can effectively connect with diverse audiences and maximize your content's impact.
Content repurposing example:
To demonstrate how you can repurpose content for social media, Anca uses the following blog-inspired post example where:
The topic of the article inspires the post idea

Part of the caption has been copied from the blog post, while the rest has been adjusted for social media

The visual consists of a quote taken from the article
Pro Tip: Use AI tools to turn your existing content into different post formats. 
Create social media captions and images in seconds with SocialBee's AI content generator.
Start your 14-day free trial now!
For example, you can use SocialBee's AI content generator to:
Turn a video script into a social media post

Rewrite a part of your article as a social post

Create different post variations customized for each social media channel you share content on
8. Test and Analyze
To gauge the effectiveness of your repurposing efforts, it's essential to regularly test and analyze your content's performance. 
Monitor metrics such as increased listenership, website traffic, and social media engagement to assess the impact of your repurposed content. Use tools like Google Analytics, SocialBee, and more to keep track of your content marketing strategy performance in real time.
Example: How to Repurpose a Blog Post
To sustain her point, Fab uses a real example to show the audience how a podcast was repurposed into a blog post, a YouTube video, and multiple short-form videos for TikTok, Instagram, and YouTube Shorts.
Here is Fab's framework you can use for repurposing your articles: 
Start by identifying the key message or theme of the blog post. This will be the foundation of all repurposed content.

Break the blog post down into smaller chunks of content. This can include quotes, statistics, tips, and other key takeaways.

Create a variety of social media posts using smaller chunks of content. This can include tweets,

Instagram captions

, Facebook posts, etc.

Create a visually appealing graphic or image that can be used in social media posts. This can include quotes, statistics, or a summary of the post.

Create a short video summarizing the key takeaways from the blog post. This can be used on social media platforms like Instagram, Facebook, and TikTok.

Create an infographic that highlights key points from the blog post.

Create a slide deck or presentation that can be shared on LinkedIn or Slideshare.

Create a podcast episode discussing the key points from the blog post.

Use the key message of the blog post as a basis for a webinar or workshop.

Finally, use analytics to track the performance of each repurposed piece of content and use that information to inform future repurposing efforts.
III. How to Reinvent Your Social Media Content in 5 Ways
The social media landscape is ever-evolving. So, it's no longer enough to simply create and share content. To truly capture and retain your audience's attention, you must continuously reinvent your social media content to keep it engaging, fresh, and relevant.
Here are 5 effective ways to reinvent your social media content:
Turn a caption into a Reel video or vice-versa.

Turn a caption into an Instagram carousel or a LinkedIn slide. 

Take a comment left on one of your posts and create new content with the comment in mind. 

Widen on the topic of the original post by looking at the bigger picture.

Use Reel audios to play out the scenario from the post.
Frequently Asked Questions
Make the Most Out of Your Content
Republishing, repurposing, and reinventing your social media content are powerful strategies to save time, engage your audience, and maximize your impact. 
Establishing a system, leveraging visual appeal, and regularly testing and analyzing performance are key to effective repurposing. Additionally, reinventing your content through various formats keeps it fresh and captivating. 
Remember, SocialBee is here to help you establish a strong online presence and connect with your audience in innovative ways. Start your 14-day free trial today and test SocialBee's content repurposing features for yourself. 
Republish Your Evergreen Social Posts with SocialBee!