Sometimes, finding the best content creation apps for your business can be tricky. The list of such apps is usually very long, and choosing one that doesn't suit your needs can make you stray away from your main focus, which is following your social media marketing plan.
So, how do you pick the best apps to meet your marketing efforts? Truth be told, there are a few elements to consider: features, prices, whether they offer a desktop or mobile version, and what purpose they serve.
Are you ready to find out how you can step up your content creation game?
What Do You Need for Content Creation?
Research image sizes

Create your images

Follow your branding guidelines

Use content creation apps

Post your content with a social media management tool
There are a few aspects to consider when starting the content creation process. First, you need to research the required image sizes for social media posts. The next step is to create your image, and here you need to consider aspects such as colors, themes, illustrations, or text you might want to add.
Then, you need to figure out details such as the number of hashtags you can add to your post, the character count of your copy, or any branding guidelines you might want to preserve. 
The good news is that there are content creation apps that can help you with any of the mentioned aspects. These content creation tools are video and image editors, which will give your social media marketing plan a boost and save you a lot of time as well.
Visual Content Creation Apps
Visual content is probably one of the most important elements to consider when creating content, as it can boost your engagement and increase traffic.
Let's see what tools you can use to create more engaging visual content:
1. Canva
One of the first content creation apps we're going to look into is Canva. Canva is a well-known app for graphic design, and it offers a multitude of templates for social media, and not only. 
You can create digital content for Facebook and Instagram, or get creative with Twitter posts or even newsletters or email headers. You can create videos as well, and the best part about Canva is that it's a user-friendly platform that boots your content creation game in no time.
You can also use your graphics, as well as different built-in templates offered by Canva.
Bringing your own Canva designs to your post has never been easier, as you can design with Canva right inside SocialBee. Start a 14-day free trial now and save at least 8 hours per week by taking advantage of the Canva & SocialBee integration.
Canva opens directly into SocialBee's content editor and allows you to create and import your visuals.
Start your 14-day SocialBee free trial today to make the most out of this Canva integration.
2. VideoScribe
Coming in at number two is VideoScribe. Best known for its iconic hand-drawn animation style, VideoScribe is an easy-to-use, drag-and-drop animation tool.
Whether you're brand new to animation or a serious video professional, you can create animated videos (and GIFs) in minutes. This means your social posts get made faster, and your audience gets to experience your content sooner.
Work with templates, or create content from scratch by adding the iconic hand-drawn animation style, the classic fade, move-in, appear, and draw (without a hand) transitions to your elements and illustrations to make your video visually engaging.
Plus, with VideoScribe, you have the option to create your videos in the downloadable desktop app (that also works offline) or kick back in your favorite browser on desktop or tablet. 
Say hello to creating animation on the go! Get started with a no-obligation, 7-day free trial today!
3. HubSpot
HubSpot is a well-known CRM tool that helps manage your marketing campaigns, sales team, and customer service, but did you know they also provide free branding and content creation tools? They just released their free brand kit generator that helps businesses create stunning branding materials for their website, social media, and more.
You can create all the branding materials you need to promote your online presence including a free icon and logo maker, favicon generator, color palette generator, and more. Take all of these elements and build your brand identity through marketing channels like emails, social media, and everything else.
4. Sender
Content marketing includes many things, and email is one of them. To create engaging and converting emails, Gmail won't be enough. That's where email marketing tools come in and save the day.
Sender is a super affordable yet very powerful email marketing tool that has various features for creating beautiful newsletters, powerful email and SMS automation workflows, high-converting popups, and forms.
Drag-and-drop email builder, premade design templates, popup and form builder, user-friendly dashboard — all these features will help you to create the best-looking emails and popups. Sender also assures that those emails will have high deliverability, which you'll be able to track with detailed reports.
On top of that, your emails will be hyper-personalized and will reach the right audience with Sender's smart segmentation and trigger-based automation workflows.
By the way, Sender has one of the best Free plans in the market.
5. Vectornator
Whether you are doing graphic design on an iPhone, MacBook, or iPad, Vectornator is the all-in-one design app for you.
Why? Vectornator has an easy-to-use drag and drop interface, which means that anyone (with any level of design skill) can create eye-catching and impressive designs. Vectornator is specifically geared towards illustration, print, and lettering. However, it has a sneaky additional function that you can use to edit PDFs easily.
Vectornator makes all your design dreams come true with its unlimited undo history, node tools, pen support, custom brushes, auto trace, and time-lapse capabilities. You can easily design your content to look exactly how you imagined.
If you still aren't convinced, why not try it out for yourself? All versions of Vectornator are FREE.
6. Xara
Xara is an app used to create professional-looking marketing materials. Small businesses can use this app to create branded content, and also make use of the numerous ready-made templates, suitable for any business need. These templates can be used for social media, marketing, or business purposes.
You can also add filters, and improve your visual content by creating a color palette from the image you've just used. And the best part about Xara? You don't need to worry about the file type, as the app is compatible with different formats, as well.
7. Adobe Creative Cloud Express
Do you want to create professional-looking content, but you're not sure where to start, or you just simply don't have enough experience?
Adobe Creative Cloud Express is a system that integrates different design templates and assets for social media content, logos, and more.
Depending on your needs, you can create beautiful graphics with the help of Adobe Spark Page, or go the extra mile and make your web pages look stunning with the help of Adobe Spark Post. Adobe Spark Video is a great tool to help your business step up its social media game, as you can create videos by using several templates or creating a video from scratch.
Another bonus is that this app offers multiple articles meant to help you throughout the video creation process.
8. Mega Creator
Mega Creator is an online design tool for those who're looking to create engaging social media graphics in a snap. With pre-designed templates for Instagram Stories, Facebook Cover photos, YouTube thumbnails, and more, Mega Creator makes it easy to create pro-looking graphics in just a few clicks.
The tool also features a vast collection of built-in graphic assets, including photos, illustrations, icons, and fonts. With a drag-and-drop interface, users can easily add these assets to their designs. For $9 per month, you'll get access to all the pre-designed templates, and graphic assets, which is much cheaper than other design tools' subscriptions on the market.
9. BeFunky Graphic Designer
Have you been wondering what tools content creators use to come up with stunning infographics, posters, or even banners? If you're thinking about anything complicated, the good news is that it isn't.
BeFunky Graphic Designer is a tool that brings together the complexity of graphic design and the simplicity of the drag-and-drop functionality. You can create banners, flyers, posters, cards, infographics, and brochures in no time. 
BeFunky Graphic Designer also provides a Chrome extension, which allows you to grab the images from the Internet and open them in just one click.
10. Snappa
As the name suggests, Snappa is a web app that is used for creating online graphics in a snap. The app has been designed to help small businesses with graphics for social media, emails, blogs, ads, and even infographics.
Snappa will easily become one of your favorite tools if you're looking to n0t spend too much time on different steps, such as finding the perfect image size or staring at a blank screen. Choose from their variety of templates, pick multiple images from their high-resolution collection of stock images, and add effects in an instant.
11. Flipsnack
If you're looking for an interactive and engaging content creation tool, Flipsnack is your go-to solution.
This platform allows users to create and publish all sorts of publications, with realistic 3D page-flip effects.
Its' intuitive and easy-to-use editor guides users to create or customize all types of content materials like flipbooks, magazines, catalogs, presentations, portfolios, and many more.
If you want to speed up the process, you can also just use one of the many preexisting templates available in their integrated library and adjust it to your own needs.
While constantly releasing new features, Flipsnack owns a wide variety of interactive elements such as photo-slideshows; GIFs; audio and video elements; users can also embed maps in their publications or add social media buttons.
Content creation has never been easier, try Flipsnack's free plan and begin your journey.
12. Picsart
Picsart is a free app that allows you to create collages, edit photos, and add text and stickers to your images. The app is simple to use and has a wide range of features, making it a great choice for creating visual content. With a variety of templates and tools, you can create stunning visuals that will make your feed stand out. You can edit photos and add text or graphics to create unique and engaging posts. 
Picsart's photo collage maker helps you turn your favorite memories into lasting works of art. It's easy to build unique collages that capture the spirit of your most cherished moments with a variety of available templates and tools. Plus, with their easy-to-use interface, you'll be creating beautiful collages in no time!
Whether you're looking to create a stunning collage or edit a photo for your social media account, Picsart photo collage maker is an excellent option. With its wealth of features, the app is sure to meet all of your content creation needs.
Create and Post Content with SocialBee!
Content Creation Apps for Video Clips
Video content can grab the attention of your audience in just a few seconds, and it also helps you tell a short story. Still not convinced? According to a study, 86% of people take more interest in seeing more videos from their favorite brand.
Ready to create some amazing video clips? Here's what to use:
1. Lumen5
Some content creation apps stand out in the marketing world, and the best example to give is Lumen5. That is because this app makes use of artificial intelligence to create content. You can enter a link, choose from one of their templates or create your script, and their system will find the best visuals and audios for your story.
Video editing will no longer be a long and tedious process – but automated according to your needs.  This content creation tool is one to keep an eye on, as it will help you stand out from other competitors.
2. Biteable
Video ads, animations, infographics, or even explainer videos – you name it and Biteable helps you create it. 
Bonus tip: the final result will have studio quality, and it can fit any role and business: from an agency to a digital marketer, HR professional, and even an entrepreneur.
If you opt for the free version, your business can create 5 videos per month, which can later be published to platforms such as Facebook and YouTube. You can easily create your social media content with the help of templates or different sound effects, and then share them on your favorite platforms in no time.
3. Rawshorts
Creating visual content is not always the easiest thing to do, especially when we're talking about text animations. Rawshorts understood the assignment and created a tool that transforms texts into animated videos. To get started with the process, all you need to do is upload your script, and the platform will put together an animated story draft for you.
Rawshorts allows content marketers to then edit the generated animated videos with a simple drag and drop system. From editing the fonts, choosing different frames, to adding more scenes to your video story, there are plenty of features to choose from.
4. iMovie
iMovie is a tool available for macOS and iOS users, and this video editor is a great choice for creating cinema-quality video clips that resemble the Hollywood style. Choose the clips you want to have in your final video and then add the rest of the details: music, effects, and titles.
Trim any video to your liking and create an attention-grabbing effect with a transition or fade effect. iMovie supports 4K videos as well, and another tip you might like: you can be anywhere you want with the help of a green screen effect.
5. VideoShop
VideoShop is an app that can be downloaded from the App Store or Google Play, and it's described as not your basic video editor. Its features include both essential and advanced editing settings, as well as special effects, content curation, and different sound effects and edits.
Regardless of whether you want to adjust your videos to go at a slower pace, or play your videos in reverse mode, there's a setting that will help you out with anything you want to achieve. Add to that the easy access to your social media profiles, and you're all set.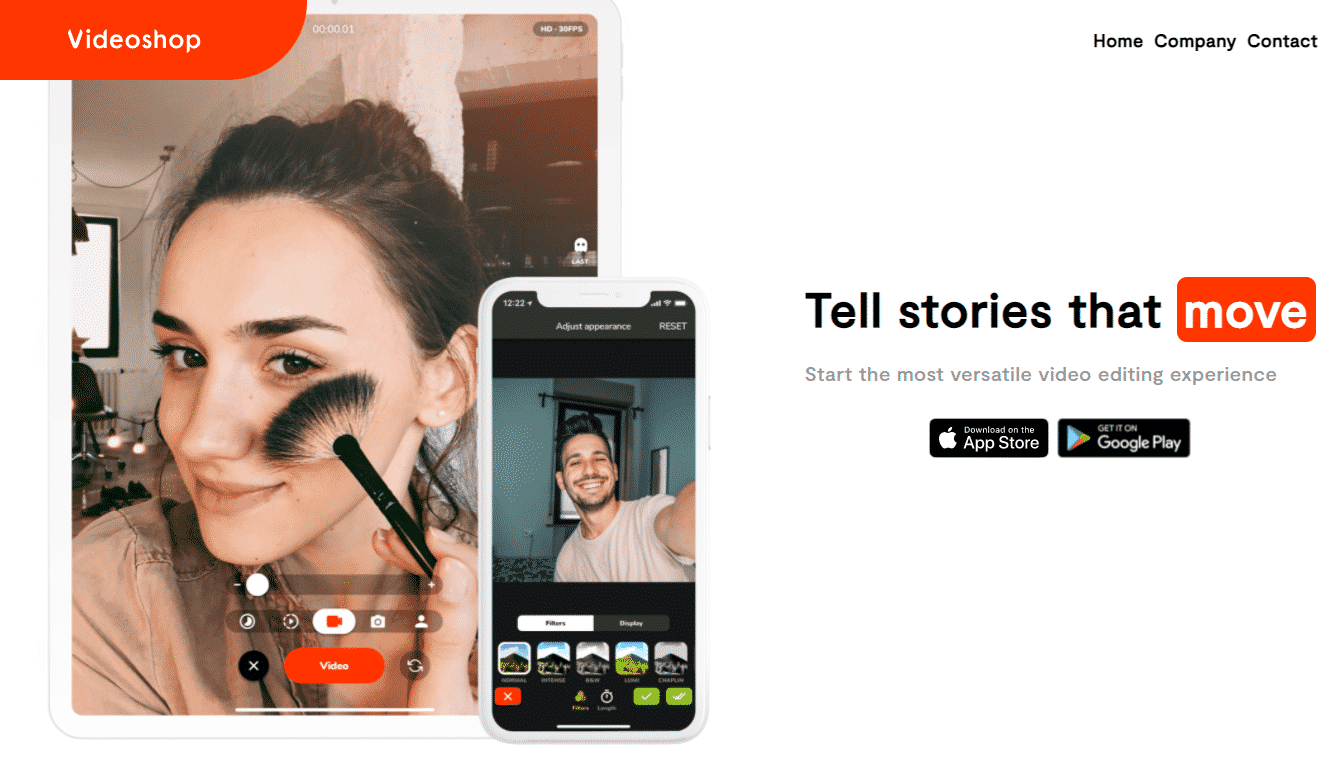 6. Promo
If you want to find other video content creation apps you can also try Promo.com's online video editor that comes with easy-to-use features, on-the-spot branding for your videos, and a massive online media library powered by Getty Images and iStock so you never ever run out of content.
They also offer a lot of tools that you can use to make any type of content. Instagram's CEO officially announced that this year the platform will now be putting an emphasis on video. As a result, all business owners looking to make the most out of their Instagram accounts need to start creating more video content – and fast.
Mobile Apps for Content Creation
Not all apps are desktop apps or based on a cloud system. If you're using your mobile phone, here are a few apps to check out:
1. AvivA Pro
Are you looking to create Boomerang-like content to share, but aren't too keen on the Boomerang effect found inside the Instagram Stories feature? AvivA Pro is a mobile app that creates a Boomerang-like effect on your videos or live photos, by adding a looping effect to any of your captured moments.
Choose the start point of your loop, as well as its length, and easily create some eye-catching content for your social media pages. You can also take control of the speed of your videos, and also zoom in and crop any details.
2. Hyperlapse
Have you ever thought that mobile apps could take the place of professional equipment or tripods? Well, Hyperlapse from Instagram is here to prove it. You can use this app to create breathtaking time-lapse videos that have a cinematic feeling attached to them.
An entire day spent in a busy town can become a chic short video, without any bumps. This app uses Instagram's in-house stabilization for the best effects.
Hyperlapse is another app you can install on your mobile device, and you can download it on iOS or find the Hyperlapse Mobile version for Android, completely free.
3. Ripl
Ripl is a mobile app that helps you get noticed on social media, by creating branded posts or impressive video ads. This app has thousands of customizable templates you can choose from, to create any kind of content your business needs: new product announcements, final sales, testimonials, or even "This or that" questions.
Set your logo, colors, and font preferences and promote your brand on all social media channels. There is also a stock media library you can choose from, for various types of businesses.
Ripl includes a desktop version as well, along with the iOS and Android versions.
4. UnFold
Stories are meant to unfold, and if you're on the lookout for smartphone apps that allow that to happen, you might want to check out UnFold by Squarespace.
Create beautiful and eye-catching content by using one of the hundreds of templates offered, and then add filters or unique effects to the resulting content to enhance it.
UnFold also offers in-app purchases, and you can opt for more advanced features by using UnFold+ or UnFold Pro, for a monthly or annual subscription. The advanced features include advanced editing tools, and access to early collections or brand kits.
5. Giphy
There's a mobile app for almost everything one can think about – and GIFs are no strangers to that. Giphy is the world's largest library of animated gifs, and the mobile app is great for creating your GIFs too. You can add your own photos and continue the editing process with the settings that fit your content needs.
You can also browse the app and find the perfect GIF to share with your audience if you're not looking to create one of your own.
Giphy World is another app you might want to check out, as it brings in the concept of augmented reality gifs. The AR gifs are designed for you to add them all around you and then share them with the rest of your friends.
 Did you know you can use GIPHY in SocialBee? Not only that… Canva, Unsplash, and many more.
Start a 14-day SocialBee free trial to upload content from GIPHY and share it across your social media profiles. 
Free Content Creation Apps
Professional-looking content with a free tool? You've read that one right – we've put together a list of the best content creation tools that offer a free version.
Here are our recommendations:
1. Pablo
Pablo is a photo editing tool that is easy to use and helps you design your posts easily. And the best thing about it: it's free and has no additional costs once you've started the editing process.
Pablo offers over 50.000 images to shuffle and search through if you don't have your own image to use.  Other features include adding your own logo, a selection of stylish fonts, and a few filters to make your image stand out.
After you've created your image, you can resize it for different social media networks, without the need of going through the entire creative process again.
2. Animaker
Animaker is a platform that anyone can use, regardless of whether they are a beginner, professional, or non-designer. Described as the world's most complete video-making tool, Animaker is easy and fun to use. And it's also free, with the option of upgrading to different plans.
There are plenty of formats to choose from: animation, live-action videos, explainer videos, slideshow videos, advertisement videos, or different videos adapted for social media networks.
The platform makes use of simple drag-and-drop technology, as well as numerous ready-made templates and stock videos and photos.  The option of adding music to your video is also available.
3. Easel.ly
Infographics are an important part of your content strategy, and Easel.ly is aware of that.
With Easel.ly, you can turn your data into an attention-grabbing infographic that will bring you the desired results. These results include getting more engagement from your audience, increasing your sales, and even improving communication.
Choose your infographic from a library of templates, customize it as desired, by using icons, charts, or images, and then simply download it in the preferred format.
4. Make a Meme
Sometimes, memes can express what words can't. Memes have been designed to be humorous and to help your audience relate to certain situations.
It's also true that sometimes, the memes you find on the Internet won't express exactly what you want. That is why you need an app that helps you create your own memes.
Make a Meme is a free app, where you can simply upload an image, add the top and bottom text and make the meme. Make a Meme is also very easy to use.
There is also an app available on the app store, so make sure you check that one out too.
5. Awesome Screenshot
Awesome Screenshot is a Chrome extension that you can add to your browser for free.
Awesome Screenshot is a great tool to use for taking screenshots, as well as recording videos. Once you've taken your screenshot, you can annotate it with different editing options, and then share it with your team members.
If you're recording videos, you can record both screen and camera, and also connect with tools such as Trello or Slack. You can save your videos to your own computer or share them with your team members without the need of too many clicks.
Bonus: Content Distribution for Your Posts
Once you have your social media content ready, make sure to share it with a social media management tool such as SocialBee. 
Wondering what you can do with a tool such as SocialBee?
Here are a few things you can do:
create and schedule posts

customize your posts for any of your social media accounts

post your content on all your accounts from the same content editor
Social media marketing has never been easier, and if you're curious to find out more, you can start a 14-day free trial, no credit card required.
Create a post, customize it for each social media platform and post it on all your accounts from the same content editor.
Start your 14-day free trial and test it yourself!
Get Ready to Enhance Your Digital Content
Coming up with engaging digital content shouldn't be a tedious task. Nowadays, there is an app, platform, or tool that's been designed to help professionals, and even beginners and non-designers.
Depending on your business needs, you can choose from visual content creation apps, mobile apps, content creation for video clips, and even pick the ones that offer free downloads.
However, it's not just about creating the content. Once you've put together that beautiful video, it's only fair to share it with the rest of the world with the help of a social media management tool.
That's where SocialBee takes over. Start your 14-day free trial now and make sure you share your content on all social media platforms.
Create and Post Content with SocialBee!