Are you currently including social media videos in your content strategy? If not, we advise you to start working on a solid video marketing strategy. 
Here is a statistic to get you pumped up. Did you know that 60% of marketers said that video increased their engagement? This is just the tip of the video iceberg. It's time to spread brand awareness and join in the fun! 
We make this process easier for you by sharing a carefully curated collection of super-useful tips and tricks. From creating them to marketing them, SocialBee has got you covered.
Free Editable Social Media Strategy Template
Get the social media strategy template you need to audit and plan your marketing efforts for maximum results.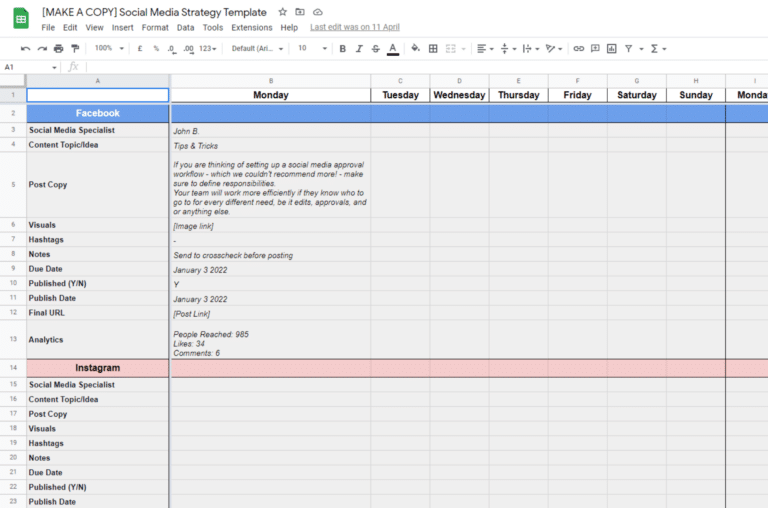 10 Tips to Improve Your Social Media Video Content
Social media videos are currently making up 82% of all consumer Internet traffic. In case you're just starting, posting videos on your social media could seem difficult and more like a chore in comparison to the easy-peasy creation of static images. 
Here are 10 tips for improving your social media video content:
Use video creation tools

Schedule your content strategically

Use video content to entertain, educate and inspire

Grab the attention of your viewers from the first frame

Cross-promote your videos on various social media platforms

Caption your video posts

Loop your videos

Use social media video templates

Create short videos

Monitor and improve your videos
1. Use Video Creation Tools
Creating catchy video content suitable for the most popular social media platforms can be confusing when you lack the proper creation tools. These days, creating video content has become a breeze.
In short, you don't have to spend a fortune on intricate software or waste time trying to tackle a steep learning curve. 
Check out our favorite video content creation tools:
Canva
We are certain that you are aware of Canva, right? It's just the most popular video editor that's out right now, no big deal. Canva offers you a large selection of fully customizable video templates that you can choose from. Add captions, graphics, and transitions to your social media videos with zero effort!
Create YouTube, TikTok, or Instagram videos directly from their app. Pro features allow you to remove backgrounds or resize your content to match the formats of each social media platform. 
As for SocialBee's Canva integration, it saves you plenty of time that would otherwise be spent downloading or misplacing designs around your computer. Through a Canva pop-up window, you'll be able to instantly create new designs or choose existing ones for your latest social media post.
Create and import social media videos with Canva directly from SocialBee.
Start your 14-day free trial today!
VideoScribe
Are you an animation fan? Then VideoScribe might be the ideal fit for you! Create your own videos from a selection of over 10,000 animated images. According to VideoScribe, visual learning is currently preferred by a staggering 65% of people. Enlighten your audience and spark optimal engagement, all at once!
Also, what makes VideoScribe so great is its versatility. This video animation software enables you to create incredible explainer videos, whiteboard animation videos, marketing videos, and even cartoon or doodle videos. 
Last, but certainly not least, VideoScribe also allows you to create stunning corporate and educational videos for your next team meeting. Their innovative software sets your creativity in motion!
CapCut
Instagram Reels and TikTok videos are notorious for boosting engagement. Videos with captions have a much better reach compared to those that fail to feature any. With CapCut, you can create auto captions or use their text-to-speech feature for impressive results.
2. Schedule Your Content Strategically
An important component of social media marketing is becoming aware of the best times to post on social media. On Pinterest, the best day to post would be Saturday. On the other hand, Facebook boasts three days of top engagement, from Tuesday to Thursday.
The same logic is applied to posting hours. If you're posting randomly, you might have to rethink your social media strategy. Creating videos as an integral part of your content marketing strategy is a great idea. Your conversion rate will stagnate or even drop when you choose not to use a schedule.
The great news is that SocialBee helps you schedule your content into specific categories. Evergreen or one-time videos, it's up to you to select which is which, directly from our app. You create videos, we post them for you.
Schedule your content ahead of time and customize your posting times for each social media platform with SocialBee.
Optimize Your Social Media Posting Schedule!
Download the Best Times to Post on Social Media sheet and start adjusting your content calendar for maximum engagement.
3. Use Video Content to Entertain, Educate and Inspire
When you create video content for your target audiences, you bring value and give your current competitors a run for their money. Most social media users are looking for short videos that are effortlessly entertaining. 
Walmart's reel is the definition of fun. Its mesmerizing special effects are a plus. 
Describe all the technicalities of your specific niche with video content. Educate your audience and become a thought leader in your industry.
Dr. Barbara Sturm, Hollywood's top skincare specialist does this rather well on TikTok through live videos.
You too must have been guilty of saving at least one inspirational video on social media. The best videos target your emotions and give audiences an incentive to share them across multiple social media channels.
McDonald's celebrates the LGBTQ+ community with a heartwarmingly inclusive YouTube video.  
4. Grab the Attention of Your Viewers from the First Frame
Social media content needs to be eye-catching in order to become viral. Since the user attention span is only 8 seconds long, you'll need to cram all that valuable information in a short and to-the-point video.
Most platforms allow you to choose a cover photo for the video you are about to post. In any case, the first frame must be striking enough to keep the user engaged enough to allow your video to loop as soon as it ends. 
Here are some tips on how to start a video:
Ask your viewers a question

State an incredible fact

Make a bold statement

Center your brand's logo

Showcase your latest product 

Use a striking visual
5. Cross-Promote Your Videos on Various Social Media Platforms
If you think that only creating minimum-effort videos for your Instagram account will suffice, do think twice. Your target audience might not dwell exclusively on Instagram, so you'll have to cross-promote your video clips on various social media channels.
SocialBee allows you to connect your Facebook, Instagram, Twitter, LinkedIn, Pinterest, Google Business Profile, TikTok, and YouTube accounts, all from one account!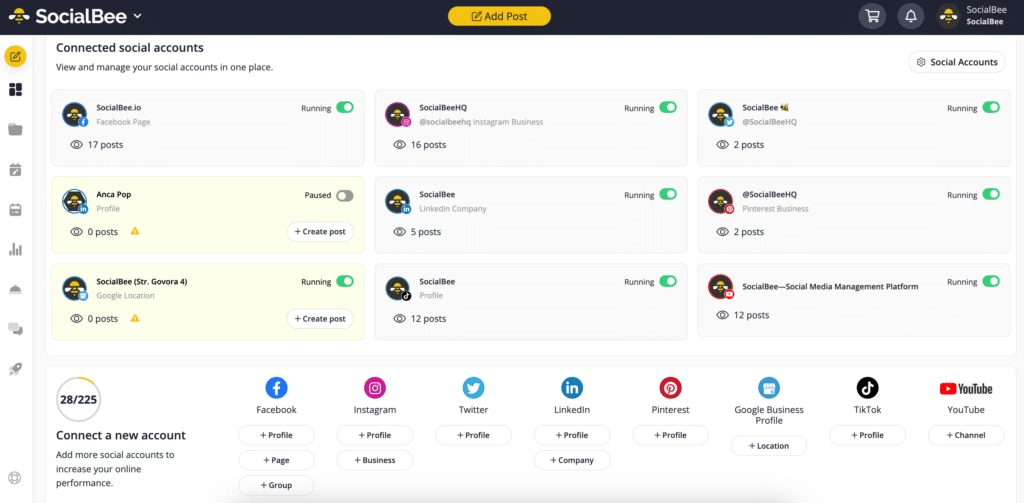 Share video content across all your social media platforms from one place: SocialBee.
Share Your Social Media Videos With SocialBee!
6. Caption Your Video Posts
Did you know that Facebook video ads with captions increase viewing time by an average of 12%? This could be a potential issue, especially if your highly informative and engaging video has no captions. What is the solution? When creating videos, make sure to caption them accordingly. 
If you are not familiar with the term 'captions', it's basically synonymous with 'subtitles'. Your audience wants to quickly go through your captions rather than listen to the entire thing, especially not at work. This visually conveys the message and ensures viewer retention. 
As we've previously discussed, Canva and CapCut are ideal for picture-perfect video content with added captions. On YouTube, you can add a subtitle file before posting your video or type them in manually. As for Instagram and TikTok, go ahead and add captions directly from the apps.
7. Loop Your Videos
In order for your social media video to get noticed, it should ideally play in a loop. Planning to buy video ads for either Instagram or Facebook? If so, awesome! However, there is a detail you should probably keep in mind for future reference.
On Facebook, video length and looping go hand in hand. Basically, the shorter your video is, the more it gets looped. The length limit is currently 30 seconds. 
Are your video ads longer than that? Bad news, they won't loop. Make sure to trim them a little and condense all that precious information before buying. 
Oh, and a quick side note. Videos can take Facebook Watch and the Facebook News Feed by storm as long as its length is kept between 5 seconds to 10 minutes. However, Facebook recommends a 15-second length for best results.  
8. Use Social Media Video Templates
Okay, so you want to create a killer Instagram Stories video. Awesome. Wait, do you have to create a template from scratch? Of course not!
As we've previously mentioned, Canva has awesome, fully customizable video templates for you to work with. Instagram Reels also have a large selection of templates you can use. TikTok too! 
9. Create Short Videos
Content marketers reported that 1.6 billion people will use short-form videos this year. That's… a lot. Obviously, shorter social media video has higher chances of going viral and getting more loops. Most social media platforms prioritize short videos. 
For example, if you try to post a YouTube video that is shorter than a minute, it will automatically be uploaded to YouTube Shorts. Although TikTok increased the video length to 10 minutes, it's still a wise idea to focus on posting concise online videos to your social media.
10. Monitor and Improve Your Videos
When you consistently track your analytics, you can create better videos for your target audience. Videos are no exception. 
What is the daily reach you're working with at the moment? What about weekly engagement levels? Confused? SocialBee to the rescue!
Here are the social media analytics you can track with SocialBee:
Audience demographics

Page growth

Post impressions, reach, likes, comments, shares

Best-performing posts and content types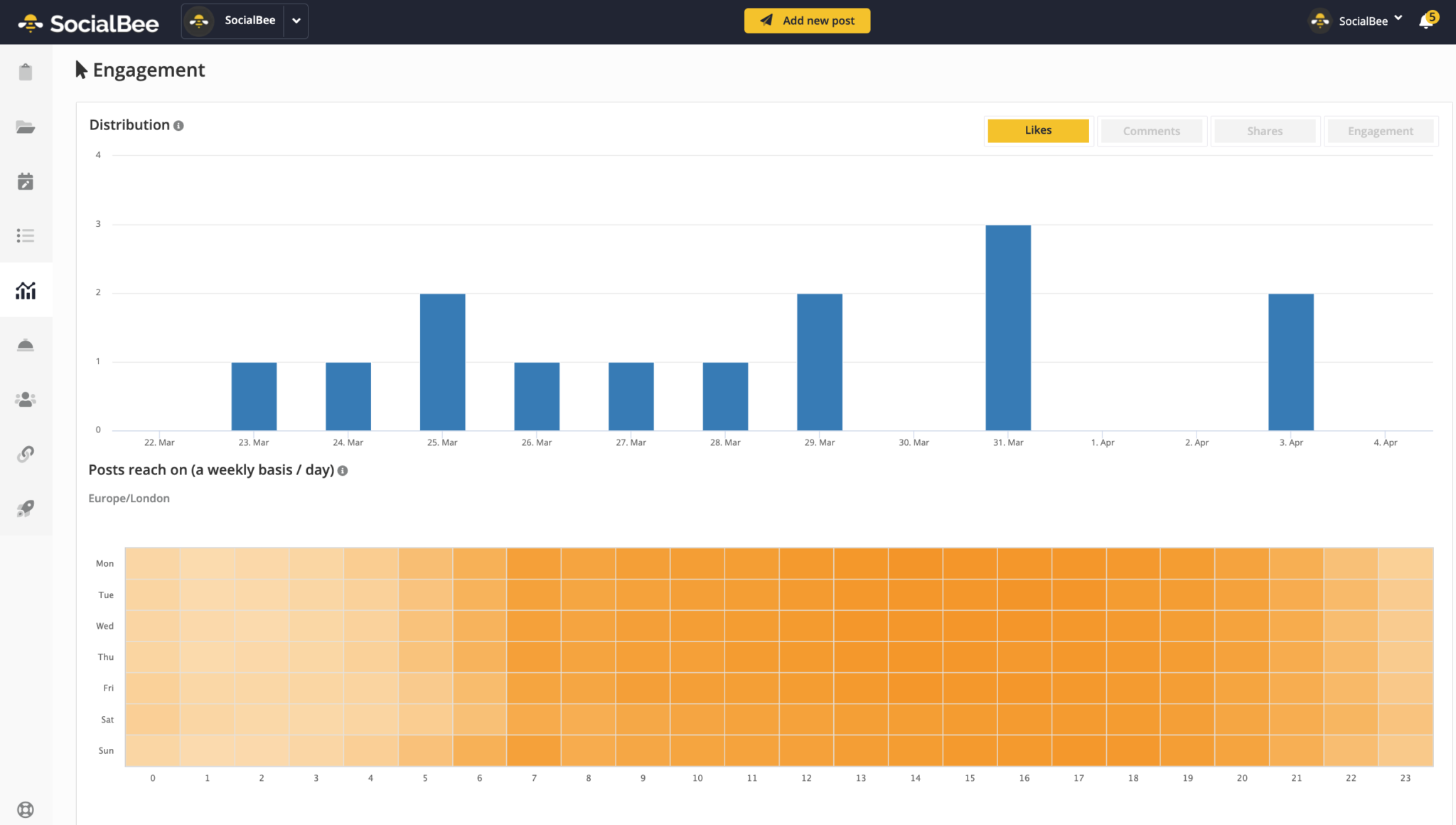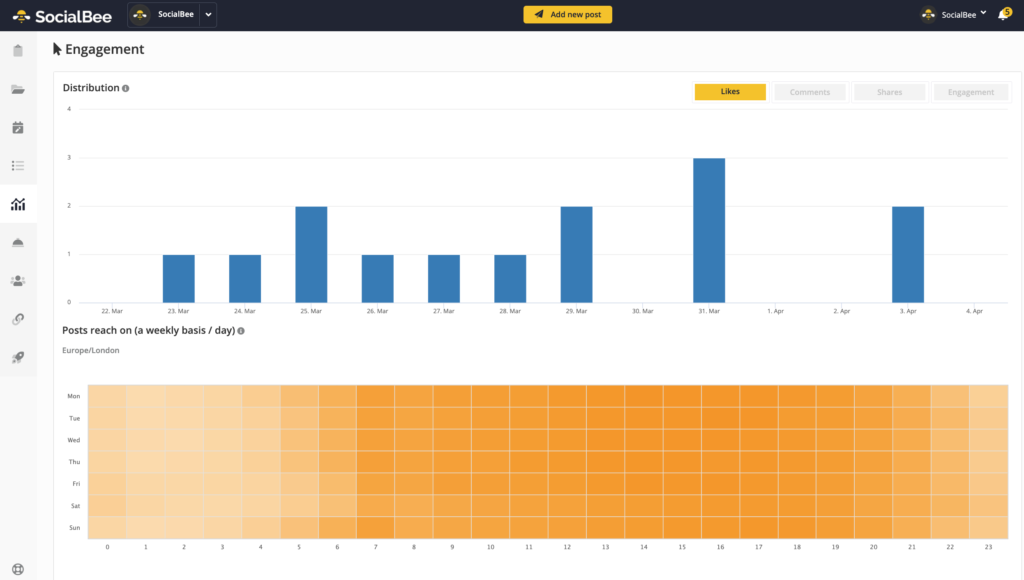 Track the performance of your social media videos from SocialBee's Analytics dashboard.
Start your 14-day free trial today!
5 Effective Ideas for Your Social Media Videos
Out of ideas? That can happen.
Here are five awesome ideas for your next social media videos:
Interview and Q&As

Behind-the-scenes

Product videos

Tutorials & how-to videos

Webinars and podcasts
1. Interview and Q&As
Looking for an engaging way to answer your frequently asked questions via a social media video? Then look no further, as interviews and Q&As are the perfect fit.
Go ahead and write those pesky questions with captions big enough to catch anyone's attention. As for interviews, they can be disguised as live streams that allow you to further cement your brand's identity.
2. Behind-the-Scenes
Authenticity is a brand characteristic that most users appreciate more than anything else. Whether genuine or scripted, behind-the-scenes videos humanize brands more than anything else.
Share videos of what you're up to behind the scenes. Are you working on a new product? Do you want to show the world where you spend most of your time being creative? Be transparent with your audience!
3. Product Videos
Your products should always speak for themselves. However, posting video content that features your latest product line might be quite a predictable thing to do. 
The best thing you could feature on any social media page? User-generated content (UGC)! That's the game-changer that takes you from tooting your own horn to having an organic following. 
4. Tutorials & How-To Videos
This one's a no-brainer. We all love organized and to-the-point videos that we can save for later, don't we?
Tutorials and how-to videos have always been all the rage. They are entertaining, easy to watch, and highly educational. Oh, make sure to at least caption the first few seconds. That will certainly not only positively impact your views, but also your engagement levels.
5. Webinars and Podcasts
Today's hot topic? Education! Go in-depth and become a thought leader in your industry by either going on Instagram Live regularly, doing webinars, or podcasts.
Discuss today's trending topics and offer audiences an exhaustive breakdown of why you do what you do. Remember to trim your lengthy podcast/webinar into tiny snippets of wisdom for addictive social media posts.
The Best Social Media Platforms for Video Clips
Here are the best three social media platforms for video content:
TikTok

Instagram

Youtube
TikTok
You're probably aware of the fact that TikTok started the social media video frenzy. This trendsetter platform is currently being emulated by both Instagram and YouTube. 
Make sure to create a marketing content plan for your business account on TikTok. This will motivate you to not post randomly. Yes, TikTok is a science, not an app on which you can improv. 
Want to generate even more qualified leads and also save time? Schedule a live event on TikTok! Your followers will have to register and join you at the date and hour you selected.
Instagram
The once-static photo platform is now set in motion. Instagram has come a long way and you ought to upload some videos to your feed and stories. It only takes a few seconds. Use a maximum of 10 hashtags, try location tags, and watch out for some juicy UGC!
Ever tried Instagram Live? If not, you might be missing out. Connect with your audience in real time! If you're brave enough, post a questions sticker and do a live Q&A session! Also, don't shy away from posting your latest Reels and Stories via SocialBee. 
YouTube
The godfather of video content, YouTube, is the most straightforward platform that enables you to grow as either a creator or a business. 
Monetize your content, do collaborations, and use tags mindfully. Furthermore, go live with your audience, and don't forget to regularly update your YouTube stories.
As for YouTube Shorts, you should know that it now surpassed 6.5 billion daily views globally.
Share Videos on Social Media with SocialBee!
Improve Your Social Media Marketing with Video Content
Now, you are ready to kick-start your video content journey. You have all the right tools, knowledge, and visual inspiration to get you going. As we've learned, even the most eye-catching, captioned video needs some extra love through social media scheduling.
Post like a pro across all your social media channels with SocialBee. That way, you'll stay on top of your engagement levels and reach your community precisely when they're most likely to check their phones. Here's a 14-day free SocialBee trial for you. Thank us later!