We've some good and bad news for you, and they both involve the Adobe-ContentCal takeover, a popular social media marketing startup turned social media management software. They say that all good things must come to an end, right? 
Don't worry! In this article, we'll introduce you to an alternative social media management tool that can help you up streamline your posting: SocialBee.
As you may already know, Adobe acquired ContentCal back in December 2021. The result of this big transition to a global platform? ContentCal will close down on the 31st of March 2023. It's the end of an era, and we know very well just how uncomfortable change can be.
Did you know you can get a 30% discount for 3 months on your SocialBee account? Email us at success@socialbee.com for more details on how to claim the offer. 
We'll take a look at why ContentCal is closing down and why SocialBee is a matching alternative.
ContentCal vs Competitors: Feature Comparison!
Discover how ContentCal compares to other popular social media tools.
ContentCal Becomes Adobe Express
It all started with a blog post that caused an online frenzy. It was a crystal clear announcement that the social media marketing startup ContentCal will soon close down. This marks a huge shift within the Creator Economy.
ContentCal's story began back in 2014, when CEO and founder Alex Packham decided to quit his job and instead take on the brave task of launching his very own social media marketing agency. Then, ContentCal was launched, a solution that took automating social media publishing to the next level and revolutionized the Creator Economy.
For almost a decade, the social media marketing startup turned SaaS product helped its users create, schedule, publish, and analyze their posts. Its visual interface and social media capabilities took the Creator Economy by storm, and rightfully so. Since social media is a core marketing channel, businesses need a powerful tool by their side. 
From now on, some of ContentCal's beloved features, including the social media calendar, will be brought into Adobe Express' Content Scheduler for creators and small businesses within the Creator Economy. The global platform transition is guaranteed to impact those who are in the process of creating digital businesses. 
Their team is aware that this is not an easy transition. In fact, it's far from it. For this reason, they are offering users a Content Migration Support guide that is meant to assist users as they download their images and export their existing content and analytics.
Adobe Express Social Media Planning Features
The Adobe team integrated only a few of ContentCal's popular features for automating social media publishing into what is now known as the Content Scheduler feature in Adobe Express, a global platform that marks an important step within the Content Economy. 
This social media publishing solution caters to both small businesses and for the specific needs of a busy social media manager.
Also, keep in mind that Adobe Express is also integrated with Adobe Creative Cloud, a photo editing tool that is fit for small businesses that are a part of the Creator Economy.
Here are Adobe Express' main social media planning features:
Planning

– You can create and refine your content by using tools to organize and plan your social media themes, topics, and campaigns. In addition, a single drag-and-drop calendar allows you to monitor and control the frequency of your social media posting.

Scheduling

– You can publish content at the best times to make sure that you're reaching your followers and the maximum number of users possible.

Previewing

– You can preview your scheduled posts in advance so you know what they will look like once your post goes live.

Publishing

– You can efficiently publish your posts on various social media platforms, including Instagram, Twitter, Facebook, LinkedIn, and Pinterest, all from a single location to save time. This simplified workflow can also save you money since you no longer need to subscribe to multiple services to complete your projects.
Which ContentCal Social Media Features Will Be Lost?
Unfortunately, joining Adobe came with the loss of many important social media capabilities that digital businesses will surely miss as well as with a new role within the Creator Economy. However, small business owners might find it just as useful.
Social media is a core marketing channel and so marketers require plenty of functionalities to make their work easier.
Here are the ContentCal social media features that will be lost:
Pricing

– From now on, there won't be any free plan to give you a taste of what automating social media publishing feels like. You will only get 3 free scheduled posts per month and you'll be offered a Premium plan of $9.99 per month.

Integrations

– Quite similarly, important integrations such as Canva, Dropbox, IFTTT, One Drive, and Google Photos will be gone starting the 31st of March 2023.

Analytics

– Perhaps the worst loss that will impact the Creator Economy the most will be the total lack of analytics. With Adobe Express, you won't be able to track metrics about your favorite social channels and you won't be able to leverage important insights via analytics and reporting.

Engagement

– From now on, you won't be able to keep track of or respond to incoming comments, messages, and mentions directly from the Adobe Express app.

Browser extension

– Are you a fan of browser extensions that make your work easier? Unfortunately, Adobe Express won't allow you to share articles, images, and videos like ContentCal used to. In this case, you might need other social media tools within the Creator Economy.

Reports

– If detailed reports are your thing, you should know that this won't be one of Adobe Express' social media capabilities. If you're curious about your engagement or reach, you should look for other social marketing solutions.

Team Collaboration

– In today's Creator Economy, having an efficient

social media workflow

in place is more than necessary. Sadly, you won't be able to collaborate with your team in real-time on tasks such as content creation or content planning any longer. 

Channels

– If you're busy creating digital businesses, you should know that Adobe Express will not help you with social media publishing across multiple social channels, such as TikTok, Google Business Profile, or Mastodon.
Why Is SocialBee the Best Social Media Management Tool Alternative?
Now that you know what the transition from ContenCal to Adobe Express implies for the Content Economy and the features that will get lost in the process, it's time to find a new solution that will alleviate the outcomes of this takeover for both small business owners and more seasoned marketers.
SocialBee: ContentCal Alternative
The time has come to compare ContentCal and SocialBee. Who has the best features? We'll let you be the judge of that!
Here are the features SocialBee has over ContentCal:
AI social media post generation

Visual content creation integrations

Hashtag generator

More social networks supported

RSS feed posting

Bulk editor

Content categories

Post variations
AI Social Media Post Generation
If you're looking to promote your products and services online, SocialBee's got the solution for you. Accelerate your content creation process by utilizing SocialBee's post assistant to produce superior posts with the aid of AI technology.
Generate social media posts with the help of AI technology directly from SocialBee!
Try out our 14-day free trial! 
SocialBee's AI post editor assistant helps you generate quick captions, depending on the type of copy you're looking for. For example, you can generate posts based on detailed prompts, summarize complex concepts, and create promotional posts from your existing product descriptions with ease.
Visual Content Creation Integrations
Unfortunately, ContentCal only provided its users with one integration that could streamline the content creation process, which was Canva. Fortunately, SocialBee provides users with three powerful integrations, namely Canva, GIPHY, and Unsplash.
Design visuals from scratch or use eye-catching templates from Canva directly from SocialBee.
Start our 14-day free trial now!
If you're spending a lot of time designing content, small business owners, creators, and agencies will now be able to create or select them directly from SocialBee's post editor. GIFs, stock photos, or pre-made Canva templates, the choice is all yours!
Hashtag Generator
Another feature that ContentCal did not have is a hashtag generator. As we all know, using the right hashtags is important, especially on Instagram, TikTok, and Twitter.
For this reason, SocialBee decided to step up and allow you to generate relevant hashtags based on your visual and copy, making your job a whole lot easier.
More Social Networks Supported
As you probably know by now, ContentCal used to support posting on Facebook, Twitter, Instagram, LinkedIn, and Pinterest. There are many social marketing channels missing and this can be frustrating as you're trying to manage all your accounts from one place.
SocialBee, on the other hand, allows you to create, schedule, and publish content on Facebook, Twitter, Instagram, LinkedIn, Pinterest, Google Business Profiles, TikTok, and YouTube. Yes, even YouTube!  
RSS Feed Posting
Not being able to import RSS feeds to your social media management platform can be a dealbreaker for businesses that also run a blog. Unlike ContentCal, SocialBee lets you add RSS feeds from any blog or site that has such a functionality.
This will allow SocialBee to generate new posts automatically whenever a new article is posted on your blog. All you have to do is define your RSS, create and import a multitude of articles, and play with their publishing settings as you see fit.
Bulk Editor
Yet another social marketing feature that was never available on ContentCal was bulk editing. We all know how tedious it can be to manually edit tens, if not hundreds of posts before they get published.
With SocialBee's easy-to-use bulk editor, you can now save time and either approve multiple posts at once, delete them, draft them, or even move them to another content category. This is what it means to finally get organized!
Content Categories
Let's face it, it's really tough to get organized when your memes and educational posts are all mixed up. What if you end up posting a joke on LinkedIn? That's surely an awkward situation. With SocialBee, this won't be an issue.
Organize your next social media posts into separate categories with SocialBee.
Ready to try our 14-day free trial?
Perhaps one of the most essential things ContentCal did not feature was simple content categories to make everyone's lives easier. Content categories allow users to store their social media posts in folders based on various topics and other criteria they might find relevant.
Get all your posts in a row for a stress-free content strategy with SocialBee. By categorizing your content, you can better organize it and mix it up. It's a necessary practice used by all top social media specialists.
Post Variations
You could say we saved the best for last. Did you know that ContentCal did not allow users to edit their social media posts according to the channels they targeted? Like shortening the copy of a Facebook post for Twitter, or adding hashtags for Instagram from the same post editor.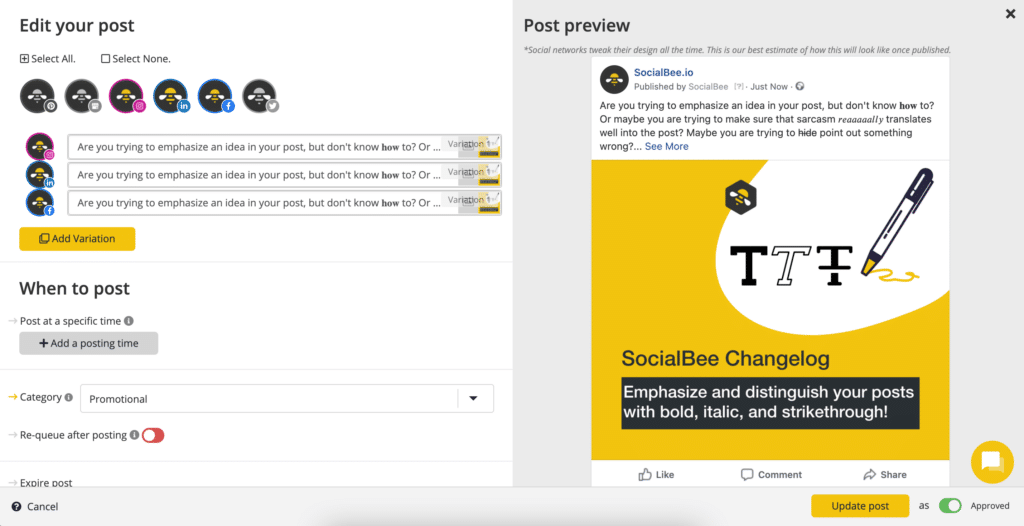 Customize your content according to the requirements of each social media channel with SocialBee.
Start our 14-day free trial now!
SocialBee to the rescue! Our post variations feature allow small business owners and creators to tailor your content for each channel from the same post editor. Add or remove hashtags, write a longer copy, and adjust the size of your visuals without even opening a second tab.
Looking for a Top-Rated ContentCal Alternative? Try SocialBee!
Create posts, publish, analyze, engage and collaborate, all from SocialBee.
SocialBee: Adobe Express Alternative
Now, it's only fitting that we also take a critical look at what makes SocialBee better when compared to Adobe Express. If you wish to efficiently promote your products and services online, you should buckle up your seatbelts because this will be a long trip.
Here are the features SocialBee has over Adobe Express:
AI social media post generation

RSS feed posting

Multiple integrations

Advanced social media analytics

Team collaboration features

Multiple workspaces

Multiple social channels supported

Bulk editor

Content categories

Evergreen post reuse

Post variations
AI Social Media Post Generation
As mentioned in the ContentCal section of the article, Adobe Express also lacks an AI feature to help you generate social media posts as quickly as possible. SocialBee can help you streamline your day to day work with its AI post assistant.
RSS Feed Posting
Similarly to ContentCal, Adobe Express also lacks RSS feed posting. On the other hand, SocialBee allows you to schedule countless RSS posts and keep your social feeds as fresh as possible.
Multiple Integrations
Unlike Adobe Express, SocialBee has plenty of integrations that are guaranteed to help small business owners, entrepreneurs, and creators on a daily basis. 
For quick content creation, make sure to work with our Canva, Unsplash, and GIPHY integrations. We also offer a powerful Zapier integration to help you automate your social media workflow and project management. Finally, our URL shorteners will give your posts a neat look.
Advanced Social Media Analytics
How can you manage and improve your social media strategy without analytics? It would be something similar to an explorer trying to find their way without a map. 
Social media analytics will always show you the right way to go. Sadly, creators, agencies, and businesses won't be able to leverage insightful data from Adobe Express. Luckily, SocialBee is the perfect alternative.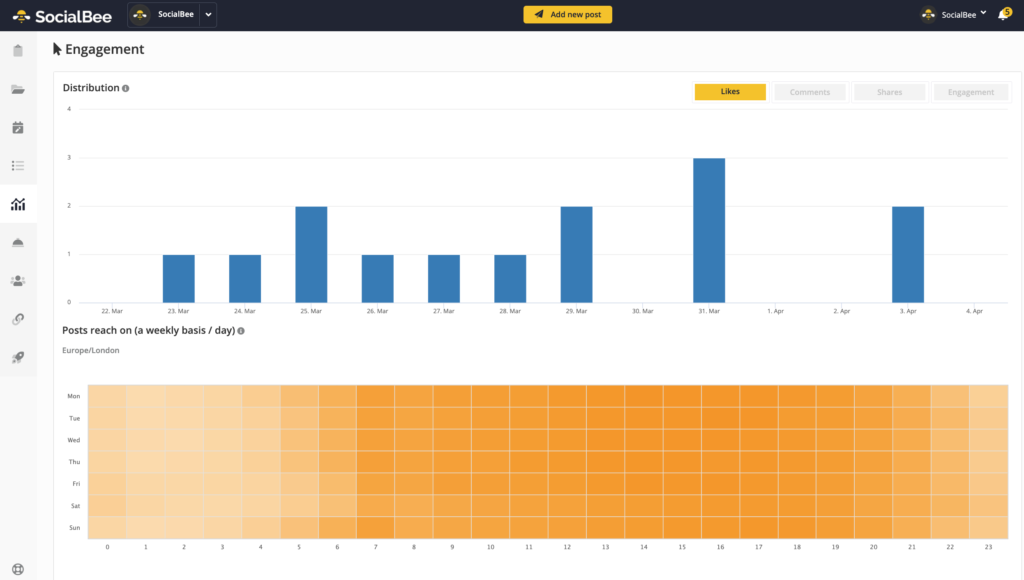 Track the engagement levels your social media posts are generating directly from SocialBee.
Start our 14-day free trial today!
Here's what you can track with SocialBee:
Engagement & Reach

– By monitoring your content's performance, you can pinpoint which of your social media posts have resonated the most with your audience, allowing you to optimize the potential outreach of your upcoming

posts

based on past success.

Audience Growth

– Keep tabs on your social media progress by monitoring your follower count fluctuations during a specific period and by taking note of the demographic details about your audience.

Post History

– What works and what doesn't? With SocialBee, you can keep an eye on your top three post types and categories. By regularly doing this, you'll be able to get a clearer picture of what your followers expect from you.

Customizable Analytics Reports – 

Show your clients that their accounts are making progress with SocialBee's customizable analytics reports. Our neat PDF reports are certain to make a great impression. Make sure to upload your/your client's logo and export profile analytics, post analytics, or insights.
Team Collaboration Features
Adobe Express admitted that it is not geared toward seasoned marketers. Businesses and agencies will always need robust team collaboration features to streamline their internal processes and boost their social marketing efforts. Guess what? SocialBee's got them.
Use valuable team collaboration functionalities, such as content approval with SocialBee.
Start our 14-day free trial now!
Our internal notes feature guarantees that you always hear from your team members and implement feedback points as needed. Furthermore, our content approval feature will ensure that no post will get published without being reviewed accordingly by whoever's in charge. Teamwork makes the dream work!
Multiple Workspaces
Agencies will surely appreciate this next feature. You're probably aware of how confusing it can be to switch between clients without having an all-in-one solution. Compared to Adobe Express, SocialBee lets you create as many workspaces as you like.
It's finally time to manage all your clients from one place. With SocialBee, you can easily switch between workspaces and even invite users to join them. Assign various roles to each user you invite, such as Owner, Manager, Publisher, or Contributor, and watch your processes become a piece of cake.
Multiple Social Channels Supported
Adobe Express only supports scheduling to Instagram, Facebook, Twitter, Pinterest, and LinkedIn. 
The good news? With SocialBee, you can schedule posts and automatically publish them on all the major social media channels such as Facebook, Twitter, Instagram, LinkedIn, Pinterest, Google Business Profiles, TikTok, and YouTube.
Bulk Editor
Same as with ContentCal, Adobe Express fails to offer its users a bulk editing feature. 
Achieve organization by taking advantage of SocialBee's user-friendly bulk editor, which allows you to approve, delete, draft, or transfer numerous posts to another content category, all at once, saving you valuable time.
Content Categories
Another thing ContentCal and Adobe Express have in common is that they both lack content categories. 
With SocialBee, organizing content into social media themes becomes easier than ever before for those who are creating digital businesses.
Evergreen Post Reuse
Evergreen posts are a unique form of content that remains relevant and never goes out of style, even as time passes and new trends emerge. 
These timeless posts typically revolve around topics like brand history, philosophy, client testimonials, and educational or informative content, making them a valuable addition to your followers' feeds. Unfortunately, Adobe Express does not provide evergreen recycling at the moment.
You need to find clever ways to promote your products and services online. Besides social media planning, SocialBee facilitates the creation, scheduling, sharing, and re-queueing of your evergreen content. 
You can generate a repository of evergreen content concepts and plan them in advance to ensure they are published at the most appropriate times.
Post Variations
Just like ContentCal, Adobe Express does not help its users create post variations according to the best practices of each core marketing channel. With SocialBee, your all-in-one social media management tool, you can now customize your posts quickly and with less effort.
SocialBee vs. Adobe Express & ContentCal: A Quick Comparative Look
Features

SocialBee

ContentCal

Adobe Express

Social Media Profiles

Post On

Facebook pages, groups, and profiles, Twitter, Instagram, LinkedIn, Pinterest, Google Business Profiles, TikTok, and YouTube

Instagram, Facebook, Twitter, Pinterest, and LinkedIn

Instagram, Facebook, Twitter, Pinterest, and LinkedIn

Import Content

CSV Upload

✅

❌

❌

RSS Feeds

✅

❌

❌

Social Media Management

AI Content Generation

✅

❌

❌

Content Scheduling

✅

✅

✅

Bulk Scheduling

✅

❌

❌

Content Publishing

✅

✅

✅

Evergreen Posting

✅

❌

❌

List View

✅

✅

❌

Social Media Calendar

✅

✅

✅

Social Media Inbox

✅

❌

❌

Content Categories

✅

❌

❌

Hashtag Collections

✅

✅

❌

Hashtag Generator

✅

❌

❌

Team Collaboration

Client Workspaces

✅

✅

❌

Content Approval

✅

✅

❌

Analytics

Social Media Analytics

✅

✅

❌

Analytics On Schedule Set Up

✅

❌

❌

Content Category Analytics

✅

❌

❌

Export PDF Reports

✅

✅

❌

Integrations

Canva Integration

✅

❌

❌

Unsplash Integration

✅

❌

❌

GIPHY Integration

✅

❌

❌

Multiple Shortlink Tools

✅

❌

❌

Pocket Integration

✅

❌

❌

QUUU Content Curation

✅

❌

❌

Customer Support

Help Documentation

✅

✅

✅

Email Support

✅

❌

❌

Chat Support

✅

❌

❌

Support Calls

✅

❌

❌

UTM Customization

Category Based UTM Settings

✅

❌

❌

Custom URL and Tracking

✅

❌

❌

Additional Tools

Mobile App

✅

✅

✅

Chrome Extenstion

✅

✅

✅

Additional Services

Concierge Services

✅

❌

❌

Migration / Onboarding

✅

❌

❌

Pricing Plans

Monthly Plans

✅

✅

✅

Yearly Plans

✅

✅

✅
Frequently Asked Questions
Improve Your Social Media Marketing Strategy with SocialBee
Right now, the world is taking its attention away from ContentCal while looking for a suitable alternative. If you're in a similar situation, SocialBee is here to help you with this uncomfortable transition and help you schedule posts more efficiently than ever before.
Start managing your entire social media strategy from one user-friendly dashboard and access advanced features that will significantly improve both your workflow and content performance. 
The best news? SocialBee offers a 14-day free trial you can use to put the platform to the test and see if it lives up to your expectations!
Make the Switch from ContentCal to SocialBee!
Create posts, publish, analyze, engage and collaborate, all from SocialBee.