Social media now plays a crucial role in our everyday lives by allowing us to communicate with individuals around the globe and access an unending supply of information, therefore, it's important to be aware of the differences between social media platforms.
It might be difficult to decide which platform is ideal for you and your individual needs, though, because there are so many different options available. Every platform has its own advantages and disadvantages.
In this article, we will explore the key differences between popular social media platforms, such as Facebook, Twitter, LinkedIn, and Instagram, and how these differences can impact the success of your online content.
Free Social Media Marketing Plan Guide
Download the guide to learn how to put together a social media marketing plan for your business. 
Understanding the Top Social Media Platforms for Business
Everyone needs a comprehensive overview of the most popular social media platforms available today. Whether you manage a personal or business account, we will provide you with the necessary information to make informed decisions when it comes to using social media platforms.
Let's learn more about the four main social media platforms:
Facebook
Twitter
LinkedIn
Instagram
1. Understanding Facebook 
Facebook is one of the largest and most widely used social media platforms in the world. With over 2.9 billion monthly active users, Facebook provides a unique opportunity for individuals and businesses to connect with a large and diverse audience.
Facebook offers personal users a means to interact with others, find and share great material, and stay in touch with friends and family. It represents a place for companies to develop their brands, interact with customers, and advertise their goods and events.
Posting on Facebook requires a different strategy than other social media sites. It's crucial to keep the target audience in mind and offer context for each post if you choose to post on Facebook. Including a link or more details in your posts might help Facebook users interact with the article and visit your website or landing pages.
What Makes Facebook Unique?
There are several ways in which Facebook differs from other social media platforms:
Age Demographic

: Facebook's demographics are broader than those of Instagram and Snapchat, which are more popular with younger users.

Networking:

Initially created to link friends and classmates, Facebook has subsequently transformed into a tool for professional networking and building personal brands.

Advertising

: Facebook has a very sophisticated advertising infrastructure that makes it simpler for companies to target particular groups.

Integration: Facebook has incorporated tools like Groups and Marketplace, which let users join interest-based communities and buy and sell products, respectively.

Algorithm:

Facebook bases the material that appears in each user's news feed on their interests and interactions with particular sorts of content using a sophisticated algorithm.

Data privacy

: In response to criticism about how it handles user data, Facebook has put additional privacy safeguards in place.
2. Understanding Twitter
Twitter is a microblogging social media platform that enables users to communicate with their followers by sending them quick messages, or tweets. With its 280-character limit, Twitter is unique in that it forces users to be concise and creative with their messaging. Or pay for the Twitter Blue subscription, which allows you to go up to 4000 characters.
Twitter is frequently used to share links and promote content, and users regularly utilize relevant hashtags to increase the visibility of their tweets. Twitter is a particularly in-the-moment tool since users use it to comment on breaking news and express their ideas and opinions.
It's critical to comprehend your audience and the context of your message before posting on Twitter. As your followers might not be familiar with the topic matter, just copying and pasting headlines or titles might not be sufficient to captivate other Twitter users. To increase engagement and attention, provide more context and make the content relevant to your audience.
And to measure the success of your social media strategy, you can use SocialBee analytics. With SocialBee, you can track your engagement rates, monitor your audience demographics, and identify the best times to post. By understanding the impact of your content and making adjustments accordingly, you can improve your social media performance and reach your desired outcomes.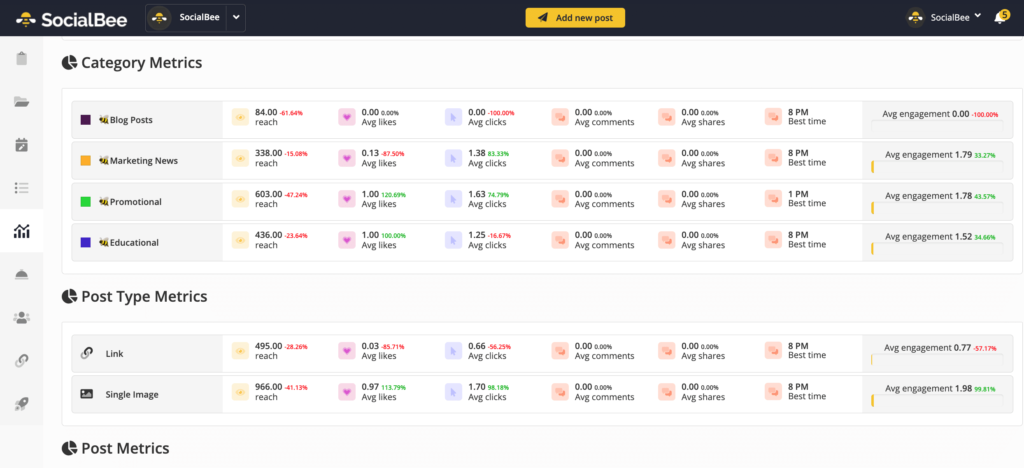 If you want to get familiar with the metrics of various types of content on your social media platforms, you can use SocialBee's monitoring feature.
Start Monitoring Your Social Media Analytics with SocialBee!
What Makes Twitter Unique?
Twitter is a social networking and microblogging site that differs from others like Facebook, Instagram, and LinkedIn in a number of important ways. 
Here are some of the key differences:
Character Limit:

Twitter has a 280-character character restriction, making it a rapid and succinct method to exchange information. This distinguishes it from other websites like Facebook, which has no character restriction.

Hashtags

:  Hashtags are used to label and organize material, and Twitter was one of the first social media sites to make them widely adopted. This has developed into a distinctive feature of Twitter that many other social media sites have later embraced.

Real-time updates

: Tweets on Twitter are shown in reverse chronological order and are noted for their real-time updates. As a result, it serves as a handy tool for keeping up with news and events as they happen.

Public conversations

:  Public chats have a long history on Twitter, where users frequently tweet and retweet one another to start discussions and disputes. This distinguishes it from social media sites like Facebook, which put more of an emphasis on closed networks and friend-only chats.
Overall, Twitter is a distinctive and dynamic medium for sharing information and engaging with people because to its character restriction, hashtags, real-time updates, public dialogues, and verified accounts.
3. Understanding LinkedIn 
LinkedIn is a professional social media site that was created primarily for job seekers, professionals searching for better employment possibilities, and people trying to network and market their skills and expertise. It gives them a digital identity so they may network with others in their field and enhance their careers.
The platform allows users to create a profile, which acts as an online resume, highlighting their work experience, skills, projects, and other relevant information. Writing effective copy for the profile is crucial in making a good impression and attracting potential job offers, connections, and clients.
Companies can use LinkedIn as a formidable lead generation tool and to establish connections with new clients. Companies may utilize LinkedIn to publish thought leadership material, advertise their goods and services, and interact professionally with their target market. Businesses may benefit from this to increase leads and sales, demonstrate their expertise, and increase brand recognition.
What Makes LinkedIn Unique?
LinkedIn is a platform for business networking that varies from other social media platforms in a number of respects, including:
Business connections

: LinkedIn is made for establishing contacts in the business world. Users may join organizations relating to their field as well as connect with coworkers, clients, and business partners.

Recruitment and job searching:

LinkedIn is a well-liked website for both recruiters and job seekers. While job searchers may look for possibilities and interact with recruiters, employers can post job vacancies and look for possible prospects.

Professional content:

The information posted on LinkedIn is geared toward professional subjects such thought leadership, business news, and career guidance.

Features geared toward business:

LinkedIn includes a number of tools for companies, including the opportunity to set up a corporate page, post job vacancies, and connect with niche markets.
Overall, LinkedIn stands out from other social networking platforms because to its professional emphasis and business-oriented features, making it a useful resource for people and organizations trying to network and progress their careers.
4. Understanding Instagram 
Instagram is a social media app that enables users to share and showcase their images and videos with friends, followers, and the world.  
Instagram has grown to be one of the most widely used social media platforms in the world because to its emphasis on visual content and user-friendliness. The app is perfect for collecting and sharing content while on the go because it was created especially for mobile devices.
Instagram provides users with the ability to add captions, enhance photos with filters, and engage with others through likes, comments, and direct messages. You only need to download the app, start posting shots, and begin searching for content that interests you thanks to its straightforward layout. 
The standalone app's algorithm can also recommend material based on your potential interests or those of your followers and friends. This makes it easy to find and connect with people and organizations you are interested in.
Instagram Stories and Instagram Reels are some of the platform's most well-liked features. Instagram Stories, a tool similar to Snapchat that enables users to create photo and video sequences that vanish after 24 hours, has over 400 million daily users. Instagram Reels, on the other hand, allow users to share short form video content and popular sounds with their networks.
What Makes Instagram Unique?
There are various ways that Instagram differs from other social media sites, including:
Visual focus

:Instagram has a strong visual emphasis, placing a big emphasis on pictures and videos of a very high caliber. This distinguishes it from text-based sites like Twitter.

Filters and editing tools

: Instagram offers a variety of filters and editing tools that users may use to improve the appearance of their photographs and videos. Users may easily generate aesthetically appealing material because of this, even if they lack expert photography abilities.

Influencer culture:

Instagram has a vibrant culture of influencers who use the site to advertise goods and develop their own brands. Businesses now have a special chance to connect with customers through focused marketing initiatives.
Overall, Instagram stands out from other social networking networks because of its visual focus, editing capabilities, influencer culture, connectivity with other applications, and distinctive features like Stories and Reels. This makes it a popular choice for both personal and professional use.
How to Write Copy: Social Media Platform Comparison
Now you know a bit more about the top social media platforms for business. From now on, each time you write a copy for social media, you'll need to understand the differences between each platform and adapt your content accordingly.
When posting to social media, remember these digital marketing tips:  
Create relevant, interesting, valuable, and easy-to-read stuff that people want to share every day.
Get familiar with all the best social media platforms.
Understand how and why people use each social network differently.
Adjust your approach for each social media network when you post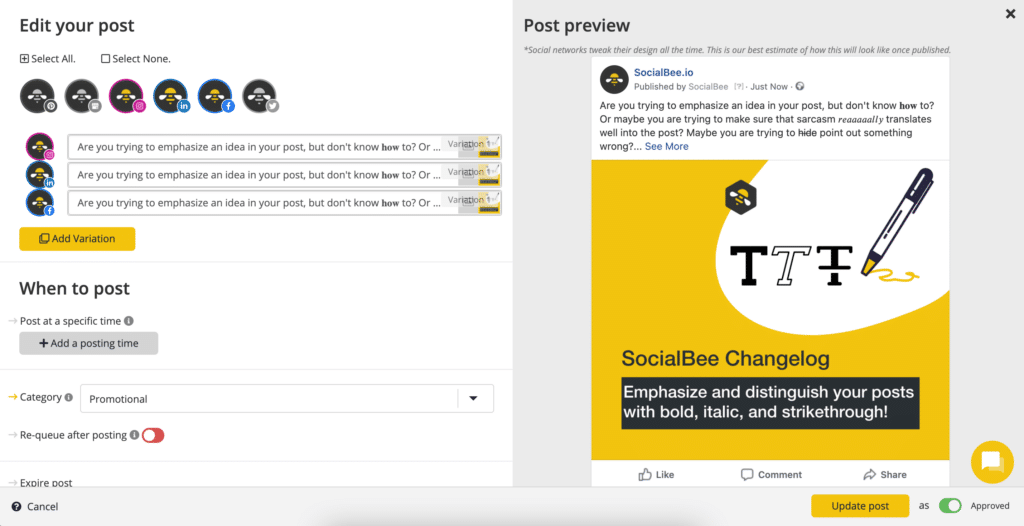 With SocialBee, you can customize simultaneously your social media posts for each social media platform.
Customize Your Social Media Posts with SocialBee!
Writing effective social copy can be challenging, sometimes even for experienced digital marketing experts. But as always, there are some smart tips and strategies that can help you write great copy on your different social platforms and boost engagement.
When it comes to various types of copywriting, here is our social media platform comparison:
Writing copy for Facebook
Writing copy for Twitter
Writing copy for LinkedIn
Writing copy for Instagram
1. Writing Copy for Facebook
Facebook is an amazing platform to share photos and videos, but it's especially great for promoting external own content like blog posts, reports, or YouTube videos. However, simply posting a link without a description is not OK. It's always best to add a brief, attention-grabbing copy that shows what the content you are sharing is all about.
You could also create a copy in the form of a question. A question that would obviously get answers from the blog or event you are sharing. Also, with Facebook, an excellent approach is to write copy that starts a conversation.
Here's how to improve your Facebook engagement::
Create a poll and include your followers in one of your decision-making processes
Ask questions like "What are you most excited about …. ?" (fill in with whatever you want to target with your specific post).
Try different post lengths to see what works best with your audience.
Here are some post ideas for effective Facebook copywriting:
Engage your audience with questions

Share news and updates
Keep followers informed about upcoming events
Highlight important information
Consider using a teaser copy
Use a snippet from the content you are promoting
Highlight a noteworthy fact or statistics
Offer a sneak peek or spoiler
Here is an example of Facebook post encouraging people to take action by commenting: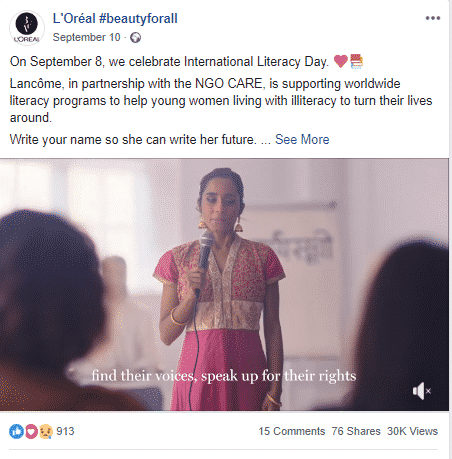 2. Writing Copy for Twitter
When you're composing copy for tweets, hashtags are a great way to express and summarize what your message is all about.
Here's how your approach could be:
Include yourself in the conversation by tweeting well-known, interesting memes.
Comment on the right hashtags in a way that's relevant to your post. However, try to limit your hashtags to one or two – as these tweets have a 21% higher engagement rate than those with three or more hashtags.
Connect with your reader on the emotion behind your post.
Note: Although tweets come with a maximum of 280 characters (or 4000, for the Twitter Blue subscribers), the ideal length for a tweet is actually around 120-130 characters. As it turns out, tweets with this length show the highest click-through rate (CTR).
However, even if your tweet is a little (or a lot) longer (or shorter) than 120-130 characters, if it's relevant enough, it will get a lot of engagement regardless of its length.
Look at the examples of tweets below:
3. Writing Copy for LinkedIn
On LinkedIn, you can share longer, more thoughtful content than on other social platforms. LinkedIn is great for polished, professional content that you can also pair with longer captions that tell a story.
Here is a good example of LinkedIn post to share on the popular social media network:
Optimizing your LinkedIn business profile is another important thing to include in your LinkedIn marketing strategy. Why? Because based on specific parts of your profile, users access and find your content easier. The tips are a bit different for personal pages and company pages, so let's dig deeper.
A. Building a LinkedIn Company Profile
Creating a compelling company profile on LinkedIn is a critical aspect of establishing a strong online presence for your business. A well-crafted LinkedIn profile can help you connect with potential customers, partners, and employees, as well as showcase your brand to a wider audience.
Here are tips for creating a compelling company profile on LinkedIn:
Clearly state the company mission and values in the About section.
Include a professional profile picture and cover photo.
Highlight the company's products and services in detail.
Showcase the company's success and achievements through testimonials and case studies.
Share company updates and industry news on the feed.
Engage with followers by responding to comments and messages.
Collaborate with employees, customers, and partners by creating and joining groups.
Utilize multimedia such as videos, images, and infographics to make your profile visually appealing.
Optimize your profile with relevant keywords for improved search visibility.
Regularly update the profile to keep it current and reflective of the company's latest developments.
B. Building a LinkedIn Personal Profile
Having a strong LinkedIn profile is essential for personal and professional growth in today's digital world. Your profile serves as a digital representation of your skills, experience, and accomplishments, making it a valuable tool for networking, job searching, and personal branding.
Here are our tips on how to build a successful personal LinkedIn profile:
Provide comprehensive information during sign-up for easier visibility.
Make your personal headline clear and descriptive.
Highlight your significant job responsibilities in your summary.
Keep your summary brief and concise, using three bullet points.
Incorporate relevant keywords in your job description.
Avoid using excessive text, as it may not be read by other LinkedIn users.
So, even if this has to do with your LinkedIn profile, you need to use your copywriting, editing, and summarizing skills and deliver a clear readable, and descriptive copy about yourself and your experience. It's good practice. 
Here is an example of a great LinkedIn profile:
4. Writing Copy for Instagram
A picture is worth a thousand words. So not many more extra "real" words are needed on Instagram. Being brief is key on this social platform. Your photos should simply speak for themselves, so choose them wisely.
And then there are the hashtags. How many hashtags should be used on Instagram? Well, opinions differ among experts. But… it seems that the ideal number of hashtags for Instagram captions is between 5-10. However, it isn't always the case. So, you can't really know exactly how many hashtags work best for you until you test it.
Key: Give yourself some flexibility for trial and error and keep hashtags close to the interests of your brand – be specific.
Instagram is mostly a platform for sharing photos and videos, therefore the main focus should be on your visual content. But, it's great and even helpful to provide context that allows users to know what they're actually viewing.
Here is an Instagram post example:
Captions need to be brief. Although Instagram doesn't specify what's the maximum number of caption characters, your caption will be cut off after the first three lines.
So, it's recommended not to write more than 125 characters. If you are writing longer-form captions, make sure to include the most important information first. Try out different numbers of hashtags to use until you find the magic number that works for you.
Get Access to a Pack of 30 Free Instagram Story Templates
Get access to a collection of free and editable Instagram Story templates and start creating more content in less time.
Frequently Asked Questions (FAQ)
1. How Are Social Media Platforms Different from One Another?
Different social media platforms have different user demographics, features, content formats, and privacy regulations. For instance, Facebook is more focused on personal and professional networking, Instagram is largely for sharing images and brief videos, Twitter is for real-time updates and quick communications, and LinkedIn is mostly for professional networking and job searches.
It is crucial for users to comprehend the difference between social media platform and select the platform that best meets their demands because each platform has its own distinctive features and user experience.
2. What Makes a Social Media Platform Unique?
A social media platform is seen as unique because of its particular features, key users, and overall user experience. 
A social media platform may be distinctive for a variety of reasons, such as:
Content format: The form in which content, such as text, images, videos, etc., can be exchanged on a platform.
Social media users demographics: A platform's monthly active users base's age range, hobbies, and overall use of the platform.
Functionalities: A platform's particular capabilities, such as e-commerce choices, live broadcasting, and private chat.
Privacy policies: Users' amount of control over their personal data and the public display of their postings is determined by privacy rules.
User experience: The platform's general layout, usability, and navigation.
Each social media platform has a special blend of these elements that distinguishes it from the competition and draws in various user types.
3. What Are the Main Differences Between Facebook and Instagram?
Instagram and Facebook are both popular social media platforms owned by the Meta Suite.
The two social media sites do differ in a number of ways, though:
Target demographics: Facebook's target audience is more diversified, with a greater variety of ages among its users. Instagram's user base is younger than other social media platforms, with a larger percentage of monthly active users under the age of 35.
Content format: Instagram is essentially a visual platform with a concentration on sharing pictures and short videos as content. Facebook also supports text content, as well as sharing links.
Main functionalities: Both platforms are used to share photo and video content, for live video streams, and for instant messaging. However, with tools like filters, editing tools, and a more simplified interface, Instagram places a higher focus on aesthetics and creativity. Facebook provides a larger range of features, such as groups, the separate Facebook Messenger app, and an online marketplace.
Privacy policies: Instagram has a reputation for being more privacy-friendly than Facebook, which has faced criticism for how it handles user data.

Social media advertising: With a greater selection of targeting choices and advanced measurement capabilities, Facebook's advertising platform is more developed than other social media platforms. Instagram has a smaller selection of advertising possibilities and is more concerned with producing aesthetically attractive content.
Overall, while both platforms share some similarities, they cater to different user needs and preferences.
Integrate All Social Media Platforms in Your Social Media Strategy!
Social media platforms are diverse in their offerings and target audience. Each platform has its own unique features, strengths, and weaknesses, making them suitable for different purposes.
Whether you're looking to connect with friends, promote your brand, or share your content with the world, there is a social media platform that will meet your needs. 
While you might have chosen the right platform for you, we recommend you to have an active social media presence on multiple platforms, so possible clients can find you easier on all top social media platforms for business.
And worry not, managing multiple personal or business profiles is a matter of clicks with SocialBee: you can create, edit, and schedule your best social media content on all social media platforms. Start your 14-day free trial now!
Share Your Best Social Media Content with SocialBee!