If you're looking for an effortless way to create high-performing content, SocialBee's AI post generator is the perfect solution.
Staring at a blank screen is not a good use of your time—this is a struggle every social media creator knows too well. Fortunately, writer's block is becoming less of a problem since artificial intelligence has become accessible to businesses and creators worldwide.
In this article, we'll discuss why you should use SocialBee's AI post generator and showcase some examples of what it can create for you. 
Read on to learn more about how you can take your social media presence to the next level!
1000 AI Prompts for Social Media Post Generation
Access the full list of AI prompt ideas and start creating content effortlessly.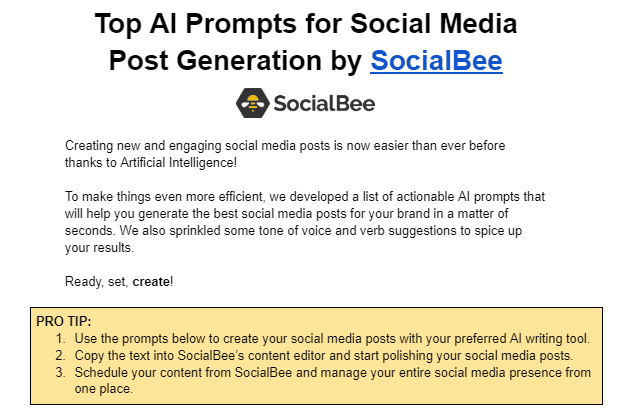 What Is SocialBee?
SocialBee is an AI-powered social media management tool that allows you to create, schedule, and publish social media content on Facebook, Instagram, Twitter, LinkedIn, Pinterest, Google Business Profiles, YouTube, and TikTok.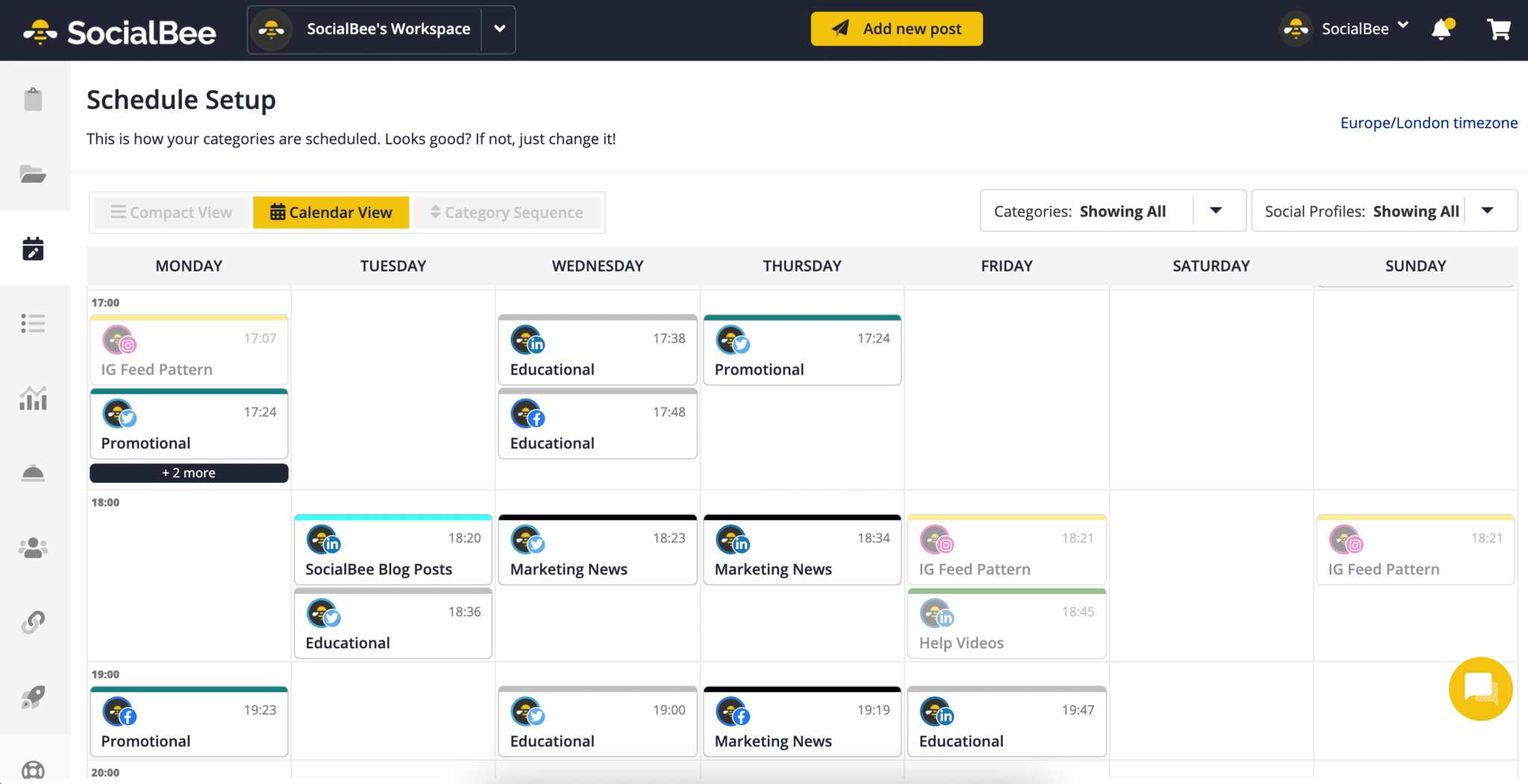 Manage all your social media accounts from one user-friendly dashboard: SocialBee.
Start your 14-day free trial now!
With SocialBee, you can also automate their social media marketing efforts, get detailed analytics, and collaborate with team members—a great tool for anyone looking to streamline and boost their online presence.
Why Should You Use SocialBee's Free AI Social Media Post Generator
Unsure about whether you should start using social media content generators? 
Here's why you should consider creating social media posts with AI-powered copywriting tools:
Save time and money

Get more ideas for your social media content strategy

Eliminate writer's block
1. Save Time and Money
Small businesses often find it expensive to hire a social media manager or content creator. However, SocialBee's AI post generator can produce high-quality content at a lower cost and without requiring additional staff.
Moreover, using SocialBee's AI writer can save time and help you reach and interact with your followers, thereby increasing your brand awareness and creating a stronger presence across platforms.
2. Get More Ideas for Your Social Media Content Strategy
Out of social media content ideas? No problem.
SocialBee's AI post generator has an in-built collection of over 1K prompts guaranteed to spark your creativity and speed up the content creation process. Choose from a variety of prompts specifically created for specific social platforms, post types, and industries, customize them to your liking, and generate multiple posts with just a few clicks.
Moreover, you'll be able to also create your own prompts and ask SocialBee's AI content generator to brainstorm new content ideas that will keep you on a creative spree. 
3. Eliminate Writer's Block
SocialBee's AI post generator can help eliminate writer's block by providing inspiration and write engaging social posts in the blink of an eye.
If you're struggling to come up with new ideas or are experiencing writer's block, an AI tool will provide a fresh perspective and generate new content ideas. This could help you tailor your content for your target audience and eliminate the frustration of not knowing what to post.
What Can SocialBee's Free AI Social Post Generator Create For You?
You might be wondering about what SocialBee is capable of providing when it comes to AI content generation. Aside from elevating your social media posting, this all-in-one social media management platform is equipped with all it needs to generate captivating posts in a matter of seconds.
Here's what SocialBee's free AI social post generator can create for you:
Instagram captions

: Now it's easier than ever to generate

Instagram

captions. SocialBee's AI post generator helps you come up with witty photo captions, post ideas, and engaging copy for all your Instagram content needs—from promotional product descriptions to interactive polls.

Facebook posts

: Out of ideas for your upcoming

Facebook post

? Worry not, SocialBee's AI-powered writer provides you with freshly generated content that will help you write your next Facebook status or develop thought-provoking posts that spark conversations with your followers.

Tweets

:

Twitter

is a fast-paced platform where short-form content thrives the most. If you don't know how to write tweets, AI-powered post generators will help you write some that are concise, yet impactful. By recommending the most fitting length, tone, and hashtags, AI can help creators maximize their tweets' visibility and engagement potential.
LinkedIn posts

:

LinkedIn

is not the place to be silly. That is where SocialBee's AI prompts might come in handy. Tell the AI to promote your latest blog post, share some wisdom about building professional relationships, or make it write a post about preventing burnout that features trending LinkedIn hashtags. It's your call.
Google Business Profile content

: Most, if not all reputable businesses, own a Google Business Profile. SocialBee's AI post generator will help you write engaging social posts about your latest products and services or share your latest discount with the world.

Pinterest pin titles and descriptions: Coming up with different pin titles and descriptions can give most marketers headaches. So why not use SocialBee's AI tool to generate as many pin ideas, engaging title variations, product or service descriptions, and more in a matter of seconds. 
YouTube titles and descriptions

: One way YouTube videos bring in more viewers is through captivating titles. SocialBee's AI will come up with as many video titles as you need. It will also help you write compelling descriptions and even brainstorm video script ideas.

TikTok captions

: TikTok is a platform that thrives on creativity, humor, and diversity of ideas. AI-powered post generators like SocialBee can help you generate posts that are more likely to

go viral

on TikTok and reach a wider audience. AI can suggest trending challenges and hashtags, and create catchy captions that align with your niche.
How to Create Engaging Social Media Posts with SocialBee's AI Post Generator
Curious to see how you can use SocialBee's AI generator to maintain a consistent presence on social media? If so, you're in the right place at the right time.
Here is how to create engaging social media posts with SocialBee's AI generator:
Choose one of SocialBee's 1K+ AI Prompts

Customize the default prompt

Select the appropriate tone of voice for your brand

Choose the number of generated posts you need

Share your content on social media
1. Choose One of SocialBee's 1K+ AI Prompts
If you don't know how to utilize AI to create content, you'll be happy to learn that SocialBee provides you with 1K+ AI prompts that are guaranteed to streamline your social media marketing efforts.
With this social media content generator, you will be able to access prompts designed specifically for various social media platforms, industries, and post types. Furthermore, you can use the AI tool to summarize, edit, rewrite, explain, or expand whatever information you feed it.
Use SocialBee's AI prompt collection to generate content with ease and experiment with new ideas each time you post.
Start your 14-day free SocialBee trial today!
To start, select your desired category, such as LinkedIn prompts. You will then be able to browse through the existing prompts and see which one fits your needs.
2. Customize the Default Prompt
Sometimes, certain prompts might have the right idea while still lacking some essential details specific to your business. In this case, you will need to provide your AI with more details about your industry, product, or service to ensure the best results.
To customize the default prompt, you'll need to go to the "Your Prompt" box and edit the selected prompt accordingly. The trick is to be specific. The more details you provide, the better the AI can help you.
Here are some examples of customized prompts for LinkedIn:
Generate question ideas for a LinkedIn poll/quiz about the importance of supporting women in the workforce. Use a professional tone of voice.

Create a promotional LinkedIn post about the benefits of using my latest social listening software that gets people to create an account on my website. Use a friendly tone of voice.

Create a LinkedIn post promoting a podcast episode or interview about the importance of building a resilient marketing strategy. Use an educational tone of voice.
3. Select the Appropriate Tone of Voice for Your Brand
You should always be mindful of the tone of voice you use to generate social posts as it should reflect your brand's personality. In this case, SocialBee's AI tool makes it as easy as possible to be in control of this aspect.
Here are the tones of voice available on SocialBee's AI post generator:
Polite

Witty

Enthusiastic

Friendly

Informational

Funny
If you can't find your go-to tone of voice in this list, don't worry. You can mention your desired tone of voice directly in the prompt and the AI will take note of this important detail.
4. Choose the Number of Generated Posts You Need
Make sure that you also insert the exact number of generated social posts you need. To do this, type in the number in the "Posts to generate" box. You'll find it right under the "Tone of voice" section.
5. Share Your Engaging Content on Social Media
Once the content is generated, you'll certainly start to recognize the infinite creative power of a social media content generator. Found your favorite? Awesome! Now, it's time to post it to your desired social account.
Create social media posts in just a few clicks with SocialBee's AI post generator.
Start your 14-day free SocialBee trial today!
To make full use of your favorite AI caption result, create a SocialBee account, connect your social profiles, and publish your AI-generated social posts at the best times for optimal exposure.
Our 14-day free trial will give you a taste of what it feels like to finally be in control of your social media presence, so don't miss it!
SocialBee: Your AI-powered social media management tool
Create posts, publish, analyze, engage and collaborate, all from SocialBee.
What Extra Benefits Do You Get with a Paid SocialBee Account?
In case you are wondering why you should create a SocialBee account instead of using the free tool, we are here to tell you all about it. 
After all, you must want to learn how to leverage SocialBee to the fullest and get the most benefits, right?
Here are the extra benefits of a paid SocialBee account:
More content creation tools

Social media scheduling & publishing

In-depth social media analytics

Team collaboration features

Helpful integrations
A. More Content Creation Tools
Utilizing an AI tool that generates content immediately is a major help for your social media marketing strategy, but there is more to a successful content creation process than this.
Here are the content creation tools offered by SocialBee:
Edit and create different post variations for each social network

: With SocialBee, you can now customize your social posts for each channel you use. For example, you can create a post variation with hashtags for Instagram and another one with a smaller character count for Twitter.

Generate hashtag ideas

: Unsure about which

hashtags

to go for? SocialBee's in-built hashtag generator takes a quick look at the photo and description you're about to publish and automatically generates possible hashtags that might work for your post.

Use Canva directly from SocialBee

: Bold visuals and on-brand colors and fonts are a must when you're trying to market your products and services. Don't multitask, use SocialBee's

Canva integration

and create beautiful social posts in less time.

Organize your posts in content categories

: What happens if you mix up your memes and educational posts? To not have to deal with the confusion, simply sort your upcoming social posts into separate categories. You can also set a different posting schedule for each category in order to post content alternatively throughout the week. SocialBee helps you get organized and diversify your content strategy in no time. 
B. Social Media Scheduling & Publishing
Managing your social media accounts can be overwhelming, especially if you're a business owner who has multiple things going on at once.
While AI-powered social media content generators do most of the work for you, there are still other aspects of a social media strategy you need to deal with.
But with SocialBee, all of your social media tasks are taken care of. With a paid plan, you can generate posts in seconds while also taking advantage of scheduling and posting features that centralize all your social media marketing work on a single platform.
Schedule and share content across all your social media platforms from one place: SocialBee.
Start your 14-day free SocialBee trial today!
By utilizing SocialBee to schedule posts ahead of time, you will be able to guarantee that the right kind of content gets shared at the best times. With planning and organization through SocialBee, there's no need to worry about creating new content last minute.
C. In-Depth Social Media Analytics
SocialBee is an all-in-one social media management tool for a very good reason – it helps you keep a close eye on your social channels' presence and performance.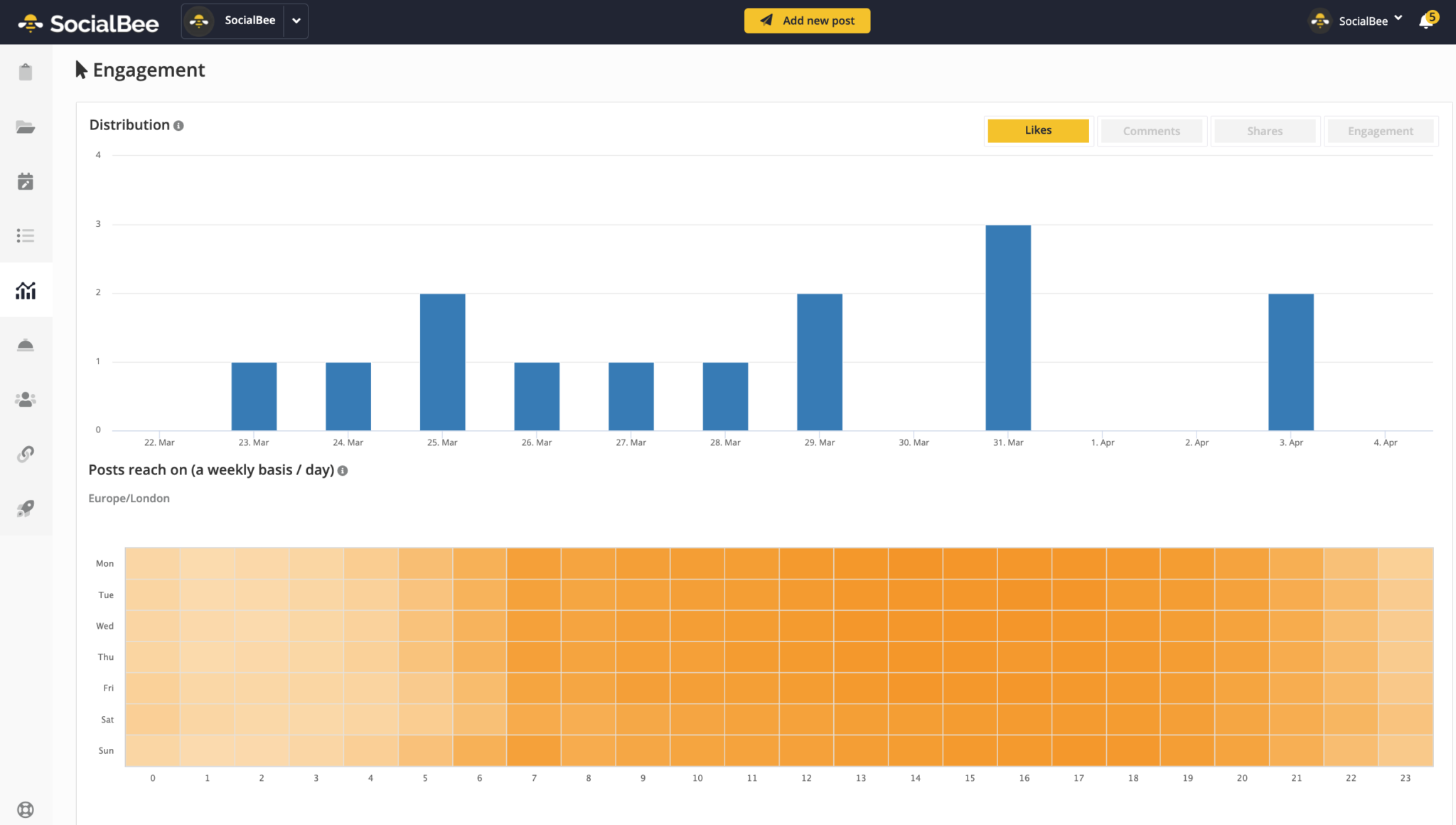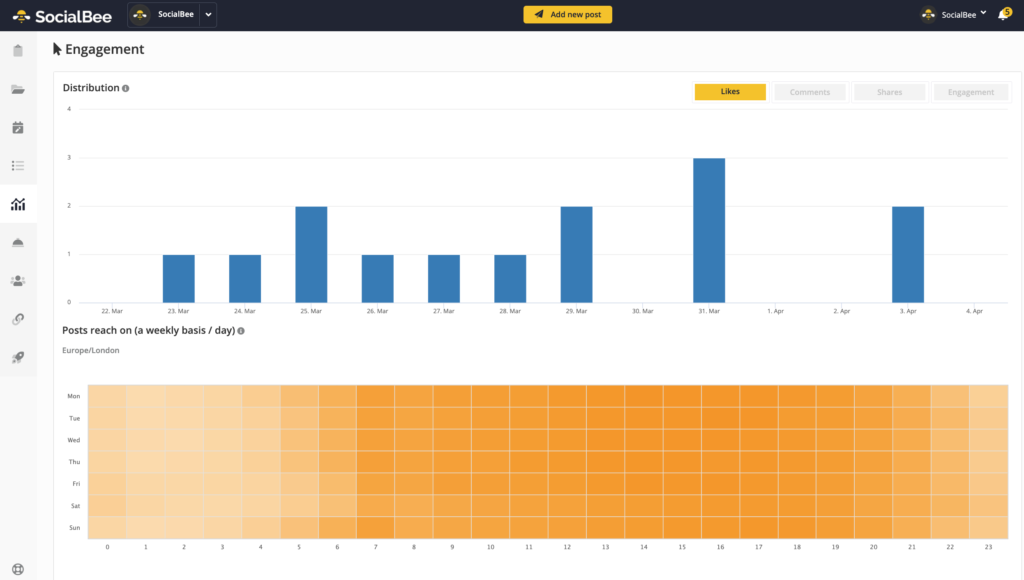 Track your post performance across all your social media accounts and improve your strategy in real-time.
Start your 14-day free SocialBee trial today!
Here are SocialBee's main social media analytics:
Demographics

: Find out more about your audience by taking a look at their demographics. This information will reveal their age, country, and language.

Page analytics & demographics

: Track the progress of your social accounts by keeping an eye on page growth, your total reach, average page engagement, and the number of followers either gained or lost. 

Post analytics

: With SocialBee's post analytics, you can learn more about your top three posts and top three post types. Take a look at your likes count data, monitor your reach and engagement, and craft your content accordingly.
D. Team Collaboration Features
SocialBee's team collaboration features allow managers to track progress in real-time, guaranteeing that deadlines are always being met with ease.
Utilize the full potential of content approval with SocialBee – invite users to your workspace, assign roles, leave comments under upcoming posts, and make sure you never miss a beat!
E. Helpful Integrations
With SocialBee, you can streamline your day-to-day work with the help of numerous integrations. 
Here are all of SocialBee's available integrations:
| | |
| --- | --- |
| Tool Types | SocialBee Integrations |
| Visual Tools | Canva, Unsplash, GIPHY |
| Content Curation Tools | Quuu, Pocket |
| URL Shorteners | Bitly, Switchy, RocketLink, BL.INK, Rebrandly, JotURL, Replug, PixelMe |
| Task Automation Software | Zapier |
| Content Publishers | Buffer, Hootsuite |
Examples of Engaging Social Posts Created with SocialBee
1. Promotional Social Media Posts
If your latest sale is just around the corner, some promotional post ideas should help you shape your next social media campaign.
We asked SocialBee's AI post generator to generate 10 engaging hooks for a social media post about a 40% cardigan sale. The results are diverse and will help you increase your sales.
2. Educational Social Media Posts
Writing detailed, step-by-step posts on social media might seem counterintuitive. In truth, it's becoming increasingly popular.
SocialBee's AI post generator was asked to write a how-to social media post about knitting and the first three-step result is simply on point. 
3. Fun Social Media Posts
Sometimes you have to let go of your regular social media agenda for a second and get silly. Here's how.
The AI was asked to write a riddle about a rabbit and a hat and it managed to put together some catchy verses that are guaranteed to put a smile on your followers' faces.
4. Inspirational Social Media Posts
Inspiration is one of the most valued topics on social media. If you don't know how to share a touching story, let AI write it for you.
As you can see, we asked SocialBee's AI post generator to create a post about a specific person. We gave it as many details as possible and its output turned out quite motivational.
5. Interactive Social Media Posts
Chances are that your followers love a challenge. How about some interactive posts?
With SocialBee's AI post generator, you can create quizzes that can help them choose your products according to their specific needs.
Frequently Asked Questions
Improve Your Social Media Marketing with SocialBee's Free AI Post Generator
Using SocialBee's free AI post generator is an effective way to generate high-quality posts that are perfectly tailored for your target audience.
The AI post generator can help you save time and finances by creating social media posts quickly, accurately, and cost-effectively. Additionally, you can create, schedule your upcoming content with the help of our content calendar, and automatically publish the content at the best times by creating a SocialBee account.
Try SocialBee's free 14-day trial and see how it can improve your social presence!
SocialBee: Your AI-powered social media management tool
Create posts, publish, analyze, engage and collaborate, all from SocialBee.