Are you a video advertising fanatic? So is everybody else! To put it briefly, it's the kind of marketing strategy you just can't ignore. Nothing beats a powerful ad that tells a visually compelling story about your products and services. 
If you want to persuade your customers to choose your brand over your competitors, learn how to create an effective video marketing strategy that will emphasize your unique selling proposition (USP).
Before you get into that, we'd love to show you how you can create mind-blowing video ads that will boost your sales and bring you closer to your target audience. 
Curious to find out more about the benefits of video advertising? Then keep on reading!
Free Social Media Marketing Plan Guide
Download the guide to learn how to put together a social media marketing plan for your business. 
The Benefits of Video Advertising
85% of social media users wish to see more video content from their favorite brands. This worldwide phenomenon shows no signs of slowing down. As a result, your next video ad should stand out for all the right reasons. 
Modern businesses and influencers want to learn how to go viral overnight and with the least amount of effort. The time has come for you to join them.
Here are the top three benefits of video advertising:
Boost conversions

Create evergreen video content

Target specific customer segments
1. Boost Conversions
A high conversion rate is what any marketer dreams of. Conversion is one of the most important key performance indicators (KPIs) you'll need to track during your video advertising adventure. 
Effective video ads are meant to take prospective customers further down your clever marketing funnel and generate sales.
The best video ads go beyond awareness. A high-converting video advertisement is supposed to put your brand on the map. Keep in mind that quality leads are your main priority since they're the ones willing to make substantial purchases.
2. Create Evergreen Video Content
What exactly is evergreen content? 
Imagine a video ad that stays fresh and relevant years after posting it. Your audience can't help but watch it repeatedly, each time with the same levels of interest. All in all, evergreen video content ages like fine wine and effortlessly generates leads.
Check out these evergreen video ideas:
Case studies

'About Us' videos
PRO TIP: Once you invest in video ad creation, you can reuse that content on all your social media channels. Videos are one of the most engaging post formats on social media, so make sure you don't let your ads go to waste—reshare them regularly to attract more customers.
With SocialBee, you can organize your videos in evergreen content categories that recycle your posts according to your schedule settings.
Manage Your Social Media Accounts with SocialBee!
3. Target Specific Customer Segments
Are you familiar with customer segmentation? If not, you're missing out big time. 
Video advertising reaches its peak efficiency when you start to create video ads specifically tailored for each of your customer segments. So first, decide whether the segment you have in mind is worth investing in or not.
Creating buyer personas is also an integral component of this process. Get a glimpse into the demographics and psychographics of your target audiences and meet them exactly where they are. Different customer segments have different needs, depending on how far they are on your marketing funnel. 
You should always create video ads for the social media channels most frequented by the customer segment you wish to target. 
How to Create Video Content that Enhances Your Online Advertising Strategy
Here's a piece of information worth considering ━ 50% of Internet users watch videos before making their purchase decisions. Why? Because an online video tells the story of a product or a brand in a quick, eye-catching, and ultimately memorable way.
We'll now get down to the nitty-gritty with our tips on how to create video ads that add value to your current advertising strategy. 
Here are the main points we'll be exploring:
Optimize your video ads for mobile devices

Create video content with your target audience in mind

Use video creation tools

Start strong and engage viewers for the entire ad

Keep your videos short

Customize your video ads for social media channels

Monitor the performance of your video advertisement
1. Optimize Your Video Ads for Mobile Devices
YouTube says that more than 70% of all video consumption is made via mobile devices. Video advertising is not an exception. Therefore, you'll need to optimize your video ads to match the size, length, and aesthetic of Facebook, Instagram, TikTok, and, of course, YouTube.
Here is how to create an effective video advertising strategy:
Keep it under 60 seconds

Make the first frame stand out

Add captions

Go vertical
Make our tips your top priority for your next video ad. Soon enough, you'll notice that mobile users will engage with your content much more than they used to. 
2. Create Video Content with Your Target Audience in Mind
Speak your target audience's language. What do they love to watch? What are their needs and desires? 
Keep your audience engaged by creating videos that mirror these psychographic details. Regularly check your analytics and don't be afraid to get creative.
With SocialBee, you can easily track your social media analytics, such as:
Audience demographics
Page growth
Post impressions, reach, likes, comments, shares
Best-performing posts and content types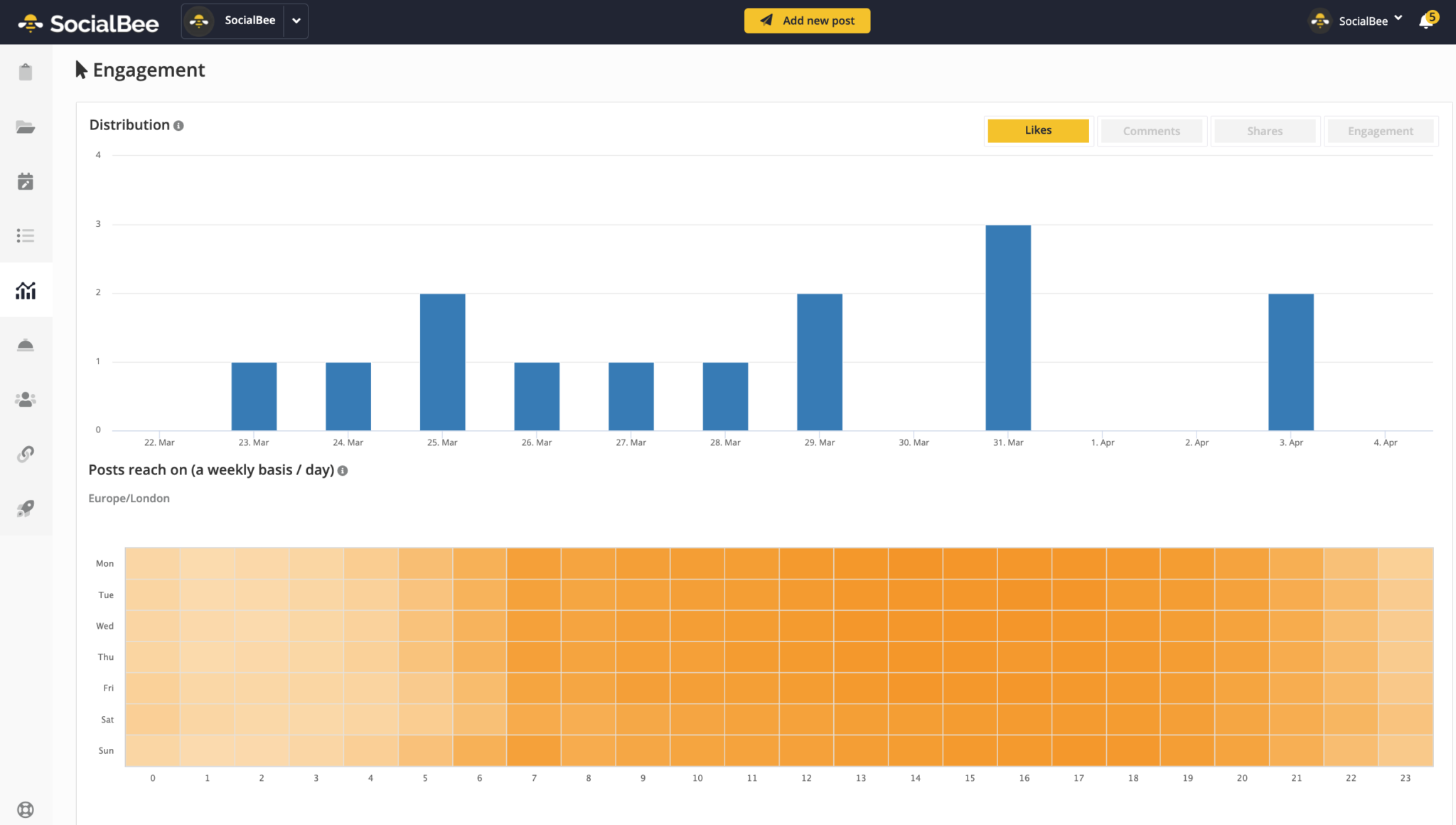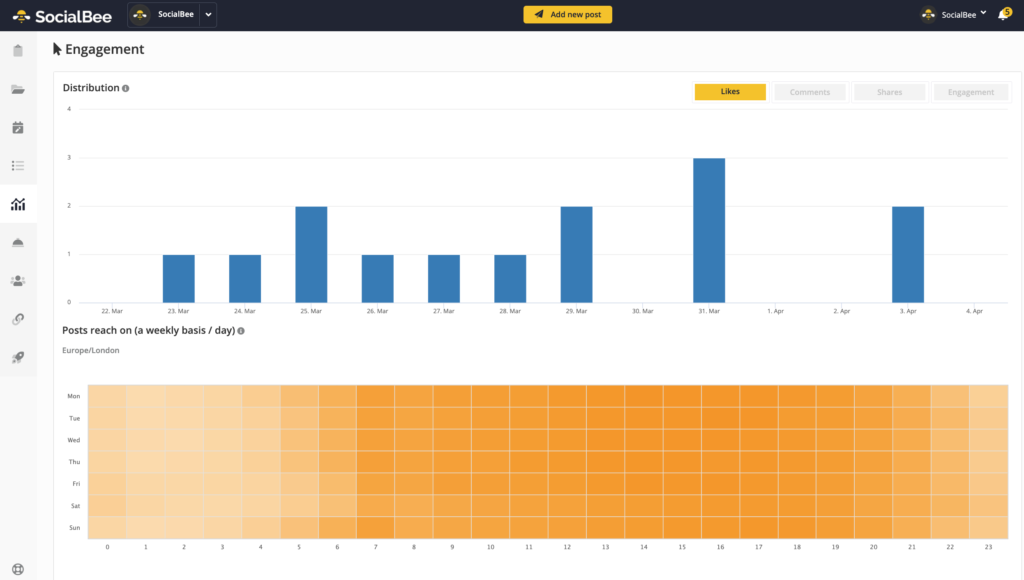 Let's also explore how you can engage each target audience:
Young following (15-25 years old): Humorous

TikTok video

ads that resonate with them

Millennials (26-41): Instagram Reels to tame their skepticism, such as behind-the-scenes videos

Older generation (45+): Facebook video ads to raise their interest
3. Use Video Creation Tools
Advertisers should pay close attention to the video creation tools they use. Not everyone can afford a video producer, right? A high-quality video ad will always have a higher chance of generating sales and an increased ROI.
These are our favorite video creation tools:
Canva
Canva's impressive selection of video templates, graphics, and captions will surely help you create that video ad you've been envisioning for the longest time.
To test the performance of your video ads before starting your campaign, make sure to see how they perform on social media first. To do this as effectively as possible, you can use SocialBee's Canva integration to create, import, and share video content on social media from the same dashboard.
Not only this, but you will also have the ability to track your video's performance from SocialBee. You will have access to post reach and engagement data that will inform your video advertising strategy.
Once you have a winner clip, you can go ahead and attach it to your paid campaign and watch the conversions pour in.
Create your social media videos with Canva directly from SocialBee and share them on social media with ease.
Start your 14-day free SocialBee trial today!
VideoScribe
Is your marketing strategy all about educating the target audience and bringing value to the table? If so, then VideoScribe could be the obvious option for you. Furthermore, if your brand identity relies on animations in order to convey a story, you'll be pleasantly surprised to discover this gem of a software.
What better way to stand out from the crowd than to create a fully animated video ad? With VideoScribe's 10K+ image library, you can rest assured that prospective customers will rush in like never before.
Vidico
Video production is what Vidico does, and they do it well. You can rest assured that you won't need any video experience when working with them as they'll be as hands-on as possible. 
Boasting an impressive portfolio of clients, Vidico can do both animation and live-action video ads for your brand. Also, if TV commercials are your thing, do give their brand video production services a try.
4. Start Strong and Engage Viewers for the Entire Ad
They say an image speaks louder than words ever will. Start off on the right foot with a striking visual that will convince audiences to reach the end of your video ad.
For example, here are three video ads that take advertising to an art form. Notice how all of them give the air of an artsy short film rather than just another ad that will most likely go unnoticed.
Here are some tips on how to start a video ad:
Make the first image pop
Use striking visuals and colors
Showcase an impressive statement
Use captions that hook the audience
Make your logo the centerpiece
5. Keep Your Videos Short
Most social media channels aim to adopt a video-first approach, similar to TikTok. Why? Because the attention span of most viewers has significantly decreased to 8.25 seconds. 
Advertisers will have to give the viewer precisely what they want and that is a thousand words rolled into a super concise video ad. 
Yes, audiences are only willing to watch advertisements that express a big idea in a very short time. Your video ads should follow the same rule.
6. Customize Your Video Ads for Social Media Channels
Marketers are probably well aware of how each social media channel has a different set of requirements.
Check out the requirements for some of the most popular social media channels:
Facebook

advises advertisers to use MP4, MOV, or GIF file types when uploading ads. As for the ratio, it should be at least 1080×1080.

Instagram, bite-sized Stories ads and Reels are currently generating the most ROI. As a piece of advice, Instagram advises marketers to create video ads with a mobile-first approach in mind. Organic content can also be utilized as a testing ground in terms of reach before launching a full-blown video ad. The best size to go for would be 1080×1920.
TikTok requires you to caption your videos, make them as short as possible, and add some trending background music alongside a compelling CTA. In-feed ads are perhaps the most popular. Also, TikTok offers marketers the chance to reach local audiences with Helo and Vigo. Similarly to Instagram, the ideal aspect ratio is 1080×1920.
YouTube advertising is perhaps the most obvious choice in this list. It uses Google data to deliver your video ad to all the right audiences. Furthermore, Google Ads helps you choose the right budget and determine the optimal bidding strategy for your precise needs. Are you focused on clicks, impressions, or conversions? In any case, YouTube ads persuaded 70% of viewers to purchase a product. Keep in mind that the aspect ratio should always be at least 1920×1080 (1080p) or higher.
7. Monitor the Performance of Your Video Advertisement
Spending big cash on ads can be nerve-wracking. Because of this, you should keep a very close eye on the performance of your video ad. From awareness, consideration, and finally, to action, YouTube helps you monitor the impact of your ads like no other.
Curious to see your Instagram ad analytics? If so, look out for the number of impressions your ad is generating. What are your Click-Through-Rate (CTR) and Cost-Per-Click (CPC) levels? Does the ROI surpass your ad investment? Is your Customer Acquisition Cost (CAC) at a minimum?
Given the tremendous popularity and ongoing expansion of this social media platform, it was only a matter of time before advertising would become a key component as well. TikTok ad campaigns are relatively accessible, with the TikTok Ads platform streamlining and enhancing the ad creation process, similar to how Google Ads or Meta Ads operates.
Effective Video Ad Examples
Effectiveness is key when looking to launch an impactful online video ad. Here are five ad examples that took search engines, social media channels, and users by surprise.
Amazon's 'Alexa's Body' ad campaign generated more than 78 million views on YouTube. Featuring actor Michael B. Jordan, the witty and oddly humorous ad is one of the best of 2021. Fashion retailer About You is teasing the launch of their Bella Hadid collection with a behind-the-scenes sneak peek. As for Lancôme, their La Vie Est Belle Instagram ads are totally evergreen.
Netflix proudly states that 'Fans make the movies' through their 2021 YouTube ad. The storyline follows a group of young film buffs from Lagos, Nigeria as they recreate iconic scenes from their favorite movies. This emotional clip goes hand in hand with the inclusivity embraced by the SaaS company. 
As for Disney+, their latest ad campaign on TikTok is an overwhelming collage of instantly recognizable movies and TV series. This is a prime example of how to successfully hype up audiences.
Types of Online Video Ad Formats
Ready to invest in online ads? Cool! Before you do, make sure that you are aware of the best video ad formats. That way, you'll choose the one that is best suited for ideal impact.
Here they are:
Skippable In-stream Ads – Viewers are shown the first 5 seconds of your ad and then have the liberty to press the Skip button. Known as TrueView ads, they improve both awareness and engagement levels.
Linear Video Ads – Similar to commercials we see on TV, linear video ads are shown before, during, or after the YouTube video.
Non-Skippable In-Stream Ads – Tell the story in full and convey your message without interruptions by choosing non-skippable ads that can run anywhere between 6 to 15 seconds.
In-Feed Video Ads – The user experience can be perfected with in-feed video ads. They are a classic example of native advertising that boosts brand awareness and brings traffic to your website.
Bumper Ads – The six-second video ads offer no skip option and are quick to increase your reach.
Outstream Ads – Articles can become much more engaging when outstream ads are being used. Since the play button is the most successful CTA in the world, these types of ads will drive online purchases and bring awareness to your brand.
Masthead Ads – YouTube's masthead ads are known as premium ads that maximize your reach and give people a huge incentive to visit your website.
Improve Your Marketing Strategy with Video Ads
Yes, video advertising is a pretty awesome marketing strategy. It boosts your conversion rate, speaks to multiple customer segments, and brings in significant ROI. 
Make sure to always keep your video ads nice and short, since people have little to no patience these days.
Did you know that you can post videos to your socials by just using a single social media management tool? SocialBee helps you schedule your posts according to best posting times and get organized with post categories. 
Our 14-day free SocialBee trial will take your marketing efforts to the next level. Ready to Bee social? 
Share Videos on Social Media with SocialBee!