The rapid evolution of the digital landscape has made AI content creation tools essential for businesses seeking to optimize their social media ROI.
These platforms range from social media post generators to translators, chatbots, and much more. So, in this blog post, we'll explore the top 10 AI content creation tools, businesses can use to enhance their social media marketing efforts and stay ahead of the curve.
From AI-powered copywriting to image and video creation, these tools can help you save time, streamline your content creation process, and deliver high-quality content that resonates with your target audience.
Did we ignite your curiosity? If so, let's dive in!
Discover 1K+ AI Social Media Prompt Ideas
Get access to the full list of AI social media prompt ideas and start creating more content with less effort.
How Does an AI Content Creation Tool Work?
AI content creation tools use natural language processing, machine learning, data analysis, and user feedback to generate high-quality and engaging content quickly with minimal effort. 
Natural language processing enables computers to understand human language, analyze text, and generate grammatically correct and contextually relevant content. Machine learning algorithms analyze vast amounts of data from existing content, identify patterns, and predict trends to generate new content. 
By combining these techniques, AI content creation tools can help businesses streamline their content creation process and generate high-quality content that resonates with their target audience.
How Can You Use AI Content Creators For Social Media?
AI tools can be a fantastic addition to your social media creation process if you wish to streamline your content marketing strategy efforts. 
Here are the best uses for AI content creators:
Brainstorming creative post ideas:

AI can use natural language processing and machine learning algorithms to analyze large amounts of data and identify patterns, trends, and themes that might be of interest to your target audience.

Coming up with quick replies:

AI can use previous replies you give it and analyze the sentiment of a message or comment to determine if it is positive, negative, or neutral. Based on this analysis, AI can generate responses that are professional and on-brand. 

Creating social media posts:

With AI writing tools, you can generate social media content that is relevant and engaging for your target audience.

Writing product descriptions:

By using product data, AI tools can create product descriptions that emphasize important features and benefits.

Producing videos and images: Need images or video content for your next social media posts or ad campaign? With artificial intelligence, you can now create brand-new videos and images from scratch.
Best Practices for Using AI Content Creation Tools
Before you give AI tools a try, you should learn more about how you can put them to good use, in a way that makes sense to your content strategy.
Here are the three best practices for using AI content creation tools:
Craft effective AI prompts for optimal results

Improve the AI's output for high-quality content

Test and refine the content produced by AI
1. Craft Effective AI Prompts for Optimal Results
Crafting effective AI prompts is essential to getting optimal results from an AI content creator. To get started, you'll need some prompt-related tips.
Here are some tips for crafting effective AI prompts:
Be specific: To improve the accuracy and relevance of the AI-generated content, it's recommended to use specific keywords that are directly related to your topic, rather than broad ones. Try your best to provide as much detail as possible in your prompt. 
Offer examples: Providing the AI content generator with specific examples of the content you are looking for can improve its comprehension of your needs, leading to more precise outcomes.
Provide context:

Always make sure to include context for the prompt, such as the target audience, the tone of voice, and the desired length. This will help the AI content creator generate content that is tailored to your needs.
2. Improve the AI's Output for High-Quality Content
Try to always edit and improve the AI-generated content to ensure that it's fact-checked, on-brand, and matches your standards of quality.
Although AI content generators can be time-saving, human writers and editors remain critical in maintaining the content's precision. Make sure to always rely on the expertise of your writers before relying on the information provided by the AI.
3. Test and Refine the AI-Produced Content
First, identify the quality criteria that you intend to use for assessing the content created by the AI, such as accuracy, readability, or engagement. 
Afterward, experiment with various approaches or settings to improve the AI's performance. For instance, you could explore different language models, input data, or output formats to determine the most effective combination.
10+ Best AI Tools for a More Seamless Content Creation Process
Without further ado, let's take a look at some of the most reliable and AI-powered content creation tools that are currently available, from text generators to translation software, we're certain that they'll be of help.
Here are the top 10+ best AI tools for a more seamless content creation process:
SocialBee

GrowthBar

Canva's Magic Write

Synthesia

DALL·E 2

Netomi

Drift

Google Translate

Smartcat

Murf.ai

NaturalReader
A. AI Text Generators
AI text generators refer to software programs that leverage artificial intelligence techniques such as natural language processing (NLP) and machine learning (ML) to create text that closely resembles human writing.
They are capable of generating various types of content such as articles, stories, product descriptions, and social media posts, among others.
SocialBee is a recommended solution for small businesses, solopreneurs, or agencies seeking to maximize their social media presence without spending too much time creating content and managing campaigns.
This AI-powered social media management platform is highly regarded for automating tedious tasks and aiding businesses in reaching their full potential on social media with minimal effort.
Boost your social media ROI with SocialBee's AI content creation tool.
Start Your 14-Day Free Trial Now!
Are you ready to unleash the power of SocialBee's AI content generator? Follow this simple guide to explore the platform's impressive features and streamline your social media marketing efforts!
Here is a step-by-step guide on how to use SocialBee's AI post generator:
Sign up and connect your social media channels:

First things first,

create a SocialBee account

and link all your social media channels to the platform. This will allow the app to automatically schedule and post content on your behalf.

Access the AI from the post creator:

Next up, click the "Add Post" button at the top of the screen. After you've selected your desired social channels, make sure to click on the "AI" button in the lower-right description box. Then, select "Generate captions". If you first need a photo for your upcoming social post, make sure to select "Generate images".

Customize 1K+ AI prompts:

With over 1K AI prompts available, SocialBee makes it easy to create engaging posts for various social media platforms and generate new content ideas. The more context you provide, the better the results.

Choose your brand's tone of voice:

SocialBee's AI tool offers a range of tones to match your brand's personality, from friendly and enthusiastic to witty and informative.

Select the word count:

Use SocialBee's free AI post generator to easily select the approximate number of words you need for your upcoming social media post.

Get hashtag and emoji suggestions:

Simplify your research process by simply activating the "Generate hashtags" and "Include emoji" buttons. The AI will suggest the most relevant and engaging options.

Set the number of posts:

Let SocialBee know how many post variations you need by inserting the exact number of social media posts you want to generate.

Schedule your AI-generated content:

Finally, schedule your content with SocialBee and monitor your performance from one centralized location.

Sign up for your 14-day free trial today

and see the magic of AI in action!
Pros: 
1K+ AI prompts

Quality content

Clean interface

Quick output

Unlimited generations

Social media management features
Cons: 
Designed only for short-form content
Pricing:
Bootstrap: $29/month or 290/year
Accelerate: $49/month or 490/year
Pro: $99/month or 990/year
Pro50:

$179/month or 1790/year

Pro100:

$329/month or 3290/year

Pro150:

$449/month or 4490/year
Speed Up Your Content Creation Process with SocialBee's AI Tool!
With GrowthBar's advanced generative AI and natural language processing (NLP) capabilities, you can write long-form content faster than ever before. The AI-powered keyword research tool combs through billions of keywords to find the most relevant ones for your content, ensuring that your blog posts are always optimized for search engines.
GrowthBar also offers AI writing for press releases, product descriptions, sales emails, and email newsletters, making it a great solution for your content creation needs.
Pros: 
Clean interface

Great for SEO

Helpful customer support
Cons: 
A bit of a learning curve
Pricing:
5-day free trial

Standard:

$48/month or $348/year

Pro:

$99/month or $948/year

Agency:

$199/month or $1548/year
Most of us are familiar with Canva and its incredibly powerful and easy-to-use design tool, but this graphic design giant recently adopted its own AI-powered writing assistant. Powered by OpenAI (the creators of ChatGPT), Magic Write can help you write everything from profile bios to social media captions. With Magic Write, you'll get your first draft fast.
Canva's writing assistant can also work as a rewriting and paraphrasing tool, headline and paragraph generator, and list creator, giving you ample ways to organize your ideas.
Pros: 
Helps you brainstorm faster

Clean interface

Fast output
Cons: 
Not suitable for generating professional copy (makes a great first draft)
Pricing:
Free plan with up to 25 queries/month
Pro: $12.99/month or $119.99/year (250 queries/month)
Teams: $14.99/month or $149.90/year (up to 5 users) (250 queries/month)
Note: Magic Write can't be purchased separately. It's included with all Canva plans.
B. AI Image and Video Generators
AI image and video generators are software that utilizes artificial intelligence techniques like computer vision and deep learning to generate or modify visual content.
The generators can produce diverse images and videos, such as realistic human faces, objects, landscapes, and even deep-fake videos. They analyze existing visual data and use that information to create new visual content that closely resembles the original data.
Synthesia is the world's first AI video production software. You no longer need to rely on expensive video productions. Say goodbye to the need for cameras or film crews by choosing from a range of avatars, typing in your script in over 65 languages, and generating your video in minutes.
Synthesia's cutting-edge technology will transform your text-based content into speech, creating bite-sized videos that are guaranteed to improve engagement, conversion rates, and retention of learning, support, and sales content.
Pros: 
Intuitive interface

Wide range of avatars

High-quality AI voices
Cons: 
Credit system can be confusing
Pricing:
Personal:

$30/month

Enterprise:

Custom pricing
With DALL·E 2, you can easily generate high-quality, original images based on a simple text description. Whether you're an artist, designer, marketer, or content creator, DALL·E 2 can help you bring your concepts to life in a matter of seconds.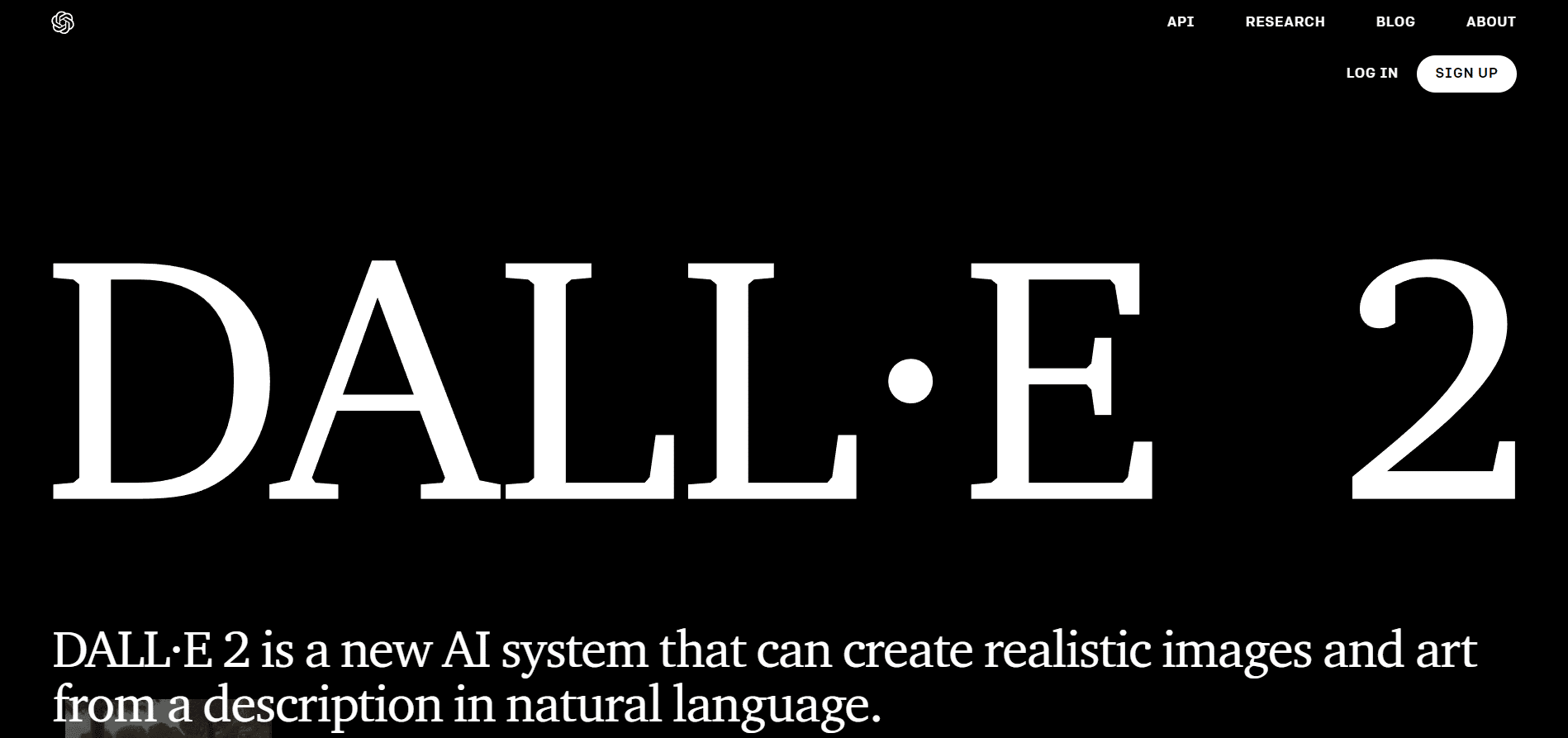 Using advanced artificial intelligence algorithms, DALL·E 2 can seamlessly combine various concepts, attributes, and styles to create truly unique and realistic images. From stunning landscapes to intricate patterns, DALL·E 2 has the power to create it all. And with its intuitive interface, you can easily tweak and customize your images to make them truly your own.
Pros: 
Easy to use

High-quality images

Understands complex prompts
Cons: 
Credit system can be confusing
Pricing: 
50 free credits during the first month

15 free credits each month

115 additional credits for $15
C. Chatbots
AI chatbots are computer programs that use artificial intelligence to simulate human-like conversations with users through text or voice-based interactions. They are great for marketing purposes and for streamlining your sales operations.
With Netomi's patented AI technology, you can easily and seamlessly resolve customer service issues across a variety of channels, including chat, social, voice, and email.
Netomi works alongside your live agents and business systems to provide autonomous resolution and unlock hidden revenue, all while reducing support costs.
Pros: 
Clean interface

Helpful analytics

Easy to train
Cons: 
A bit of a learning curve

Improvements needed on AI Chat Studio
Pricing: 
Drift is an innovative platform that revolutionized B2B marketing and sales. With a focus on the customer experience, Drift was created to address the shortcomings of traditional online businesses and connect with buyers in a world where they are in control.
With its AI-powered Conversation Cloud, Drift has helped customers personalize experiences and increase quality pipeline, revenue, and customer loyalty by connecting at the right time, place, and with the right conversation.
Pros: 
Useful lead-gen tool

Great integrations

Powerful customer support
Cons: 
Meeting scheduler needs to improve

Glitchy mobile app

A bit pricey
Pricing: 
Premium:

$2.500/month

Advanced:

Custom

Enterprise:

Custom
D. AI Translation Software
With AI translation software, you can now automatically translate text, documents, websites, or speech from one language to another. It can significantly speed up the entire process.
Taia – the ultimate solution to help you translate your documents with ease and convenience! Taia offers a comprehensive set of features to ensure that your translation needs are fully met.
With Taia, you can upload your documents in bulk and have them translated quickly and efficiently. Whether you need a single document translated or a batch of files, Taia has got you covered.
One of the best things about Taia is that you get to choose the type of translating service you want. Whether you need a machine-based translation or a professional human translation, Taia has an option that suits your needs. You can also select the level of translation you require, from a basic translation to a more advanced, nuanced one.
Pros: 
Accurate translations

Easy-to-use interface

Flexible prices
Cons: 
Lacks immediate orders

Do not offer agency deals
Pricing: 
30-day free trial

Tailor-made pricing
Catapult Subscription:
Starter

: $30.50/month or $278.16/year

Business

: $120.78/month or $1156.56/year

Professional

: 230.58/month or $2327.76/year
Smartcat is an AI translation platform that also offers collaborative workflows and project management automation. This software helps you manage translations seamlessly.
It automates everything, from basic document translation to website localization, supplier management, invoicing, and billing. Smartcat is the go-to solution for companies around the world in need of a translation partner.
Pros: 
Easy to use

Very accurate

Very fast
Cons: 
Offline functionality is not available

Confusing user interface
Pricing: 
Forever Free:

10K words/month

Starter:

$99/month

Unite:

$669/month

Enterprise:

Custom
E. AI Text-to-Speech Tools
AI Text-to-Speech Tools are software applications that can convert written text into spoken words.
These tools are often used in various applications, including virtual assistants, audiobooks, language learning, and accessibility technology for people with visual or reading impairments.
Murf AI is a handy tool for converting text into natural-sounding voiceovers quickly and easily.
With over 120 voices and a user-friendly interface, Murf allows you to effortlessly create voiceovers for a wide range of content, including explainer videos, product demos, e-learning videos, audiobooks, and podcasts.
Pros: 
Intuitive interface

Great voice versatility

A broad selection of royalty-free music
Cons: 
Some of the voices are not up to par

Glitchy at times
Pricing:
Free Plan
Basic:

$29/month or $228/year

Pro:

$39/month or $312/year

Enterprise:

$59/month or $3540/year
NaturalReader is the ultimate tool for businesses, educational institutions, and individuals looking to create high-quality voiceovers, improve accessibility, and provide audio versions of your content.
Their adoption of the latest AI technologies helps improve efficiency and achieve your business goals.
Pros: 
Intuitive interface

Free Chrome extension

Great free plan
Cons: 
Struggles with pronunciation
Pricing:
Free Plan
Single Plan:

$99/month or $588/year

Team Plan:

Starting at $204/month or $708/year
Frequently Asked Questions
Use AI-Powered Content Creation Tools to Enhance Your Content Strategy!
AI-driven content creation tools are becoming increasingly powerful and can be used to help businesses maximize their ROI.
The 10 AI content creation tools we've just presented are certain to bring something unique to the table. Whether you're looking for a comprehensive suite of tools or just one specific feature, this list is sure to have something for everyone!
If you're looking for an awesome social media tool, make sure to use SocialBee's AI post generator and bring some innovation to your content strategy. Our 14-day free trial is now available, give it a try!
Speed Up Your Content Creation Process with SocialBee's AI Tool!