Ever heard of TikTok Stories? If it's news to you, you'll want to lean in closer. TikTok, already a global sensation with over 1 billion users, has rolled this feature that should be a must-have in your content strategy.
And when you consider that 15% of those users are engaging daily, the implications for businesses become impossible to ignore. This isn't just another social media fad; it's an evolving digital frontier. 
Wondering how TikTok Stories can help you boost your business results? Let's delve into the specifics to learn everything you need to know!
Social Media Strategy Template
Streamline your marketing with an efficient social media strategy template.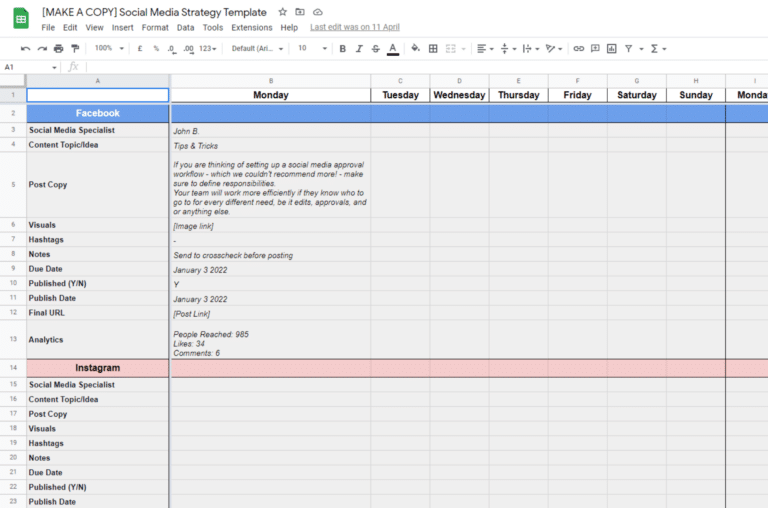 Short Summary
Stories are a TikTok feature that allows users to post ephemeral content.

TikTok Stories expire after 24 hours, offering a more spontaneous and less polished way to

engage with followers.

Users can create a Story on TikTok by selecting the "Story" option, with a maximum duration of 15 seconds. Stories are typically visible only to a user's followers.

TikTok Stories come with creative tools like text, stickers, effects, and music, that allow viewers to engage with them by commenting, liking, or sharing. They are ideal for promoting time-sensitive events and engaging with audiences in real-time.

Using TikTok Stories can be helpful to provide authentic insights, increase engagement, broaden their reach, gather immediate feedback, diversify content, and drive traffic to websites or products.

To leverage TikTok Stories effectively, consider using AI for content ideas, embracing authenticity, maintaining consistency, promoting time-sensitive offers, and using captivating visuals to stand out and engage the audience. Tools like SocialBee can assist in planning and scheduling TikTok content.
What Are TikTok Stories?
TikTok Stories, reminiscent of other social platforms' "Stories" features, is a format that allows users to post content that disappears after 24 hours. 
Unlike the traditional TikTok videos that remain on a user's profile indefinitely, Stories are ephemeral, giving creators a chance to share more spontaneous, less polished content. These Stories can be viewed by a user's followers and can include various features like text, stickers, and more. 
Just like with permanent videos, users can engage with Stories by commenting, sharing, and reacting to them. Businesses and influencers often use Stories to promote time-sensitive events, share behind-the-scenes content, or engage with their audience in a more immediate and temporary manner.
How Do TikTok Stories Work?
TikTok Stories incorporate the familiar format found on platforms such as Instagram and Snapchat, but with a unique twist. 
Here's a breakdown of how TikTok Stories work:
Creation:

Users can create a Story by selecting the "Story" option, usually available beside the regular video option. This allows you to record videos directly or upload them from your device.

Duration:

Just like standard TikTok videos, the length of a Story can range up to 15 seconds.

Ephemerality:

Once posted, a TikTok Story is visible for only 24 hours. After this period, it disappears and is no longer accessible to followers or the general audience.

Visibility:

Unlike permanent

TikTok videos

, Stories are typically visible only to a user's followers, making them a bit more intimate and targeted.

Engagement:

Viewers can engage with Stories by commenting, liking, or sharing them. The creator can see who viewed and engaged with their Story.

Features:

TikTok Stories come with various creative tools. Users can add text, stickers, effects, and music, similar to the main TikTok video creation tools but adapted for the Stories format.

Notifications

: When someone you follow posts a Story, you may receive a notification, ensuring you don't miss out on time-sensitive content.

Business and monetization:

For businesses and creators, Stories offer a fresh avenue to

promote products

, share behind-the-scenes glimpses, or announce limited-time offers. They can be an effective tool for driving urgency due to their temporary nature.
How Do You Make a TikTok Story?
So, you're keen on exploring TikTok Stories? Let's embark on this journey together, ensuring you grasp every nuance from the get-go.
Here are the steps you need to take to create TikTok Stories:
Open the TikTok app

Set your video's duration

Craft your TikTok Story

Publish your masterpiece 
1. Open the TikTok App
Open the TikTok app, and you'll immediately notice the recognizable plus icon, typically positioned at the bottom center of your screen. Tapping on this is your gateway to content creation.
As you're keen on creating a Story, you don't need to pre-record anything. The app provides an intuitive interface to film short form videos on the spot. If you want, however, to upload footage from your camera roll, that's also possible! 
On the bottom bar, simply slide until you spot the "Camera" button. You can choose between adding shorther videos or images to your Story. If you want to load preexisting content, tap on the "Upload" option from the bottom-right corner.
2. Set Your Video's Duration
If you choose to post a video on your Story, then this step is not to be missed. Once you're in the Story creation mode, look towards the left sidebar.
Here, you'll find a Timer icon waiting for your attention. Clicking on this reveals a user-friendly duration slider. This tool empowers you to decide how long your Story will be, offering a range from a quick 1-second glimpse to a more detailed 15-second narrative. 
But before you begin recording, there's another decision to make: your preferred countdown. Whether you like a brief three-second heads-up or a longer 10-second preparatory period, TikTok's got you covered.
3. Craft Your TikTok Story
Now, here's where the real fun begins. TikTok Stories come fully equipped with all the creative arsenal you're accustomed to. 
Once you've captured your video or selected your image, you have a plethora of editing tools at your disposal, such as stickers, mentions, hashtags, polls, or emojis. Feel like adjusting the video size for that perfect frame? Go right ahead. 
Maybe sprinkle in some stickers for added flair, or play around with transitions and effects to make your Story pop. 
If narration is more your style, you can overlay your video with a voice track or maybe even tweak the audio settings to get the perfect background score.
4. Publish Your Masterpiece
With your Story crafted to perfection, it's time to post it online. Hit the "Your Story" button and see it out in the wild!
To ensure you're in control, the privacy settings allow you to dictate who gets to view your creative piece: whether it's just you, your followers, or the general public. And before you unveil your masterpiece, pick an enticing cover that grabs attention. Once satisfied, a simple tap on the "Post" button will broadcast your Story to your eager audience.
Once you post to Story, your content will hop on the "For You" page of other users, alongside multiple other TikTok videos and images. You can check if the material was successfully uploaded if there is a blue Story circle next to your profile picture, as below:
That's the Story panel where you also need to go in case you want to delete TikTok Stories.
While Stories are a great way to engage your audience on TikTok, it's essential to remember that the platform thrives on a mix of content types. Regular TikTok videos and images are just as crucial to capturing a diverse audience. 
And if you're serious about a consistent content strategy that encompasses all these elements, tools like SocialBee can be invaluable. With SocialBee, you can plan and schedule your TikTok feed videos and images, ensuring you maintain a persistent and engaging presence on the platform.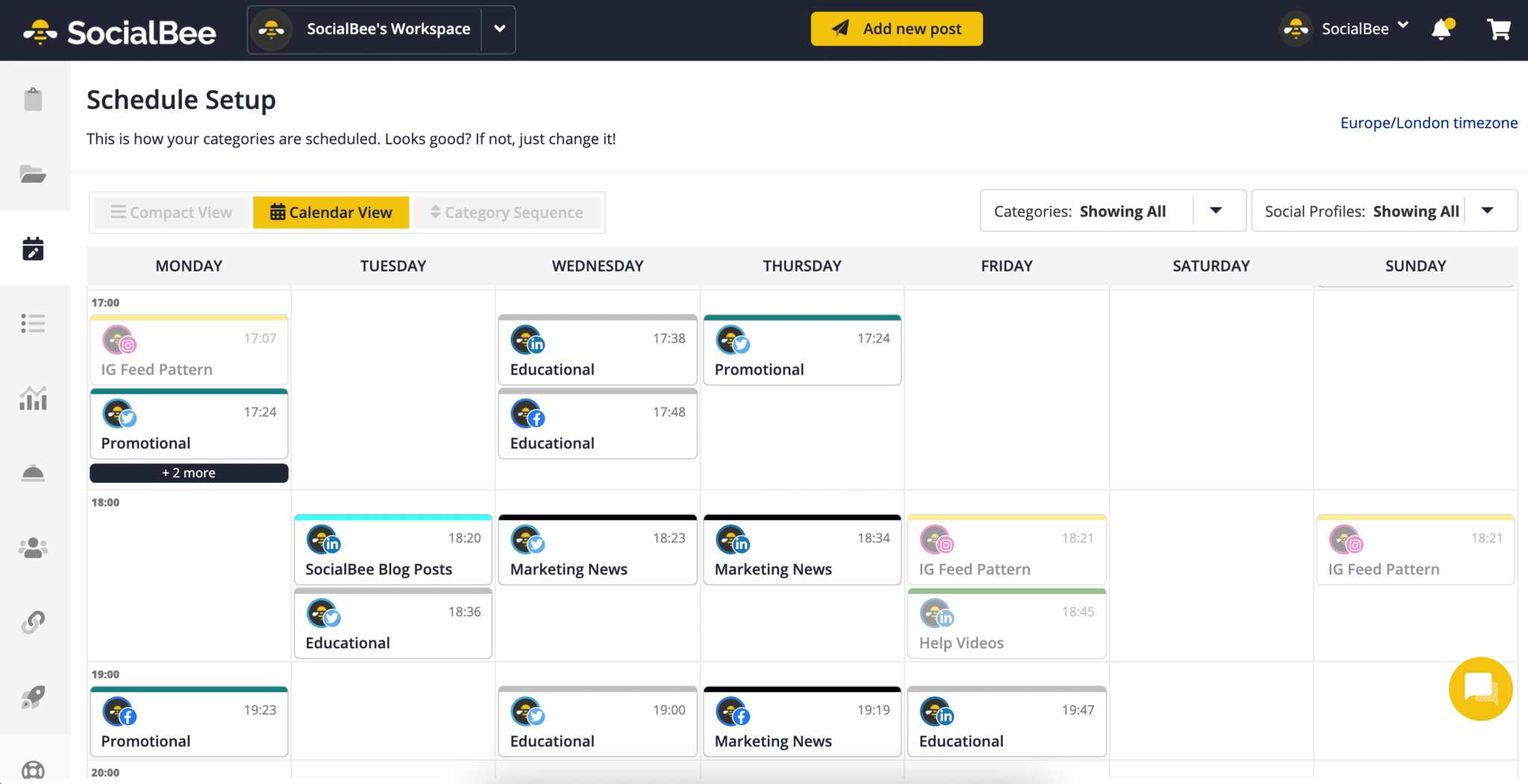 Share videos and images on TikTok from one single dashboard.
Here are some other features of SocialBee that might interest you as a social media marketer:
Supported platforms

: SocialBee caters to Facebook, Twitter, LinkedIn, Instagram, Pinterest, Google Business Profile, TikTok, and YouTube.

Design directly in SocialBee

: With integrations like Canva, Unsplash, and GIPHY, editing your videos and images has never been easier.

Leverage AI for content creation: Our AI Post Generator helps in whipping up catchy TikTok captions and vibrant images.
Organize for optimal content mix:

Segment your content into specific categories to maintain balance and variety.

Tailor each post to its platform:

Do you want to share the same video across multiple platforms? Make sure your content is customized for each platform with the help of post variations.

Smart hashtag suggestions

: Let SocialBee's hashtag generator recommend the best TikTok hashtags based on your caption.

Manage content lifecycle

: Easily repurpose evergreen content or set expiry for time-bound posts.

Plan with a posting calendar

: Design a structured posting timeline across all your social profiles.

Collaborate with ease:

Get access to multiple workspaces and team-based features.

Deep dive into metrics

: Track your account growth and content performance.
Schedule & Publish Feed Videos & Images with SocialBee!
Create posts, publish, analyze, engage and collaborate, all from SocialBee.
Why Should Businesses Use the TikTok Stories Feature?
The TikTok Story feature is an invaluable asset for businesses aiming to enhance their presence on this trending platform. 
Here's why TikTok Stories are an exciting feature:
Authentic insight:

TikTok Stories offer a real and authentic look into a brand, moving beyond polished ads to reveal the genuine essence of a business.

Increased engagement:

Regularly sharing Stories fosters real-time interactions, strengthening the bond between brands and their audience.

Diversified content:

While regular posts might showcase well-curated content, Stories add a layer of spontaneity, ensuring a balanced content mix.

Traffic driver:

Strategically crafted Stories can redirect viewers to websites, product pages, or other social platforms, amplifying conversions.
Incorporating the new Story feature and consistently sharing Stories not only boosts a brand's TikTok visibility but also positions it as transparent and relatable, resonating with the evolving preferences of today's consumers.
5 Tips to Leverage TikTok Stories to the Maximum
With millions of Stories shared every day, how can one ensure that their content stands out and engages the masses? 
Here are a few ideas to make outstanding Stories on TikTok:
Use AI to generate TikTok Story ideas

Embrace authenticity

Stay consistent

Promote time-sensitive offers

Use captivating Canva templates
1. Use AI to Generate TikTok Story Ideas
In an age of technological advancements, why not let artificial intelligence boost your creativity? Tools like SocialBee leverage AI to suggest Story content ideas tailored for your audience and assist you in content creation. 
Get Access to 1K+ AI prompts and generate top-quality content for your TikTok channel with SocialBee's AI post generator.
Start your 14-day free trial now!
Using AI can refresh your content, speed up creation, and help you stay current in the fast-paced world of social media.
2. Embrace Authenticity
TikTok's audience has a sharp nose for genuineness. Instead of curating a picture-perfect image, show the real, unfiltered side of your brand. 
Upload videos with behind-the-scenes glimpses, candid moments, and genuine reactions. This rawness helps foster a deeper connection and trust with viewers, making them more likely to engage with your content.
3. Stay Consistent
While spontaneity and engaging content is TikTok's charm, consistency is its backbone. Given that Stories disappear after 24 hours, you'll always need new content in your marketing strategy.
Regularly posting Stories ensures you remain on your audience's radar. 
It also offers an opportunity to establish a recognizable content style and voice, making your Stories instantly identifiable amidst a plethora of content.
If you ever run out of ideas, you can repurpose a pre-recorded video or reshare some of your previous content.
4. Promote Time-Sensitive Offers
The 24-hour lifespan of TikTok Stories is a double-edged sword. While the content is fleeting, this new feature is perfect for taking advantage and promoting flash sales, limited-time offers, or exclusive events for existing followers.
Using TikTok stories is amazing for time-sensitive announcements. The ephemeral nature creates a sense of urgency, encouraging viewers to take immediate action, be it making a purchase, signing up, or attending an event.
5. Use Captivating Canva Templates
The importance of a unified visual identity on social platforms like TikTok can't be understated. It's not just about individual Stories; it's about establishing a cohesive visual identity for your TikTok account.
Platforms like Canva, with its user-friendly interface and vast TikTok template library, can be a game-changer for those not versed in graphic design. Plus, it's a huge time saver.
One of the standout benefits of using Canva is its customization features. Even though you are using premade templates, you can still reinforce your brand identity and make your content instantly recognizable to viewers.
Even though SocialBee doesn't post directly to TikTok Stories, its integration with Canva allows you to seamlessly incorporate templates into your regular Feed videos and even create customized TikTok video thumbnails.
Access Canva directly from SocialBee and speed up your content creation process.
Start your 14-day free trial now! 
With Canva's diverse templates and design elements, you can ensure that every thumbnail, regardless of the Story content, aligns with your chosen aesthetic. This helps in creating a streamlined look when someone browses through your TikTok account.
Frequently Asked Questions
Dive Into Untapped Potential: It's Time to Use TikTok Stories!
As the digital landscape constantly evolves, TikTok Stories emerge as a goldmine for brands and creators aiming to solidify their presence and engagement. This feature offers an uncharted territory of opportunities, from fostering genuine connections to driving real-time interactions.
By blending authenticity with strategic content creation tools, you can ensure that your TikTok narrative resonates with viewers and leaves a lasting impression. 
The journey to TikTok mastery requires the right tools and strategy, and with platforms like SocialBee at your side, that journey becomes significantly smoother. While SocialBee doesn't directly post to TikTok Stories, it's a vital ally in planning your TikTok feed content ahead of time.
So why wait? Dive into the untapped potential of TikTok Stories. Start your 14-day free SocialBee trial now!
Schedule & Publish Feed Videos & Images with SocialBee!
Create posts, publish, analyze, engage and collaborate, all from SocialBee.