Let's talk a bit about social media branding. Dove, Starbucks, and PlayStation have millions of followers on social media. Drowning in followers' likes and positive comments, they get closer to the top positions of the highest-grossing companies each year. 
The reason for their huge followings is simple – these companies have earned a reputation as trustworthy and dedicated brands that consistently provide excellent customer service. But it's not just about what they offer – they also take the time to truly connect with their customers on all social media networks.
To help you do the same, we've analyzed best practices of methods brands use to gain customers' trust and collected them into this six-step guide. Let's get it started!
Social Media Strategy Template
Streamline your marketing with an efficient social media strategy template.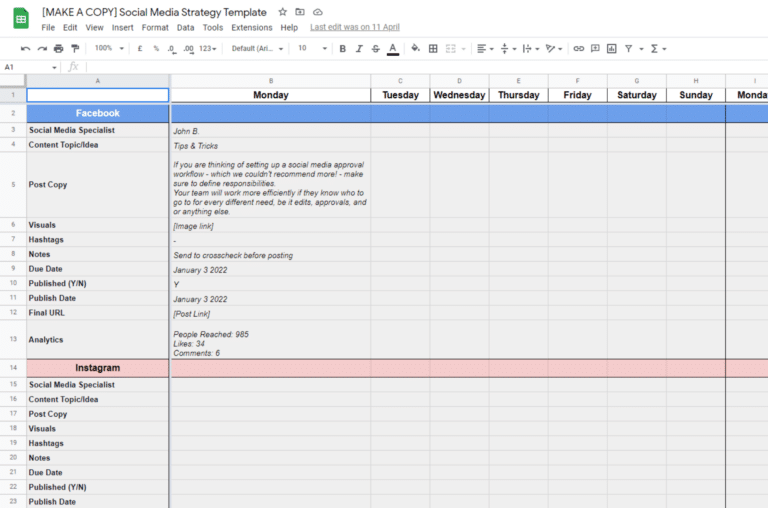 What Is Social Media Branding?
First things first, let's start with the definitions. Social media branding is a highly-important element of any marketing strategy. It helps businesses establish a social media presence, solidifies relationships with their audiences, and helps build a consistent brand identity across different social media platforms.
Successful social media branding can offer several benefits, such as:
Building trust with followers and establishing reliability and trustworthiness

Gaining a deep understanding of the interests and pain points of your target audience

Increasing brand awareness, audience growth, and revenue.
Sounds great, doesn't it? Then let's learn how to create your own social media branding strategy!
Tips on Creating a Good Social Media Branding Strategy
Social media branding can help businesses build a strong connection with their audience and create a consistent brand identity across multiple platforms. However, developing an effective social media branding strategy requires careful planning and execution. 
Here's what you need to do if you want to have a brand-focused social media marketing strategy:
Determine what matters most to your target audience

Test different formats of sharing your customers' testimonials

Be open and honest about your products

Give your customers a behind-the-scenes look into your brand

Make sure your branding is consistent

Communicate with your audience on social media platforms
1. Determine What Matters Most to Your Target Audience
You can't market baby toys to teenagers or swimsuits in winter to people living in Minnesota. What is more, it's useless to reach out to teenagers on Facebook as 95% of its user base are adults. Know your audience first.
But who is your ideal customer? You'll figure that out by crafting your buyer persona profile! To get you started, download this sheet and fill in the details.
Grab the free template, fill it out, and swiftly craft your buyer persona.
To get more information about your target audience, you can also develop a chatbot sequence with questions about their social media behavior: 
What business accounts do they follow on socials (for further analysis of the competitors)? 

What platform do they spend most of their time on online?

How do they make purchase decisions?
Here are three methods you can use to get data about your potential brand persona: 
Research your customer base. Make a list of their needs, desires, and pain points.

Share social media polls and surveys to better understand your target audience.

Analyze your competitors' social media accounts and discover what other customer segments you need to target through your marketing strategy.
Analyzing your competitors' social media content can help you improve your own posting strategy. Look at what and when they post, and how they engage with their followers. Pay attention to which posts receive the most engagement from their followers and use this data to improve your content plan.
To create a successful social media strategy, you need to understand your current followers like the back of your hand. By knowing what makes them tick, you can craft content that speaks to their interests and preferences, and build a relationship that keeps them coming back for more.
One way to do this is by using SocialBee, a tool that provides detailed insights into your audience's engagement times and demographics. With this information, you can identify the best times to post, the types of content that resonate with your audience, and the channels they prefer to engage on.
Use SocialBee to understand your social media audience—track your audience demographics and post performance for each social media platform.
Access Insightful Audience Demographics from SocialBee!
Create posts, publish, analyze, engage and collaborate, all from SocialBee.
By leveraging these research methods, you can gain a deep understanding of your current and potential audience, and create a brand presence that engages, resonates, and ultimately converts.
2. Test Different Formats of Sharing Your Customers' Testimonials
Consumers today are naturally skeptical of businesses and form opinions about products based on online reviews. 92% of buyers are more likely to make a purchase after they have read a review.
That's why it is typical to see customer reviews on the brand product page:
It is an excellent start for winning your followers' trust — post customer testimonials from your website on your socials. Plus, it can help reinforce loyalty and push your existing customers further up the value ladder. 
Here are a few more ways to get this type of social proof:
Look through Google, Yelp, G2, etc., for reviews you can share on your socials.

Look through existing mentions and user generated content (UGC) on different socials. Don't forget to ask for the authors' permission to repost them. 

Encourage your current customers to post about their experiences with your business under some branded hashtags and reshare their posts. Consumers will be happy to see their content reposted by their favorite brand.
Social proof posts can have multiple formats, be it a photo, video, or a written testimonial. It depends, of course, on the social media platform you decide to focus on.
There is a great example of social proof social media post:
To make the most out of your marketing efforts, it's best to focus on video social media posts. Seeing actual human beings sharing their opinions about a brand online can help you easily generate leads as it forms a deeper connection with your target market.
3. Be Open and Honest About Your Products
UGC, or user-generated content, can be a great way for businesses to engage with their audience and provide them with valuable content. However, it's important to recognize that UGC alone cannot fully represent all of the interests and goals of a company's target audience. While UGC can provide unique perspectives and insights, it may not always align with the brand's messaging or priorities.
Therefore, it's crucial for businesses to supplement UGC with their own content that reflects their values and offerings. This can help build trust with consumers, who want transparency and authenticity from the brands they interact with.
In particular, businesses should be open about their brand history, founders' background, company culture, customer support, brand values, and pricing information. Providing this information can help consumers better understand the brand's story and offerings, which can in turn help build brand loyalty and trust.
For example, the skincare brand Cocokind has transparently displayed its pricing model on its website. 
By doing so, they are allowing customers to see exactly what they are paying for and reinforcing their commitment to transparency.
4. Give Your Customers a Behind-the-Scenes Look Into Your Brand
In today's world, customers want to feel a personal connection with the brands they choose to support. That's why you should always show off your brand's personality to other social media users.
Consider these when creating video content for your brand:
Introduce your team

: Customers should know more about the people behind your brand. Showcase your team and their unique personalities to add a personal touch to your brand.

Show your workspace:

Take your customers behind the scenes and show them where the magic happens. This can help them form a deeper connection with your brand.

Share your brand story

: Communicate your personal story or that of your brand's founders.

Introduce your pets

: Let your furry friends steal the spotlight and show your customers that your brand has a softer side.

Present your expertise

: Share your knowledge and expertise in your field. This will help establish your brand as an authority in the industry.

Demonstrate the manufacturing process

: Take your customers on a journey and show them how your products are made. 

Answer customer questions

: Use video content to address frequently asked questions and help your customers better understand your brand and products.
The Metropolitan Museum of Art is a wonderful example of how video content can enhance brand transparency. They go beyond displaying paintings to tell the stories of their creators, giving visitors a chance to get to know the artists better.
Giving your audience a sneak-peak is an exciting way to build anticipation around your brand. It's like being invited to a VIP event before anyone else. This can increase engagement since people are more likely to share and talk about exclusive content.
5. Make Sure Your Branding Is Consistent
Establishing trust with your audience requires reliability and consistency, which is where brand consistency comes in. It's crucial to ensure that your branding aligns with the content you post on social media. 
Here are a few examples of things to keep an eye on when creating branded content: 
Brand voice and personality

:  Nike has a strong and inspiring brand identity that is centered around empowering athletes and promoting a "just do it" attitude. Their messaging, tone, and imagery all reflect this consistent brand identity.

Design, logo, and brand colors

: Coca-Cola is a prime example of a brand with a recognizable and consistent visual identity. Over 130 years of history, the brand's iconic red color and unique logo font have remained largely unchanged. Such brand elements can make or break your brand.

Company values:

Gabriel Cosmetics is an excellent example of a brand that showcases its values across all aspects of its business, including social media channels. In addition to their vegan and cruelty-free products, the company's social media posts frequently feature cute animals, aligning with its commitment to animal welfare, thus boosting the brand image.
By consistently embodying these elements in their social media content, brands can establish a sense of reliability and predictability, which is crucial for building trust with their audience.
6. Communicate with Your Audience on Social Media Platforms
While posting relevant content is important, it's only one aspect of building trust with your audience on social media channels. The second critical step is effective communication. It's not enough to just publish a post and walk away. 
Engaging with your followers through comments and messages is essential to building credibility and establishing a rapport with your audience.
Having a dedicated social media team or support agent who can promptly respond to customer comments and inquiries is crucial. This demonstrates to your followers that you are available and responsive to their needs.
To help you save time, you could try use SocialBee's Engage feature. With Engage, you'll never miss an opportunity to interact with your followers and build a strong, engaged community.
Stay on top of your social media game by promptly responding to every comment and mention, and impress your followers with your human and relevant replies.
Start your 14-day free trial now!
For example, Baby Dove cosmetics does an excellent job of engaging with its customers on different social media networks. They not only respond to comments and messages but also proactively address common questions and concerns. By demonstrating its commitment to customer service, Baby Dove creates a positive brand image that fosters trust and loyalty.
By prioritizing communication and actively engaging with your audience on social media, you can present your brand as reliable and accountable. This, in turn, helps to establish a sense of trust with your followers and ultimately drives business success.
Frequently Asked Questions (FAQ)
Boost Your Social Media Presence With Consistent Branding!
Earning the trust of your customers is crucial for building a strong brand reputation and increasing sales. However, achieving this trust is a complex process that requires relevant and consistent content. 
To get started, it's important to know your audience and share your expertise and opinions on topics that interest them. This should be supplemented with proof of your brand's value, such as testimonials and UGC, and followed by consistent community management.
Keep these strategies in mind every time you post on social media. While there is no exact metric for measuring success in gaining customer trust, a good sign is when you see discussion among commenters defending your brand.
If you're looking to streamline your social media management and build a stronger brand presence, consider trying out SocialBee. With our tool, you can create and schedule content that resonates with your audience and helps you achieve your business goals. Start your 14-day free trial now!
SocialBee: Your AI-powered social media management tool
Create posts, publish, analyze, engage and collaborate, all from SocialBee.
About the author: Julia Serdiuk is an Outreach Specialist at HelpCrunch, all-in-one customer service software. She is a bookworm and yoga enthusiast who appreciates life in its various manifestations.