Want to learn how to make money on TikTok? It's obvious by now that this popular social media platform has become a great source of income for many creators, as well as a marketing oasis.
From affiliate links to brand collaborations and influencer marketing, there are plenty of opportunities to monetize your content. 
Whether you're looking to earn money from TikTok or simply want to build up your personal brand, this article will provide you with everything you need. So let's get into it!
Free Editable Social Media Strategy Template
Get the social media strategy template you need to audit and plan your marketing efforts for maximum results.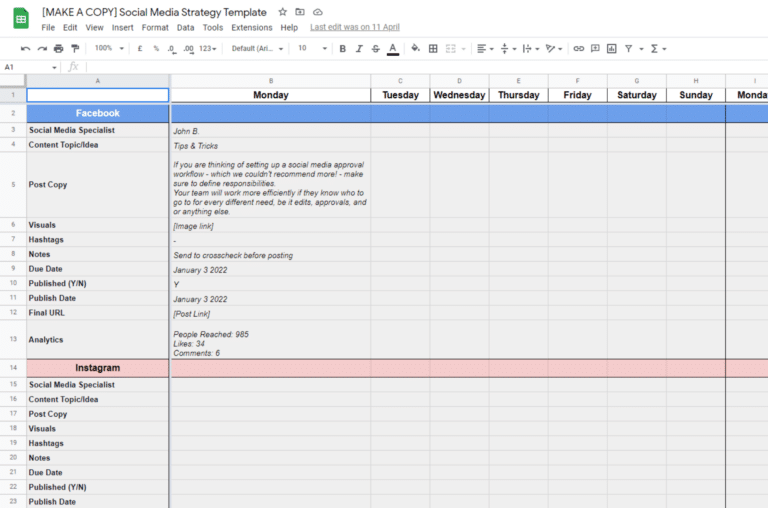 Short Summary
TikTok offers several avenues for monetization, such as the TikTok Creator Fund, brand partnerships, and affiliate marketing.

To access monetization features on TikTok, such as the Creator Fund, certain criteria must be met, including reaching a minimum number of followers (10,000) and video views (100,000 within 30 days).

To make money on TikTok, you can join the TikTok Creator Fund, participate in the TikTok Rewards Referral program, go live and earn gifts, and more.
Can You Make Money on TikTok?
Yes, you can make money on TikTok. There are a variety of ways to monetize your TikTok account, such as through the TikTok Creator Fund, brand partnerships, or affiliate marketing. 
Additionally, there are many influencer marketing agencies that focus specifically on TikTok users and can help connect you with those who may be interested in promoting your brand. 
Ultimately, the money you make relies on your popularity on the platform. If you already went viral on Tiktok, it's certainly possible to make a profitable income off of TikTok.
7 Ways to Make Money on TikTok
TikTok has quickly become an incredibly popular platform for content marketing and it offers unique opportunities to monetize your creativity—if you know the right strategies. 
Here are seven ways to make money on TikTok:
Join the TikTok Creator Fund

Use the TikTok Rewards Referral program

Leverage influencer marketing

Use TikTok ads

Go live and earn gifts

Start a Patreon

Open a TikTok shop
1. Join the TikTok Creator Fund
The TikTok Creator Fund is an initiative established by TikTok in order to reward its most successful creators. The fund provides financial support and resources for the development of content, ideas, and businesses to help grow their personal brand and create more opportunities for users on the platform.
You can withdraw your TikTok Creator Fund earnings with a minimum of $10, 30 days after the end of the month in which they were earned. These funds can be transferred to PayPal or Zelle.
Please note that in order to join the TikTok Creator Fund you must have at least 10,000 followers.
2. Use the TikTok Rewards Referral Program
The eligibility criteria for TikTok referrals are simple and straightforward. To start referring, all you need is an active TikTok account. 
Here's how TikTok's minimum age requirements may vary globally:
In Egypt, users must be 21 years or older.

In Japan, users must be 20 years or older.

In Korea, users must be 19 years or older.

In all other countries, users must be 18 years or older.
Here are the conditions to join TikTok Rewards:
You need to meet the age eligibility criteria mentioned above.

You should not be employed by TikTok.

Your account must not have been flagged as a scam account by TikTok's risk control team.
However, for new users and their referrers to earn TikTok rewards points, they must meet the eligibility criteria of TikTok Rewards.
3. Leverage Influencer Marketing
Ever heard of TikTok's Creator Marketplace? It's an in-app platform that allows you to connect with TikTok influencers and invite them to collaborate with your brand and create sponsored content.
Depending on your current budget and business goals, you can finally start leveraging the impressive power of influencer marketing. For example, Kérastase's long-term collab with Emily Ratajkowski is a prime example of marketing done right.
4. Use TikTok Ads
TikTok ads are advertising campaigns that help brands promote their products or services on the popular short-form video platform. 
With TikTok ads, companies can reach a broad audience of users and create engaging content to promote their business.
Also, TikTok enables users to target specific audiences, do placement optimization using data-driven insights, and conduct performance analytics to track the success of campaigns. 
5. Go Live and Earn Gifts
Going live and earning gifts provides an opportunity to monetize your content and earn real money. TikTok gifts are items that viewers buy and send your way during a live. The gifts can be changed into Diamonds, which can be withdrawn as actual currency.
The gifting feature on TikTok adds a fun and interactive element to your live streams. When viewers send you gifts, it not only shows their support but also helps you stand out on the platform. As you accumulate gifts, your profile may gain visibility, attracting more viewers and potential followers.
6. Start a Patreon
Patreon provides a platform to monetize your TikTok content beyond the standard features available on the app. It allows your most dedicated fans to support you financially by subscribing to different tiers and gaining access to exclusive content or perks.
Patreon allows you to create exclusive content specifically for your Patreon subscribers. You can offer behind-the-scenes footage, bonus videos, tutorials, Q&A sessions, or personalized shoutouts. This exclusive content adds value for your subscribers and incentivizes them to support you on Patreon.
7. Open a TikTok Shop
Opening a TikTok Shop allows you to directly monetize your TikTok following. Instead of relying solely on brand collaborations or ad revenue, you can sell products directly to your audience. This provides an additional stream of income and helps you capitalize on the trust and connection you have built with your followers.
TikTok has been increasingly expanding its e-commerce capabilities, making it easier for creators to sell products. By opening a TikTok Shop, you can leverage the platform's built-in e-commerce features, such as product tags, links in bio, and the ability to showcase products in your videos. 
This integration streamlines the purchasing process for your audience and enhances the overall shopping experience.
5 Tips to Monetize Your TikTok Content
Instead of relying on paid partnerships and TikTok ads, brands should also think of clever ways to make money through their content. 
Here are five tips to increase your content performance on TikTok:
Plan and schedule your content

Keep an eye on TikTok trends

Build a strong community

Track your TikTok videos' analytics

Add trending sounds
1. Plan and Schedule Your Content
Planning and scheduling your TikTok content allows you to maintain a consistent presence on the platform. As you might've guessed, consistency can secure a new source of income for you. Once you begin to expand your reach and further engage with your community, sales will begin to skyrocket.
Plan and schedule your TikTok content ahead of time with SocialBee.
Start your 14-day free trial now!
SocialBee provides a centralized platform where users can plan, create, and schedule their TikTok content in advance. This streamlines the content creation process and enables users to optimize their workflow, saving time and effort.
SocialBee also helps users effectively manage their time as content creators. By planning and scheduling their content in advance, users can allocate dedicated blocks of time for content creation and avoid last-minute rushes. 
Also, creating TikTok content consistently is essential for several reasons. It helps you stay visible and maintain an active presence on the platform, increasing the likelihood of being discovered by new viewers.
Looking for TikTok video ideas? Use SocialBee's AI post generator and get creative!
Start your 14-day free trial now!
TikTok users can leverage SocialBee's AI post generator to streamline their content creation process. The tool uses artificial intelligence to generate engaging and creative post ideas. 
Simply select a prompt from the 1K+ AI prompt library and let the generator generate a variety of content ideas, saving you time and effort in brainstorming.
SocialBee's AI Post Generator helps users overcome inspiration blocks by providing fresh and unique ideas that can inspire their TikTok videos. It offers a range of suggestions, from captions and hashtags to video concepts and trends, tailored to your specific niche or target audience.
Here are some more features you can explore with SocialBee:
Supported platforms: Facebook, Twitter, LinkedIn, Instagram, Pinterest, Google Business Profile, TikTok, and YouTube.
Recycle evergreen posts or expire time-sensitive content easily.
Use our Canva, Unsplash, and GIPHY integrations to design your posts right inside SocialBee.
Connect the RSS Feed of any blog to import content automatically.
Track your links' performance with over 5+ URL Shorteners integrations.
Customize the posts for each social media network individually.
Structure your content into categories to obtain a solid and balanced mix.
Engage with your followers' comments or mentions directly from SocialBee.
Have multiple workspaces and team collaboration features.
Automatically generate hashtags based on your images or caption.
Share Your TikTok Content with SocialBee!
2. Keep an Eye on TikTok Trends
Staying informed about TikTok trends allows you to create content that aligns with your target audience's interests, preferences, and behaviors.
TikTok trends often gain significant momentum and become viral sensations. By being an early adopter or producing content that aligns with these popular themes, you increase your chances of gaining visibility and exposure on the platform. This heightened visibility can result in an influx of followers, likes, comments, and shares, contributing to the growth of your TikTok presence.
Here are some examples of TikTok trends:
Hashtag Challenges:

For example, a sportswear brand might create a challenge where users showcase their athletic skills while wearing their brand's products.
Viral sounds:

Brands may join trends where viral sounds are used. For example, a fashion brand might appoint a brand ambassador to lipsync to a song while wearing the latest products.

Filters and special effects:

Brands that like to get playful every once in a while can experiment with filters. For example, a makeup brand can create a filter for their brand-new shade of lipstick and encourage users to try it on as well.
Before you give these ideas a try, it's important to keep in mind that you should not join trends that can be harmful or offensive. 
3. Build a Strong Community
Making money on TikTok can end up feeling like a challenge when you're still struggling to connect with your audience. It takes a village to turn your brand into a profitable business, right?
Here are three tips for building a strong community:
Embrace authenticity:

Forge a genuine connection with your TikTok audience by sharing sincere moments, expressing your true personality, and fostering transparency with your followers. Authentic content resonates with viewers, establishing trust and authenticity within your community.

Foster engagement:

Actively engage and interact with your TikTok followers to

build a strong community

. Respond to comments promptly, express gratitude for their support, and proactively initiate conversations. Demonstrate a genuine interest in your audience's thoughts, ideas, and feedback.

Consistency and quality:

Uphold consistency and deliver high-quality content to establish a robust TikTok community. Set a regular posting schedule to maintain a consistent presence, allowing your audience to anticipate and engage with your content.
4. Track Your TikTok Videos' Analytics
By keeping track of your TikTok analytics, you can evaluate how well your content is performing. This knowledge allows you to identify effective content strategies and replicate them in future videos, resulting in improved visibility, engagement, and follower growth.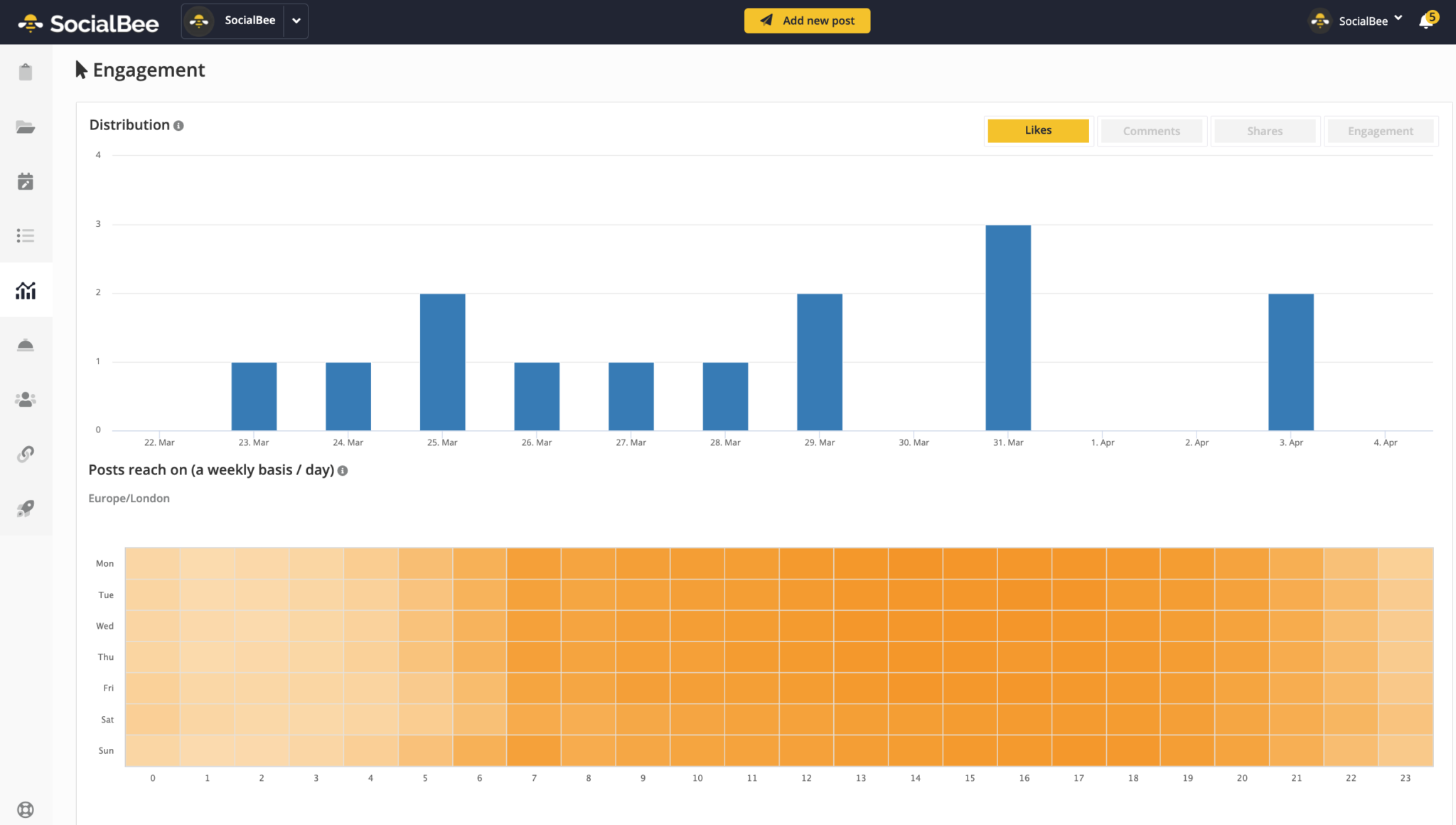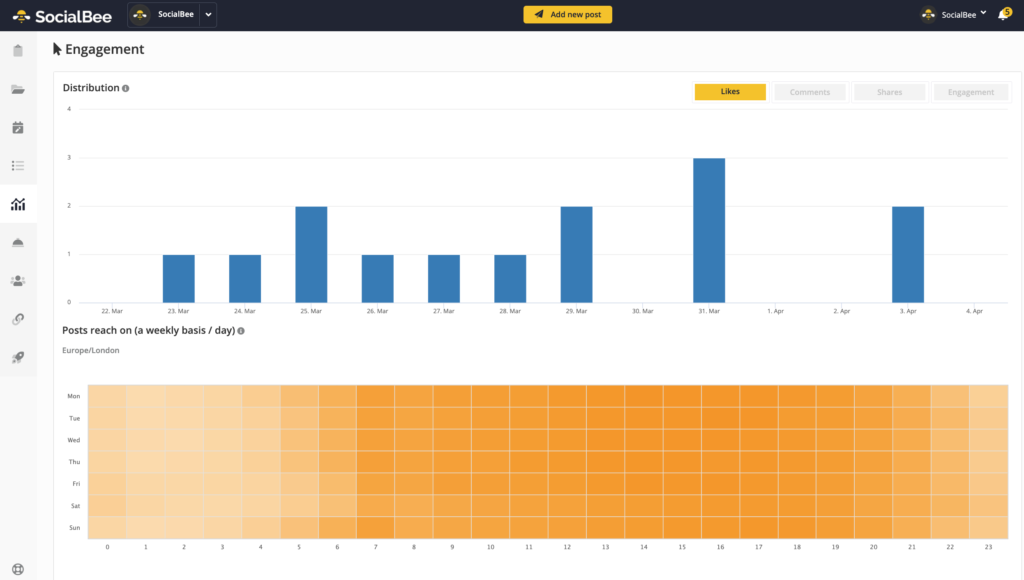 Leverage your TikTok post analytics and select the best time to go live.
Start your 14-day free trial now!
Here are the TikTok metrics you can track with SocialBee:
Page analytics:

Keep track of the total number of posts published within a specific timeframe, the number of views your page content receives, profile views, and reach.

Post analytics:

Analyze the performance of your individual posts by tracking metrics such as impressions, likes, comments, and the overall engagement percentage.

Performance insights:

Identify your top-performing content categories, content types, and posts. Additionally, discover the best posting times to maximize engagement.

PDF reports:

Export your TikTok performance reports in a convenient PDF format, allowing you to share and analyze your metrics more easily.
By utilizing these TikTok metrics through SocialBee, you can gain valuable insights into your page's performance, audience engagement, and content strategy, enabling you to make data-driven decisions to optimize your TikTok presence.
5. Add Trending Sounds
By incorporating popular and trending sounds into your TikTok videos, you enhance the discoverability of your content among a broader audience. TikTok users actively explore videos associated with trending sounds, increasing the likelihood of your videos being seen and shared.
The inclusion of trending sounds is a valuable strategy for maximizing the efficiency of your TikTok marketing content plan.
Frequently Asked Questions
Grow Your Revenue with TikTok Marketing!
In conclusion, TikTok provides businesses with an invaluable opportunity to reach out to their target audience and grow their revenue.
With its engaging content, wide-reaching demographics, and innovative tools and features, TikTok offers a great platform for creative marketing campaigns that can help you gain more visibility and expand your customer base.
So if you are looking to boost your sales and engage potential customers, then get started on SocialBee today! This AI-powered social media management tool is the Holy Grail you've been looking for. Start the 14-day free trial today and reap the rewards of increased ROI tomorrow!
Share Your TikTok Content with SocialBee!