Let's face it, having a TikTok marketing content plan is becoming more and more important for businesses all over the world.
With around one billion active users, TikTok has a huge marketing potential for big and small businesses worldwide. It's your chance to reach a broader audience, build engaged communities, sell products, embrace TikTok trends, and get honest feedback from customers to understand how to grow.
However, that's when you might hit a snag. While creating TikTok videos seems a bit unintelligible for savvy marketers, it remains unclear for many brands what content strategy to prepare, what content types to post, and how to promote business accounts on TikTok. 
But, after reading this post, you'll know if the TikTok app is a suitable social network for your business, how to write a TikTok content plan, and what tactics to choose for maximizing your potential reach there. 
Download the Social Media Marketing Plan!
Get the guide for creating a social media marketing plan for your business.
A Quick Look at TikTok Social Media Platform
TikTok is a video streaming app where users create 15 – 60-second videos on different topics (some accounts can create up to 3-minute videos now).
It started as a viral dance and lip-syncing video platform, but now TikTok has become a very diverse source of content. After all, 800 people use the app, so the fact that there is content for any niche is not really surprising.
These are a few things to know about the TikTok users:
53% of TikTok users are male while 47% are female;
50% are under the age of 34, with 32% aged between 10 and 19;
41% of TikTok users are between the ages of 16 and 24;
100 million monthly active users come to TikTok from the USA;
TikTok has users in 155 countries, and it's available in 75 languages.
Users interact with TikTok content by scrolling through their feed, aka FYP (For You Page), and can like, comment, and share it on other social media networks.
Moreover, TikTok prioritizes content that gets more views and interactions, building user feeds accordingly.
As a content creator, you can use trend-heavy filters, transitions, music, and other effects to make your short videos more engaging. Humor is also welcome, though it's critical to keep it relevant to TikTok's Gen Z audience.
To make TikTok content creation easier, you can use SocialBee to create, edit and schedule your content from one place. You can create content categories to diversify your posts for your target audiences, add relevant hashtags and emojis to make your content more appealing, and increase your post visibility.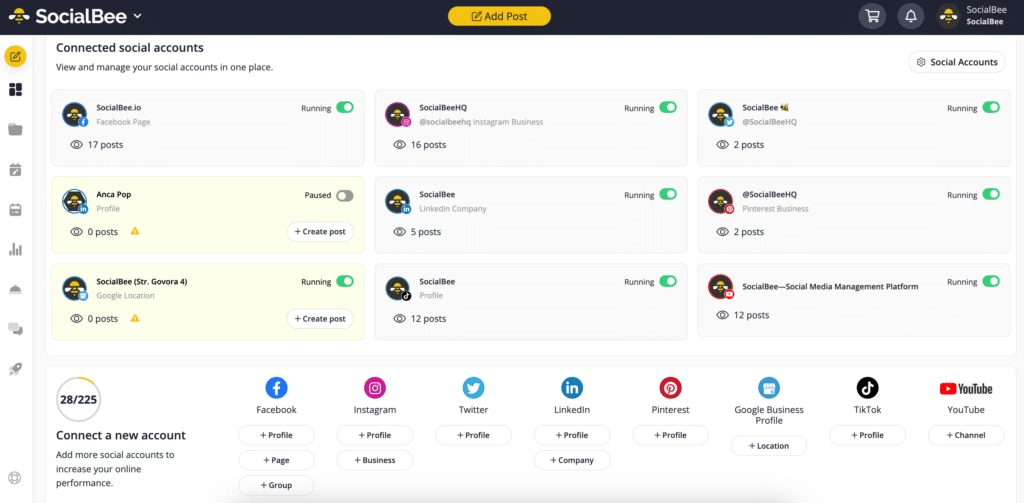 With SocialBee users can customize content for TikTok with ease.
Start your 14-day free trial today to test all the features yourself!
Post on TikTok with SocialBee!
Create posts, publish, analyze, engage and collaborate, all from SocialBee.
Why Do You Need a TikTok Content Plan?
In 2021, TikTok generated $4.6 billion in revenue from paid ads. Given that its users spend around 850 minutes a month and 46 minutes a day scrolling videos, the TikTok marketing potential is hard to overestimate. 
With an intelligent TikTok content plan, you can:
Increase brand awareness by reaching a broader audience.

Sell your product or services.

Provide customer service.

Build engaged communities.

Get feedback from your customers.

Advertise your products or services to your target audience.

Drive traffic to your other marketing platforms like Instagram and YouTube.
Your content plan will differ depending on the TikTok marketing strategy you choose for this platform. The three primary tactics for a successful strategy here are: TikTok influencer marketing, organic viral content creation, and advertising on TikTok for business.
Things to Consider for Creating TikTok Content Strategy
First things first: please don't use TikTok for your business simply because it's a popular platform and you want to stay on top of trends.
Before investing time and money in TikTok marketing, do your research and answer the following questions:
Does your business target the right TikTok audience?
Does TikTok align with your business goals?
Are your competitors on TikTok already?
1. Does Your Business Target the Right TikTok Audience?
As a marketer, you need to know and understand your niche inside out. Before choosing a content topic, format, or music for your TikTok business account, make sure it's what your audience wants to see.
When designing TikTok marketing campaigns, ask yourself the following questions:
Who is your target audience on TikTok? 

Who do you hope to reach with your TikTok videos? 

Given their audience demographics and interests, will your brand be relevant to them?
Moreover, look at your buyer personas and your social media audience analytics and find out if there is a target market for your business on TikTok. 
Are they the same people? Or, can you find subgroups relevant to your niche?
The goal is to learn about the TikTok audience and provide content suitable for their needs and preferences.
2. Does TikTok Align with Your Business Goals?
Your target audience is critical to consider when crafting your future TokTok marketing strategies, but don't forget about your business objectives. What's in it for you? 
Ensure your business goals and objectives align with TikTok marketing efforts.
Set clear and measurable goals for your TikTok marketing strategy. Before writing a content plan, you need to understand the purpose of using this social platform. 
Once you know it, the next step will be to decide on content types that will help your business meet those goals.
3. Are Your Competitors on TikTok Already?
If they are, it can be a challenge for you to win them over. So, you'll need to plan a marketing strategy accordingly. 
Studying your competitors' TikTok strategy will help you discover what the platform has to offer for your industry and what type of content works best for your niche.
You should also take this opportunity to identify their strengths and weaknesses, learn from what works and what doesn't work for them, and craft your TikTok content plan accordingly.
If your competition is not yet on TikTok, then you are in luck. It's your chance to gain a competitive advantage.
Best Practices for Your TikTok Presence (Business Account)
Once you've identified your TikTok target audience and defined your goals, it's time to decide on the strategies that will help you succeed with your TikTok marketing campaign.
Here are the main practices that will help you promote your business on TikTok:
Advertising

Content creation

Influencer marketing
Your TikTok content plan will consist of different content types and ideas, depending on which strategy you choose.
Let's take a closer look at all three!
1. Advertising on TikTok
Direct selling isn't the best idea to engage TikTok's younger demographic. That's why most brands use the platform to build brand awareness.
However, TikTok provides a few ad formats to help you promote your business. 
There are five types of TikTok ads are available at the moment:
In-feed ads

, appearing directly in users' FYP. It can be photo or video ads,

spark ads

, carousels, or

pangle ads

.

Top view ads

, appearing on users' screens once they open TikTok.

Branded hashtags

, appearing as banner ads on users' FYP and sending them to a corresponding page. Pro tip: You can even start a b

randed hashtag challenge to get people to generate their own branded content. 
Branded effects

, arising as branded stickers throughout users' feeds to raise awareness around your campaign.

Brand takeover

, allowing your business to "take over" TikTok for a short time.
If you decide to focus on advertising when planning your successful TikTok marketing strategy, do your best to determine ROI and remember to track your progress. In this way, you'll see whether your content works and if you need to revise anything for better results.
2. Creating Content for Your TikTok Account
Even if content creation requires a little more time before you see results, it gives you the most freedom. TikTok has its unique features and user behaviors, so you have to put some effort into understanding the trends and the TikTok culture.
You shouldn't approach TikTok the same way you do with Instagram, LinkedIn, or other social platforms. Here you can post everything from showing off your product to dance challenges, but you have to make sure you understand how the TikTok algorithm works.
First, the platform shows your videos to a small set of users who are most likely to engage with your video based on their past behavior. If they respond by watching it in full, liking, commenting, or sharing it, TikTok will show it to more people. The process repeats, and if this loop happens enough times — your video goes viral.
So, your TikTok content plan needs to consist of videos with a hook in the very beginning (to motivate users to continue watching), trending sounds (hashtags and effects also matter), and relevance to a specific target audience. However, the most important aspect is to follow trends and use them to gain more visibility.
Content ideas to include in your TikTok content plan:
Quick tips, tutorials, and how-to's

Hashtag challenges

User-generated content

Multipart series on the same topic

Funny skits

Duets

(recording your video alongside someone else's)
When you are out of content ideas, you can look at the Discover page to see what's trending and what your followers or competitors are posting. Humorous videos, business tips, series — choose the most relevant content for your niche.
3. Using TikTok Influencer Marketing 
Influencer marketing is a big part of TikTok's ecosystem. Given that Gen Z follows personalities, not "faceless" brands, your collaboration with influencers can hugely impact your business success and help you increase engagement.
It's not a must to team up only with TikTok influencers who have millions of followers. Try to discover rising stars in your niche, as it can bring you even more positive results. Not only will your brand look more natural and authentic, but your business will also gain more credibility because micro and nano influencers have a more loyal audience, ready to follow their advice.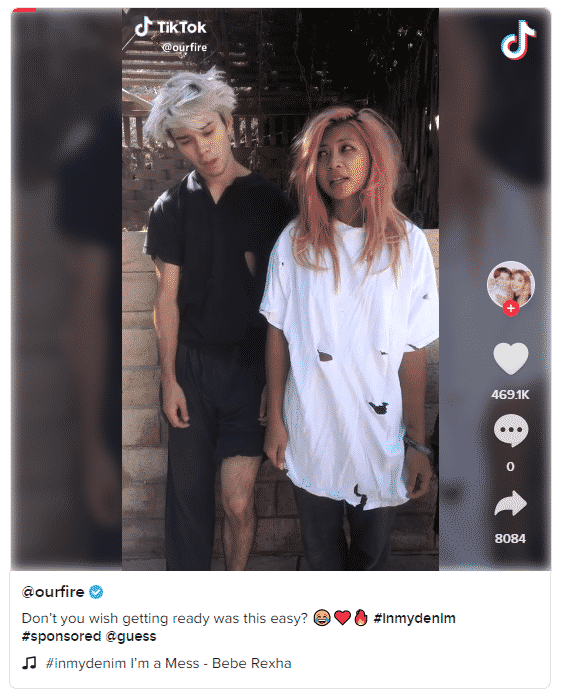 What's important here is to write a detailed and precise set of rules for TikTok creators to promote your business. Let them know what outcome you expect, how many videos they need to create for you, how often they need to post them, how you'll measure the results, etc.
The Best Time to Post on TikTok
The last step of writing your TikTok content plan is identifying and setting a TikTok posting schedule for your videos.
Your TikTok analytics will help here. Use the data to get insight into when your followers are online and most active — and try to post an hour before they come. 
You can use the SocialBee engagement analytics to figure out when and how your followers interact with your content.
Start your 14-day free trial now!
If you don't have any analytics yet or want to reach a broader audience, just think about when they can generally be active on social media: early mornings before they go to work or evenings, right before they go to bed. Posting twice a day would be a great start.
Keep in mind that audiences are different, so you need to experiment until you find the best time to post on TikTok.
Here is a general TikTok posting schedule you can start following in the beginning:
Now that you have your content schedule ready, you can optimize your social media posting system with SocialBee. Use this social media management tool to create, edit, schedule, and share content on TikTok and other social media platforms faster and easier than ever before.
Frequently Asked Questions (FAQ)
1. How Can I Create a Successful TikTok Marketing Plan?
Creating a successful TikTok digital marketing plan starts with understanding your target audience. Research the type of content they like to watch, and create videos that are optimized for their interests.
Make sure to use relevant hashtags in each post to make it easier for potential customers to find you. Also consider influencer campaigns or collaborations with other users on the platform – this can be an effective way to quickly grow your reach and engagement on the app.
Lastly, track and analyze performance metrics of your TikTok marketing campaign, such as views, likes, comments, or shares, so you can refine and optimize your strategy over time.
2. How Often Should I Post on My TikTok Business Account?
While it is recommended to post daily, it's generally a good idea to post on your TikTok business account regularly to keep your content fresh and engage with your audience. The frequency of your posts will depend on the nature of your business and the type of content you're sharing. The key is to find a posting frequency that works for your business and allows you to consistently engage with your audience.
3. What Are the Key Components of an Effective TikTok Marketing Plan?
An effective TikTok marketing plan should include the following components:
Define your target audience

: Identify the demographics and interests of the people you want to reach with your TikTok content.

Set your marketing goals

: Determine what you want to achieve with your TikTok marketing efforts, such as increasing brand awareness or driving sales.

Develop your content strategy

: Plan the type of content you will post on TikTok, including the tone, style, and format of your videos.

Create a posting schedule

: Decide how often you will post on TikTok and plan out your content in advance.

Promote your TikTok account:

 Share your TikTok content on other social media platforms and on your website to drive traffic to your account.

Engage with your audience:

 Respond to comments and messages, and participate in relevant TikTok challenges and trends to build a community around your brand.

Analyze and optimize your efforts

: Use SocialBee's analytics tools to track the performance of your content and make adjustments as needed to improve your results.
4. What Types of Video Content Are Popular on TikTok?
TikTok is a popular platform for businesses and marketers to reach and engage with their target audience. Some of the most popular types of video content for marketing on TikTok include:
Product demonstrations

: TikTok is a great platform for businesses to showcase their products and demonstrate how they work.

Behind-the-scenes content

: Many businesses use TikTok to give their followers a behind-the-scenes look at their company, which can help to build trust and authenticity.

User-generated content

: Many businesses use TikTok to encourage their customers to create and share content featuring their products, which can help to increase brand awareness and engagement.

Influencer partnerships

: TikTok is home to many influencers, who can help businesses to reach a wider audience and promote their products.

Viral challenges

: Businesses can create and promote viral challenges on TikTok to increase brand awareness and encourage user engagement.

Educational content

: TikTok is a great platform for businesses to share educational content about their products or industry, which can help to build trust and credibility.

Customer testimonials

: Businesses can use TikTok to share customer testimonials, which can help to build trust and credibility with potential customers.
.
Ready to Start Your Own TikTok Marketing Strategy?
Writing a TikTok content plan may seem a little challenging if you are new to the platform, but it will get more fun and interesting as you get into this type of social media marketing. 
You should start by identifying your purpose for using TikTok and the audience you want to reach there. 
Then, spend some time researching TikTok content types to understand which ones could help you meet your business goals and decide on the strategy you'll use: will you create TikTok videos yourself, collaborate with influencers, or stick to TikTok ads campaigns?
And finally, once your content plan is ready, identify the best time to post on TikTok. Also, remember to track the progress and adjust your TikTok content strategy on a regular basis. Thankfully, you can do that with SocialBee. Start your 14-day free trial now!
Article by Lesley Vos, a professional copywriter and guest contributor, currently blogging at Bid4Papers. Specializing in data research, web text writing, and content promotion on social media channels, she is in love with words, non-fiction literature, and jazz.
Post on TikTok with SocialBee!
Create posts, publish, analyze, engage and collaborate, all from SocialBee.