We don't need statistics to know that social media is incredibly popular amongst billions of people. This online space has become a source of socializing, entertainment, information, and moving activities from an offline environment to an online one.
Ads have made the transition as well. Paid social media advertising has become one of the most effective ways of promotion. With specific targeting options, contextual targeting, retargeting, and monitoring features, ads are your go-to marketing practice for fast and easy business growth.
In today's article, we are going to teach you how to master social media ads in 10 simple steps. So, keep reading to find out what it takes to run a powerful social media ad campaign.
1. Establish Your Goals
Going into a new ad campaign, the first thing you have to do is to write down your objectives. As a result, you will have a clear image of what you want to achieve, and you will be able to measure your success as the ad campaign unfolds.
Moreover, objectives can dictate the way you're building your ads – starting from targeting, text, creatives, budget, and more. For example, Facebook Ad Manager will ask about the overall goal of your ad campaign. Based on your choice, your ad options will change. So, pay attention to your objectives and set yourself up for success from the beginning of your ad campaign.
Types of Campaign Objectives
When it comes to ad campaign objectives, there are three important categories you should consider:
These three categories represent different stages of the customer journey. Starting from being unaware of a business to eventually purchasing from that business. You can later use this data for other campaigns such as interstitial ads, email marketing, etc.
2. Know Your Target Audience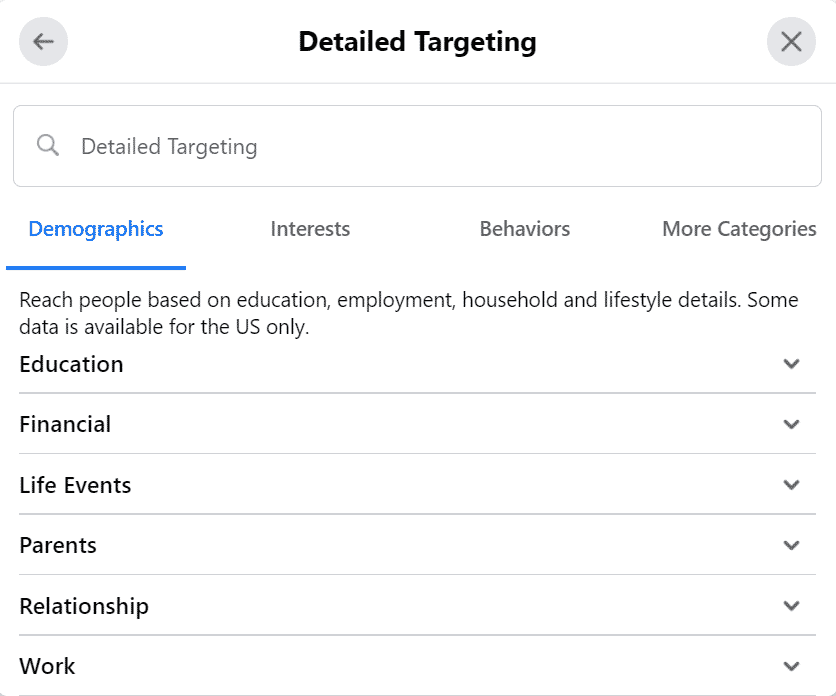 You might think that targeting everybody on social media might raise your chances to increase brand awareness and boost sales. But it's quite the opposite.
In reality, targeting a specific niche audience is much more effective. Why? Because even though your ads won't appear on everybody's social media feeds, you will reach audiences with a higher conversion rate.
Moreover, targeting a specific audience also has financial benefits. Rather than paying a significant amount of money to run broadly targeted social media ads that won't bring results, you can invest in running targeted campaigns that will increase your ROI levels.
Social media has come a long way. Just look at the targeting criteria Facebook allows for social media ads:
Location

Demographics

Interests

Behavior

Connections
3. Use Retargeting Tools
After targeting your audience comes the next logical step, retargeting. 
Retargeting means that you can target customers that clicked on your ad. Thus, increasing the chances of them buying your product, subscribing to your newsletter, or doing the desired action you planned through your ad campaign.
Let's take Facebook Pixel for example. When a customer clicks on your ad and reaches your website, the pixel associates them to their Facebook profile and targets them again the next time they're active.
So, if you ever felt followed online by an ad, now you know that it wasn't a coincidence.
4. Choose the Best Social Media Platforms
Before starting an ad campaign on social media, you need to keep in mind that each platform has a different set of subtleties, such as popularity, content format (mostly text, images, or videos), and audience type (different demographics, interests, behaviors).
People have multiple social media platforms for different reasons. For example, Youtube is a source of entertainment. Pinterest is mostly a source of inspiration that people use to look for recipes, quotes, outfit ideas, and more. And on a different note, LinkedIn is a great platform for networking, finding new employment, and business opportunities.
There are a lot of things you can consider before starting a social media ad campaign. But the most important things to keep in mind while choosing your social media platforms are:
Your target audience

Your ad campaign objectives

Your social media advertising budget
5. Create Your Ad Campaign Content
Now that you know your objectives, audience, and platform on which you will run ads, you have all the necessary information to craft the perfect content.
A social media ad is made up of:
How to Make the Most Out of Your Ads
The process of creating an ad is simple. Ad platforms or an ad creator provide all the necessary steps and fields you have to complete to make an ad. But how can you make sure you craft an engaging ad? 
Here are some effective tips that will help you catch the attention of your audience.
Write With Your Audience in Mind
Based on your target audience, you will have to create a copy that makes use of their pain points and interests. Focus on how your products and services can benefit your customers.
Furthermore, adjust your tone of voice. Does your target audience prefer a friendly approach? A humorous one? Or maybe they react better to a more formal and professional type of content. 
Pay Attention to Best Practices
Considering the social media platform you chose for your ad campaign, pay attention to best practices. Does the content perform better if you add hashtags? Is there a character count limitation?
Use a Strong CTA
Another important element of an ad copy is the call to action. A CTA represents the desired action you want your audience to make. So, make it direct, simple, and visible. To direct attention towards the CTA, you can also add an emoji, like this 👉, or this ❗.
Make It Visual
People are simple. They see an interesting visual, they stop to look. We all do. And can you blame us? The brain processes images 60,000x faster than text.
Visuals are very powerful and are very effective in terms of engagement. Statistics show that using visuals in Facebook posts increases the engagement rate by 2.3 times. 
Visuals can also increase sales. A study revealed that people are 80% more willing to buy a product after seeing it in a video.
The best news is that you don't need expensive equipment or designer skills to make engaging visuals. With lots of free stock photos available and affordable design tools like Canva, you only need your laptop and a little creativity to master social media visuals.
Link to Relevant Pages
Direct people to the most relevant page for your ad campaign. If you want to sell more products, link to your product page, if you want people to subscribe to your newsletter, link to your newsletter.
6. Get Inspired by Your Organic Posts
Most likely, you already have a social media strategy in place. Which is perfect when you are looking to explore the world of paid advertising.
To make sure you craft the best social media ads, you can head over to your analytics, search for the best performing content, and use them as templates for your social media ads. 
Let's take for example SocialBee's analytics. Here you can see the most successful posts with additional information about engagement.
In this way, you won't have to second-guess your content. You can just play it safe by paying to promote your top-performing posts. 
If an organic post can bring results, imagine its benefits by investing more financial resources in it.
7. Customize Your Ads for Mobile Devices
Your social media ads should be designed for mobile devices. Why? Because 99% of people access websites and apps from their smartphones.
Moreover, 20% out of 760 million users use both mobile and desktop devices. The numbers are right, social media is most comfortable from a mobile device. So, it makes more sense to invest in mobile-friendly ads.
To custom your ads for mobile devices, you have to adjust your visuals to look good from a small device. And if you want to make the most out of mobile ads, you can use geofencing to target your audience. So users that are in a specific zip code will receive ads based on their location. However, this practice is only effective for businesses with a physical location.
An example of geofencing is when a woman walks near an IKEA store and receives an app notification that says: "20% off on all Decor & Outdoors items (today only)!" 
8. Test Your Ads
You want to get the most out of your money when you plan to invest in social media ads. So, creating engaging posts is a must.
A great practice used in marketing is A/B testing. This requires showing ads to small targeted groups and comparing their performance. Based on the results of the testing, the top-performing ad is the one that is going to be used in the paid social media campaign.
9. Set a Social Media Advertising Budget
When it comes to setting a budget for social media ads, there is no simple answer. It depends. Budgets can vary from hundreds to thousands of dollars or more.
A survey showed that most businesses spend approximately up to 13% of their profit on marketing. 25% of that money goes to paid social media advertising.
The most important thing to keep in mind while building your budget is to invest in what brings you the most value. More specifically, you have to always consider your business goals when investing in media buying models. Also, if you have other financial assets in the form of crypto or digital coins, for example, consider using a crypto heatmap to keep track of changes and make smarter decisions.
For example, if you have a tight budget and your goal is to increase sales, paying for impressions might not be for you. Instead, you can pay for engagement to get people interested in what you have to offer.
Here are the media buying models you can choose from for your social media ad campaigns:
CPM – cost per thousand

CPC – cost per click

CPL – cost per lead

CPA or CPS – cost per action, cost per sale

CPI – cost per install
10. Monitor and Adjust 
At the beginning of the article, we talked about the importance of setting marketing objectives. Well, at this step in your advertising strategy, you will find out if you succeeded.
Objective data helps businesses see exactly the value social media ads brought to the table, and it allows marketers to constantly improve advertising campaigns. 
The metrics you need to track are called KPIs – key performance indicators. Here are the most important KPIs you should start monitoring:
Reach

– How many people have seen your ads

Engagement

– How many people liked/commented/shared your content

Conversions

– The number of people that did a key action (ex: purchased a product, subscribed to your newsletter, booked an appointment, etc.)
Use all the available data to improve future advertising campaigns. Experiment with different ad formats, monitor, analyze and adjust. 
To become an advertising expert, you have to practice and treat every campaign as a learning opportunity.
Bottom Line
Even though paid advertising sounds intimidating, it becomes easier to understand when you look at the process step-by-step.
Social media ads are important for businesses of all sizes. With the right advertising strategy, you can make the most out of a modest budget, and continue to invest more, as the financial benefits of running ads grow. It's harder at first, but we all have to start somewhere.
What do you think? Are you ready to invest in social media ads? Learn more about how our Ad Management service can help you create the best social media advertising campaign for your business.
To get started with social media ads, go to our Concierge Store, and choose the best advertising package for you.