"Sticking with a plan when you are winning sounds simple, but it's easy to become overconfident and get caught up in events. Long-term success is impossible if you let your heat-of-the-moment reactions trump careful planning."
— Garri Kimowitsch Kasparow
---
If you're a fan of sports, then you'll know that to win a game, you need to have a well-defined strategy (among other things). Your team might get lucky and win a few games, but luck can quickly run out, and then you'll have to depend on skill, hard work, and more importantly, strategy.
Now, social media marketing is the same. You could post a tweet, get lucky, and get a lot of clout overnight. But generally, this sudden fame will not last, and you can slide back into anonymity really fast if you're not careful.
How can you prevent this though?
Well, to have long-term success on social media, you need a good content strategy. This strategy will effectively summarize what you'd like to achieve on social media and how you will reach your marketing goals.
Right off the bat, you should know that there isn't a formula that will guarantee success in your social media marketing endeavors. But there are a few steps that you can take in order to come up with a good, if not great, social media content strategy.
So, how do you set up a content strategy in one month or less? Let's find out: 👇
1. Research the Where, When, and for Whom
When you start an assignment or a project, the very first thing that you do is research. And if you want to come up with a good social media content strategy, you will need to perform a lot of research.
The most important things that you need to know are:
For whom — representing the target audience
The where — representing the social media platforms on which you will post content and promote your business
The when — representing the posting time and the frequency of your social media content
For Whom
Let's start with the people you're making the content for. Essentially, the people you're targeting on social media are the same people your business is targeting with products and services.
Think about the time you came up with the idea for your product. Like most entrepreneurs, you specifically created a product (or service) to help a particular group of people solve an existing issue.
The same process applies when creating social media posts — you will have to create content that will appeal to a specific group of people (your target audience). The reasoning behind your content can be diverse and it generally depends on what your target audience wants to see on social media.
You can either:
Promote your products
Announce promotions and discounts
Share valuable and informational content
Entertain your audience
Stay in touch with customers
To create specific content for your audience you will need to know your audience's demographics (age, gender, education, location, etc). Once you have your demographics, it would be beneficial to create a buyer persona if you don't have one already.
Using a buyer persona will make your content creation process easier and a lot faster.
The Where
If you want your content to be seen by the right people, then you will need to know where to post it. The platform of choice for people generally depends on:
For example, research shows that there are 320 million global Instagram users aged between 18 and 24 years, and of all Instagram users 50.8% are female while 49.2% are male.
So, according to the aforementioned statistics, if you had a younger audience, then your go-to place would be without a doubt Instagram.
Once you know what platforms you should be posting on, you need to learn the ins and outs of each social media platform in part. Why?
Well, try comparing posting on social media with playing a board game. If you don't know how to play the game, then you will lose. If you don't know how to post on social media, then your content will go unnoticed by your target audience.
The When
When you post your content is just as important as where you post it. Once again, the demographic of your target audience comes into play.
For example, if you're targeting business people in their 30s, then you should keep in mind the working schedule of your demographic, which is probably going to be from 9 am until 5 pm. Posting content during work time would be a mistake, as your audience is probably occupied with completing tasks and doesn't have the time to scroll through TikTok or Facebook.
You should also bear in mind that each platform has certain timeframes when the traffic is more intense. Making use of these hours can prove to be highly beneficial because more people will be able to see your content.
But these high-trafficked hours can be a double-edged sword, with more business profiles posting during these time frames, there is a higher risk of your own posts drawing in the crowd and not being seen by your audience.
2. Look up Your Competition
No matter the field you're professing in, you most likely have to deal with some competition. Be it local or international, there might be some businesses that have similar products, services, or UVPs (unique value propositions).
Checking your competition is something that should be done when creating a business plan, but your research should stop there. 🙅‍♀️
In fact, your competitors can prove to be useful in more ways than one. Because you will have similar products, that mostly means that you will also have similar target audiences.
So by looking at the content created and shared by your competitors, you will be able to know:
What kind of marketing strategies work on your target audience
What posts will not trigger desired outcomes
What content gathers the most likes, comments, and shares
Get the right inspiration from your competition's social media profiles and tune some of those ideas so that they fit your brand image and voice.
3. Set Realistic Goals
Your social media goals are among the very first things that you should settle when creating a content strategy. Once you have everything figured out, you can start working on what you want to accomplish on each platform in part.
Try to be as specific as possible with your marketing goals. Settle on something too broad and you might not be able to reach that goal in the timeframe that you proposed.
A good trick here is to set S.M.A.R.T. goals. This means that your goals should be specific, measurable, attainable, relevant, and time-bound.
Here would be a few examples of goals:
Getting more followers
Increasing the number of likes and comments
Having followers share your content
Increasing website traffic from social media
Boost engagement between followers and your business
Increase brand awareness
No matter the goal, you should make sure that it fits your momentary needs. If you don't have enough followers, try boosting your pages by using popular hashtags or collaborating with brand ambassadors or influencers.
If you want to increase engagement, start answering questions in your DMs and replying to comments.
All in all, once you have your goals figured out, you can start working on your marketing campaigns and craft content that will help you reach your desired outcome.
4. Track Your Progress
How do you know you are getting closer to your goals? Well, you track your progress, of course!
You can track performance by having a list of marketing metrics and KPIs at hand. These metrics will be able to show you exactly how well your posts and your marketing campaigns are fairing on social media and how close you are to completing your goals.
Just like goals, you will have to choose which marketing metrics and KPIs you will want to follow. Of course, these metrics should match the goals you have set for your marketing campaigns.
Let's look at an example:
Goal 

Your primary goal is to get more followers.

Marketing Metric

You should track the number of new followers on a weakly or daily basis and get your average audience growth rate. 
There are many more marketing metrics that you can choose from, but just like before, you need to select which ones are most important for your business.
Find a Tool for Social Media Automation
One of the best decisions that you can make when it comes to social media marketing is to invest in a social media automation tool. Why? Well, a social media automation tool will just ease your workload, while making sure that content is delivered regularly.
An efficient social media tool that you can try out is SocialBee. Here are some of the things that we offer:
Content categories for diverse content types — you can create a category for memes, curated posts, promotional content, etc.
Customizable content for each profile — customize the same post so it can fit each platforms' requirements.
Content schedule — you can schedule the posting time and select the social media profile
Weekly analytics reports — see how you're performing by checking out the SocialBee reports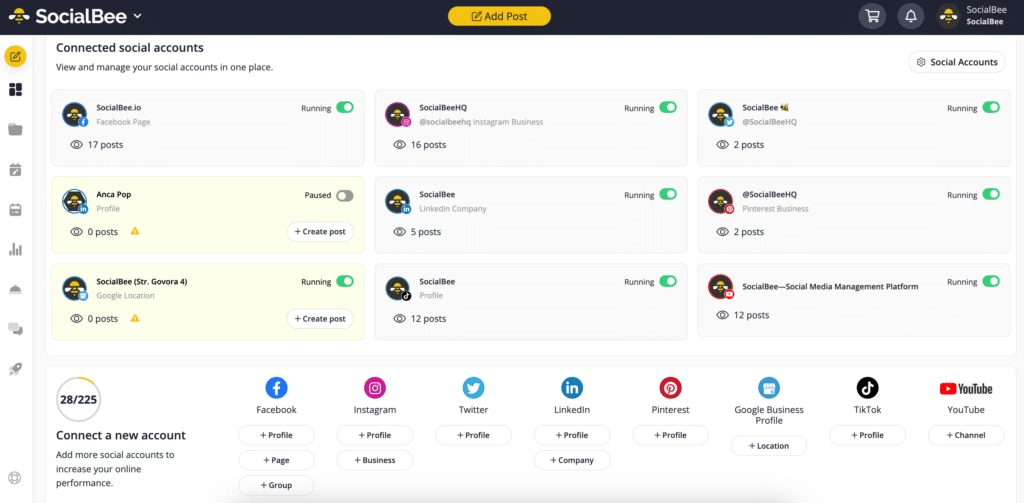 All in all, handling social media is not easy, especially with so many factors that need to be taken into account. This is why finding a social media automation tool is a vital step in any modern content strategy.
SocialBee: Your AI-powered social media management tool
Create posts, publish, analyze, engage and collaborate, all from SocialBee.
Bottom Line
You might find the process of building a social media content strategy pretty intimidating, and it sure can be, especially at the beginning.
But having a concrete list of all the steps that need to be taken can definitely make things easier. By following our tips, you will not only create a content strategy in one month or less, but you will also see your social media marketing campaigns flourishing exponentially.
So sit down with your marketing team and start working on your new social media content strategy.