Is content creation a successful marketing practice on its own without content promotion? This question deals with the same issue as the following dilemma: If a tree falls in a forest and no one is around to hear it, does it make a sound?
In the marketing world, the answer is less philosophical and more practical. Without promoting your content, you risk not reaching your target audience and thus not building a customer base that will generate profit for your business.
To help you promote your content successfully, today we will go through everything you have to know:
What are the best

content marketing platforms

How to build a content promotion strategy

What are the content promotion strategies you should be using right now
Let's get started!
Free Editorial Calendar Template!
Download the template so you can put together an editorial calendar for your business faster and easier than ever.
What Is Content Promotion?
Content promotion is the process of creating and sharing content across multiple communication channels (social networks, email, blogs, advertising, etc.) with the ultimate goal of increasing brand awareness, gaining more leads, and generating customer conversions.
This marketing practice combines both paid and organic strategies meant to help brands reach their target market and improve their profitability.
Content promotions and marketing can be done in-house or you can find services or tools to do the work for you. Especially if you want to post written content but don't have a writing team, looking for the
best AI writing tools
for your business would greatly help.
Why Is Content Promotion Important?
Content promotion is important because it helps you reach your audience through content that answers their questions and allows you to build authority within your niche. But, that's not all!
Here are the three main benefits of content promotion:
Stay top-of-mind:

By maintaining an active presence online, you make sure you are constantly interacting with your audience, either through social posts, blogs or newsletters. This visibility acts as a reminder that establishes your business as a recognizable brand in their mind.

Become an industry leader:

When you become a constant source of reliable information, you gain credibility and influence, not just over your customers, but also over partners and even competitors.

Boost conversions and sales:

When you're creating and promoting content, you are the one in control, meaning that you get to plug your products and services, establish your brand as a solution to your customers' problems and send your audience to your most valuable pages.
With this in mind, we can safely say that content promotion is not only important but paramount to businesses of all shapes and sizes.
The 5 Main Content Marketing Channels
A huge part of any content promotion strategy is represented by the marketing channels used to actually promote the content. 
The channels you include in your marketing plan impact your future results and also influence the structure of your content. So, before you settle on the best channels for your business, make sure you learn about them first.
Here are the five most important marketing channels for your content promotion strategy:
Social Media

Paid Promotion

Blog Marketing

Email Marketing

Online Forums
1. Social Media
What started as a fun socializing environment became an all-consuming platform where users can interact, learn, stay on top of the latest news, make purchases, and also fulfill their entertainment needs. And some people still wonder why social media is so appealing?
We are going to start with the obvious, social media is relevant to your business because it's where your audience spends their time. In fact, 54% of people use social media to research products. So, by neglecting this promotional channel you will be missing out on many business opportunities.
The first way to make sure you reach your customers is to be active on the platforms that they are part of. And by active, we mean constantly posting relevant content and encouraging interaction.
The main challenge brands face when promoting content on social networks is dealing with time-consuming tasks such as switching between platforms to create and share posts. 
This can easily be avoided with a tool like SocialBee that allows you to create, schedule, and share content to all your social media channels from one dashboard.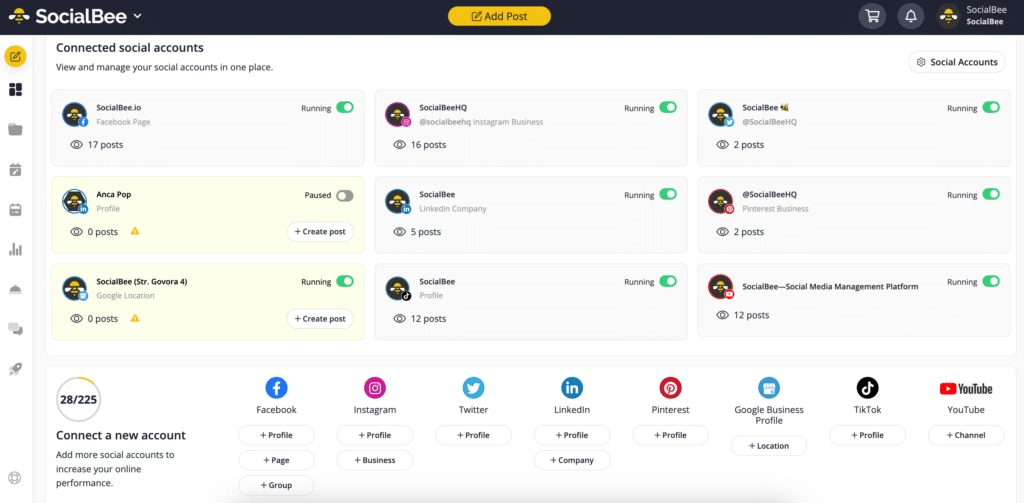 Connect your accounts to SocialBee and start managing all your social media promotions faster and easier than ever. 
Start your 14-day free trial at SocialBee today!
The big question is: How do you use social media as a promotion channel? Well, there are quite a few practices that will help you spread the word about your business, connect with potential customers and maintain a loyal audience.
To start marketing your business successfully on social media, you have to:
Choose the best social platform for your business

Customize your content for each channel

Maintain a consistent and diverse posting schedule

Interact with your audience (respond to messages, comments, reviews)

Invest in social media advertising 
Keep in mind that social media is a way to differentiate yourself from the crowd through your content and emphasize what makes your business worthwhile. 
Don't shy away from showing off your personality, and remember to keep an eye on the feedback that's coming from your audience. The key is to always monitor your performance and adjust your strategy based on the data you gather as you go.
Post on Social Media with SocialBee!
2. Paid Promotion
While organic content marketing practices can produce significant results on their own, paid advertising will help you reach your objectives in far less time. 
However, advertising initiatives require a budget that always restricts your possibilities. Paid marketing initiatives have to be calculated ahead of time and demand more strategy than any other type of content promotion.
The best-paid content promotion tactics you should focus on right now are:
Paid social promotion:

Create full-blown

social media campaigns

with targeted filters that allow you to reach your specific audience with ease. You can also choose the budget-friendly option of boosting your best-performing content to gain more visibility at a lower cost. 

Search engine marketing:

Do you want to be the first result that pops up whenever your customers look for your type of products or services? With SEM, you can pay for specific keywords to be one of the first results for searches with conversion power.

Influencer marketing:

Influencer collaborations can expose your brand to a new audience and boost your sales through effective initiatives, such as giveaways and contests. By associating your brand with a positive online figure, you get to improve your credibility and establish yourself as an authority in your field.
3. Blog Marketing
Starting a blog gives you plenty of opportunities to promote your content on search engines and on your other communication channels.
To make sure your articles rank well on SERP, you first have to work on your optimization process. What does this mean?
Well, search engine optimization (SEO) is a marketing strategy used to improve both your website performance and content (text, images, structure, links) so that your pages get featured among the first search results.  
The key to reaching your target market through blogs is to plan your content in terms of search intent. This means that you first have to create a list of keywords your potential customers might use to search for your type of products and services. Then use that list to inform your next blog articles. 
Here are seven blog content promotion tips:
Maintain a weekly posting schedule

Add internal links to valuable pages on your website

Plug your product and services seamlessly within your articles

Include visible CTAs to your products/services

Do outreach and get other blogs to link to your websites

Guest posts on other blogs to gain visibility

Share your latest blog post on social channels and include your best content in your email newsletters
You can even automate your blog promotion with SocialBee. All you have to do is import your RSS feed to the platform to turn your blogs into promotional social media posts. 
Whenever you share a new article, a social media post is created automatically in a specific content category inside SocialBee. Select your posting schedule once for the entire content category, write a short caption for each post and let SocialBee do the rest. 
Gain more website visitors by promoting your blog content with SocialBee!
Start your 14-day free trial at SocialBee today!
4. Email Marketing
Did you know that email generates $42 for every $1 spent? That sure sounds like a great deal.
Besides having a high return on investment (ROI), email marketing is also a cost-effective promotion channel that has proved to be effective year after year. However, this doesn't mean that just sending newsletters to your leads from time to time will be enough. 
Here is how to go about creating a strong email marketing strategy:
Find a quality email provider

Send weekly newsletters with promotions and valuable content

Create engaging subject lines that spark curiosity

Reconnect with inactive customers or subscribers with re-engagement emails

Monitor and adjust your strategy based on your analytics
What differentiates email marketing from other promotional channels is the fact that your message reaches the inbox of every recipient from your email list. 
Through email communication, you get to interact with your customers on a regular basis. Consequently, you stay top-of-mind and keep your audience up-to-date with your latest content, events, company news, and promotions. 
5. Online Forums
Taking part in online discussion communities like Quora, Reddit, or LinkedIn groups can help new audiences find your content. 
Quora's top writers can gain millions of views on their answers, with many clicking through to external links. For example, health and fitness writer Rohan Monga has accumulated 13.7 million views across 589 responses, or an average of almost 24,000 views per 300-400 word answer.
While many of these sites don't allow you to link directly to your blog or channel, sharing your thoughts on trending topics can still attract users to that content indirectly. Even when external links are allowed, it is good to get involved with other discussions first to build a rapport with other users.
For brands, online forums are a great way to attract new leads by offering professional advice and support. 
Let's say you run a marketing company. In this case, you would want to keep an eye on marketing-related questions and discussions where you can intervene and provide more knowledge. 
An efficient way to find relevant forum discussions is to use a social media monitoring tool to get notified whenever your company name or other relevant keywords get mentioned online. 
For example, if a potential customer wants to receive recommendations from marketing agencies, you could answer by providing a short description of your services. Additionally, you could offer to help them identify their needs and objectives through a free consultation.
How to Create a Content Promotion Strategy
Now that you have a better understanding of content marketing and the channels you should use, it's time to create an action plan.
Let's find out how to build a content promotion strategy in five steps:
Know Your Target Audience & Marketing Goals

Choose the Best Channels for Your Business

Customize Your Content for Each Channel

Maintain a Consistent Posting Schedule

Monitor Your Content Performance
1. Know Your Target Audience & Marketing Goals
Before you define your next action steps, there are two main aspects you have to base your strategy on:
Who are you addressing your content to?

What do you want to achieve through your content?
Go into detail regarding your target audience and objectives to make sure you create a strategy that will help you work your way up to success.
Start by building a buyer persona and including the following details:
Demographics (location, age, sex, employment status, income)

Needs/desires

Objectives

Hobbies/interests

Buying behavior

Challenges/pain points
Once you have your target market defined, it's time to set your marketing goals and key performance indicators (KPIs). This step will allow you to figure out your content marketing plan and make it easy for you to measure your progress.
So, when it comes to setting marketing objectives, you have to be as specific as possible. What do you want to achieve? How do you plan to do it? What is your deadline? 
Feel free to follow the S.M.A.R.T. objective formula to ensure you cover the most important aspects:
Specific

– Focus on

what

you want to achieve and

how

you want to achieve it.

Measurable

– Identify KPIs that will help you measure your progress.

Attainable

– Aim for a target that is ambitious but realistic.

Relevant

– Make sure your objectives align with your business needs.

Time-based

– Set a deadline for your objectives to help you stay focused on achieving them in a limited time frame.
We also mentioned KPIs, but what are they? KPIs are metrics businesses monitor to measure the effectiveness of their marketing initiatives. They are part of the structure of an objective and allow you to add metrics you can track to evaluate your progress.
Here are some examples of marketing KPIs:
Return on investment –

The profit you make compared to the money invested in marketing.

Return on ad spend –

The generated profit for every dollar spent on advertising.

Customer acquisition cost –

The financial resources you need to spend to turn a lead into a customer.

Marketing qualified leads –

A lead that has engaged with your business and has the potential to become a serious prospect.

Sales qualified leads –

A serious prospect that is ready to make a purchase.

Conversion rate –

The number of visitors that performed the desired action.

Website visitors –

The number of people that visited your website.

Referral traffic –

The source of your website visitors.

Social media engagement –

The number of likes/comments/shares/mentions on social media.

Follower growth –

The number of new followers you gain on social media.

Net promoter score –

Customer satisfaction

Organic traffic – The free traffic you get to your website from search engines. 
Customer retention –

The ability to retain a customer over a period of time.

The lifetime value of a customer –

The total amount of profit a business can make from just one customer.
2. Choose the Best Channels for Your Business
With your audience and objectives in mind, it's time to choose the channels that will help you promote your content successfully.
Firstly, you have to identify the ones that will have the most impact on your audience. What social platforms do they use? Do they check their email regularly? Are they active on online forums?
Next, you need to think about how these channels will help you achieve your goals. For, instance, let's say you just launched your business and you want to increase awareness and educate your customers, which one of the channels we mentioned above will help you do that?
In this case, by just starting out you won't have a large following on either channel, so online forums and ads will help you expose your brand to the right audience and build a decent following.
As your brand evolves, you can expand the number of channels used and link them for a more effective promotion:
Promote your blog on social networks and by email

Grow your email list by using social media

Gain newsletter subscribers by providing free resources and discounts on your blog 
Ultimately, you want to build an internal network that will allow you to make the most out of your content marketing efforts. 
3. Customize Your Content for Each Channel
To ensure you write content that will have a significant reach and engagement rate, you must customize it to fit the requirements of each network.
While for your blog, you must follow SEO guidelines to rank higher on SERP, on social media, you will have to create short posts that are highly visual and include elements such as emojis, hashtags, and tags to improve performance. 
Not only this, but each social channel comes with a different set of rules that affect the visual format you use and content length.
Fortunately, there are social media management tools that can help you adjust your post for each network with ease. With SocialBee, you can actually create a different variation of the same post for each one of your accounts from one content editor.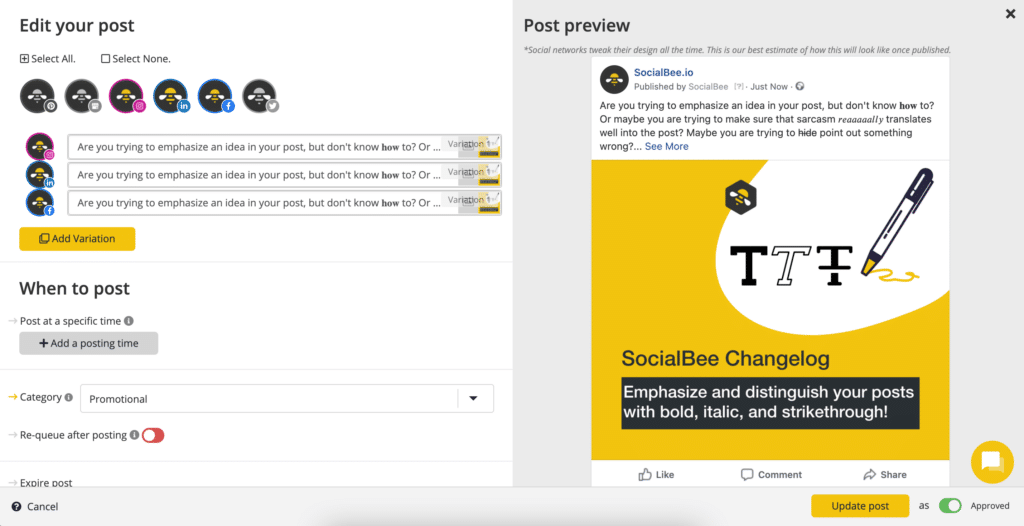 Adjust the posts you share on all your social media networks from the same content editor to increase your reach and engagement levels.
Start your 14-day free trial to improve your social media strategy easier than ever before!
To give your strategy more shape, assign your marketing goals to different promotion channels and use them as a way to decide on the topics you will tackle on each platform.
Let's say you provide accounting services. In this case, social media could be used to build a loyal customer base through constant interaction and customer support. 
On the other hand, your blog could be used to educate your audience and establish yourself as a reliable source of information. How? By creating articles dedicated to answering their most frequently asked questions and curiosities.
4. Maintain a Consistent Posting Schedule
Consistency is key! This applies to almost every field, but in content marketing being consistent gains new meaning, especially when relying on mostly organic strategies.
With every new post comes a new opportunity to reach and interact with your target audience. Being active on all your marketing channels shows that you are a reliable presence that makes an effort to provide content for your online community.
On top of that, posting regularly will expose your brand repeatedly to your potential customers which will help you become a recognizable entity in their life.
5. Monitor Your Content Performance
We mentioned consistency as an important factor in your content promotion strategy. It's important to clarify that doesn't imply that your approach should remain the same as time goes by.
While your schedule should stay more or less the same each week, your strategy should evolve constantly to maintain and increase your performance.
Marketing best practices are always changing—some channels change their algorithms, others become irrelevant, and consumers change their behavior (to only name a few examples). So, your strategy approach should be informed by all these aspects.
To audit and keep track of your progress, you first have to invest in the right analytic tools for your marketing channels. 
For example, SocialBee doesn't only make it easy for your to create, schedule, and share content from one dashboard, but it also provides insightful analytics about your:
Audience demographics

Page growth

Post performance (clicks, reach, likes, comments, shares)

Account activity

Most engaging time intervals during the week
With the help of SocialBee, you can access all your social media analytics from the same dashboard.
Start your 14-day free trial today!
To evaluate your entire content performance, you might want to opt for tools that will analyze your website traffic and performance and invest in an email provider that also has monitoring features.
Manage All Your Social Media Content Management Tasks with SocialBee!
Underrated Content Promotion Strategies that Work
Now that we laid a solid foundation and gone through the content promotion basics, let's explore some effective tips that will help you improve your performance.
Here are five examples of effective content promotion practices: 
Create and Share Lead Magnets

Offer Exclusive Content

Interact with Your Audience

Participate in Events and Webinars

Reinvent & Update Your Existing Content
1. Create and Share Lead Magnets 
Do you want to grow your email list and get people hooked on your content?
Get the best of both worlds by posting lead magnets on your blog and social accounts.
Lead magnets are free resources brands offer to their audience in exchange for their contact information. They can be anything from a free consultation or a discount code to an industry guide or template.
To attract leads, you must create resources that fulfill a need or solve a challenge for your audience. While vouchers and free consultations work 100% of the time, when it comes to creating a written resource, you have to put a little more thought into your approach.
Start by creating a list of the most frequently asked questions you have received over time. Next, research the most searched questions and keywords from your industry. You can even go straight to the source and create social media polls and Q&As to discover what resources your audience wants.
2. Offer Exclusive Content
Creating exclusive content is your chance to monetize your work while generating buzz around your brand. By making part of your content accessible only to a limited amount of people, you will build an exclusive and loyal community.
Exclusive offers can include:
Early access to your next blog or video content

Ebooks and video tutorials

Webinars

Q&A live sessions
An easy way to benefit from a subscription model is to create a Facebook subscription group or start a newsletter dedicated to your exclusive quality content.
Also, you can add a subscribe button to your blog so that people will get a notification as soon as you post a new article. Using this tip, Neil Patel increased site traffic by more than 200,000 visitors. 
3. Interact with Your Audience
Engagement and interaction directly affect your online visibility. Nowadays the market is saturated and to stay relevant, you have to create connections with your customers. 
Let's talk about three simple ways to interact with your audience:
Surveys, Quizzes, and Polls

Live Chat

Comments Sections
Surveys, Quizzes, and Polls
Conduct surveys and polls to gather feedback and get ideas for future content by asking subscribers what they want to learn more about. Such initiatives allow your audience to get involved and contribute directly to your brand's content initiatives.
Additionally, you could include interactive games and leverage quiz marketing to attract people to your website. For example, the "Fit Father Project's Are You A Fit Father?" quiz generated more than 15,000 profitable new leads.
Having such a fun initiative implemented not only attracts attention, but it also motivates people to share it with their friends. This way you get to expose your brand to a whole new audience.
There are plenty of other ways to provide interactive content that will depend on your business, such as developing custom software to explore ideas through games, VR spaces, and interactive demonstrations.
Live Chat
Live chat software allows brands to answer questions and give advice directly to build stronger connections through genuine interactions.
This step is meant to keep visitors on your page and provide them with useful information that will successfully convert them into valuable leads or even paying customers.
Live chat can be automated with chatbots or the good old-fashioned way: customer support representatives. The key is to keep your responses quick and to keep the momentum going—you don't want to lose your potential clients with a slow response.
Comments Sections
Interacting with your audience in the comments section is vital because it boosts your post visibility. If you manage to keep the comment pouring in by starting a thread of replies, the engagement will grow. 
But why is this so important? Well, algorithms promote posts that have a high engagement rate (likes, comments, shares).
Plus, checking in to reply to comments, feedback, and questions with insightful responses gives users another reason to keep coming back.
4. Participate in Events and Webinars
Webinars and industry events have always been a great way to meet new and existing audiences, as well as set up content collaborations with other thought-leaders. 
In-person events may be on hold for now, but online events and discussions are helping to fill the void. For example, SocialBee runs regular webinars to educate people interested in social media management in a live format where users can interact and ask questions.
Join SocialBee's webinars or watch the recordings of past events to learn more about social media marketing from industry professionals!
Take part in industry podcasts or create your own to set up insightful discussions with other members of your industry. The ability to share different perspectives and ideas with other experts is a great form of content and promotes your other channels. 
Besides pointing to posts that expand on topics you discuss, it also raises awareness of your ideas while showing those ideas are worth checking out.
5. Reinvent & Update Your Existing Content
When you've got a great piece of content that performs well, it can often be repurposed for other marketing channels.
For example, a popular blog post could be turned into an infographic or short video to repackage the same information. In a trial run to test the results of converting 7 blogs to video, HubSpot found that sharing the videos on Youtube and Facebook resulted in a 17% increase in traffic to their blog posts from those sites.
In case you are way over your head in new tasks and do not have time to repurpose old content, you can always outsource it to a video production company. With your supervision, your old content will shine in a new format.
This approach lets you focus on the key messages you want to convey instead of continually seeking new topics just to avoid repeating yourself. 
SocialBee offers a post variation feature that allows you to keep your evergreen content fresh after each posting. Such a feature allows you both to repurpose your best content and update it to keep it interesting to your audience.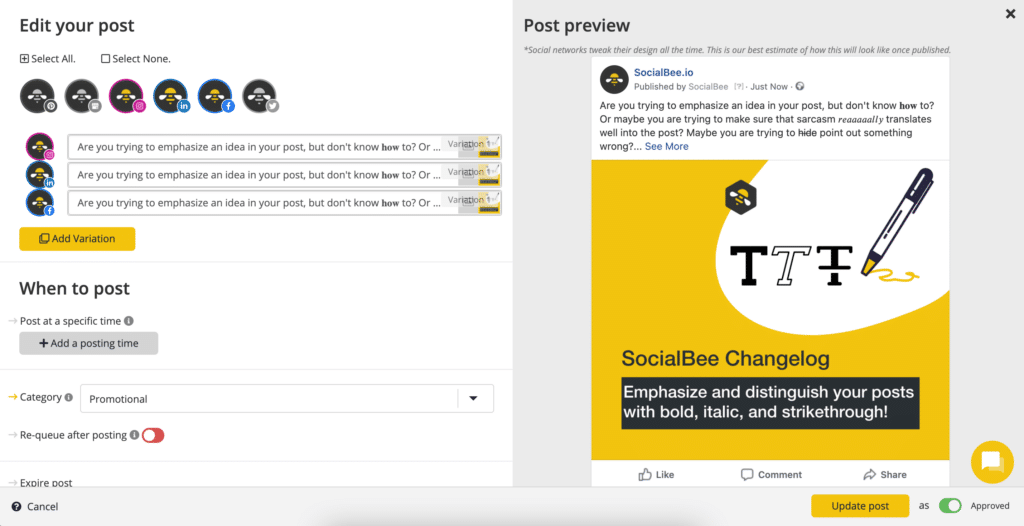 Repurpose your social media content and keep it new by creating different variations of it from SocialBee.
Start your 14-day free SocialBee trial today! 
Bringing your ideas to new formats, it is also vital to keep older content relevant. While videos are not so easy to edit and update, make a habit of regularly updating blogs to ensure they still reflect your industry's current situation.
Start by looking at the posts that rank well on the topic. This way, you will make sure your content is optimized with the right keywords and follows a format that search engines promote on the first page.
Even if the underlying ideas are still relevant, important keywords and technical terms change over time. This can mean users are less likely to find old content using outdated words and dismiss your advice as irrelevant due to their use.
Updating old content can have a significant impact on site traffic. Singlegrain tested this tactic by updating 42 of their blog posts within 6 months. As a result, the traffic generated by those pages almost doubled.
For similar reasons, depending on the age of a post, finding newer sources and statistics to show the trends being discussed still matter today. It is also a good idea to check that any references to your products and services are still accurate to your current offerings.
Think Outside The Box When Promoting Content
Better content promotion gets more value out of your work. Creating informative and entertaining videos, blogs, and social media posts are the foundation of every content strategy, but they can't help your business if nobody finds them. 
Use today's tips to stand out and make your posts easier to find while bringing back more repeat visitors.
Don't forget to leverage social media to grow your email list and promote your comprehensive blog posts. Make your cross-promotion seamless with SocialBee and automate your content distribution tasks for a more efficient workflow.
Start your 14-day free trial today and test SocialBee's features yourself!
Looking for a Top-Rated Content Management Platform? Try SocialBee!