As a business, you will be the subject of multiple online conversations you will have to track through social media monitoring.
While you can't control what others say about your brand, you can always control how you respond to them. But finding online conversations is almost impossible without the right software, not to mention time-consuming.
Because every skilled spy needs some technological gear to help them investigate, we created a list of the best 12 social media monitoring tools every business needs to manage its online strategy and reputation.
This list contains free tools, social media listening platforms with free plans, and affordable subscriptions that make the most out of your money.
So, keep on reading to find out more about our top 12 picks.
Free Editable Social Media Strategy Template
Get the social media strategy template you need to audit and plan your marketing efforts for maximum results.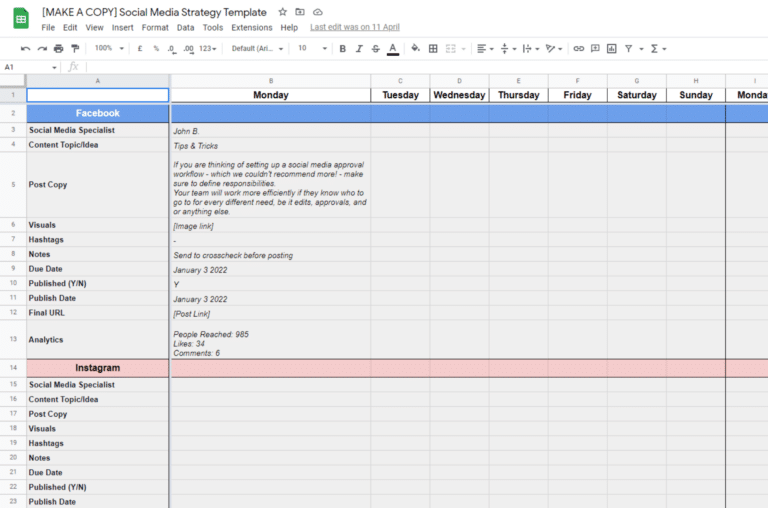 What Is Social Media Monitoring?
Social media monitoring is a popular practice used by marketers to evaluate online discussions that mention their business, industry, or other topics that might be of interest to them. Social media monitoring tools use keywords, hashtags, and specific brand names to find relevant online mentions.
The main goal of social media listening is to find out how other social media users perceive their business. Based on this information, business owners can improve their products and services. Other benefits of social media monitoring include:
Discovering trending content topics

Identifying relevant keywords

Researching competitors
The Best 12 Social Listening Tools
Do you want to track your performance across marketing channels and improve your promotional strategy faster than ever?
Here are the 12 social media listening tools you need to monitor your social media presence:
SocialBee

NapoleonCat

Tweetdeck 

Brand24 

Keyhole 

Mention 

BuzzSumo 

Sprout Social 

Iconosquare 

Tailwind 

Brandwatch

Statusbrew

Talkwalker

 

ContentStudio

Mentionlytics
What better way to start than with SocialBee? An all-in-one social media management software with features that allow you to control your entire social media presence from one dashboard. 
Set and adjust your posting schedule from SocialBee's content calendar.
Start your 14-day free trial today!
Let's take a look at everything you can achieve with SocialBee!
Create, Edit, and Schedule Content 
The platform offers all the tools you need to craft the perfect social media post. You can also edit at any time before sharing.
Moreover, SocialBee allows users to plan ahead and build an effective content schedule that will bring you the best social media reach and engagement.
Post on Major Social Media Platforms
SocialBee can post directly on Twitter, Facebook, Instagram, LinkedIn, Pinterest, Google Business Profile, TikTok, and YouTube. 
Use Content Categories 
With content categories, you can organize and diversify your social media content. By doing so, you get a healthy mix of social media posts that keep your audience interested. 
Schedule your social media post in bulk with SocialBee's content categories.
You can also use categories for your hashtags and create collections for social media platforms like Twitter and LinkedIn.
Moreover, the platform allows you to set, pause, or reschedule posts based on topics.
Reshare Evergreen Content
Reshare your evergreen content as many times as you want and get the most out of your valuable posts. SocialBee also offers an expiration feature that makes it possible for you to reshare a post for a limited number of times.
Improve Your Team's Social Media Workflow
Assign, approve, dismiss and delete content, and leave comments for your team within the app to save time and improve collaboration.
Receive Notifications
Set up notifications from the platform and stay up to date with your social media progress. You can choose to receive notifications when a post fails, an import is completed, a category becomes empty, and more.
Benefit From the Canva Integration
Furthermore, SocialBee can now bring your Canva designs straight to the platform. It saves you valuable time by not having to upload, download, and move files around your computer, all without switching tabs.
Create and import your Canva designs directly from SocialBee.
Create a Social Media Calendar
Forget about Excel files and Google Sheets, SocialBee has a built-in content calendar that offers a complete view of your social media content strategy.
Optimize Your URLs
Optimize your URL thanks to SocialBee's integrations with Rebrandly, Bitly, RocketLink, JotURL, Replug, PixelMe, BL.INK.
Moreover, you can also set UTM and Ref parameters for your content categories and track shared links.
Receive Analytics & Performance Reports
SocialBee monitors all your social media performance and builds insightful reports about your audience, activity, and top-performing posts.
Access all your social media analytics from SocialBee and generate PDF reports in a matter of minutes.
Start your 14-day free trial today!
This social media tool has:
A 14-day free trial for the Pro subscription

A Bootstrap subscription – $19 per month

An Accelerate subscription – $39 per month

A Pro subscription – $79 per month
Manage Your Social Media Accounts with SocialBee!
NapoleonCat is a handy social media management tool that will make it easy for you to follow all your brand conversations across different social media platforms: Facebook, Instagram, Messenger, Twitter, LinkedIn, YouTube, and Google My Business. 
Within the unified inbox, you'll find comments, messages, profile mentions, and reviews. You'll be able to reply to these conversations and talk through burning issues with your teammates thanks to the consultation feature. The inbox updates in real-time.
If you'd like to keep an eye on your competitors' presence in social media too, NapoleonCat is a perfect choice. You can add your competitors' Facebook, Instagram, and Twitter profiles and analyze their best-performing content alongside the engagement they generate. 
Tweetdeck is a customizable dashboard for Twitter that allows users to personalize their workspace, manage multiple accounts, create and schedule posts directly from the platform.
Additionally, it has social monitoring features that help businesses track search terms, hashtags, users, lists, and brand mentions.
Brand24 is a social media monitoring tool with features that make it easier for brands to discover online mentions, track competitors, and evaluate ongoing social media marketing campaigns.
It collects data from platforms such as Facebook, Instagram, Twitter, Youtube, Tik Tok, and Twitch. It also crawls the web to find relevant mentions on blogs, review sites, newsletters, and many more.
Additionally, Brand24 performs a detailed analysis based on your mentions and delivers reports that provide information regarding sentiment, search volume, reach, engagement, trending topics, and top social media profiles that talk about your business.
This social media tool has:
A 14-day free trial

Paid subscription starting from $49
Along with brand monitoring features, Keyhole offers tracking and analytics for influencers, competitors, and hashtags, and it provides information about social media sentiment, reach, and engagement.
Moreover, it collects data from Twitter, Facebook, and Instagram, helping businesses evaluate their social media impact. Apart from this, Keyhole also allows users to schedule, post, and optimize their content on social media (Twitter, Facebook, and Instagram).
This social media tool has:
A 14-day free trial

Custom paid subscriptions 
Brands can now track their mentions, schedule content, and engage with their audience from just one platform. Yes, you heard that right.
Mention monitors millions of online sources: social platforms (Facebook, Instagram, Twitter), review pages, blogs, and forums, to find relevant topics and trends that businesses can add to their social media strategy.
The free plan includes:
Monitored networks: Instagram, Twitter, review sites, forums, blogs, news

1 alert

1,000 mentions

3 social accounts

1 user
This social media tool has: 
A Free plan

A 14-day free trial for all packages

Paid subscriptions starting from $35
BuzzSumo is a social media monitoring tool that tracks brand mentions, industry news, and business competitors, giving you all the necessary information to succeed.
Users can set up mention alerts for important updates. In addition, BuzzSumo helps businesses find interesting content topics for their audiences and discover powerful keywords they can use for SEO.
The free plan includes:
10 free searches a month

1 year of data (max 1,000 results)

1 user

1 content project, max 100 items

Content analysis reports

Domain reports

Influencer searches

Backlinks

Journalist profiles
This social media tool has: 
A Free plan

A 30-day free trial for all packages

Paid subscriptions starting from $99
If you want an all-in-one solution for your social media management, Sprout Social is for you. This social media tool helps you, monitor, create, edit, and schedule content for all your social media accounts platforms: Facebook, Instagram, Twitter, Google+, and LinkedIn.
Moreover, it has a social inbox that allows you to manage all your social media messages from one dashboard, improving your customer service performance.
Sprout Social provides insightful analytics across all supported social media platforms, helping you to constantly improve your social media strategy.
The social listening features include:
Audience analysis

Customer feedback

Consumer research

Influencer recognition

Sentiment research

Campaign analysis

Competitor comparison

Trend identification
This social media tool has: 
A 30-day free trial for all packages

Paid subscriptions starting from $89
This Instagram social media monitoring tool has some impressive features that come in handy for any business, not just for monitoring purposes but also for scheduling content and performance evaluation.
But for now, let's have a look at the most important social listening features. Iconsquare enables you to track discussions about your brand. It also allows you to reply, moderate, and export conversations you find to be insightful.
Monitor your brand, analyze your competitors' performance, track the performance of your hashtags, and find content topics that will elevate your Instagram strategy, all from one place.
This social media monitoring platform also has free tools you can use to elevate your online strategy:
Bio link manager

Instagram and Facebook audit 

Random comment picker (for giveaways and contests)

Screenshot tool that turns tweets into Instagram posts
This social media tool has: 
A 14-day free trial for all packages

Paid subscriptions starting from $58
Tailwind is a social media monitoring tool designed for Pinterest, allowing users to schedule posts and access insightful analytics from the same dashboard.
Although it has plenty of social media management features for Instagram, it doesn't support monitoring on the platform.
Moreover, this social media tool is great for research, providing users with features that make it easy to analyze competitors, discover new trends, and evaluate their social media progress.
Here are the main benefits Tailwind has for Pinterest:
Keeps track of how often people pin your content

Measures your reach on Pinterest

Provides users with a better understanding of what content works best among consumers

Improves Pinterest SEO with keyword research

Manages comments and conversations about your brand 

Organizes pins by most pinned, most clicked, or most engaged
The free plan includes:
One Pinterest profile

One Instagram profile

20 posts/mo

20 post designs/mo

Five Tailwind communities

Smart.bio custom link

Basic analytics

One user
This social media tool has: 
A Free plan

Paid subscriptions starting from $9
Brandwatch provides great solutions for marketers with advanced analytics and reporting features. This social media monitoring tool supports the following platforms: Twitter, Instagram, and Facebook.
Do you want to optimize your impact on social media?
Brandwatch can help you:
Analyze online conversations to find the best keywords and influencers

Evaluate your social media campaigns to improve performance

Research your competition 

Find new content ideas
Apart from this, Union metrics has reporting features that allow you to evaluate your social media results while providing valuable information about the best posting times for your audience.
Moreover, Brandwatch offers free analytical tools for Twitter and Instagram, giving users instant insights with the necessary information about:
What and when to post

The best-performing content

The best-performing hashtags

The most influential people from their audience
This social media tool has: 
Free

social media

tools for Facebook and Instagram

Paid subscriptions starting from $49
Statusbrew is an all-encompassing social media management tool with advanced monitoring features to help you gather insights into your brand reputation and make data-driven marketing decisions. 
With Statusbrew's advanced social listening feature, you can proactively find essential information about your competitors, and it also assists with keeping track of the latest industry trends. 
Here are the main benefits of Statusbrew's social media monitoring tool:
Social listening for Twitter and Instagarm 

Language and geo-targeting 

Unified social inbox 

Custom view creation

Team collaboration 

190+ Reporting metrics 

Sentiment analysis

Competitor analysis 

Comments moderation & automation
Statusbrew starts at pocket-friendly pricing of $69 per month and offers a 14 days free trial. The plan includes:
5 social profiles

2 users

Unlimited posts

Bulk scheduling

Best time posting queue

Unified social inbox

Hide comments on Facebook & Instagram

Email support
This social media tool has:
A 14-day free trial

Paid subscriptions starting from $69
Talkwalker is a social media listening tool with advanced features and high-quality services. And we are not going to lie, it has some pricy prices, with subscriptions starting from $9,000 annually. 
However, we are not going to talk about those packages today. Instead, we are going to focus on their free social media management tools.
Talkwalker's free tools help brands:
Monitor their social media mentions

Track their most engaging content

Find the best social media platforms for their business

Discover backlink opportunities 

Identify accounts that talk about their brand

Monitor keyword performance

Research the competition
This social media tool has:
Free social media monitoring tools

Paid subscription starting from $9000 
Marketers spend a lot of time monitoring their social media presence. That's no longer the case. Using ContentStudio, you can plan, organize, schedule, and monitor all your social media posts from one dashboard.
It integrates 30+ social media sites, video publishing platforms, blog platforms, automation tools, image enhancement tools, and URL shorteners.
Connect with your audience on social media to boost your brand's ROI. The power of content marketing can be used to create potential business opportunities. Easily schedule, automate, and distribute social media content to dominate social media marketing.
Do you want to find out what your customers think about your business?
Well, you are in luck. Mentionlytics is a great tool for finding your brand mentions through social media conversations and websites such as news sites, blogs, community forums, etc. It works by crawling the internet to find keywords and brand names you are interested in. 
In addition, Mentionlytics helps users by:
Monitoring competitors 

Highlighting important mentions

Identifying the best posting times
Furthermore, it saves a lot of time by organizing all the relevant sources in one user-friendly dashboard. All you have to do is go through the available mentions and use the feedback to improve your business.
This social media tool has:
A 14-day free trial

Paid subscription starting from $99
Choose the Best Social Media Monitoring Software for You
Are you ready to track your performance like the best social media marketers in the industry?
As you can see, social media tools don't have to be expensive. There are plenty of free and affordable options you can use to do all your social media monitoring work.
So, don't waste any more time and try it out for your business. See what others think about your brand, research your competitors and analyze your social media progress by using our top 12 picks.
Don't miss out on a 14-day free trial of our Pro Plan. To learn more about how to use SocialBee's all-in-one social media management tool, book a free demo today!
Manage Your Social Media Accounts with SocialBee!