Coming up with great Instagram post ideas out of thin air can be a challenging feat, but having some post ideas ready to go can help you stay on top of the game.
Instagram has been around for more than a decade now and doesn't look like it's going anywhere soon. With so much potential on this social media platform, you'll want to make sure that your Instagram profile is on top of trends, looking sharp, and most importantly, keeping your followers engaged.
Since engagement is a result of a diverse content mix, the best way to increase your Instagram engagement is to customize your content specifically for the platform. However, when it comes to posting content for your own business, it's best to keep your Instagram feed as authentic to the brand as possible. 
For this reason, we'll explore 20 Instagram post ideas that you can implement right away for a better brand engagement! 
Discover 500+ Social Media Post Ideas
Get access to the full list of engaging social media post ideas and start diversifying your entire content strategy.
Improve Your Instagram Marketing Strategy with a Diverse Content Mix
Instagram is a visual-first social media platform, meaning that users can't share text-only posts. Written content can be added as an Instagram caption and serves as an addition to the visual content that gets posted on the platform.
To keep your audience entertained, you'll have to find a way to stand out from the average Instagram content creator. How? By diversifying your content mix. 
Essentially, posting more than one type of content can help you attract a wider audience, and keep your loyal viewers connected to your brand. 
Here are the reasons why a diversified content mix is important: 
It keeps your followers engaged.

It allows you to reach audiences with various interests.

It helps you explore new ideas and offer more value to your audience.
To connect with your audience on a deeper level, your posts must spark curiosity and emotion. Easier said than done, we know! 
Posting different types of posts each week keeps your audience engaged and invested in your content, which will, in turn, help you generate revenue from the social platform. By experimenting with content types you will discover topics and formats your audience will interact with the most.
With a little bit of help from a social media management tool, you can diversify your posts according to your audiences' preferences, needs, and desires, all from the same intuitive platform.
The result? Your social media will thrive! 
First thing first, what are you going to post about? Let's take a look at some of the content categories that SocialBee offers:
Promotional

Educational

Quotes, questions & fun posts

Blog content

Evergreen posts

Motivational posts
SocialBee's main dashboard is where you can connect and manage all your social media account—Instagram included, both business and personal. 
Start your free 14-day trial at SocialBee today!
Assuming you've got all your content mix in place, now you have to figure out when and how to post them. With SocialBee, you can group all your posts into content categories, and then schedule them according to the best hours and days of the week. 
The best part? Your social media is being taken care of on a day-to-day basis without you having to manually do the posting.
A complete Instagram marketing strategy includes more than just a good content mix and a posting schedule. To boost engagement and grow your Instagram account, you'll have to get ahead of the algorithms. A good way to do so is to use hashtags, mentions, and tags, and encourage comments through your IG posts. 
With SocialBee, you can create and reuse hashtags collections, so that whenever you're posting a photo or a video, everything is ready to go. 
Discover 500+ Social Media Post Ideas
Get access to the full list of engaging social media post ideas and start diversifying your entire content strategy.
The Top Types of Engaging Content You Can Share on Instagram 
Social media is all about the content you're sharing on the platforms. If you want to keep your followers engaged and boost your brand, you'll have to get serious about the content mix, what you're posting, and how often you switch between the content categories. 
A good mix between video posts, carousel posts, and high-quality pictures is generally a great way to post on Instagram. 
Feel free to have fun when posting and alternate between designs to keep your audience excited. Now, let's explore in detail some concrete examples and Instagram post ideas that you can use for each type of content! 
Here are the Instagram content categories we'll explore:
Promotional
Fun & Interactive
Motivational 
Educational
Promotional Instagram Post Ideas & Examples
Without getting overly promotional, you have to get your audience's attention towards your offerings. After all, that's what's going to make them buy and try out your products, which will, in turn, boost your revenue. Therefore, the first category of the content we'll explore is promotional posts. 
Promotional content aims to drive your audience's attention towards your products and services. In fact, Instagram allows brands to create shoppable posts to help customers make a purchase much faster. You can add product tags on images and lead your followers directly to your store.
Now, let's explore some concrete examples of promotional Instagram post ideas below:
1. Create a Weekly Series for Your Products and Services
A weekly series of a product or service is similar to a Throwback-Thursday post because it repeats every week on a certain day. These types of posts drive curiosity and anticipation in your audience's minds and make them connect to your brand on a personal level. 
Make sure to write a compelling Instagram caption and detail the meaning of your post every time you share something with your followers.
Here are a few ideas for weekly posts that you can implement on any given day of the week that makes sense to you:
Weekly unboxing videos

Posting a featured product of the week

Posting testimonials of your product

Customer success stories or case studies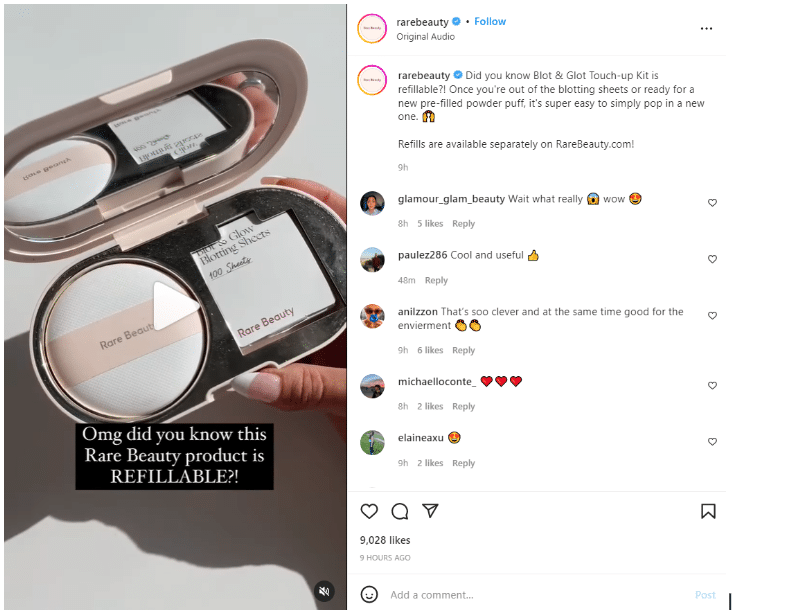 2. Share User-Generated Content
User-generated content mainly consists of anything related to your brand that's coming from your followers, customers, and other members of your community. UGC stands out from other posts due to its credible source: real customers. 
Some examples of user-generated content are:
Reviews and customer testimonials

Tutorials or unboxing videos from other online creators

Photos/videos of people using your product
When your customers post on Instagram about your brand, showcase their post by featuring them on your profile, as it shows that you value their input. User-generated content is social proof that your brand has built a community of happy customers.
Influencer marketing is also a practice that relies on recommendations. So, if you gave an influencer campaign planned in the near future, try to generate as much UGC as you can from your collaborators.
3. Post a Sneak Peek
Much like weekly series, sneak peeks boost anticipation. Let your customers know that you're working restlessly to come up with new and exciting products or services, and that you'll be sharing everything with them as soon as it's ready. However, for the time being, you can only offer a demo version or a sneak peek of the ongoing process. 
Not only will you drive up more engagement, but you'll also create buzz around your future projects. 
4. Offer Vouchers and Discount Codes
A great post idea for your Instagram feed is to offer your followers some benefits of being part of your social media community. By giving them exclusive access to your products and helping them save money by shopping from you, you'll surely get one step ahead of other brands which might not do the same.
Some examples of financial benefits that you can offer as free content to Instagram users are:
Vouchers

Discount codes

A free webinar

Free shipping
5. Post Video Product Tutorials
Tutorials are a great way to feature product videos or use multiple photos at once. When you go into detail about how people can benefit from your offerings and explain how they can use your products in their life, the chances of them buying from you grow so much more!
Therefore, create posts in which you detail ways to use a product you offer or recreate a situation, a look, or anything related to your brand that can be of use to your Instagram followers through Instagram videos. 
Fun & Interactive Instagram Post Ideas
These types of Instagram posts aim to be relatable to your followers, entertain them, and spark positive interactions. 
From pics of cute animals to relatable memes, sharing struggles from running a business, doing pop quizzes, and offering exciting updates about upcoming events, everything that's fun or interactive falls in this category.  
Let's explore five fun and interactive Instagram post ideas:
1. Host a Giveaway
Instagram giveaways are a great way to spark curiosity, boost engagement, and attract followers, as everybody loves to receive free items in exchange for a few simple tags and double-tap. 
From small business owners to major brands, everybody uses giveaways to insert product photos in the form of gifts and free benefits. Plus, it's super fun to organize, it boosts your social media presence, and your audience will love it!
2. Post Memes
Memes are a staple of the social media culture. As of 2022, memes became a universal means of communication for Instagram users, and especially for Generation Z. They are relatable, funny, spark lots of interaction, and they're easy to implement in your feed posts.
Use memes to share common struggles, relate to your audience on a more personal note and show that you're a fun and active Instagram account. 
3. Share a Photo and Let Your Audience Write the Caption
Another way to address your audience in a friendly way is to share a picture and let them write the caption for it. As a result, your comment section will thrive, while everyone gets to have a little bit of fun on your profile. 
Such Instagram posts have a high potential of going viral right away! As for now, the #captionthis hashtag has more than 850,000 posts on Instagram.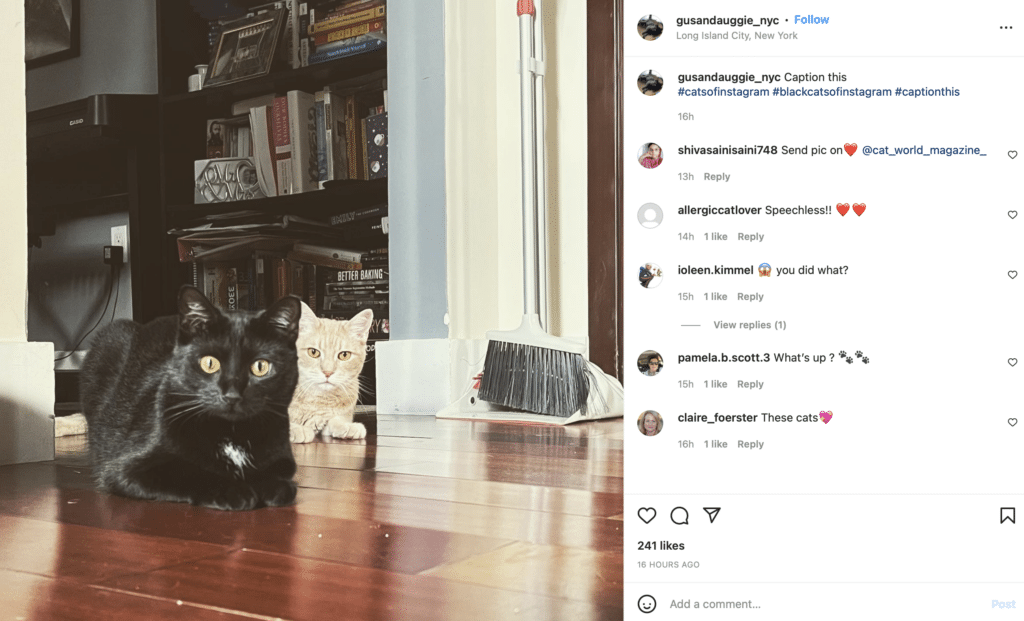 4. Celebrate Social Media Holidays
Holidays are a time of joy, peace, and leisure. With so much time on their hands, users spend much of their days on social media platforms.
For this reason, social media holidays are a great time to create product posts, promote an upcoming product, or post photos of any kind! To get access to a comprehensive list of holidays you can celebrate on social media, download our calendar below!
[Free Template] Social Media Holiday Calendar
Download the calendar template below and use it to plan your social media holiday posts with ease.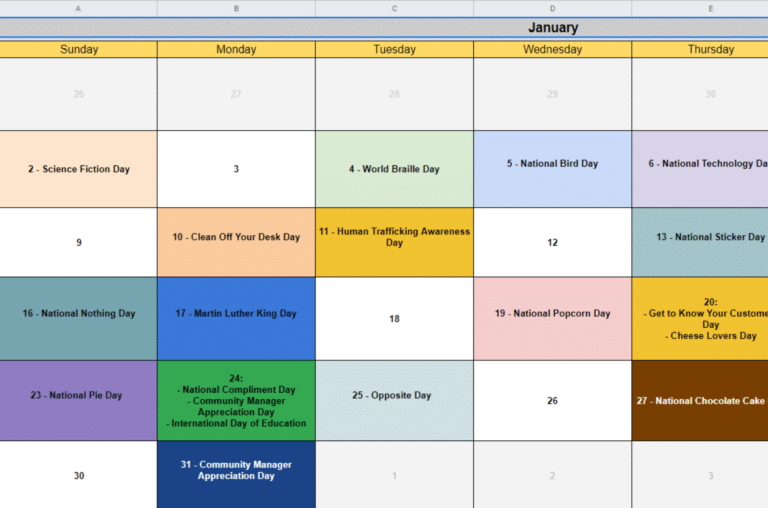 5. Post a "Fill in the Blank" Post
"Fill in the Blank" posts refer to pictures that resemble puzzles, riddles, or wild guesses that your users have to debunk to find the answer, such as:
The XYZ company opened its first branch in __.

I'd love to see the XYZ company open a new location in __.

My favorite product from XYZ company is __.
Post on Instagram with SocialBee!
Motivational Instagram Post Ideas
Motivational posts inspire people to do better and live a more meaningful life. Everybody loves these types of posts!
Therefore, let's explore five Instagram ideas about motivational content that can boost engagement below:
1. Share Inspirational Quotes
Quotes are shareable content, and with the ongoing popularity of Instagram stories, the chances of you getting featured on different profiles grow significantly. 
You can post quotes about topics such as:
Living a meaningful life

The importance of consistency and determination

Giving back to the community and being kind

Working hard and being determined
2. Post an Instagram Story About a Person Who Inspires You
Sharing is caring, and when you shout out your favorite content creators or role models, you're not only networking but also proving to your community that you're looking to promote other people too and grow along with your peers.
Letting others be part of your journey is an inspirational thing itself, and users will appreciate you sharing valuable content with them. 
3. Offer Your Best Professional Advice
Regardless of your area of expertise and industry, everybody could use some guidance from someone well-versed in their field. Therefore, surprise your audience once in a while with your best professional advice from the industry you're in.
Start by providing them with your background story, then give examples of real challenging or inspiring situations from your journey, so that they avoid falling into the same traps you did and learn from your mistakes.
4. Share Your Professional Journey Through an Instagram Carousel Post
Many of your followers are likely going through struggles of their own, so much like the average person in their professional life, they could use a piece of advice.
Assuring them that everything will be fine, that no one got to the top without hard work, and that you also had struggled to go through in your lifetime is a very comforting post for them.
5. Post About Your Company's Mission
In today's world, people are no longer just looking at a company as a source of products and services, but also as an entity that reflects their brand values.
The competition is fierce, and most likely, you have many competitors trying to dominate the market. 
Customers have plenty of options to choose from and that's why is so important to differentiate yourself from other similar brands. One way to do this is to relate with your target audience and post content that resonates with their beliefs.
Stating your mission clearly will not only boost brand recognition but also attract like-minded people who share your core values and will stand by you in your social media journey. 
Educational Instagram Post Ideas
These posts aim to share knowledge that will add value to their lives and help them make the right decisions. As a result, you will offer a helping hand while establishing yourself as a reliable source of industry-specific insights.
For instance, let's say you offer renovating services. In this case, a great example of an educational social media post could be an Instagram carousel that offers tips on how to decorate a room to make it seem spacious.
Without further ado, let's delve into five educational content ideas:
1. Create a Weekly Series with Tips & Tricks
Tips & Tricks posts are quite popular on Instagram, as people appreciate getting insights from different areas of activity without spending too much time researching and studying the field. 
These posts aim to offer surprising, yet useful life hacks that people can implement in their life right away. You can create these types of posts with little-known ideas from your industry. For example, if your business revolves around the fashion field, you could try sharing tips on how to wash leather products, how to style an oversized shift, how to fix a broken belt, etc.
2. Posts About Industry DON'Ts
Industry DON'Ts are generally posts that aim to stop the misleading assumptions of an industry and give great advice on how to not fall into common field-specific traps.
For example, if you're in the field of business and consultancy, you could post on Instagram advice on what not to do, such as: 
Don't buy securities and panic and sell them at a loss.

Don't go into business without proper research.

Don't underestimate the power of networking.

3. Explain Industry Terms
Don't let your audience feel excluded by using terms that they have yet to learn about. When it comes to explaining terms from your industry, be it finance, tech, science, or even from common fields like food and beverage or fashion, make sure your audience understands what you are trying to communicate.
The more you let them into your world, the stronger your communication and connection will grow. Also, it's a great way to diversify your posting content and draw more than just experts or well-versed connoisseurs in your circle.
4. Create a How-To Carousel
How-To Carousel posts are a great way to entertain your audience. Usually, they are short tutorials on how to do certain things. For example, if you're a business that's selling custom-made portraits or paintings, you could create a how-to carousel post where you detail how to draw a minimal portrait starting from a frame and all the way to the final product. 
You can use how-to carousels to offer a step-by-step explanation of something specific to your company. 
5. Share Industry Statistics
Statistics are one good way to post on Instagram and prove your company's value. You can use them to post interesting insights about your own brand or industry-specific analyses.
By using real-life figures, entertaining people who like to talk numbers, and sharing insights from your business or industry, you'll win the hearts of Instagram users!
You can use statistics to talk about:
The percentage of people who were satisfied with your offerings

The number of recurring buyers you have (so that your audience knows you're consistent in your services)

The percentage of people who are starting to gain interest in your industry

Findings from industry-specific studies
Discover 500+ Social Media Post Ideas
Get access to the full list of engaging social media post ideas and start diversifying your entire content strategy.
Include New Instagram Post Ideas into Your Strategy
Now that we've explored 20 great Instagram content ideas, you're probably wondering where you should start. You've got the blueprint for the future content, but how can you apply it?
Although the difficult part is to come up with good post ideas and catchy captions while staying true to your brand, it can also be challenging to create a homogenous feed and a good posting schedule.
With SocialBee, you can create, schedule, and share content on all your social media platforms. No more missing out on important events or the active hours on social media!
Share Your Creative Instagram Posts with SocialBee!