Almost anyone knows how to use hashtags nowadays, but there is more to this social media practice than meets the eye.
While most people use hashtags for the fun of it, marketers use hashtags to boost the visibility of their brand and increase their reach on social media.
And judging by the article you are reading right now, you are less interested in the fun side and more eager to learn how to improve your social media copywriting with the help of hashtags.
Luckily for you, we have prepared a complete guide that will teach you how to use hashtags on all social media networks!
Social Media Strategy Template
Streamline your marketing with an efficient social media strategy template.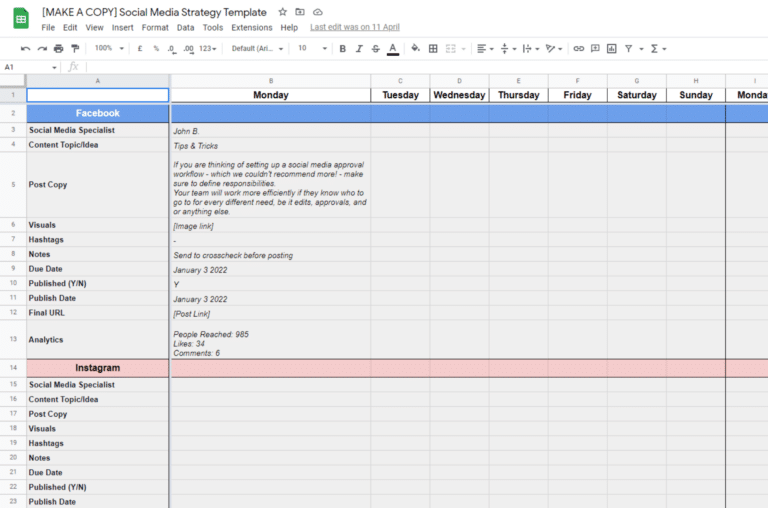 What Is a Hashtag?
Social media hashtags are made up of two elements: the hash symbol proceeded by keywords. Together they form a completely new element used to describe and categorize social media posts based on different topics. 
Basically, the role of a hashtag is to organize content across social media and help users find the information they need in a fast and easy manner. 
Social media users can find posts about a certain topic by:
Searching for a hashtag with the help of the search bar.

Clicking on a hashtag from a social media post they saw on their feed.
No matter how they choose to search, they are ultimately redirected to a new page that shows all the posts that contain the same hashtag.
In addition, users also have the option to follow a hashtag if they want to see those posts directly on their social media feed.
Types of Hashtags
There are no rules when it comes to what hashtags you can use on social media. After all, any word can become a hashtag if you just add the hash symbol in front of it. 
However, that wouldn't be wise, especially if you have a business account you want to grow through your content strategy.
Here are the seven types of hashtag categories you can be using:
Industry-specific hashtags – These hashtags describe your business, industry, and profession (e.g., #socialmediamarketing, #projectmanager, #sales).
Niche hashtags

– These are still industry-related hashtags, only they are more specific and better describe your speciality (e.g., 

#smallbusinessconsulting, #renewableenergy)

.

Community hashtags

–  Community hashtags are used to describe the aspects that bring you closer to your audience through their passions and hobbies (e.g.,

 #fashionenthusiast, #beautyguru).

Event hashtags – If you are running an event or just attending one, let your audience know by creating/using a specific hashtag (e.g., #Lollapalooza, #TEDx).
Location hashtags – As the name says, these hashtags are used to help your customers find your business (e.g., #Chicagotattooartist, #Bostonpizzeria).
Branded hashtags – Hashtags that contain the name of your business, your slogan, or your products and campaigns are considered branded  (e.g., #fentybeauty, #alsbucketchallenge).
Celebration hashtags – Any business on social media has dedicated posts to celebrate national or international holidays (e.g., #thanksgivingready, #NationalHuggingDay).
The Benefits of Using Hashtags in Your Social Media Strategy
You might think that hashtags are just a small part of your social media strategy. However, they play an important role in your content's performance. Therefore, it is highly important to know how to use hashtags.
The main benefits of using hashtags on social media are:
Increase reach and engagement

Build brand awareness
Add more context to your posts
And speaking of social media strategies, download our editable template below and use it to create your own marketing strategy faster and easier than ever.
The key is to create a healthy mix of popular and specific hashtags that can boost the visibility of your posts and help your potential customers find your content online.
With SocialBee you can create hashtag collections and organize them in different categories.
 Start your 14-day free trial today!
Increase Reach & Engagement
Nowadays, people use social media networks as their primary source of information. Why? Because social media is the place where content is much shorter, more visual, and straight to the point.
For instance, why would someone read through a detailed long recipe that also contains the cook's life story, when they can find the same recipe on Instagram in a short, simple and visual format?
People that follow hashtags that you use in your content will see your posts on their feed even if they are not following you. That is why using relevant hashtags is so great, you get to expose your brand to a larger audience besides your followers.
Build Brand Awareness
As we said before, using hashtags promotes your content to a larger audience outside your follower base. 
The simple act of popping up on the screen of your potential customers brings value because they become aware of your brand. Although it doesn't seem like much, this is the first stage of the marketing funnel. Without the essential step, conversions aren't possible.
Add More Context to Your Posts
On social media, shorter captions with a clear message tend to perform better. So, if you want to give more context to your posts without packing them with too much information, hashtags will do the trick.
Also, many platforms have a limited character count.
For instance, on Twitter, you can't write more than 280 characters. Using a few hashtags instead of writing a couple of sentences will add context to your post without taking too much from the character count you can use for your main message.
Best Practices for Hashtags
Before we talk about how to use hashtags on each social media platform, let's take a look at five general best practices you should include in your marketing strategy:
Respect the hashtag requirements of each platform
Research relevant hashtags
Use niche & industry-specific hashtags
Create branded hashtags
Keep your hashtags short
1. Respect the Hashtag Requirements of Each Platform
Not all social media channels are the same — they have different requirements that affect the way content is presented on their feed, and ultimately, its performance on the platform.
For example, Instagram has specific image and video sizes to ensure that every post looks visually pleasing.
When it comes to using hashtags, each platform has its own rules. While on some networks it's better to use 10 or 20 hashtags, on others, you might only have to use two or three.
So, make sure you understand the way hashtags are used on each platform and most importantly, how your target audience uses them.
2. Research Relevant Hashtags
Think about adding hashtags to your content the same way as adding spices to your food — you want to find a balance that will benefit your posts.
More specifically, you want to add both popular and niche hashtags that will increase your audience reach. Not only this, but you should also aim to find the right hashtags that are relevant for your business and customers.
Research is the only way to find out these details, and it's the practice that will make or break your hashtag strategy.
3. Use Niche & Industry-Specific Hashtags
As more and more people have started to search for products and businesses on social media, you must do your best to increase your visibility on the platform by using hashtags that best describe your business.
Think about what your audience would search for to find the type of products and services you are offering. What are the most obvious keywords they would go for?
By combining both niche and industry hashtags you manage to:
Use industry terms your audience will most likely search for to find your brand.

Mix popular and obscure terms that increase your

social media reach

.
4. Create Branded Hashtags
Through your own hashtags, you get to develop your brand identity and encourage your customers to get involved in your campaigns and join the conversation.
For instance, let's say you are a business consultant and you create a marketing campaign to increase engagement and connect with your customers.
So, you start a challenge to encourage your audience to tell a story of how they overcame a business issue. To participate, they have to post their story online, tag your account and add the branded hashtag you created specifically for this.
As a result, you will:
Get more exposure

Create buzz around your brand

Encourage user-generated content you can now share on your socials
Here are examples of branded hashtags we use for our business: #SocialBee, #LifeAtTheHive, #SocialBeeOffice, SocialBeeTeam, #KeepBuzzing.
5. Keep Your Hashtags Short
Long hashtags tend to get confusing for people, especially because there are no spaces to separate the words.
Keeping your hashtags readable will make it easier for your audience to understand the context of your posts. Not only this but avoiding long hashtags will improve the aesthetic of your social media content.
Moreover, considering that many social media channels have character limitations, using more short hashtags instead of a couple of long ones will increase your online reach without taking too much from your post copy.
Avoid These Hashtag Mistakes
Now that you know how to use hashtags properly, let's also discover the practices you should avoid at all costs:
Adding spaces & punctuation

Using too many hashtags
Having a private Instagram account
1. Adding Spaces & Punctuation
Adding spaces or punctuation between words in your hashtags will affect the way social platforms recognize them.
For example, writing your hashtag like this #marketing tips means that the platform you are posting on will only consider #marketing as a hashtag. 
2. Using Too Many Hashtags
There is a difference between using multiple hashtags vs using too many hashtags.
While we know that it might be tempting to add as many hashtags as you can to boost your reach, this can easily backfire. Using hashtags instead of words looks spammy, affects readability, and might even drive your audience away.
Just #try to #read this #sentence without #sounding like a #robot in your #head.
3. Having a Private Instagram Account
This might sound obvious, but including hashtags in your posts while having a private account will do nothing for your social media reach and engagement.
The main reason people use hashtags in their posts is to reach more users that don't already follow their page.  However, if you have a restricted account that only allows your followers to view your posts, then hashtags won't have any positive impact on your post's performance.
How To Find & Use Hashtags For Each Social Media Platform
There are two main things you must master in order to get the most out of using hashtags on social media:
How to research the best hashtags for your business.

How to use hashtags in your social media posts on each platform.
For this reason, we will go through all you need to know about researching and using hashtags effectively on all the main social networks: Facebook, Twitter, Instagram, LinkedIn, Pinterest, and TikTok.
Let's get started with the research process.
Top 3 Tools You Need for Hashtag Research
The goal of your research should be to find valuable hashtags and organize them in collections depending on their topic and popularity. You can easily do this by using a social media management tool.
Diversify your hashtags and customize them for each social network with SocialBee. 
Start your 14-day free trial today!
Why should you mix both popular and niche terms? Because popular hashtags increase your post visibility while niche hashtags attract your target audience.
Before we get into how to manually search for hashtags on social media, let's learn about the fastest and most effective way of researching hashtags: social media listening tools.
Here are three tool picks you should try:
BrandMentions

– BrandMentions allows you to discover what hashtags your audience uses the most so you can add them to your content and bring them closer to your business. Moreover, this social media listening tool also has tracking features that can monitor hashtag popularity over time on multiple platforms.

Hashtagify

–

Hashtagify

offers you hashtag suggestions for your tweets and insightful information about their popularity. Plus, the platform updates you daily, weekly or monthly (depending on how you choose) regarding new trending hashtags. Also, Hashtagify allows you to track the performance of your hashtags over time.

Brand24

– Brand24 is a social listening tool that reveals how many times a hashtag has been used, its reach, and its sentiment. Not only this, but it also informs you about the most influential profiles that use the hashtags you are interested in, and it sends you periodical reports that track the performance of your hashtags.
How to Find Hashtags on Facebook
The main way you can find hashtags on Facebook is to go to the search bar and type keywords that you are interested in using. As you start writing your hashtags, Facebook offers you other recommendations you could use in your posts. 
This type of hashtag search allows you to check:
Hashtag popularity

The context in which people use certain hashtags
Moreover, you can go through some of the posts that appear during your search and see what other hashtags are used that could also work for you.
How to Use Hashtags on Facebook
When it comes to adding hashtags to Facebook posts, the opinions are split. Some marketing experts recommend using hashtags, while others disagree. However, just because hashtags haven't been used in the same way as on other platforms, it doesn't mean that it's always going to be this way, especially when Facebook hashtags work the same as on any other platform.
Another thing you should keep in mind is that Facebook and Instagram have become more and more alike in the past years. This means that people will start using both platforms the same way.
Be ahead of the competition and start using all the features Facebook provides to improve your strategy. After all, there is no harm in adding a limited amount of hashtags in your posts if done right. 
Here is what you have to do:
Don't use more than two or three hashtags per post.

Only use hashtags related to your content.

Go more for branded hashtags and try to encourage your audience to use them through challenges and giveaways.
How to Find Hashtags on Twitter
To find hashtags on Twitter all you have to do is:
Use the search bar and the autocomplete feature.

Look through the posts from your searches to discover other related options.

Include the hash symbol (#) while writing a

tweet

and see what Twitter suggests you use.

Go to the explore page and identify trending Twitter hashtags.
How to Use Hashtags on Twitter
Twitter is known as the first social media platform that started using hashtags to organize content.
So, in this case, we know for sure that hashtags have a significant impact on the way content performs on the platform. 
Not only this but hashtags have become a way for people to join conversations. When a piece of news is trending on Twitter, chances are, there is already a hashtag people use to express their opinions on the matter.
Also, Twitter promotes hashtags on their explore page by showing the ones that are trending on the platform.
Twitter recommends using no more than two hashtags per post. This makes sense considering that you can only include 280 characters in a tweet.
To make them count you have to be careful about the type of hashtags you use and how you include them in your tweet.
Another thing you should consider is researching hashtags on Twitter before using them in your posts to make sure you use them in the right context. You never know when something is trending for the wrong reasons.
How to Find Hashtags on Instagram
To find hashtags on Instagram is very simple. All you have to do is go to the search bar, select tags and enter the keywords you want to use as hashtags.
Instagram will then generate thousands of results and suggestions you can choose from and use in your Instagram posts.
How to Use Hashtags on Instagram
The main thing you have to remember about using hashtags on Instagram is that the platform doesn't have much tolerance for repetitive content — this aspect is even mentioned in Instagram's community guidelines.
So, to avoid this, you have to mix up your content, as well as Instagram hashtags you add to every post. A great way to do this is by:
Creating multiple hashtag collections specifically for Instagram posts.

Organizing them based on topics and popularity.

Take one hashtag from each collection and add it to your content every time you

post on Instagram

.
SocialBee has a specific feature that can help you maintain an effective hashtag system. Research hashtags ideas ahead of time and save them in the hashtag collections. 
Start your free 14-day trial today and enjoy SocialBee's hashtag functionality!
Although Instagram allows users to add up to 30 hashtags per post, they recommend users add between three to five hashtags to each post. Instagram urges creators to use fewer hashtags that best describe their posts in order to boost their content to the right audience.
Instagram has a helpful feature that allows users to measure the reach they gain just from using hashtags on each post. To check your hashtag analytics, all you have to do is click on the "View Insights" button from the bottom of your posts, and just like that, you can track the performance of your hashtag strategy.
You might have seen Instagram users that don't add hashtags in the post caption, but they include them in the first comment under the post. The main reason some creators tend to do this is strictly for esthetic purposes.
However, Instagram revealed that this practice doesn't improve post performance in the same way as adding hashtags directly to your caption.
So, if you don't like the look of hashtags in your Instagram posts, you can simply hide them at the bottom of your caption. Just place three dots on individual lines before adding them to your post.
How to Find Hashtags on LinkedIn
Like on any other social media platform, LinkedIn allows users to discover hashtag ideas by using the search bar. The autocomplete functionality will generate more LinkedIn hashtags related to the keywords you choose to add.
You can also follow hashtags, see the posts that include them, and find out how many times they were used on LinkedIn.
To access all the hashtags you follow with ease, you can simply click on the hashtag shortcut placed on the left side of your LinkedIn homepage.
How to Use Hashtags on LinkedIn
Since people use LinkedIn for professional purposes, there is no need to go for trending hashtags the same way you would do on Twitter, for example. Due to the nature of the platform, this is the perfect environment for you to start using branded hashtags and create buzz around your business.
According to LinkedIn, only 1-2% of users are creating content on the platform. This means that there's way less competition on LinkedIn than on other social networks. 
Therefore, by using the right hashtags, you can:
Reach more people on LinkedIn than on any other social media channel

Build a meaningful platform for your business
The best way to use hashtags on the platform, according to LinkedIn social media specialists, is to:
Only use

three hashtags

Add hashtags at the end of your posts

Mix two popular hashtags and one niche hashtag

Only use hashtags in posts, not in the comments

Avoid using hashtags in LinkedIn articles, as they don't appear in hashtag feeds
How to Find Hashtags on TikTok
TikTok is one of the platforms that fully embrace hashtag usage. Almost all posts contain several hashtags in the post description. Moreover, when you click on the Discover page, you can see that all the trending TikTok videos the platform recommends are organized based on popular hashtags.
This is because TikTok creators come up with new challenges and trends every week. 
To share their ideas, they come up with specific hashtags that other creators can use to signal the fact that they take part in a challenge or trend. The most popular trends end up being featured on the Discover page along with their hashtag.
Similar to other platforms, you can also use the search bar to discover hashtags — just add keywords, select the hashtag menu, and TikTok will provide you with ideas that include your desired keywords.
Once you click on a hashtag, you are redirected to a new feed of videos using that specific hashtag. TikTok even allows you to save hashtag ideas by clicking the "Add to Favorites" button.
How to Use Hashtags on TikTok 
As we said before, hashtags are a big part of TikTok content because they are also associated with popular trends.
A great way to gain visibility by using trending hashtags is to actually participate in the challenges that come with them. After all, popular hashtags are valuable indicators of the content you should be making on the platform.
For instance, Fenty Beauty used the #euphoriamakeup hashtag to take part in a viral trend where creators replicate creative looks from the HBO hit series Euphoria.
Moreover, you can even start your own challenge and create branded hashtags that will increase brand awareness.
Since TikTok only allows 100 characters for captions, it's better to go for two or three hashtags per post.
Make sure to mix popular and specific hashtags to reach more people and increase the visibility of your posts.
Bonus: Do Hashtags Work on Pinterest?
Over the years, Pinterest has had an on and off relationship with hashtags. 
Once upon a time, Pinterest hashtags worked as on any other platform, they were clickable, and they lead to a separate hashtag feed. Now, hashtags work as normal keywords, and there isn't really a clear distinction between the two. 
However, just because hashtags are not a thing on Pinterest anymore, it doesn't mean that you should forget about keywords as a whole. After all, Pinterest is a search engine, and including specific terms will allow your content to get discovered easier on the platform.
It is essential to keep your keywords simple, intuitive, and oriented towards search intent.
Improve Your Social Media Marketing Efforts with Hashtags
Well, our journey has come to an end, which means that you are ready to use your hashtag knowledge to boost your social media reach and expose your brand to a larger audience.
Now that you know the best ways to research and use hashtags on each social media platform, all that is left for you to do is:
Create your hashtag collections

Share posts that contain the right mix of hashtags

Enjoy your results
So, start your 14-day free SocialBee trial today to organize your hashtags in collections, add them to your posts with the click of a button and monitor your social media progress regularly from one place.
SocialBee: Your AI-powered social media management tool
Create posts, publish, analyze, engage and collaborate, all from SocialBee.