Have you ever wondered how to write tweets to boost your social media community? In the fast-paced world of social media, crafting the perfect tweet can be a challenging task. 
With millions of tweets being sent out every minute, it can be difficult to stand out and capture the attention of your target audience. However, by utilizing a few proven tips, you can boost your engagement, gain new followers and maximize the impact of your tweets. 
In this article, we will explore 12 tactics to help you write tweets that effectively engage your audience and drive results on the social media platform. It has never been easier to craft tweets that generate meaningful interactions!
Social Media Strategy Template
Streamline your marketing with an efficient social media strategy template.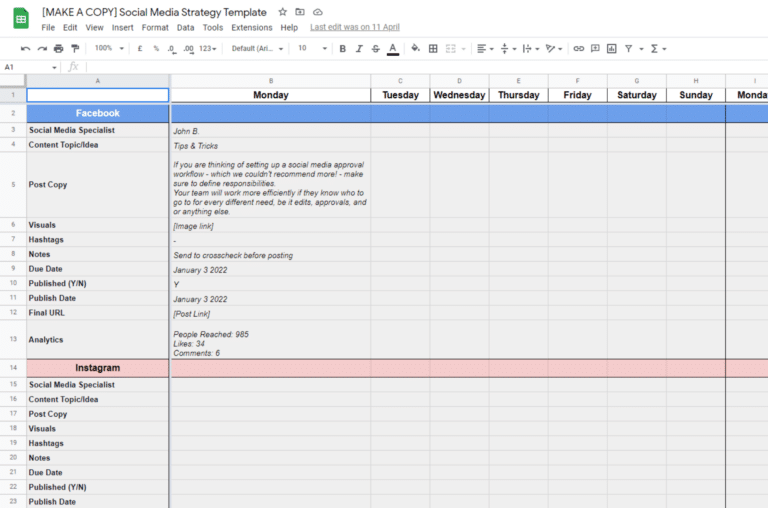 12 Tweet Writing Tactics: How to Write Tweets
Twitter is one of the most popular social media platforms in the world, with millions of active users sharing their thoughts, opinions, and experiences every day. Therefore, it is one of the most important social media marketing tools. 
Every time you press the tweet button, you need to make sure that you will share awesome tweets with your audience. Worry not, we have got you covered. 
Do your best to build an agile Twitter strategy by following these tweet tips:
Keep your tweets short

Address your target audience

Format your own Tweets as news

Show your astonishment

Ask a question

Use curiosity-generating words

Share your knowledge

Create urgency

Use the power of recommendations

Warn the reader

Write in the first person

Steal some copywriting tricks
1. Keep Your Tweets Short
Yes, we know. As Twitter supports limited characters, tweets stand for short-form content. But here we're talking about making the tweets super short.
One of the most common mistakes marketers make when using Twitter is trying to fill those 280 characters as much as possible. And if their thoughts don't fit, they use abbreviations and acronyms.
Try to avoid it. Abbreviations look sloppy, and they are challenging to read. The human brain sees it as an obstacle to avoid, so online users won't spend time reading your cuts. 
Instead, try to make your thoughts concise in a perfect tweet that can be read while they scroll on their mobile device.
Using shorter tweets will help you:
Stand out in a feed of long and monotonous posts

Create curiosity

Keep more people engaged and encourage them to hit the retweet button

Generate more link clicks

Build a Twitter thread of responses and opinions
If you don't know how to limit your thoughts in engaging tweets, don't cease to use SocialBee's AI generator. We have a collection of more than 1000 AI prompts that are designed for specific platforms.
Do you want to create engaging content for your Twitter profile with a matter of clicks? 
Start your 14-day free trial and try our AI generator!
You don't have to make all the tweets super short. Use this writing tactic to grab attention to your blog post link (shorten it!) and make your tweet stand out among "giants." This way, your tweet content will get noticed and evoke curiosity.
Examples:
Sparking creativity with [method/strategy]

Which one would you choose? [link]

Breaking news: [headline]. Stay up-to-date with the latest information [link]

Key takeaways from [event] [link]
2. Address Your Target Audience
This writing technique is about personalization and direct communication, and that's why it works. Start your tweet by addressing the audience to grab attention and make them understand that this particular message is right for them.
Here are some examples of original tweet hooks:
Attention, entrepreneurs! Learn from Bill Gates' mistakes: [link]

Marketers! Do you use these tactics to increase conversions? [link]

Dear photographers! You MUST read this article [link]
Simple yet effective. Why not give this tactic a try?
3. Format Your Own Tweets As News
People come to Twitter and other social media platforms for the news, so no wonder that corresponding tweets grab more attention. Make your tweets sound newsworthy, and present content as if it's something the audience has been waiting for a long time.
Here is the perfect example of how to do so:
Consider writing tricks like news-like open words (Finally! Announcing, At last! Great news, It's happening, etc.) and adjectives communicating exclusivity and evoking enthusiasm (revolutionary, breakthrough, record-breaking, etc.)
You can use a similar phrasing as these:
MS-DOS source code is now available to download for free [link]

It's happening! A revolutionary formula for sales copywriting has been found: [link]

Great news! ABC reveals the secrets of its success [link]
Important! Don't use this writing tactic as mere clickbait just for increasing your click-through rate. Be honest with the audience: If there's nothing "revolutionary" about the news you share, structure and represent your tweet another way. False news will never help you generate more engagement.
4. Show Your Astonishment
"Awesome!", "Wow," "I'm shocked," and other phrases expressing delight and surprise can get you tons of traffic from Twitter. The main thing is to choose the right words: Consider those that fit your brand's tone of voice, and use this type of wording only if it makes sense for the communication style of your target audience.
Examples:
OMG! What a tactic! – [link]

Shock! Google launched ranking without links – [link]

Wow! ChatGPT gets much smarter with this new algorithm – [link]
While this writing tactic is perfect for pitching to a younger audience, it may look weird in the eyes of savvy business people, finance experts, or entrepreneurs. So, before using it, ensure it's relevant to your case.
5. Ask a Question
Curious and intriguing questions a user can't answer with simple "yes" or "no" are motivating to click on to find the answer, thus generating the most engagement. This writing tactic is about appealing to a person's social instinct (the need for approval, status, and personal value).
Other users will click the link to find out if their subconscious answer to your question coincides with what they get. It's also about FOMO (the fear of missing out): questions motivate users to click as they don't want to miss anything new they might get from the answer.
Here are some examples to get inspiration from when posting your next tweet:
How would you describe your level of happiness currently? [link]

How long does it take a marketer to change a light bulb? – [link]

Do you make these silly mistakes when you speak English? – [link]
It's a powerful tactic because it involves the reader rather than giving a statement. And, as research shows, people use emotions rather than data, features, or facts to evaluate and remember brands. 
6. Use Curiosity-Generating Words 
Add words like "why," "this," "must," "these" or "how" to your tweets: They arouse curiosity and engage users to click the link to learn more.
Here are some examples of tweets creating curiosity:
Why you shouldn't be nice to your boss – [link]

This new diet is the one that works – [link]

You just have to do it – [link]
And again, relevancy is key!
7. Share Your Knowledge
Most users surf the internet to learn something new, interesting, and valuable that would help them become better. They want to educate themselves, grow personal or professional skills, or just satisfy their curiosity.
Use your Twitter to feed this hunger for knowledge. Share your informative content, but ensure you add some writing tricks for the audience to see how easily or fast they can do it. 
Share content with tips, ways, tactics, secrets, techniques, guides, etc., and mention words like "easy," "simple," "fast," "beginner," and so on in the titles.
Here are some examples of informative tweets:
How to become a copywriter in 10 days or less — [link]

10 simple steps to a healthy lifestyle — [link]

The beginner's guide to social media writing: [link]
As most informative content is evergreen, you can schedule it to your Twitter app content calendar way in advance and reshare it when needed. SocialBee is a social media publishing platform that can automatically repost your evergreen content and get in front of your followers who might have not seen it the first time.
Recycle your evergreen content and schedule it for your new followers!
Start your 14-day free SocialBee trial!
SocialBee allows users to re-queue evergreen content indefinitely in two ways: by re-publishing a specific post or by re-publishing multiple posts found in a content category.
Schedule Your Evergreen Tweets with SocialBee!
Create posts, publish, analyze, engage and collaborate, all from SocialBee.
8. Create Urgency
As a marketer, you know this actionable persuasive technique, don't you? By creating a sense of urgency and appealing to users' FOMO, we can motivate them to click, share, and make a purchase.
Why not try the same tactic on Twitter?
Phrases like "today," "last chance," "only," "just X left," "now," and "urgent" will serve as indicators for the audience to take action.
Examples:
Last Chance! We give you this awesome iPad right now – [link]

Hurry! Only 10 spots left at the Internet Marketing Seminar – [link].

Urgent! Read this now if you have headache problems – [link]
9. Use the Power of Recommendations
If 500 people tell you the product is high-quality, would you believe them? You bet. And if a recognized expert in the industry told you about his favorite service, would you pay attention to him? You know the answer.
Reviews, recommendations, and social proofs have incredible power. Keep that in mind when writing your tweets.
Here are some examples of how to use recommendations on Twitter:
We already have 10,000 subscribers. Join in! [link]

5.000 people have already tried this weight loss method and gotten results! [link]

All of Chicago is using this program [link]
10. Warn the Reader
On the one hand, warnings sound scary and may frighten a user away. But on the other hand, they provide valuable and vital information. That's why users willingly click on them: it's better to protect yourself in advance than to correct your mistakes later.
Here are some examples of using warnings on Twitter:
Beware! Landings can hurt you – [link]

MUST-READ: Don't make these ridiculous business mistakes – [link]

Caution. Google is stealing your content and traffic – [link]
11. Write In the First Person
Yes, we know that the universal copywriting rule prescribes using "you" and addressing the audience rather than speaking of a brand and the personas behind it. And yet, the power of "I" and "we" is hard to underestimate, either.
In content marketing and social media messages, these pronouns generate curiosity and can become a refreshing change from all those "you"-packed messages in users' feeds. They signal personality, honesty, and sincerity.
Give your personal opinion, and share details about your life. These tweets will add humanity to your brand.
Here are some examples of addressing Twitter users in the first person:
Yay! I've discovered the secret to sales copywriting: [link]

The most controversial article we read this year – [link]

Case study on how we got 10,000 Facebook followers in a month: [link]
12. "Steal" Some Copywriting Tricks
Savvy copywriters have a bunch of words and phrases that have a magical effect on readers, influencing their reactions and desire to act. These writing tricks aren't super original or new, but they are okay to use in tweets when you're out of ideas and don't know how to structure your message.
These engaging Twitter words are:
All the truth about…

Secret

Free

Simple

New

Hurry up!

Effective

Amazing

Unique

Exclusive
Important! Know your limit, and don't overuse these phrases by shoving them in every tweet. Clichés have never done anyone any good.
Frequently Asked Questions (FAQ)
Ready to Give These Tweet Writing Tactics a Try?
So, now you have it, the 12 writing tactics to implement in your Twitter marketing content for better engagement. They look simple and obvious, but that's exactly what makes them underestimated by marketers.
Remember: Everything of genius is simple.
No reason to follow all the 12 tactics religiously: Mix and match them to see what works for your target audience, test all of them to find the most actionable formula for your Twitter account, and develop a corresponding social media content  strategy to get the most out of your tweets. 
And don't forget: with SocialBee, you can generate, schedule, and share all your Tweets quickly and easily. Start your 14-day free trial now!
Manage Your Twitter Content Strategy with SocialBee!
Create posts, publish, analyze, engage and collaborate, all from SocialBee.
About the author: Lesley Vos is a professional copywriter and guest contributor, currently blogging on websites related to content writing, social media, and digital marketing. Specializing in data research, web text writing, and content promotion on social media channels, she is in love with words, non-fiction literature, and jazz.