Are you ready to find the best marketing tools for social media? Then, we've got you covered.
In a sense, social media managers are similar with handymen. Although we are talking about different industries, both professions require a set of tools to help them get the job done faster, easier, and with better results.
Don't pull out your screwdrivers just yet. We have other types of tools prepared for you that will help you enhance your social media strategy and achieve your goals.
As you already know, social media marketers use social media management tools and other types of content marketing solutions to control and optimize their online presence. But what are they exactly?
Stick around to find out!
Download the Social Media Marketing Plan!
Get the guide for creating a social media marketing plan for your business.
What Are Social Media Marketing Tools?
Social media marketing tools are platforms or software that assist businesses and marketers in managing, optimizing, and analyzing their social media marketing efforts. 
These tools offer a range of advanced features such as content scheduling, campaign management, analytics, audience targeting, social listening, and more that allow users to manage multiple social media accounts from one place.
17 Tools Any Social Media Marketer Needs in 2023
Connecting with your target audience through social media platforms is a must nowadays. 
The middleman here is the content that you share with all of them. Through your social posts, you want to boost sales, gain traffic to your website, grow your brand, and enhance all your marketing efforts. 
But this process can be time-consuming if you don't streamline social media management and enhance the way you handle all the work that goes into your online presence.
To perfect your social media marketing strategy, you have to:
Create social media content and post frequently on multiple platforms
Schedule social media posts at the right time
Use social media advertising for your products and services
Engage with your audience constantly
Pay attention to social media trends
Run social media reports
Doing these tasks on your own is almost impossible. This is where social media software comes into play.
But we face another hurdle once again. Since there are dozens of social media marketing platforms, what are the ones that bring quality results?
Well, you don't have to wonder anymore.
Here are the top 17 social media marketing tools perfect for any business:
SocialBee – Social Media Management Software

Brand24 – Social Media Monitoring Tool

Buzzsumo – Social Media Research

Woorise – Social Media Growth Tool

ProofHub – Project Management

Mention – Social Media Listening

AdEspresso – Social Media Ads

Bitly – URL Shortener

Zapier – Automation Tool

Iconosquare – Instagram Growth Tool

Customers.io

– Chatbot Platform

Audiense – Audience Segmentation

Ripl – Social Video and Content App

Monday – Visual Platform

QUUU – Content Suggestions Platform

LastPass – Password Manager

Biteable – Video Content Creation Tool
1. SocialBee – Social Media Management Software
Do you hear that? It must be all the buzz surrounding SocialBee's features again.
With an all-in-one package, SocialBee is an AI-powered social media management tool ready to help you create, schedule, and post your social media content.
Small businesses love SocialBee due to its intuitive interface that makes it easy to manage multiple social media profiles from one place. After all, as a small business owner, the last thing you want is to lose time on repetitive tasks that can be automated.

SocialBee allows you to use categories to arrange your posts. It also comes in handy for social media scheduling, pausing, or rescheduling content based on topics.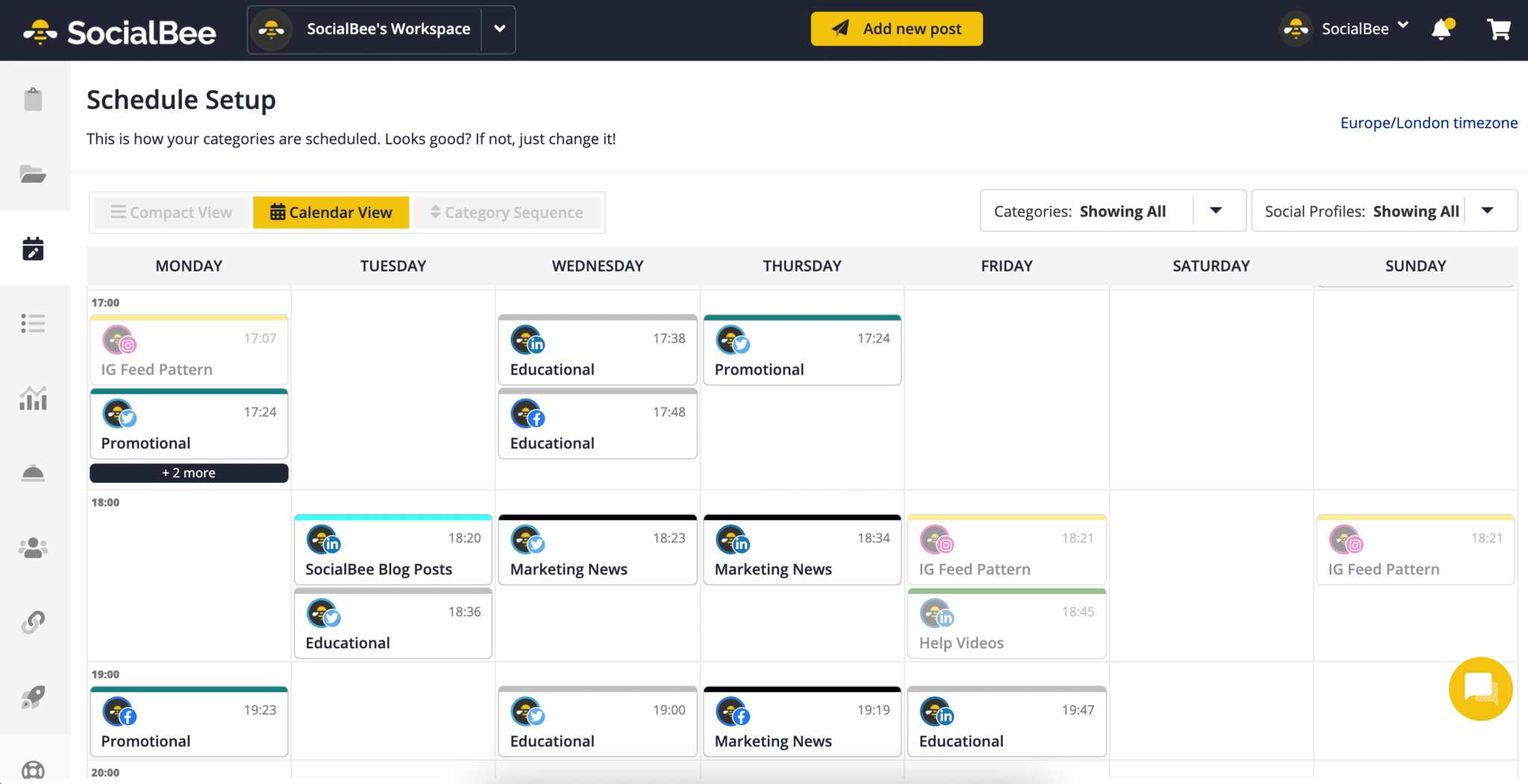 Manage multiple accounts, maintain a consistent posting schedule and monitor your social media analytics from one place: SocialBee.
Start your 14-day free trial today!
Here is why SocialBee might be the best social media management platform for you:
Integrated Design Tools:

Enhance your social media graphics by utilizing our seamless integrations with Canva, Unsplash, and GIPHY. Design captivating visuals directly within SocialBee.

AI-Powered Post Generator:

 Generate engaging captions and images effortlessly with our advanced AI Post Generator.

Content Categorization: 

Organize your content into categories to ensure a well-rounded and balanced mix of posts and efficient bulk scheduling.

RSS Feed Integration:

 Import content automatically from any blog by connecting its RSS Feed to our platform.

Post Customization: 

Adjust your posts for each social media network individually, optimizing them for maximum impact.

Automated Hashtag Generation:

 Let our platform automatically generate relevant hashtags based on your images or captions.

Post Recycling and Expiration: 

Easily recycle evergreen posts or manage time-sensitive content with our convenient features.

Social Media Calendar:

Set up a calendar-like posting schedule for all your profiles, ensuring consistent and timely content delivery.

Upcoming Post Overview: 

Gain a comprehensive view of your next 100 social media posts, allowing you to plan and strategize effectively.

Workspaces and Collaboration: 

Benefit from multiple workspaces and collaborative features to streamline teamwork and enhance productivity.

Link Customization:

Adjust your links with over 5+ URL shorteners and add UTM parameters for easy link tracking.


Account Growth and Performance Analysis: 

Analyze the growth of your social media accounts and evaluate post performance to make informed decisions.

Social Inbox:

 Engage directly with your followers' comments or mentions within the SocialBee platform, fostering meaningful interactions.
Pros:
Robust social media scheduling and automation features

AI content generation capabilities

Multiple content categories for effective post scheduling

Team collaboration and approval workflows

Helpful integrations with Canva, Unsplash, GIPHY, multiple links shorteners, and more.

Great customer support
Cons:
Slight learning curve in the beginning
G2 rating:
4.8
Free trial:
14-day free trial
Starting price:
29$/month 
Discover why SocialBee is ranked among the top social media marketing tools by checking out the following independent reviews:
SocialBee: Your AI-powered social media management tool
Create posts, publish, analyze, engage and collaborate, all from SocialBee.
2. Brand24 – Social Media Monitoring Tool
We all care about what other people think. And when speaking about brand reputation, it's a whole other story. 
Let us introduce you to Brand24. A media monitoring tool that will let you know when you are mentioned on a blog, podcast, review, news, or social media platform.
Brand 24 makes it easy for you to monitor your reputation, and also keep an eye on the competition. Furthermore, you can keep your customers happy by replying to any inconvenience, and showcasing your customer service skills.
This great platform can also detect the tone of mentions you appear in, and put them in three categories—negative, positive, and neutral.
Moreover, you receive notifications whenever a negative mention surfaces online.
Brand24 has a lot to offer, including:
Tracking engagement

Generating reports

Hashtag tracking
Pros:
Real-time monitoring for staying updated on brand conversations.

Reputation management by addressing customer concerns promptly.

Competitive analysis to gain insights into competitors' strategies.

Influencer identification for leveraging brand promotion.

Sentiment analysis for understanding overall brand sentiment.
Cons:
Limitations for gathering YouTube and Instagram mentions

Certain posts are not captured
G2 rating:
4.6
Free trial:
Yes
Starting price:
$79/month
3. Buzzsumo – Social Media Research
BuzzSumo is a tool that will help you in the research phase of your social media strategy. 
Have you run out of content ideas? No problem. You can find out the topics of interest in your industry and use them to create relevant content for your audience. Moreover, BuzzSumo lets you know what keywords your competition uses.
You can also create alerts for the topics, brands, and keywords that impact your business. Additionally, you can track every time someone mentions your brand and be as responsive as possible.
Pros:
In-depth content research and analysis

Identifies popular content and influencers in your industry

Social media monitoring and engagement features

Backlink analysis and tracking

Competitive intelligence and comparison tools
Cons:
A bit pricey for smaller businesses

Limited support for LinkedIn
G2 rating:
4.5
Free trial:
Yes
Starting price:
$119/month
4. Woorise – Social Media Growth Tool
Woorise is an all-in-one lead generation platform that allows you to create a wide range of interactive campaigns such as viral giveaways & contests, landing pages, forms, surveys, quizzes, and more to generate leads and engage your audience.
With Woorise, you've got everything you need to connect with your fans and find new ones.
Engage and grow your audience using a wide range of pre-built social actions, follow buttons, and embedded social widgets for the most popular social platforms. Create refer-a-friend campaigns to reward users with bonus entries for referring their friends and increase sharing and participation.
Some of the key features of Woorise include:
Create campaigns easily with a powerful drag & drop system and form builder

Get access to 50+ templates

Add thousands of Social Actions such as Instagram Follow, Facebook Follow, YouTube Subscribe, Twitter Follow, and more

Embed your campaigns on every website or platform

Send personalized Email Notifications

Create campaigns in any language

Create workspaces to manage all your brands or clients from a single account

Export your data in a CSV file

Make your campaign available to specific countries with geo-targeting

Multistep Forms

Redeem rewards instantly

Create personalized thank-you pages

Integrate with a wide range of apps including all major email marketing apps
Pros:
Versatile platform for creating contests, giveaways, and surveys

Easy-to-use 

Integration with popular email marketing tools

Customizable templates and design options
Cons:
Some advanced features require higher-priced plans

Limited branding options on lower-priced plans

Issues with the Facebook integration
G2 rating:
4.5
Free trial:
Yes
Starting price:
29$/month 
5. ProofHub – Project Management
ProofHub is a popular project management and team communication tool that you can use to efficiently manage your social media marketing projects and teams.
It brings together all of the features you'll need to plan, collaborate, manage, and complete projects on schedule. Your marketing workflows may be readily defined, and projects can be broken down into smaller, more manageable activities.
It is a cloud-based project management tool that helps you do more than just manage your projects. Powerful features like tasks, online discussions, timer, notes, files, etc., can help your marketing team to focus more on the delivery part rather than running around to gather data.
ProofHub's calendar view helps you schedule your important events like monthly social media campaigns and milestones. The proofing tool allows you to review and proof your images and creative files easily.
Some of the key features of ProofHub include:
Kanban boards to keep track of your tasks across different stages.
Gantt charts to visualize your project timelines and check task dependencies.
Table view to see all your tasks in a single window.
File management to store and share essential files.
In-built chat application and real-time discussions to communicate with your team and assign tasks instantly.
Automatic and manual time trackers to keep track of your team's time.
Proofing tool to review and proof files, images, and documents.
Project reports to get a detailed overview of overall project progress.
Calendar view to keep track of important milestones and events.
Pricing: ProofHub has two pricing plans. The first one is 'Essential' Plan which is priced at $45/month (billed annually) and another one is 'Ultimate Control' Plan which is priced at $89/month (billed annually).
Pros:
Comprehensive project management features
Task management, time tracking, and team collaboration tools
Interactive Gantt charts and Kanban boards
Cons:
Steep learning curve for new users

Issues with notifications

Limited budgeting tools
G2 rating:
4.5
Free trial:
Yes
Starting price:
$50/month
6. Mention – Social Media Listening
Mention is a social listening tool that helps brands keep track of their mentions, monitor their audience, and manage their social media networks due to its social media scheduler features.
This social media marketing platform monitors over a billion sources, such as social media sites (Twitter, Facebook, Instagram), forums, blogs, and review pages, to uncover trends and relevant content topics.
Now you can engage with your audience and respond to comments directly from the platform. In this way, you stay in touch with your customers by creating meaningful connections.
Furthermore, Mention also lets you create, schedule, and publish posts directly to major social media platforms.
Pros:
Real-time monitoring of brand mentions across the web

Comprehensive social media listening features

Advanced filtering and analytics options

Collaborative features for team management

Integration with popular apps and platforms
Cons:
It doesn't capture abbreviations or mentions on websites that lack in popularity

Higher-priced plans required for advanced features
G2 rating:
4.3
Free trial:
Yes
Starting price:
$41/month
7. AdEspresso – Social Media Ads
What do Facebook, Instagram, and Google Ads all have in common? If you said AdEspresso you are right. This platform allows you to create and perform split testing across these three channels and analyze aspects like headlines, images, and audience segments. 
AdEspresso optimizes your social media ads by examining your marketing campaigns. Not only that, but it also ends the ads that cost you too much, and uses the budget to boost the most performing ones.
Reports have never been easier to make. With AdEspresso you can generate insightful PDF reports to share with your team.
Other mentionable features:
Data synchronization tool

Automatic page post promotion

Onboarding requests feature
Pros:
Powerful Facebook and Instagram advertising management

A/B testing and optimization features

Comprehensive analytics and reporting
Cons:
Limited integrations

Customer support needs improvement
G2 rating:
3.5
Free trial:
Yes
Starting price:
$49/month
8. Bitly – URL Shortener
Bitly is a link-shortening tool, with the shrinking abilities of Ant-Man. 
Long URLs are unesthetic and difficult to remember, but Bitly will not stand for such a thing. Get ready to stand out with short, branded links that will get 34% more clicks.
What makes Bitly a great social media marketing tool is the feature that allows you to monitor clicks, geographic information, and top referring channels. As a result, you will have an understanding of your audience's content preferences.
Bitly is used in Google's Campaign URL Builder to compress links and monitor campaign performance.
Pros:
URL shortening and link management

Customizable branded short links

Analytics and reporting

Link in bio functionality

Collaboration and team management features
Cons:
Advanced features available only in higher-priced plans

Higher pricing for larger teams
G2 rating:
4.5
Free trial:
Bitly offers a free plan
Starting price:
$8/month if you buy an annual plan ($96/year) 
9. Zapier – Automation Tool
Are you sick of doing the same repetitive tasks every day? Well, you are in luck. Zapier provides an easy process that saves you precious time. Whenever something occurs in one of your apps, Zapier takes control and tells the apps what action to do next.
But, what kind of tasks can Zapier perform? Zapier handles tasks that you do frequently, that don't require a lot of thought, and assignments that deal with moving information from one app to another. For example:
Sending reminders

Moving information between apps (ex: adding tasks from one app to a to-do list)

Copying emails to a spreadsheet to create a database
Zapier offers many other benefits, such as:
Data safety

3000+ integrations

Built-in actions

Personalized workflows
Create your workflows from scratch, or use premade templates to go through your to-do list faster than ever.
Pros:
Automates workflows by connecting different apps and services

Wide range of supported apps and integrations

Customizable and complex automation options

Time-saving and productivity-enhancing features
Cons:
Tricky to set up

Some app integrations may have limited functionality or require technical expertise for customization.
G2 rating:
4.5
Free trial:
Zapier offers a free plan
Starting price:
$29.99/month
10. Iconosquare – Instagram Growth Tool
Transform Instagram into your most influential social media platform with the assistance of Iconsquare, revolutionizing your workflow like never before.
Experience the convenience of Iconsquare, the Instagram scheduling app, as you effortlessly plan your Instagram content, including images, carousels, and Stories. Ensure that each piece seamlessly integrates with your account's aesthetic by leveraging the Instagram Feed Preview functionality.
Iconsquare offers specialized features tailored to enhance your Instagram posts:
Seamlessly tag other users and locations, fostering greater engagement and connection.

Effortlessly include the first comment, crafting a compelling narrative for your audience.

Harness the power of strategic hashtags for improved content categorization.

Optimize your workflow by saving caption ideas in a dedicated folder 
But that's not all! Iconsquare extends its capabilities beyond scheduling and content management. Unlock the potential of monitoring your content's performance and analyzing your competition, all within a unified dashboard. Keep a vigilant eye on your brand mentions, ensuring no valuable engagement opportunity slips through the cracks.
Pros:
Detailed Instagram analytics and insights

Content scheduling and publishing

Competitor analysis

Community management features

Hashtag tracking and analysis
Cons:
Constomer service can sometimes be difficult to reach

Paid and organic analytics are sometimes grouped together
G2 rating:
4.5
Free trial:
Yes
Starting price:
$59/month
11. Customers.ai (Formerly MobileMonkey) – Chatbot Platform
If you are looking for a way to engage with your audience, Customers.io is for you.
This social media marketing tool makes communication easy with web chat, Facebook and Instagram chat marketing, and SMS features. All customer communication is unified in a chat inbox so that is easier to use.
A great tool Customers.io provides is built specifically for Facebook. Messenger ads have a better performance, so this is an effective way to use social media ads to your advantage.
Pros:
Chatbot builder for Facebook Messenger and webchat

Easy-to-use visual interface for creating chat flows

Integration with popular CRM and email marketing tools

Advanced targeting and audience segmentation

Real-time analytics and reporting
Cons:
No WhatsApp integration

Users can't move a contact manually within a workflow
G2 rating:
4.9
Free trial:
Customers.io offers a free plan
Starting price:
$249/month
12. Audiense – Audience Segmentation
Find your audience with Audiense. This social media marketing tool will help you reach your ideal customer base while also providing relevant insights into their online behavior.
Audience Insights provides an opportunity to explore your target audience options and personalize your audience segments.
Segmentation can be specific and surpass the usual location, age, and gender options, and identify segments based on interests.
Another tool developed by Audience is Audience Connect. Built for Twitter, this platform engages with your audience through direct messages from a Twitter bot.
Moreover, it allows you to improve your online presence through social media listening and community management.
Pros:
Audience intelligence and segmentation tool

Deep insights into social media followers and users

Advanced demographic and psychographic data

Real-time social media monitoring

Integration with popular social media platforms
Cons:
Users need to manage overwhelming amounts of information when creating separate reports for comprehensive analysis across various audiences.

The app offers US-only socio-economic insights
G2 rating:
4.4
Free trial:
Audiense offers a free plan
Starting price:
£32/month
13. Ripl – Social Video and Content App
Visual content has the potential to attract the attention of your audience.
Ripl knows that, and they have developed a platform for the creation of video, animated, or static social media posts that you can schedule and publish on your channels.
Ripl comes to save the day with customizable templates ready to optimize your content if you run out of ideas. Furthermore, you can play with visual elements to see what matches your business's aesthetic. 
The platform also provides a selection of more than 500,000+ images and videos you can add to emphasize your content.
The best aspect about Ripl is the flexibility it provides. For example, you can also use your phone to create, edit and post on social media without carrying your laptop everywhere you go.
Pros:
Social media marketing tool for creating animated content

Great collection of templates 

Real-time analytics and performance tracking

User-friendly interface
Cons:
The Ripl photo library is limited 

Lack of customization options
G2 rating:
4.4
Free trial:
Yes
Starting price:
$12.99/month
14. Monday – Visual Platform
What's your favorite day of the week? Probably not Monday, but maybe it will be your ideal social media tool.
With visual templates that take minutes to set up and helpful features that can help you manage all your social media channels from one place, Monday ticks every box on your list.
Avoid mistakes by setting up automation for your repetitive work that will save you valuable time. 
You have the option to view your content in different formats such as maps, social media calendars, or timelines, whatever works best for you.
Pros:
Versatile project management and team collaboration tool

Integration with popular third-party apps

Automation features for streamlining processes

Powerful analytics and reporting capabilities
Cons:
Doesn't take into account local calendars for planning management

The pricing tiers are across all members of the team

Some visual features such as the working dashboard are a little limited in customization and ease of viewing
G2 rating:
4.7
Free trial:
Mondays offers a free plan
Starting price:
€10/month
15. QUUU – Content Suggestions Platform
Ideas are the driving force of your content. But what if you run out of inspiration? We will let you in on a little secret. Quuu is a social media marketing tool that you can count on in times of need.
To make sure that you receive highly personalized suggestions, Quuu lets you pick categories that fit your niche.
Based on them you will receive content recommendations for over 500 topics. This comes with the source link, an engaging caption, and hashtag suggestions.
Quuu can help you:
Discover new content ideas through RSS feeds

Follow your favorite feeds and creators

Save content you would like to share

Use categories to organize your content

Share content
Additionally, Quuu can integrate with social media management platforms and social media schedulers you might already use, such as Buffer and HubSpot.
Pros:
Seamless content curation

It makes it easy to promote new blog posts

Time-saving automation features
Cons:
Limited control over specific content sources

The app dashboard can take quite some time to load 
G2 rating:
4
Free trial:
QUUU offers a free plan
Starting price:
$29/month
16. LastPass – Password Manager
LastPass is a password app trusted by 70,000 businesses. It is safe and easy to use, not just for tech-savvy people, but also for beginners.
Now, you can give access to your employees to important accounts while maintaining safety and staying in control of the situation.
It stores passwords securely and has excellent multi-factor authentication possibilities. LastPass also offers:
Safe password sharing

Password strength evaluation

Dark web monitoring

Credit card supervision

Recovery opportunities (US users)
Lastpass has an intuitive, well-designed interface. Moreover, it comes with a web version, a mobile app, and a browser extension that makes it easy for you to access from any device.
Pros:
Secure password storage

Convenience in managing passwords

Cross-platform compatibility

Synchronization across multiple devices

Multi-factor authentication
Cons:
Lack of relevant support articles available

It's not open source
G2 rating:
4.5
Free trial:
Yes
Starting price:
€3
.90
per user/month (billed annually)
17. Biteable – Video Content
Social media changes, but visuals remain relevant. Don't let yourself be intimidated by visual content creation. Biteable is here to help you create engaging and educational videos for social media.
Not everything in life has to be expensive and complicated. This is what Biteable proves, with its easy-to-use features and affordable pricing. Moreover, you get to use free resources like animated videos, music, and visual templates and create professional content in no time.
You don't have to settle with the visual templates provided because you have the option to personalize the colors to match the aesthetic of your business.
Furthermore, you can use the platform to make your social media ads more appealing, diversify your social media content, and create business pitches and presentations for your team and your clients.
We will let you in on a little secret. You even get helpful features with the free version of the platform.
Pros:
User-friendly interface

Wide range of templates and styles

Extensive media library

Customization options

Social media integration
Cons:
Template limitations

Exporting video is slow
G2 rating:
4.3
Free trial:
Yes
Starting price:
$99/month
Frequently Asked Questions
Are You Ready to Improve Your Social Media Efforts?
Now that you know some of the most relevant social media marketing tools on the market, it's time to gather the ones that fit your business needs the most and gain control over your online presence.
Keep in mind that every business is unique. What is right for you might not be the best choice for others. Start with the basics, and expand your collection of social media tools as your business grows. If something is not working, you might want to experiment with your tools until you get the perfect combination.
Let us help you get a better understanding of social media marketing software with a demo of our app.
Remember to start your 14-day free trial today to learn more about how to use SocialBee to improve your social media presence.
SocialBee: Your AI-powered social media management tool
Create posts, publish, analyze, engage and collaborate, all from SocialBee.