Welcome to Marketing 101! The only article you need to create your own marketing plan. 
So, if you are a small business owner or a new up-and-coming marketer, stay tuned because in today we will talk about:
What is marketing

The 4 P's of marketing

The main marketing skills for small business owners

The best digital marketing channels for your next campaigns

How to develop an effective marketing strategy

Top 3 tools for small business marketing
Let's start with some marketing basics!
Download the Marketing Calendar Template!
Access our editable marketing calendar template to easily organize your strategy.
What Is Marketing?
Marketing refers to a set of activities that have the purpose of promoting and selling products and services to a specific audience. Moreover, it involves all the practices that are used to get people interested in a product or service, such as advertising, communication tactics, market research, and more.
The 4 P's of Marketing
The 4 Ps of marketing (the marketing mix), are key elements that help businesses build a strategy to promote their products. 
By taking into consideration the 4 Ps of marketing, companies can take into account aspects such as their market, target audience, and main competitors to create a successful marketing plan.
The 4 Ps of marketing are:
Product –

Define the main characteristics of your product, including unique features and benefits that will make your audience want to buy it.

Price –

Settle on a price that reflects the quality of your product while also matching your customer's financial possibilities. Make sure to research your market and competitors before making the final decision.

Promotion –

Develop a strategy

and outline the main communication channels and activities you will use to promote your products.

Placement –

Identify the locations you need to manufacture and sell your products.
Marketing Skills for Small Business Owners
As a small business owner, you are probably used to being independent and, let's face it,  good at everything. So, it's only natural you would also like to develop your marketing skills. 
So, let's go through the basic skills any small business owner should master in order to improve their marketing efforts.
Content Creation
What is marketing without content? Hard to imagine, right?
Knowing how to create key messages and present your business in a positive light that resonates with your target market is a must. Even if you have a team of skilled content writers, you still have to understand and keep up with the latest content creation practices in order to evaluate their work and optimize your marketing strategies.
Digital Advertising
Nowadays, most of the advertising you do for your products and services happens online on social media, web browsers, web pages, apps, and more.
You have to go beyond identifying the right platforms for your brand and actually learn about the practices that will boost the visibility of your business.
As you probably know by now, each marketing channel has a set of unique characteristics that contribute to your success. 
For example, if you want to gain more website traffic, you have to learn about search engine optimization (SEO) to attract more visitors to your business page. 
Outreach Marketing 
To market your business and build authority within your niche, you have to know how to find the right opportunities. Outreach marketing refers to the practice of finding blogs and websites where you could promote your products and services.
But that's not all. You will also have to get in touch with the owners and negotiate the possibility of having your business promoted on their website. This is an important skill as it can drastically improve your search engine marketing, boost your authority and help you build meaningful business relationships.
Project Management
While working in marketing, you will have multiple ongoing projects you have to work on at once. To efficiently handle this demanding workload, it's crucial to employ project management workflow software.
So, as a business owner, you have to know how to:
Manage your marketing teams

Keep up with deadlines

Coordinate projects

Keep your marketing budget under control
Not to mention that you have to be organized and be able to switch from one project to another and find time for each one.
Sales Knowledge
As we talked about it before, the main goal of marketing is to attract customers and sell more of your products and services. 
So, it goes without saying that business owners and marketers should know how to:
Identify sales opportunities
Understand customer needs and offer solutions
Create appealing offers and promotions
Convince consumers to make a purchase
Provide a positive customer experience
The Best Digital Marketing Channels for Your Next Marketing Campaigns
Now that we covered the concept of marketing and the skills any small business owner should master, it's time to get a better understanding of the best marketing channels you should use to grow your business.
Let's start with… 
Social Media Marketing
Did you know that 54% of social browsers use social media for product research?
Well, now you do. So, let that sink in. 
Nowadays you can find almost any business on social media — as you should. But the goal is to not only have a business account but to maintain an active online presence as well.
Why is this so important? There are multiple good reasons. 
What you have to remember is that social media allows you to:
Promote your business
Increase your brand visibility
Build a loyal community of customers
Moreover, you get to interact and communicate with your potential customers, find out their needs and challenges directly from them — how convenient.
Furthermore, active business accounts that post regularly have a better chance of reaching more customers: more posts = more exposure. 
Apart from this, some social platforms value consistency, which means that their algorithm will boost your posts and show them to a larger audience, like Youtube and TikTok for example.
It's true that if you want to successfully market your business on social media you have to invest time and effort into creating valuable content for your audience. But not as much as you might think.
We have some sweet news for you — SocialBee is here to automate your content creation process. Why go to each social platform to create and post content when you can do it from one dashboard.
SocialBee's content editor enables you to customize posts for each social media network from one place. 
Power up your social media marketing by creating, editing, and scheduling all your content with SocialBee!
Create and schedule your posts ahead of time, repurpose your evergreen content and use SocialBee's integrations to curate relevant content for your audience. So easy!
Start your free 14-day trial today and explore the helpful features SocialBee has to offer!
SocialBee: Your AI-powered social media management tool
Create posts, publish, analyze, engage and collaborate, all from SocialBee.
Influencer Marketing
During the last couple of years, the potential of this type of marketing has risen considerably. There seems to be a handful of influencers for any business niche. 
Even if you sell smoothies, you will still be able to find a fitness guru, ready to advocate for your fresh and healthy products.   
Collaborating with influencers is something brands should consider doing regularly.
Here are some of the reasons why:
It increases brand exposure

It boosts sales

It provides more credibility
And if these benefits are not enough for you, get ready for this: businesses earn $5.78 (even up to $18) for every dollar they invest in influencer marketing. Great ROI, if you ask us.
Content Marketing
Content marketing doesn't resume only to social media content, it's a much larger part of marketing, and it includes any type of content, from blog posts to video tutorials — basically any form of content you share with your audience in order to get them interested in your company.
Its success relies on consistency, quantity, and quality. Moreover, it's a mix of great content and smart marketing practices that can boost its performance.
Search Engine Optimization (SEO)
We can't name our article Marketing 101 and not mention search engine optimization. It would be like making a sandwich but not adding the sauce. Madness!
No matter how great your content is, without SEO you won't be able to reach your audience before your competitors. 
Let's have a look at some of the main SEO practices that will bring you closer to your customers:
Using relevant keywords that match your audience's search intent

Adding internal and external links to your content

Improving your website performance and design

Including visible CTAs in your content

Optimizing images and URLs 
Email Marketing
Email marketing is a powerful channel you can use to generate more website traffic and boost your sales. In addition, this effective marketing channel will help your brand stay top-of-mind and increase customer loyalty.
There are lots of email marketing platforms you can use to share your content and nurture your leads, such as AWeber, Sendinblue, and Omnisend.
Video Marketing
Videos are not only great for increasing reach and engagement, but they're also smart business practices used for lead generations. In fact, 83% of marketers revealed that video content has helped them generate more leads.
While it's true that more effort goes into making video clips, it's not enough of a reason to totally give up on video marketing, especially when it delivers such great results.
Here are some video ideas that don't require professional equipment that you can make and repurpose for multiple marketing channels:
Go live on social media, save the recording and use them on your YouTube channel.

Make product videos and use them on your website, blog, and social media.

Film a tutorial and share it on all your marketing channels.

Put your webinars on-demand and share them with your audience even after the event.
Paid Ads & Pay-Per-Click
To achieve marketing success, you have to know how to mix organic and paid practices. If you only use one of them, you will not reach your full potential.
Nowadays, ads have become so targeted that you can reach people based on interests and hobbies. Moreover, PPC advertising allows brands to promote their businesses to customers searching for the type of products and services they sell. 
The best part is that businesses only pay when people click on the ad, and also they can see exactly the amount they spend on PPC and how much they get in return.
Moreover, social media ads are also highly effective, making it easier for brands to connect with specific segments of their audience and increase their sales.
Marketing 101: How to Develop an Effective Marketing Strategy
Step 1: Set Marketing Objectives
Step 2: Establish Your Core Metrics
Step 3: Know Your Target Audience
Step 4: Perform Competitive Research
Step 5: Learn About the Marketing Funnel
Step 6: Establish Your Main Marketing Channels & Activities
Step 7: Build an Editorial Calendar
Step 8: Monitor Your Marketing Strategy to Maximize Your ROI
Now that we got the marketing channels out of the way, it's time to get into the eight basic marketing strategies you should be using for your business. 
But remember, just because they are basic marketing concepts, it doesn't mean they are less important than other practices. On the contrary, they are the fundamental pillars of your marketing plan.
Let's not waste any more time and get right into the most effective marketing strategies anyone needs to know.
Step 1: Set Marketing Objectives
Every successful project starts with a clear set of objectives. 
It might not seem like a big deal, but it's a step you don't want to overlook. 
Let's think about it this way: creating a marketing strategy without setting marketing objectives is like trying to go out with your friends, but nobody knows where or when you should meet. Consequently, because you don't know the location, you also don't know how to get there, obviously.
Your objectives are your destination — only we are not talking about a physical place, we are talking about the results you want to achieve.
The best way to start a new marketing project is to write specific objectives that define:
What you want to achieve

How do you plan to achieve it

When should you be able to achieve your objective

How to measure success
When in doubt, you can always follow the S.M.A.R.T objective formula:
Now let's go to step two and see how you can monitor your progress.
Step 2: Establish Your Core Metrics
Your marketing strategy will involve using different channels and creating multiple campaigns throughout the year. 
With so many things going on, it would be hard to monitor your progress and see how close you are to achieving your marketing objectives if you don't have established metrics to monitor.
These quantifiable measurements are also known as key performance indicators (KPIs). 
Depending on the campaign you are running or the marketing channel you are using there are different KPIs you can use to measure your progress.
Check out the table below to find out the most important marketing key performance indicators.
Return on investment –

The profit you make compared to the money invested in marketing.

Return on ad spend –

The generated profit for every dollar spent on advertising.

Customer acquisition cost –

The financial resources you need to spend on lead generation.

Marketing qualified leads –

A lead that has engaged with your business and has the potential to become a serious prospect.

Sales qualified leads –

A serious prospect that is ready to make a purchase.

Conversion rate –

The number of visitors that performed the desired action.

Website visitors –

The number of people that visited your website.

Referral traffic –

The source of your website visitors.

Social media engagement –

The number of likes/comments/shares/mentions on social media.

Follower growth –

The number of new followers you gain on social media.

Net promoter score –

Customer satisfaction

Organic traffic –

The free traffic you get on your website from search engines. 

Customer retention –

The ability to retain a customer over a period of time.

The lifetime value of a customer –

The total amount of profit a business can make from just one customer.
Now that you know your core metrics, you can start using Google Analytics to monitor your progress and see how close you are to achieving your marketing objectives.
Step 3: Know Your Target Audience
Who is your target audience?
The answer to this question dictates your whole marketing strategy. After all, the goal is to make people discover your brand and convince them to purchase from you.
But how can you gather all the information you need about your audience?
Simple, here is what you want to do:
Go through your social media and

Google Analytics

and write down the most relevant information.

Go to

Statista

and look at the demographics of each social media platform to find out where you can find your customers.

Create a survey and share it on social media or send it to your customer base to gather more information.

Use

social media monitoring tools

to find the people that talk about your business.

Go through the people that follow your competitors on social media.
We know that it might seem difficult to retain all this information, especially when it comes from so many sources. So, what you want to do next is create a buyer persona or more (depending on your business model) and give a structure to all the data you need.
Basically, by creating a buyer persona, you develop a fictional character that represents your audience. 
Here are the main details you should include:
Name

Demographic information

Interests

Behavioral characteristics

Challenges/pain points

Objectives

Values

Buying behavior

Needs

Desires
Step 4: Perform Competitive Research
If you want to keep up with the competition, you first have to do your research to identify their strengths and weaknesses. As a result, you will gather valuable information that comes in handy when you want to improve your strategy, your content, and even your services.
For instance, if while you conduct your competitor analysis you discover that most of their complaints indicate that they deliver orders late or in bad shape, you could improve your delivery system and use it as a USP while promoting your products and services.
Take a look at the aspects you should consider while performing your competitor analysis:
Target audience

Pricing information

Website design

Social media strategy 

Content marketing strategy

Email marketing strategy

Digital marketing strategy

Sales materials and activities

Business reviews 

Sentiment/public opinion
Step 5: Learn About the Marketing Funnel
The marketing funnel is a simple concept that informs businesses about what they need to improve in their strategy based on their customers' journey.
To better understand the marketing funnel, let's look at its three stages:
Top of Funnel (TOFU)

: The customers are not familiar with your company's products or services.

Middle of the Funnel (MOFU)

: The customers are researching your products.

Bottom of the Funnel (BOFU)

: The customers want to purchase from your company.
Let's say you have a decent amount of website visitors, meaning that your customers are now aware of your products. However, there are not enough conversions happening compared to the traffic you have weekly.
This means that you lose customers after the MOFU stage. So, you have to work on improving your website. Perhaps you could add more visible CTAs, use a chatbot to initiate conversations with your customers, add a pop-up urging them to subscribe to your newsletter, and more.
Step 6: Establish Your Main Marketing Channels & Activities
While on this step, consider the data you have gathered until now through your audience and competitor research, all while keeping in mind your marketing funnel.
Apart from this, you will also need to align your marketing objectives with the channel and activities you plan to add to your marketing plan. That is how you keep the focus on achieving your most important objectives.
The following questions will help you decide on your main marketing channels and activities:
What are the best social media channels for your business?

What are the main activities that can help you overcome your weaknesses?

What can you borrow from your competition?

When are the best times of the year you could run ad campaigns to boost your sales?

How can you transform your strengths into business growth opportunities?
Step 7: Build an Editorial Calendar
The content you publish for your audience is a constant source of business opportunities. It has the potential to increase your website traffic, help you generate new leads, nurture your relationship with your customers and boost your sales.
For these reasons, you must focus on maintaining a consistent posting schedule on your business blog, your social media platforms, and send emails and newsletters to your customers regularly.
While this might sound like a difficult task, it's actually quite simple once you create an editorial calendar.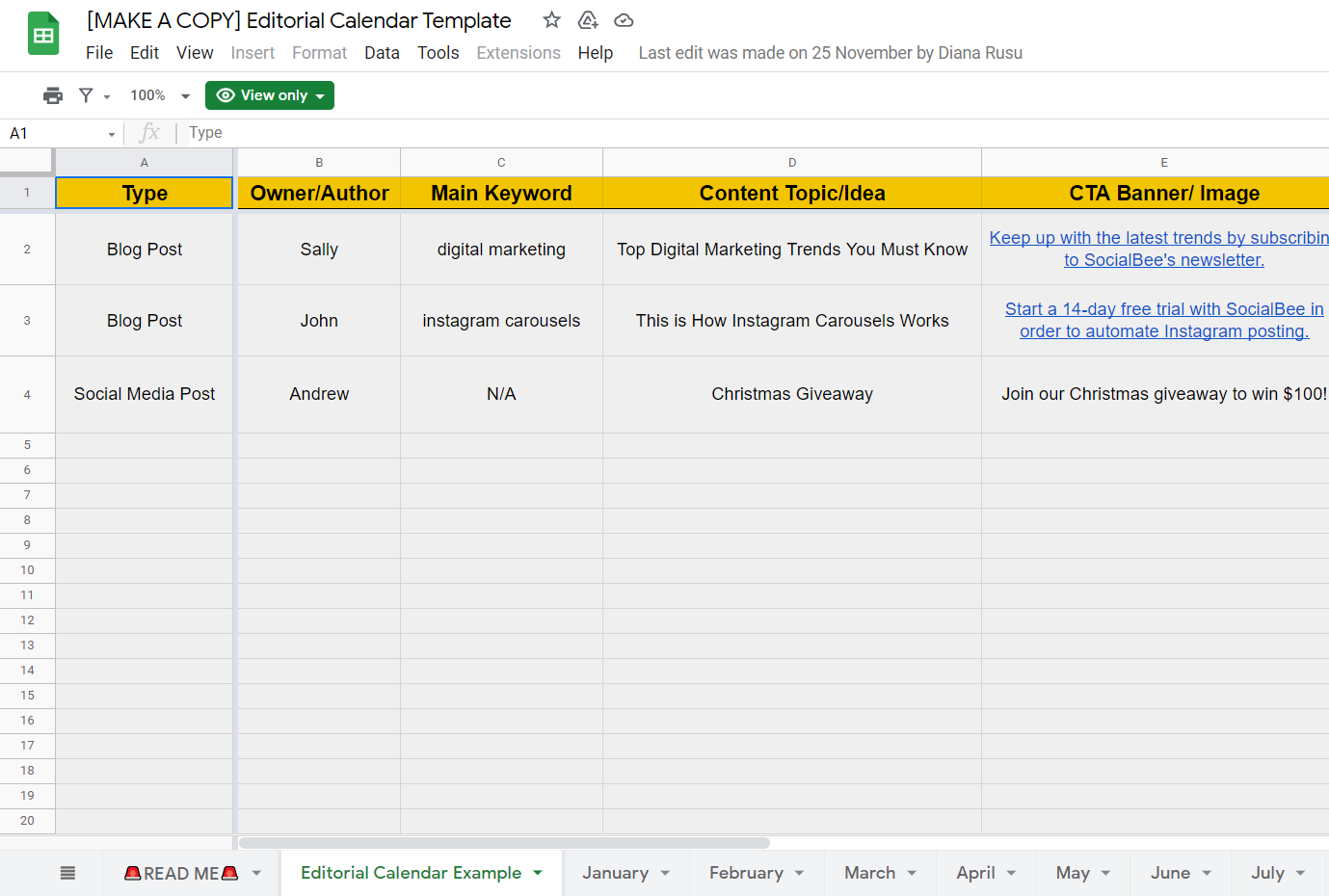 This will help you organize all your ideas and materials you need to maintain a consistent posting schedule and deliver your content on deadline.
Not to mention that you'll keep your content writing team up to the minute with your content marketing strategy.
And to make sure you manage to put together an editorial calendar in no time, we have made a free editable template you can access below.
Download the Editorial Calendar Template!
Plan your content strategy effortlessly across multiple marketing channels.
Step 8: Monitor Your Marketing Strategy to Maximize Your ROI
Be prepared to adjust and improve your strategy as you go.
No matter how much thought and effort you put into your marketing, you will still face situations that in practice have a different outcome. That is why it's essential that you: check your analytics regularly, change what is not working, and evaluate if your activities bring you enough profit.
Remember that you can use SocialBee to discover how many people have seen and interacted with your posts and identify your best-performing content.
Monitor your social media performance by using SocialBee. Access data about your: activity status, audience growth, post reach, and engagement levels from one user-friendly dashboard. Start your 14-day free trial today!
Also, you can monitor the growth of your accounts by looking at your follower count evolution.
Furthermore, you can access your post history to see your past posts in chronological order. This will help you track your social media activity and improve it constantly.
To make sure your marketing campaigns are effective calculate your ROI by using the following formula:
Marketing Software: Top 3 Marketing Tools
Now that you know how to develop an effective marketing strategy, it's time to discover how you can simplify your work and even boost your performance.
Keep reading to check out or top three marketing tool recommendations guaranteed to optimize your workflow.
SocialBee – Social Media Management Tool
Say goodbye to the chaotic multiple tabs you had to deal with so you could post your social media content, and welcome SocialBee into your team — the only platform you need for content creation and distribution.
SocialBee allows users to create, edit, schedule, and post content on Facebook, Twitter, Instagram, LinkedIn, Pinterest, Google Business Profile, TikTok, and YouTube.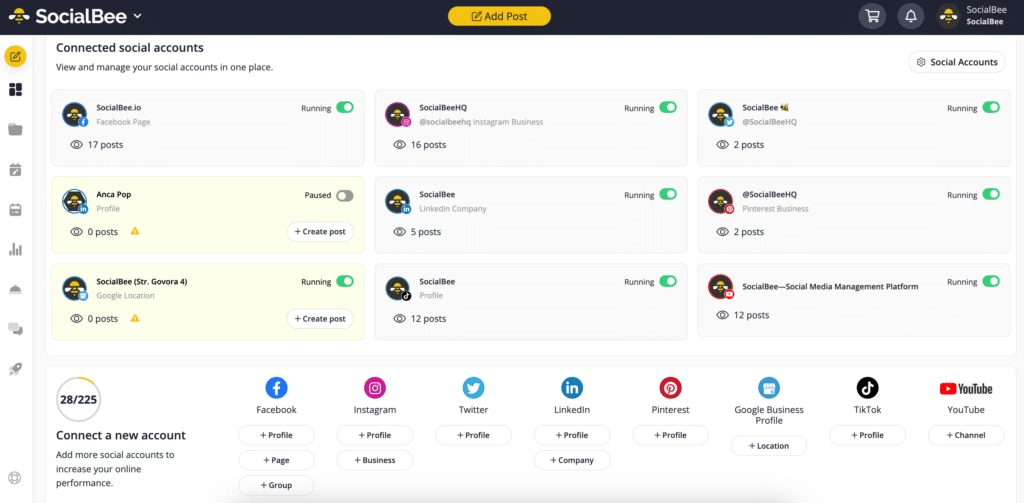 Connect your social media accounts to SocialBee and manage all your content from one place. Start your free 14-day trial today and explore all the features SocialBee has to offer!
And things get better! By using SocialBee, you can organize your posts in content categories, schedule your evergreen content to repost multiple times, and customize your posts to fit the requirements of each social network.
But wait, there are more things this social media tool can help you with, such as:
Curating relevant content for your audience from your blog and other web sources.

Adding and creating visuals directly by using our Canva integration.

Customizing your URLs.

Optimizing your team workflow (add comments, approve, dismiss content).

Monitoring your social media analytics.
MobileMonkey – Omnichat Messaging Platform
MobileMonkey is an omnichannel chatbot that allows businesses to interact with their customers on multiple channels: SMS, Facebook Messenger, websites, and other more applications.
This great marketing tool can help you generate new leads and provide real-time support for your customers.
Moreover, with MobileMonkey, users can make campaigns such as chat blasts, conversational drip campaigns and create website chat dialogues, and use them across multiple marketing channels.
AWeber – Email Marketing Tool
AWeber is an email marketing software that allows you to grow your email list with the help of website forms, integrations, and a free WordPress plugin. 
Moreover, this marketing tool helps you create automated drip campaigns, autoresponders, and more to share your emails and newsletters with your audience.
In addition, you have access to free beautifully designed email templates and automated email campaigns that will save you precious time. Aweber will also provide you with insightful analytics to help you monitor your progress and adjust your strategy to generate better results.
Start Growing Your Business with These Marketing Basics
Congrats! You reached the end of this marketing 101 article, which means that you have a solid understanding of the basic marketing concepts and you already know how to put them into practice. Sweet!
All that is left for you to do is to take action.
Feel free to access all the editable resources we added to this article and go to the SocialBee blog for more interesting marketing tips and tricks.
Don't forget to test the SocialBee app. Create, post content, and monitor your social media performance for free!
Benefit from a 14-day free trial  — no credit card required.
SocialBee: Your AI-powered social media management tool
Create posts, publish, analyze, engage and collaborate, all from SocialBee.