When it comes to small business marketing does more money mean more problems? Definitely no. Maybe something like "More money, more opportunities" would be more accurate.
As you are starting a new business, it's safe to say that having too much money is not one of your main problems. It's actually quite the opposite. But there is no reason to worry. There is always a solution.
If you have an LLC structure for your business, you can safeguard your personal assets in case of dissolvency. However, the cost of setting up your LLC includes LLC filing fees by state and annual fees.
After all, it's not about how much you spend, it's about how you spend it.
Because a marketing plan is essential for the profitability of any business, a significant part of a company's resources is used for promotion purposes ⁠— and for a good reason. But that can get challenging when you don't have a considerable budget.
That is why we dedicated today's article to small business marketing practices. Keep reading to find out seven marketing ideas for small businesses under $100 that will increase your company's profit.
Free Social Media Marketing Plan Guide
Download the guide to learn how to put together a social media marketing plan for your business. 
What Is Small Business Marketing?
Small business marketing is a mix of promotional practices through which a business is looking to reach more customers, boost profitability and gain more market share.
How to Get Started with Small Business Marketing 
Before we get into our marketing tips for small businesses, let's see what are the essential aspects you need to take care of first to ensure the best outcome possible.
Here are the steps you need to follow before creating your marketing plan:
Understand your target market

Marketing objectives

Establish the budget for your marketing campaigns

Research your competitors
A. Understand Your Target Market
Finding a niche target audience is especially important for small business owners. 
At least in the beginning, you can't compete with the leaders from your industry that largely dominate the market. So, you have to pin down a specific part of the population, craft a USP that will solve their pain points, and promote it through all the marketing channels available to you.
To find out how to customize your marketing strategy for your specific target audience, make sure to do your research and build a detailed buyer persona that best describes your ideal customer.
To find out what details must be included in a buyer persona description, download our free template below and start creating your customer profile in no time.
[Free Template] Buyer Personas in Social Media
Discover all there is to know about creating your a buyer persona and learn how to do it like a pro by downloading our free template.
B. Marketing Objectives
Noting down your marketing objectives will help you define your main priorities and allow you to develop a strategy purposefully designed around your ambitions.
Moreover, clearly defined objectives also enable you to measure your performance and keep track of all your accomplishments and the ideals you still need to work toward.
We can't talk about marketing objectives without mentioning the S.M.A.R.T. formula. This objective framework ensures that you give a detailed and clear shape to your ambitions and phrase them in a way that provides guidance for your marketing efforts.
Here is what the S.M.A.R.T. formula stands for:
Specific

– Note what you want to achieve and how you intend to do it. 

Measurable

– Define the way you will gauge your success. 

Attainable

– Stay realistic and set objectives that you can accomplish in a certain time frame.

Relevant

– Align your objectives with your business needs. 

Timebound

– Set a deadline for all your objectives. 
C. Establish the Budget for Your Marketing Campaigns
As a small business owner, you have to allocate your resources wisely. 
While focusing on organic marketing practices is a sustainable way to grow your business, paid initiatives are also necessary to give you a boost in sales and help you gain more visibility on the market.
Here is how to make sure you are spending your marketing budget wisely:
Audit your marketing strategy from previous years to identify strengths and weaknesses you can learn from.

Run your ad campaigns during time intervals when there are more sales opportunities for your brand. 

Focus on the marketing channels that bring the most value to your business.

Collaborate with brands/influencers with a similar target audience.

Invest in marketing activities that are in line with your objectives.
D. Research Your Competitors
Keep up with your competition by researching their marketing strategy. See how they promote their business, and what they do right or wrong to understand how you can keep up with them and level up your game.
Here are some questions you can ask yourself while conducting your competitor research:
What marketing channels do they use? 

What and how often do they post on social media? 

Who have they collaborated with in the past? 

What does their blog look like?

What keywords do they use for their search engine marketing?
Don't know what to include in a competitor analysis? Get access to our template below, make your own copy and start researching your competitors in an effective and organized way.
Audit Your Competition with This Competitive Analysis Template
Stay ahead of the competition by constantly monitoring their online presence.
Top 7 Digital Marketing Strategies Under $100
As we all know, a small business's marketing efforts are mainly focused on busting sales. But how can you achieve this with a limited budget? 
 Here are seven budget-friendly marketing strategies perfect for small businesses:
Promote your business through social media

Use SocialBee's social media management tool

Create a Google Business Profile account

Include email marketing in your strategy

Run a social media contest or giveaway

Start a blog

Boost your Facebook and Instagram posts
Let's find out more about each practice!
1. Promote Your Business Through Social Media
Building a social media strategy will help you build a platform where you can address your target audience directly and promote your products and services organically.
Additionally, you will get to develop a strong community around your brand and establish yourself as a reliable business that your customers can trust.
The first step is to research where you can find your target audience on social media. Statista is a great resource you can use to find out relevant information about the demographics of the most popular social media platforms.
Here is an example of Facebook demographics:
After you have identified the best social media platforms for your brand, it's time to set up all your accounts and fill in all the required information about your business.
Then all you have to do is maintain a consistent posting schedule and create content to reach and engage your customers. 
With the help of social media, you can:
Gain traffic to your business website

Engage with your audience

Reach more potential customers

Receive customer feedback and reviews

Build brand awareness and authority
2. Use SocialBee's Social Media Management Tool
As a business owner, your time is a limited resource, and chances are that your daily schedule is already dedicated to other important tasks that keep your business running.
That is why social media management platforms are essential marketing tools for small businesses.
SocialBee is an all-in-one tool that can help you create, edit, and schedule your content on the most popular social networks from one place. Let's have a look at all the features that can help you grow your social media following.
Social Media Posting
With SocialBee, you can post directly on Facebook, Twitter, Instagram, LinkedIn, Google Business Profile, Pinterest, TikTok, and YouTube from one dashboard.
In addition, you can customize your content to meet each platform's requirements (add hashtags, adjust the text to fit the character limitations, etc.).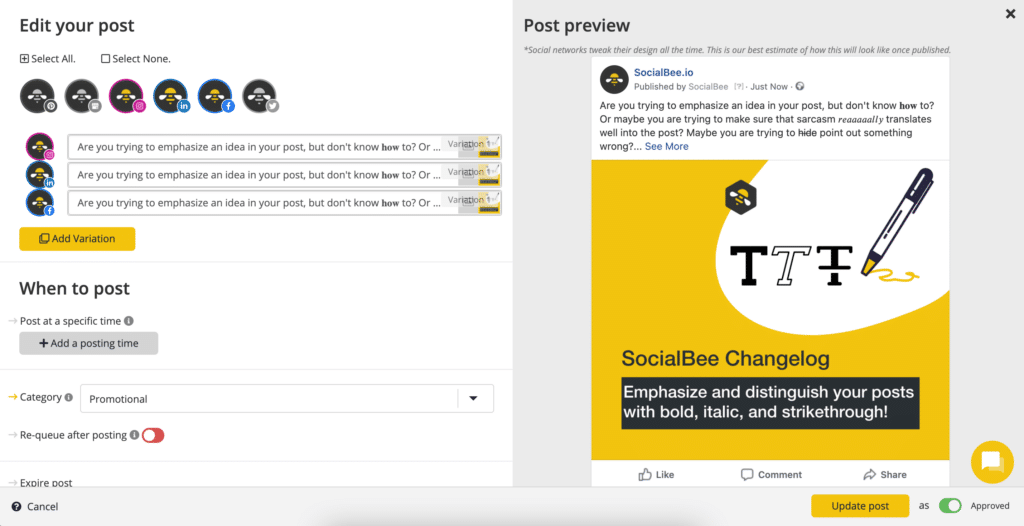 With SocialBee you can create different variations of the same social media post in no time.
Calendar View
SocialBee provides a calendar view of your content strategy. This will allow you to see the schedule for each social media platform and make it easy for you to monitor your content strategy.
Content Categories
You can set, pause, or reschedule social media posts based on different topics with the help of content categories.
This feature makes it easier for you to:
Keep your content organized

Mix up your social media content

Schedule and edit your content in bulk
Social Media Analytics
SocialBee's social media analytics will help you keep track of your reach and engagement, so you can constantly work on improving your social media strategy.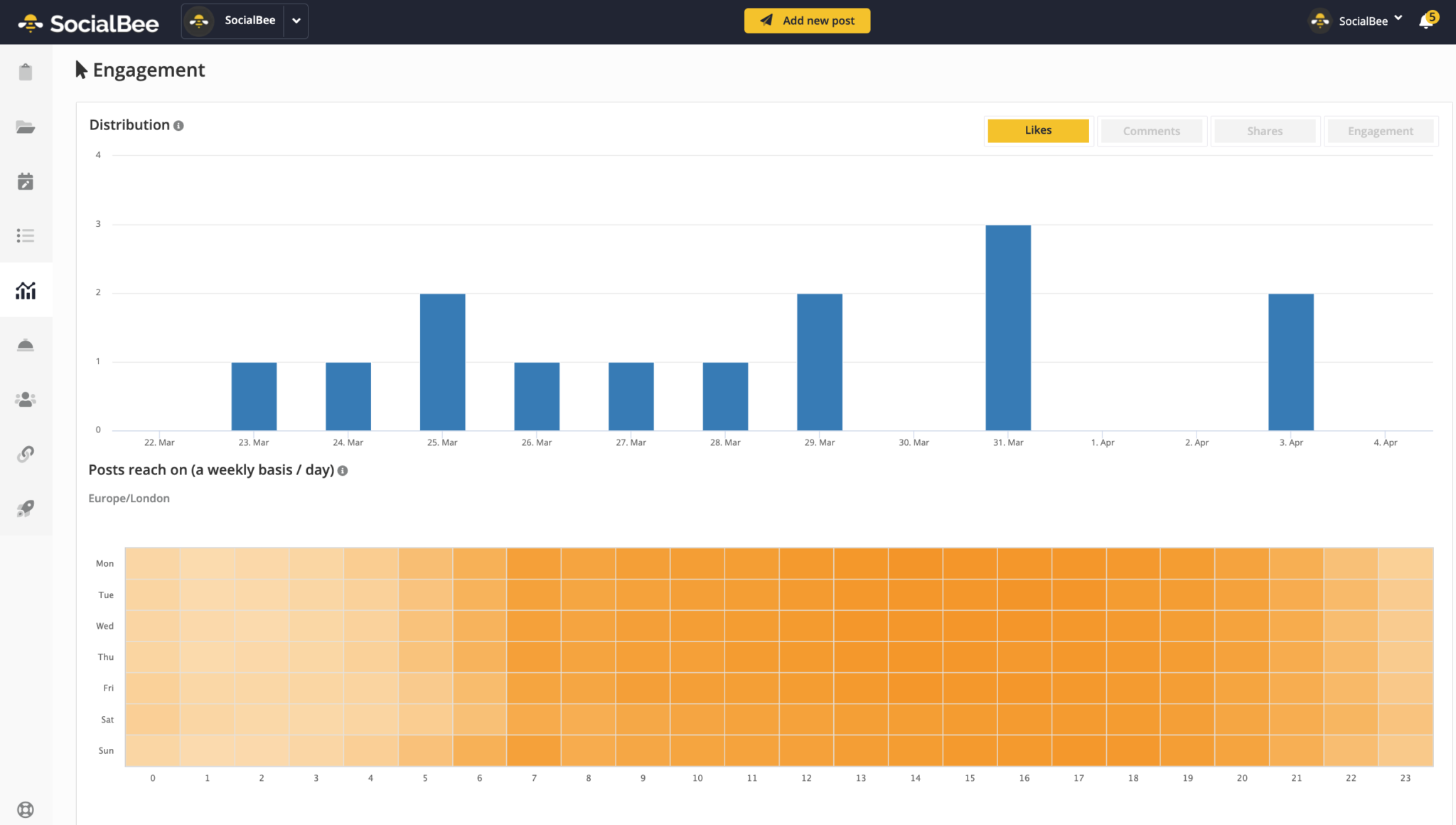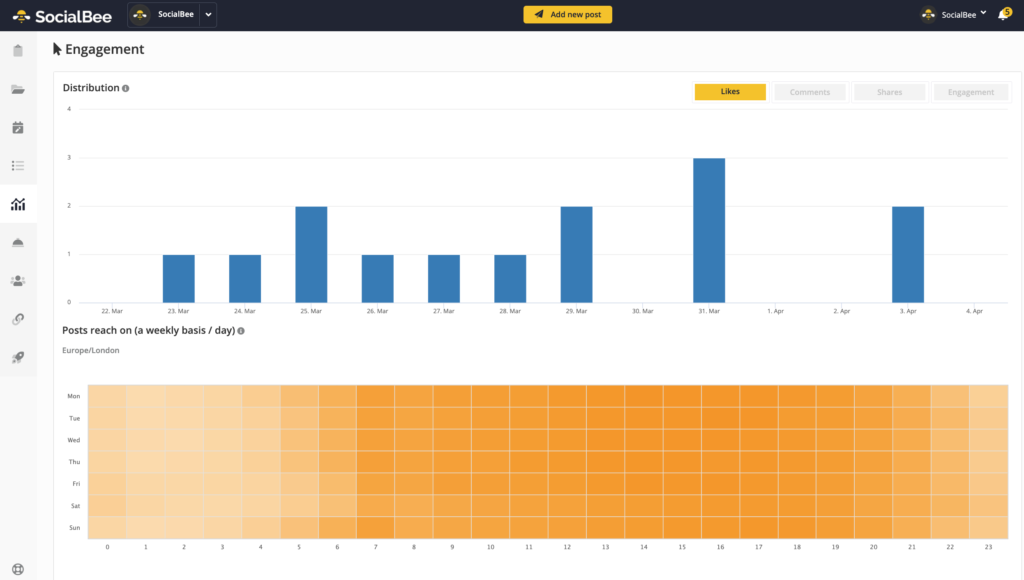 Monitor your social media performance from SocialBee and generate insightful PDF reports in a matter of seconds.
You will have access to data about:
Best-performing posts

Page growth

Audience demographics
Team Collaboration
With SocialBee, you can have full control over your social media strategy, even if somebody else from your team is creating the posts. How? Well, you will be able to assign, approve, dismiss, and delete posts based on your preferences.
Also, you can set up notifications whenever something relevant happens on the platform. As a result, your content strategy will be according to your vision, and you will improve the way you collaborate with your team.
Canva Integration
Say goodbye to the time you wasted while uploading, downloading, and moving files around your computer.
With SocialBee, you can incorporate your Canva designs directly from the post editor. No need for switching tabs.
Create your social media graphics with Canva directly from SocialBee.
Price: $0 in the first 14 days. Afterward, SocialBee has three subscription plans you can choose from based on your small business marketing needs:
→ Bootstrap – $29 per month
→ Accelerate – $49 per month
→ Pro – $99 per month
Try SocialBee for free—start your 14-day trial today!
Read here more about pricing and the benefits of each subscription plan. You can also book a call with one of our specialists to find out if SocialBee is the right social media tool for you.
Manage Your Social Media Accounts with SocialBee!
3. Create a Google Business Profile Account
If you are looking for free marketing tools for small businesses, Google Business Profile is the perfect choice for you —both free and effective.
According to a Brightlocal study, 49% of businesses receive more than 1,000 Views on Search per month. Meaning that 1,000 people that are looking for services related to your business will find out about your brand through Google Business Profile.
Here are the main reasons why you should consider creating a Google Business Profile account: 
It brings visitors to your website.

It helps with search engine optimization.

It helps customers locate your business on Google Maps.

It allows customers to review your business.

It helps you communicate with your audience.
Moreover, creating a Google Business Profile account will help your business appear on:
The Google Knowledge panel
Just think about how often people use their mobile devices to search for businesses in their area. Just by having a Google Business Profile account, you can bring people to your business for free.
Furthermore, to make sure you show up at the top of these search engine results pages, you first have to optimize your profile by verifying your business ownership through your Google Business Profile account.
4. Include Email Marketing in Your Strategy
Email marketing is a powerful and budget-friendly way to nurture leads. In fact, 78% of marketers recognize the benefits of email marketing for the overall success of their business. Not to mention that 99% of email users check their inboxes every day.
With the help of email marketing, you can drive more traffic to your website, engage with your audience, and keep them interested in what you have to offer. 
Email marketing campaigns are especially useful for promoting a new product/service or letting your customers know that you are having a sale, organizing an event, or hosting a webinar.
An email marketing campaign usually contains between three and 10 emails sent over a specific period (days or weeks).
However, email marketing is not restricted to promotional initiatives. It can also include practices like sending newsletters to share company news, relevant resources, tips and tricks, and other information that your customers might find useful.
To make the most out of your email marketing, you should:
Add visual elements

Include a strong CTA

Run A/B tests for your email copy

Generate QR codes and include them in your email signature
Here are some email tools for small businesses: Mailchimp, Sendinblue, and Moosend. Each email marketing platform we recommended has a free plan and subscriptions at affordable prices.
5. Run a Social Media Contest or Giveaway
Contests and giveaways are small business marketing strategies that generate a great amount of reach and engagement on social media.
The rules consist of customers having to comment, like, and share a post in order to enter the contest or giveaway. Meaning that you will reach new audiences and gain more followers through your current social media following.
The best part is that you control the amount you spend on the prize. It doesn't have to be something crazy expensive. You can offer one of your products/services for free, a voucher, a gift basket, or anything else that you know your audience will love.
Price:
It depends on how much you choose to spend on the prize.
6. Start a Blog
Every business should have a blog. "Why?" you might ask. Well, through a blog, businesses not only establish themselves as credible sources of information, but they also have a new way to promote their products and services.
When you write a new blog post, you need to first consider your audience. What do they want to read or learn about? Think of interesting topics, write engaging titles, and add links and CTA buttons to encourage your readers to act (subscribe to your newsletter, read another article, make an appointment, etc.).
Your blog is your own middleman, your best helper if you will. And with its help, you can explore new content marketing opportunities like link building. More specifically, you can reach out to other website owners and convince them to link to your blog where you promote your products and services. 
As a result, you will: gain more traffic, reach new customers and build authority in your niche.
If you don't have the time to invest in maintaining a blog posting schedule, SocialBee can offer you a budget-friendly solution through its Article Writing service. With only $129, you can receive monthly industry-specific articles that contain:
Visuals

Optimized keywords 

Optimized titles and subtitles

Internal links

External authoritative links

Strong CTAs
Not convinced yet? Read a comprehensive review of SocialBee's article writing services to discover how our subscription plans can help you overcome the hurdles that come with running a blog.
7. Boost Your Facebook and Instagram Posts
It's not a post. It's not an ad. It's a boosted post!
If you want to promote your business without spending hundreds of dollars on an ad campaign, we have a small business advertising idea for you—social media boosted posts.
A boosted post has the same characteristics as a regular post. The extra features allow you to add a CTA button and access ad metrics. Boosting a Facebook/Instagram is very simple. For just $1 a day, you can reach a significant amount of people from your target audience. Of course, the number of people you reach is influenced by the amount of money you are willing to invest.
Either way, it's a great small business advertising practice that will help you build more brand awareness and gain better leads.
Here's how you can boost a social media post using Facebook:
Access your Facebook Page. 

Choose the post you want to promote. 

Click on 'Boost Post.' 

Select the goal of your boosted post.

Choose a CTA.

Select your target audience (be specific).

Set your budget. 

Select the placement of your ad.

Choose a payment method.

Click on 'Boost Post Now.' 
Price:
It depends on how much you choose to spend on the post.
Step up Your Small Business Marketing Strategy
So, what do you think about our list of marketing ideas for small businesses? Are you ready to try them?
Limited resources determine marketers to get creative with their small business marketing strategy. And sometimes, this leads to powerful ideas that push your company forward.
To help you set up your small business marketing strategy, we have a 14-day free trial for our social media management tool.
Get ready to create, edit, and schedule content on all your favorite social media platforms from only one dashboard.
Manage Your Social Media Accounts with SocialBee!