Worldwide marketers are starting to recognize the importance of social media for eCommerce. In fact, most social media platforms have left their humble beginnings behind in favor of a much more profitable vision of the future. 
Did you know that global eCommerce sales are set to exceed $8.1 trillion by 2026? This massive growth is generated by business owners who prioritize their social media strategy and choose to run an eCommerce business. Consequently, the direct-to-consumer (DTC) model is officially taking over.
Let's find out how you can use social media for eCommerce in an innovative and efficient way. Read on!
Free Editable Social Media Strategy Template
Get the social media strategy template you need to audit and plan your marketing efforts for maximum results.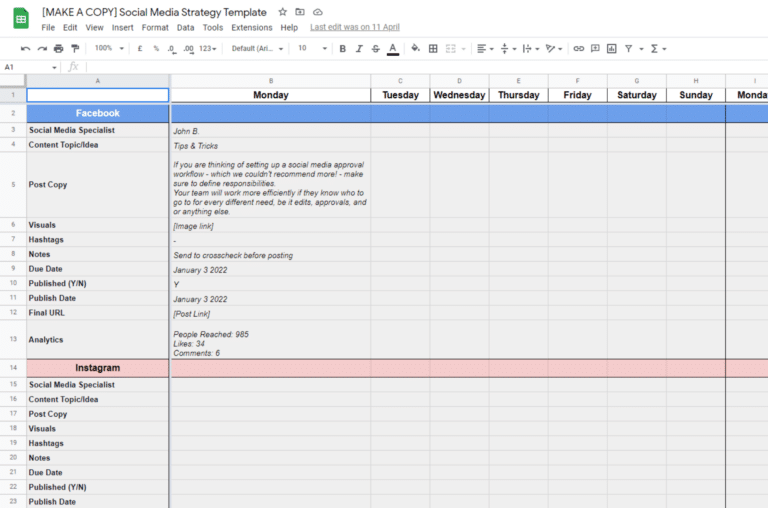 What Is Social Media eCommerce Marketing?
To put it briefly, social media eCommerce marketing is now the very common practice of promoting one's products and services via social media platforms. 
When done consistently and efficiently, it helps drive brand awareness, guide your target market through your sales funnel, and generate qualified leads that will ultimately bring you continuous sales.
In order for you to achieve all of the above, you'll have to use the right tools and keep your main e-commerce KPIs in mind.
How to Use Social Media for Your eCommerce Business
Are you new to the world of eCommerce? Then you must know that the profitability of your online store mirrors your social media efforts. 
Once you integrate social media into your current marketing strategy, you'll finally join the ranks of other wildly successful eCommerce businesses out there. Let's get you ready! 
Here are the 10 steps to achieving eCommerce social media success:
Utilize social media tools to streamline your workflow

Customize your content strategy for your target audience

Create content with your marketing objectives in mind

Optimize your posting schedule

Sell more through shoppable posts

Convert visitors with chatbots

Provide customer support

Post user-generated content on your social media accounts

Share lead magnets to grow your email list

Monitor and improve your social media strategy
1. Utilize Social Media Tools to Streamline Your Workflow
It's very easy to get overwhelmed once you start leveraging each of your social media accounts. The amount of effort that goes into your day-to-day workflow needs to be limited.
How? By using the right social media tools. Not only do they save you time and energy, but they also offer you a competitive edge in today's extra crowded eCommerce social media environment.
Here are the three ways in which you can streamline your social media workflow:
Quicker post creation

Evergreen post recycling

Automated post scheduling and publishing
A. Quicker Post Creation
A truly remarkable social media presence will require you to create feed posts, videos, and stories on a daily basis. Understandably, this could take up most of your day. Avoid wasting time by streamlining your post creation process.
For example, take a look at the SocialBee app. It is an awesome social media tool that allows you to categorize and schedule content in no time. Furthermore, it allows you to create social media posts directly from the app.
Create visual content to drive online sales with Canva directly from SocialBee.
Start your 14-day free SocialBee trial today!
Here's how you can create a post with SocialBee:
Log into SocialBee

Access the 'Content' dashboard from the left side of the screen

Choose your Content Category

Click 'Add post to this category'

Upload your new content or click the Canva, GIPHY, or Unsplash integrations

Click 'Save post' 
With clever integrations such as Canva, GIPHY, and Unsplash, you can now create high-converting posts from scratch, directly from the SocialBee app. That way, you can rest assured that your visually stunning content is going to catch the eye of several prospective leads.
Also, you'll able to perfect your content creation process by simply getting organized. SocialBee's content categories and hashtag collections are awesome tools for productivity and increased reach. 
Firstly, the content categories will allow you to organize your posts based on content types and topics and effortlessly schedule all the posts within a category at once.
As for the hashtag collections, you can easily create them and select the one that fits your social media post. SocialBee also generates hashtag suggestions based on your social media content. As you may already know, using hashtags correctly can make or break your social media marketing strategy. Thankfully, SocialBee has got you covered.
B. Evergreen Post Recycling
It's highly unlikely that you'll always be able to create daily content. Due to this, you'll have to get creative. Evergreen content should become an integral part of your eCommerce social media strategy.
Here are some examples of evergreen posts:
FAQs

Testimonials

Employee advocacy

Ultimate guides

Infographics

Glossaries
There are certain ideas and concepts that never get old. They will forever remain relevant to your brand. With third-party apps such as SocialBee, you can easily recycle older posts that continue to ring true to your audiences.
Recycle your best evergreen posts with no effort. Rely on SocialBee to bring your timeless content to the forefront of your social media feed.
Start your 14-day free trial today!

Here's how to requeue an evergreen content category with SocialBee:
Log into SocialBee

Access the 'Content' dashboard from the left side of the screen

Choose your Content Category

Click the 'Edit Category' button

Select the 'Default Settings' button

Select 'Add new posts to the top of the category'

Toggle the 'Can be used as a Random Category' button

Toggle the 'Re-queue after posting' button

Click the 'Save Category' button
Here's how to requeue an individual evergreen post with SocialBee:
Log into SocialBee

Access the 'Content' dashboard from the left side of the screen

Choose your Content Category

Click 'Add post to this category'

Upload the content you wish to post

Toggle the 'Re-queue after posting' button

Tick the 'Expire after it was published' box

Type in the number of times you wish the post to requeue

Click the 'Save Post' button
C. Automated Scheduling and Posting
Last, but certainly not least, your social commerce posts should go out across all your social media platforms at the correct dates and times. 
To discover when your target audience is at its most active, make sure to check your older post analytics. In case you're just starting out and don't have the data yet, it's a great idea to follow the best posting times recomendations generally suggested by social media experts. 
When you're ready to proceed, make sure that you have a social media tool such like SocialBee to turn to for all things related to scheduling. The posting? It takes care of itself.
Here's how you can schedule a post on SocialBee:
Log into the SocialBee app

Access the 'Schedule Setup' dashboard from the left side of the screen

Select 'Calendar View'

Click any box under the day you wish to post

Select the social profile you wish to schedule posts for

Select the category of posts you wish to schedule

Select the day and posting time

Click the 'Create' button
Manage your entire social media presence from SocialBee: create, schedule, and share content with ease.
Start your 14-day free trial today!
2. Customize Your Content Strategy for Your Target Audience
Your content strategy should speak directly to your audience. Once you've created a buyer persona profile for each customer type you might encounter, creating eCommerce content gets significantly easier.
Here are four questions you should ask yourself before creating a content strategy:
Which types of post content speak directly to my target audience?

What types of social media posts will help me achieve my marketing goals?

Which are the content formats that my followers love to see?

Which social media networks do my followers usually use?

When is my target audience active on social media?
Once you've answered each of these questions, it's time to give social media users exactly what they're looking for.
3. Create Content with Your Marketing Objectives in Mind
An effective social media marketing strategy is built upon carefully defined marketing objectives. That way, you will know exactly the type of content you need to focus on.
Here are three examples of possible marketing objectives:
Gaining more website/landing page traffic

Increasing brand awareness

Boosting sales
A. Gaining More Website/Landing Page Traffic ━ In order to drive traffic, you'll need to create promotional posts that feature persuasive descriptions. Also, don't forget to add links to relevant pages, depending on the content of your descriptions. Ideally, they should provide more context and information or lead to the products or services you're promoting.
Let's imagine that you're trying to promote one of your best-selling products on Instagram.
Here are a few tips on how to generate more website traffic:
Add product tags
Add a swipe-up link to your Stories
Prompt followers to tap your link in bio in the descriptions of your posts
B. Increasing Brand Awareness ━ Without brand awareness, you cannot possibly expect more sales. You can build brand awareness in a variety of ways. After all, how can you sell more if you're not spreading the word about your business and improving brand recognition?
For example, influencer marketing is very effective these days, as 93% of marketers have used it at least once. What makes influencer marketing so effective is that it drives massive awareness to your social commerce business. 
Make sure that the influencer belongs to your niche, otherwise, you might be wasting your money. Targeted ads are also a great idea that could bring in massive ROI.
C. Boosting Sales ━ Let's face it, social media eCommerce is meant to sell products. Many businesses struggle to come up with effective campaigns, which ultimately decreases their sales.
For instance,  you can set up a posting schedule of promotional social media posts that showcase your latest products. Furthermore, you could be using chatbots to convert or open Facebook and Instagram stores. visitors. Product tags are also a great idea. This way, you can boost sales and website traffic in an instant.
4. Optimize Your Posting Schedule
When exactly is your ideal customer usually active on social media? When do they choose to scroll through their feed and browse through your Facebook Shops? This is an insight that could help you optimize your current posting schedule.
The best social media platforms go by a set of unwritten timing rules. You can take the word of an expert in social media when you decide to choose the right date and time or consult with your own metrics. Using analytics to optimize your schedule can help you reach the majority of your target audience.
Optimize Your Social Media Posting Schedule!
Download the Best Times to Post on Social Media sheet and start adjusting your content calendar for maximum engagement.
5. Sell More Through Shoppable Posts
Remember when people used to skim through fashion magazines, looking for the prices of various clothing items? This past trend has most likely inspired Instagram and Facebook to launch shoppable posts. 
What are shoppable posts? They're an ultra-modern way of bringing your eCommerce shop to the forefront of social media, all with the help of your Facebook or Instagram account. 
Simply add product tags to your latest feed posts, Instagram Stories, Reels, guides, or even live broadcasts. For direct links to products, add QR codes in your posts. You can use one of these best QR code generators to generate these QR codes. That way, your followers will become customers. Apply the same logic to your Facebook Shops.
6. Convert Visitors with Chatbots
By 2027, chatbots will become the primary customer service channel for about a quarter of organizations. That's why, social commerce marketers should take note of this growing trend if they plan on generating more conversions.
Here's why chatbots are beneficial for your eCommerce social media strategy: 
They enhance the online shopping experience

━ AI-powered chatbots are able to start conversations, assist website visitors in a way that is fully customizable, and respond to various customer questions 24/7. This increases engagement levels and helps drive conversions. Self-service is the future.

They increase direct sales

━ A chatbot is capable of many things, such as offering your visitors checkout prompts and assisting them through every step of your sales funnel. That way, there are higher chances of them becoming new customers. Keep track of sales generated by chatbot interactions.

They reduce support waiting time 

━ Waiting for ages to receive a solution can seriously affect customer communication. Ultimately, this can lead to losing leads, having to deal with dissatisfied customers, and noticing a decrease in the number of total sales. To avoid this, try to rely on chatbots to break the ice and keep customers satisfied in the blink of an eye.
7. Provide Customer Support
Regardless of how much chatbots can help you gain traction, it's always important to address burning issues with powerful, human-centered customer support. That's what makes social commerce reliable and trustworthy. Besides, who doesn't need more positive reviews?
Your team should easily connect with prospective customers and help them with their purchasing decisions. Sometimes, AI-powered chatbots cannot drive sales on their own. Consumers need expert assistance so it makes sense to get organized and have a shared inbox software so that everyone can track new and existing conversations.
Here is how you can provide high-quality customer support on social media:
Use reliable social media monitoring tools

Be responsive and offer support quickly

Have a consistent tone of voice 

Show gratitude for positive and negative customer feedback
8. Post User-Generated Content on Your Social Media Accounts
Research shows that 85% of customers consider user-generated content much more influential to their purchase decisions compared to branded content. With this information in mind, make user-generated content a regular part of your social media marketing strategy. Social proof works! 
🐝 Pro Tip: Make sure to create a branded hashtag. That way, you'll have instant access to user-generated content that is easy to share via Stories. 
It's also a great idea to repost user-generated content to your feed. But first, make sure that you have the creator's permission to reshare their social proof.
Here are a few suggestions for user-generated content:
YouTube videos of product/service reviews

Unboxing Reels, Stories, or TikToks

Tutorials

Testimonials
9. Share Lead Magnets to Grow Your Email List
Have you ever thought of sharing lead magnets on social media in order to boost your email marketing strategy? This marketing channel allows you to incentivize loyalty among your customers and have more conversions. 
Growing your email list is not exactly easy. For that, you'll need a set of persuasive lead magnets to draw potential customers in.
Here are some examples of efficient lead magnets to grow your email list:
Free resources such as calendars, cheat sheets, planners, guides, or eBooks

Free trials 

Sales and discounts

Free shipping

Quizzes
10. Monitor and Improve Your Social Media Strategy
Efficient social media marketing requires constant monitoring and optimizing. The success of your social media pages relies on robust analytics. 
Here are the analytics you should track for each of your social platforms:
Page analytics –

The number of posts, page growth, average page engagement, average post engagement, total reach, and number of fans gained and lost

Demography

– The information about your audience, such as age and language

Post analytics

– Data about post reach, best post types, likes count data, the total likes count, the top 3 posts, top 3 categories, and top 3 post types, t

he amount of likes, comments, and shares a social media post gets
Fortunately, social commerce marketers can now use third-party apps that inform their current strategies, all from a single dashboard. Take SocialBee for example. The app allows you to track all of the above with the least amount of effort.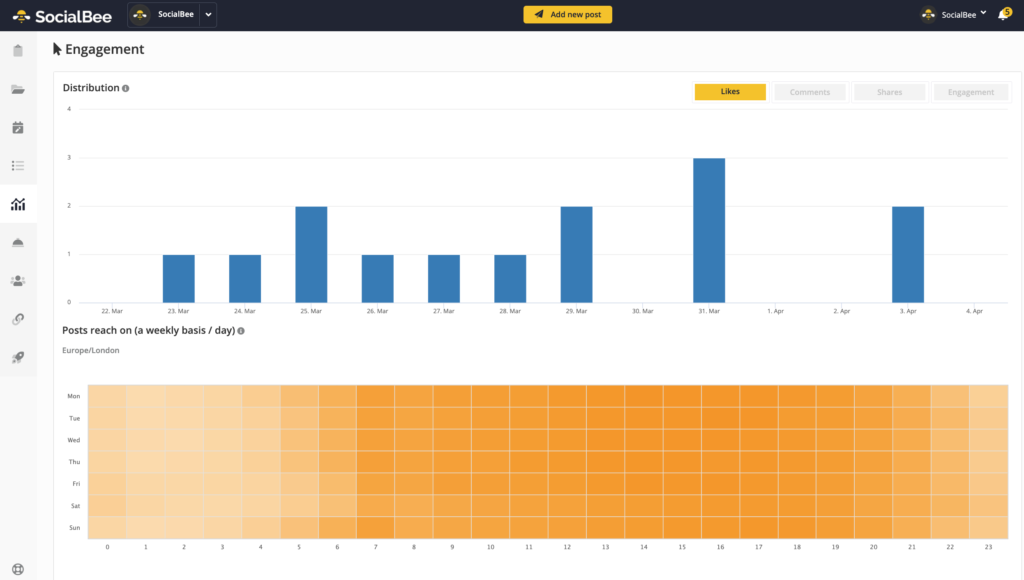 Discover how to improve your strategy for your specific audience—check the analytics for all your social media networks and generate PDF reports in a few seconds.
Create, Share and Track Your Social Media Posts with SocialBee!
The Best Social Media Platforms for eCommerce
How do you make sure that new customers are going to interact with your social posts? You choose the right social channels, of course! Selling directly via social media eCommerce is easier than ever these days. First, you need to learn more about various platforms.
Here are the top five channels for social media eCommerce:
Facebook

Instagram

Twitter

Google Business Profile

Pinterest
1. Facebook 
Facebook Audience Demographics
Facebook users by age:

Facebook users by gender:

13-17

18-24

2.4% female / 3.2% male

9.3% female / 13.3% male

25-34

12.6% female / 18.4% male

35-44

7.9% female / 10% male

45-54

5.2% female / 5.8% male

55-64

3.5% female / 3.3% male

65+

2.8% female / 2.5% male
[SOURCE: Statista]
Facebook Benefits for eCommerce Businesses
More conversions thanks to Facebook Shops and Shoppable Posts

Better communication thanks to the sync functionality between your Facebook Page and WhatsApp Business Account 

Better reach thanks to the diverse ad types available
Best Practices for Facebook Marketing
Use Carousel ads for multiple products

Create regular Reels

Post high-quality and neat visuals

Offer discounts and run giveaways
2. Instagram
Instagram Audience Demographics
| | |
| --- | --- |
| Instagram users by age: | Instagram users by gender: |
| 13-17 | 4% female / 4.9% male |
| 18-24 | 13.4% female / 16.8% male |
| 25-34 | 14.6% female / 17.1% male |
| 35-44 | 8.1% female / 7.7% male |
| 45-54 | 4.3% female / 3.5% male |
| 55-64 | 2.2% female / 1.5% male |
| 65+ | 1.2% female / 0.9% male |
[SOURCE: Statista]
Instagram Benefits for eCommerce Businesses
Better collaborations thanks to the multitude of influencers

More conversions thanks to Stories, Highlights, and Instagram Shops

More sales thanks to Shoppable Posts 

More organic traffic to your eShop website via shoppable posts
Best Practices for Instagram Marketing
Create high-quality and neat visuals

Post Reels regularly

Use Stories regularly

Add shoppable tags to create promotional posts

Use

Live Shopping

to increase conversions

Enable automated DMs
3. Twitter
Twitter Audience Demographics
According to Statista, the current gender demographics for Twitter are 46% female and 56,4% male.
Twitter users by age:
13-17
18-24
25-34
35-49
50+
[SOURCE: Statista]
Twitter Benefits for eCommerce Businesses
More sales thanks to the showcasing of collections of up to 50 products with Twitter Shops

More reach thanks to Shop Spotlight 

Better chances of impulse purchases thanks to Live Shopping
Best Practices for Twitter Marketing
Work with Twitter ads

Pay attention to trends

Create exciting product drop posts

Use Live Shopping for your latest sales
4. Google Business Profile
Google Business Profile Consumer Analytics
| | |
| --- | --- |
| Google search engines used by consumers | Google search percentages |
| Google Search | 83% |
| Google Maps | 55% |
| "Near Me" searches | 136% (YOY growth) |
[SOURCE: E2MSOLUTIONS]
Google Business Profile Benefits for eCommerce Businesses
More reach thanks to the discoverability of your location and contact information

More engagement for your GBP content

Increased chances of purchasers leaving you reviews
Best Practices for Google Business Profile Marketing
Post content regularly about your promotions, events, company news and other relevant updates

Give customers an incentive to write you Google Reviews

Optimize your GBP profile for a great position on the search engine results page (SERP) by using the right keywords, choosing the correct categories, and describing your products or services
5. Pinterest
Audience Demographics
| | |
| --- | --- |
| Pinterest users' ages: | Pinterest users' genders |
| 18-24 | 16.4 female / 2.6 male / 1 unspecified |
| 25-34 | 29.1 female / 6.4 male / 3.9 unspecified |
| 35-44 | 13 female / 2.6 male / 1.5 unspecified |
| 45-54 | 7 female / 1.7 male / 0.5 unspecified |
| 55-64 | 7.5 female / 1.6 male / 1 unspecified |
| 65+ | 2.9 female / 0.8 male / 0.3 unspecified |
[SOURCE: STATISTA]
Benefits for eCommerce Businesses
More sales by leveraging Shop The Look pins and tagging your products in your pins

More reach thanks to the use of Promoted Pins as paid ads 

Improved content strategy with the help of Pinterest Analytics
Best Practices for Pinterest Marketing
Set up a business account

Use keywords for SEO optimization

Use visual mesmerizing photos and videos
Social Media eCommerce FAQ
1. Why Should You Use Social Media Marketing for eCommerce?
You should use social media marketing for eCommerce in order to: 
Surpass your main competitors

Improve brand awareness

Improve website/landing page traffic

Connect with your target audience 

Increase your reach and conversion rates

Boost sales and generate qualified leads
2. Does Social Media Impact eCommerce Sales?
Yes, your eCommerce sales are directly impacted by how active or inactive you are across your social media platforms. With 4.7 billion global active social media users and 2.14 billion expected to shop online back in 2021, it goes without saying that social media played a big part in the buyer decision process. 
3. What Is the Best Social Platform for eCommerce?
Facebook, Instagram, and Pinterest are the go-to platforms for eCommerce. However, they are closely followed by TikTok, YouTube, and Twitter.
Improve Your eCommerce Social Media Efforts
You're now finally ready to conquer the highly profitable world of eCommerce. 
As we've said, social media marketing is a necessary tool for successful electronic commerce businesses. However, creating fresh and engaging content on a regular basis is almost impossible without an efficient social media management tool. 
With the SocialBee app, your e-commerce social media efforts are guaranteed to pay off. Here's the catch ━ we have a 14-day free trial waiting for you. What are you waiting for?
Manage Your eCommerce Social Media Strategy with SocialBee!