Are you looking to promote your business through content marketing, but you don't know what types of content marketing formats will help you achieve your objectives?
Well, you came to the right place because today we will share with you the main types of content you can use to grow your brand, generate leads and improve your profitability in a sustainable and budget-friendly manner.
Plus, we also sprinkled our best writing tips in case you want to start creating high-quality content on your own. So, who knows, maybe by the end of this article, you will have a new skill to add to your LinkedIn profile.
Let's get started!
500+ Social Media Content Ideas Document!
Diversify your social content strategy with over 500 engaging post ideas.
What Is Content Marketing Writing?
Content writing refers to making content with the purpose of achieving different marketing results. Through specific types of content, businesses are able to attract, nurture and convert leads and ultimately increase their profitability.
There are multiple branches of content writing, and each one of them is designed to guide the customers down the sales funnel:
Top of Funnel (TOFU)

– Informing/educating/entertaining visitors

Middle of the Funnel (MOFU)

– Encouraging people to research products and services from a certain business and to perform certain actions (e.g., start a free trial, book a call, download a resource, etc.)

Bottom of the Funnel (BOFU)

– Successfully motivating leads to make a purchase.
Should Small Businesses Outsource Content Writing Tasks?
For small business owners, outsourcing content writing tasks may be the best option and can help them reduce operational costs.
Here are the top three reasons why small businesses should outsource their content writing tasks:
It allows them to have access to content writing specialists without investing huge amounts of time and money into the recruiting and hiring process. 

It provides the opportunity to experiment and work with different content marketing writers until they find the right person for their business — all this without wasting resources.

It gives small business owners the chance to focus on much more strategic tasks while leaving the writing side of things to professional marketing teams. After all, their expertise will have a bigger positive impact on their content marketing results.
So, if you are considering collaborating with skilled content writers, look no further.
Get the most out of freelance writing with SocialBee's content marketing packages:
Choose one of SocialBee's content writing packages, and we will connect you with professional writers that will respect your vision and take your content marketing to the next level.
Outsource your content creation with SocialBee!
Do you want to learn more about SocialBee from an outside perspective? Read this article from Startupbonsai and discover why SocialBee is the number one
social media marketing agency
on the list. 
The Most Effective 10 Types of Content Writing
Now that you know what content writing means in the world of marketing, let's have a closer look at the practices businesses use most to promote their products and services. 
The main types of online content writing are:
Social Media Writing

Blog Writing

Webpage Content Writing

SEO Content Writing

Technical Writing

Copywriting

Email Writing

Long-Form Written Content

Press Release Writing

Product Descriptions
Ready to see some exemplary content writing examples? Let's get started!

1. Social Media Content Writing
Social media marketing is one of the most popular content marketing strategies available today. It refers to writing and publishing content for various social media platforms for promotional purposes. 
Social media writers are also in charge of creating social media marketing plans and developing content calendars in order to:
Customize posts for each content marketing platform.

Provide content for specific target audiences.

Achieve specific marketing results.
So, before you start creating content for your social media business pages, make sure you have an action plan ready to help you focus on achieving your marketing goals.
Download the How to Build a Social Media Marketing Plan below and learn how to be strategic about your social media marketing – from planning to implementation. 
Download the Social Media Marketing Plan!
Get the guide for creating a social media marketing plan for your business.
A great way to customize your approach for each social platform and publish all your content from just one place is by using a social media management tool like SocialBee.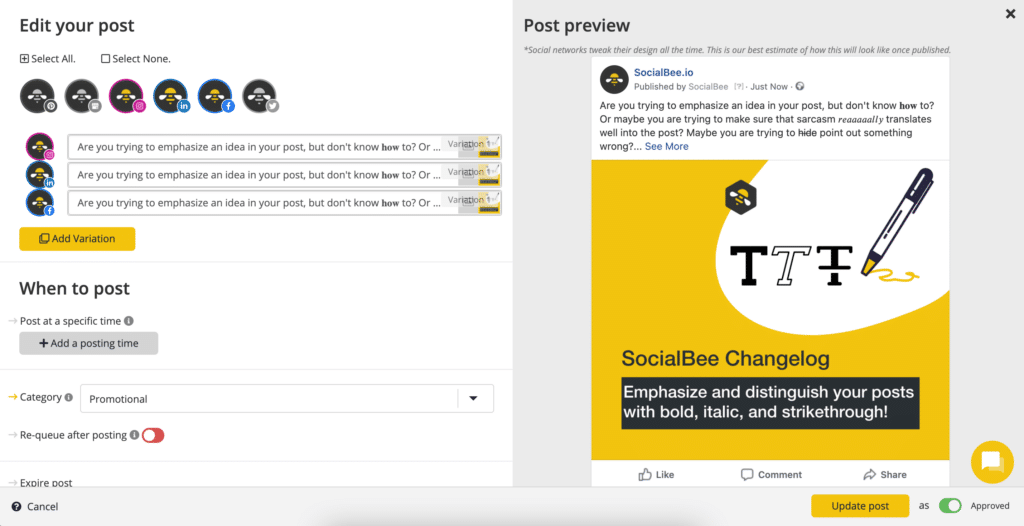 From SocialBee, you can adjust your content for every platform and create a customized schedule for every social network — all of this without opening a second tab.
Start your free 14-day trial today and let SocialBee help you with your social media content writing tasks!
Social media content writing is not just about delivering creative content, but also about adjusting it to fit the requirements of each social media channel and publishing it at the right time — two things that SocialBee can help you do in more than half the time.
Furthermore, research shows that 63% of marketers say social media is very important for business.
So how you write social media posts matters. A LOT.
The first thing that you need to know is that social media content writing allows you to be much more versatile and experiment with different types of content. 
Here are the main social media best practices you should know about:
Transform information into interesting visuals, such as infographics and video content.

Dedicate a fraction of your posts for promotional purposes (e.g., generating leads and conversions, increasing brand awareness)

Educate your audience and build authority in your industry by sharing tips and tricks.

Stand out from the competition by showing your personality and social media voice through fun and humorous content.

Interact with your customers and build a meaningful relationship with them.
Social media content writing example: SocialBee's Facebook post
Follow SocialBee on social media for more marketing tips!
2. Blog Writing (Blogging)
Blogging is one of the best ways you can improve your search engine optimization (SEO) and make your business stand out from the crowd. 
You don't believe writing blog posts can help your business? Well, statistics show that on average, companies who blog produce 67% more leads per month.
But how does blog content writing help you increase SEO?
To improve your content marketing strategy through blog articles, make sure to include:
Internal and external linking

Relevant keywords

Attractive titles and compelling meta descriptions

Effective CTAs

Strategic text sections that promote your products and services
Skilled content writers know how to create and mix all these elements together to create articles that not only generate organic traffic but also convert visitors into leads and paying customers.
And our content writing bees know how to turn long-form content into a short path to success. SocialBee provides article writing services that are built on a structure designed to help you rank higher on search engine results pages (SERP).
No matter what article writing plan you choose, you will receive optimized content that contains keyword-driven articles, titles and meta-descriptions, internal and external links, and powerful CTAs.
SocialBee's content writers deliver customized articles that fit your brand personality and help you achieve your marketing goals.
Outsource your article writing tasks with SocialBee!
The Benefits of Blogging
Once you start putting out proper blog posts on a regular basis, you will start seeing significant changes in your SEO results.
But better SEO and a greater ROI are not the only benefits that come with creating and posting blog articles. 
Blogging is also an effective way of:
Building your brand

Establishing yourself as an expert in your field

Earning the trust of current and potential customers
Now, you might think that blogging is fantastic, and it is. But don't expect to post one blog article and see the results overnight. Blogging is a long-term marketing and SEO strategy, so you need to have patience.
Just to give you an idea, blog posts generally take about six months to gain traction on search engines, so when planning your blogging strategy, you should make a plan that covers at least 12 months.
Blog writing example: SocialBee's article Social Media Strategy Template: How to Build Yours Plus Examples
Did you find the above article intriguing? Then make sure to get access to our social media strategy template here.
3. Webpage Content Writing
The way you structure the information on your web pages will determine:
How many visitors you will attract

How much time they will spend on your website

How many conversions you will generate 
Web content writing is a practice that requires knowledge about marketing, design, and SEO writing on top of having industry-specific knowledge about your field.
So, what falls under the web content category? 
Webpage content writing refers to creating content for:
Home pages

Landing pages

Contact us pages

About us pages

Product pages
Generally speaking, this kind of content writing should be easy to understand. You want your customers to get a clear picture of who you are, what you're offering, and why they should invest in your business.
Why Is Writing on Your Website Important?
Let's say that somebody is looking online for a product or a service that you're selling. If they pick your website, chances are they won't stay on the page they have landed, especially if they are serious about buying. 
They will click on other links and try to learn more about your business before making a purchase.
Now, if the writing on any of these pages is bad or hard to understand, it's most likely that your potential customer will leave without making a purchase.
This is because (in your customer's mind) no serious business affords bad writing on their website. So bad web content can very often be perceived as a lack of professionalism.
But what happens when you nail web content writing?
You build trust

You educate your customers on your business and products and/or services

You improve SEO

You increase the number of leads visiting your webpage
Webpage content writing example: SocialBee's "What We Do?" page: Social Media Management Tool
See the full landing page here!
4. SEO Content Writing
SEO writing is a marketing practice that relies on creating web and blog content and optimizing it in order to rank higher on search engines. What does this mean?
Well, by using SEO writing, businesses are able to push their websites on the first positions on Google and other search engines, thus increasing their website visitors and their opportunities to convert them into paying customers.
It is a simple principle, however, it's not so simple to achieve without SEO knowledge, consistency, and most importantly, patience.
So, how can businesses optimize their content?
To help you better understand the SEO content writing process, let's divide it into six simple steps:
Step 1:

Research content topics that interest your audience.

Step 2:

Identify the keywords and keyphrases they use to research products and services.

Step 3:

Use those keywords and topics to write articles around them.

Step 4:

Use relevant keywords in your titles, meta-descriptions, articles, and website text.

Step 5:

Add internal links in your content and redirect your audience to valuable pages on your website,

Step 6:

Get in touch with website owners and collaborate with them — negotiate reviews, article features, link placements, and guest posts that will increase the authority of your website and your position on SERP.
SEO content writing example: SocialBee's SEO-optimized article
This SocialBee article was SEO optimized and it's now featured in the "People also ask" box. Access the Instagram VS Facebook: Differences and Similarities to Help You Choose the Best article here!
5. Technical Content Writing
As a technical writer, your goal is to transform complicated technical concepts into straightforward information that your readers can understand. However, when writing on technical subjects, the audience dictates the way they approach the subject. 
For example, when writing a product description for a consumer, they will have to adjust their language to a beginner level, but when writing a guide for industry professionals, they will need to use much more technical terms and approach complex topics.
Technical writers are usually specialized in a certain subject, usually surrounding technology, such as engineering, chemistry, hardware, software, etc.
Simply put, technical writers are content writers but with a very specific niche.
Technical content example: Google Nest
6. Copywriting 
Copywriting refers to the practice of creating content for advertising purposes. Copywriters are very creative professionals that specialize in writing content for jingles, ad and sales copy, banner text, and more.
They don't write long-format text like articles and guides, they focus on creating short and memorable pieces of content that stand the test of time and stick with audiences all over the world.
Imagine being the person that came up with the idea for Nike's slogan "Just do it", or the McDonald's jingle "I'm loving it".
And since content writing and copywriting are often used as synonyms, let's settle the difference between the two concepts once and for all.
What's the Difference between Copywriting and Content Writing?
Copywriting has the sole purpose of advertising and promoting a product, service, or brand. The ultimate goal behind copywriting is to convert leads into customers and increase sales for a business.
Content writing has the purpose of educating and building a loyal base of customers. There are many goals for content writing and they generally depend on the business's ultimate goals.
Based on this differentiation, it's quite obvious that you can't do just copywriting. You can't post just promotional posts on your marketing channels, you also need to use content writing to build trust, gain authority and improve your ranking on SERP.
Copywriting examples: Ricola's Cough Medicine
7. Email Writing
Email marketing is still one of the most effective marketing practices with an average ROI of $42 for every $1 spent. Just wow!
It's a practice that businesses use to send periodical messages to their email list, with different promotions, updates, or company news their customers might want to know. As a result, they nurture their relationships with their customers, boost website visits and increase sales.
Writing emails that provide these types of results requires skill. There are several elements that can make or break your email strategy, such as:
Strong subject lines

Engaging intro 

Readable structure and pleasant design

Powerful CTAs
While creating your email your main goal is to write content that is engaging in all points of contact (starting with your subject), so you don't lose your customer's attention just after they opened your email. 
And just when they finished reading, you want to add an incentive, a visible CTA that encourages them to act (e.g., go to your website, make a purchase, book a call).
Email writing example: SocialBee
8. Long-Format Content Writing
As a business, it's very important that you offer resources to your customers. Not only to build authority and gain their credibility but also to generate new leads.
These resources can be guides and ebooks on industry topics that are very valuable for your customers. They usually take quite some time to develop and require more advanced content writing skills.
That is why the best solution in these cases is to outsource. And since you won't need this type of content on a regular basis, you can easily opt for a one-time-only service like SocialBee's Guide Creation Specialis package, every time you need a new guide.
SocialBee's guide creation specialists will start by researching your industry and your business to generate guide topic ideas. Then they will deliver the outline and 1000 words per week, so you can have time to review and offer feedback every step of the way.
Get in touch with SocialBee's guide creation specialists today!
Let's say you are a business coach, and your target audience is made up of small business owners. A valuable resource would be a guide with actionable tips that teaches entrepreneurs how to manage their marketing team and improve productivity.
But how do you turn these resources into an effective marketing tool? Well, you can offer your guide as a free resource with one condition. Your customers must provide their contact information to access your guide.
In this way, you can gather emails from hundreds of potential customers and then use email marketing to nurture and convert those leads into paying customers.
Guide example: SocialBee's How to Build a Social Media Marketing Plan
Download the Social Media Marketing Plan!
Get the guide for creating a social media marketing plan for your business.
9. Press Release Writing
Press releases are public statements that allow businesses to share important company news with a large audience. This happens through mediators: journalists and news publications.
This type of content is usually used for sharing information about company changes, product launches, events, and similar business developments. 
A press release template should contain the following elements:
An engaging headline

A summary of the key points of your press release

Date and location (if needed)

Body copy

An "About Us" section
As a content writer, you don't have to know just how to write a press release, but you also need to know journalists and develop relationships with the media to make sure your press release gets published in multiple trustworthy news publications.
Press release example: Happsy
10. Product Descriptions
A product description is a piece of copy used to explain and promote the features and benefits of a product.
Like any other type of web copy, product descriptions must also be SEO-friendly, meaning that they need to:
Contain relevant keywords

Emphasize how the product will solve customer issues

Use easy-to-understand language 

Highlight the USP of the product

Offer all the details a customer need to know to make a purchase
Product descriptions are very important for e-commerce businesses. If done right, they can push your product pages to the first positions on SERP. 
Just think about it, when customers look for a certain product, they are already thinking about making a purchase. 
Having your products pop up in the first results will drastically increase your sales because of how convenient it is for people to find the products they were looking for with just a few clicks.
Product description example: Danner
Top 5 Tips to Start Writing
Now that we know what types of content writing there are, let's check out some tips that will help you write better and have more success, no matter the type of content you decide to create.
1. Do Your Research
Each type of content writing has different practices, which you need to know and respect.
Especially if you want your content to do well. 
Let's say you're writing a blog post. When writing a blog post, you need to know what the best practices are so your article gets traction. This means that you will do a bit of homework and you'll learn the best ways to write an article.
Now, it's quite likely that the best practices for article writing won't fit other types of writing, such as social media content writing.
For example, most articles vary between 1,500 and 3,000 words, but when it comes to social media posts, many platforms have character limits that prevent you from writing too much. 
Also, in order for a blog post to gain traction, you need to have internal and external linking, pictures, domain-specific keywords, and much more. While for a social media post to generate reach and engagement it needs to have hashtags, visuals, CTAs, and a limited amount of characters.
So in order to know how to write, you need to research the best practices for each marketing channel and content type. 
2. Keep Your Marketing Objectives in Mind
Chances are, you are creating content in the hopes of achieving certain marketing objectives, such as increasing brand awareness, generating more leads, and boosting your sales.
A great way to stay on track and stay focused on your objectives is to create a detailed content strategy that focuses on your main business needs.
Before creating content ask yourself the following questions:
Which marketing channels are the best for achieving my objective?

What type of content (topics, post format) will help me convey my message?

What are the specific ways I can increase the reach and engagement of my content on each marketing channel?

How will I encourage my audience to act?
3. Create Content for Your Specific Audience
When you're creating content, of any kind, you need to do it with your ideal customer in mind.
This means that your writing should be something that is compelling for your average target audience member. If you don't do this, then it's quite likely that your content will fall flat.
So maybe you're targeting business people over the age of 40. People in this category tend to prefer factual, straight-to-the-point writing. In this case, you want to write in a more serious-toned brand voice, use shorter sentences, and support your points with facts.
Something that helps people write with a target audience in mind is a buyer persona. After you create one, you can imagine that you are making content for this specific buyer persona.
Grab the free template, fill it out, and swiftly craft your buyer persona.
4. Practice, Practice, Practice
We know that to get better at something, you need to practice it. But some people tend to think that this doesn't work with writing (or with arts in general). There's the common misconception that you're either born with a knack for writing, or you're not.
And this couldn't be further from the truth.
Sure, it helps if you know your way around words. But writing is a matter of practice. The more you do it, the better you become at it. So don't worry if your text doesn't sound all that good. Just keep on writing, and in time, you'll notice the improvement.
5. Ask for Feedback
When trying to improve, feedback matters just as much as practicing. You need to know what you're doing well and you need to concentrate. If you don't know this, you might be trying to improve something that you're already doing right.
When asking for feedback, the best people you can ask are people who have experience in the writing department. These are the people who will be able to spot a problem right away and who will give you applicable tips on your writing.
Generally, you should have experienced writers within your marketing department, but in case you don't, then a writing coach can be a life savior.
You can also ask for feedback from people that are outside the writing sphere. They will show you how your article is perceived by somebody who is not an expert content marketing writer. This will help you accommodate your writing for the public eye.
Frequently Asked Questions
1. What Skills Do You Need to Be a Great Content Marketing Writer?
To become a great content marketing writer, you have to poses the following skills :
Solid written communication skills
Good grasp of grammar, punctuation, and spelling
Understanding of basic SEO principles
Knowledge of digital marketing tactics (e.g., email marketing and social media content writing)
Eye for aesthetics and design
Strong research skills
2. What Does a Content Marketing Agency Do?
A content marketing agency helps businesses curate, create and publish content to drive profitable customer action. All the services they provide are a result of intensive client collaboration that helps them develop an effective content marketing strategy perfect for their client's needs and objectives.
Content marketing agencies typically use SEO, outreach strategies, email marketing, social media channels, and other digital marketing platforms and practices to reach the right customers through targeted messaging.
3. What's the Best Social Media Platform for Content Marketing?
Choosing the best social media platform for your content marketing strategy relies on three important factors:
Marketing goals
Target audience
Content type
Let's say your target audience is made up of women between 18 to 30, your objective is to increase brand awareness and you are looking to create predominantly visual content. In this case, platforms such as Instagram, and Pinterest would be a great place to start.
Most social media platforms offer different levels of customization, allowing you to tailor your content marketing strategy to achieve the best results.
4. What Are the Differences Between Social Media Managers and Social Media Writers?
Social media managers are responsible for developing and maintaining a company's social media presence. They create and manage marketing campaigns, keep track of online mentions, comments, and messages, monitor content performance, and are in charge of creating and updating the brand's digital marketing strategy as far as social media is concerned.
On the other hand, social media writers focus on creating compelling content for social media posts, including visuals. They work closely with social media managers to craft content that aligns with the company's objectives, personality, and target audience.
While a social media manager is more focused on the overall strategy of creating a successful social presence, a social media writer focuses on writing content that will engage audiences and generate interest in a company's products or services. Both roles are essential to driving successful social media initiatives.
5. What Are the Best Content Writing Tools Every Business Should Use?
Here are the top three content writing tools every business should use:
SocialBee – Create, schedule, and post all your content from one intuitive dashboard and cut all your work in half. Design and import your visuals with Canva directly from SocialBee, organize your posts in folders, and monitor your content performance with ease.
Grammarly – Grammarly helps you write error-free content by detecting spelling, grammar, and punctuation errors, as well as offering advice on how to improve your writing style.
BuzzSumo – Research and analyze new and popular industry topics and identify what subjects work best for your niche. Also, BuzzSumo makes it easy for you to find user-generated content from your customers you can later use as social proof.
Promote Your Business Through Content Writing
Taking into consideration all the types of content we talked about today, we can safely say that content writing is an effective marketing practice that offers endless growth opportunities for businesses of all shapes and sizes. 
It's not only budget-friendly, but it also offers you the opportunity to build a marketing strategy with long-lasting benefits.
As we said before, content writing can indeed be a time-demanding task, but by using social media tools like SocialBee to automate the content creation process, and outsourcing your content writing tasks, you get to enjoy major benefits with a modest amount of investment.
Are you ready to improve your content marketing effort? Start today with SocialBee's content writing services!
You can also begin your free 14-day trial today and start sharing all your optimized social media content from one user-friendly dashboard.
SocialBee: Your AI-powered social media management tool
Create posts, publish, analyze, engage and collaborate, all from SocialBee.