Adding a link to your TikTok bio gives your new-found viewers a direct path to your website and other social media accounts, allowing you to increase your traffic and expand your connections beyond this one platform.
As a business, you have the opportunity to reach millions of people and connect with a vast online community through your TikTok marketing strategies. However, to make the most of your TikTok presence, you also need to optimize your profile as much as you can. 
This article aims to provide you with a quick and easy guide on how to add a link to your TikTok bio, enabling you to enhance your online presence and gain more traffic to your content. So, read on!
Free Editable Social Media Strategy Template
Get the social media strategy template you need to audit and plan your marketing efforts for maximum results.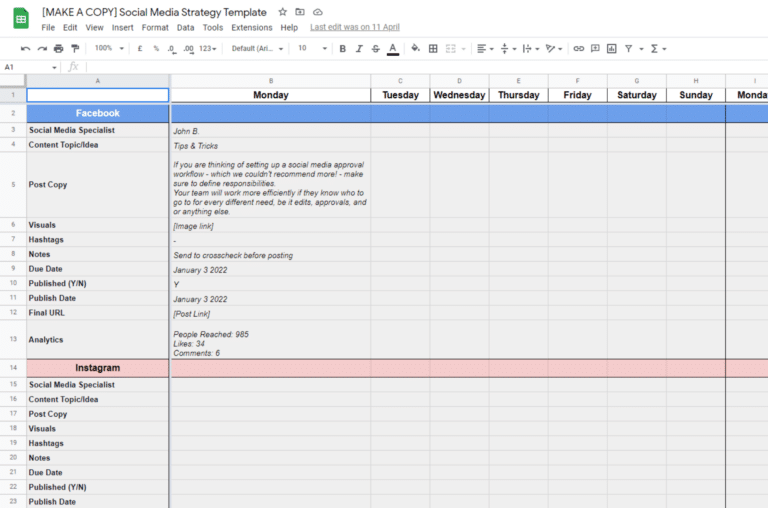 What Is a TikTok Bio?
A TikTok bio is a brief introduction or tagline about yourself or your brand, along with your interests and links to other social media platforms or websites. The bio is a critical component of your profile, offering users insight into your identity and the type of content you create.
In addition to showcasing your personality, a well-designed TikTok bio serves as an effective tool for promoting your brand and driving traffic to your online platforms. 
Why Should I Add Links to My Business TikTok Account Bio?
Chances are that you might not be fully convinced of the importance of adding a clickable link to your TikTok business account.
Here are the top 3 benefits of adding links to your business TikTok account bio:
Redirect followers to your website:

With the help of a TikTok bio, you can send your followers to your other social media platforms, providing them with more opportunities to connect with you and engage with your content beyond the TikTok app. Consequently, this can

boost the traffic to your website

and brand visibility.

Promote your products and services:

 The link in bio feature can redirect to your store and help you promote your products or services more efficiently. Additionally, you can add links to different promotions or product pages on your website. This can make it easier for your TikTok followers to access your products or promotions, increasing their chances of becoming customers.

Track audience engagement:

Lastly, adding links to your TikTok bio allows you to monitor the traffic generated through your content strategy. By using specific links and tracking tools, you can monitor which platforms or pages your TikTok followers are visiting, giving you enough insights to refine your

marketing plan

.
In conclusion, adding links to your business TikTok business account bio can significantly benefit your brand. It can help you expand your brand's presence and reach a wider audience.
How to Add a Clickable Link to Your TikTok Bio
Do you wish to promote your website or a specific landing page for either a new product, service, or event? TikTok bio is perfect for driving traffic to the pages that matter to you. First, you'll have to switch to a business account.
Here are the steps for adding a clickable link to your TikTok bio:
Switch to a TikTok business account

Add your website link

Feature multiple links with a link tool
Step #1: Switch to a TikTok Business Account
Making the switch to a TikTok business account comes with many benefits. Among them, is the option to add a link in bio and increase the traffic to your website.
If you're currently the possessor of a personal TikTok account, it might be time to make a substantial change.
Here's how you can switch from a personal to a business account on TikTok:
Open the TikTok app and click on your Profile page located at the bottom

Click on the Menu button at the top

Select "Settings" and "Privacy"

Click on "Account"

Click on "Switch to Business Account" and follow the instructions given to complete the process
Step #2: Add Your Website Link
The next logical step would be to actually go ahead and put a link in your TikTok bio. If you're unsure about which link to add, make sure that it's the one that people would be the most interested in, such as your website, an important landing page, or even one of your social media profiles, such as your YouTube or Instagram account.
Here's how you can add a link to your TikTok bio:
Open the TikTok app and click on your Profile page located at the bottom

Click the "Edit Profile" button

Click the "Add your website" option

Type in the URL of your choice

Click the "Save" button
Step #3: Feature Multiple Links with a Link Tool
Most marketers have an impressive collection of links worth sharing, such as website, store, and social media links. If you also need to redirect your TikTok followers to multiple links, adding only one website link to your bio might might not be of much help. The solution? You guessed it, bio link tools!
Some of the most well-known tools for link sharing are Linktree, Shorby, or Tap.bio. 
You should choose the one that suits your marketing needs best and add it to your TikTok bio as shown above.
When you put a link to your bio, your followers will be able to visit a large selection of pages dedicated to your brand, make purchases, follow your other social profiles, and overall connect with your business better.
5 Tips on Increasing the Traffic to Your TikTok Bio Link
Well, just because you add a link to your TikTok bio doesn't necessarily guarantee that your followers will tap it. We know, this can be a bit frustrating, especially if you were putting all your eggs into the TikTok bio basket.
Here are the best five tips on how to increase the traffic to your TikTok bio link:
Choose your very best landing page

Add your most important social media accounts

Maintain a consistent TikTok presence

Add UTM parameters to your TikTok bio links

Track your TikTok analytics
1. Choose Your Very Best Landing Page
Selecting the optimal landing page for your TikTok bio link is highly important as it can have a substantial impact on the effectiveness of your marketing efforts. The landing page is the first point of contact your audience has for your brand (outside of TikTok), so it should be appropriate, captivating, and user-friendly.
Picking a landing page that does not satisfy these requirements increases the likelihood of losing potential customers who may exit your site without engaging in any action, such as subscribing to a newsletter, filling out a form, or making a purchase.
2. Add Your Most Important Social Media Accounts
Adding your most important social media accounts to your TikTok bio is crucial for several reasons.
It allows your TikTok audience to connect with you on other social media platforms, which can increase your brand's visibility and reach across different channels. This can help you build a stronger online presence.
3. Maintain a Consistent TikTok Presence
Regularly maintaining a TikTok presence is crucial to driving traffic to the link in bio. Consistent posting helps build a loyal following, establish your brand as a reliable source of entertaining or informative content, and increase the chances of your followers visiting your profile and clicking on your bio link.
Struggling to maintain a cohesive and consistent TikTok presence? Use SocialBee to create, schedule and post your TikTok content.
Start your 14-day free trial now!
If you wish to become much more consistent and efficient with your TikTok content, you should use a social media management tool to help you get the job done. SocialBee is the ultimate AI-powered tool that will help you brainstorm new content ideas and enable you to schedule your content at the best times for optimal engagement rates.
With SocialBee's AI post generator, you can now come up with instant TikTok captions and content ideas. Browse through our 1K+ prompt library and customize them as you see fit. By leveraging artificial intelligence, you can say goodbye to brainstorming content to no avail.
Enhance Your TikTok Presence with SocialBee's AI Tool!
4. Add UTM Parameters to Your TikTok Bio Links
Adding UTM parameters to your TikTok bio links is essential as it enables you to monitor and evaluate the effectiveness of your marketing efforts, and obtain valuable insights into your audience's behavior. 
UTM parameters are labels that you can attach to the end of your URL, which provide information about the source, medium, and campaign of the traffic generated from that clickable link.
By incorporating UTM parameters for the link in your TikTok bio, you can identify which of your campaigns are driving the most traffic to your website or other online platforms. This can help you refine your marketing strategy, allocate resources more efficiently, and enhance the overall effectiveness of your campaigns.
5. Track Your TikTok Analytics
Staying updated on your TikTok analytics is crucial, as it enables you to evaluate the performance of your content and TikTok presence, thus allowing you to optimize your strategy and achieve better results. 
Analytical reports keep you updated on essential metrics like views, likes, comments, shares, and follower growth. These metrics can assist you in comprehending how your content is resonating with your audience and what you might need to do to prompt them to access the link in your TikTok bio.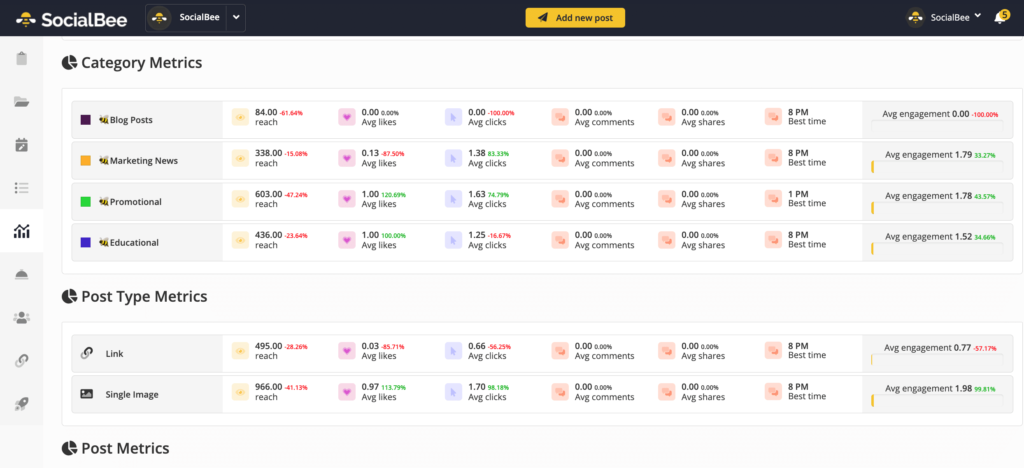 Keep a close eye on how your TikTok content is performing with SocialBee's robust analytics!
Start your 14-day free trial now!
Understanding what type of content performs well on TikTok for your specific audience will help you maintain a successful content plan that leads users to your profile, boosts your follower count, and ultimately directs potential customers to tap the link in your TikTok bio.
Frequently Asked Questions
Start Leveraging TikTok's Website Link Feature Now!
In conclusion, using the TikTok link in bio feature is a simple and effective way to drive traffic to your website, other social media profiles, or any other online platform you want to promote.
By following the steps outlined in this quick guide, you can easily add a link to your TikTok bio and start reaping the benefits of increased engagement, website traffic, reach, and conversions across all your social media profiles and business accounts.
Remember to choose a relevant and high-quality landing page, maintain a consistent TikTok presence, track your analytics, and use UTM parameters to measure the effectiveness of your marketing efforts. With these tips in mind, you can use this social platform to effectively promote your brand and achieve your business goals.
To track your analytics, brainstorm new content ideas, publish, and schedule your TikTok content, make sure to use SocialBee. This all-encompassing social media management platform is ideal for small businesses that wish to take full control over their social media presence. Here's a free 14-day trial to try it out—you won't be disappointed!
Schedule and Share Your TikTok Content with SocialBee!