Brands are constantly looking for tips and tricks on how to get more views on Instagram. Why? Because those views translate into new leads and more paying customers. 
Social media makes it seem like getting more engagement on Instagram is rocket science, but it doesn't need to be. 
In this article, we will go over 10 fool-proof ways to get more views on your Instagram, whether it's for your posts, stories, reels, or your profile.
Free Editable Social Media Strategy Template
Get the social media strategy template you need to audit and plan your marketing efforts for maximum results.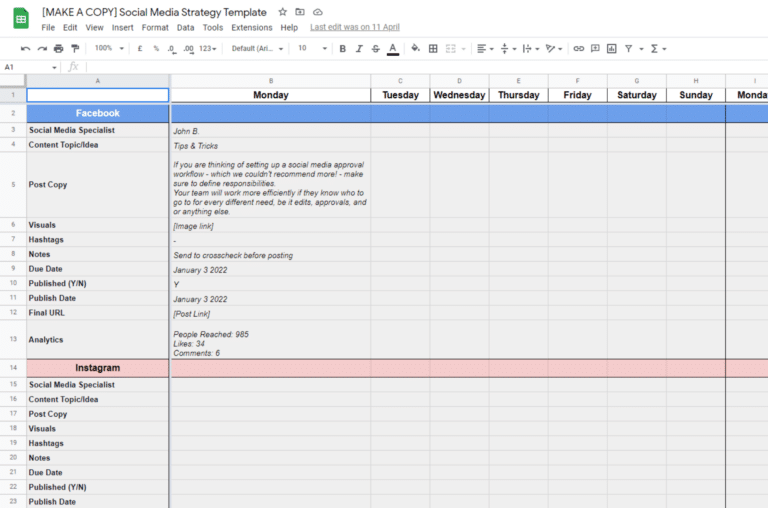 10 Ways to Get More Views on Instagram
More than two billion people and 25 million companies compete for attention on Instagram. Along with this, Instagram's dynamic algorithm makes it more difficult to connect with your target market. However, getting views on Instagram is still achievable, and we'll walk you through a list of steps.
Here are our 10 tips on how to get more Instagram views:
Optimize your Instagram accounts

Understand the Instagram algorithm

Customize your Instagram posts

Experiment with Instagram Reels

Post more Instagram stories

Share user-generated content

Collaborate with influencers

Create shoppable posts

Diversify your Instagram content mix

Interact with your target audience
1. Optimize Your Instagram Account
When designing your social media strategy, you want to think of your Instagram account similarly to how you might think about the 'homepage' of your website. 
Your profile is the first thing Instagram users see, which means it needs to reflect your industry and brand personality. 
You can optimize your Instagram account to get more Instagram views by: 
Switching to an 'Instagram business account' 

Using your logo as a profile picture

Adding relevant links in your bio

Creating a bio with keywords appropriate for the content you post

Using the exact name of your business as your username
A. Switching to an Instagram Business Account
By switching your account from an individual account to a business account, you will get more benefits, such as:
Instagram analytics
Instagram ads
Story links
Content scheduling features
Product tagging
Having a business account allows you to view your Instagram analytics, both for individual posts and your overall account performance. This information gives you valuable insights about your profile optimization, interaction, engagement, and reach. 
B. Using Your Logo as Your Profile Picture
Your profile picture is one of the first things other users see when they come across your Instagram account, and it helps customers recognize your brand.
Logos convey a lot of relevant messages. They are the product of countless hours spent crafting the ideal design, down to the last detail, that would succinctly and effectively communicate a brand's core values.
Therefore, a small yet important aspect to include in your social media strategy is using your logo as a profile picture. 
C. Adding Relevant Links in Your Bio
Your Instagram bio can contain only one clickable link.
Previously, if you wanted to update it, you had to keep switching out the links whenever you launched a new campaign. But you're no longer required to. That one link can be used for a lot more things.
Now, there is a workaround to this situation: using link in bio tools such as Taplink, Linktree or Lnk.bio. They can even assist you in measuring clicks, increasing site traffic, and boosting sales. 
D. Creating a Bio with Relevant Keywords
Creating your bio using keywords like 'copywriter', 'blogger', 'style influencer', 'vegan restaurant', 'hair salon', etc. will allow your account to show up in relevant customer searches. 
Let's say you are a graphic designer willing to promote their services on Instagram. When someone searches 'graphic designer' into Instagram's search bar and your account comes up, that will generate more views to your Instagram profile. 
E. Choosing Your Instagram Username 
Since we are on the topic of keywords, let's also find out how you can include them in your username.
Your username section is the bold section of your bio, usually where individuals or businesses will put their names. If, for example, you put "John Doe | Graphic Designer" in your nameplate, once again your profile will come up when someone searches 'graphic designer.'
2. Understand the Instagram Algorithm
Instagram's algorithm is not as mysterious as everyone makes it out to be. It is actually quite simple when you lump it into how the platform shows and promotes content on users' feeds and explore pages.
Getting more views on Instagram content also depends on how well you understand its algorithm. 
The way Instagram promotes in-feed posts, reels, stories, and the explore page content is set based on metrics such as:
Engagement:

How you engage with other accounts on the platform

Follower activity:

How your followers use Instagram

Your activity:

How you use Instagram
To get more views on your Instagram profile, ensure you design your content the way your competitors do (use the same topics, keywords, hashtags, etc) to attract a similar audience. Keep track of your Instagram insights and adjust your content strategy to fit the algorithm.
Important: Don't try to outsmart the Instagram algorithm!
If you want more engagement and views, make sure to avoid shady tactics. Instagram can detect if you have fake followers or if you are using methods such as "follow-unfollow" to gain more followers. 
If such practices are detected, you will notice that, even if the amount of new followers is higher, you will not be getting more impressions, as the algorithm will not show your posts on other users' news feeds.
3. Customize Your Instagram Posts
In order to gain more impressions on your posts, you need to own your niche. 
Whether that niche is fashion, food, social media, freelancing, entrepreneurship, etc., it is your responsibility to customize your content for your specific industry and target audience.
Even if posting high-quality photos is a great start, you will not gain more followers unless you create content that reflects customer values, solves pain points, educates, or entertains.
Think about what makes you stand out from the crown and start creating various types of content on that specific topic.
What do you need to do to customize your posts?
Research your target audience

Identify your best-performing posts to discover what your followers like the most

Experiment with different post ideas to explore new engaging content formats and topics

Adjust your posting schedule based on your followers' activity
Using a social media tool like SocialBee will help you customize posts for every social media platform and adjust your posting schedule on each channel.
With SocialBee, you can easily organize your content in specific categories and schedule them across all your social media channels.
Start your free 14-day trial today and start planning your Instagram content with SocialBee!
Create, Schedule, and Share Your Instagram Content with SocialBee!
4. Experiment with Instagram Reels
As a digital marketing strategist, you should know that short-form video content is incredibly popular on Instagram right now. 
With the rise of TikTok, most social media apps are developing their own versions of short-form video content. Instagram and Facebook have Reels, and YouTube now has Shorts. 
If you want to get more views on your account, you should totally include Instagram Reels in your video marketing strategy. Compared to a regular post, there are so many opportunities for a great reel that can really increase your views, as it can end up on the news feed of way more Instagram users. 
Here are some ideas for your next Instagram Reels:
Myths about your niche/field of expertise

Checklists

Before-and-afters

Bloopers

Insider tips for your niche/field 
Creating reels that focus on educating and entertaining your audience can help you generate brand awareness and gain more followers who will stick around for your content in the future. Who knows, they may even recommend your account to a friend they know is interested in the same niche! 
5. Post More Instagram Stories
Another easy way to get more views on your Instagram account is by posting more Instagram stories. 
The best thing about stories is that you can post multiple times a day without being spammy. So, don't limit your stories, experiment with different post ideas and discover what intrigues your audience.
You can think of Instagram stories as a storytelling technique, showing your followers specific parts of your daily life as an individual or business.
The biggest benefit of Instagram stories is that they are engaging. You can get more Instagram story views by asking questions, putting up polls.  Make sure to also include features such as the location tag, a countdown sticker or by using popular hashtags in your Instagram stories. 
6. Share User-Generated Content
User-generated content (UGC) is any content created by an individual rather than a brand or 'collective'. 
Here are four ways to use user-generated content on Instagram:
Start a hashtag trend and let users come up with their own content

Simply ask a question and ask that your followers share content and tag you

Share social proof of how you are contributing to the local community

Share client reviews, so you can better promote your local business
UGC is a compelling way to gain more Instagram views. For instance, tutorial or product reviews can generate interest, and can even convince your leads to make a purchase.
7. Collaborate with Influencers
Instagram is absolutely packed with other talented creators within your niche or field, so make sure you engage with them in order to increase your overall engagement.
A good marketing strategy also includes influencer collaborations. And you can do that without investing a significant part of your budget on paid collaborations. 
All you have to do is spend 20-30 minutes once a week going through hashtags and explore page to find micro-influencers from your niche. Micro-influencers are individuals with a smaller followers base (under 50K) that can drive brand awareness at low cost.
Here are some tips on how to collaborate with an influencer:
Make an offer and highlight the benefits you can offer

Present your terms and conditions

Brainstorm post ideas

Run contests and giveaways for more reach and engagement

Create a discount code specifically for your influencer partnership

Use UTM parameters to monitor your influencer marketing results
Instagram recently announced that it is now beta-testing its new creator marketplace. This will smoothen the overall communication between content creators and brands.
8. Create Shoppable Posts
Creating shoppable posts is liquid gold for your account and your shop. If you want to redirect users to your online shop, Instagram has a feature through which you can 'tag' certain products with a link directly to your store. 
This means that if someone comes across your shoppable post, they can click on the photo to check out the product and go directly to your website to make a purchase. 
Shoppable posts can not only get you more views but also help you gain leads or even generate instant sales for your business.
9. Diversify Your Instagram Content Mix
To boost engagement, you need to post content that is varied enough to keep your audience entertained. Diversifying your content doesn't only mean posting reels, feed content, stories, and videos, but also expanding the content of each of those posts.
Here are some Instagram content ideas you can include in your content strategy:
Promotional

(i.e., "about me" posts, product and service campaign offers, etc.)

Educational

( i.e., "x facts about your industry", "tips and tricks for x", etc.)

Fun

(i.e., 2 truths and one lie about your business, memes, etc.)

Motivational

(i.e., "how we started" posts)

Brand-related

(i.e., product launches, mission, vision statements, etc.)
Categories will help you organize your content and also have a better mix of content. Do you want to try the Content Categories feature?
Schedule, edit, and create content on different platforms with our 14-day free trial!
When you are posting informative and shareable content, but also somewhat personal and reliable, you will be able to reach new audiences. 
Think about how others spend their time on Instagram, or even how you spend your time. Would you engage with an account that creates and posts the same content every time? This is the reason that diversifying is so important, as you need to post content that others will enjoy and share with others. 
10. Interact with Your Target Audience
We touched upon engagement and interacting with your audience in some previous points, but tacking it separately is essential for getting more views on your Instagram profile. 
Here are some tips and tricks on how to engage with your audience:
Be genuine:

Don't sell yourself as someone you are not in your posts/stories/reels, etc. Genuine content is what keeps people engaged.

Create an Instagram community:

Be inclusive and ask your audience questions, whether it is a call to action to comment on your most recent post or polls/questions on your Instagram stories.

Respond to comments:

Responding to comments shows your audience that you care and that you are interested in interacting with them. Doing this also makes you more approachable and genuine to those on the platform.

Respond to DMs:

Responding to your DMs is something that not everyone thinks affects their Instagram profile views; but when Instagram sees you engage with your audience and followers, they are likely to push out your content to others. 
While these suggestions are not a science by any means, interacting with your audience and followers shows genuine attention and care they will appreciate in the long-run. 
Simply interacting and responding to comments is a sure-fire way to get more views on your Instagram profile. Therefore, through our Instagram Community Management services, we are initiating likes, comments and follows. 
Are you a small business owner trying to create an IG Community? Our specialists will help you interact with your audience.
Let SocialBee take care of your IG Community management in creative ways!
It's Time to Get More Views on Instagram
How many Instagram views you get depends greatly on how you will put today's tips and tricks into practice. 
Here is a short recap of what you need to do to gain more Instagram views:
Create quality content customized to your specific audience

Interact with your audience, including responding to comments and DMs

Create shoppable posts 

Collaborate with influencers and other creators in your niche

Share user-generated content

Switch to an Instagram business account

Experiment with different content ideas and post formats
Now that you have a strategy in mind, you can get into the real action: creating and sharing content. Thankfully, SocialBee is here to make your job easier.
Start your 14-day free trial today and see how simple it is to create, schedule, and post all of your content on Instagram and other platforms from a single dashboard.
Create, Schedule, and Share Your Instagram Content with SocialBee!
About the author: A self-proclaimed nerd of all trades, Rachel Miles loves to learn about everything that crosses her path. In addition to being an avid learner herself, Rachel also has a passion for helping others shine their voice through her research, writing, and editing skills. In her spare time, you might catch her reading, drawing, or traveling.