Having a solid video marketing strategy can make or break your brand's online presence.
Every passing day, more and more people are getting accustomed to watching video-based digital content. In fact, there are more than 244M digital video content viewers in the US. 
When we compare videos to other content types, videos work best because they catch the attention of your audience by delivering information in a much more appealing way—through movement, imagery, animations, and sounds all at once.
This is one of the main reasons why video content plays a crucial role in social media marketing. Videos help marketers reach out to a larger section of the audience easily. And, since most people engage better with videos, video marketing always seems to work well.
Start Scheduling Your Video Posts with SocialBee!
Why Should You Develop a Video Content Strategy? 
Video content acts as a powerful sales tool. Marketing videos engage new audiences, educate prospects, and help you turn leads into conversions.
Let's talk about the benefits of a good video marketing strategy. By investing time and energy in your video content, you'd be able to: 
Define a proper roadmap that outlines each and every step of your video marketing journey

Create and edit strategic videos using any

 online video editor that help you achieve your video marketing goals

Measure the ROI your videos are delivering
Now, without further ado, let's take a look at 10 actionable insights that will help you craft your entire video marketing strategy the right way.
10 Tips to Help You Build Your Video Marketing Strategy
If you are new to video marketing, to create video content might come as a challenge. This is why we plan to make it easier for you to get a grasp of the video marketing funnel.
Without further ado, here are our 10 video marketing tips to help you create an effective video marketing campaign:
Identify Your Target Audience 

Define Your Video Marketing Goal 

Create a Video Content Calendar

Maintain a Consistent Video Content Style

Share Your Video Content Effectively 

Focus on Video SEO 

Include Customer Generated Content in Your Video Strategy

Show Your Brand Identity Through Video Storytelling

Keep an Eye on Your Key Performance Indicators

Plan on Repurposing Old Content 
1. Identify Your Target Audience 
The first step is to determine what kind of target audience you're trying to reach. You'll have to figure out:
Who they are

What kind of videos do they prefer

What video hosting platforms or modes of communication do they use

How they'll benefit from choosing your brand. 
Without having a clear picture of these basic things, you wouldn't be able to create videos that resonate with your target audience, and you will not know which online video platform to use. 
You can also try creating a set of customer profiles. Besides helping you build a video strategy, these elements will be hugely beneficial for your marketing and sales departments when they create new services, marketing materials, etc.
Here is a list of things you should include in your customer profiles:  
Person's demographics

Preferred social media channels

Hobbies and interests

Pain points and needs

Preferred video types
2. Define Your Video Marketing Goal 
Once you have a clear picture of your target audience, you need to define what marketing objectives you'd like to achieve through your video strategy. Do you want to drive traffic to your website? Do you want to introduce new customers to the products or services you are offering?
Here are a couple of  marketing objectives examples:
I want to increase my Social Media engagement by 10% in the following quarter
I want to increase the revenues from online advertising by 10% in the following 2 months
I want to increase the website traffic by 5% in the following month
You need to be clear about why you're creating the videos in the first place, and what actions you expect your audience to take after watching the video. This will also help you define your video style.
However, different types of content can serve different goals and purposes.  Not every video or content form needs to serve the same goal. 
When you create content this way, it's easier to fine-tune and update your content to ever-evolving trends. For example, you can create "how-to" videos to help your new customers learn how to use your products while sharing client testimonials to boost trustworthiness and brand awareness.
3. Create a Video Content Calendar
Once you've defined your goals, you can set up your video content calendar to help you keep track of your video marketing strategy. A content calendar is necessary for the video creation process, as it helps you and your team plan entire videos ahead and work towards the same goal. 
Here's what your video content calendar should contain:
Video content type

: Mention the nature and topics of your videos (educational video, product

or service video, animated video, interview, behind-the-scenes video, or a combination of all these videos).

Video budget

: When you create a video marketing strategy, it's important to keep track of the investment needed. Will you invest money only in video creation, or do you want to boost your content through social media video ads?

Production process:

Will you be working with a video production company? Which type of camera and audio equipment do you need for a high-quality video?

Video length

: How long will your video content be? You can choose between short videos like reels or long-form explainer videos.

Call-to-action:

Essential to your video marketing strategy, a CTA will be in line with your marketing goals. Based on your requirements, you can ask your viewers to subscribe to your channel or direct them to any one of your product pages.

Publishing channel:

Choose the right video platform with a larger chunk of your target audience in order to effectively share your video content

Post-production process:

How much will the editing take? Will it be done in-house or outsourced? Which editing software do you need?

Content schedule:

How many videos do you plan to publish? How often do you plan to publish them? You can use a tool such as SocialBee that can help you better plan your content.
Moreover, a video marketing plan isn't complete without a content calendar. So, make sure you have enough content ideas to add to your posting schedule.
Here are some types of marketing videos you can include in your video campaign content:
Educational videos

Demo videos

Company culture video.

Interview

Q&A video

Product or service video

Explainer videos on different industry topics

Videos from events

Webinar/podcast highlights
4. Maintain a Consistent Video Content Style
While planning your video content marketing strategy, it's important to come up with a proper content style. To make sure people watch your videos on a consistent basis, you need to post content that's beneficial for your target audience regularly. You can also use many tools available online, like vista video editor, to achieve the output you are looking for:
You can focus your video marketing efforts on setting a few other consistency rules. Here are some common consistency rules most people stick to while creating a video marketing strategy: 
Maintain a distinct video editing style 

Have the same background for every video

Stick to the same video hosting platforms

Choose a niche (content type) and stick to it

Choose a convenient time for your intended audience and post consistently at that time.

Download professional green screen videos to enhance your video content.
Do you want to be kept in the loop about the next marketing move?
Subscribe to SocialBee's YouTube channel for webinars, social media marketing tips, and SocialBee tutorials.
5. Share Your Video Content Effectively 
Sharing your videos across the right platforms the right way is also a crucial part of your video content marketing strategy. 
While creating a video marketing strategy, you should be having a clear idea about how you plan to promote your content across different social media platforms. 
Here are the top three tips on how to share video content: 
Create social media videos and share them on LinkedIn, Facebook, Instagram, TikTok, YouTube, Twitter, and Pinterest 

Turn your best-performing videos into ads

Use a social media scheduling tool to plan, recycle and post video content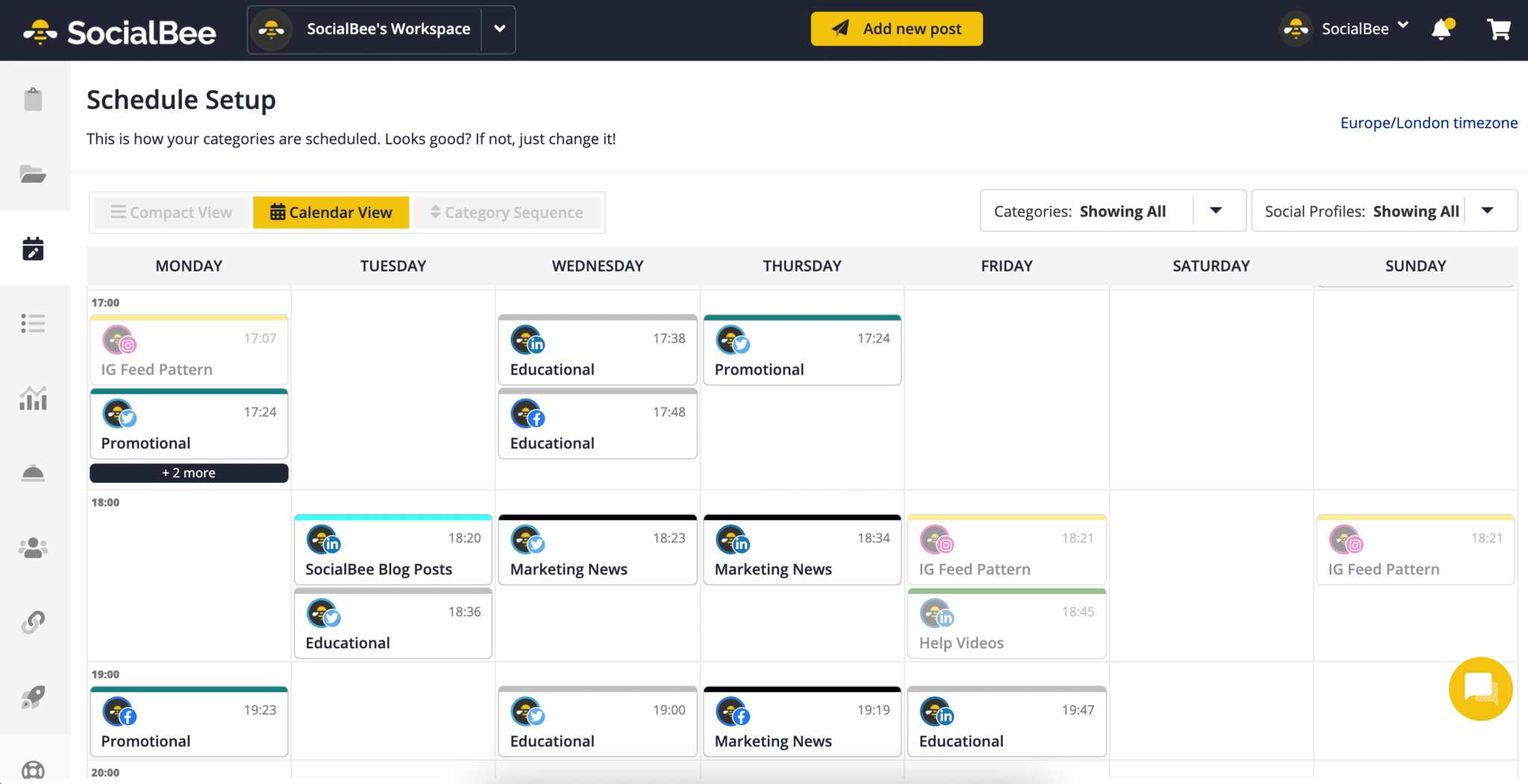 With tools like SocialBee, you can easily organize your video content in specific categories and schedule them across all your social media channels.
Start your free 14-day trial today and start planning your video marketing strategy with SocialBee!
Start Scheduling Your Video Posts with SocialBee!
6. Focus on Video SEO  
It's interesting to note that YouTube alone has more than 500 hours of content uploaded every single minute. 
That's how competitive video marketing is in today's day and age. 
So, if you'd like to stand out and make yourself visible amongst your competitors, you'd have to focus on video SEO as well. 
Here's a list of video SEO techniques you can include in your marketing strategy: 
Select a list of primary and secondary keywords that are relevant to your brand videos
Optimize your video description with the right keywords
Incorporate your primary keyword naturally in your video title and meta description 
Categorize your video properly
Tag your videos with the right keywords 
Insert your primary keyword in your video file name
Add end screens and cards to encourage views
Add an SRT file for closed captions.
The important video SEO factors you should look out for are traffic, ranking and conversions, brand impressions, and links.
7. Include Customer Generated Content in Your Video Strategy
Do you want to steer away from the product video format you are used to and experiment with other ideas?
Allow a few of your loyal customers to become the 'stars of the show' by letting them participate in your videos and steer away from the usual. This will help you establish a unique bond with your customers, while you also gain credibility and build authority within your niche. 
Here's how you can involve your community in your video strategy:
Simply ask them to record themselves explaining what they like about your brand and send it to you in exchange for a consistent discount or promotion from your end
Organize a series of live videos or interviews with someone from your marketing team and brand ambassadors from your customer's base
Use these videos as testimonials or feedback videos on your website and social media pages
Take a look at one of Omada's customer testimonials. As people enjoy being part of a larger project, they'd be more than happy to share it with their friends, family, and social media followers as well. This will act as a catalyst in increasing your brand awareness and visibility across a wide set of audiences. 
8. Show Your Brand Identity Through Video Storytelling
A compelling story is a great way to engage viewers—stories keep viewers intrigued and make them want to watch more. When you try to deliver your message through an inspiring story, it becomes easier for people to associate your business with something.
Instead of talking about your company's missions and values, you can come up with interesting ways to incorporate them in a story. Take a look at Adidas' video ad, which focuses on both the old reputation the brand has and the freedom it gives you when wearing their products.
While doing so, make sure you deliver valuable messages that reflect your brand's identity, as people prefer buying from brands that align with their core values. 
9. Keep an Eye on Your Key Performance Indicators
Measuring and analyzing your video metrics is also equally important. 
Some helpful video analytical tools that provide valuable insights are Vidooly, Tubebuddy, ViralStat, Tubular, etc. Most of these tools provide data about significant metrics such as subscriber behavioral analysis, competitor tracking and engagement tracking.
Here's a list of video metrics you should keep tracking for success: 
The average number of views
The average time your audience spends watching videos you posted
Social media video engagement (based on factors such as likes, comments, shares, and retweets)
Click-through rate (from your email campaigns, social media campaigns, etc.)
Conversions (from landing pages and websites)
Based on these data, you should be able to come up with revised plans and video marketing strategies for your future videos.
With SocialBee's Analytics feature, you can have a better overview of your profiles' performance with tailor-made analytics for all your social media profiles.  
Measure the engagement, reach, and evolution of your marketing videos on Social Media!
10. Plan on Repurposing Old Content 
Videos can be repurposed into various content forms. There's no need for creating video content at all times, as long as you are able to mix and match the already existing videos.
When you learn how to use different forms of content across different platforms, you'd be able to generate an endless amount of content for the coming months. 
To start with, you can take a fraction of your main content and craft it into various new pieces of content.
Here are a couple of ways to repurpose your old video content:
Upload webinars on YouTube
Take highlights from webinars and turn them into short clips for social media
Reshare previous videos on your social media channels
Turn blogs into videos
For example, you can write a blog post about a topic you might have previously discussed in video footage. You can always embed a previous video in such a material, or even on your website's landing page.
With SocialBee, you can recycle your posts multiple times and make the most out of video content.
Start your 14-day trial, re-queue your post and share your evergreen video content on your social media channels!
It's Time to Start Building Your Video Strategy!
Are you ready to give the ideas from our video marketing guide a try?
As you know by now, by creating a solid video content marketing strategy, you will be able to plan, analyze, and improve your video marketing campaigns in a more effective manner.
We understand it might be a bit overwhelming to incorporate all these tips right away.  
So, feel free to start small and slowly, as you start gaining momentum, you can experiment with different tools, platforms, and content types and see what works out for you.  
If you'd like to automate your video marketing journey, you can use tools like SocialBee. It helps you build a stellar online presence,  and allows you to schedule, create and post different forms of content across different social media platforms in one go. 
Start your 14-day free trial and try out all the features SocialBee has to offer!
Start Scheduling Your Video Posts with SocialBee!
About the author: Rithu V is a content marketer at Vmaker. She's an avid reader and writes about anything and everything that captures her attention. When she's not writing, she enjoys listening to good music!