Are you looking to build your own social media content calendar? Then we might have the answer to all your questions. 
We have prepared a list of best practices, tools, and a couple of inspiring examples of social media content calendars that will drastically improve both your workflow and your marketing strategy.
In addition, we created a comprehensive social media calendar template with hundreds of post ideas and templates that you can use to boost your content creation process.
So, keep reading to learn all the steps that go into building a high-performing social media calendar.
Social Media Content Calendar
Boost your content creation with hundreds of post ideas, examples and Canva templates.
What Is a Social Media Content Calendar?
A social media calendar is a document used by marketing professionals to plan content for months or even a year ahead of time for multiple social media accounts. 
Why? Because it offers the possibility to maintain a consistent social media presence, follow deadlines, and analyze results in an efficient and organized manner. In addition, it provides an easy-going workflow within social media teams. 
You can create the social media calendar in paper form, spreadsheets, or simply by using a special calendar tool (we will talk about social media calendar tools later in the article).
We know that organizing a social media posting system seems like a difficult task, but luckily for you, we are ready to reveal all the tips and tricks that will make your job a piece of cake.
Let's get cooking!
The Benefits of a Social Media Calendar
A social media calendar not only organizes your posting patterns but also provides a better working strategy for your team. 
Still not convinced about the benefits of such a practice? 
Here are the advantages of social media planning:
It maintains a consistent social media publishing schedule:

Your audience will gain more trust in your efforts to provide quality information if you prove yourself as a reliable source of constant information. By using a social media calendar template, you will stay on schedule and reach all your deadlines in no time.

It offers a big-picture view:

By having all your planned content in one place, you will be able to see if all your content ideas work well together. Are you putting out the right message? Is your content a good representation of your company? The social media calendar should provide the right insight.

It provides an efficient workflow:

When all the elements of a social media post are in one place, the content creation process gets automatically faster and easier to manage. Having a social media planning calendar will streamline your workflow.

It enables you to track your social media marketing results:

After every post, you can document how it performed on social media. All the data will give you the right data you need to improve your social media content strategy. 

It optimizes your results:

With such a huge influx of information, your target audience may never see what you post. But don't worry! With social media calendars, you can plan and set posts at the optimal time, when your audience is online and scrolling through the feed.

It helps you generate more content ideas:

The simple act of focusing on creating a social media content calendar will give you time to think about relevant post ideas that will add value to your content strategy. When in doubt about what's next, check your social media calendar.
SocialBee: Your AI-powered social media management tool
Create posts, publish, analyze, engage and collaborate, all from SocialBee.
How to Create a Social Media Content Calendar in 12 Steps
Creating a social media calendar template from scratch can be a bit intimidating at first. Once you get familiarized with the essential steps, you'll notice an ease as far as social media content creation is concerned. 
Here are the 12 steps to creating a social media calendar:
Choose your social media platforms

Audit your social media accounts

Decide on your social media posts

Create a content strategy around your social media campaigns

Stay organized

Search for useful visuals

Set a posting time interval for your posts

Organize your workflow

Start working on your social media content

Schedule your posts

Share your content calendar with your social media team 

Track your social media analytics
The benefits sure sound good, but you can't have the benefits without putting in the work first. 
So, let's see what it takes to build a social media calendar that will get you and your marketing team closer to achieving your goals and more.
1. Choose Your Social Media Platforms
Before you start creating your social media content calendar, you need to ask yourself which social platforms would be relevant for you and your target audience?
You don't want to put a lot of effort into a social media marketing strategy and not have people engaging with it. That is why you need to post where your customers are spending their time consuming content.
The first step is to research your consumer's behavior online and base your social media strategy on this valuable data. This can help you master social media content creation.
PRO TIP: Use
Statista
to discover the demographics for each social platform and find out where your customers spend time online.
Just because there are many online platforms out there, doesn't mean that you should have an account on all of them. This will just lead to a waste of time and resources that won't bring significant results.
2. Audit Your Social Media Accounts
Before developing social media calendars, social media marketers should conduct an evaluation to learn how they can improve their strategy. You too should look at what you are doing right and find out what you can change for the better.
Here are some things you should check before creating a content calendar:
Your social media profile

Information about your audience and their activity online.

Top-performing posts

Unsuccessful content

Essential metrics for reach, engagement, and conversions

The performance of your social media ads

Your competitors' content strategy
Your own experience is the best teacher. So make sure you reinvent your strategy to surpass past results and use it as you start using a new content calendar template.
Download our free
social media audit
template and evaluate your entire social media performance faster and easier than ever. Competitor Analysis and Performance Review included.
Download the Social Media Audit Template!
Access the template below for a streamlined social media audit process.
3. Decide on Your Social Media Posts
Content planning is not the most creative part of your content strategy, but it can save you from the times when you lack inspiration. 
How? Well, having an organized social media schedule takes away from the pressure of managing your social media presence. This way, you never have to stress about what and where to post next. All that is left is to give some thanks to your past self.
Here are some post ideas you can use to get started:
Posting industry tips and tricks

Sharing blog posts

Resharing your evergreen content

Letting people know about your promotions

Making announcements

Promoting events

Covering holiday topics

Sharing user-generated content

Giving your audience a behind-the-scenes look into your business
It all comes down to four types of social media posts: text, images, videos, and links. Therefore, a mix of these posts can diversify your content on social media.
By coming up with content ideas for a longer period, you have the time to reflect on your marketing campaigns and find ways to make your social media management more effective. Moreover, keep in mind any sales, events, and product launches you might have prepared during the year.
Also, don't forget to add holidays as a part of your content calendar.
How to Come Up with Relevant Social Media Content Ideas
Even the best social media marketers run out of post ideas at some point in time. But don't worry, there are some great strategies you can use to train your creativity.
Here are some practices you can use to find new intriguing content ideas:
Use the Google autocomplete feature

– Write relevant keywords in the search box and discover the most popular searches your consumers make. Then, all you have to do is create posts that answer their questions.

Steal from the competition

– Go through your competitors' content and look for post ideas that you could improve and post for your audience.

Ask your audience

– Why not find out what your customers want to read directly from them. Ask questions through posts, forms, and polls and get your information straight from your most important source.

Look through your most popular posts

– Use your most popular posts as templates for your future content. If your audience likes that format, then go for it and use it as long as it generates results.

Invest in media monitoring tools

–

Social listening tools

are great for discovering trending content ideas. You can even set up alerts for certain keywords and be notified whenever a new topic with potential arises.

Look through the most popular online courses – This might seem like an odd idea, but it works. By looking at the most popular courses from your industry, you can find out what your audience wants to know and learn. For social media, this works best for video content. You can make tutorial videos and post them on your accounts or even go live and discuss the topic.
Conduct interviews

– Interview industry leaders, relevant influencers, business partners, or even people from your company and provide your audience with interesting industry insights.
500+ Social Media Content Ideas Document!
Diversify your social content strategy with over 500 engaging post ideas.
4. Create a Content Strategy around Your Social Media Campaigns
Chances are you have multiple campaigns planned throughout the year. Maybe you are launching a new product, or maybe you have a sales promotion in the near future. In any case, you need a great social media strategy.
To get the most out of these initiatives, first you have to create a social media strategy that allows you to raise as much awareness as you can and create hype around your brand. 
Here are a few examples of what your social media strategy should aim to achieve:
Inform your customers about your products, services, events, promotions, etc.

Showcase the benefits you have to offer

Increase interest and curiosity

Encourage your audience to act (buy, subscribe, book an appointment, etc.)
5. Stay Organized
Give your calendar color and structure. As a result, you will have a plan that is easy to read and follow.
Plan with Color
Social media posts need to be organized based on the social media platforms you are using. 
A helpful way to keep the process easy to manage is to use a color-coding system. Assign a specific color to each platform so that it is easier to keep track of your schedule. You can also assign colors to months, promotions, or different campaigns you planned ahead of time—the opportunities are endless.
Think of a Structure
Map out the most important information you want to keep track of in your content marketing plan. Keep in mind that there is no universal formula for a calendar. What structure works best for you is the right choice.
Here are the most common elements of a content calendar:
Social network 

Posting time

The copy 

Additional visual elements

Links leading to the content

Responsible team members
Post objective
6. Search for Useful Visuals
A great copy needs to be emphasized by the right visuals, but finding the appropriate material can be time-consuming. 
To avoid wasting time while writing the copy, keep a folder with valuable images, videos, or gifs that can be used for your planned posts. 
Furthermore, make them easy to find by coming up with an efficient naming system. This way, you will be able to find them without going through all the images in your folder.
You can also create your own branded visuals by using tools such as Canva that can be used even with no design experience. Besides having thousands of templates, Canva can also be used directly from SocialBee's content editor.
Start your 14-day trial today and test this amazing integration for free!
7. Set a Posting Time Interval for Your Posts
Deciding on how often you should post your social media content can be difficult. Naturally, you want to be an active presence on social media, not a spam account.
Consistency leads to engagement. Therefore, you need to be active to grow organically on social networks. 
How does a social media content calendar help in this case? It enables you to maintain a consistent posting schedule even in weeks with limited availability.
SocialBee is a social media management tool that offers a calendar view of your strategy. You will be able to see the content category, the social network, and the day and time your posts will be shared on social media.
Start your free 14-day trial today!
The Ideal Post frequency for Each Social Media Platform
You might find it helpful to learn what are the best posting patterns for each platform. Keep reading for some helpful insight into the most popular social media.
Facebook
One post per day for Facebook would be ideal. At the same time, posting more than two times a day can be considered aggressive. However, it is important to not go to the other extreme and keep posting at least three times a week.
The posting schedule should be customized to your audience. 
Instagram
Instagram is a visual platform with a similar posting pattern to Facebook. Therefore, you can publish Instagram posts from one to three times a day to get the best results, and at least three times a week.
Don't forget to add a maximum of 10 hashtags. More than that could actually sabotage your social media marketing efforts.
Twitter
On Twitter, more is more. That is why successful accounts publish posts dozens of times a day.
To balance the amount of time put into posting on Twitter and to maintain a good level of relevancy, it is recommended to post at least five times a day. Moreover, if you want optimal results, a good 15 to 20 posts would do the trick.
LinkedIn
LinkedIn is not a high-maintenance platform. It is like the cat of all social media channels, so publish posts mindfully.
A good posting schedule on LinkedIn consists of two posts per week and a maximum of one post each day.
Pinterest
To maintain a decent Pinterest performance, you should post at least once a day. 
However, for the best reach and engagement, sharing content three times a day is a must.
And if you have enough content ideas, posting 30 times a day is the maximum you can go without spamming your audience.
Google Business Profile
On Google Business Profile, posts only stay up for seven days. So, the minimum number of posts you can share is one per week.
Remember that it would be ideal for you to post every day because Google boosts users that have a consistent posting schedule.
If your creativity knows no limits, we have some good news — you have total freedom to post how much you want on Google Business Profile because there is no maximum limit.
TikTok
TikTok is different from other social platforms due to its advanced algorithm. 
Right now it's one of the most popular platforms in the world, making it a great social media channel to have. 
But what do we know until now? TikTok offers freedom, meaning you don't have to worry if you post too much:
Minimum posting times – once a day

Ideal posting times – two to three times a day

Maximum posting times – there is no posting limit
To succeed on TikTok, you have to practice and see what works. However, what we know for sure is that following the relevant trends and using popular sounds can significantly boost your reach.
The Best Social Media Posting Times Cheat Sheet
Find out what is the best time to post across all your favourite social platforms.
8. Organize Your Workflow
With all the details in place, it is time to decide on the best course of action. The goal is to make the process smoother and easier to follow. As a result, you will have a work plan that will give structure to a workday.
A monthly social media calendar can significantly improve your existing workflow and streamline many internal processes.
9. Share Your Content Calendar with Your Social Media Team 
Next, inform your team about the logical steps of the process to ensure an effective team collaboration. 
The team needs to review and understand the content calendar template because they will be the ones to use it. This will help make the system more intuitive and clear for all teammates.
10. Start Working on Your Social Media Content
All the details are set. Your free content calendar template is ready to be applied to the real world. Now it's time to get creative!
First, check all the information available to you and create the content with it in mind. 
Next, look at the platforms you need to create content for and pay attention to any character limitations. During this step, introduce the practices that will lead to better performance on that platform, for example, hashtags, image size demands, emojis, visuals, and other useful details.
Lastly, respect the calendar and stick to the schedule. All the details have a purpose, and by ignoring them, you will ruin your chances for a successful content marketing strategy.
By putting your calendar into practice, you will find out how efficient it is and what could use improvement. Don't be afraid to change it as you go — it's part of the process.
11. Schedule Posts Ahead of Time
The ideal posting schedule is not the same for everybody. The best thing you can do is customize your schedule based on your audience. By looking at your social media analytics you can find out when your audience is most active.
If you are just now starting out and you don't have the necessary analytics, you can always respect the general best posting times for each platform:
Here are two more things to consider when building your content schedule:
Diversify your content topics

– Make sure you keep things interesting for your followers. If you have multiple posts on the same subjects, don't post them one after another. Rather, find a formula that mixes your content in an exciting way.

Don't be afraid to experiment with your schedule

–  At the end of the day, developing a content calendar is a constant work in progress. What you need to focus on is understanding your target audience and fine-tuning your content based on their needs.
Diversify your strategy by organizing your posts in content categories with different content topics. Create a customized schedule for each category and social media platform to improve your reach and engagement levels.
Start your free 14-day trial today!
12. Track Your Social Media Analytics
The work is not over after creating your social media calendars. You still have to monitor your progress constantly by checking your analytics. Social media is always changing.
Therefore you have to adjust and improve your strategy as you go if you want to stay relevant.
Here are some social media KPIs for reach, engagement, and conversions, you have to track in order to evaluate your social media performance:
The Best Social Media Calendar Tools 
Now that you know how to create a social media content calendar, it's time to discover your favorite social media tool.
We have prepared some tool suggestions that will help you get started with your social media calendar:
If you want an all-in-one social media management tool that can organize, schedule, help you plan ahead, and post your social media content, you are in luck.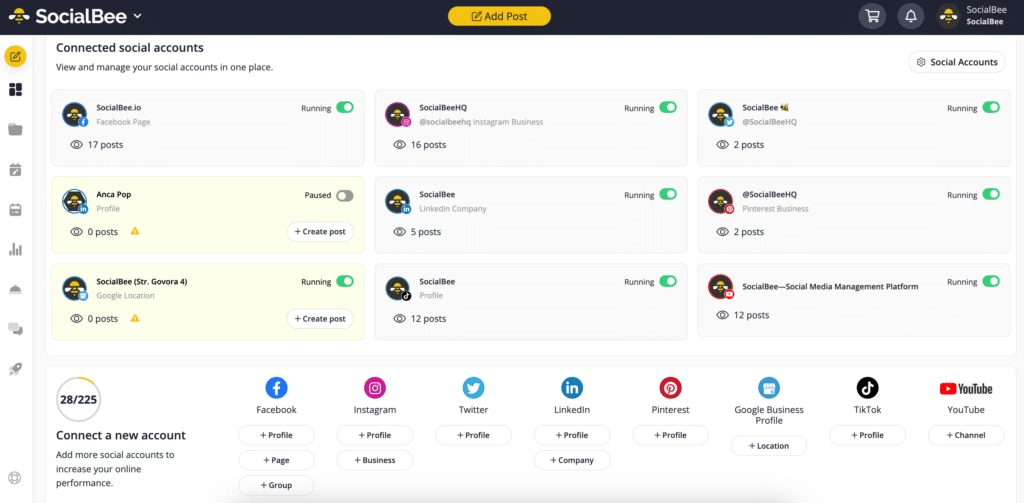 Create, schedule, and post content to all your social media channels from one user-friendly dashboard: SocialBee.
Start your free 14-day trial today to discover all the helpful features SocialBee has to offer!
As a social media management tool, SocialBee provides a series of advantages to help you with your social strategy. 
Here are the main benefits of using SocialBee:
Organize social media posts in categories:

You can move your content from one category to another, plan ahead with our schedule based on categories, and also pause or reschedule the content you want in bulk. 

Customize your content:

Adapt your content based on the platform you are posting for optimal results. Create different variations of your evergreen posts to keep them updated and fresh after each posting.

Share content on social media:

You can make the most of your social media efforts and post your content on platforms like Facebook, Instagram, Twitter, LinkedIn, Pinterest, Google Business Profile, and TikTok.

Expire posts:

You can always set for a post to expire after it's reached the optimal amount of posting times.

See your content in a calendar format:

You can evaluate your content strategy by looking at your overall content schedule from one dashboard.

Create visual content with Canva

: SocialBee's Canva integration allows users to create, edit and import social posts from Canva directly from their content editor.

URLs customization and tracking:

Make your links short and track them by setting custom UTM and Ref parameters.

Improve teamwork:

Create workspaces, assign roles and provide valuable feedback to your team. Furthermore, you can check and edit the social posts that need approval before going live.

Monitor your social media strategy:

Track your performance with SocialBee analytics, a dashboard where you can see your activity status, audience growth, top-performing posts, as well as details about your post reach and engagement.
Google Sheets
Google Sheets is a golden social media tool for staying effective and organized at the workplace. 
How many benefits can just one tool have? From financial plans to social media calendars, you have an all-in-one tool that can help you manage your entire business. 
Also, with Google Sheets, you have the flexibility to access and modify the document whenever you want. 
Google Calendar
If you want a social media tool that already has a social media calendar structure, Google Calendar is for you. 
Also, Google Calendar's visual features allow you to highlight with the color of your choice to stay organized. This way, you will have a well-designed calendar that it's also pleasant to look at. Google Calendar ensures all this and more.
A definite advantage is the feature to set up reminders. As a result, you will not forget about your tasks, and you will stay on top of deadlines. 
Social Media Content Calendars Examples
To give you a better idea about how you should structure your content strategy, we prepared two social media calendar templates from Small Business Trends and Social Media Examiner that you can use for inspiration. 
The first content calendar is from Small Business Trends. As you can see, each section is color-coded, which makes the calendar easier to follow. 
The content ideas are organized in separate rows for each social media network, and in different columns that indicate the day of the week on which the content will be posted.
The second social media example comes from Social Media Examiner. The social media calendar structure is a little different from the first calendar. The post ideas are organized only based on the days of the week. However, we can see that the social channels are listed in the columns together with the content topics which are color-coded.
These two examples are a great starting point. However, feel free to add more details to this social media calendar that will help you in the development of your content strategy, such as links, visuals, hashtags, or anything that can save time and improve your posts. 
Content Studio's Content Calendar
An interactive Content Calendar that lets you visualize social media content of all channels in one dashboard. Plan and organize social media posts for your brand or clients in a multi-view calendar built for teams. Experience seamless team management features and built-in content approval workflows to keep your team organized.  
Main Features:
Manage social media content from a single place:
It's time to say goodbye to clunky spreadsheets and disconnected workflows. Instead, you can increase productivity by managing your entire marketing content from a single interface.
Content calendar
A centralized calendar allows you to quickly review (approve, reject) and edit posts before they are published, allowing you to plan and manage your content.
Multiple View Calendar
Our multiple calendar views are perfect if you enjoy working with multiple views. Easily switch between calendar view, Feed View, List view & Compact List view depending on your preference. 
Team collaboration & content approval workflows
Keep your team organized and your projects on track by creating tasks and tagging team members from within the calendar. Allow clients and managers to review, approve, or reject posts directly from the calendar. They can also check the revision history.  
Useful Filters
Filter or sort posts easily by status, accounts, assigned to, created by, content type, labels, campaign folder, and content categories. It takes a few seconds to find what you're looking for and what matters to you.
Multi-Channel Content management
Easy planning content for your social media channels; you can manage it all from a single location.
Social Media Calendar Template
To help you create your social media content calendar, we have made a comprehensive and editable content calendar template that you can copy and adjust to your liking.
In the template, you will find separate calendars for each month that contain post ideas for every day of the week. The ideas are organized into eight categories (promotional, brand-related, educational, fun, interactive, inspirational, evergreen, and holiday-themed) to make sure your content strategy contains a diversified mix of posts.
Moreover, our social media content calendar also contains editable Canva templates and post examples you can use to speed up your content creation.
Feel free to add or remove elements and customize the calendar for your marketing needs.
Social Media Calendar FAQ
1. What Should a Content Calendar Include?
Here is the information you should include in a social media content calendar:
Post Topic: Mention the theme of your content.
Content type: Define the nature of your post (e.g., promotional, educational, fun, etc.).
Goals: What are you looking to achieve through your content? Promote a product, boost brand awareness, generate leads, increase blog traffic?
Resources: Are there any resources available your team can use while creating the content
Platforms: On which platforms will you be sharing your content?
Links: Add the link to the published post so you can access it with ease in case edits are needed.
Responsible team members: Who is responsible for creating and sharing the content? Who will be managing the calendar?
The content: Add the text and images used in the post.
2. What Is a Social Media Content Strategy?
A social media content strategy refers to the process of planning, creating, curating, publishing, and measuring the impact of your social content.
It also covers areas such as social media marketing objectives, and performance analysis.
3. Can You Use Google Calendar as a Content Calendar?
Yes, you can use Google Calendar as a content calendar.
It allows you to keep track of your content, set up posting reminders, and create separate calendars for different types of posts.
Plus, Google Calendar also offers collaboration features that can help you coordinate content creation among different teams or departments.
Build Your Own Social Media Content Calendar
The most powerful social media strategies are based on research, strategy, and organization. And creating a social media content calendar for your business will help you achieve all three. 
By using all the information above, you will improve your social media presence, and also boost the productivity of your social media marketing team. 
So, what are you waiting for?
Use today's article to create the best social media content calendar for your business. Then all that is left for you to do is share your posts with the world with the help of a social media posting schedule.
Don't forget that with SocialBee you can share content on all your social media profiles from just one social media calendar. Create, schedule, and monitor your content from the same page to save time and generate more leads with less effort.
Start your free 14-day trial today!
Social Media Content Calendar
Boost your content creation with hundreds of post ideas, examples and Canva templates.