If you manage to successfully use social media for your fitness brand, that will change the game for you. Here is why: Your audience is out there spending time on social media while looking for motivation to start doing regular exercise. 
The fitness industry was on a consistent rise in the 2010s. Even though the momentum was lost in 2020, when the pandemic pressured people to opt towards online fitness programs, the industry is recovering now that the pandemic is not as hard-hitting as before.
The future for the fitness industry seems promising as well. According to statistics, the effect of the sudden drop in 2020 will not persist, as the revenue already rebounded back to the pre-pandemic levels in late 2021.  Analysts predict a 171.75% growth in the industry by 2028. Fitness brands need to start focusing on getting their share of the cake.
Do you want to invest more time and resources in your social media pages? In this material, we will walk you through some social media tips for fitness entrepreneurs, personal trainers & fitness influencers!
Short Summary:
Social media can be a game-changer for fitness brands. It helps build authority, develop meaningful interactions, generate trust, enhance brand image, and provide valuable insights. 

Regular posting of relevant content is crucial for maintaining visibility and engaging with your audience. Using social media management tools can help streamline content planning and scheduling. 

Sharing personal success stories from customers can significantly build trust among potential clients. This allows your audience to empathize with real-life success cases, making them more likely to trust your brand and its services.

Whether you're a company or an influencer, it's important to establish a consistent and unique brand voice that resonates with your target audience. 

Outsourcing to a specialist can help optimize your social media strategy, especially if you lack the time or expertise. This can enhance your brand awareness and audience engagement across platforms. It's crucial to choose a specialist familiar with your industry to ensure effective results.
Free Editable Social Media Strategy Template
Get the social media strategy template you need to audit and plan your marketing efforts for maximum results.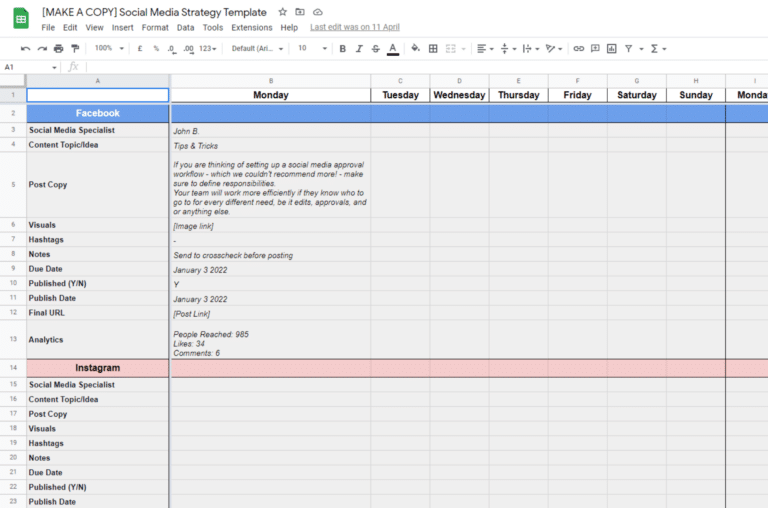 The Impact of Social Media Content on Fitness Marketing
Gym owners, personal trainers, and fitness influencers are constantly looking for ways to generate leads, and this can be done on social media as well. However, compared to your personal account, using social media to promote your product and services can lead to many other advantages.
Here are the benefits of promoting your fitness business on social media:
Build authority

Develop meaningful interactions with your audience

Generate trust

Increase brand awareness

Gain access to insights
A. Build Authority
Your social media strategy can help establish and build brand authority by using consistent messaging, visual branding, and engaging content that positions your company as a leader in the industry.
You demonstrate your fitness industry expertise when you provide valuable content and share fitness tips in your social posts or live streams, while also keeping your community members engaged.
B. Develop Meaningful Interactions with Your Audience
Your social media channels are an excellent place to build meaningful relationships with your community members while increasing engagement. 
Oftentimes, undecided target customers will look for information about weight loss, health tips, or advanced insights on fitness activities, relying heavily on influencers, fitness gurus and health professionals who are popular in the spheres.
Do you want to manage meaningful interactions to your social media accounts?
Start your 14-day SocialBee free trial!
C. Generate Trust
Before making any purchases, consumers must first trust your brand. Through social media, your brand voice can be amplified, ensuring it is heard clearly and effectively. This can be achieved by sharing a range of content such as instructional videos or motivational posts.
Moreover, social media serves as an indispensable platform for receiving feedback. As a fitness business, you can leverage this by publishing user-generated content and sparking discussions with individuals striving towards their fitness goals.
Ultimately, the stronger the connection your audience feels towards your brand, the more likely they are to invest in your services or products.
D. Improve Brand Awareness
Whether you have a Facebook business page, an Instagram account, or a TikTok one, being active on social channels will help you increase your brand awareness. 
While social media fitness marketing can increase the visibility of your brand, it will take time and consistency. You can engage with a larger audience and drive value by sharing content and encouraging user-generated content to further drive word-of-mouth marketing.
Here are some effective strategies for improving your brand awareness on social media:
Leverage Micro-Influencers:

 Instead of partnering with big-name influencers, consider working with micro-influencers. They often have a more engaged and loyal following, which can lead to higher conversion rates.

Create Serialized Content:

 Start a series of posts or videos that followers can look forward to, such as "Motivation Monday" or "Fitness Friday". Serialized content encourages repeat engagement and helps establish a consistent posting schedule.

Use the Power of Stories:

 Utilize the Stories feature on Instagram and Facebook. Because they disappear after 24 hours, you can use them to post more candid, behind-the-scenes content that might not fit your main feed.

Capitalize on Trends:

 Pay attention to trending topics or viral challenges on social media and find ways to incorporate them into your content. This can increase your reach and visibility.

Try Geo-targeting:

 Use geo-targeting features in social media ad platforms to reach people in a specific location. This can be particularly effective if you have a physical fitness center or if you're hosting in-person events.
E. Gain Access to Insights
Do gyms actually know how many membership inquiries resulted from their most recent Instagram posts? Or from their blog posts? Tracking is feasible, but it's difficult and rarely precise.
Fitness businesses sometimes don't know where they received the information about a new customer when they call, which makes it difficult to pick which marketing initiatives to reinvest in. You don't want to be that kind of business.
Here are five strategies you can implement to better track your marketing strategy:
Implement a CRM System:

 Utilize a Customer Relationship Management (CRM) system to record the source of every new customer or inquiry. When someone calls or visits your gym, make sure to ask them where they heard about your business and log this in your CRM.

Track URLs:

 For online advertising, create trackable URLs for your ads. This can help you identify which platforms and ads drive the most traffic and result in the most memberships.

Feedback Forms:

 Incorporate feedback forms or surveys into your sign-up process, asking new members how they heard about your gym. This can help you understand which marketing initiatives are most effective.

A/B Test Ads:

 Conduct A/B testing on your ads to compare their effectiveness. This involves changing one element of your ad (like the headline, image, or call to action) and measuring its performance against the original. This can help you identify what elements resonate most with your audience.

Use Social Media Analytics:

Social media platforms include built-in "insights" or reporting data that display the outcomes of all your activity in simple charts. This makes it quite simple to figure out what worked and what didn't on your social media accounts, so you can replicate what was successful in future campaigns.
Always keep track of your best performing content from one single tag.
Start your 14-day SocialBee free trial!
5 Tips for Killer Social Media Marketing for Fitness Industry
Given all that, now is the perfect time to promote your fitness brand on social media platforms. Whether you are an influencer, a brand manager, or even a gym owner, we have put together a list of tips that can make you stand out on fitness social media.
Here are our social media tips and tricks for the fitness sector:
Create social media posts regularly

Highlight your customers' personal stories with your brand

Find your brand voice

Share educational content to establish your authority

Work with an expert social media specialist
1. Create Social Media Posts Regularly
Content is still king — no big difference here. That's the golden rule to make it on social media. 
You must consistently share new content on a regular basis to stay on top of your followers' feeds. Posting regularly also makes social media algorithms favor your content over competitors. So it's a must-do if you're pursuing a successful social media campaign.
If you have a hard time figuring out how to plan your content, you can make use of a social media management tool like SocialBee. Thanks to the features it has, you can not only schedule posts for a regular content calendar, but also easily manage your profiles and generate AI content. You will also get insightful data regarding your statistics on social media. 
However, you shouldn't post too frequently. Once or twice a day is more than enough, as long as you keep track of the best posting times. Sharing content too often can be a bit overkill for many social media users. On top of that, algorithms don't seem to like it. 
With SocialBee, you can schedule your social media posts in categories and view your entire social media strategy with a visual built-in calendar.
Start your 14-day free trial now!
In short, you should find a sweet spot of frequency based on the platform you use and your account's analytics. Use that frequency to regularly post content, and you're golden.
Free Social Media Calendar Template
Boost your content creation with hundreds of post ideas, editable Canva templates, and inspiring examples.
2. Highlight Your Customers' Personal Stories with Your Brand
Trust is the key to generating more sales. To establish trust, you should give your audience a valid reason. That is where the personal customer success stories come in. 
For example, you can implement this by creating a series of video content showcasing how a customer of yours achieved incredible results while following personal training sessions with you. 
Witnessing these transformations can spark inspiration and admiration in your prospects as they see the potential for their own success. This inspiration creates a bond of trust, leading your prospects to believe in your abilities as a personal trainer and invest in your services.
Take a look at how this personal trainer showcases the results of his clients:
Stories are a very effective way to create impact and improve engagement. They also evoke emotions in us, which is a crucial element for brand awareness. Leverage that to level up your brand.
3. Find Your Brand Voice
A brand voice is the consistent personality and emotion conveyed through a company's communications. It includes the language, tone, and style used across various platforms like websites, social media, and marketing materials.
To establish a brand voice, you need to:
Understand your brand and audience
Define your voice (professional, friendly, etc.)
Ensure consistency in all communications
Train your team to use this voice
A strong brand voice builds trust, differentiates you from competitors, and fosters a connection with your audience; social media digital marketing is key to establishing and spreading this voice.
Gymshark is a perfect example of a fitness brand with a clear tone of voice and personality that targets young people.
Gymshark's approach to marketing mostly relies on influencers, both on TikTok and on other social media channels. They work with young content creators whose followers are their target audience. Gymshark's approach to social media is a successful one as well, with youthful, friendly content aimed at its potential customers.
As they are consistent in their tone and marketing efforts in general, their brand is now a very popular one. 
As we mentioned before, finding a brand voice is not only for companies. Influencers can build their own personal brand, as well. 
Think of Noel Deyzel if you will, for instance. His personal brand consists of certain elements highlighted in the way he chose to create content. He shows his sincerity, helpfulness, and unique sense of humor in each of his videos, where he educates people on essential topics for fitness. 
We observe quite a consistent tone and style in his content, which establishes his personal brand. Otherwise, his iconic catchphrase, "Let me explain." wouldn't be so catchy.
So, whether you're trying to be an influencer or just marketing your company, you should adopt a consistent style and tone in order to create engaging content. This approach can help you build your brand's personality. 
4. Share Educational Content to Establish Your Authority
Social media can be a handy tool to establish your brand as an expert in the field. This does not only apply to the fitness business. 
According to Semrush, 57% of brands use content marketing to improve their reputation. Why shouldn't you?
You can do that by posting educational content related to your niche, which is fitness in our case. And, more importantly, these posts are evergreen content, so, even in a couple of months, you can repurpose them and generate more meaningful interactions.
These are some examples of educational content you can post on your business accounts:
Health tips

Fitness tips

Video interviews with other fitness professionals

Workout routines

Easy-to-make and healthy recipes
As audiences recognize your expertise and industry knowledge through the high-quality content you produce, your brand gains authority. This enhanced credibility not only fortifies your brand image but also fosters increased sales.
Not only that, but you also provide people value with educational content, which is a great way to keep them loyal.
Look at how Men's Health Magazine creates educational fitness content:
Long story short, you can increase your brand's authority and your customers' loyalty by sharing educational content.
5. Work with an Expert Gym Social Media Specialist
Are you too busy to implement all those strategies for your social media channels, or simply lack the know-how to do so? At the same time, you don't afford to hire a social media manager? Well, there is nothing to worry about. Countless social media external parties can help you to do what's right.
While choosing an expert to work with, you must make sure they are familiar with your industry. If you're building a fitness brand, you should go with a sports marketing agency instead of a one-fits-all solution. Needless to say, this holds true for any other super niche brand.
Each social media specialist offers a different experience to its customers. Some options are more experienced in content marketing, some focus on engaging with your social media followers, while others focus on e-commerce solutions. Each one differs in scale, as well. You need to do your research well and find one that suits your needs to get the best results. Our recommendation is ConciergeBee.
With the help of a social media specialist, you can connect with your audience, but you can also increase awareness about your brand on every social media platform.
Learn more about ConciergeBee's Social Media Specialist service!
In case you run out of ideas for your social media content, worry not, we are here for you, and we have a couple of gym social media ideas. Ready to find out more?
Social Media Gym Posts Ideas
Social media offers an excellent platform for gyms to engage with members, promote their services, and build a strong fitness community. A well-thought-out and effective social media strategy can help a gym grow its membership, increase retention, and enhance its reputation. But how do you create a gym post?
In this section, we will explore several social media post ideas for gyms that can add value to their online presence and keep their audience engaged.
Here are 10 gym post ideas fitness brands and influencers can share on social media:
Success stories
Behind the scenes content
Workout tips and tutorials
Live Q&A or workout sessions
Nutrition advice
Motivational quotes
Your trainers
Challenges or contests
User-generated content
Milestones
1. Success Stories
Share gym posts with transformational stories of your members to inspire and motivate others.
Include before and after pictures, workout regimes, diet plans, and testimonials to highlight the real impact of your gym. You can even ask your gym members to naturally talk about their future health and fitness goals.
2. Behind the Scenes Content
Showcase what happens behind the scenes in your social media posts. This could be trainers preparing for sessions, the cleaning process, or even the unboxing of new equipment.
Such gym posts give your audience a chance to feel a part of the process and establishes trust in your brand.
3. Workout Tips and Tutorials
Share short workout clips or fitness tips. It's beneficial content for followers and shows your expertise. You could demonstrate correct exercise form, post a quick workout routine, or explain the benefits of certain exercises.
4. Live Q&A or Workout Sessions
Use Instagram Live or Facebook Live to host interactive sessions. These could be live workouts, a Q&A with a personal trainer, or even a chat about nutrition. Live sessions encourage engagement and give followers the opportunity to interact in real-time.
5. Nutrition Advice
Along with workout tips, post about nutrition on your gym's social media accounts. Share healthy recipes, advice on pre/post-workout meals, or debunk popular diet myths.
Remember to make it clear that these are general nutrition tips, and individual needs may vary.
6. Motivational Quotes
Everyone needs a little motivation now and then. Share inspiring quotes or success mantras to keep your followers motivated. You could also share stories of famous athletes or fitness personalities for inspiration.
7. Your Trainers
Feature your trainers on your social media. Share their fitness journeys, workout philosophies, or favorite exercises. This not only promotes them, but also helps to humanize your brand.
8. Challenges or Contests
Host fitness challenges or contests to boost engagement. These could range from a 30-day fitness challenge to a photo contest where members share their workout selfies. Prizes can include things like a free month of membership at your fitness studio or branded gear.
This will not only result in more engagement, but will also be an aid in increasing brand awareness.
9. User-Generated Content
Encourage your gym members to share their workout pictures or videos at your gym and use a specific hashtag. User-generated content is not only engaging but also provides social proof.
10. Milestones
Whether it's your gym's anniversary, reaching a membership milestone, or a member achieving a big goal, celebrating achievements can foster community and generate positive feelings around your brand.
Every personal story shared on your gym social media accounts will make your audience feel closer to you.
Frequently Asked Questions (FAQ)
It's Time to Promote Your Fitness Business on Social Media Platforms!
The fitness industry is on its growth path. That is why you should focus on building your brand in the fitness industry now. Using an effective strategy to grow on social media is certainly a great way to do it. We hope that these tips will help you through your journey on fitness social media. 
In the meantime, you can create, schedule, and post your engaging content on all your social media channels with the help of SocialBee. Start your 14-day free trial now!
Post Your Fitness Content on Social Media with SocialBee!
About the author: Gizem Tas is a writer, editor, and translator. Experienced in blogging for marketing, translation, localization, and foreign languages with a degree focused in English Language and Literature from Boğaziçi University.