Investing in efficient social media management software designed for agencies can be critical for the success of your clients' marketing strategy.
After all, agencies need the right social media tools in order to manage their clients' presence on various social networks and drive positive performance.
Managing your social media presence doesn't have to be a stressful chore and it won't be a problem once you start using the right software. However, finding the best social media tools for your needs is a challenge in itself.
In this article, we'll discuss the top social media management tools for agencies and the aspects you need to consider before making the final decision. Let's get started!
Social Media Strategy Template
Streamline your marketing with an efficient social media strategy template.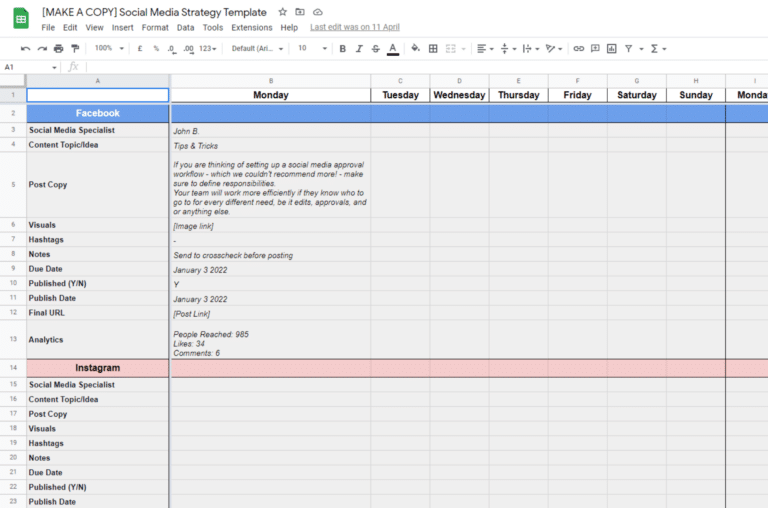 Common Challenges for Marketing Agencies
Digital marketing agencies are widely known for facing a unique set of hurdles when it comes to managing multiple platforms and constantly improving their social media marketing efforts.
Here are the top three challenges marketing agencies face every day:
Poor team & client communication

Lack of automation

Insubstantial client performance reporting
A. Poor Team & Client Communication
Social media marketers often struggle with poor team and client communication. Truth be told, it can be difficult at times for marketing teams to stay organized and be on the same page when managing multiple social accounts and campaigns.
Without proper communication and collaboration, clients are at risk of not receiving timely updates regarding their social media strategies. As a consequence, their social media posts and marketing campaigns may experience a decline in reach and engagement due to delays or miscommunication. 
A lack of communication can seriously disrupt the success of an agency's marketing efforts. To avoid this, agencies will need an all-in-one social media management tool that allows clients and team members to provide feedback and optimize their social media workflow. 
B. Lack of Automation
As agencies conduct their social media campaigns, the need for task automation continues to grow.
Without proper automation, social media managers may find themselves spending hours on repetitive activities and processes, such as manually scheduling posts, publishing content or engaging with customers in a timely manner. 
A great social media tool is vital for streamlining these tedious processes. Plus, it ensures that social media managers have more time to focus on researching their clients' industries, refining content strategies, and working on their digital marketing efforts. 
Without automation, agencies risk miscommunication with clients and burnout caused by ever-changing customer preferences. 
Finally, automation minimizes errors and allows you to have more time to create content and maintain a consistent social media presence. When selecting a tool for your agency, make sure to evaluate its capabilities for automating daily social media marketing tasks.
C. Insubstantial Client Performance Reporting
When doing social media management, agencies must provide substantial client performance reporting to ensure that they're achieving their desired marketing goals. 
In the absence of proper client performance reports, marketing agencies cannot measure the impact and effectiveness of their campaigns, which can affect their credibility and relationships with their customers.
Furthermore, social media marketing campaign and strategy optimization become increasingly difficult without accurate client performance data. It's time to maximize your clients' return on investment (ROI) with substantial client performance reporting. 
Use a social media management tool that provides valuable insights into customer engagement levels and ROI. That way, your agency will always continue to refine its tactics and adjust investments accordingly. Building trust between your agency and customers is the key to success.
Top 10+ Social Media Management Tools
We can only imagine how tough it might be to select the right social media management tool for your agency. Dealing with so many options must be overwhelming. But don't worry, we're here to point you in the right direction.
Here are the top 10+ social media management tools:
SocialBee

Brand24

NapoleonCat

Later

StoryChief

Social Champ 

HopperHQ

Sendible

Planable

ContentStudio

Zoho Social

Sprout Social
If you're looking to save time and effort and create social media posts while simultaneously delivering quality to your clients, SocialBee is the perfect tool for you.
This powerful yet user-friendly social media automation platform simplifies tedious tasks like content creation, post scheduling, team collaboration, and performance monitoring. 
Manage all your client's social media tasks from one place, from content creation to publishing and monitoring content performance.
Start your 14-day free trial at SocialBee today!
With SocialBee's team collaboration features, managing multiple social media channels has never been easier. It's the perfect tool for agencies that want to keep their clients satisfied with less effort. No need to use separate social media analytics tools, our in-depth analytics are insightful and powerful. 

With SocialBee, you can take account management into your own hands and stop multitasking. Also, our AI content generator is guaranteed to limit the time you spend creating new posts. 

Here are SocialBee's key features:
Multiple social networks supported:

Post on

Facebook, Twitter, LinkedIn, Instagram, Pinterest, Google Business Profile, TikTok, and YouTube.

Visual integrations: 

Use our Canva, Unsplash, and GIPHY integrations to design your posts right inside SocialBee.

AI content generator: 

Generate captions and images for your posts with our AI Post Generator.

Content categories: 

Structure your content into categories to obtain a solid and balanced mix.

RSS functionality:

Connect the RSS Feed of any blog to import content automatically.

Post customization: 

Adjust your content for all the social media networks you post on individually.

Hashtag generator: 

Automatically generate hashtags based on your images and captions.

Evergreen and time-sesitive posting:

 Recycle evergreen posts or expire time-sensitive content easily.

Visual content calendar: 

Set up a calendar-like posting schedule for all your profiles.

Team collaboration tools: 

Invite multiple team members to SocialBee, assign them roles, and get access to all the tools you need for efficient collaboration.

Social media reports: 

Analyze your page and post performance and generate PDF reports in seconds.

Social inbox: 

Monitor and manage all your social media interactions directly from SocialBee.
Pros: 
An all-in-one tool

AI-powered content creation

Reasonable quality-price ratio

Solid analytics and reporting tools

Great for managing multiple social media accounts

Impressive customer support
Cons: 
A slight learning curve at the beginning
Pricing: 
Bootstrap: $29/month or 290/year
Accelerate: $49/month or 490/year
Pro: $99/month or 990/year
Pro50:

$179/month or 1790/year

Pro100:

$329/month or 3290/year

Pro150:

$449/month or 4490/year
Manage All Your Client's Social Accounts with SocialBee!
Create posts, publish, analyze, engage and collaborate, all from SocialBee.
To elevate brand management to new heights, Brand24 offers a robust set of tools tailored to agencies seeking to harness the power of social media. By leveraging their advanced social media listening capabilities, you can tap into the pulse of your target audience and stay ahead of the competition.
Brand24's comprehensive suite empowers your agency to not only monitor social media trends but also analyze the preferences, opinions, and behaviors of your clients' social media audience. With this invaluable information, you can craft highly effective strategies aimed at raising brand awareness and maximizing engagement.
Through customizable, white-label reports and cutting-edge analytics, you can gain deep insights into the ever-changing social media landscape, ensuring your agency stays one step ahead.
Brand24 enables you to identify emerging trends, capitalize on opportunities, and respond swiftly to potential crises, all while staying attuned to your clients' competitors.
With the power of social media at your fingertips, your agency can unlock the potential for growth, relevance, and success in the digital realm.
Pros: 
Intuitive social media software


Good for social media campaign planning

Great for social media monitoring

Fair price
Cons: 
No "pause account" option

Needs more detailed filters for reports
Pricing: 
Individual:

$59/month or $588/year

Team:

$149/month or $1548/year

Pro:

$199/month or $2136/year

Enterprise:

$399/month or $4176/year
With NapoleonCat, agencies can administer their presence across various social media sites without effort. This tool allows you to service multiple brands and collaborate both internally and externally.
Effortlessly manage and moderate conversations across popular social channels including Facebook, Messenger, Instagram, LinkedIn, TikTok, and Google Business—all from one centralized dashboard. Keep your moderator teams on top of their game, even when dealing with high volumes of messages and comments.
Plan ahead and streamline your social media content creation process with an intuitive visual calendar. Schedule and publish your clients' Facebook posts, Instagram Reels, and TikToks, all while collaborating seamlessly with your team. Take advantage of team tasks, approval workflows, and feedback sharing to ensure smooth content production.
NapoleonCat facilitates client reporting by scheduling automated weekly and monthly reports that get sent by mail. It also performs solid competitive analysis and social media performance tracking.
Pros: 
Versatile tool

Comprehensive and intuitive design

In-depth analytics

Helpful customer support
Cons: 
Occasionally buggy interface

Struggles during API updates
Pricing: 
Standard:

$25.82/month or $309.84/year for 3 profiles and 1 user

Pro:

$63.31/month or $759.72/year for 3 profiles and 1 user

Custom
Later revolutionizes social media management, allowing you to schedule and automatically publish posts for your clients while freeing up your time for strategic planning. 
Start simplifying client management with Social Sets and Access Groups, allowing you to handle multiple clients and brands seamlessly. Connect with the best creators for brand campaigns and create better content faster with planning, organizing, and AI-powered Instagram captions.
Some notable Later features include the ability to add shoppable links to every post, get recommendations for the best time to publish content and discover relevant hashtag suggestions effortlessly, eliminating the need for brainstorming. 
Experience the efficiency of Later and take your social media management to the next level. Impress your clients, save time, and unlock the full potential of their online presence. 
Pros:
AI caption generation

Best posting times recommendations

Helpful visual planner

Great hashtag suggestions
Cons:
The analytics need improvement

Doesn't support LinkedIn videos
Pricing:
$18/month or $180/year

$40/month or $400/year

$80/month or $800/year
With StoryChief, your agency can revolutionize content campaigns, scale operations, and boost profitability.
Connect social media platforms and CMS systems to plan, collaborate, and publish content effortlessly from one centralized platform.
Gain a clear overview and meet deadlines with a powerful marketing calendar. Streamline campaign management, assign team members, and request client approvals, ensuring content is delivered on time.
StoryChief allows you to measure campaign success and exceed client expectations. Set clear goals, assign team members, define KPIs, and manage budgets, while collecting valuable insights for data-driven decision-making. Impress clients with visually appealing and easy-to-understand reports.
Unlock the full potential of your agency with StoryChief's all-in-one marketing software. Work faster, eliminate inefficiencies, and achieve exceptional results for your clients. 
Pros:
User-friendly interface

The support team is really helpful 

One-click distribution on all social channels
Cons:
You can't have more than one person editing a doc at one time

The analytics dashboard is underdeveloped in comparison to other competitors
Pricing:
€220/month or $2300/year

€400/month or $4000/year

€800/month or $8000/year
Social Champ is a social media management tool that empowers agencies with extensive features to streamline their workflow and increase their social media presence.
From content curation, and scheduling, to performance analysis, and social inbox management, Social Champ has got you covered. It's an industry-leading solution for agencies and medium-sized businesses that want to make the most out of their social media usage.
With a user-friendly interface, Social Champ is a delight for user as it helps them manage multiple social media platforms and optimize their performance with ease.
Responsive customer support caters to queries and concerns from existing and potential customers, making the experience as enjoyable as possible.
Pros: 
Very extensive and elaborate features

Intuitive user experience

Supports up to 90 platforms
Cons: 
Some features are limited on certain platforms due to API limitations
Pricing: 
Free plan: Supports upto 3 social accounts and 1 user
Champion: $29/month or $312/annum, supports up to 12 social accounts and 2 users
Business: $99/month or $1068/annum, supports up to 40 social accounts and 6 users
Agency: Can be customized for 100 social accounts and 10 users (can be customized)
HopperHQ helps agencies manage multiple social accounts from one place. With its unlimited user capability, agencies can efficiently collaborate and have numerous teams work toward improving social media campaign management with ease.
Their Instagram grid planner and visual content calendar are great for planning ahead. Also, they offer great analytics that provide valuable insight into various target social media audiences.
Pros: 
Clean interface

Great for large teams

Helpful bulk scheduling

Unlimited media library
Cons: 
No drag-and-drop feature in the calendar

No social inbox to manage messages and comments
Pricing: 
Hopper HQ:

$19/month or $228/year for one social set

Pro:

$39/month or $468/year for one social set
Are you a social media marketer looking for a simple and efficient way to manage your social media accounts? Look no further than Sendible, the ultimate social media marketing platform. With Sendible, you can easily schedule and publish your social media posts with powerful scheduling tools.
Sendible is one of the most popular social media tools for agencies out there. Their white-label dashboard keeps all your clients organized and helps your team work smarter, not harder.
Also, Sendible offers agencies a bird's eye view of the content created by your teams. Their content suggestion tools are great for an inflow of fresh content.
With Sendible's social media scheduling platform, you can save time and effort by scheduling an entire month's worth of content in just minutes. The bulk importer allows you to streamline the process and tailor your posts with profile tags, locations, and hashtags for maximum impact.
So, what are you waiting for? Experience the power of efficient social media management and streamline your social media posting with Sendible. Start maximizing your social media presence today.
Pros: 
Flexible posting tools

Great quality-price ratio

User-friendly interface

Great social media metrics 
Cons: 
The platform does not handle large photos

Lacks TikTok integration

Disconnects social media accounts without warning
Pricing: 
14-day free trial

Creator:

$29/month or $300/year

Traction:

$89/month or $912/year

Scale:

$199/month or $2040/year
Planable is a social media management tool that can easily scale your agency and streamline your work. Their intuitive social media calendar and easy-to-use scheduler will change your way of doing business.
Finally, Planable helps you streamline workflow approvals and helps your team members collaborate in a way that is stress-free.
Pros: 
Great for small businesses

Efficient workflow approvals

Ideal for remote work

Intuitive interface
Cons: 
Slightly pricey

No analytics reporting
Pricing: 
Free trial for 50 posts

Basic:

$13/month or $132/year

Pro:

$26/month or $264/year

Enterprise:

Custom
In the wide variety of social media management tools, ContentStudio stands out as a great platform for agencies that wish to achieve better results for each of their clients' social platforms. Their approval workflow features will help your team communicate effectively with the clients and take control of their publishing schedules.
Additionally, ContentStudio offers in-depth, white-label analytics reports that allow you to make better decisions and show your clients all the progress you've recently made.
Pros: 
Great for content organization

Appropriate for businesses of all sizes

Good UI

No learning curve
Cons: 
No image editing feature

Support could use some improvements
Pricing: 
14-day free trial

Starter:

$25/month or $240/year

Pro:

$49/month or $480/year

Agency:

$99/month or $960/year
Zoho Social is an all-in-one platform that empowers you to effortlessly organize, collaborate with, and elevate the brands you work with, thereby enhancing your social media management services.
Their approval management features and intuitive content scheduler are guaranteed to save you time. As for social listening, it's now easier than ever, thanks to Zoho Social. Finally, their branded reports will help you measure your clients' social performance.
Pros: 
Easy to use

Efficient customer support

Handy content scheduler

Solid reports
Cons: 
Slightly pricey

Delay in rolling out features
Pricing: 
15-day free trial

Agency:

€320/month or €2760/year

Agency Plus:

€460/month or €3960/year
Sprout Social is an all-in-one social media management tool for agencies that aim for solid results.
The shared content calendar, content approval workflows, and competitor results are important for any agency that wants to offer high-quality services. Also, their client-ready reports and detailed performance data can help you make a great impression.
Pros: 
Great customer support

Easy to use platform

Clean design

Good training and onboarding
Cons: 
A few bugs

Limited number of keywords
Pricing: 
30-day free trial

Standard:

$249/month or $2988/year

Professional:

$399/month or $4788/year

Advanced:

$499/month or $5988/year

Enterprise:

Custom
What to Look for in a Social Media Management Tool
Social media has become an integral part of digital marketing. Agencies have adjusted and are now offering a wide variety of social media marketing services worth investing in.
Here are the top five things to look for in a social media management tool:
Effective social media planning and scheduling features

Advanced social media performance analytics

A centralized workspace

Easy client account management

Team collaboration features
1. Effective Social Media Planning and Scheduling Features
Social media planning and scheduling features are both must-haves for agencies that should be provided by the social media management tool of your choice. 
Social media planning involves researching the best times to post content, analyzing past performance, creating a solid content strategy, building a marketing calendar, and organizing campaigns. A great tool should allow you to do all that seamlessly, plus make it easy for you to schedule social media posts in bulk for increased efficiency.
2. Advanced Social Media Performance Analytics
Social media performance analytics are an essential feature for marketing agencies that wish to measure the impact of their campaigns. Luckily, you won't need to invest in social media analytics tools separately. An all-in-one platform should do the trick.
Start gaining insights into how customers are engaging with your clients' content and optimize campaigns for maximum ROI with the help of a social media management tool. 
Furthermore, a great tool should allow any social media manager to do social media monitoring and discover the overall customer sentiment across multiple platforms. This can help you anticipate any PR crises.
Apart from the aspects mentioned above, it's equally important to find a tool that can monitor valuable metrics, such as likes, comments, shares, views, and target audience demographics. This way you can learn more about your followers and what they prefer in terms of content, and use this information to enhance your strategy.
3. A Centralized Workspace
Having a centralized workspace is essential if you wish to efficiently manage your social media efforts. In fact, a social media tool can help agencies streamline content creation and publishing tasks, collaborate on campaigns, and track KPIs from a central location.
Communication between team members and clients can thrive in the presence of a centralized workspace. That way, all stakeholders are aware of the latest updates and are able to leave feedback as needed. Automation features also allow agencies to quickly publish content across different social media platforms and monitor engagement more accurately.
4. Easy Client Account Management
Client account management features allow agencies to easily switch between workspaces when dealing with different clients. 
Social media management tools are known to help agencies with this process by enabling them to do client account management for different businesses from one place. As a result, communication between teams, various workflow processes, and routine tasks are streamlined and consolidated, leading to increased efficiency and productivity. 
5. Team Collaboration Features
Team collaboration features are an absolute must for any marketing agency, as it helps to ensure that everyone is working together and communicating clearly. 
Social media management tools that offer collaboration features can allow team members to promptly communicate with clients in real time, thus preventing any misunderstandings.
In addition, these tools simplify the task assignment process instead of relying on spreadsheets or manual processes, not to mention that a solid team collaboration feature lets managers track progress in real-time and ensure that deadlines are being met. 
Frequently Asked Questions
Choose the Best Social Media Management Platform for Your Agency
In conclusion, a great, all-in-one social media management platform can help you run a marketing agency more easily. With social media management tools, teams can improve collaboration, automate key processes, and reap the benefits of robust performance reporting.
SocialBee is the perfect social media scheduling tool for your agency. Our app will help you create and schedule all of your posts efficiently, monitor your performance, collaborate with your team and manage your online mentions and comments from one social inbox.
To ensure our customers have a chance to experience how amazing it can be, we offer an exclusive 14-day free trial! Don't miss out – try SocialBee today!
Manage All Your Client's Social Accounts with SocialBee!
Create posts, publish, analyze, engage and collaborate, all from SocialBee.