Do you want to discover how a social media chatbot can be included in your marketing plan? And, how you can use it to support and benefit your brand, as well as your audience?
Then you are in luck. 
In this article, which is part of a series of articles written in collaboration with Rebrandly, you'll learn about conversational marketing and its importance, social media bots, and how they work on social media.
Social Media Strategy Template
Streamline your marketing with an efficient social media strategy template.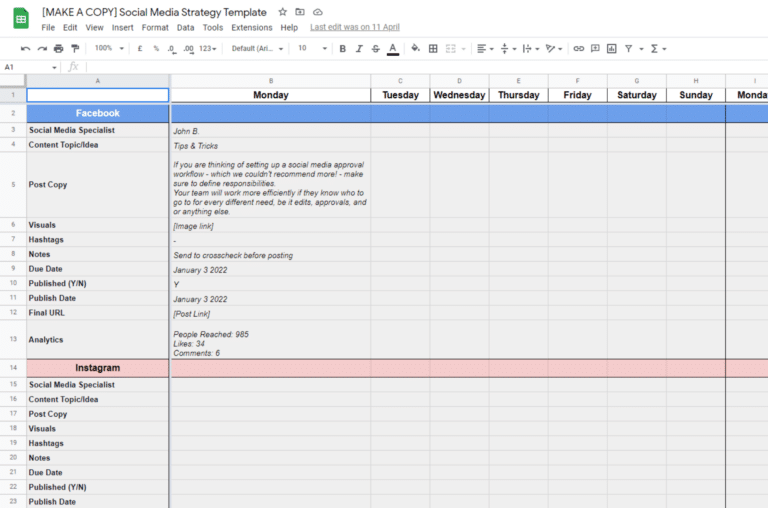 What Is a Chatbot?
Chatbots are programs created using a chatbot builder designed to reply to messages and carry human-like conversations.
With the help of machine learning, chatbots can actually adjust their replies to fit different situations. Businesses use chatbots to improve their customer service and help customers solve common issues in a time-effective manner.
What is Conversational Marketing?
Conversational marketing refers to the use of chatbots, voice assistants, and more similar means of communication to provide a better customer experience, as well as increase engagement and conversions.
Nowadays, what consumers are looking for is to find the information they are interested in online fast and easy. So, the entire process needs to be simplified.
As a business, if you can't provide such an experience for your customers, they might become frustrated and go to your competitors looking for better service.
The solution? Chatbots. They have what it takes to simplify customer interactions and improve the customer experience.
How? Well, by simply providing information your consumers actually want and need.
Here are the main benefits of conversational marketing:
Create a more human buying experience

Find out what your customers want

Shorten your sales cycle

Grow your sales pipeline
You don't have to rely only on chatbots to interact with your customers. The content you provide on your communication channels is as important for the customer experience.
Optimize your social media content strategy by sharing posts on all your platforms from one user-friendly dashboard.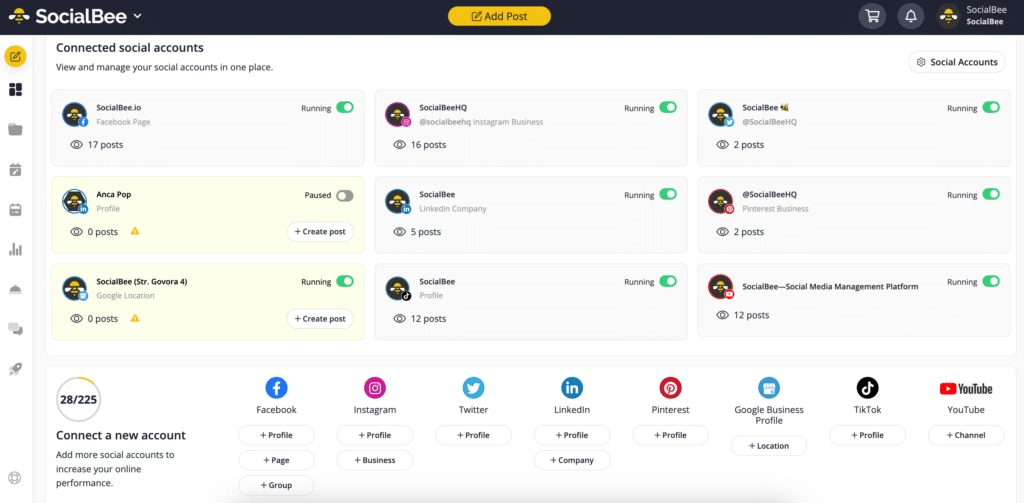 Connect all your social media profiles to SocialBee and start creating customized content and posting schedules for every one of them.
Start your free 14-day trial today and discover all the amazing features SocialBee has to offer!
SocialBee: Your AI-powered social media management tool
Create posts, publish, analyze, engage and collaborate, all from SocialBee.
Social Media Chatbots
More and more marketers consider the use of chatbots on social media as a must-have rather than a nice to have. The efficiency of a social media chatbot is already proven by the simple yet essential fact that it generates a more personal engagement with users.
The good news: it's not even all that difficult to create chatbot automation for social platforms such as Facebook or Twitter for example.
If you opt to use a smart chatbot to automate your customer service on social media platforms, you basically start gaining access to a bunch of new advantages for your brand.
The greatest benefit may actually be the fact that a chatbot will provide your customers with a smart assistant with the ability to communicate with them almost like a customer service agent would. It also gets to know your customers and finds out which of your products they are interested in.
A great thing about adopting chatbot use to your company's benefit is the fact that there are several pre-developed chatbots (that can still provide you with advanced features such as artificial intelligence, and also the ability to integrate into multiple social network channels) that you can make use of at a monthly fee. 
Although this type of technology can cost even thousands of dollars to thoroughly develop, pre-developed ones will only cost a fraction of the cost.
Top Benefits of Using Chatbots
If you are still unsure about whether you should implement chatbots into your social media strategy, let's have a quick look at the main benefits they can bring to your business.
Chatbots can help you:
Provide 24/7 service

Deliver instant responses

Time and cost-efficiency

Guide users to the information they need

Provide customers with a new and interactive way to engage with brands

Increase sales

Boost customer satisfaction

Reduce human error
Why Should You Use Social Media Chatbots?
Here is why you should implement chatbots into your social media marketing strategy:
Quicker Purchases
Because people have such a busy and fast-paced lifestyle, they are more and more interested in completing their shopping faster and easier. 
In fact, people are now able to choose to speak directly into their mobile devices and order their favorite products or add products they consider buying to the shopping cart for later purchase. So, this is just something you as a brand need to keep up with.
Amazon Echo is a great example of this. Actually, research shows that 45% of all Amazon Echo users have used their mobile device to add an item to their shopping list at least once.
And with all the new Echo devices out there, things become even easier to bring the usefulness and functionality of Alexa in your home as well as in your car. 
What more could you wish for, right?
Faster Access to Information
How many times have you found yourself in a situation where you were looking for a piece of specific information on a website, but the information was nowhere to be found? 
We've all been there. But now such situations can easily be eliminated due to chatbots. 
Now you can use chatbot automation to easily search for any piece of information that may interest you on a brand and get it within a few seconds. Tempting, isn't it?
Well, it kind of is. With this in mind, I think it's safe to say that we are at the beginning of a chatbot invasion in e-commerce. After all, chatbots offer enormous potential for e-commerce from product fulfillment, logistics, support, and customer retention. 
24/7 Customer Service 
Customers now expect 24/7 access to everything they are interested in online. This includes getting help from customer service reps with the ability to answer questions and resolve potential problems they might be facing during their online experience.
Why is it so important to meet your customers' needs in such a way?
Because if users can't find the product they are interested in or if they have unanswered questions or problems, they will simply abandon your website. Such abandonment will obviously affect your conversion rate — in the right context those customers might have actually purchased your products.
Machine learning helps chatbots interact with customers more naturally. Chatbots have the ability to actually remember those customers from their last visit. So, they're the perfect marketing tools to increase customer satisfaction, boost conversions and generate leads, not to mention close sales.
Businesses will actually save money by incorporating chatbots into their marketing strategy because they won't have to hire as many people in their customer service teams.
According to research, users seem to be more and more prepared and willing to make online purchases with the help of a bot. Therefore, implementing a chatbot will place your brand where your customers hang out (online, on their phones, and on social media).
Veto Pro Pac is an example of a company using an e-commerce chatbot to help them connect with its customers.
And here's another example where a chatbot helps in connecting with customers easier and faster from Captain Notepad.
More Visitor Conversions
As you know, the main functionality of social media is to drive leads.
If that's your goal as well, then chatbots are the way to go. In fact, according to research, the chatbot conversion rate turned out to be 266% higher than the average social ad.
Here's what Sarah Gower, managing editor at Adidas London Newsroom, has to say about social media chatbots:
"One of the main appeals of a chatbot was that it allows for ongoing, deeper engagement with our consumers through regular one-to-one conversations."
And, here's another statement from Sarah Gower:
Image via MarketingWeek
How Do Chatbots Work with Different Social Media Channels?
Every social media network is different, from its different user base demographics, behavior, and purpose.
That is why your social media strategy and content should be customized to fit the requirements of each channel. The best news is that you can adjust your content for each platform faster and easier than ever with SocialBee.
From the SocialBee content editor, you can select the platforms you would like to post on, optimize them for each individual channel, and also see how your content will look like when posted in real-time.
Start your free 14-day trial to discover how SocialBee can improve your content creation process!
You can change your character count, image size and add different hashtags to boost your post's visibility on each platform and increase your reach and engagement levels.
Furthermore, there is no one size fits all for how to use chatbots on social media. So, let's break it down and learn how to use chatbots on some of the most popular social media networks.
Facebook Messenger
Although some are already predicting the death of chatbots, Facebook expects more marketers to come on board. 
The head of Facebook Messenger, David Marcus, published an article earlier this year explaining that using live chat as a marketing channel is no longer a case of if — but when.
Here is what he wrote:
"People expect to find businesses with some sort of messaging experience – whether it's a live chat functionality or something more complex like a complete platform experience on Messenger. 

But over the last year, we've heard from more and more marketers that they know that messaging is the next great channel — but how do they get started? 

We've been encouraged to see that bigger brand names are bringing a presence to Messenger (LEGO, Katy Perry, Apple Music) which signals the acceptance from CMOs that it's time to create a unique and effective experience that can reach more people at scale. 

Look for investment in rich messaging experiences not only from global brands but small businesses who need to be creative and nimble to stay competitive." 
Each month, Facebook Messenger has more than 900 million active users. And over the past few years, Facebook chatbots have been attracting attention because of their ability to hack into micro-targeted audiences.
Well-known brands and innovative marketers have been using it to interact with relevant consumers on Facebook in a personal way. Big brands like Disney use it to create a memorable and immersive experience.
Its Zootopia chatbot allowed children to solve crimes with the movie's fictional characters, which proved to be a very engaging way to interact with fans.
While the TV network WGN America also created a detective story chatbot for Facebook Messenger to promote the premiere of its series Bellevue.
WhatsApp
With over two billion users, WhatsApp is an important channel for both personal and business communications. 
Over 80% of small businesses in both India and Brazil say that using WhatsApp for business benefits both the customer experience and their business goals. 
Since customers are already comfortable using WhatsApp to share fast messages with friends and family, there is no learning curve to start chatting.
ProfitBooks discussed how their small business benefited from using WhatsApp chatbots. In a recent post, they shared some WhatsApp chatbot marketing tips and hacks: 
"If you do your follow-ups on WhatsApp instead of direct phone calls, you will get 40% more responses. 

No one appreciates phone calls from unknown numbers but we are more likely to respond to personal messages. 

When we start using WhatsApp for customer communication, we noticed better response and engagement."
While many brands are using chatbots to start conversations with consumers, some are so fun and entertaining that people are swarming to initiate the exchange. 
For example, Hellmann's Mayonnaise recently ran a campaign for WhatsApp where the bot asked fans to send in snaps of the ingredients they have in their fridge. 
Those who got in touch then received recipe suggestions about what they could make with them — Hellmann's was a key ingredient in each of course.
After its launch in Brazil, the WhatsCook service received a 99.5% approval rating from over 13,000 users demonstrating just how valuable users found it. 
Since then, it's been rolled out in Argentina, Chile, Uruguay, and Paraguay. The campaign saw over a billion people from 180 countries interact with Hellmann's chef-bot.
Via The Creative Disruption Network
Twitter
Using Twitter as a conversational marketing tool is great. What's also great is when you know the right way to do it.
You may have already heard about Twitter's reputation for marketing spam. But why does this spamming happen?
Well, it happens because companies use their Twitter account mostly for self-promotion. 
This would be fine if some businesses wouldn't go so far with the self-promotion that the entire tweet stream becomes identical to spam. This is clearly not ok and it's certainly a sure way to lose followers fast.
Here's what you can do instead:
Post relevant,

valuable content

that's not only about you, your product, or your services.

Follow people from your niche and have relevant, honest conversations with them.

Retweet content you consider valuable and interesting for your own audience

Take part in hashtag chats
What about Twitter Chatbots?
Well, Twitter Chatbots seem to be a must for branding, customer success, and increasing sales.
Why? The simplest reason is the fact that Twitter has traffic. It has real-time data insight and it offers users the opportunity to launch an interactive campaign. 
And guess what? Marketers who want to engage with their customers, increase sales, and build brands are more and more interested in Twitter.
That's why Twitter chatbots should become a key practice for companies that are interested in successful customer service and implementing smart sales strategies.
The bottom line is that integrating chatbots into Twitter would most probably benefit your customers. A bot on Twitter could easily assist any of the customer's needs at any time of the day — which shows care and professionalism.
And let's not forget the one-to-one conversation you can have with your customers in order to understand their needs and pain points. As a result, you could start meeting those needs, as well as providing a solution for their problems. And Twitter can be great for this.
And while we are at it, we really wanted to learn the opinion of someone who closely knows what the latest Twitter trends are when it comes to conversational marketing. 
So, when asked, Chris Makara, Digital Marketing Strategist, and Founder at Bulkly has agreed to tell us his insights on how conversational marketing will evolve on Twitter. 
Here's his answer:
"As with any digital marketing strategy, conversational marketing will evolve across the major social media platforms as each provides different opportunities. While I feel Facebook is leading the way for the best opportunities around conversational marketing, let's take a look at opportunities for this on Twitter.

For much of Twitter's history, it has been a platform where a large majority of users blast out anything and everything – without monitoring conversations and interactions that take place from those tweets.

An approach like that is the opposite of conversational marketing.

So while Twitter might not be thought of as the go-to platform for your conversational marketing campaign, there are definitely opportunities for it.

In its bare form, to me, conversational marketing is really about having a conversation with someone else on a one-to-one basis. One where the person on the other end has your undivided attention as do you.

And this can easily be done on Twitter.

But before you start, it's important that you have the mindset that no one cares about you – they only care about what you can do for them.

So with that in mind, you'll need to be sure that your messaging is centered around how you fully understand their pain points and how you can help alleviate their problems.

So how can you help people on Twitter?

One of the best opportunities for conversational marketing comes from customer support issues as these people are already looking for some help.

Many companies have dedicated support teams to handle these interactions.

A company that does this very well isBuffer.

They are constantly monitoring Twitter for their brand and have employees who step in and make sure no tweet goes unnoticed. Many times the issue is resolved directly on their public Twitter timeline, while others are taken to direct message.

And you can also monitor your competitors on Twitter for their customers with issues. This works really well if the competitor doesn't have a system in place to handle these requests. You can develop a strategy to help win them over and potentially change your company. However, you have to be very careful on how you approach this as all industries, customers, situations, etc. are different."
Instagram
All social platforms out there are clear proof that people love to share. But what do most people like more than sharing?
Chatting. It's also quite obvious that Instagram's growth and constant introduction of new features have made this visual app a great force for brands out there.
What about chatbots on Instagram?
Well, by adding branded chatbots, Instagram would allow businesses to go beyond just 'hearts' and move into personalized commerce, immediate customer support, not to mention increased customer engagement and success. 
Businesses, brands, and influencers are bound to answer thousands of DMs a day. And guess what? Most of these messages are the same questions, only they come from different users.
The problem with direct messages, however, is that they don't allow you to group the customers and keep a full record of the messages you get.
And, when you are delaying answering those direct messages, you may find yourself in the unpleasant situation of losing some of your customers.
Additionally, the initial Instagram message you got might not even reach the destination at all — before the possible customer gets the chance to read it, it gets into the messaging requests, where it can stay for an extended period of time. And that's not ok, not if you are interested in real customer success.
Now even though Instagram hasn't really shown interest in providing ways to implement bots into the platform, there are companies interested to make it possible.
As it turns out, with SalesBrain.co you can automate your sales scripts via Instagram bot. This bot provides fast replies and it is also capable of more than just holding a dialogue.
Image via SalesBrain
Here's what this bot can do:
Gather data about your clients

– The benefit is that you can analyze and segment your audience based on the information you gather, such as location, interests, and needs.

Answer at any time

– Even if a user replies in 2-4 days, at night, the chatbot will still reply immediately.

Send push notifications to your customers

– In case the conversation does not end in a sale, chatbots can still send messages to get your customers to purchase from you.

Offer cheaper options or notify customers about new products

– Often times this ends up in a sale and it also shows that you care about your customers.
As you can see chatbots can really optimize the way you interact with your customers as well as add value to your marketing efforts. 
Well, Facebook has already made it pretty clear that businesses and brands love Messenger Chatbots, so the introduction of smart AI chatbots on Instagram may just be a possibility soon.
Until then, you can simply connect your Facebook Messenger to Instagram.
Image via BotMakers
Check out more chatbot templates
here
.
LinkedIn
Depending on your industry,  LinkedIn is a great source for discovering leads.
According to HubSpot "traffic from LinkedIn generated the highest visitor-to-lead conversion rate at 2.74%, almost 3 times higher (277%) than Twitter (.69%) and Facebook (.77%)."
Why do people join LinkedIn? Simple, to display their career achievements, work experience, and to find information that would make their professional lives grow and become better.
So, the bottom line is that LinkedIn is the leading social network for B2B traffic and lead generation, not to mention an excellent platform for new career opportunities and recruiting.
If you are looking to grow your LinkedIn network and generate new valuable leads for your business and personal brand, SocialBee can help.
Foster 1-on-1 relationships and build a loyal community around your business with SocialBee's LinkedIn Lead Generation services.
Our social media specialists are ready to initiate connections and send messages to your most valuable leads to help you grow your business.
What about Conversational Marketing and Chatbots on LinkedIn?
Well, as you may have heard, LinkedIn has:
Created the possibility for native video functionality for company pages.

Introduced a Vimeo integration.

Launched a Snapchat Stories alternative.
The purpose of the Snapchat Stories style slideshows on LinkedIn is to become more relevant for the younger audience. They first started with "Student Voices" just for university students in the U.S. Now it seems that LinkedIn plans to build Stories for more sets of users.
A LinkedIn spokesperson told TechCrunch about the reason behind this new feature, which is basically to get students to share their academic experiences such as internships, career experiences as well as class projects that they would want to show off to recruiters as part of their personal brand.
Image via TechCrunch
And let's not forget about the Facebook-style reactions such as "Like",  "Clap", "Insightful",  "Hmm", and "Support", that also appeal to the younger generation.
… As well as the prompt messages that pop up as reply suggestions.
What does the integration of stories into LinkedIn tell us? 
Well, it speaks loud and clear that besides the useful functionality of a story, the younger generation wants a more human interaction whenever they check their social media feeds, and that also includes LinkedIn.
A 'more' human interaction on social is basically the ability to express yourself and create unrehearsed ad-hoc content through stories and through your social accounts in general. 
The result? Trust is built. Because that's the effect of close, in-person human interaction. And yes, this is a different kind of relationship-building opportunity amongst LinkedIn users, too.
So, it seems that conversational marketing is happening even on LinkedIn. Who would have thought, right?
The bottom line is if your audience is on LinkedIn make sure to meet their needs and wants by investing time in creating stories (when the time comes) and videos. Whatever it is, stay updated and adapt to the changes.
One thing is clear, video creation and conversational marketing is an essential part of building trust with your audience.
Here's what Keith Browning, Senior Global Brand Manager at LinkedIn, told us regarding the evolution of conversational marketing on Linkedin:
"We've spent the past three years improving the ease of use and the performance of our LinkedIn advertising products for our customers. 

We've added Lead Gen Forms to break down barriers to filling out lead forms on mobile devices. We've introduced Video Ads and new ways for marketers to reach their target audience at scale with features such as website retargeting. And we've recently introduced a beta version of a revamped Campaign Manager that enables objective-based advertising.

One more thing: At the end of 2018, we upgraded our LinkedIn Pages offering, so marketers can have better conversations with their communities. Expect even more in 2019."
What about chatbots? Will LinkedIn go for chatbots on their platform?
Well, we'll just quote a piece from TechCrunch on LinkedIn's last, and most major UI update:
"LinkedIn is introducing its own form of 'chatbots'. To be clear, I'm referring to these as chatbots, but LinkedIn is not — it doesn't follow you and steer the whole conversation, but it's a little helper that will suggest things to talk about to "break the ice" with people."
Wondering when and if LinkedIn will ever launch a complete bot?
They haven't given much info about this issue. However, if we consider the fact that LinkedIn is now owned by Microsoft, a bot may be on the way soon.
Anyway, bots are clearly the future, so if LinkedIn wants to keep up with the newest trends, it will surely allow some alternatives of bots to customers.
Until then, you can simply connect your Facebook Messenger to LinkedIn.
Image via BotMakers
Check out more chatbot templates
here
.
Finding the Middle Ground Between Human Interactions and Chatbots
So, in case you are using content on your social platforms to get people to your website, then chatbots are an excellent way to convert those visitors.
Be smart, don't spoil your conversion rates just because you aren't in line with today's latest trends your customers want so much. 
Sometimes it's so much easier to chat with a bot and keep things simple than to pick up the phone and call the company for what appears to be a simple request or question. However, if you use business phone services, this facilitates communication for both you and your customers.
Think about it this way: you can opt for using chatbots to just add to your human workforce, not to replace your workforce. It seems like it could be a balanced decision to do so.
Chatbots can't really replace phone or email communication when it comes to providing in-depth answers to technical questions. This means that there are certain things that will always require a human touch. 
The Importance of Social Media Chatbots
When using social media marketing, a chatbot can add extra value to your social media marketing strategy and benefit your brand.
A chatbot on your social platforms can also help to automate the customer service part of your business while driving traffic to your company's website. The result? It can help to turn interested visitors into loyal buyers.
If you are interested in learning how to create a chatbot, I recommend you check out Bot Academy, where you'll learn how to generate more leads and sales with chatbots.
Or, check out Neil Patel's favorite chatbot marketing tool, MobileMonkey, and get started today. 
Image via Bot Academy
The goal of social media bots should be to make businesses feel personal again.
How do we do that? Simple. Through conversational marketing. By adopting conversational marketing, sales, as well as marketing teams, will have a fantastic way to have real-time, scalable conversations that close leads faster.
Improve Your Social Media Strategy with Chatbots
The bottom line is, chatbots are an excellent tool to use in your social media strategy.
Here are the 3 essential elements of conversational marketing are your friends in building a successful brand:
Social media

Interactive and valuable content

Live chat (direct conversation with your customers using chatbots)
If you want to improve your social media strategy, even more, use SocialBee to create, schedule, and post content on all your social media channels from one place. 
This social media management tool will help you maintain a consistent posting schedule that will allow you to connect and interact with your audience.
SocialBee: Your AI-powered social media management tool
Create posts, publish, analyze, engage and collaborate, all from SocialBee.