You can catapult yourself straight into social media stardom by learning all there is to know about Instagram aspect ratios and image sizes and doing your hashtag research.
In fact, the latest Instagram hashtags usage statistic shows that the average post is accompanied by approximately 10 hashtags these days. 
This article is perfect for those of you who want to learn more about the importance and diversity of hashtags.
Furthermore, we'll help you get an idea of how to properly use them and why tracking your Instagram hashtag analytics can give you some awesome insight for future reference. 
How exactly can you find the right hashtags for Instagram? Read on and find out.
Free Editable Social Media Strategy Template
Get the social media strategy template you need to audit and plan your marketing efforts for maximum results.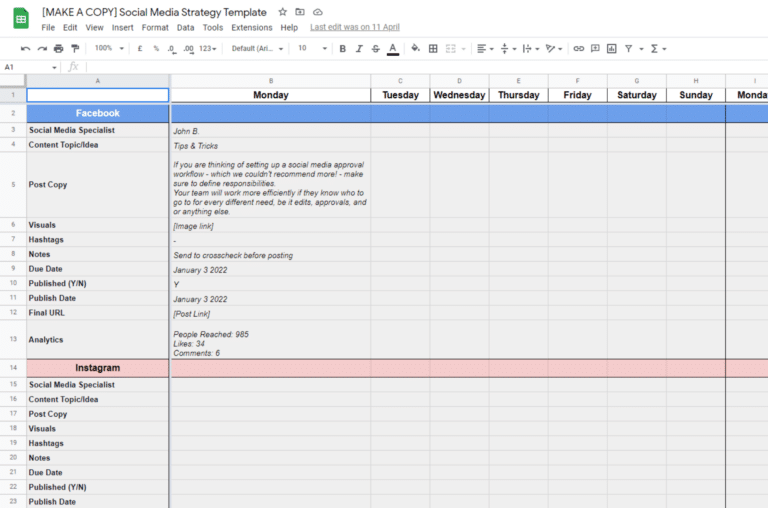 How Do Hashtags Work?
Hashtags are the key to getting found by your target audiences. If your community is interested in a certain hashtag, chances are that they're already following it. 
If you have been using some cool Instagram tools for quite a while, then it is most likely that you have seen or used hashtags already.
If you haven't, that's okay. Not everyone is knowledgeable on how to grow their Instagram organically. To put it briefly, hashtags are words or key phrases that have the pound symbol (#) before them. 
Examples: #tradingbusiness #coffeeinla #redbullgivesyouwings #icebucketchallange #socialbee
Generally speaking, any word or group of words can become trending hashtags. However, if you're looking at business hashtags, you will notice that most of the words used are related to the field or to the company. 
What Are Hashtags Used For?
Hashtags have two main purposes ─ to group posts in a certain category and to help users navigate social media platforms better.
Basically, hashtags work like keywords on search engines. People type them in the search bars and expect to find posts that have been tagged with the hashtag they used. 
Here are the benefits of using Instagram hashtags:
Get brand exposure

Show support for causes and social issues

Help your target audience find your company

Disclose sponsored partnerships 

Group together content that is relevant to the hashtag
How to Do Instagram Hashtag Research?
In order to reap the benefits of Instagram hashtags, you will need to do some extensive hashtag research.
Picking a few random words, throwing the pound symbol in front of them, and adding them to your copies is not the hashtag strategy you should go for.
Let's see how you can pick the best hashtags for your business.
Types of Instagram Hashtags
The first thing you should know is that there are different types of hashtags. Based on the purpose of your post, you will know what type of hashtag to use.
Also, make sure not to use the same hashtags over and over again, since the Instagram algorithm could easily shadowban you. Mix and match for optimal results.
Here are the 3 types of trending hashtags you should use:
Community hashtags
Branded hashtags 
Descriptive hashtags
1. Community Hashtags 
These hashtags revolve around certain communities. They bring people who have the same ideals and goals together. Businesses can use both relevant hashtags and niche hashtags in order to create their own communities or bring their existing communities together. 
These hashtags can refer to:
Your products or services —

#marketingservices

Your field or niche —

#socialmediamarketing

The location of your business —

#marketinginlondon

Time-related hashtags —

#busymonday #mondayintheoffice

National holidays, seasonal, or event hashtags —

#happyhalloween, #superbowl

The Instagram community you're part of —

#entrepreneursofinstagram
2.  Branded Hashtags 
Branded hashtags are the most relevant hashtags that relate to your brand or to a marketing campaign.
These are usually represented by your business's name, a product's name, or a certain catchphrase that is evergreen to your audiences. 
An example of a branded hashtag is Redbull's #givesyouwings hashtag, a common catchphrase for the company. 
When selecting your branded hashtags, make sure that they are memorable and easy to use. The same can be said about the hashtag representing your brand. 
3. Descriptive Hashtags
These are possibly the most common hashtags on Instagram. They describe what can be found in your posts. 
For example, if you're a photographer and you post some new shots of a lake surrounded by mountains, you can use the following hashtags such as #mountains #mountainscape #lake #nature, or #naturalscenery.
Basically, you can use any word that you believe describes your post. By doing so, you will make sure that potential customers find you, even without knowing your brand. 
Finding the Right Hashtags
Having a great hashtag strategy can help you surpass your competitors in no time. You also need to know how to use relevant hashtags to your advantage.
Here are the top 3 ways of finding the right hashtags for your business:
Work with tools
Find niche-specific hashtags
Research your audience and competition
1. Work with Tools 
There are plenty of hashtag tools that can help you find the most popular hashtags or keywords, such as RiteTag or Wordtracker. These are good hashtag tools to find keywords, but if you want to make things easier on yourself, you will need to make collections of hashtags that are ready to be used.
For this purpose, you can use SocialBee. With this tool, you can automate your social media posting on Facebook, Instagram, Twitter, LinkedIn, Google Business Profile, TikTok, Pinterest, and YouTube.
Organize your social media hashtags in categories and add them to your posts with just a few clicks.
Start your free 14-day trial at SocialBee today!
2. Find Niche-Specific Hashtags 
You would think that using the most popular hashtags would help you get the clout you need. But using popular hashtags just for the sake of gaining followers or likes can actually do more damage than good. 
Here are the most popular hashtags at the moment, according to Best Hashtags: 
#love #fashion #photooftheday #art #photography #beautiful #instagram #nature #picoftheday #happy #f #follow #travel #style #tbt #instadaily #like4like #repost #summer #beauty #selfie #me #instalike #girl #friends #smile #photo #family #life
Now, let's imagine the following scenario: 👇
You are selling drones. You want to promote your business on Instagram and you decide to post a picture with a drone. One of the hashtags that accompanies the pictures is #love. 
When people look for this hashtag, they will look for love poems, love stories, pictures that somehow convey the emotion, one way or another. These are not people that are likely to buy drones. Simply put, they are not your target audience.
This is less likely to happen if you use niche-specific hashtags. But there's also a catch. If you use specialized terms that nobody but people working in your field can know, then it's very likely that regular customers will not find you based on hashtags. 
This is why you need to strive for balance. Use hashtags related to your field and business, but don't make them too specific. 
3. Research Your Audience and Competition 
Figure out what your audience is looking for with the right hashtag strategy. What would your target audience type when looking for something like your product?
A good tip is to perform keyword research, use some of those keywords as your hashtags, and see how they perform. After all, Instagram has a search engine integrated into it and it works on the same principles as any search engine would. 
When compiling your list of hashtags, you can also take a look at the hashtags your competitors are using. Make sure you pick the ones who have the same or a bigger list of followers than you do. 
This will not only help you out with your hashtag research, but you will also see what kind of content works best in your field and for your audience.  
Audit Your Competition with This Competitive Analysis Template
Stay ahead of the competition by constantly monitoring their online presence.
After you have created your hashtag collection, you can use it at any time when you're creating new posts.
With SocialBee, you can even add your hashtag collection in the first comment on Instagram, seeing that this is a well-known and successful practice.
Once your hashtag research is done, you can save your hashtags in our tool and use them at your earliest convenience.
Performing hashtag research at least once a month to see if your hashtags are still relevant is also a must. Check your hashtags and renew the list if necessary. 
Create, Schedule, and Share Posts on Instagram with SocialBee!
Use Correct Hashtag Etiquette 
Now that you have your hashtags, you will have to put them to good use. To do so, you will need to know how things work on Instagram, hashtag-wise.
How Many Hashtags Should You Use?
The first thing you need to know is the number of hashtags that you should use. The maximum number of hashtags you can add is 30. 
🐝 Pro Tip: Use five to 10 hashtags for your Instagram posts.
The more popular your brand becomes, the fewer hashtags you can use. Once you have reached a peak in social media popularity, you can use one to three hashtags, most of them being your brand's name or your catchphrase. 
Where to Put Your Hashtags?
Your hashtags usually come at the end of your caption. If you want to separate your caption from your hashtags and give your post a clean look, then you can leave three empty paragraphs before your hashtags.
If you have an important caption and you don't want to distract your audience from it, then you can put your hashtags in the first comment of your post.
How to Track Your Instagram Hashtag Analytics?
To track your Instagram posts, and essentially, your hashtags, you will need an Instagram business account. Once you have one, you can access the Instagram insights and see how many impressions you got from your hashtags. 
What are Instagram impressions? Basically, these are statistics that will tell you how many times your content was shown to a user. You can find this precious data within the SocialBee app. 
Here's how the SocialBee Analytics dashboard looks like: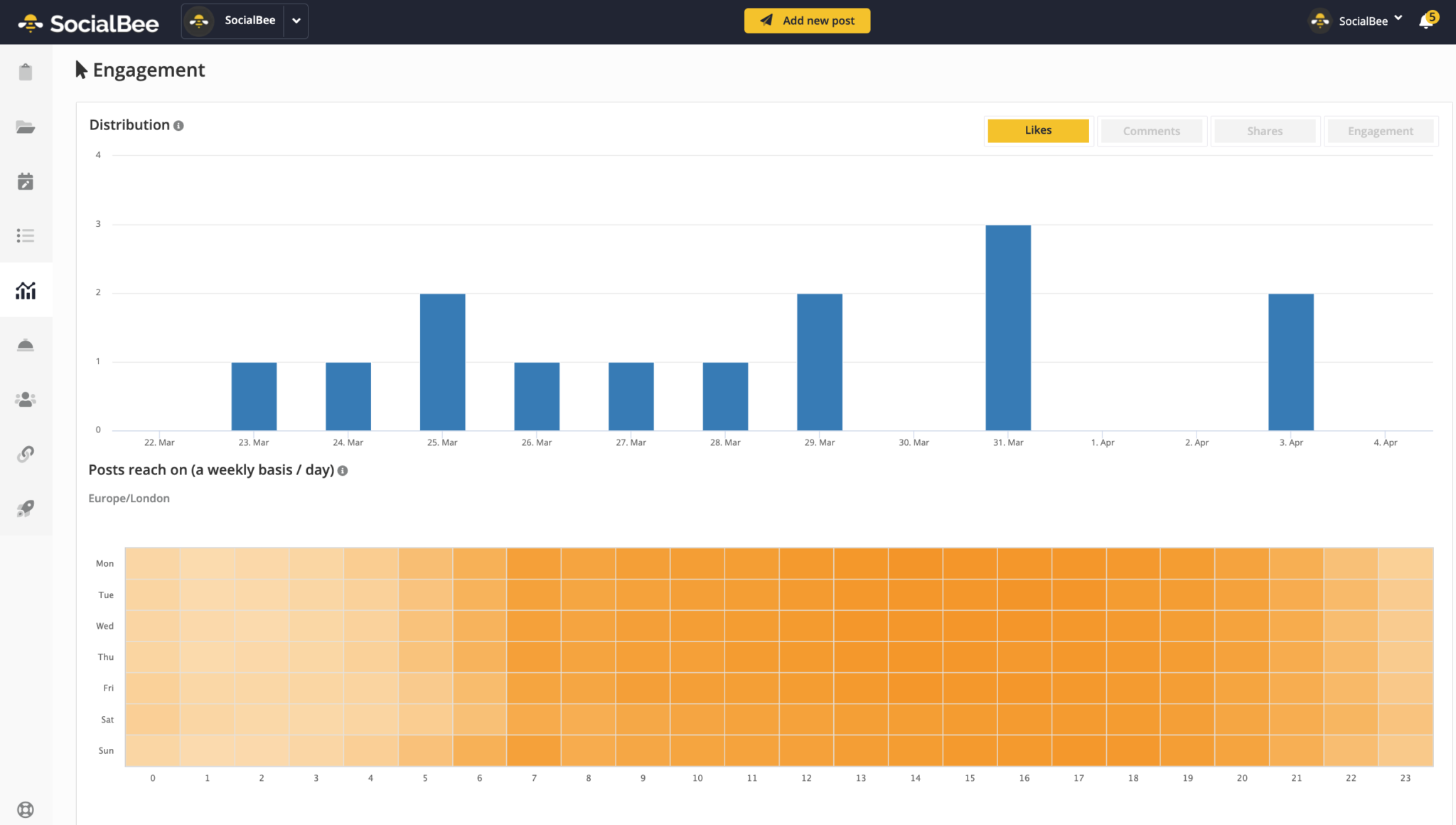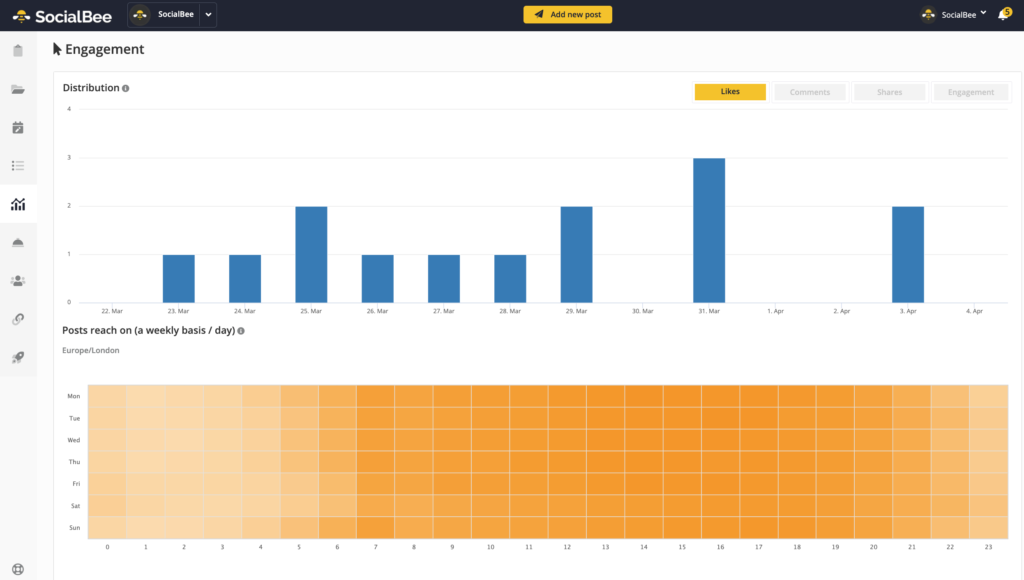 Track the performance of your Instagram posts from SocialBee's Analytics dashboard.
Start your 14-day free trial today!
With SocialBee, there are four main analytics you can track. We're talking about audience demographics, page growth levels. Then, you can also check out your post impressions, reach, likes, comments, and shares.
Last, but certainly not least, our analytics will help you identify the best-performing posts and content types.
Enhance Your Instagram Posts with Trending Hashtags
Instagram is a great place to market your business, but to do so, you will need to post great content and generate hashtags that resonate with your target audiences.
Do your hashtag research today. Also, don't forget to make note of the best times to post on Instagram and perhaps consider using a social media scheduling tool, such as SocialBee in order to further define your hashtag strategy.
Creating attention-grabbing posts is easy once you have SocialBee, because SocialBee will help you share your content on Instagram. Be it single images, videos, carousel posts, or stories, SocialBee has your back. All you have to do is research and find the hashtags that will bring you closer to your goals. 
Share Posts on Social Media with SocialBee!