Pinterest is no longer a platform just for finding decorating tips and DIY projects. As it turns out, using Pinterest for blogging makes it a traffic-generating powerhouse, surpassing even the mighty Facebook with a 33% higher referral rate.
If you still neglect Pinterest because you assume it's not relevant to your needs, here are some hard facts: some of the biggest players in the business, like Airbnb, Samsung, and Lowe's, are already utilizing Pinterest to enhance their marketing efforts. 
If they can succeed, there's definitely room for bloggers, start-ups, and entrepreneurs to dive in and work some magic. Read this article to the end to discover how!
Social Media Content Calendar
Boost your content creation with hundreds of post ideas, examples and Canva templates.
Short Summary
With Pinterest's emphasis on visual content, you can showcase your brand in a way that captures the attention of your target audience. And considering that Pinterest has over

450 million active monthly users

, your content has the potential to gain plenty of traction.

Pinterest is more than a search engine; it's a place where you can visually express your thoughts and ideas. Think of it as a professional business platform. To see tangible results, you need to approach it strategically.

To ensure success, create and share content that aligns with your brand and resonates with your followers. Don't let frequency goals overwhelm you – while you should post daily, aim to provide value through your content.

Using new pin images each time you share a post can help you avoid penalties and provide fresh content. When choosing visuals, opt for captivating ones like landscapes or informative graphics, but avoid using images of others' faces. Maintaining the correct aspect ratio for your images is crucial, as different pin types have different sizes.

SEO is what ultimately gets your pins out there, so you must familiarize yourself with the process. To incorporate Pinterest SEO, you must identify suitable keywords, include them in pins and descriptions, and optimize your blog posts.
The Benefits of Using Pinterest for Blogging
Pinterest is not just a regular search engine; it's a place where you can visually express your thoughts and ideas. The great thing about it is that it offers all the advantages of a social media platform while also providing users with a canvas for creativity and inspiration.
Here are the benefits of using Pinterest for blogging:
Boosts blog traffic

Increases brand awareness & discoverability

Expands your audience and community

Good addition to existing social media
A. Boosts Blog Traffic
Pinterest can be a game-changer when it comes to driving traffic to your blog. Many bloggers have already caught on and are using Pinterest as their go-to source for traffic. 
Sophia Lee is the owner of a successful blog that specializes in all things decorating, organizing, and cleaning. By Sohia Lee has a monthly traffic of over 100K (according to Ahrefs) and almost half of it comes from Pinterest.
Sophia, with over six years of blogging experience, attributes most of her success to Pinterest:
"Pinterest is the only social media site out there where people go to it to click on someone's website. For my website personally, we get 600,000 views alone from Pinterest, and from the very beginning of when I started my blog, Pinterest has been huge for getting pagers there. (…) The majority of my traffic comes from SEO and Pinterest, and so that's like a huge amount."
Sophia is one example out of many, and you can be the next success story.
By strategically optimizing your Pinterest activities and connecting your content with the right audience, you can attract readers who are actively looking for what you're offering.
As you gain more followers on Pinterest, you'll notice a steady flow of traffic to your blog, without you constantly having to put in a ton of effort. 
B. Increases Brand Awareness & Discoverability
With Pinterest's emphasis on visual content, you can showcase your brand in a way that captures the attention of your target audience. And considering that Pinterest has over 450 million active monthly users, your content has the potential to reach a massive audience.
On top of that, Pinterest offers a fantastic opportunity to connect with fellow bloggers and influencers, allowing you to forge meaningful relationships with like-minded creators and pique their interest in what you have to offer. This can lead to collaboration opportunities, which can translate to even more exposure for your blog.
C. Expands Your Audience & Community
Pinterest is often seen as a platform that caters mainly to women, with nearly 60% of its users being female. This is great news for bloggers who want to expand their blog's reach into new markets or female-focused niches such as motherhood, beauty, and women's fashion. 
D. Good Addition to Existing Social Media
Pinterest offers a refreshing alternative to the overwhelming dominance of social media giants like Meta and TikTok. Its smaller scale means it won't overshadow your existing social media presence. 
Additionally, by directing visitors from Pinterest to your blog, they can easily find and follow your social media links, extending your reach across multiple platforms.
How to Use Pinterest for Blogging
Pinterest is not a shortcut to skyrocketing your page views overnight, so don't mistake it for a platform designed for directly engaging with users — think of it as a professional business platform instead. To see tangible results, you need to approach it strategically.
Here are 7 steps to help you use Pinterest for blogging:
Set up an awesome Pinterest account

Create a Pinterest marketing strategy

Make your blog pinnable

Create attention-grabbing pins

Incorporate Pinterest SEO

Curate your Pinterest boards

Engage with followers
1. Set Up an Awesome Pinterest Account
To make the most of Pinterest for your blog, put yourself in the shoes of your target audience. Consider how you would like them to discover your account and what content would appeal to them. Remember, your Pinterest profile should complement your blog and represent your brand's identity.
Here is what you must do to set up a Pinterest account for blogging:
Upgrade to a free Pinterest business account

Claim your other accounts

Niche down your Pinterest profile

Optimize your bio description
A. Upgrade to a Free Pinterest Business Account
To get started with using Pinterest for your blog, create a free Pinterest business account to access the full range of Pinterest analytics and their promoted pins dashboard, which can greatly benefit your blogging efforts.
If you already have a personal account on Pinterest with a significant amount of followers, you can easily turn it into a business account. If you don't already have an account or prefer to keep your personal and business profiles separate, simply create a new account specifically for your blog.
During the setup process, you'll be prompted to choose a few topics that are relevant to your blog and business. 
This helps Pinterest understand your niche and connect you with the right audience. In addition, make sure to fully complete your profile in the Settings section.
B. Claim Your Other Accounts
Make sure to claim your other accounts such as your website, YouTube, Instagram, and Etsy store. 
By doing this, you unlock some awesome features, like getting access to more detailed analytics, an increase in monthly views, and the possibility to gain more Pinterest followers.
C. Niche Down Your Pinterest Profile
Pinterest is working hard to determine your niche by analyzing user behavior and other data. For instance, the boards you have on your profile and the pins you upload to those boards provide Pinterest with valuable information about what your brand stands for. 
Additionally, the pins that others save from your account offer another layer of context for your profile. That's why you must narrow down your profile and concentrate on a specific niche, instead of trying to do it all and risk confusing the algorithm.
D. Optimize Your Bio Description
Under your username, you can give pinners a glimpse into who you are and what you're all about. This is an excellent space to optimize with keywords that are particular to your specific niche.
Imagine you have a cooking blog focused on healthy food choices. To attract the right audience, consider incorporating in your bio keywords related to:
Easy meal prep tips

Vegetarian/vegan alternatives

Cost-effective recipes
Check out how @houseofvegan crafted their description to achieve this:
If you pay close attention, you'll notice how keywords like vegan recipes or gluten-free are used to optimize the bio, while still providing pinners with an accurate description of the profile.
2. Create a Pinterest Marketing Strategy
Since your main goal is for your blog to reach a wider audience, a strategic approach is mandatory.
Here is how to create a Pinterest strategy:
Know the best time to pin

Check your Pinterest analytics

Use a social media management platform
A. Know The Best Time to Pin
To ensure success on Pinterest, you must stick to a consistent posting schedule. While it doesn't have to be as rigid as other social channels, persistent pinning helps in building traction.
Pinterest recorded almost 1 billion monthly visits in May 2022, which means its users are visiting the platform 2+ times per month, on average. That gives you some leeway in how often you need to pin, which allows you to focus on providing quality over quantity. 
Create and share content that aligns with your brand and resonates with your followers. Don't let frequency goals overwhelm you – while you should post daily, aim to provide value through your content.
To maximize your Pinterest presence, it's advisable to post on Sundays, Mondays, and Tuesdays. Ideally, share your content between 2 pm and 11 pm in the time zone where your target audience resides.
While these recommendations are generally effective, it's essential to consider that different accounts and niches may have varying engagement patterns. 
To accomplish all of this and more effectively, you might need some help. A social media marketing platform like SocialBee helps you plan your content in advance, group your posts into content categories, and schedule them according to your preference.
Customize your Pinterest posting schedule with SocialBee.
Start your 14-day free SocialBee trial today!
Additionally, SocialBee allows you to adjust your schedule according to Pinterest's ideal posting times to ensure that your content reaches as much as your target audience as possible.
B. Check Your Pinterest Analytics
Pinterest's analytics allow you to evaluate Pin effectiveness and determine:
Your most successful pins

Pins that require improvements

The growth of your impressions

The highest-performing boards on your profile
This information will prevent you from wasting your time creating content that underperforms, so you can focus on improving your approach with each new pin you create.
Pinterest business accounts enable you to access analytics directly from the platform. But what about evaluating all your social media accounts from one dashboard? If you'd like to access all your analytics from the same place and convert them into sharable PDF reports, start using SocialBee for a more centralized auditing approach.
Monitor your Pinterest performance with SocialBee to improve your strategy in real time.
Start your 14-day free SocialBee trial today!
Our reports provide you with information about:
Page analytics:

Number of published posts, plus average reach, and engagement

Post performance:

Amount of views, saves, clicks, and best posting recommendations for all your content categories

Best-performing content:

Top-performing content categories and post types

Post history:

A list of all your previous posts that can be filtered based on performance and

publishing date
C. Use a Social Media Management Platform
Keeping up with social media is hard as it is, and if you're managing multiple platforms at once, you know exactly what we're talking about.
SocialBee is an amazing tool that simplifies social media management by providing a comprehensive solution for all your social media accounts — including Pinterest.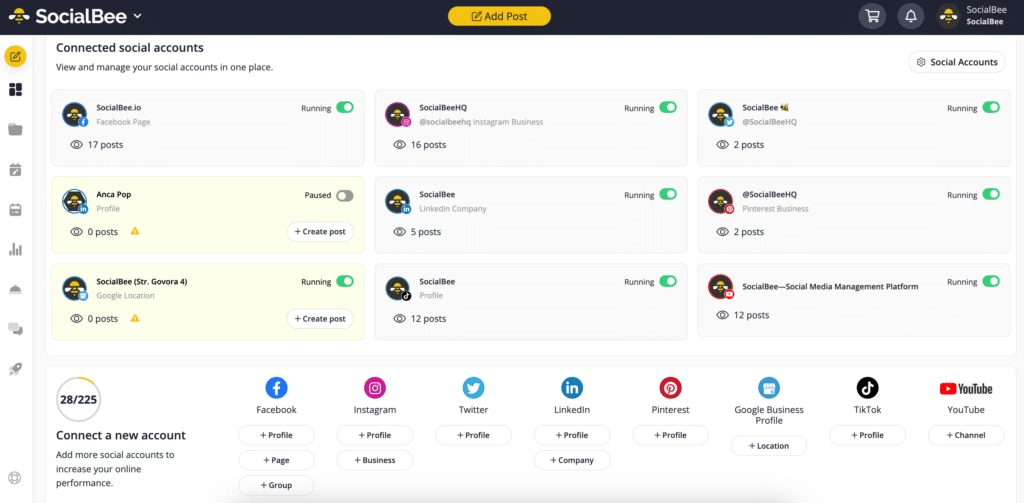 Manage your entire Pinterest strategy from one place: SocialBee.
Start your 14-day free SocialBee trial today!
With SocialBee, you can create, schedule, and analyze your Pinterest content performance, all in one place. 
Here are the SocialBee features that will make your Pinterest boards stand out:
Integration with Canva

: Effortlessly design and import graphics without the need to open a new tab or app.

AI post generator: Whenever you're suffering from creator's block, let our AI generator take over and come up with fresh pin ideas and descriptions in your preferred tone of voice.
AI social media assistant: Work with SocialBee's Copilot and generate an effective social media strategy in minutes based on your input. 
Intuitive scheduling

: Customize your posting schedule specifically for Pinterest, schedule content in bulk, and recycle your previous posts, all from one place.

Post variation feature:

Create multiple versions of the same post, adjusting it to suit different social media platforms. Create and modify your pins by adjusting image size, including keywords, and applying font styling options such as bold, italic, and strike-through.

Content categories

: SocialBee offers comprehensive content categories to diversify your social media content strategy and keep things organized, which is crucial for your Pinterest boards.

Analytics: Skip the guesswork and find out exactly how to improve your Pinterest strategy in only a few clicks.
Plan and Analyze Your Pinterest Content with SocialBee!
Create posts, publish, analyze, engage and collaborate, all from SocialBee.
3. Make Your Blog Pinnable
Optimizing your blog for Pinterest requires ensuring your blog images are pinnable.
What you will need is a plug-in or code that will prompt a "Save" button to appear in the bottom corner of an image whenever visitors hover over it.
Here are some additional tips to help you make your images pinnable:
Optimized blog images: Use high-quality images that are visually appealing. Ensure images are vertically oriented, as these perform better on Pinterest.
Rich Pins: Enable Rich Pins for your blog. Rich Pins provide more information about the pin, such as the headline, author, and description, which can boost engagement.
Add Pinterest-friendly descriptions: Ensure images have alt text that serves as a pin description when someone pins from your site. Make it engaging and use relevant keywords.
4. Create Attention-Grabbing Pins
To create attention-grabbing pins, you have to:
Get creative with your posts

Use high-quality photos

Include a call-to-action in your blog post pin descriptions

Use rich pins for your articles
A. Get Creative with Your Posts
Pins play a crucial role in driving traffic from Pinterest to your blog, and they offer a lot of versatility in terms of format, be that photos, text, or logos.
To create pins, you can use tools like Canva. The best part is that Canva integrates with SocialBee. This allows you to create your social media visuals straight from SocialBee, without having to open a different tab.
Create pins with Canva directly from SocialBee's content editor.
Start your 14-day free SocialBee trial today!
To enhance and optimize your pins, it's important to include text, graphics, and design elements. Aim to create around 3–5 images for each blog post you publish.
While you can share the same blog posts multiple times on Pinterest, use a new pin image each time. By doing so, you avoid potential penalties from Pinterest, which favors fresh pins. Additionally, producing multiple pins for each blog post ensures you have ample content to share with your audience.
To create highly effective images on Pinterest, consider adding your logo to the top or bottom of your pins. This helps with branding consistency. Using the same font text throughout your account can also contribute to a cohesive brand image. 
B. Use High-Quality Photos
Images play a significant role on Pinterest, so ensure that you optimize them. Your images should be captivating enough to compel the reader to open the pin. 
For example, you can use stunning landscape images or informative graphics. However, it's generally best to avoid using images of people's faces unless they're your own, as it may distract from your content.
When selecting the perfect pic, maintain the correct aspect ratio.
Here are all the types of Pinterest images and their sizes: 
Pinterest profile image size: 165 x 165 pixels

Pinterest profile cover image size: 1920 x 1080 pixels

Pinterest Pin image size: 1000 x 1000 pixels / 1000 x 1500 pixels

Pinterest collection Pin image size: 1000 x 1000 pixels / 1000 x 1500 pixels

Pinterest Story Pin image size: 1080×1920 pixels

Pinterest standard image ad size: 1000 x 1500 pixels

Pinterest standard width video ad sizes: 1080 x 1080 pixels / 720 x 1080 pixels / 864 x 1080 pixels / 1080 x 1920 pixels

Pinterest max. width video ad size: 1080 x 1080 pixels

Pinterest carousel ad sizes: 1080 x 1080 pixels / 1000 x 1500 pixels

Pinterest collection ad sizes: 1080 x 1080 pixels / 1000 x 1500 pixels

Pinterest idea ad size: 1080×1920 pixels
Additionally, keep in mind that visuals are the focal point of a pin, so avoid dark, low-quality images. Instead, opt for vibrant, clear ones — there are thousands of free stock photos you can use if your personal library is lacking!
C. Include a Call-to-Action in Your Blog Post Pin Descriptions
The pin description is an important addition to your pin image, as it provides extra information about your blog post. 
This description will appear every time someone directly pins your post from your blog. However, note that each Pinterest user has the ability to delete your description and write their own.
Although you can use up to 500 characters for your pin description, it's generally better to keep it shorter. Anywhere between 1–3 sentences is a reasonable range, but moving below or beyond this length works just as well as long as you effectively convey what the user needs to know about the page your pin leads to.
Here's a tip to keep in mind: the first 50–60 characters of your description are what users are most likely to see in their feeds. So be sure to lead with the most important information to grab their attention.
When writing your pin description, think of it as a summary or excerpt of your blog post. You want to entice people to read further by telling them the benefits they will gain from reading your post. This is exactly why you should include an explicit CTA in all of your descriptions, to encourage people to click and read more.
D. Use Rich Pins for Your Articles
Rich Pins are dynamic and interactive versions of regular Pinterest Pins. They allow you to add more information and details to your posts, making them more engaging and informative.
Additionally, Rich Pins automatically update whenever there are changes made to your website. Here is an example from @EtsyCA's profile:
Creating Rich Article Pins is incredibly easy. All you need is the URL of the specific blog post you want to promote. Head over to the Pinterest developer website and follow their simple steps to create your pin. In just a few minutes, you'll have a captivating Rich Article Pin that can drive significant traffic to your blog.
5. Incorporate Pinterest SEO
SEO is what ultimately gets your pins out there, so you must familiarize yourself with the process. 
Here is what you need to do to incorporate Pinterest SEO:
Find your keywords

Include them in pins and descriptions

Optimize your blog posts

Enhance your boards with 3'rd party pins
A. Find Your Keywords
To optimize your Pinterest account, begin by identifying your go-to keywords. Bear in mind that most SEO keyword research tools are primarily designed for Google, so you will have to use a tool like Pinterest Trends for this purpose. 
When using Pinterest, you can discover related and suggested keywords by typing words or phrases into the search bar. 
To explore them further, simply click on any of them, and it will initiate a new search with both the original keyword and the selected keyword.
B. Include Them in Pins and Descriptions
To optimize your Pins for SEO, include keywords to the following Pin elements:
In the text overlay on the pin image itself

In the pin title, which can be the same as your blog post title or something similar

In the pin description to further optimize it for search.
Keywords should also be added to your boards, but try to avoid keyword stuffing. Instead of including numerous unrelated keywords, focus on selecting a few relevant ones that accurately represent your content.
NOTE: While you can also add hashtags to your pin descriptions, they haven't been proven to significantly increase Pinterest traffic or reach. Pinterest's users typically don't use hashtags as a primary method of discovering new content.
C. Optimize Your Blog Posts
To enhance your overall online presence, it is advisable to align your blog post titles and pin descriptions with popular keywords. Pinterest determines search rankings through pin titles and descriptions, so matching these with popular keywords will further amplify your visibility.
For efficient optimization of your blog content, make sure to incorporate keywords in your article titles and meta descriptions. 
D. Enhance Your Boards with 3rd Party Pins
To effectively signal the purpose of your new Pinterest boards, a simple approach is to pin popular third-party pins. For this, you can use Pinterest's search function, where typically the top row's first three pins are tailored to the keyword you are targeting.
6. Curate Your Pinterest Boards
Here are the steps to help you properly curate your Pinterest boards:
Choose a catchy name for your board

Create more sections within your board

Pin to a relevant board first

Be cautious when repinning the same pin

Audit your boards

Collaborate with group boards 
A. Choose a Catchy Name for Your Board
When it comes to naming your boards, consistency is crucial, as having a uniform naming system for your boards makes it simpler for both search engines and people to locate your content. 
This approach enables readers to easily browse through your content and locate what they're looking for, improving their overall experience.
B. Create More Sections within Your Board
For a better Pinterest user experience, create diverse board categories that cater to your audience's interests. When establishing these categories, ensure they align with your products, making it easier to seamlessly integrate them. This not only showcases your offerings naturally but also directs more visitors to your product pages.
For instance, if your board covers home decor, you can create sections like "Living Rooms" and "Bathrooms", just like IKEA does.
This way, everything stays organized and accessible for your readers. If you're nervous about this step, remember that you don't need to limit the categories solely to your own content. In fact, it is advisable to include posts from other creators as well to add variety to your board.
C. Pin to a Relevant Pinterest Board First
To effectively communicate the topic of your new blog post to Pinterest, pin your fresh pin onto a suitable board. 
For instance, if your blog post is a recipe, you should pin it onto a board explicitly named "lunch ideas", or perhaps "easy recipes". This way, Pinterest will understand the context and relevance of your pin.
D. Be Cautious When Repinning the Same Pin
Pinterest has made it clear that they are monitoring user boards to prevent spamming. This specifically pertains to pinning the same content over and over again. To ensure compliance, alternate your pins with other content. 
In other words, if you choose to pin the same pin to a board, be sure to include other pins between the duplicates. This will help demonstrate that your board offers a wide range of engaging content that aligns with Pinterest's guidelines.
E. Audit Your Pinterest Boards
Are you unknowingly engaging in spam behavior by overloading a board or group board with pins? Or even worse, are you neglecting some boards altogether?
To assess your boards' status, conduct a thorough evaluation every 3- 6 months. If you have boards that are no longer relevant or that you don't contribute to enough with fresh pins, you can archive them.
If you don't want to archive boards — thus restricting your ability to pin to them and limiting their discoverability —, you can also merge boards together.
F. Collaborate with Group Boards
Joining Pinterest group boards is a great way to gain exposure and grow your follower base. To find group boards, search for relevant keywords and explore the results. Once you're in a group board, actively participate by regularly pinning and engaging with other members. 
7. Engage with Followers
Keep your Pinterest afloat by engaging with your followers and creating content that resonates with them. One way to do this is by following new followers back and taking a look at their own pins and boards. This type of market research can provide valuable insights that will help you create and refine your targeted content in the future.
Additionally, follow influencers or popular creators and industry leaders in your niche. This not only demonstrates your knowledge and interest in the industry but also adds authority to your Pinterest profile.
How to Use Pinterest for Blogging FAQ
Start Using Pinterest as a Blogging Tool with SocialBee!
Unlike other platforms, Pinterest is not primarily used for the content itself, but for creative concepts, unique perspectives, and innovative ideas. 
In this article, we shared some Pinterest tips to help you get started on the journey of combining Pinterest and blogging.
If you want to take things a step further, SocialBee may be the perfect supporting tool. This all-in-one social media management tool lets you create, edit, schedule, and post Pins, all from one place. Get your 14-day free trial and create exceptional content like never before!
Plan and Analyze Your Pinterest Content with SocialBee!
Create posts, publish, analyze, engage and collaborate, all from SocialBee.