When considering social media marketing, how to get Pinterest followers may not be at the top of most people's minds. However, when used properly, this platform for aesthetic motivation can bring businesses to new heights. Over 465 million people visit Pinterest every month, all of whom might potentially interact with your Pins. 
Like most social media platforms, there is a recipe for a successful Pinterest marketing strategy. Gaining followers may seem like a daunting task, which is why we've compiled a list of 20+ strategies for Pinterest success. 
Keep reading and learn how to gain more followers on Pinterest and become the go-to place for aesthetic Pins and Boards.
Download the Social Media Strategy Template
Get the social media strategy template you need to audit and plan your marketing efforts efficiently.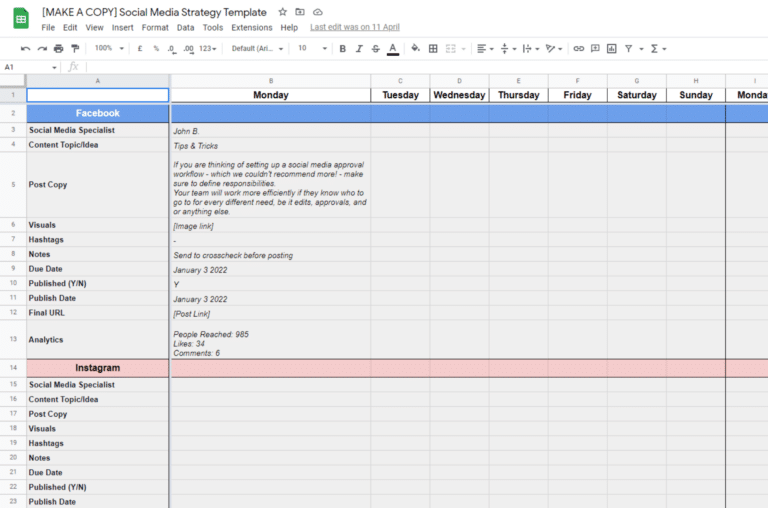 Short Summary:
Pinterest is a valuable platform for brand marketing, offering benefits such as organic search power and increased content shelf life.

Enhance website traffic with rich Pins that provide more information about your products or content.

To gain Pinterest followers, understand your audience, discover popular trends, join relevant group boards, and use beautiful visuals.

Include the Pinterest Save button on your website to encourage sharing.

Verify your website with Pinterest to access analytics and improve visibility.

Use Pincodes to connect offline materials to your Pinterest profile.

Use a Pinterest Business Account for access to analytics and advertising options.

Don't buy Pinterest followers as it can harm your credibility and engagement.
Why Should You Build a Following on Pinterest?
Pinterest, often pigeonholed as just a mood board or creative outlet, is an untapped goldmine for brand marketing. 
While most are familiar with its aesthetics and DIY inspirations, fewer grasp its true potential for brand building and customer engagement. Delving deeper into Pinterest's less obvious benefits may just convince you to pin your brand's future on this platform.
Here are the benefits of growing your Pinterest page: 
Unlock organic search power

Increase content shelf Life

Stay on top of trends and monitor purchase intent

Establish yourself as an expert

Build a community through shared aesthetics

Enhance website traffic with rich Pins
1. Unlock Organic Search Power
Pinterest operates like a visual search engine. When Pinterest users search for specific keywords or phrases, Pinterest displays relevant Pins and allows brands like you to target specific audiences with ease.
Example: Imagine you're a local pottery shop. Your unique designs might be drowned out on platforms like Instagram amidst a sea of content. However, on Pinterest, your pottery Pins can surface when users search for 'unique pottery designs', 'ceramic gifts', or 'handmade mugs'. Over time, this boosts your visibility without you spending a dime on ads.
2. Increase Content Shelf Life
Unlike other social platforms where content gets buried quickly, Pins on Pinterest can keep resurfacing as they get repinned, long after they were originally posted.
Example: A tweet's lifespan is minutes, an Instagram post's is hours, but a Pinterest pin's life can extend to months, even years. This means your summer collection from two years ago could still be driving sales today.
Pro Tip: Use SocialBee to create content categories (folders) to store your evergreen Pins and set them to be reshared regularly for increased exposure. 
3. Stay on Top of Trends and Monitor Purchase Intent
Pinterest's analytics and the popular section allow brands to see trending Pins and topics in real-time. Plus, Pinterest users often pin items they aspire to purchase or integrate into their lives. By analyzing engagement metrics and interactions, brands can gauge purchase intent.
Example: Let's say you're a fashion brand. By observing which Pins are gaining traction, you can forecast upcoming trends, helping you stay ahead of the curve. Spotting a sudden spike in, say, 'pleated skirts' can clue you in on what to stock next. 
Pro Tip: Use SocialBee to monitor your best-performing content and use this data to improve the way you plan and create Pins.
4. Establish Yourself as an Expert
Pinterest is not just about pretty pictures; it's about value. Users look for actionable content like DIYs, recipes, and tutorials.
Example: If you sell gourmet cooking ingredients, you can pin not just images of the ingredients, but also recipes or tutorials on how to use them. This not only showcases your product but also educates and engages potential customers.
5. Build a Community Through Shared Aesthetics
Boards allow users and brands to curate specific aesthetics or themes, creating niches and communities.
Example: Brands can gain dedicated followers who share their aesthetic vision. A handmade jewelry brand, for instance, can curate boards not just of their products, but also of fashion, art, and places that resonate with their design philosophy. This deepens the bond with followers who share that vision.
6. Enhance Website Traffic with Rich Pins
Rich Pins pull metadata directly from your website, providing users with more information about the pin and prompting them to click through for more details.
Example: 'Rich Pins' provide more context about an idea because they show extra information directly on the pin. For a brand selling organic teas, a Rich Pin can detail the ingredients, brewing time, or health benefits. This not only provides value to users but also directs them back to the brand's website to streamline purchases.
Pretty impressive, right? And these are just a few of the things a well-built Pinterest presence can do for you and your business. Enough with the "why" – it's time to delve into the "how" of it all.
How to Get Pinterest Followers: 20+ Proven Ways
We did our research on how to get followers on Pinterest, so you don't have to. 
Here are over 20 things to take into consideration when on a journey to gain Pinterest followers:
1. Understand Your Pinterest Audience
Sometimes, the audience you target on Pinterest and other channels will overlap. Other times, it may be somewhat different, or maybe only a portion of your audience. 
For a clearer understanding of who's likely to engage with your Pinterest content, consider the following demographic insights from Data Portal:
The U.S. boasts over 90.1 million active Pinterest enthusiasts.

Analyzing gender distribution:

Women constitute 79.5% of global Pinterest users.

Men make up 17.6%.

An additional 2.9% identify as 'unspecified'.

A breakdown by age reveals:

18 to 24-year-olds: 71.6 million (representing 27.0% of Pinterest's ad audience).

25 to 34-year-olds: 81.9 million (30.9%).

35 to 44-year-olds: 41.3 million (15.8%).

45 to 54-year-olds: 27.1 million (10.4%).

55 to 64-year-olds: 22.9 million (8.7%).

Those aged 65 and above: 11.4 million (4.3%).
Now that you have a general idea about Pinterest users, it's time to conduct your own research for a more targeted marketing approach.
Here's how brands can truly understand their Pinterest audience in three steps:
Deep dive with Pinterest Analytics Pro:

While Pinterest's standard analytics provides general insights, Pinterest Analytics Pro (available to Pinterest business accounts) goes a step further. It uncovers deeper metrics such as your audience's other interests, which can be vital.
Use audience insights for lookalike audiences:

Pinterest allows brands to create "lookalike" audiences — users who share characteristics with your existing followers but haven't interacted with your brand yet. 
Perform keyword cluster analysis:

This involves grouping the frequently used keywords by your audience into clusters to understand the broader themes they're interested in.
2. Discover What's Popular
Browse Pinterest Trends to see what's already working well on Pinterest. Take notes, look for patterns, and think about how you may incorporate these concepts into your own material.
Pinterest Trends provides the following information:
Top search terms:

Recognize the hot topics by viewing the topmost search terms, helping you align with current interests.

Search volume dynamics:

By observing how search volume shifts over various periods, you can pinpoint emerging trends or recognize seasonal patterns.

Associated search terms:

Viewing terms that are frequently searched in conjunction with primary terms enables you to craft encompassing pins that span a broader topic range.

Dominant Pins:

Identifying the standout pins for each search term provides a benchmark, aiding in designing pins that capture your target audience's attention.

Popularity peaks:

Understanding when a term is at its zenith aids in optimally timing your pins for the best visibility.

User demographics:

By discerning the age, gender, and passions of searchers, you can tailor your pins to cater to the right crowd.

Geographic insights:

Determining the regions most invested in certain terms lets you geographically target your pins for enhanced relevance.
3. Join Relevant Group Boards
If you want to promote your business on Pinterest, you should start by finding the most popular boards in your industry. Occasionally, the board administrator will add join instructions in the group description. If not, send a message to the board moderator. Typically, their name will appear top of the list of the board's followers.
4. Use Beautiful Visuals
Pinterest is a highly visual platform. Most users are on the lookout for aesthetic inspiration – outfit ideas, how to decorate their bedrooms, photography tips, etc. 
In comparison to Twitter content, for example, where your words are what make or break your post, your Pinterest board should be all about aesthetically pleasing visuals. Don't hesitate to draw inspiration from what is already trending on Pinterest in your field.
Pro Tip: Create your Pins from scratch with SocialBee. Access Canva from the post editor, design and import your visuals into SocialBee, and set them to be posted in one fell swoop. 
5. Keep Your Content Fresh and Unique
If there's one thing Pinterest loves, it's originality. Pinners are on the lookout for inspiration and new ideas. Unique Pins will attract their attention and spike their interest in your Boards. Keep your posts fresh and embrace your creativity when creating pins.
Here are 4 ways to create original Pinterest content:
Collaborations with niche artists:

Partner with up-and-coming artists in fields like hand lettering, digital painting, or 3D art. Let them interpret your brand in their style for Pins that are both unique and visually captivating.

Blend multiple mediums:

Create Pins that blend photography with sketches, watercolor backgrounds, or digital art overlays. This mishmash can lead to Pins that are hard to replicate and look distinct.

Localized content:

If your brand has a presence in multiple regions or countries, create Pins tailored to each locale. Local festivals, sayings, or landscapes can inspire such content, making them relatable to a specific audience while standing out globally.

Involve your audience in creation:

Use tools like polls or Q&As on other platforms to gather ideas, then turn those into Pins. If someone suggests a 'night-time look' for your makeup product, design a Pin around that. It directly caters to what your audience wants, making it inherently unique.
6. Include Detailed Descriptions
Yes, we said Pinterest is mostly about visuals. That doesn't mean your descriptions hold 0 power. 
A captivating caption is necessary to keep readers engaged with your post after they've seen the image. Give information that will make consumers more interested in your content and get them to visit your website. The standard, one-sentence summary won't cut it here.
Here's what are the main components of a Pin description:
Relevant keywords:

Using relevant keywords naturally within your description can increase the chances of your Pin appearing in search results, which leads to more organic traffic.

Clear call-to-action (CTA):

Whether you want viewers to visit your website, read a blog post, or check out a product, a compelling CTA is crucial. For instance, phrases like "Click to discover more" or "Find out how" can inspire action.

Product information:

A Product Pin might display the price and availability of a product, aside from other features and characteristics. This added layer of information can drive more specific and purposeful engagement from pinners.

Content hooks:

While the visual is key, a catchy caption can add value, provide context, and further engage the viewer. A question, intriguing statement, or a hint of humor can pique a user's interest.
Not everybody is a copywriter, and that is totally fine. SocialBee's AI Post Generator can be a trusty friend when it comes to generating great descriptions for your Pins.  
Generate compelling Pin descriptions with SocialBee's AI Post Generator
Start your 14-day SocialBee free trial now!
Explore our collection of Pinterest-inspired AI prompts and use them to craft engaging titles, descriptions, and ideas for your next Pins.
Manage Your Social Media Accounts with SocialBee!
7. Add Relevant Keywords and Hashtags
Optimizing your content for discovery is essential given Pinterest's usefulness as a search engine. Make sure your descriptions are well-optimized for search engines by including important keywords and hashtags. 
Pinterest itself holds a couple of aces up its sleeve. You can search for keywords by leveraging Pinterest Trends (as we mentioned above) and by using the Pinterest search bar – as you would do with Google. 
Pinterest also allows you to check out the top hashtags in your category, but only on the mobile app.
8. Be Mindful of Pinterest Board Names
Boards may also be search engine optimized. Make sure the titles of your boards are precise and true to their contents. 
Use applicable keywords in the board's title and description, and include relevant hashtags as well. Take your time going through the categories to see where your board belongs.
9. Stay Organized with Board Sections
In order to better categorize boards, Pinterest implemented Sections. Instead of users getting lost in a broad category such as Travel, break it down into places – either by country, or more generally: beach, mountains, countryside, cities, etc. The Pinterest board world is your oyster.
By doing this, you can strengthen the credibility of your brand and make it simpler for potential followers to find your material. Be detailed and include keyword-rich language in your sections.
10. Maintain an Inspirational Approach
Try to build a positive and helpful persona. Show users who engage with your content the benefits of what you have to offer. 
Talk to people directly by using "you" and "your", and try to give them insight into your products, services, or anything else you are marketing. Pinterest's buzzword is "inspiration", so try to spark that in your followers.
11. Set Up Rich Pins
To enrich your Pin, Rich Pins pull metadata from your website. Your Rich Pins can be one of four types: apps, articles, products, or recipes.
For example, Rich Pins will present current information about pricing and availability if your goal is to sell products. Publishers or bloggers will like article Pins since they show the headline, author, and summary of the article or blog post. Whatever the goal is, it's easier to reach with Rich Pins.
12. Post Consistently and On Time
On Pinterest, content's reach grows over a longer period of time than it does on other platforms. Play the long game by constantly releasing material over multiple months. 
Don't just post often, but do your research about posting hours as well. Don't just release content whenever it's ready and you have the time. 
Here are the best and worst times to post on Pinterest:
| | | | |
| --- | --- | --- | --- |
| Best day to post on Pinterest | Worst day to post on Pinterest | Best time to post on Pinterest | Worst time to post on Pinterest |
| Saturday | Monday through Thursday | Between 8 PM – 11 PM and between 2 AM – 4 AM | Work hours (9 AM – 5 PM) |
Posting at these times manually is not always doable, which brings us to our next point…
Pro Tip: Schedule Pins in Advance
A top-performing Pinterest strategy requires planning, so it's only natural that your posting schedule needs to be well thought through. This becomes infinitely easier with a social media scheduling tool like SocialBee.
Schedule your Pins in advance and keep track of your posting calendar with SocialBee!
Start your 14-day SocialBee free trial now!
Here is a breakdown of SocialBee's features that will make content scheduling and publishing effortless:
Content categories:

SocialBee offers comprehensive content categories to diversify your content strategy and keep things organized.

Customized scheduling:

Personalize your approach for each channel by adjusting your schedule depending on the platform.

Content calendar overview:

Get a visual snapshot of all upcoming social media posts scheduled for the next few days.

Specific posting times:

Ensure timely posting by scheduling content on chosen dates, perfectly aligning with your marketing campaigns.

Evergreen publishing:

Efficiently recycle top-performing content without having to schedule it repeatedly.

Post expiration features:

Set posts to expire after a certain number of shares and schedule content to be active only until a specific date.

Bulk editing and scheduling:

Schedule multiple posts simultaneously. Pause, edit, approve, delete, or switch profiles for an entire content category in one go.
13. Include the Save Button On Your Website
By using the Save button, you can also inform website visitors about your brand's Pinterest presence. Visitors may become brand advocates for your business by sharing any image from your website on Pinterest using the Save button.
Tips for adding the Pinterest Save button on your website:
Position the button at striking spots, preferably close to visual content or other pin-worthy material.

Prioritize its visibility and ease of use.

Opt for succinct labels like "Pin it!" or "Bookmark on Pinterest."

Regularly verify its functionality to ensure a seamless user experience.
14. Website Verification Is a Must
You must verify your website with Pinterest in order for your profile image to appear alongside the Pins that visitors are saving from it. Doing this will provide you access to website analytics, which will help you understand what information visitors are downloading from your website.
15. Use Pincodes to Connect Offline
Pincodes are intended to assist users in finding your business on Pinterest while they are offline, much like QR codes do. 
Business cards, brochures, print advertisements, packaging, and other products can all have Pincodes. They can access your Pinterest profile, board, or pin with a single scan using the Pinterest camera.
16. Promote Your Posts
Promoted Pins are a fantastic approach to broaden visibility if you have a social media budget to work with. A successful Pin should be chosen, and it should be targeted to attract new potential followers. 
Your promoted Pins will show up in more Pinners' feeds the same way ordinary Pins do.
Organic Alternative: Share your Pinterest boards and Pins 
Here are five organic ways to boost your Pin visibility:
Let social media followers from other platforms know about new Pins. Use Instagram/Facebook/TikTok Stories to showcase your Pins and guide viewers to your Pinterest profile.

Feature a pin in your regular newsletter, perhaps as a "Pin of the Month" or a thematic highlight.

Include a link to your Pinterest profile or specific pins in your email signature.

Integrate specific pins or even your entire Pinterest board into your blog posts or a dedicated section on your website.

Use tools like Linktree to include multiple links in your bio, one of which can be your Pinterest pin.
17. Run an Exciting Pinterest Contest
We've all seen our fair share of Instagram giveaways lately, right? People share them in their Stories and tag their friends in them, and all of that means visibility for whoever is running it. The same can be done on Pinterest.
Make a competition where the entrance criterion is following you on Pinterest. Create a hashtag and a shareable graphic to inspire more people to join the contest. Before starting your contest or giveaway, make sure your rules are precise and adhere to Pinterest's contest guidelines.
18. Use a Pinterest Business Account
When you sign up for a Pinterest business account, you'll have access to tools like comprehensive analytics, built-in shopping capabilities, and the option to build an ad account to spread the word about your content.
You have the option to either make a new account a business account throughout the setup procedure or change an existing account into a business account if you don't want to start over.
19. Optimize Your Profile to Gain More Pinterest Followers
Your username as well as your bio are entirely searchable. To increase your Pinterest profile's discoverability, include any niche-related search terms that your intended audience could use.
It's not important just that you create a Pinterest account, but also how you manage it in the long run. 
20. Post Idea Pins
Pinterest introduced Idea Pins, a multi-page video-based format, to the entire world in 2021. By creating idea pins, companies and artists may capture, modify, and publish up to 20 pages of information in a single post. 
Source: Pinterest
Since Idea Pins last longer than other social networking sites' story features, creators can use them to get more views and likes.  
Once you have the hang of making Idea Pins, consider adding text overlays to your information to make it more comprehensible and accessible. Make sure you include search terms that potential followers could use because the text on Idea Pins is searchable on Pinterest.
21. Re-Pin Older Content
The longevity of a Pinterest Pin is around four months, which is much longer than the lifespans of other social media sites.
In light of this, don't be hesitant to repin outdated material to fresh boards to extend its shelf life and attract a brand-new target audience. 
Frequently Asked Questions
It's Time to Grow Your Pinterest Following!
An active Pinterest following is the result of creative thought, consistent effort, and calculated strategy. Gaining a sizable following might be a slow process, but if you stick with it, you'll be rewarded.
Our 20+ strategies and step-by-step guide will make the journey to Pinterest success much easier to conquer. For extra help with your Pinterest strategy, planning, and content generation, start your 14-day free trial with SocialBee and find out if it's the tool for you!
Manage Your Social Media Accounts with SocialBee!